Aquaventure Tickets
Explore Dubai Atlantis Aquaventure Waterpark to fill your day with thrill and adventure. Slip and slide in Dubai's biggest waterpark with a host of different activities and adventures to choose from.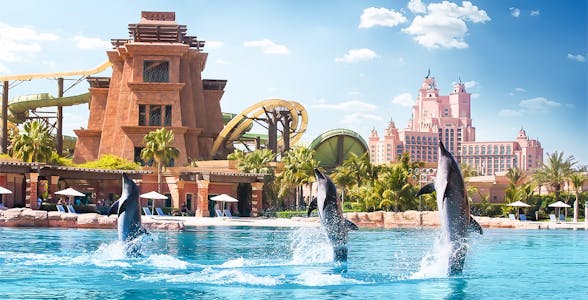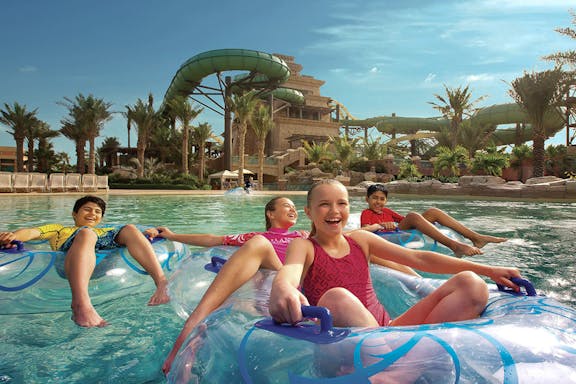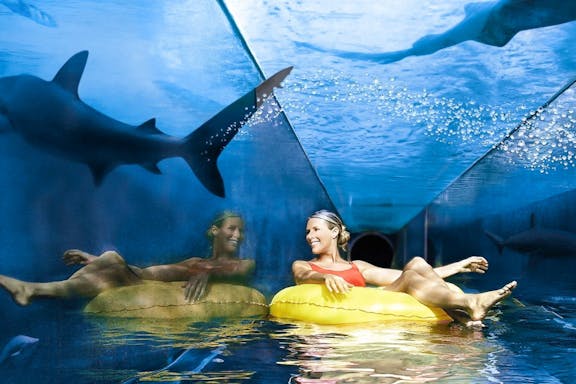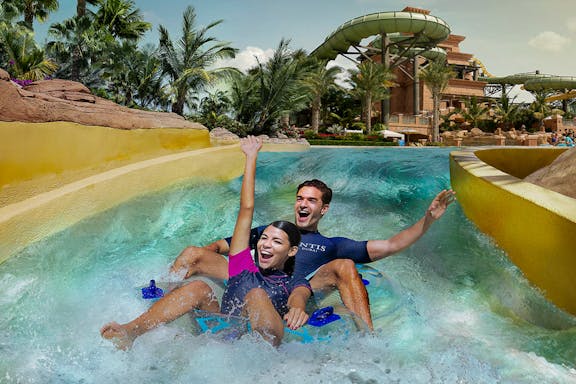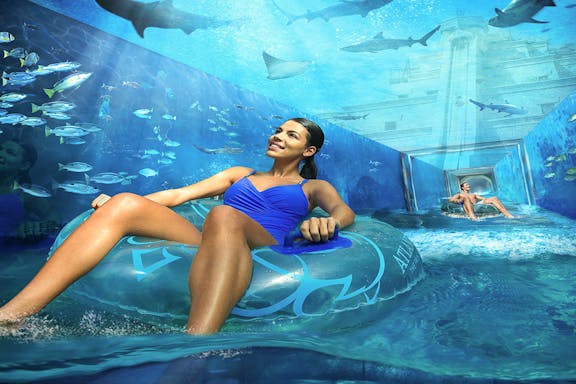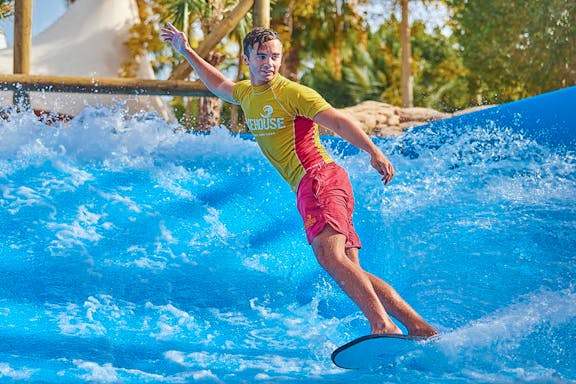 from

AED 315
AED 275
Save up to 12%
Headout's Top Recommendations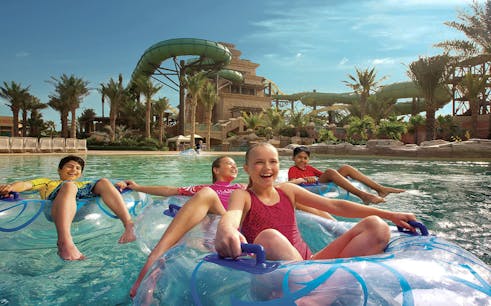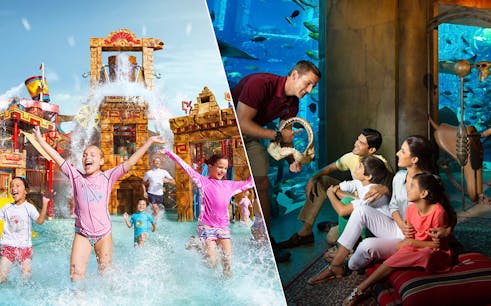 Free cancellation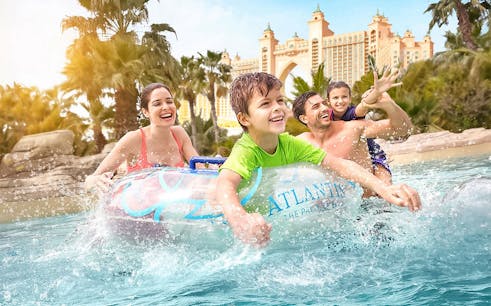 Inclusions
Unlimited access to Aquaventure Water Park
Access to heart-racing, milder, and kid-specific rides
Unlimited access to Adventure Beach
Entry to the Lost Chambers Aquarium (optional)
Unlimited access to Aquaventure Waterpark
Entry to the Lost Chambers Aquarium.
Access to both pulse-pounding rides and child-friendly attractions
Unlimited access to Adventure Beach
See over 65,000 distinct marine animals
Chances to see marine experts dive and feed sharks
See the ruins of the lost city of Atlantis
30-min dolphin kayak or paddle experience at Atlantis The Palm
Same-day free access to Aquaventure Waterpark
Same-day discounted entry The Lost Chambers Aquarium
Safety orientation with a marine mammal specialist
Wetsuits and neoprene vests
Locker, changing rooms, and shower facilities
Cancellation Policy
These tickets can't be cancelled or rescheduled.
These tickets can't be cancelled or rescheduled.
You can cancel these tickets up to 72 hours before the experience begins and get a full refund.
Travel Guides and Tips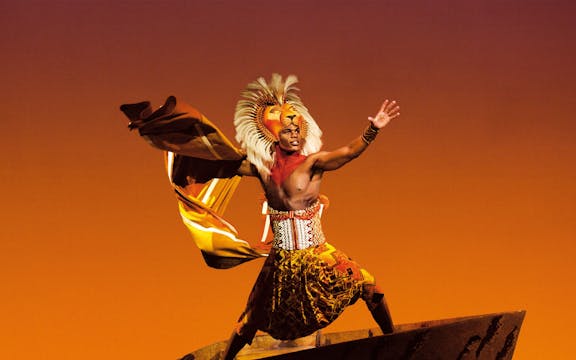 West End Guide to the Best Disney Shows in London
London is the place to be if you're looking for entertainment. The city is home to many world-renowned theatres, each showcasing a unique and diverse range of shows. From West End hits to experimental new productions, there's something for everyone. London is also home to the mesmerising Disney shows – the one-stop entertainment for people […]
Read More
Aquaventure Tickets Guide

Looking for a way to beat the Dubai heat? Or just spend a grand day out with your friends and family? Don't look further than Aquaventure Waterpark, the UAE's largest waterpark, and of the largest in the world too! Offering more than a whopping 100 rides and attractions, Aquaventure is the most-visited waterpark in UAE. Here's everything you need to know about Aquaventure tickets, essential visiting information, popular rides and more, if you are planning a visit.
Your Aquaventure Tickets Options

Guests can choose from a variety of ticket options: standard entry tickets, adventure activities, meet-and-greet with dolphins, and combo tickets. Read on to know more about each ticket option and get our best recommended experiences.

Entry Tickets

Scuba Diving Tickets

Dolphin Bay Tickets

Combo tickets
Plan Your Visit to Aquaventure Waterpark

Opening Hours

Getting There

Tips/Guidelines

What are Aquaventure opening hours?

The waterpark is open every day of the week from 9:30 AM to 6:00 PM.

What is the best time to visit Aquaventure Waterpark?

The best time to visit Aquaventure is during the weekdays during early mornings or late evenings, since weekends tend to get quite crowded.

How long should I spend at Aquaventure Waterpark?

It should take you about 5 hours to try out the most popular rides at Aquaventure Waterpark.

Where is Aquaventure Waterpark located?

Aquaventure Waterpark is located in Atlantis Hotel on Crescent Road of The Palm Jumeirah.

Google Map Directions

How do I get to Aquaventure Waterpark?

The fastest way to get to Aquaventure Waterpark is by taking a metro. You can also drive down or take a cab to the Aquaventure Waterpark.

Can I take the metro to Aquaventure Waterpark?

Yes, you can take the metro to the Aquaventure Waterpark. Alight at Mall of the Emirates stop and from here you can take a bus or cab to Atlantis.

Is parking available at Aquaventure Waterpark?

Yes, limited parking is available at the Aquaventure Waterpark.

Is a storage facility available at Aquaventure Waterpark?

Yes, guests can deposit their belongings at the lockers at Aquaventure for a nominal fee.

Is there a dress code for swimming at Aquaventure Waterpark?

You should wear appropriate swimwear while visiting Aquaventure Waterpark. Loose-fitting clothes are not allowed.

Are outside food and drinks permitted at Aquaventure Waterpark?

No, outside food and drinks are not allowed at Aquaventure apart from baby food and water.

Is photography allowed at Aquaventure Waterpark?

Yes, photography is allowed. However, the use of selfie sticks and tripods is not.
Top Rides & Attractions at Aquaventure Waterpark Dubai

The Tower of Neptune

The heart-racing 'The Leap of Faith' is located in the Tower of Neptune, a coaster that nearly 600,000 visitors attempt every single year. In five seconds, the adrenaline-pumping coaster plummets you into a transparent Perspex tunnel that has Cownose rays and sharks swimming around it, into a nine-story-tall mega slide in a near-vertical fashion. 13 meters up the Ziggurat, the Shark Attack begins and spins riders on one or two-person inner tubes into the darkness of the enigmatic heart of the tower. Riders emerge at a leisurely 'shark-viewing' speed from the shark-filled lagoon.

Poseidon's Revenge

Poseidon's Revenge is a highly daring coaster that has been set up within the Aquaventure Waterpark.  When you first take your seat in the capsule, the floor of the vessel opens down resulting in a freefall. You reach a velocity of 60 km per hour. Poseidon's Revenge thrusts you in all directions and gives you a shot of adrenaline.

Water Coasters

Aquaventure Waterpark has some of the most dangerous and stimulating water coasters in the world. These rides are made for people of all ages. There are small coasters that are safe for young children as well as the more advanced ones which are geared towards thrillseekers.

Scuba Diving

Dive deep into the Ambassador Lagoon, which is home to more than 65,000 marine creatures! Whether you are a beginner or a certified diver, the diving instructors here are fully equipped to ensure that you have a safe and an enjoyable time underwater.

Dolphin Bay

A visit to Dolphin Bay would give you the best chance to have an up-close and personal encounter with dolphins. Take photos, learn from your expert guide about their behavior and nature, swim with the mammals, and more! This not an experience to miss. Bonus? A visit to Aquaventure for free!
Aquaventure Waterpark Tickets FAQs

Is it worth Aquaventure Waterpark?

Absolutely! It is one of the largest waterparks in the world, not to mention the absolute largest in the UAE. Aquaventure offers a whopping 105+ rides and attractions to guests, including massive water-based rollercoasters, wave simulators, unlimited access to a private beach and more. Additionally, a visit to Aquaventure also offers includes exciting activities like scuba diving, ray feeding, and dolphin meet-and-greet.

Where can I book Aquaventure tickets?

You can get your tickets either at the physical ticket counter, or book them online with us. However, booking your tickets online offer a variety of benefits such as discounts up to 30%, additional cashback up to 10%, combo tickets for a lower price, and more.

What are my Aquaventure ticket options?

Depending on your budget, schedule, and requirements, we offer a variety of ticket options. Go for standard entry tickets for unlimited access to all rides and attractions at Aquaventure. Opt for combo tickets to experience more of Dubai for a lower price, as you get entry to not just Aquaventure but Lost Chambers Aquarium, Burj Khalifa, Dubai Garden Glow, and more. You can also book tickets for activities such as dolphin meet-and-greet experience, scuba diving, etc.

What's included in my Aquaventure entry tickets?

You get access to all 105+ rides and attractions with these tickets, along with access to the private beach, and more. You can also choose to upgrade your ticket for entry to Lost Chambers Aquarium.

Are any discounts or offers available with my Aquaventure tickets?

Yes. Children between the ages of 3-7 enjoy reduced pricing on their entry. Additionally, you can also avail additional discounts, cashback, and more, depending on your preferred ticket.

Do Aquaventure tickets include access to Lost Chambers Aquarium?

No, Atlantis Waterpark tickets do not include entry to the Lost Chambers Aquarium. You would have to separately purchase tickets to visit the aquarium.

When should I visit Aquaventure?

The waterpark is open from 9:30 AM to 6:00 PM every day of the week. We recommend visiting on weekdays, during early hours of the day, to beat the weekend crowd. Since you would need at least 4-5 hours to enjoy the best of Aquaventure's attractions, we recommend visiting early around 10:00 AM.

How do I get to Aquaventure?

If you take the metro, get off at either Al Khail Metro Stationor Sobha Realty Metro Station and take a bus or taxi from here.
You can also take the Palm Monorail, which is the best way to get there, since it drops you close to Atlantis.

Is there a dress code to follow at Aquaventure?

Yes. Guests are expected to wear only appropriate swimming attire such as bikinis, swim shorts, burkinis, etc. Regular clothing will not be permitted.