Dubai Desert Safari Tours
Embark on the best desert safari in Dubai and try thrilling activities like dune bashing, quad biking, and sandboarding. With Dubai desert safari tickets, enjoy BBQ meals, access to exciting activities, round trip transfers, and flexible cancelation.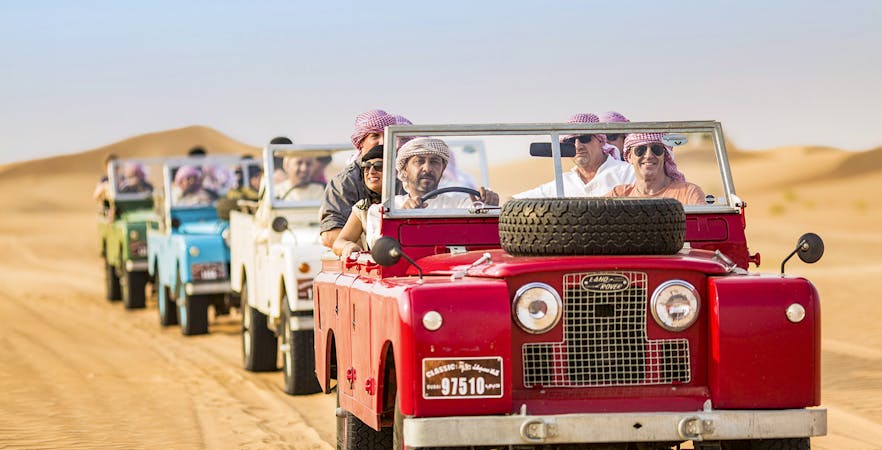 Free cancellation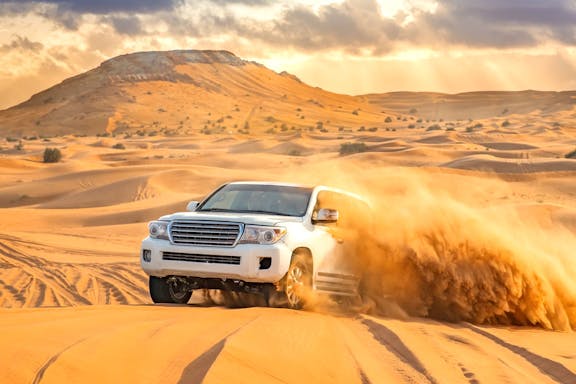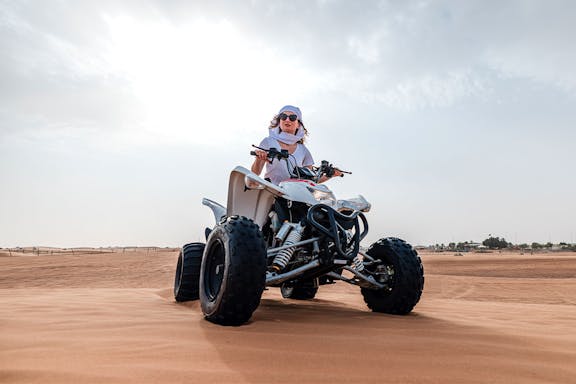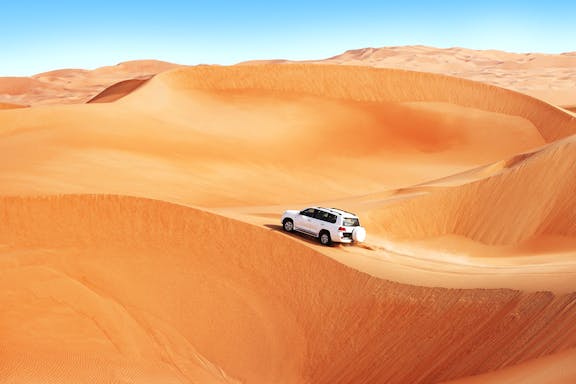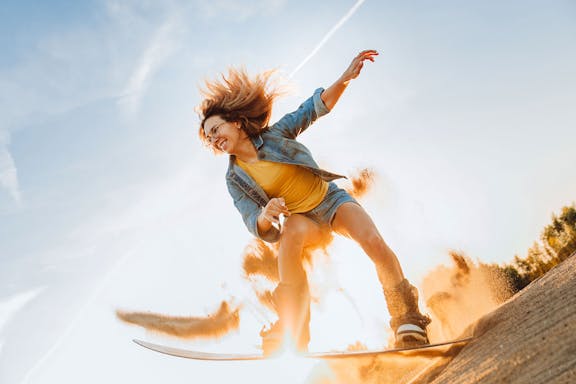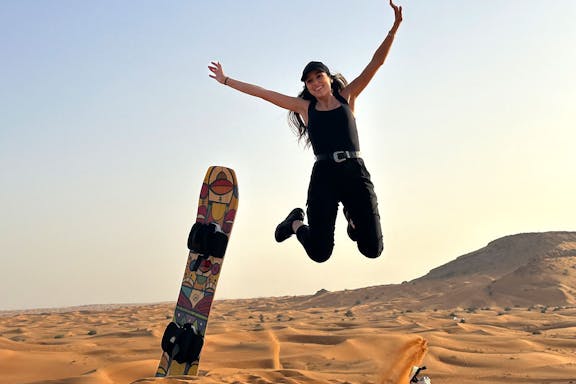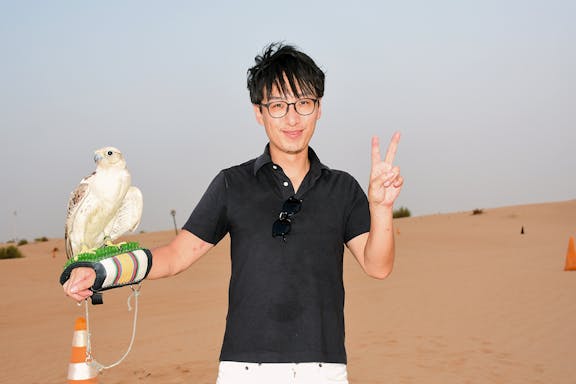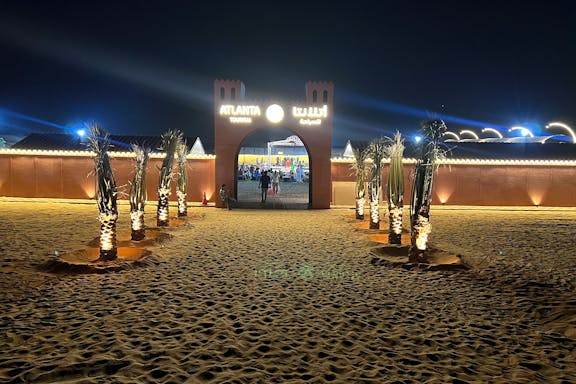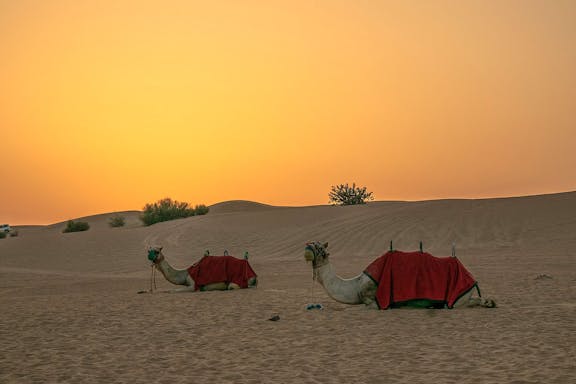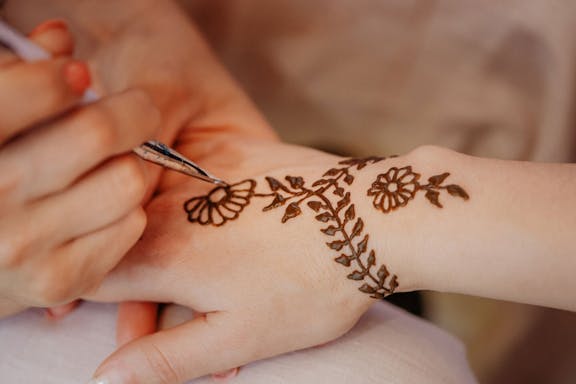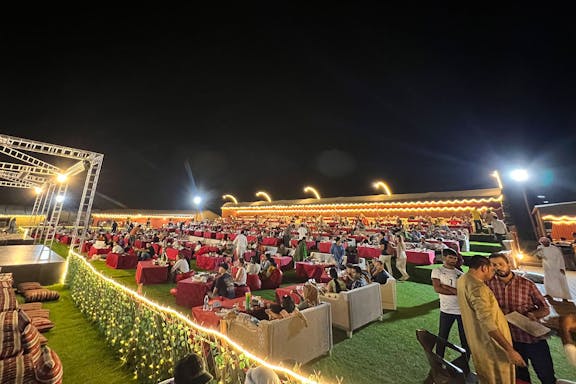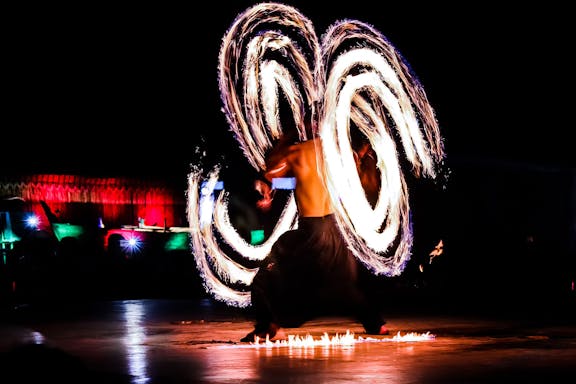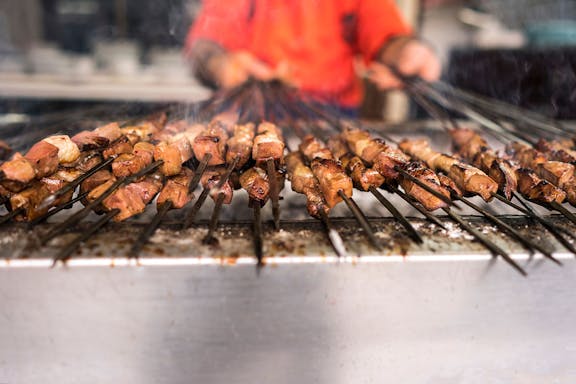 from

AED 125
AED 99
Save up to 20%
Headout's Top Recommendations
Free cancellation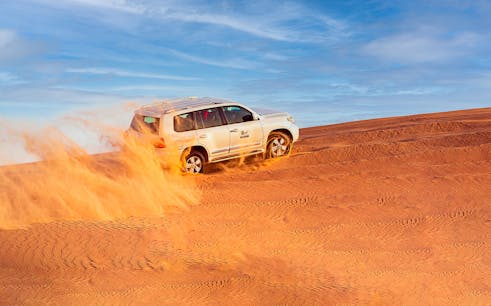 Free cancellation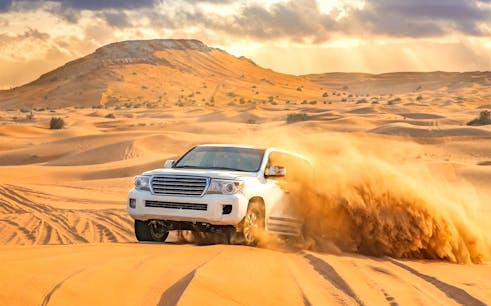 Free cancellation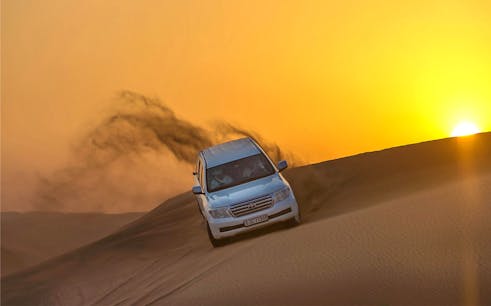 Inclusions
Pick-up and drop-off in an AC shared 4x4 vehicle
40-45 mins dune bashing in a 4x4 vehicle
Shisha in the designated corner (not on the table)
Barbeque dinner (veg and non-veg)
Hotel transfers in AC 4x4 cars
Dune bashing for 10-15 mins
BBQ dinner buffet with veg, non-veg and Jain dishes (find the menu here)
Live entertainment shows (Tanoura, belly dancing, and fire dancing)
Traditional Arabic costume photo opportunity
Unlimited refreshments: tea, coffee, water, soft drinks
Hotel transfers in AC 4x4 cars
BBQ dinner buffet with veg and non-veg options (Click here for the menu)
Live Entertainment shows: Tanoura, belly dancing and fire dancing
Traditional Arabic costume photo opportunity
Shisha facility at the Shisha corner
Snacks (including Arabic dates)
Unlimited refreshments: tea, coffee, water, soft drinks
VIP dinner service (optional)
Cancellation Policy
You can cancel these tickets up to 24 hours before the experience begins and get a full refund.
You can cancel these tickets up to 24 hours before the experience begins and get a full refund.
You can cancel these tickets up to 24 hours before the experience begins and get a full refund.
Millions love heading out with us
Dubai Desert Safari Tours Guide

In the last few years, Dubai has established itself as the ultimate tourist destination with multiple must-visit attractions and experiences. From skydiving to shopping in Global Village, or skiing to visiting Burj Khalifa, the world is your oyster in Dubai. One can get their entire fill of adrenaline, tradition, art, culture, and heritage here. 

Why go on a Desert Safari?

The desert safari is one of the most popular activities in Dubai. And it's no wonder why - what could be more exciting than spending a day in the desert, surrounded by nothing but sand and sun?

Get the perfect combination of adventure-filled rides in a 4x4 vehicle, a glimpse into the ancient nomadic Bedouin culture, traditionally-prepared Emirati meals, wildlife spotting, and much more - all in one safari ticket! Let's take a look at the best Dubai Desert Safari tickets, tour highlights, and everything else you'll need for a perfect trip along the vast sand dunes of the Arabian desert.
Dubai Desert Safari Tickets Options Explained

Morning Safari

Evening Safari

Overnight Safari

Combo Tours
Dubai Desert Safari Timings & Schedule

The Dubai Desert Safari is a must-do activity when in the city and there's no shortage of options when it comes to timing and schedule. Whether you want to experience the desert in the morning, evening or even overnight, there's a safari that's perfect for you.

Each safari offers a different kind of experience, as the desert ambiance differs according to the time of day.

Morning Safari

Evening Safari

Overnight Safari

Pick Up: 5:30 am - 6.30 am

Drop Off: 11 am - 12 noon

These

are ideal for early-risers who want to avoid the heat of the day. Your pick-up time will be from 5:30am - 6:30am letting you experience the cool Arabian sands early morning.

You'll get to experience the desert as the sun rises, and see all the animals and plants that come to life in the morning. Once your safari is over, you'll be back to your place of accommodation by 11am - 12 noon.

Pick-up: 2:30pm - 3:30pm

Drop-off: 8:30pm - 9:30pm

Evening Safaris

offer the opportunity to watch the sunset over the dunes - a spectacular sight for sore eyes. You'll be picked up from your accommodation around 3pm. From here, you'll travel outside the city and experience the desert in all its glory.

Watch the sunset over the sand dunes, and see the desert transform into a whole new world at night. Your safari experience will end after dinner at 8pm after which you'll be dropped back off in the city.

Pick-up: 2:30pm - 3:30pm

Drop-off: 8am - 9am next morning

Overnight Safaris

are perfect for those who want to really immerse themselves in the desert experience. You'll drive to the desert after your pick up from the city in the afternoon around 3pm. Your safari will entail activities as per the experience you've chosen.

After the dinner and the live entertainment shows, you'll camp out under the stars, and get to experience the desert in all its tranquility. Wake up to a stunning desert sunrise in the morning and experience the magic of the cool morning sands in the Arabian desert. As your all-inclusive overnight safari ends, you'll head back to the city around 8am.
What to Expect on a Desert Safari in Dubai?

Pick-Up

On your booked ticket, you'll receive information about your tour timings, pick-up location, and other essential details. You'll be picked up in an air-conditioned vehicle and taken towards the desert. Your pick-up point would either be your accommodation in Dubai or a location nearest to your accommodation.

Your Experience

Adventure Activities: Once you enter the desert, you'll be taken to an activity area where you'll set out to bash dunes, quad bike, ride a dune buggy, or sandboard as per the experience chosen. Once you've had your share of kicks and thrills and wandered around the vast landscape of the desert, you'll head to the desert camp.

Relaxing in the Desert Camp: This is you chance to put your feet up and luxuriate in the Arabian desert away from the city. Try various Arab activities like henna painting, watch how Arabic coffee and bread is made, and sample some aromatic shisha. With tall sand dunes surrounding your camp, this will be your own little oasis!

Entertainment Shows: As your safari progresses, you'll enjoy some marvelous cultural shows during the evening. Whether it's the colourful, intricate skirts of the the Tanoura dancers, or the hypnotic music during the belly dancing show, you're sure to be awed. Also, watch a stunning fire show in your camp.

Meals in the Desert: All evening safaris end on a delicious note with a scrumptious BBQ dinner with veg and non veg delicacies. A few of the morning safaris include a traditional breakfast before the drop-off.

Drop-Off

After your fun-filled safari, you'll be dropped back to your pick-up location in an air-conditioned vehicle.
Things to Do in a Dubai Desert Safari

When you book a Dubai desert safari, there are a number of different activities that you can do. Here are some of the most popular ones.

Adventure Activities

Desert Camp Activities

Other Activities

- Dune Bashing: One of the most popular desert activities where you can experience the thrill of driving through the desert sand dunes.

- Quad Biking: Hop on a four-wheeled bike and zip around the sand dunes!


- Dune Buggy Ride: This is the perfect way to explore the desert and get a taste of the true Arabian adventure. These buggies can reach speeds of up to 70km/h, so hold on tight and prepare for an unforgettable experience.


- Sandboarding: Stand on a board and slide down the sand dunes during this thrilling experience.


- Camel Riding: Take a leisurely ride on the 'ship of the desert'.

- Shisha Smoking: This is a popular social activity in many Arab countries. It is also known as hookah or hubbly bubbly smoking. Smoke the flavored tobacco heated by charcoal and get the ultimate Emirati experience.


- Henna Painting: Get intricate designs on your hands and feel, drawn by experts as you indulge in some Henna painting, a popular form of body art in Arab countries.


- Arabic Coffee-Making Session: Get a taste of Emirati coffee as locals make it in a special pot, called a dallah. Coffee grounds are boiled in water and then poured into small cups. Sugar and spices may be added to the coffee.


- Arabic Bread-Making Session: Watch how the Arabs cook their bread over an open flame and get a chance to taste it too!

- A Picture with a Falcon: If you're looking for a unique photo opportunity during your time in the desert, consider having your picture taken with a falcon. Falcons are commonly found in the desert and are often used in hunting. Some experiences also include a Falcon Show that lets you admire various tricks by the bird of prey.


- Stargazing: One of the best ways to experience the desert night sky is by stargazing. The clear air and lack of light pollution mean that you'll be able to see a sky full of stars. If you're lucky, you might even spot a shooting star or two.


- Try Traditional Arabic Clothes: Fully immerse yourself in the culture of the desert as you try on some traditional Arabic clothes. Many desert safaris offer the opportunity to dress up in traditional clothing and take photos.
How do I Choose a Safari that's Best for Me?

There are 3 things to consider when choosing your safari:

1. Time of the Day

Do you want to wander the Arabian desert in the morning or evening? You can also go all out with the overnight safari!

2. Nature of the Safari

All desert safaris are not the same! Choose your pick between classic, adventure, heritage, wildlife, and luxury to have your best safari experience. 

Classic Safari: Travel the red dunes on a 4x4 vehicle, experience must-try activities in the desert, and fill your phone gallery with beautiful pictures of the desert landscape.

Adventure Safari: Add a dash of thrill to your classic safari experience with thrilling activities like quad biking, dune bashing, dune buggy ride, and sandboarding for an extended time duration.

Heritage Safari: Experience the desert as the ancient nomadic tribe of Bedouins did in the past with authentic torch-lit desert camps, traditional Emirati meals, and camel caravan rides.

Nature Safari: Explore the desert ecosystem as you drive around the flat desert in a premium vehicle and spot rare wildlife like gazelles, Arabian oryx, and more.

Luxury Safari: Indulge in the lavish comforts of an all-inclusive premium safari in a desert with unmatched ambiance. Savor a gourmet dinner or breakfast, depending on the time of your safari.

3. Price

With a variety of safari experiences available, one of the most important parameters for you will be picking the experience from your price range. 

Budget safaris: Below AED 250
Medium range safaris: AED 250 - AED 500
Premium safaris: AED 500 and above
Plan Your Dubai Safari Experience

Best time to visit

It's recommended to go for a desert safari in Dubai during the months from November to March. The weather generally is pleasant in the afternoons. Nights are not very chilly. This weather is just perfect for this kind of outdoor activity.

Age Restrictions

Only guests aged 16 and above can take part in quad biking. Children aged 15 and under must be accompanied by an adult on the quad bike.

Pick-Up Locations

Fret not about arranging transport to travel to the desert - your desert safari includes a hassle-free pick-up from your place of accommodation along with a drop-off after your safari ends. 

What to Wear

It is advised to wear lightweight clothing during summer. Bring along sunglasses, sunscreen, and a jacket during winters. You can also bring a hat for morning safaris. Opt for a pair of comfortable flats over casual sneakers and heels.

Meals in the Desert

All evening desert safaris include an elaborate dinner (open buffet or served at the table depending on the ticket chosen) towards the end of your experience. Some morning safaris include a light breakfast, dates and sweets, and refreshments like water, tea, and coffee. 

What to Carry

Don't lug around heavy bags in the desert. Make sure to pack light.
Bring along wet wipes and a water bottle in your backpack.

Health Restrictions

The dune bashing experience is not suitable for: children aged 3 and under, pregnant women, wheelchair users, people with back and heart problems, and people with pre-existing medical conditions.
The nature drive is not recommended for guests who are more than 3 months pregnant.

Tips

It is recommended not to eat 2-3 hours before the safari trip to avoid any sickness during dune bashing. Take some medicine along if you're prone to motion sickness. 
Dubai Desert Safari Locations

Did you know that there are actually different types of deserts in Dubai? That's right - depending on which desert you choose to visit, you can have a totally different experience.

Here's a quick guide to the different desert safari locations in Dubai:

Al Awir Desert

A popular destination, Al Awir is one of the most commonly visited deserts in Dubai. The area was once a farming village and you'll find some desert shrubs as you drive to your desert camp. Find fellow desert explorers in your desert camps here.

Al Lahbab Desert

Al Lahbab is an excellent choice if you want an adrenaline-pumping desert safari experience. The area is full of dunes, and you can even try sandboarding! The red dunes here are the perfect backdrop to take dramatic photographs of your exciting safari experience. Get ready for an adventure in Al Lahbab as you enjoy a quintessential desert experience.

Dubai Desert Conservation Reserve

As the name suggests, this is a conservation area and home to many endangered animals. Here, you can take part in safaris that help with research and conservation efforts. You might even spot some rare animals! The protected nature reserve is the perfect location for a spectacular desert getaway. With vast seas of sand, this desert ecosystem promises a quality safari with great desert ambiance.
Dubai Desert Safari Tickets FAQs

Are Dubai desert safari tickets available now?

Yes,

Dubai desert safaris

are now available. Guests are advised to prebook their tickets online in advance so as to receive their preferred date of travel.

What is included in my Dubai desert safari ticket?

A standard Dubai

desert safari

experience would include round-trip return transfers, dune-bashing, camel rides, a buffet meal with both vegetarian and non-vegetarian meals, unlimited water and soft drinks, and activities such as henna painting, etc. Added inclusions depending on your ticket type, you'll also have activities such as sandboarding and quad biking, live entertainment such as tanoura performances and belly dancing, and sheesha parties.

What are Dubai desert safari prices?

Safaris are available across a wide spectrum of price ranges, depending on the experience you choose and the inclusions it offers. They can start from as low as AED 125 and go up to AED 1750. Online bookings at Headout offer additional discounts and cashback, along with flexible cancelation policies.

What is unique about a desert safari in Dubai?

Dubai's desert safaris are unique because they offer a combination of activities that you can't find anywhere else in the world. From dune bashing and camel riding to sandboarding and henna painting, there's something for everyone to enjoy.

What is the best time to go for a Dubai desert safari?

Morning safaris are best suited for cooler months to avoid the harsh Dubai climate; the best time would be between October to April. Evening safaris, on the other hand, can be experienced throughout the year to enjoy the cool desert breeze at night.

Are return transfers included in my Dubai desert safari?

Yes, all safaris include round-trip return transfers. You'll be picked up from a common meeting point centrally located in the city in an air-conditioned vehicle and driven to the desert. After the safari, you'll be dropped back to the same point. This will help you save the hassle of planning your commute to and from the outskirts of the city.

What adventure activities can I try on a desert safari in Dubai?

There are a host of exciting adventure activities in store for you. Experience dune-bashing, sandboarding, quad biking, sandboarding, and camel rides while on your desert safari.

Can I bring my own camera on the Desert Safari?

Yes, you are welcome to bring your own camera to capture the beautiful desert scenery.

How do I dress for Desert Safari?

Wear comfortable clothes that you don't mind getting dusty or sandy. It's also a good idea to wear closed-toe shoes such as sneakers or hiking boots. Sunscreen, sunglasses, and a hat are recommended to protect you from the sun.

How do you prepare for a desert safari?

The best way to prepare for a desert safari is to dress appropriately for the conditions. Bring plenty of water to stay hydrated, and snacks or energy bars to keep your energy up. Finally, make sure you have a good pair of walking shoes or sandals. To prevent motion sickness during dune bashing, it is advised to avoid eating for two to three hours prior to the safari trip. If you frequently have motion sickness, bring some medication with you.

Where do they take you for desert safari in Dubai?

Most safari tours will take you to the Dubai Desert Conservation Reserve, Al Lahbab desert, or Al Awir desert where you can enjoy activities such as dune bashing, camel riding, and sandboarding.