Quad Biking
Ride a powerful quad bike over the Arabian sand dunes and conquer your own sand hill. Quad biking in Dubai is one of the most popular desert activities. Stop by at any point to capture the stunning landscape around you.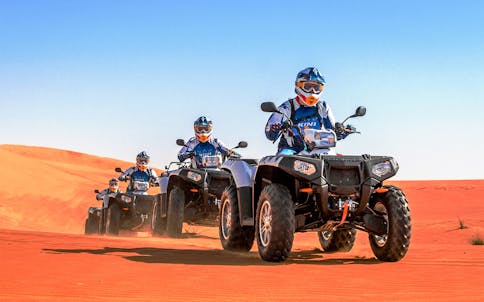 Free cancellation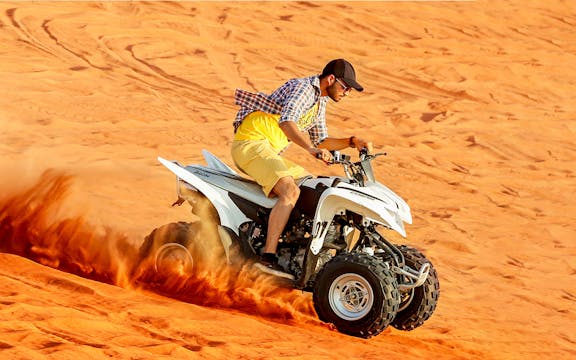 Headout's Top Recommendations
Free cancellation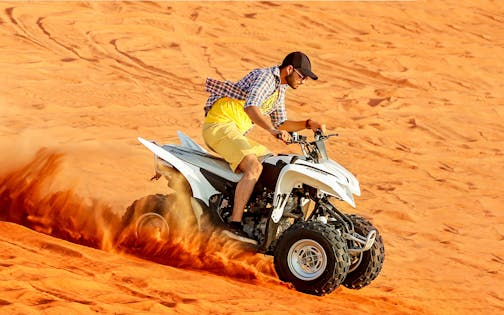 Free cancellation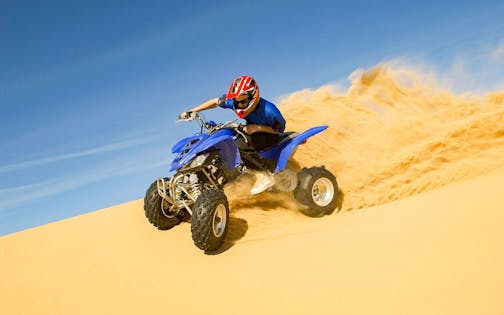 Inclusions
Pick-up and drop-off in an air-conditioned vehicle
30-35 mins dune bashing in a 4x4 vehicle
A professional licensed safari guide
A short camel ride (can be repeated)
Pick-up and drop-off in an AC 4x4 vehicle
20 mins quad bike (150 cc) experience
Unlimited refreshments (tea, coffee, water, soft drinks)
15-20 mins dune bashing in an AC 4x4 vehicle
BBQ buffet dinner with veg and non-veg dishes (menu here)
Shisha smoking facility at the shisha corner (apple flavor)
20 mins dune buggy (optional)
Cancellation Policy
You can cancel these tickets up to 24 hours before the experience begins and get a full refund.
You can cancel these tickets up to 24 hours before the experience begins and get a full refund.
Quad biking is a four-wheeled fun experience, usually in an outdoor setting. The thrill of riding a massive bike on amazing terrains with no restrictions is incomparable. Quad biking ups the adventure quotient of Dubai desert safaris with a wild ride in the great desert, overlooking the majestic Dubai skyline.

Given the picturesque setting and the genuinely good time on offer, quad biking in Dubai is one of the most popular experiences. Not sure about how to select the best desert adventure experience and what's on offer? We have all your questions about quad biking in Dubai answered here.
Why Quad Biking in Dubai is a Must-Do

There are plenty of things you'll love about your quad biking experience in Dubai. Here are our top picks:

You get to zip through the desert with abandon, take any route you want to (within the designated driving area, of course), and just have an all-round amazing time.
These tough, four-wheelers are a fun way of getting out into the real terrain, away from traditional routes and crowds of visitors.
With proper safety measures in place, quad biking in Dubai is one of the most fun, family-friendly experiences around.
When you buy your tickets from Headout, you can choose from a variety of desert safari options that include 20-45 mins of quad biking depending on the ticket, bringing you the best of Dubai's desert in one neat package.
If you enjoy driving or motorsports, quad biking is a match made in heaven for you. The excitement of riding in the desert is hard to match up to!
Quad Biking Ticket Options Explained

Headout offers various desert safaris which include quad biking. Here are some things to consider when choosing your quad bike desert safari:

1. How long do you want to enjoy quad biking? You'll find experiences with quad biking from 20 mins to 1 hour.

2. What time works best for you? You can select from a range of experience in the morning and evening.

3. What other activities do you want to combine with quad biking? Some of the other activities you can enjoy during your safari are sandboarding, dune bashing, henna painting, stargazing, and more!
How to Pick the Best Quad Biking Experience in Dubai

1. Know Your Budget
If you're on a vacation and constrained by a budget, each activity you partake in can cause a considerable dent. Avoid overspending and opt for combos to experience multiple attractions together and save time. Take for instance the Headout's Desert Safaris with Quad Biking. You can experience all the joys of Dubai's desert, including dune bashing, quad biking, camel riding, a traditional Dubai meal, and much more!

2. Who Are You Travelling With?
Another thing to consider before you pick your quad biking experience is your fellow travelers. If your kid is younger than 3 years old, quad biking is not for them. Or if you're visiting Dubai with your elderly parents, you shouldn't really pick quad biking. On the other hand, if you're traveling with your friends or kids (older than 3), this activity is perfect for you.

3. Matters Of Time
On a tight schedule and only have time for limited activities? We would suggest picking activities that are for a shorter duration like the Morning Quad Bike Safari which promises 15 minutes of pure quad biking madness!

4. Weather
Although Dubai is hot round the clock, the winter months are considerably better than the peak summers. Since quad biking is an outdoor activity, we would recommend planning your trip around the winter months to escape the scathing heat and enjoy a fun quad bike ride.
How to Prepare for Quad Biking

All quad biking Dubai experiences require that you sign an indemnity form before proceeding with the ride. Signing this form relieves the vendor from damage/personal injury to the participants, so ride carefully.
Infants aged 3 and under can be brought along on the ride by parents for their own safety. But they must be carried on the parent's laps if the seats are not reserved on sharing basis.
Summer clothing is suitable for most of the year, but sweaters or jackets may be needed for the winter months.
Since the experience involves going out in the desert and facing the sun, bring along sunscreen, sunglasses, and hats for additional protection.
If you don't have prior experience with motor vehicles (or even if you do), pay close attention during the training to understand the workings of a quad bike. Always remember, safety first!
Only individuals aged 14 and above are allowed to ride a quad bike solo.
Guide to Other Desert Activities

Henna Painting

Relax in the desert camp and have professionals gift you a temporary henna tattoo on your hand with intricate designs. What better souvenir could you take back with you from a desert safari!

Stargazing

In the evening, once other activities and live entertainment shows are over, some desert safaris include a magical desert experience. The staff will shut off all the lights in the desert camp for 15-20 mins which will let you experience the night of the desert in its most authentic form - with a surreal silence around you and glittering stars overhead.

Shisha Smoking

Appreciate the aromatic shisha at your desert camp and smoke some it from the water pipe too. This is a traditional Emirati indulgence that many desert visitors would suggest experiencing.

Dune Bashing

What's a desert safari without some off-roading adventure? Head to the tall dunes of the Arabian Desert in a 4x4 air-conditioned vehicle. Go up and down the dunes in a rollercoaster-style drive for anywhere between 20 mins to 45 mins depending on the ticket you choose.

Camel Riding

Explore the desert as the ancient nomads did - on a camel also known as the ship of the desert. A camel caravan is an especially amazing activity to opt for during sunset and sunrise. Watch the colorful sky as how it transforms the desert as you travel on a camel.

Sandboarding

Glide down the soft sands of the Dubai desert on a waxed sandboard and experience a thrill like no other! Don't worry about being a pro - even if you fall, the sand completely cushions your fall, giving you the confidence to try surfing down the sand over and over again.
Quad Biking in Dubai FAQs

Is quad biking available in Dubai desert safari tickets?

Yes, you can go

quad biking

in Dubai by selecting from range of desert safaris available in the morning and evening.

How much does it cost to go quad biking in Dubai?

Do you need a license to drive a quad bike in Dubai?

No, you don't need to have a license to drive a quad bike by yourself.

What do you wear on a quad bike in Dubai?

It is recommended to wear loose and comfortable clothes along with sandals or casual shoes. However, make sure that your clothes don't have a loose-hanging part that can get stuck in the quad bike tires.

How fast can a quad bike go?

You can control the speed of your quad bike according to your comfort and need for speed. But, the quad bike can go as fast as 70 kmph depending on the exact terrain of the desert.

How old do you have to be to go quad biking in Dubai?

Children aged 16 and under must be accompanied by an adult on the quad bike. Toddlers cannot ride the quad bike.

Is quad biking safe?

Quad biking in Dubai is absolutely safe. Just make sure to listen to your instructor and follow their suggestions as you wander around the desert on the bike.

Is quad biking difficult?

Quad biking is not a difficult activity once you understand how the vehicle works and follow the instructions given by the staff in the desert safari.