Dune Bashing
Enjoy an adventurous Dubai desert safari, riding the ups and downs the red dunes of the Arabian Desert in an air-conditioned 4x4 vehicle. Surf the dunes while sandboarding for an unprecedented adrenaline rush. Discover the best dune bashing experiences with these Dubai desert safari tickets.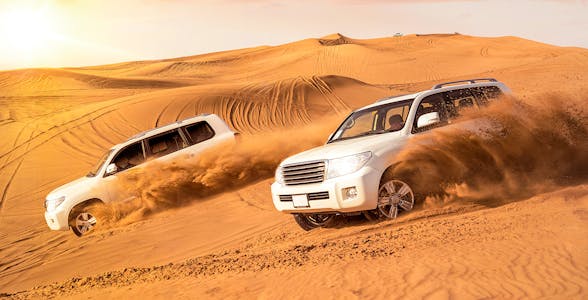 The desert safari in Dubai is becoming increasingly popular, as it offers visitors the chance to experience the desert in a unique way. The safari typically lasts for around 3-5 hours, during which time you will be able to explore the desert, go on a camel ride, and watch the sunset.

One of the most popular activities in a desert safari is dune bashing. It has almost become synonymous with the safari experience, and for good reason - who doesn't love a dash of thrill in the surreal landscape of the Arabian Desert!
Dune bashing is a popular activity in Dubai, and for good reason. This adrenaline-pumping sport is perfect for those looking for an exciting way to explore the desert.

Dune bashing is basically off-roading in the sand dunes. This means driving up and down steep sand dunes in a 4x4 vehicle. It's both exhilarating and challenging, making it a great activity for thrill seekers.
Dune Bashing Ticket Options Explained

Headout offers various desert safaris which include dune bashing. Here are some things to consider when choosing your dune bashing desert safari:

1. Length of dune bashing: The first question to ask is how much dune bashing will fulfill your need for adventure? Headout has various safaris that offer dune bashing from as brief as 20 mins to as long as 40 mins.

2. Time of the day: Do you want to head on a morning safari or an evening safari? Plan according to your itinerary and choose the option that works best for you!

3. Other activities in your safari: Deser safaris usually have a combination of different activities bundled together. Do you want to pair your dune bashing experience with quad biking, sandboarding, breakfast/dinner, shisha smoking or stargazing? Find everything that your safari offers in the Inclusions section on Headout and take your pick - whatever you opt for, we promise you'll have a blast!

40 mins Dune Bashing (or More!)
What to Expect on a Dune Bashing Ride

Dune bashing is a special type of off-road driving that is popular in Dubai. It involves driving over sand dunes, which can be both exhilarating and challenging.

Your Experience

Timings & Duration

Restrictions

First, your driver will take you to the top of a sand dune. Then, it's time to hold on tight as you speed down the dune and experience the thrill of off-road driving. Be prepared for some bumps along the way!

After dune bashing, your driver will take you back to your hotel or resort. This is usually the end of the ride, but sometimes drivers will offer additional services such as camel rides or sandboarding.

If you're looking for an adrenaline-pumping activity during your stay in Dubai, dune bashing is a must-try! Just be sure to follow your driver's instructions and hold on tight.

Duration: 20 mins - 45 mins

Dune bashing typically takes place in the morning or evening, when the temperatures are cooler. The duration of the ride can vary, but it is usually around 20 to 45 mins.

1. It is recommended not to eat 2-3 hours before the safari trip to avoid any sickness during dune bashing.

2. The dune bashing experience is not suitable for: children aged 3 and under, pregnant women, wheelchair users, people with back and heart problems, and people with pre-existing medical conditions.

3. There are no age or weight restrictions for dune bashing, but participants must be able to sit upright and hold on tight.
Why is Dune Bashing a Crowd Favourite?

There are a few reasons why dune bashing has become such a crowd favorite in Dubai:

1. It's a great way to see the desert. You'll get to experience the desert in a whole new way when you're driving through it.

2. Dune bashing is one of the most unique ways to get your adrenaline pumping. It's an exciting and challenging activity that is sure to get your heart racing.

3. Dune bashing is a great way to bond with friends or family and have a roller coaster experience in the desert. You'll create memories that will last a lifetime when you go dune bashing together.
How to Prepare for Dune Bashing in Dubai

1. Decide how long you want to enjoy dune bashing

First of all, you must decide the duration for which you want to enjoy this thrilling activity. Dune bashing can go on for 20 mins to 45 mins depending on the experience you choose. Select how much time feels appropriate to you based on who you're going on the safari with, your health limitations, and your need for adventure.

2. Pack your essentials in a small backpack

It is important to pack light and not lug around heavy baggage in the middle of the desert. Some items you shouldn't forget to pack are:

Water bottle
Sunscreen
Medicine for motion sickness
Some candy


3. Dress your part

Wear loose, preferably cotton, clothes that are comfortable for you. It is recommended to wear casual shoes or sandals. If you're bringing kids along, it's important that they are comfortable in their attire. Also, don't forget to apply sunscreen!

Once you've embarked on the 4x4 vehicle, you're ready for your offroading adventure!
Other Desert Activities in Dubai

Quad Biking

Quad biking

in the Dubai desert is an adrenaline-pumping way to explore the dunes. You will be provided with a quad bike and safety gear, and then let loose in the desert to enjoy the ride. There are many different dune bashing tracks to choose from, so you can find one that suits your skills and interests.

Henna Painting

Henna painting is a type of body art that has been practiced for centuries in many parts of the world. Henna is a paste made from the leaves of the henna plant, and when applied to the skin, it creates a temporary stain. In Dubai, henna painting is a popular activity during desert safari tours. Consider your henna tattoo an Arabic souvenir from your safari experience.

Sandboarding

Sandboarding

is a popular activity in Dubai Desert Safari. It is similar to snowboarding, but instead of snow, you will be riding on sand dunes. Sandboarding is a great way to experience the desert landscape in a new and exciting way. Glide down the silky sand dunes shining in the sun and take pictures of this unique adventure!

Arabic Coffee and Breadmaking Live Sessions

Some desert safaris also give you the chance to get a glimpse into the traditional recipe of coffee and breadmaking in the Middle East. Watch local folks make these delicacies and also get to snack of them later!
Dune Bashing in Dubai FAQs

Is dune bashing available in Desert Safaris in Dubai?

Are there other activities like dune bashing in the desert?

Is dune bashing safe?

Dune bashing is completely safe. Your 4x4 vehicle for dune bashing is equipped with the right tire and tire pressure for this kind of experience. The vehicle will be driven by professionals who are familiar with the desert terrain and will ensure you have a thrilling and safe experience.

How long is dune bashing Dubai?

Dune bashing typically goes on for 20 mins to 45 mins depending on the safari you choose.

What should I wear for dune bashing in Dubai?

The perfect attire for dune bashing includes loose and comfortable clothing along with casual shows, sandals or flip flops. Don't forget your sunscreen!

Where is dune bashing done?

For dune bashing, you'll be taken to the heart of the desert where you'll find tall dunes. The ups and downs on these dunes in a 4x4 vehicle is what makes this experience so thrilling.

What is a good time to go for dune bashing?

The best time to visit for dune bashing is during early morning or late evening, when the weather is pleasant.

What should I keep in mind before going dune bashing?

Remember to not have a heavy meal before dune bashing to prevent motion sickness.