Luxury Desert Safari
Book a lavish, all-inclusive safari in an uncrowded desert with great ambiance, an ocean of sand dunes around you, and quality private desert experiences in store. If you want to tick this must-do Dubai activity off your list, why not choose the best of the best desert safaris!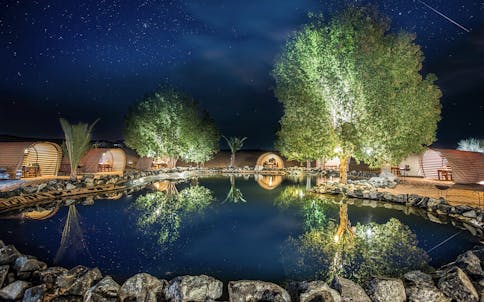 Free cancellation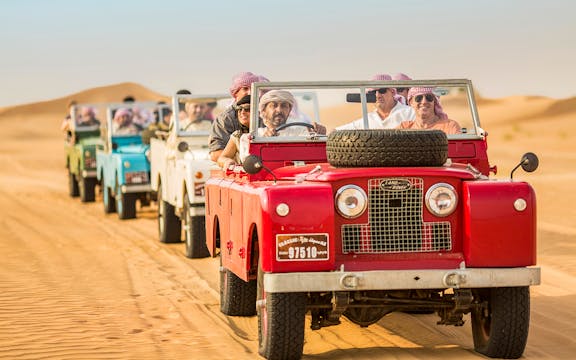 Headout's Top Recommendations
Free cancellation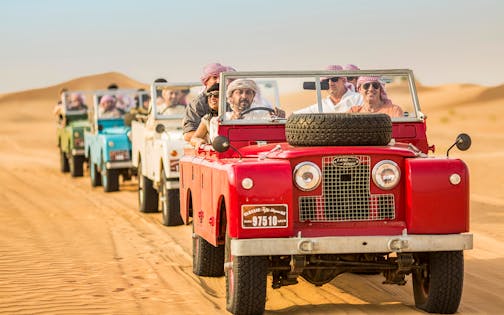 Free cancellation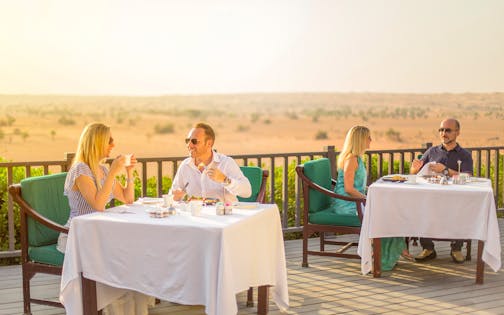 Free cancellation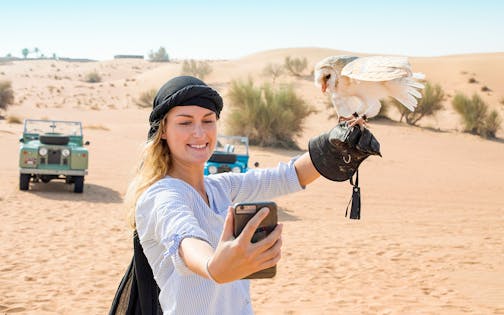 Inclusions
Pick-up and drop-off in a shared AC 4x4 vehicle
60-min nature safari in a premium Range Rover
Professional driver who is also a conservation guide
Ghutra or Sheila (headscarf)
Visit to a bird sanctuary in a remote lake
6-course dinner (menu here)
Pick-up and drop-off in a shared/private AC 4x4 vehicle
Traditional headscarf (Ghutra or Sheila)
Pictures with a fleet of vintage Land Rovers
Drive in a luxury air-conditioned Range Rover
Visit a migratory bird lake
Entry into Al Maha Resort and Spa
5-star breakfast buffet in an air-conditioned space
Pick-up and drop-off in a shared/private air-conditioned vehicle
Stainless steel water bottle and a bag
Watch traditional cooking stations
25-min falconry performance
Traditional Emirati breakfast (menu here)
Listen to Bedouin storytellers
60 mins Nature Safari in a vintage Land Rover
Cancellation Policy
You can cancel these tickets up to 24 hours before the experience begins and get a full refund.
You can cancel these tickets up to 24 hours before the experience begins and get a full refund.
You can cancel these tickets up to 24 hours before the experience begins and get a full refund.
Luxury Desert Safari Guide

A Luxury Desert Safari in Dubai is a Dubai experience done right! Spoil yourself with the ultimate lavishness of an all-encompassing desert adventure that you truly deserve. Experience authentic Arabian culture as you explore the red sand, cultural activities, cuisine, wildlife, breathtaking sites, and so much more. Take lots of pictures to forever store these memories on your Instagram, feed. All things aside, the most sought-after part of this tour is the camp beside the beautiful oasis surrounded by the Arabian sand.
Why a Luxury Desert Safari in Dubai is Worth It

Get a chance to luxuriate like royalty in the middle of the Middle-Eastern desert - need we say more? Apart from the obvious all-inclusive nature of the safari, here are 3 reasons why you should choose a luxury desert safari:

1. Get the regal treatment as you explore the ocean of sand from the comforts of an air-conditioned vehicle and discover the exquisite wildlife flora and fauna of the Dubai desert.

2. You get your English-speaking tour guide and driver in one holding deep knowledge about the history, culture, and ecosystem of the surroundings.

3. Elevate your authentic experience with a 6-course meal that truly completes the whole adventure. Witness some exclusive and private shows and activities you will only get with the Luxury Desert Safari.
Luxury Desert Safari Dubai: Timings & Schedule

Timings

Pick-up: 2:30pm to 4:30pm

Drop-off: 9:30pm to 11:30pm

Itinerary

- 2:30pm onwards: Travel from the city to reach the Dubai Desert Conservation Reserve.

- 4pm onwards: 60 minutes drive around the Wildlife Conservation with rare animal spotting.

- 6pm onwards: Experience the Falconry show.

- 6:30pm onwards: Take a calm camel ride and refreshments as the sun sets in the background.

- 7:30pm onwards: Enjoy a gastronomic experience with a 6-course elaborate dinner in a private seating area.

- 9:30pm onwards: Safely take a ride back to your place of accommodation.
What to Expect on a Luxury Desert Safari in Dubai

The ultimate Luxury Desert Safari is the only way that does justice to the city which is considered the playground of the billionaires.

Get picked up from your hotel or place of accommodation in a shared or private SUV and start your adventure at the Dubai Desert Conservation Reserve.
The Safari will take you on a journey to venture into the Ghaf Tree forest and its ecosystem.
Get the traditional experience with Emirati headgear.
Treat your soul to a lavish 6-course meal, traditional dances, and other fun activities that define the Emirati heritage and so much more as a part of this 7-hour-long tour.
What is Included in a Luxury Desert Safari Dubai?

This Luxury Safari is an all-inclusive package of an experience that will remain with you for a lifetime. Here is what you get with this tour:

1. Pick-Up and Drop-Off

Share your address and other details at the time of booking and you will be picked up in a luxury 4x4 vehicle. While booking, take the liberty to choose whether you want a private or shared conveyance. And once your adventure comes to an end, enjoy a hassle-free drop-off at your place of choice.

2. Drive to the Desert in a Premium Vehicle

After pick up, you will be driven to the Dubai Desert Conservation Reserve. Discover the exquisite wildlife of the desert in the galops of an elegant gazelle or the flight of the exclusive birds. Under the expert guidance of your driver-cum-guide learn detailed and fascinating facts about the desert ecosystem.

3. Quality Time with an Excellent Desert Ambiance 

The tour promises only the best and the most authentic experience while dosing you in uber luxury as you explore the glittering sand of Dubai Desert Conservation Reserve. With the beautiful golden backdrop of the setting sun take lots of great pictures next to the calm oasis in the middle of the desert or take the iconic picture as the falcon perches on your arms.

4. Premium Desert Camp with All-Inclusive Activities 

Ride a camel to trace the steps of Bedouin nomads and arrive at the authentic Bedouin-style camp near a beautiful lake. The rest of your dazzling Arabian experience will take place here, which you can enjoy from your private cabana while indulging in a lavish meals at no extra cost for any of this premium fun and luxury.

5. Elaborate Meals

The most prominent aspect of middle eastern culture is its exquisite cuisine. Your preferences such as vegetarian, vegan, kosher-style, or gluten-free, will be kept in mind as the food is prepared for you. The surroundings and entertainment accompanied by food together work well to bring you the feeling of well-deserved royalty. 

6. Evening Extravaganza with Live Entertainment Shows

Enjoy some of the culture-defining acts from the local Emirati folks that have found their names listed as one of the UNESCO Intangible Heritage of Humanity such as Falconry and Arabian coffee making. Witness local shows including belly dances, fire shows, acrobatics, and more.
Things to do in a Luxury Desert Safari in Dubai

Wildlife Tour

A Luxury Desert Safari includes a 60-minute drive around the Dubai Desert Conservation Reserve. Watch as some of the rare birds soar through the sky and local animals such as Arabian oryx, gazelles, or reptiles, navigate the sand with hypnotic fluidity. The sesert flora is just as much interesting to explore.

Meals

In a 5-star Desert Resort
Head to Al Maha Luxury to enjoy a 5-star gorumet breakfast towards the end of your morning safari.

Emirati Breakfast in a Traditional Bedouin Camp 
Start your day with a brilliant breakfast, coffee, and other beverages at the traditional Bedouin Camp as you watch them getting prepared with traditional Emirati techniques. 

6-Course Dinner
The proper royalty treatment of a 6-course meal starting with canapes and refreshments and ending with a delectable serving of a range of deserts will leave you satiated and happy to the core.

Visit a Desert Oasis

The surreal beauty of an oasis and the shocking greenery around it is a site to behold and can only be truly admired when experienced personally. Get your private cabana in the authentic camp surrounding a lake in the desert. As the glittering stars reflect in the pool of water, watch the golden evening transcend into the luxurious night surreptitiously. 

Falconry

Marvel at this ancient art that so boldly puts the fascinating relationship of the falconer and their bird on display - the bird hunting for its prey in its natural environment and returning to the falconer looking for appreciation is a site to behold. Once the show is done, get a chance to click pictures with this magnificent bird in your arms.

Camel Rides

Nothing would soothe your spirit as a slow and lulling movement of a camel ride. Enjoy as the ship of the desert elegantly traverses in the shifty sand. Additionally, keep the memories intact forever with lots of pictures.

Live Entertainment Shows

Acrobatic performance
Enjoy a mesmerizing show presented by acrobats on the beat of traditional Arabian music, giving you a glimpse into the Emirati culture.

Fire show 
Watch jaw-dropping acts of playing with fire infused with complex dance movements. Indulge yourself in an ooh-worthy performance by expert artists as they blow flames, twirl inflamed sticks in various stunning motions to create lit patterns in the air and around their bodies, and other techniques. 

Folk dance performance
Witness the truly spellbinding dance performances that have been a part of Arabian culture and entertainment for millennials. Get ready to be dazzled by the graceful belly dance, Tanoura dance, and Khaleeji dance by the exotic and beautiful dancers.

Visit Traditional Cooking Stations

Tantalize your senses as the drool-worthy fragrance of your Emirati dishes wafts from the stations serving hot BBQ, Shawarma, Arabic Coffee, and other traditional food being prepared live.
Luxury Desert Safari in Dubai Location

One of the largest Reserved areas under the UAE government, the Dubai Desert Conservation Reserve covers 5% of the total Dubai landmass. It is a symbol of Emirati heritage as well as a haven for Desert wildlife. Explore the exciting Desert landscape enriched with mesmerizing flora and fauna that naturally inhabit the ecosystem. The 225sqkm area conserves not just nature but the history and culture of the UAE. Accompanied by English-speaking Tour operators your trip experience elevates as they educate you about fun facts, anecdotes, and stories about the locality.
Luxury Desert Safari Dubai FAQs

Can I book a Luxury Desert Safari online?

When can I go for a Dubai Desert Safari?

You can book your

Dubai Desert Safari tickets

at any time of the year but November to March are the most popular months to enjoy this experience.

Is a luxury desert safari in Dubai worth it?

The all-inclusive luxury desert safari is the best way to experience the beauty of the Arabian Desert. Choose your safari depending on your budget and the time of the safari most convenient for you.

What are the adventure activities in a desert safari?

How do I arrange tranport to the Dubai desert?

All Luxury Desert Safaris in Dubai include hassle-free pick-up and drop-off from your accommodation ensuring you don't have to spend any energy organizing the safari.