Camel Rides
Ride a camel in Dubai for an authentic desert experience during these desert safaris. Aptly called the ship of the desert, riding these majestic animals will take you right back to the days of nomadic Bedouins.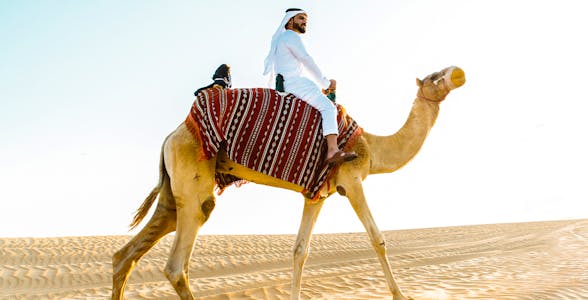 from

$47.64
$35.67
Save up to 25%
Headout's Top Recommendations
Free cancellation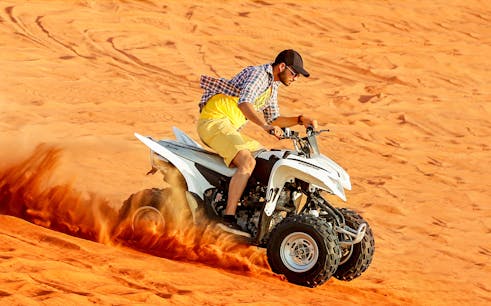 Free cancellation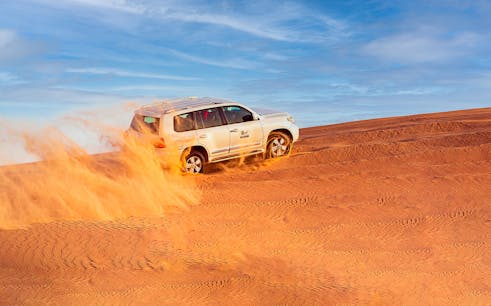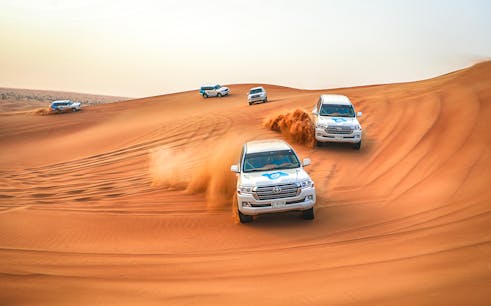 Inclusions
Pick-up and drop-off in an air-conditioned vehicle
30-35 mins dune bashing in a 4x4 vehicle
A professional licensed safari guide
A short camel ride (can be repeated)
Pick-up and drop-off in an AC shared 4x4 vehicle
15-20 mins dune bashing in a 4x4 vehicle
Shisha in the designated corner (not on the table)
Barbeque dinner (veg and non-veg)
Pick-up and drop-off in an air-conditioned 4x4 Land Cruiser
A professional licensed safari guide
30-45 mins dune bashing in a 4x4 vehicle (as per ticket option)
30 mins quad biking (as per ticket option)
A short camel ride (repeatable)
Cancellation Policy
You can cancel these tickets up to 24 hours before the experience begins and get a full refund.
You can cancel these tickets up to 24 hours before the experience begins and get a full refund.
These tickets can't be cancelled or rescheduled.
Dubai, the Las Vegas of the middle east is one of the most luxurious cities in the modern world acting as the playground of the rich. Dubai has everything from offering a perfect family getaway to an ideal spot for a boisterous bachelor party, a romantic honeymoon with your love, or a bit of me-time to discover and bond with yourself. While the brightly lit and ever-so-happening city keeps your spirit upbeat and high, there is nothing like the calm rush that your soul will find through Dubai Desert Safari.

One of the many popular activities on a desert safari is a camel ride. Embark on the ship of the desert and experience the Arabian sand dunes as the ancient Bedouins once did during a quintessential safari with a camel ride in Dubai.
Why You Shouldn't Miss a Camel Ride in Dubai

Simply magical with its hypnotic colors and shapes the Dubai deserts have so much to offer. If you visit Dubai and skip a trip to the beautiful deserts, it would be a tragic waste. 

Nothing gives you a more authentic experience of exploring the deserts of Dubai than exploring it on the back of a camel in the traditional clothing of the nomadic Bedouin men and women. This is your chance to live and experience the famous tales of "Arabian Nights" from your childhood. The camel safari experience varies in its charm depending upon the time of the day.
What to Expect on a Camel Ride in Dubai

Camel Safari in the Evening

How much you will enjoy the desert safari experience depends on the weather conditions. There is nothing like a cool breeze tantalizing your senses while slowly riding a camel across the sand with a beautiful sunset in the backdrop.

A sunset camel ride Dubai is a peaceful joyride in the evening and offers you millions of colors and angles to take the perfect photos for your Insta feed. With changing lights of the setting sun, the desert changes colors from glittering red to matte black. Give your senses the perfect challenge it deserves. Start with camel riding followed by a set of typical fun-filled Arabian night activities.

Top Recommendation

Camel Trek in the Morning

While the desert in the evening is charming, the experience is downright therapeutic in the morning. Arrive at the camp in the morning to start your camel ride in Dubai taking you on the journey of welcoming the beautiful morning sun at the horizon of the sea of sand and taking in the glory of the red dunes in the golden morning light.

Truly discover the secrets of the desert as you get the chance to explore some of the unique flora and fauna. Also, a great opportunity to take some of the most amazing photos with the rising sun.

Top Recommendation
Why Camel Caravans are a Crowd-Favorite

The ethereal view of camel trains trekking through the red and golden sand of the Dubai desert offers an experience of a lifetime. You cannot picture Mediterranean culture without camel caravans. The desert safari simply completes the Dubai experience. While the city of Dubai is encrusted with glittering skyscrapers, that is not the traditional and authentic Arab experience.

Outside the city, here in the desert, you can enjoy so many activities including sandboarding, dune bashing, a sheesha facility, henna tattoos, BBQ, and more, once your camel ride in Dubai ends - elevating the overall desert experience.
Other Arabian Desert Activities

A desert safari is not only about a camel ride in Dubai! It has plenty of activities to indulge in for thrill-seekers, culture connoisseurs, budget travelers, foodies, and more!

Adventure Activities

Desert Camp Activities

For thrill-seekers, your desert safari can offer a complete package of adrenaline rush. You can start your adventure with an authentic traditional camel trek following the steps of the Bedouin Caravan before you indulge in other thrilling feats!

1. Dune Bashing

Drive at rapidly varying speeds in an SUV on the hot shifting sand dunes to enjoy a thrilling experience. The seat gripping experience jostles your body as the expert performs various stunts for your entertainment, stimulating the sense of heart-pumping danger in a safe environment.

2. Quad Biking

Go off-roading on ATVs in the slipping and sliding terrains of the sand dunes for an adventurous and exhilarating experience. Though it gets you high on adrenaline, know that ATVs are specially designed for rough terrain navigation with three or four low-pressure tires and ergonomic breaks to keep you safe.

3. Dune Buggy

Put yourself behind the wheels of a powerful 2000cc dune buggy that does not need low-pressure tires but has been designed especially for deserts. Enjoy driving through the crazy slippery dunes following the lead of your group as they forge a thrilling path for you. 

Culture connoisseurs can experience a more serene way to enjoy the experience. Once you're done with adventure, you'll be driven to the desert camp where you can spend the rest of the day or night enjoying years of Arabic traditions and entertainment.

1. Henna Painting

Henna is considered to be a symbol of good health, luck, and love. First-hand experience the thousand-year-old tradition of getting a beautiful Henna tattoo on your hands. This dye is completely natural, painless, and lasts for weeks. You can choose to get it painted on your hands, arms, or feet.

2. Shisha Smoking

Your Arabian night experience in Dubai will become all the more authentic with these flavored smoking activities popularly known as Shisha or hookah. Do not forget to click lots of cool emo pictures as you enjoy a puff of smoke surrounding you.

3. Live Arabic Coffee-Making Session

For centuries, the preparation of Gahwa, or Arabic coffee has been a part of ancient Arab tradition. It is now an experience coveted by people across the world. In fact, the cultural importance of Arabic Coffee preparation is reflected in the fact that it is one of the items on the list of Heritage by UNESCO.
Camel Rides in Dubai FAQs

Is camel riding available on a desert safari in Dubai?

Does a desert safari offer other activities as well?

What do you wear on a camel ride in Dubai?

Light-colored linen or cotton comfortable clothes covering most of your body such as trousers, full sleeve shirts, jeans, etc. will keep you safe from the harsh sun. For an authentic experience, you can also don a traditional Arab dress - Abaya for women and Kandura for men. Trainers are a good option for shoes.

Is there a weight limit for riding a camel?

The maximum weight limit for a comfortable camel ride in Dubai is 120kgs or 265lbs.

What should you bring on a desert safari?

A backpack containing good quality sunscreen, sunglasses, a water bottle, an energy drink, some cash, and a spare pair of shoes are some of the items you must carry with you. Try to avoid carrying any valuables which run the risk of loss during the fun-filled activities of the safari.