Dubai Desert Conservation Reserve
Head to Dubai Desert Conservation Reserve on a safari like no other. Known as the largest unfenced natural reserve in the country, the sand and dunes of DCR are like no other. You're in for nothing but a quality experience if you opt for the DCR safari. Tall dunes, vast oceans of sand, and a stunning horizon await!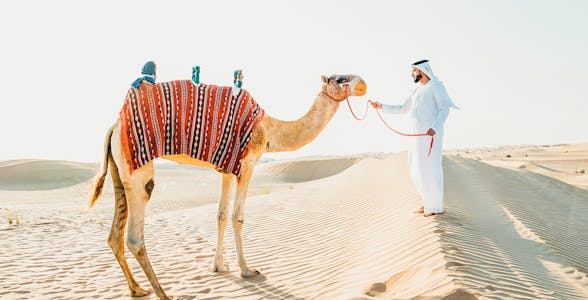 Headout's Top Recommendations
Free cancellation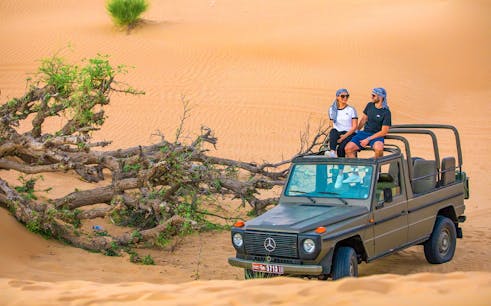 Free cancellation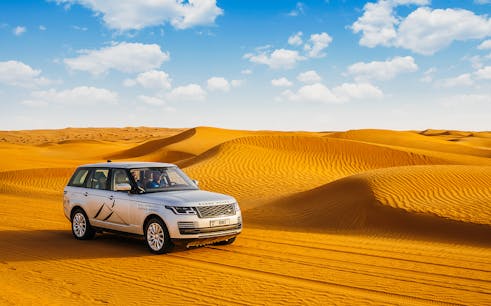 Inclusions
Pick-up and drop-off in an air-conditioned shared/private vehicle
30-40 mins open-air Vintage G Class Mercedes 1980s desert ride
Traditional welcome at the authentic Bedouin Village
10-12 mins camel caravan ride (can be repeated twice)
Live Arabic coffee making session
Arabian makeover (Kandura for men, Abaya for women to be returned after use)
Gaymat (sweets) and dates
Authentic 3-course Bedouin dinner with veg & non-veg options
Stargazing session with a telescope
Pick-up and drop-off in a shared AC 4x4 vehicle
60-min nature safari in a premium Range Rover
Professional driver who is also a conservation guide
Ghutra or Sheila (headscarf)
Visit to a bird sanctuary in a remote lake
6-course dinner (menu here)
Cancellation Policy
You can cancel these tickets up to 24 hours before the experience begins and get a full refund.
You can cancel these tickets up to 24 hours before the experience begins and get a full refund.
Dubai Desert Conservation Reserve Guide

The Dubai Desert Conservation Reserve is celebrated for being among the largest natural reserves in the United Arab Emirates. Stretched across 225 square kilometers, it occupies nearly 5% of the total land mass of Dubai. The vast landscape is covered with enchanting sand dunes and is a haven for numerous animal and plant life. Tourists favor DCR for adventurous activities like dune buggy trips, falcon demonstrations, horse riding, sandboarding, among many others. Read on to learn in depth about the DCR and why you should add it to your travel list on your next visit to the Jewel of the Desert.
Why Is Dubai Desert Conservation Reserve Special?

Feast your eyes on the dreamy landscape of the desert terrain that also has the honor of being UAE's first national park. Along with the myriad desert adventures you can enjoy at the DCR, you also have the opportunity to discover the local culture and traditions that set this tourist attraction apart. Additionally, the reserve is reputed for taking a sustainable approach towards its tourism activities and is working tirelessly to conserve its precious desert wilderness. The exquisite scenery at the Dubai Conservation Reserve beckons you with the promise of an unforgettable desert experience that you will cherish for years to come.
Where is the Desert Conservation Reserve Located?

The DCR is situated on the outskirts of Sharjah and is nearly 60 kms away from Dubai International Airport. The easiest route is to travel from the airport by road. The journey can take approximately 45 minutes. Alternately, you can also travel by bus. Check the availability and timings for your scheduled visit online.
What Kind of Desert Safaris Can I Enjoy in DCR?

Heritage Safaris

Step inside a Bedouin camp and get treated with a delicious spread of grilled meats, freshly- prepared salads, and local sweets. Also, indulge yourself with a flavorful shisha or henna tattoo. Lastly, enjoy a sizzling performance by belly dancers as they groove to some of the best Arabic music.  

Nature Safaris 

Embark on a Nature Safari to discover the wild animals that call DCR home. Learn about the region's unique ecosystem and the conservation efforts undertaken for endangered species from your guide. During this tour, you will also get to see the magnificent Arabian oryx grazing on the sparse vegetation along with several other species of wild animals.    

Luxury Safaris 

Experience luxury in the middle of a desert! That's what you get when you book a Luxury Safari as it offers you the best of Dubai's top-notch service and hospitality. Savor quintessential Arabic delicacies under the gaze of the starry sky from the comfort of a private tent.      
What are the Other Desert Safari Locations?

Al Lahbab Desert 

Lying on the outskirts of Dubai city is the Al Lahbab Desert and its magnificent red sand dunes. Highly popular among tourists, you can lose track of time here since there is so much to see and do. Take your pick from sandboarding, dune bashing, camel riding, and dune buggy. Finally, end your visit with a sumptuous barbecue buffet. 

Al Awir Desert 

Dive deep into the richness of the Emirati culture with a visit to the Al Awir Desert. Explore the Bedouin encampment, sign up for a camel riding experience, and delight in the sizzling belly dance show. Surrender yourself to the mesmerizing scenery and capture your best moments with some amazing pictures.   
Adventure in Dubai Desert Conservation Reserve

Dune Bashing 

Tap into your adventurous side as you go dune bashing in a 4X4 vehicle (like a Toyota Land Cruiser) along the rolling sand dunes of Dubai Conservation Reserve. Partake in one of its most enthralling desert activities that will surely exceed your expectations and leave you speechless. 

Quad Biking

Zip through the desert terrain at high speeds in an ATV vehicle that is guaranteed to get your adrenaline pumping. Feel the wind hitting your face and relish in the uninterrupted views of sand dunes stretching for miles in every direction. This off-road quad biking experience is every thrill-seeker's ultimate dream!   

Camel Riding

A camel ride in the deserts of Dubai is pretty much a no-brainer! Join in the long-standing tradition that was a staple to the local desert dwellers since ancient times. Admire the stunning horizon of the desert from this vantage point and revel in the soothing ambiance as the camel slowly marches ahead. 
Animal Spotting in Dubai Desert Conservation Reserve

Against the backdrop of unending sand dunes, you will find that the desert is bursting with life as it houses a variety of indigenous flora and fauna. Over 50 different plant species including the date palm, desert squash, and ghaf tree (which is the national tree of the United Arab Emirates) can be found here. The ghaf tree is fodder for camels and its roots can reach 30 meters deep into the ground, making it ideal for this climate.

Among the 120 birds and 43 mammals and reptiles that inhabit this region are the Arabian oryx, sand fox, falcons, mountain gazelles, caracal, lappet-faced vulture, sand gazelles, giant long-horned beetle, and leptiens spiny-tailed lizard. The shrinking desert habitat of Dubai is being preserved with a concerted effort towards the rehabilitation of endangered species of plants and animals. This way, the future generations can also benefit from the rich diversity of the desert wilderness.