Dubai is often seen as an urban space, but going on a camel ride in Dubai totally changes that perception. As you drive into the desert, the city gives way to a breathtaking landscape - a shockingly different change of scenery!
Camels are known to be able to travel far distances for a long time without food and water, making these wonderful creatures an indelible part of the Arabic tradition. This also made them an indispensable form of transport back in the day. One way of experiencing this tradition is to partake in the Camel ride in Dubai. This unforgettable experience, usually a part of Dubai desert safari, takes you back in time as you ride the ship of the desert and experience how the Bedouin people traveled in the old days.
Relax as you enjoy the camel's slow gait across the golden sand dunes, and look unto the desert from your elevated perch.
Why You Should Try A Camel Ride In Dubai
---
A trip to Dubai is incomplete without a desert safari, accompanied with a camel ride experience. While the desert safari offers you the thrill of riding in a 4x4 vehicle, a camel ride offers you a completely different exhilarating experience. This activity will dazzle you like no other. Take a journey through the windswept desert on the back of a camel, and enjoy the view.
Camel riding is an activity that isn't just restricted to adults - even kids can ride these magnificent beasts, and will find it fascinating to be so high off the ground! While most people are of the notion that deserts are completely barren, you might be able to see some rare wildlife like Arabian oryxes and gazelle species.
You can experience how the Bedouin traveled across the desert in ancient times, and afterwards, indulge in traditional activities like henna painting, hookah, traditional falconry, and belly dancing. You also get to have a traditional dinner. With both vegetarian and non-vegetarian options, be prepared to go on a gastronomic journey.
Top Camel Desert Safaris in Dubai
---
While Camel Safaris are part of your desert safari experience, there's a lot more that goes into making your trip to the desert one to remember. Choose from our top rated Desert Safari experiences that include a Camel caravan safari across the golden dunes of UAE.
A Typical Camel Safari Ride In Dubai
---
Your typical Camel ride in Dubai consists of a pick up from your hotel in a 4x4 vehicle. You then drive into the desert and commence your desert safari, where you can experience the adrenalin rush that comes from dune bashing.
Post that, you are taken to a Bedouin camp, where you can pick from a range of activities to try out. While some of the more adventurous activities include quad biking and sandboarding, you can also try your hand at a camel safari.
When at the venue, your expert guides will teach you the do's and don't's of camel riding. They will also ensure that your ride is smooth and carefree. There is nothing to fear, as camels are calm animals. All you have to do is sit back and enjoy the view.
After the activities, you can return to the camp and check out how the traditional Bedouin people entertained themselves, by smoking hookah and applying henna. You can also indulge in a traditional Arabic feast, with both vegetarian and non-vegetarian options, as you enjoy a tanoura dance and belly dancing performances, before you are dropped back to your hotel.
Tips For Your Camel Ride & Safari In Dubai
---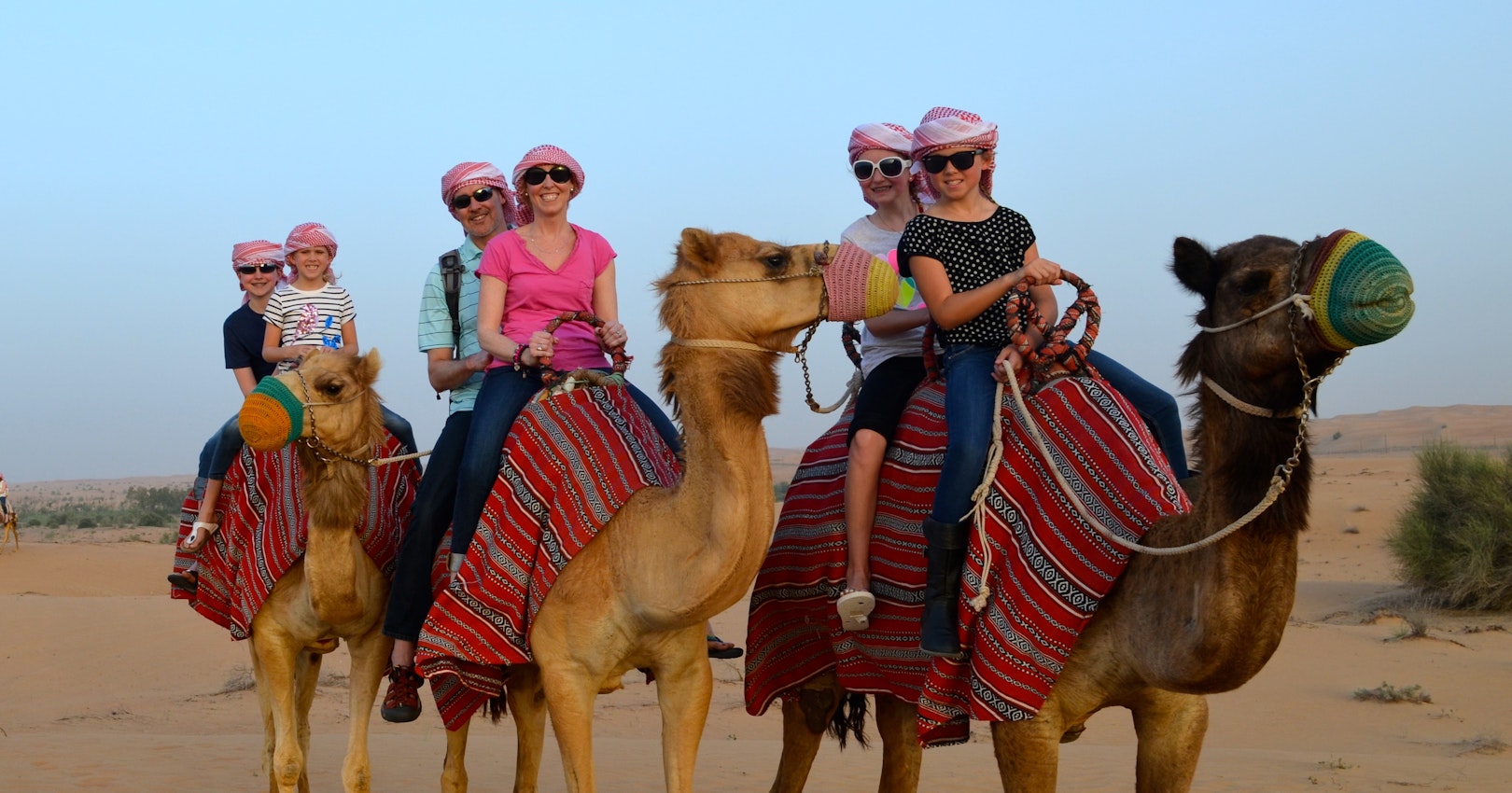 Casual, light, comfortable clothes are the best choice when going for a camel safari in Dubai
Carrying a thin jacket or a stole is advisable as deserts tend to get a bit chilly at night.
Have lunch early as the desert safari and camel ride in particular involves a lot of sudden movements.
Listen to your instructor carefully while performing the activities.
Most importantly, be kind to the camels during your safari.
FAQs
---
How do I book a camel ride in Dubai?
Where can I ride a camel in Dubai?
Is it safe to go for a camel ride in Dubai?
What should I wear for a camel ride in Dubai?
What should I eat before a camel ride in Dubai?
How much does it cost to ride camels in Dubai?
How long is the camel ride in Dubai?
Can kids ride camels in Dubai?
Can you be too heavy to ride a camel in Dubai?