Dubai is a city that attracts travelers and adventure seekers alike. From crashing the dunes to biking your way through the sand, Dubai desert safaris offer a variety of adventure sports. These activities have been steadily gaining popularity over the years, among both locals and tourists alike.
If a fast-paced ride over challenging terrain is what you are looking for, dune buggy riding is the activity for you. Explore the sand dunes and everything that it offers across the deserts of Dubai on a buggy. Marvel at the desert landscape and follow the nature trails as you explore sand dunes and try out different maneuvers.
What Makes Dune Buggy Riding In Dubai Special
---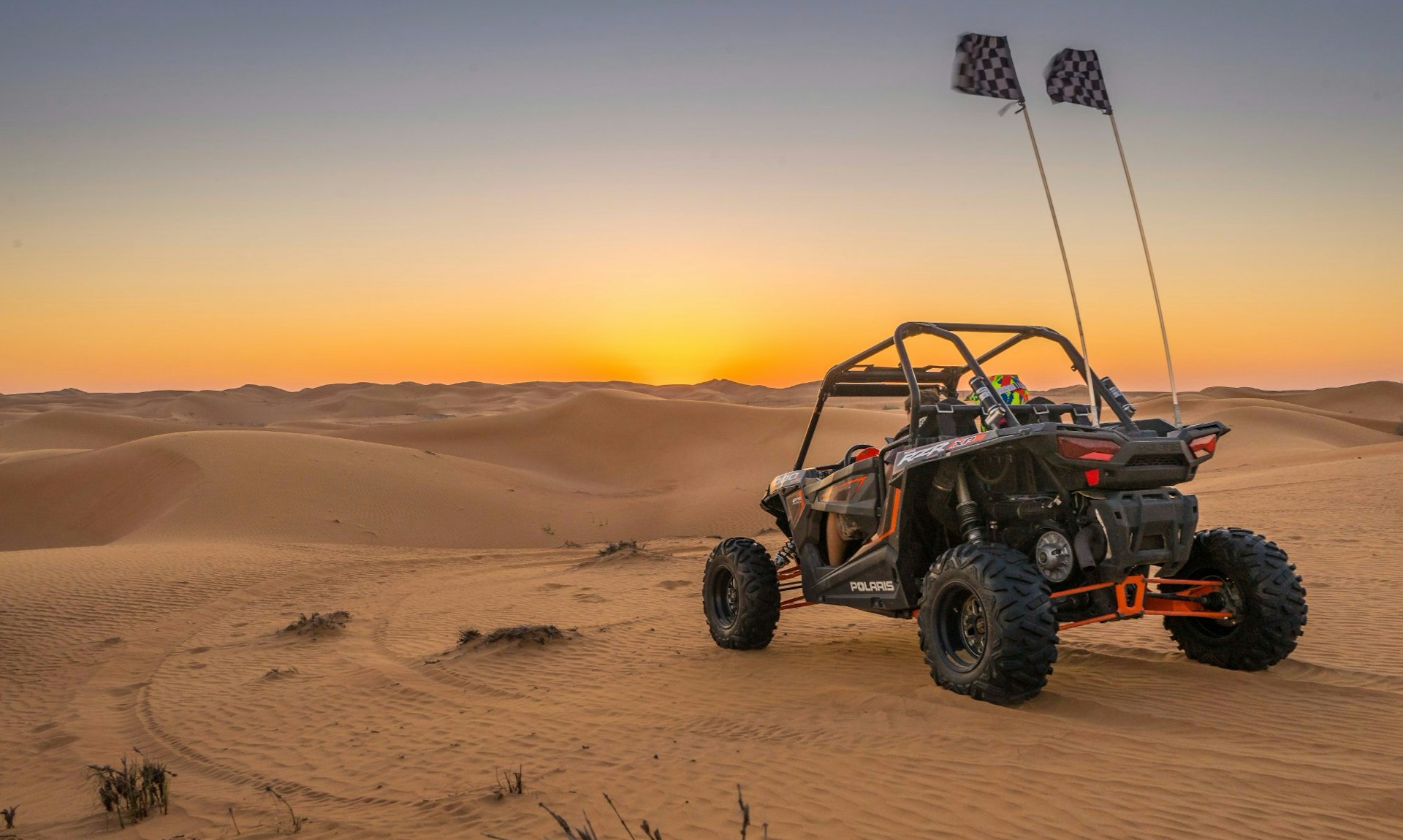 Enjoy desert views
Follow the natural trails in the sand as you explore the desert on your dune buggy ride. This unique adventure activity will let you explore the desert landscape by yourself. Follow your instructor as he leads you into the desert, allowing you to discover the expansive land at your own pace.
Ideal for beginners
Dune buggy riding can be attempted by those who have no prior experience. Your instructor will go over all the dos and don'ts with you, making sure that you are ready for the adventure. Truly one of the best ways to explore the desert, you can choose from single-seated, double-seated buggies, etc, according to your preference.
Safe and convenient
Apart from providing you with clear instructions, your guide will also give you a variety of safety gear like helmets and goggles. Since the winds tend to be strong, you should always protect your eyes and ears. All you have to do is follow the directions of your guide.
Top Dubai Dune Buggy Tickets
---
Once you are ready to take control of your own buggy, you can tackle the challenging dunes all by yourself. Get ready to experience the adventure of a lifetime as you embark on a fun-filled journey into the deserts.
If dune buggy riding is an adventure you would like to experience, here are a few ticket options you would like to consider. Based on your areas of interest and availability of time, you can choose one that suits you the best.
Typical Dune Buggy Riding Experience In Dubai
---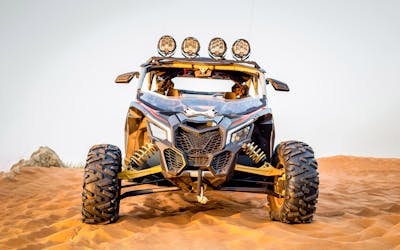 Once you reach the desert, you will ride the latest four-seater off-road dune buggy, the highlight of your experience. Your instructor will tell you about the do's and don't's of buggy riding, after which you can begin your driving session. All you have to do is follow your guide into the desert for an exhilarating experience.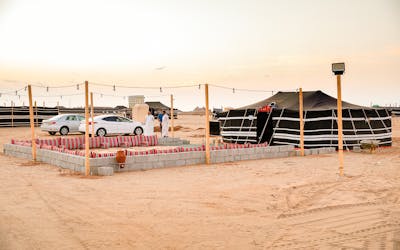 Depending on your choice of desert safari experience, you will be taken to a traditional Bedouin camp where you can indulge in a variety of desert activities like quad biking and camel riding. Apart from adventure sports, you can also take part in traditional activities such as henna hand painting. For the complete Bedouin experience, you will be shown traditional art forms such as tanoura, belly dancing, and fire shows. You will also get to take photos of yourself and your loved ones in traditional Arabic dresses.

Depending on your choice of tours, you will then be treated to a scrumptious meal with a wide array of vegetarian and non-vegetarian dishes to choose from.
Dune Buggy Dubai: Tips, Guidelines & More
---
Listen to your instructor at all times. Make sure that you follow the directions.

Your instructor will provide you with safety gear such as helmets and goggles. Make sure that the helmet fits you properly.

Bring a bottle of water with you. It is important to stay hydrated.

Carry essentials like sunscreen, hats, etc, and wear comfortable clothes.

Wear seat belts at all times. This will ensure your safety during your ride.

Always drive with caution. Dune buggies tend to be low and may be difficult to spot, especially around corners.
FAQs
---
Where can I ride a dune buggy?
What should I wear on a dune buggy ride?
Do I need to pre-book my tickets for dune buggy riding in Dubai?
Are dune buggy riding tickets refundable?
What are some of the Dubai desert adventure activities other than dune buggy riding?
Is there a minimum age for dune buggy riding?
How many passengers will be there in a dune buggy?
Dune Buggy Riding in Dubai
Ready to Explore Dubai?
---
Fancy heading out to some other must-visit Dubai attractions? Take inspiration from our list of the best things to do in Dubai here. Use our comprehensive Dubai Travel Guide to explore the rest of Emirate in a hassle-free fashion with all the need-to-know information in hand.