Dubai is a city like no other. Located on the southern coast of the Persian Gulf, it is a innovative metropolis with a rich history and culture. From its towering skyscrapers to its expansive deserts, Dubai has something to offer everyone. And with its growing economy, it has quickly become one of the most popular tourist destinations in the world.
Why Should You Visit Dubai for Overnight Camping?
---
Dubai offers an incredible array of sights and experiences, from the iconic Burj Khalifa to the sprawling Mall of the Emirates. However, many visitors to Dubai focus solely on the city's modern marvels and miss out on its natural beauty. Just a short drive from the hustle and bustle of downtown, Dubai's desert landscapes offer a unique opportunity to experience the Arabian wilderness. Overnight camping trips are a great way to explore these landscapes and learn about traditional Bedouin culture. Dubai is also home to some of the most luxurious camping sites in the world, offering everything from air-conditioned tents to private cabanas.
But it's not just the facilities that make Dubai such a great camping destination – it's also the range of activities on offer. From dune biking and sandboarding to camel rides and desert safaris, there's plenty to keep you entertained during your stay.With its incredible scenery and rich history, Dubai is a must-visit destination for campers!
Things to Keep in Mind Before Planning Your Overnight Camping Trip
---
Dubai deserts may seem like an inhospitable environment at first, but with the proper preparation, they can be a fantastic place to camp overnight. The key is to remember that deserts are incredibly different from other ecosystems and to take steps to ensure your safety and comfort.
It is important to choose the right campsite. Look for an area that is sheltered from the sand dunes and has access to water.
Make sure you are prepared for the extreme weather - heat during summers and drop in temperatures at night during winter.
Pack light, loose-fitting clothing and plenty of sunscreen.
There are a few areas where camping is not allowed, check with the local authorities before setting up camp.
Be aware of the risks posed by desert wildlife.
These simple precautions will help you make the most of your desert camping experience.
Best Recommended Overnight Camping Experiences
---
Are you looking for an exhilarating camping trip? These curated tours offer travelers the opportunity to relax and make the best out of their camping trip with the best experiences put together!

And, with Headout's so many different options to choose from, it's easy to find an overnight camping tour that's right for you!
Start planning your overnight camping trip today!
Best Recommended Overnight Camping Spots
---
#Best for Hiking - Wadi Shawka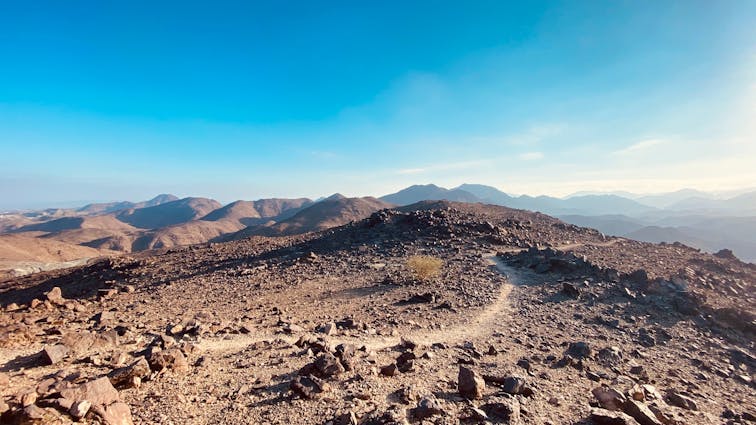 Meet local shepherds, trail along the challenging terrain of Shawka dam, off-road in the sand, and camp around the picturesque sunrise point next to the pond, if this sounds interesting to you then Wadi Shawka is the place for you! Perfect for hiking, the spot is one of the few in UAE to offer a silent green surrounding for first-time hikers. Wadi Shawka can seem like the other end of UAE, but it is in all its beauty part of the beautiful country!
Insider Tips
There are no shops to buy food or water on top, hence be prepared with ample supplies.
Make sure you set up your BBQ stand only in the designated areas
Bathrooms are nearly non-existent in the area. Be prepared just in case.
#Best for Dune Bashing - Lahbab Desert


If you're looking for an adventure, why not try camping in the Lahbab desert? You can experience all the beauty of the desert, without having to worry about the heat. To get to the Lahbab desert, you'll need to take a 4x4 vehicle. Also known as the 'Big Red', the Lahbab desert a dune basher's favourite with its 300-foot high sand dune. There are plenty of things to see and do in the Lahbab desert, including sandboarding and camel riding.
Insider Tips
Make sure to pack plenty of water and sunscreen.
Carry outfits to beat the heat and the low temperatures at night.
Carry a garbage bag to not litter the surroundings.
#Best for Wildlife Photography - Al Qudra Lakes


The Al Qudra Lakes is part of the Al Marmoom Desert Conservation Reserve, the only nature reserve in UAE to be unfenced, offering a natural landscape for the wildlife. Spanning over 40 hectares, it covers 10% of Dubai's total area. The sanctuary houses over 300 avian species. Perfect for shutter bugs, the location is a great spot for witnessing the golden desert sunrise and sunset beside the lake from your tents. Also, don't forget to visit the Al Marmoom Bedouin Experience where you ride a camel, see a falcon show or try authentic Emirati Cuisine!
Insider Tips
Carry bags to store trash, as disposing them in the desert may harm the animals.
Bring a stove to cook instead of using a campfire, as they have the potential of damaging the plants.
Avoid trampling on the vegetation, as they may not grow back easily.
#Best for Stargazing - Al Quaa Desert

The darkest place in UAE is located towards Al Ain. Featuring galaxy, constellations and more, the Al Quaa Desert sky is a visual treat, not to be missed. Al Quaa desert is part of the Rub Al Khali, the world's largest sand desert. Visitors often report seeing shooting stars or the International Space Station. The desert also has dune bashing worthy dunes and is perfect for sandboarding as well.
Insider Tips
Avoid foggy nights as navigation can be difficult.
Avoid camping on full moon night as moon light can block the views.
How to Set up the Perfect Overnight Campsite?
---
Camping in Dubai is a great way to get away from it all and enjoy some time in nature. However, before you can enjoy the beauty of the outdoors, you need to set up your campsite. One of the most important elements of any campsite is the tent. Here are a few tips to help you set up your tent for a comfortable and enjoyable camping trip:
Choose a level spot for your tent. This will help to prevent the tent from toppling over in the middle of the night.
Take the time to evaluate the surrounding area. Look for potential hazards, such as sharp rocks or low-hanging branches. Once you've found a safe spot, it's time to start setting up the tent.
If possible, set up your tent in an area that is sheltered from the wind. This will help to keep your tent stable in case of strong gusts.
Make sure that all of the stakes are securely in place. This will help to prevent your tent from blowing away in case of bad weather.
Take some time to practice setting up your tent before you go camping. This will help to ensure that you know how to put up your tent quickly and efficiently when you're in the middle of nowhere.
In case of fear of scorpions, place a UV lamp in the tent to make them visible in the dark to stay safe.
By following these simple tips, you can be sure that your next camping trip will be comfortable and enjoyable.
Tips for a Safe Overnight Camping Experience
---



Vehicle/Car



Ensure your car is serviced before starting the trip.
Make sure to check the fluid and tire pressure levels in your car before starting the journey.
Carry a large flag of top of your car, this can make it easy to spot you when stuck in a sand dune.



Tent/Camp Site



Do not pollute the area. Deserts and the life in it are best when it is well preserved, so make sure not to litter around and harm the animals.
Be wary of stepping/driving on vegetation.
Don't ever pitch your tents near sand dunes. Off-roaders may not realise your presence under the dunes, and there could be chances of accidents.
When using public washrooms on campsites, keep them clean and take all the necessary safety precautions as it is a public space.



General



Carry your power banks and mobile phone at all times. 999 is the emergency number in UAE, and make sure to save it on your device!
Always pack all the necessary items extra, like water, wipes, masks, and snacks
And voila, you're all set for overnight camping journey!
How to Reach the Camping Locations?
---
Although Public Transportation in Dubai is great, cars are the only way to access the best and most isolated camping locations. Ideally, travellers may rent a car or book under expert travel guides to get the best out of the trip.
In case you're on the lookout for information on Airport Transfers in Dubai or using the NOL Card, do check our handy guides!
Overnight Desert Camping Packing Checklist
---
Check out our downloadable Overnight Desert Camping travel checklist for a stress-free and easy packing experience!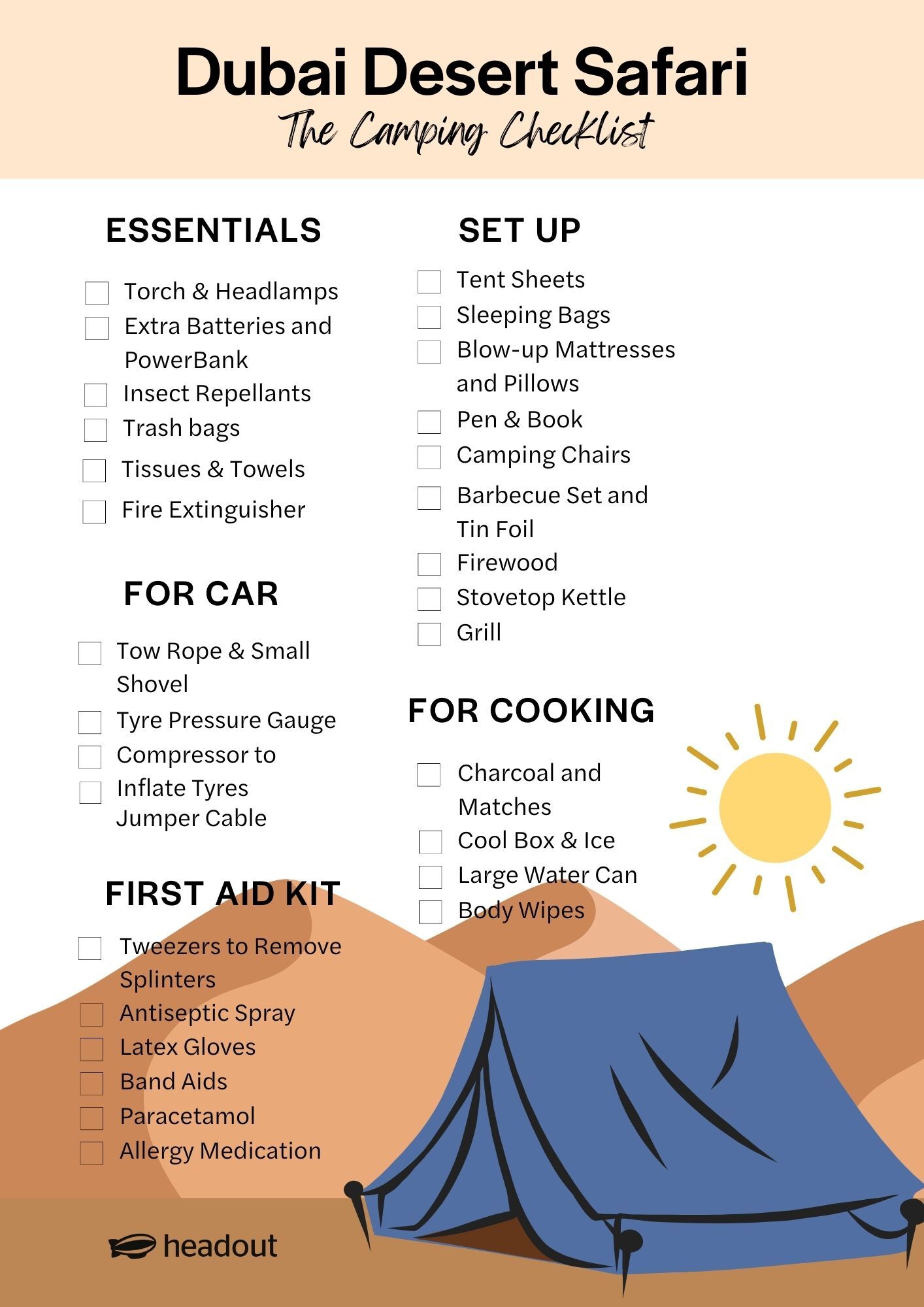 Have an extra day in UAE?
---
If you're looking for an amazing travel destination, you can't go wrong with the United Arab Emirates. This breathtaking country is home to some of the most unique and beautiful architecture in the world, as well as stunning natural scenery. And of course, no visit to the UAE would be complete without spending some time in its two major cities, Abu Dhabi and Sharjah.
Abu Dhabi is the capital of the UAE, and it's easy to see why. This city is truly a sight to behold, with its impressive skyline and stunning buildings. There's plenty to do in Abu Dhabi since the city has got much to offer!
Sharjah is another must-visit city in the UAE. This city is often referred to as the "cultural capital" of the country, thanks to its many museums and art galleries. Sharjah is also home to a number of natural spots, including the Sharjah Desert Park.
No matter what type of traveler you are, you're sure to find something to love in the UAE. So what are you waiting for?
Start planning your trip today!
Ready to Explore Dubai?
---
Fancy heading out to some other must-visit Dubai attractions? Take inspiration from our list of the best things to do in Dubai here. Use our comprehensive Dubai Travel Guide to explore the rest of Emirate in a hassle-free fashion with all the need-to-know information in hand.
FAQs
---
A permit is not required for short-term desert camping in Dubai.
Yes! In fact, overnight desert camping is always recommended!
The Al Qudra Desert is highly recommended, considering its proximity to the Dubai city and the wide range of activities inside - like cycling tracks, bird watching, love lake and more, which is perfect for both young and old.
The best way to reach is by car, as it lets you explore the place at your own pace. Tours groups and guides also offer trip to the the camping locations.
The deserts in Dubai can be very cool at night, with the breeze making it even cooler. Temperatures can vary, though the average is usually 5 °C during the winter.