Already home to the largest mall, the tallest building and other record setting landmarks, Dubai is now home to the largest indoor theme park in the world - IMG Worlds of Adventure.
Bringing the awesome world of Marvel Comics and Cartoon Network to life, IMG Worlds of Adventure covers an expanse of 1.5 million square feet. If you find that hard to imagine, think of 28 football fields, in an air-conditioned indoor facility with numerous rides and attractions and you have the IMG Worlds of Adventure!
Why You Must Visit IMG Worlds of Adventure Dubai
---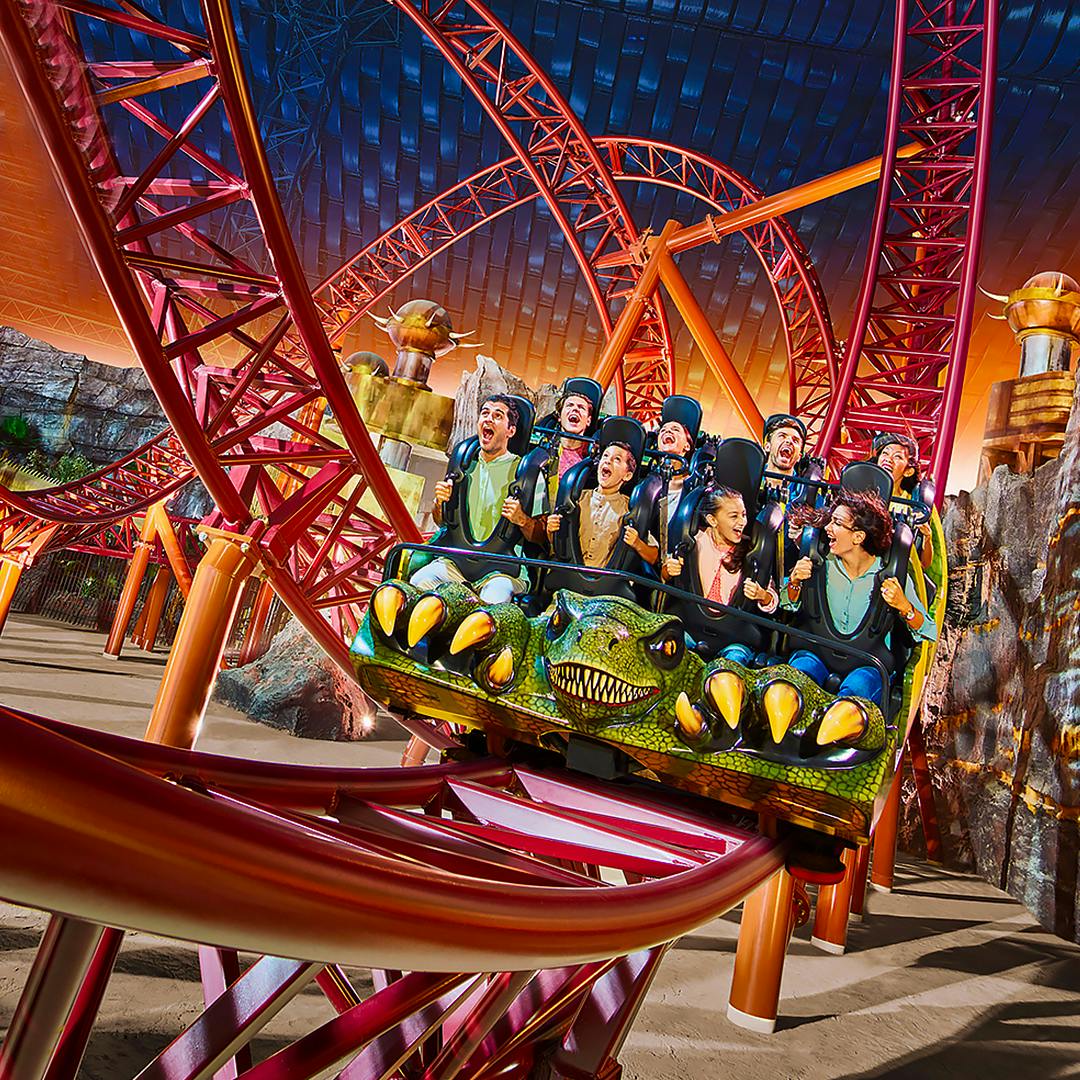 The IMG Worlds of Adventure are themed around some of the biggest entertainment brands in the world - 7 epic zones - Marvel Comics, Cartoon Network, Lost Valley Dinosaur Adventure, IMG Boulevard, Novo Cinemas, The Haunted Hotel and IMG Kids Zone
Each zone has rides and experiences that reflects its theme perfectly.
The Marvel zone is home to rides such as Avengers Battle of Ultron, Hulk Epsilon Base 3D and Avengers Flight of the Quinjets.
In Cartoon Network you will be able to experience The Powerpuff Girls – Mojo Jojo's Robot Rampage, Ben 10 5D Hero Time and The Amazing Ride of Gumball.
The Lost Valley on the other hand is themed around dinosaurs and offers thrilling rides such as The Velociraptor, Predator and Forbidden Territory.
The IMG Boulevard Zone, which is the welcome zone of the park, is home to some amazing restaurants and shops like Popcorn Factory, Boulevard Gourmet, World of Candy and Adventure Photography.
The Novo Cinemas Zone, as the name suggests, is a 12-screen multiplex, and has luxurious written all over it. Their 7-star treatment includes a private lounge featuring an exquisite culinary menu and personal butler services, all while relaxing on top of plush leather seats accompanied by pillows and blankets!
The Haunted Hotel is not for the faint hearted. You'll be expected to get out of a labyrinth of corridors, while encountering all sorts of scary creatures! You'll have to be 15 or above to go to this attraction.
The IMG Kids Zone is a reason for families to bring their kids and toddlers to IMG Worlds of Adventure. This interactive space for kids will not only entertain them, but also help build their skills through an immersive sensory experience
Is the IMG Worlds of Adventure Annual Pass worth it?
---
The IMG Worlds of Adventure annual pass gives you access to the water park for an entire year. If you live in Dubai (or frequent this metropolis often) and love amusement parks, this annual pass is well worth your money.
Price - AED 475 per person
Inclusions
20% discount on Ultimate Fast Track Tickets
20% discount on F&B voucher
20% discount on Retail
20% discount on Digi-Photo
20% discount on Arcade
20% on Iron Man Experience
20% on IMG Group - GMDC
Free entry to Annual event
All Zones of IMG Worlds of Adventure Dubai
---
We've talked about the 7 exciting zones of IMG Worlds briefly in the previous sections. Let's get down to detail and walk you through each fun and entertaining area of the park. Each zone in IMG Worlds has something enjoyable for everyone!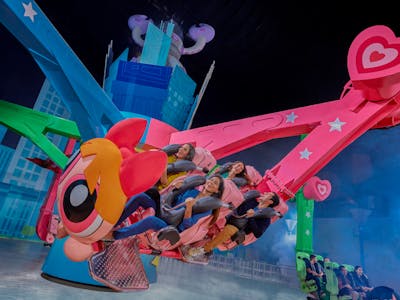 Cartoon Network
Surround yourself with characters and heroes from your childhood at the much-adored Cartoon Network Zone. Watch the world of Powerpuff Girls, Ben 10, Amazing World of Gumball, Adventure Time and LazyTown come to life.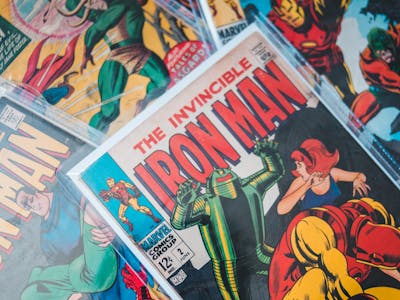 Marvel
Based on the amazing Marvel Universe, characters such as Spider-Man, Iron Man, Thor and The Hulk gear up to deliver one of the most action-packed experiences ever. Marvel is home to some of the most thrilling rides and experiences in IMG.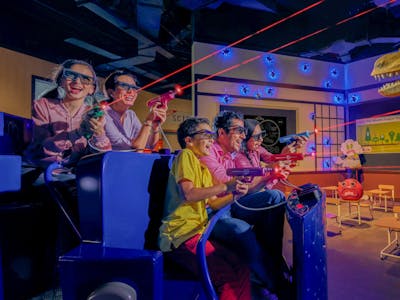 Lost Valley - Dinosaur Adventure
This zone will take you back hundreds of millions of years ago to the world of one of the most loved and feared creatures of all times, the Dinosaurs. The prehistoric zone comes to life with "hair-raising" rides and attractions.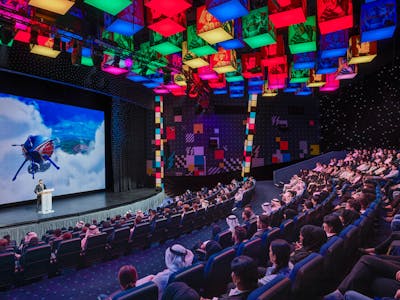 Novo Cinemas
IMG Worlds of Adventure will soon be home to a larger-than-life cinema experience at Novo Cinemas with over 12 high quality VIP and IMAX screens and will provide one of the best movie experience in the Middle East.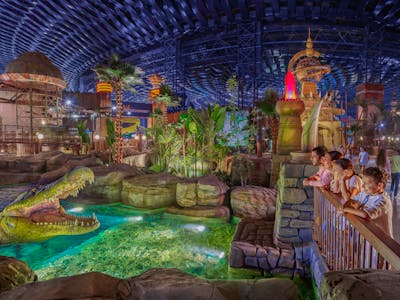 IMG Boulevard
IMG Boulevard is the first zone you will come across and is the welcome zone for IMG Worlds of Adventure. To get you started, Boulevard is home to quite a few interactive rides, retail stores and a wide selection of dining experiences.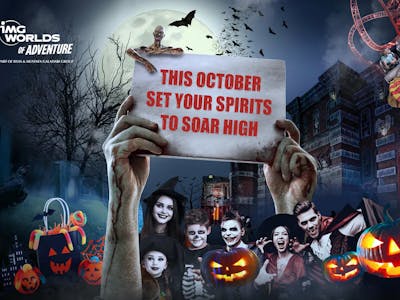 The Haunted Hotel
Dare to visit the Haunted Hotel, but be warned that escape is laborious! Solve a labyrinth of corridors and ever-changing environments while facing off with all sorts of creepy creatures in an eerie atmosphere. You'll have to stay calm to find the exit!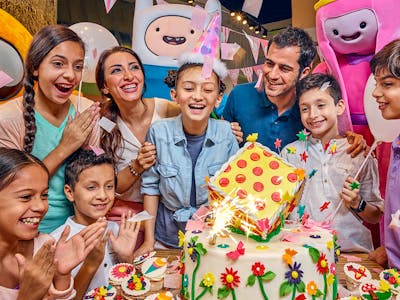 IMG Kids Zone
The IMG Kids Zone is a playground of fun, featuring climbing walls, football pitches, slides and more. It's the perfect way to keep little thrill-seekers entertained while giving them an experience they won't forget!
Top 7 IMG Worlds of Adventure Rides - You Cannot Miss These!
---
Ready to see dinosaurs roam about freely or experience a raptor flight? Transform into Ironman and save the world in the nick of time? Join Finn and Jake on a journey through the Land of Ooo? Encounter a bunch of scary characters set against a ghastly backdrop? You can do all that and more at IMG worlds.
Allow us to help prioritize the rides you must try when at IMG Worlds of Adventure Dubai!
The Haunted Hotel
Enter the haunted gates of the Haunted hotel if you dare- because you won't leave as easily as you enter! Try to keep your cool as you try to find the exit. Along the way, you'll face a maze of corridors, changing scenery, and many scary characters!
Best for : Teenagers & Adults
Zone: The Haunted Hotel
Avengers: Battle of Ultron
Battle against Ultron as you join the courageous team of Iron Man, Thor, Black Widow, Captain America, and Hawkeye. As you help save the day, earn your place in the loyal team of the Avengers.
Best for : All ages
Zone: Marvel
Height restrictions: 1.30 m
Thor Thunder Spin
Find yourself defying the laws of physics at this exhilarating ride. As the mighty avenger, Thor (the god of thunder) rescues you from the clutches of Loki (god of Mischief), you'll be smack dab in a whirlwind of action!
Best for : Adults
Zone: Marvel
Height restrictions: 1.40 m
The Velociraptor
Take a break from the sandy deserts of Dubai and head into the prehistoric jungles of the Lost Valley, where you'll encounter nature's most feared predator, the Velociraptor! Hint: this ride is not for the faint-hearted!
Best for : All ages
Zone: Lost Valley
Height restrictions: 1.30 m
Forbidden Territory
Enter the Forbidden Territory and feel like you've stepped back in time: life-size dinosaurs roam freely about the earth. Get up close and personal with the world's most stunning and terrifying creatures- but don't get to close. Do you dare?
Best for : All ages
Zone: Lost Valley
Height restrictions: 1.30 m
Ben 10 5D Hero Time
Ready for your first day as a Plumber trainee with Ben and Rook? Head over to the Plumber Headquarters and immerse yourself in Ben's world with this multi-sensory adventure. Hint: Khyber The Huntsman is not going to make it an easy induction!
Best for : Children
Zone: Cartoon Network
Height restrictions: 1.30 m
Mojo Jojo's Robot Rampage
The Powerpuff Girls summon you to help fight evil Mojo Jojo- Townsville needs you! Take to the skies and fly alongside Blossom, Bubbles, and Buttercup as save the world. Don't worry, you'll be back home before bedtime.
Best for : Children
Zone: Cartoon Network
Height restrictions: 1.35 m
Hacks to Avoid Crowds at IMG Worlds of Adventure Dubai
---
IMG Worlds of Adventure is easily one of the most frequented theme parks in Dubai, and will always be crowded. If you visit during the week, however, preferably closer to the opening time of the attraction, you can avoid bigger crowds. This will also give you enough time to enjoy all the rides in the attraction (preferably more than once!) Try and avoid weekends as much as possible.
We also recommend opting for fast track tickets, which would allow you to bypass the long waiting lines and get quick entry into the theme park.
Visiting During Ramadan
Many are skeptical about taking a trip to Dubai during Ramadan because of the holiday rush, but there is a way around it. If you start your day early, hit the attractions right around the time they open, and avoid the weekends, you can enjoy the holiday season in the UAE to the fullest. Ramadan also comes with holiday discounts on your tickets, so it's a great way to save money.
All You Need to Know Before Visiting IMG Worlds of Adventure Dubai
---
IMG Worlds of Adventure Opening Hours
IMG Worlds of Adventure is open from Sunday to Friday from 12:00 PM to 10:00 PM, and on Saturday from 12:00 PM to 11:00 PM.
Getting To IMG Worlds of Adventure
IMG Worlds of Adventure is situated in the heart of Dubai. It is located on the Sheikh Mohammed Bin Zayed Road and is next to the Global Village, near Arabian Ranches. Find out more about how to get to IMG Worlds of Adventure below.

Address: E311, Sheikh Mohammed Bin Zayed Road, City of Arabia - Dubai - United Arab Emirates | Get Directions
By Car: IMG Dubai is a 30 minute drive from Dubai Marina and Dubai Mall. Enjoy free parking at IMG Worlds. Valet parking is also available at a nominal charge.
By Metro: The nearest metro station is the Mall of the Emirates station, which is half an hour away by road.
From the airport: Take a cab to IMG Worlds of Adventure, situated 50 km from Al Maktoum International Airport and 30 km from Dubai International Airport.
From Abu Dhabi: IMG Dubai is 120 kms from Abu Dhabi and should not be more than 1 hour 15 minutes away.
Facilities available at IMG World Dubai
ATM
Drinking Fountain
Wheelchair facilities
First Aid Station
Locker rentals
Rules & Restrictions
Outside food or beverages are not permitted inside the premises.
Ride restrictions, except for Haunted Hotel, are based on height and not age. Haunted Hotel has a lower age limit of 15 years.
IMG ensures that patrons with disabilities face no issues with the availability of a disability access pass at the ticket kiosks.
Guests with Disabilities
IMG Worlds park offers a wide array of facilities to accommodate guests with disabilities. Download the in-depth accessibility guide for more information. Disability access passes are also available at all ticketing kiosks at the park (a medical proof of disability will be required).
A POD will get 50% off on tickets at the counter with a fast-track wrist band and the carer has to buy a full price ticket online or at the counter but gets a fast track wrist band for free when he/she/they visit/s the counter with the POD
Sign up for our monthly newsletter
Your dose of travel fix - from hacks and deals to travel tips and everything in between, delivered monthly to your inbox
Please enter a valid email
Unsubscribe anytime
Restaurants at IMG Dubai
---
Dining options are available throughout the park - be it classy restaurants or lip-smacking food carts, there is something for everyone here. Check out the dining options in the section below:
IMG Dubai: Insider Tips
---
Arrive at the park early to beat the crowd and get ample time to enjoy all the park's rides and attractions.
If possible, visit the park on a weekday. It's far less crowded than the weekends!
Get your tickets online, ahead of time, to avoid long queues.
Make sure your phone and/or camera are adequately charged before entering the park.
Take snack breaks, especially for kids, and make sure everyone in your group stays hydrated.
The queues on the attractions close at the park closing time with the exception of the Haunted Hotel which has limited capacity and will close up to 2 hours before park closing time if the queue line reaches its maximum capacity.
IMG Worlds of Adventure Reviews
---
Been to universal studio in Singapore but img world was just epic, first thing its indoor hence no heat and sun and we can enjoy as much as we want. Indoor they have got so wide range of F&B. Which was a addon to my trip.
Rishabh Verma, TripAdvisor, Oct 2022
We spent a fun filled few hours here with our 9yr old daughter who absolutely loved it. The standout rides were Velociraptor and Predator but there are a number of other good rides and attractions, with lots of food choices too. If you are able to stay late the lines get really quiet and we were actually able to stay on for repeat rides. Great place, very clean and lovely staff. Recommended for all ages.
William M, TripAdvisor, August 2022
Ready to head to IMG Worlds of Adventure Dubai?
---
Purchase discounted IMG Worlds tickets via Headout today! Before you go, don't forget to check out our detailed guide of the top theme parks in Dubai if you're planning to visit more than one park in the city.
Ready To Explore The Rest of Dubai?
Check out our comprehensive Dubai Travel Guide packed with itineraries, tours, culture trips, best hotels, restaurants and a lot more.
IMG Worlds of Adventure Guide
IMG Worlds of Adventure: FAQs
---
Where can I get IMG Worlds of Adventure tickets?
What is included in my IMG Dubai tickets?
How many rides are available at IMG Dubai?
What is the cancelation policy for IMG Worlds of Adventure tickets?
Where is IMG Dubai located?
What are IMG Worlds of Adventure opening hours?