LEGOLAND is a family theme park, based on the mega popular LEGO building blocks. The fun-filled arena in Dubai is part of the much-bigger Dubai Parks and Resorts, which also includes two other theme parks, Motiongate, and Bollywood Parks.
LEGOLAND Dubai is split into two parks - LEGOLAND Theme Park and LEGOLAND Waterpark. Within the main LEGOLAND complex, there's a thrilling Waterpark with rides that both you and your kids can enjoy. Clearly, there's no better way to beat the scorching Dubai heat than LEGOLAND! Join in on the fun and frolic with your family this summer at LEGOLAND, one of the most popular attractions in Dubai.
Why You Must Visit LEGOLAND Dubai
---
With over 40 fantastic rides, family-friendly attractions, and innovative play areas for kids, LEGOLAND is a special place.
If your kids are familiar with the magic of LEGOS, they'll appreciate the fun and excitement of a land made entirely of giant LEGOS. If they aren't used to playing with these tiny blocks of joy, well, now's the time to get them started!
The park also boasts of a giant LEGO version of Dubai's pride, the Burj Khalifa and the enchanting Dubai skyline. And if that wasn't enough, there's an entire waterpark made of LEGO bricks waiting for you.
You can either buy tickets to Legoland Dubai which gives you access to only the theme park, or Legoland Waterpark tickets that give you access to the waterpark alone.
Should you wish you visit both the parks, you can buy a combo ticket that will give you some serious savings!
Fair warning: checking out both parks on the same day might be a little tough, but not impossible.
LEGOLAND Dubai promises thrilling rides, stunning attractions, and live entertainment altogether.

Mix and match your tickets to include access to either or both LEGOLAND parks.

Enjoy a day of wholesome family fun- this park promises something in store for all ages!
Buying LEGOLAND Dubai Tickets Online
---
LEGOLAND Dubai tickets can be purchased directly through the official website or in person at the entrance of the attraction. Or, save time, money, and energy by purchasing discounted tickets with Headout, a trusted online marketplace (enjoy 29% off your tickets!) As an added bonus, when you book with headout you'll receive 5% cashback credit that you can use toward any other purchase on Headout.

Hot tip: Peruse our list of discount tours of Dubai's top attractions to visit after this.
Combo Ticket Package: Park Hopper Pass
Instead of purchasing tickets to LEGOLAND Dubai alone, get yourself the Park Hopper Pass. Save time and money on this combo ticket package and enjoy the best of all 4 attractions at the Dubai Parks & Resorts together (Motiongate Dubai, Bollywood Parks, and LEGOLAND & LEGOLAND Waterpark.
Optional Q-Fast Pass Upgrade?
Upgrade your ticket to Q-Fast, which lets you pass up long queues for the park's rides and attractions and reduces your overall waiting time. Q-Fast is purchased as an add-on to a regular park admission ticket - not in place of one. Upgrade your ticket here.
STANDARD
Can be used at all rides to skip the lines once.

Price
AED 125 / $34.03
UNLIMITED
Can be used to skip the lines at all rides unlimited times.

Price
AED 175 / $47.64
LEGOLAND & LEGOLAND Waterpark Tickets
Dubai Explorer Pass
Combine your visit to LEGOLAND Dubai with other iconic attractions in the city! The Dubai Explorer Pass lets you fit in the selected number of attractions into your itinerary spread across 60 days. Talk about convenience!
Is The LEGOLAND Dubai Annual Pass worth it?
---
The LEGOLAND annual pass gives you access to the LEGO-themed park for an entire year! If you live in Dubai (or frequent this metropolis often), love theme parks parks, and legos as much as we do, this annual pass is well worth your money. Prices for the annual pass starts from AED 395 per person.
Inclusions
12 months free admission to LEGOLAND® Dubai
Unlimited access to all rides at LEGOLAND & LEGOLAND Waterpark
10% F&B and retail discounts
Special events & offers
LEGOLAND Dubai: The 2 Parks Explained
---
LEGOLAND Dubai is divided into 2 parts, the Theme Park and Water Park. While the Legoland Theme park is called Legoland Dubai, the waterpark is referred to as Legoland Waterpark.
LEGOLAND Themepark
---
LEGOLAND Theme Park has 40 interactive rides, shows and attractions for you to peruse at your own leisure.
LEGOLAND Theme Park Zones
The LEGOLAND Dubai themepark features six unique lands created with distinct themes, allowing visitors a unique experience every step of the way. Let's look at each land in a little bit of detail.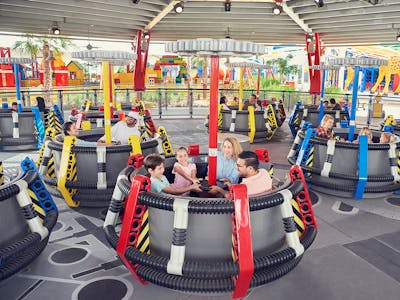 LEGO City
A city made entirely of LEGOs! That's exactly what's in store for you at LEGO City. Watch your kids learn how to drive an electric car. Doesn't interest you? There's a plane they can fly or a boat they can steer instead!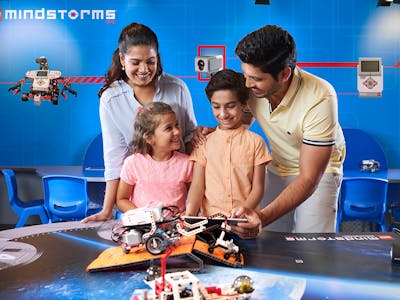 Imagination
It's a land of pure imagination! Your kids can build a LEGO car and race it with their friends, get a bird's-eye view of the entire LEGOLAND park with the Kid Power Towers, or just get building the greatest LEGO ever made! Sky's the limit.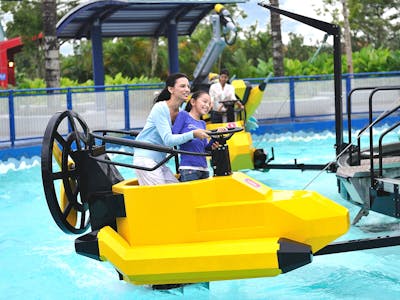 Kingdoms
Take a dive into a world of fantasy and magic with the Kingdom land. Go on a thrilling roller coaster ride through the King's castle and Conquer The Dragon or take a quick whirl around the park in Merlin's Challenge.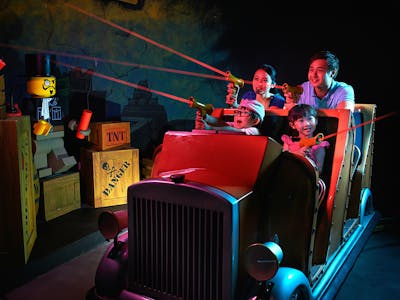 Adventure
This one is for the thrill seekers. From the thrilling underwater adventure featuring submarines to an exciting journey through ancient temple ruins to recover a pharaoh's stolen treasure. Nothing's out of bounds.
Miniland
A family special, MINILAND features all of Dubai's iconic buildings and attraction in LEGO form. The best part? You can build your very own skyline at Build Your City!
Factory
Factory gives a peek into the heart of LEGO, allowing you to see how LEGOs are made. You also receive a LEGO brick fresh of the line as a souvenir.
Top Five Rides
---
Rescue Academy


Lost Kingdom Adventure


Merlin's Flying Machines


LEGO Technic Twister


Pharaoh's Revenge


LEGOLAND Waterpark
---
LEGOLAND Water Park has an additional 20 slides and attractions for you and your family to enjoy.
Unlike other waterparks, LEGOLAND Waterpark has been designed specifically keeping a family with children in mind - not only are the slides comfortable and safe, but they also hold a fair amount of thrill in some cases. While there are thrilling attractions like the 60-foot drop Splash Out and a 6-tracked Slide Racers, there are also gentle play areas nad wave pools for the children to enjoy in.
Top Five Rides
---
LEGO Slide Racers


Wave Rider


Red Rush


Build A LEGO Raft


Joker Soaker


Sign up for our monthly newsletter
Your dose of travel fix - from hacks and deals to travel tips and everything in between, delivered monthly to your inbox
Please enter a valid email
Unsubscribe anytime
Hacks To Avoid Crowds at LEGOLAND Dubai
---
The best time to visit LEGOLAND Dubai is during the months of September through March. The winter months of Dubai are usually less crowded, and the weather is pleasant- making it apt for all kinds of outdoor activities.
That said, do not let summer be a deterrant for you- the park has multiple cooling stations, and many attractions at the theme park are indoors.
Visiting During Ramadan
Many are skeptical about taking a trip to Dubai during Ramadan because of the holiday rush, but there is a way around it. If you start your day early, hit the attractions right around the time they open, and avoid the weekends, you can enjoy the holiday season in the UAE to the fullest. Ramadan also comes with holiday discounts on your tickets, so it's a great way to save money.
Tip: Before you visit LEGOLAND Dubai, make sure you check the timings. Park timings and visiting hours are different for the summer, winter, and Ramadan.
All You Need to Know Before Visiting LEGOLAND Dubai
---
LEGOLAND Dubai Timings
Daily from 11 AM- 7 PM.
LEGOLAND Waterpark Dubai Timings
Daily from 10 AM- 7 PM.
Please check the timings of the park on the day you visit as the park hours are subject to change.
Getting to LEGOLAND Dubai
LEGOLAND Dubai is located within the Dubai Parks and Resorts in Dubai on Sheikh Zayed Road, opposite Palm Jebel Ali.
By car
From downtown Dubai, the trip to LEGOLAND is around 40 minutes. Head south of Sheikh Zayed Road. Drive past Dubai Marina and Jebel Ali and you will see Dubai Parks and Resorts on the left.

Via public transport
Take the red metro line south all the way to the last station, Jebel Ali. From there, you will have to take a taxi the rest of the way - which should only take you about 15 minutes.

From Dubai International Airport
Head south on E11, also known as Sheikh Zayed Road, towards Abu Dhabi. It's just a straight shot from there, past Dubai Marina and Jebel Ali. You will see Dubai Parks and Resorts on your left. The trip takes around 45 minutes with low traffic, or close to an hour if there is heavy traffic.

From Al Maktoum International Airport
LEGOLAND is only 20 minutes away from this Al Maktoum. Take the Sheikh Mohammed Bin Zayed Road south and turn right towards E11. Take another right, towards Dubai. Dubai Parks and Resorts will appear almost immediately on the right side of the road.
Parking at LEGOLAND Dubai
Parking is free for all visitors at Dubai Parks & Resorts. Valet parking is available for AED 100 in the P1 plot.
Parking for Guests with Disabilities
Guests with mobility disabilities (guests with personal wheelchairs, electric scooters or other mobility devices) should utilise the VIP Car Parks disability section, located a short distance from the Main Entrance of RIVERLAND Dubai.
Facilities Available at LEGOLAND Dubai
Lockers are available for rent (at FACTORY zone)
Changing rooms (LEGOLAND Water park)
Baby care room (at IMAGINATION zone)
Male & Female prayer rooms
ATMs
Wheelchairs & strollers (at car park entrance)
First aid (at LEGO city)
Food and drinks can be bought at the food courts and kiosks
Dining at LEGOLAND Dubai
---
Given its family-friendly status, you can bet that there are plenty of great places to eat inside LEGOLAND Dubai. From this list, select restaurants will remain open during Ramadan.

All restaurants are open during park hours.
2. Caesar's Pizza and Pasta Buffet
LEGOLAND Dubai Reviews
---
Overall the Park expérience is great, the staff are very welcoming and helpful. The Mindstorms section is a must to visit for kids above 8, they will learn programming and coding for Lego Robots. Aloysius the main guy in the center hé does an àmazing job teaching the kids to cod and do tricks with Lego Robots and Rovers.
- Gilbert Sakr, Tripadvisor Aug 2021
We really enjoyed it actually but umm just some rides missed out anyway it is summer time and big thanks to asmita she helped us well good for parents,such a great place.
- Pandi, Tripadvisor July 2021
Insider Tips For Visiting LEGOLAND Dubai
---
During summers, try and reach the park after sunset. It serves two purposes, one, you can escape the heat, and two, there's something magical about being in the park after dusk.


As you would expect, weekends at the LEGOLAND Dubai are pretty crowded. We would recommend going in during weekdays to skip the crowd.


Outside food is not allowed, except for baby food. So pack accordingly.


The theme park section of LEGOLAND has a baby care facility in the Imagination Land. Equipped with a kitchenette and play area for babies, the baby care facility is perfect for mothers to nurse their kids while the older kids take a spin of the park.


You can park your vehicle at the Dubai Parks and Resorts parking at a flat rate of AED 20 per day.


There's a short walk from where you park your car to the entrance of the park. Avoid high heels or uncomfortable footwear because you'll be walking around a lot!


Bring water bottles aplenty. It will get pretty hot and you'll need to stay hydrated at all times.


If you're planning on visiting LEGOLAND Dubai during the summers, we would recommend renting a cabana for your family. While a tad expensive and available in a limited number, it provides you a cool spot in all the heat, fridge, and extra service from the park staff.


There are shoe racks available near each water ride, where you can deposit your footwear. Since the ground can get pretty warm during the summers, only take of your shoes/slippers when entering a water ride.


A combo pass for LEGOLAND Dubai and LEGOLAND Water Park is a great way to money and experience both parks together.
FAQs: LEGOLAND Dubai
---
LEGOLAND theme park & water park are both 20 minutes from the Dubai Marina. It is located within the Dubai Parks & Resorts in Jebel Ali South, off of Sheikh Zayed Road.
LEGOLAND is a mix of indoor and outdoor attractions, making it an all-year attraction.
Enjoy 40 rides, shows and attractions at the theme park. The water park has an additional 20 slides and water attractions.
Yes, some rides have a minimum height requirement to ensure everyone's safety.
LEGOLAND Dubai has the largest selection of LEGO® Products in the Middle East.
Ready To Explore The Rest of Dubai?
Check out our comprehensive Dubai Travel Guide packed with itineraries, tours, culture trips, best hotels, restaurants and a lot more.