Dubai is the world's leading destination in entertainment and leisure attractions. From creating entire environments indoors – Ski Dubai, Dubai Aquarium, and a rainforest inside the Green Planet, to hosting the world's best adventure parks – IMG Worlds Adventure, Dubai Parks and Resorts and Legoland – Dubai has it all! The latest on the city's long list of exciting attractions is Ripley's Believe It or Not! located in Global Village Dubai. A part of the worldwide network of Ripley's attractions, this attraction hosts over 150 unbelievable natural, scientific, artistic, and human oddities. A perfect family-friendly destination, with quirky galleries, mirror mazes, animal oddities, pop-culture memorabilia and more; there's something for all ages at Ripley's Mirror Maze. And the cherry on the cake? It's prime location inside Global Village, Dubai's leading international winter festival featuring entertainment, shopping, and dining options from across the world.
Ripley's Believe It or Not! Dubai
---
For a century now, the 'Ripley's' name has been associated with all that's bizarre and unbelievable. The Ripley's collection has more than 30,000 artifacts worldwide, and some of the most iconic ones will be displayed at the Ripley's Believe It or Not attraction at the Global Dubai Village. You will see oddities from all spheres of life, including nature, science, art, and human physiology across six galleries. The most exciting exhibits in Dubai are - Megalodon shark jaw, the world's only roadworthy wooden-built Ferrari, a millennia-old iron Gibeon meteorite, and the smallest assembly-line manufactured road-legal car. The Mirror Maze lit up by over a thousand LED Lights is also said to be quite a sight!
Ripley's Believe It Or Not! Highlights
---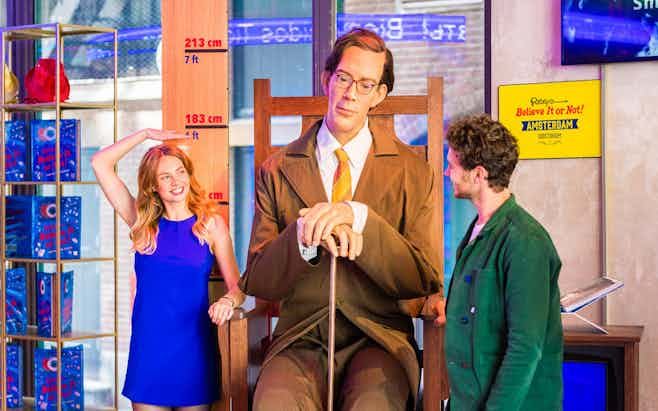 Six Museum Zones
The Ripley's Believe It or Not attraction at Global Village has six zones that showcase over 150 unbelievable exhibits. These zones include – Robert Ripley's Tribal Jungle, Human Oddities, Ripley's Warehouse, Ripley's American & Arabian, Magical Studio, and WOW Space Gallery.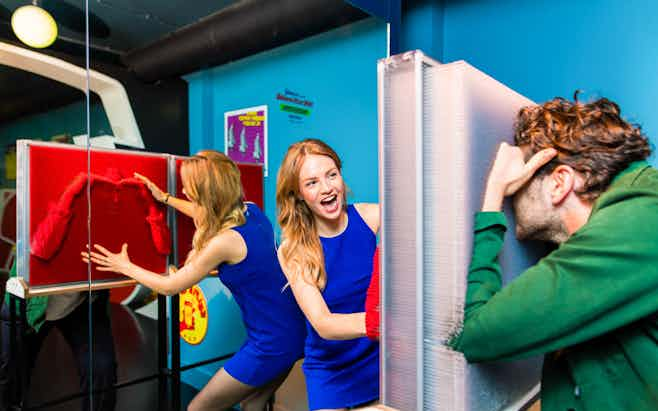 Mirror Maze
Ripley's has a mind-boggling mirror maze that uses a labyrinth of mirrors decorated with LED lights to create fantastical illusions. It is a great location to indulge in creative photography, and don't worry you if you get lost, a search party is sent every half hour!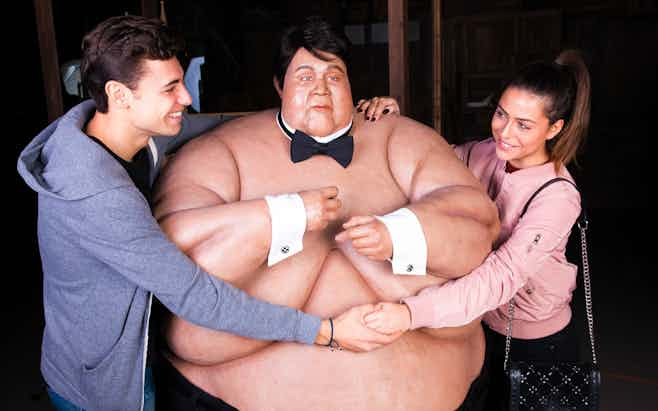 Ripley's Store
Looking for souvenirs or gifts to remember your trip to the Global Village Dubai? Ripley's store is your go-to destination for all things wonderful and weird. The official Ripley's Believe It or Not merchandise has products inspired by the museum exhibits.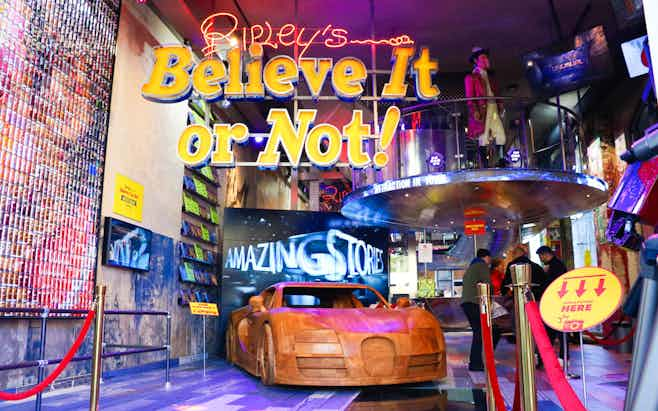 Ripley's Candy Factory
A visit to the Ripley's Candy Factory will most definitely bring out the inner child in you! Enjoy the stunning display of multi-colored candy in all shapes and sizes, buy some to indulge your sweet tooth and pack some away for your trip back home.
More Things to do at Global Village
---
After finishing your Ripley's visit, here's all that you can do in Global Village. Make sure to keep aside a whole day to make the most of your visit.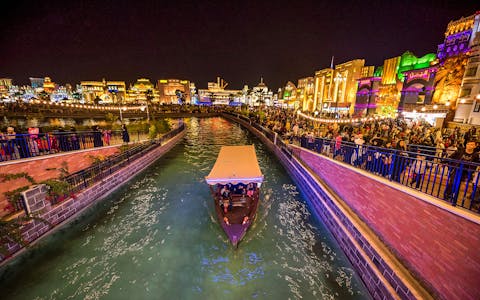 Magnificent Country-Specific Pavilions
The Global Village Dubai hosts 26 Pavilions showcasing culture specific to the country and host stores filled with the ethnic food, textiles, and other products. In 2019, expect to see 26 pavilions belonging to MENA, Far East, South Asia, Africa, Europe, and the Americas.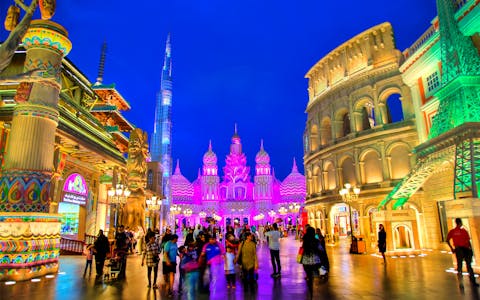 Rich Culinary Experiences
Global Village has a plethora of food and dining options for its guests. You'll find 23 restaurants and cafes serving authentic international cuisine with a dozen other delicious food concepts like floating market, Indian chaat bazaar, and desserts on a boat etc. You'll also find aplenty food trolleys selling candy floss, churros and lupin beans.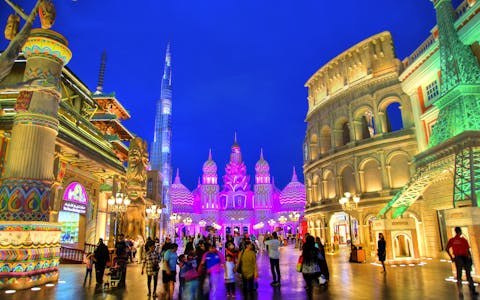 Electric Live Entertainment
There is no shortage of entertainment options in the Global Village Dubai. You can choose from kid-friendly entertainment like Kids Theatre Shows and Circus Circus, or other exciting street entertainment shows and Stunt Show Survivor - thrilling stunts performed by professionals. Browse the events calendar to know the stage shows and concerts running on the day of your visit.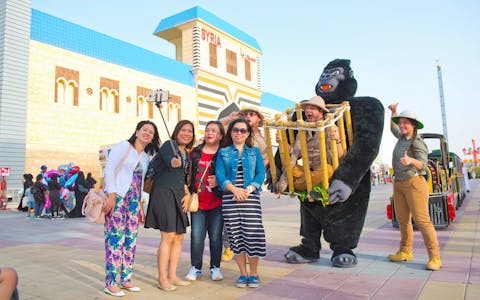 Never-ending Fun at Carnaval
The Carnaval is a funfair at Global Village Dubai, with over 31 adrenaline-inducing rides, 25 skill games, and an indoor arcade with 100 odd state-of-the-art games. Whether it's for your 3 year old child or your adrenaline-loving self, the Carnaval is fun-unlimited!
Ripley's Believe It or Not! Dubai - Opening Hours
---
Ripley's Believe It or Not Dubai is open from 29th October 2019 to 4th April 2020. The opening hours are as follows –
Saturday to Wednesday – 4:00 PM – 12:00 AM
Thursday, Friday and Public Holidays – 4:00 PM – 1:00 PM
Mondays are only for families and ladies. Bachelors will not be allowed inside the Global Village premises on Monday.
Directions To Ripley's Believe It or Not! Dubai
---
Getting To Ripley's Believe It Or Not! Dubai is fairly easy. Once you reach Global Village Dubai, there are signboards indicating the directions to Ripley's.
Getting To Ripley's Believe It Or Not! Dubai
By Bus
Bus no: 103, 102, 104 and 106 have stops at Global Village Dubai
By Metro
No direct metro is available to Global Village Dubai at the moment.
By Car
Get on Dubai - Al Ain Rd/E66, take Sheikh Mohammed Bin Zayed Rd/E311 to Exit 37 and continue on Exit 37 to Global Village.
Tips for Visiting Ripley's Believe It or Not!
---
Ripley's Believe It or Not is located to the right of the Main Stage and the quickest way to reach the attraction is from the 'Cultural Gate'. Use the same gate if you're arriving via taxi or bus. The Ripley's exhibits are a mix of interactive and non-interactive items. You can touch and feel some of the exhibits but for your safety you will have to steer clear of other items, so keep a look out for boards which prohibit touching the exhibits.
Allocate at least 1 hour to explore the Ripley's Believe It or Not attraction. Youou will need anywhere between 15-30 minutes for the mirror maze and about 30 minutes to view all the exhibits.
The best time to visit the Ripley's attraction is as soon as the Global Village opens, around 4:00 PM. The attraction is indoor so you can stay away from the afternoon heat, plus it is less crowded as most of the visitors take their time exploring the park and then wind up here around late evening.
You are allowed to photograph the exhibits, and in fact a few exhibits like shrunken heads jars, world's tallest man and the shark head are ideal for taking quirky photographs. Don't miss out on these photo ops!
There is no luggage or locker room space either in Ripley's Believe It or Not attraction or at the Global Village. Refrain from bringing large bags and suitcases.
Ripley's Believe It or Not! FAQs
---
I have previously been to Ripley's Believe It or Not attractions in other cities, is it advisable to go again?
Is there a separate entrance ticket for the Ripley's Believe It or Not attraction?
Where can I purchase tickets for Ripley's Believe It or Not, Dubai?
Is the Ripley's Believe It or Not Dubai a child-friendly attraction?
Can I buy the exhibits on display at the Ripley's Believe It or Not attraction?
More Dubai Guides
---
Looking for other fun things to do in Dubai? Check out our guides on Dubai attractions and plan your visit better.