A visit to the popular Dubai Dolphinarium is a complete family experience. Spread over 5,000-square-meter (54,000 sq. ft), the dolphinarium is home to 6 famous bottlenose dolphins, a healthy population of Fur Seals and over 20 species of exotic parrots. The air-conditioned facility allows a comfortable environment to be in, even if you visit during the day with the sun high up in the sky. If you are in Dubai and are looking for a relaxed and fun experience, then you should definitely visit the Dubai dolphinarium. Let us take a look at what the dolphinarium has to offer and how you can make the most out of your Dubai Dolphinarium experience.
Dubai Dolphinarium Timings
---
The dolphinarium opens its gates at 10:00 AM and is open throughout the week, except Sundays.
Dolphin and Seal Show
11 AM, 3 PM, 6 PM

*11 AM, 2PM, 6 PM from October 22, 2018
Swimming with Dolphins
10 AM, 12 PM, 1 PM, 2 PM, 4 PM & 5 PM
Creek Park Exotic Bird Show
12:15 PM, 2 PM, 4:15 Pm, 7:15 PM

*12:15 PM, 3:15 PM & 7:15 PM from October 22, 2018
A visit to the dolphinarium is a complete family experience. The air-conditioned facility allows a comfortable environment to be in, even if you visit during the day with the sun high up in the sky. Weekends are packed and with a limited seating capacity, it is advised that once purchase their tickets in advance.
Dolphin and Seal Show
---
What to Expect at the Dolphin and Seal Show
The dolphin and seal show is an interactive experience that displays the immense talent, physical and mental, that these animals possess. From diving on command to dancing, juggling and playing ball, the dolphin and seal show is sure to win your hearts. The main performers of the show are 6 bottlenose dolphins fondly named Kyushu, Jerry, Tetka, Fekla, Kai and Elvis. Also participating in the show will be the clumsy and adorable Fur Seals. These animals perform in the main show pool which is surrounded by an arena style seating, with regular and VIP sections.
Dolphin and Seal Show Tickets
Headout Ticket Advantages
• Instant Confirmation - Your tickets will be emailed to you instantly after purchase.
• Easy Use - Simply display the tickets on your phone to gain seamless access to the dolphinarium.
• Deals - Receive 5% cashback into your Headout account as credit if you're logged in.
Dolphin and Seal Show Seating Chart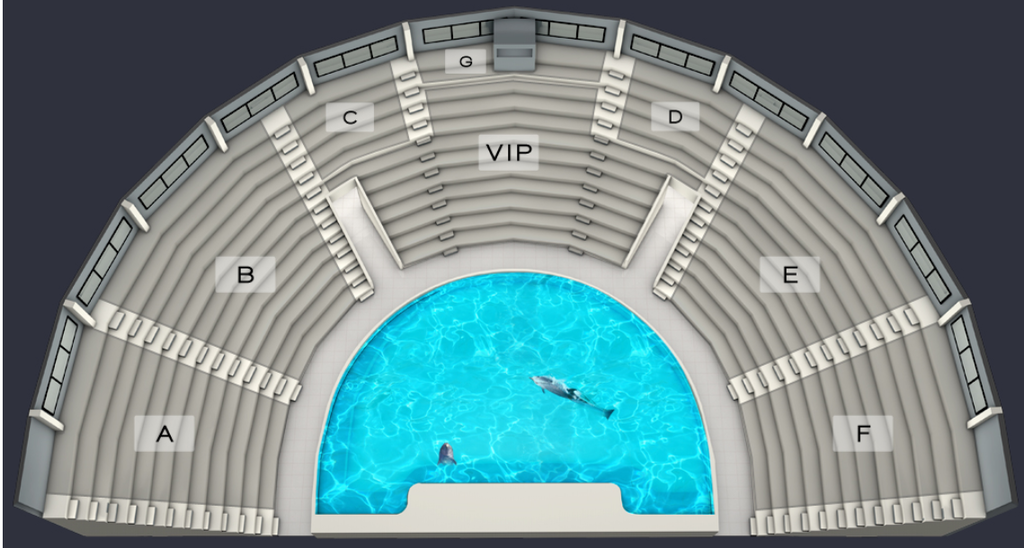 1. The Dubai Dolphinarium shows take place thrice in a day - 11:00 AM, 3:00 PM and 6:00 PM. Starting October 22, 2018, the Dolphin & Seal Show timings will be 11:00 AM, 2:00 PM and 6:00 PM. You'll enjoy a 45-minute indoor interactive extravaganza where these spirited animals showcase their amazing and astounding skills. Watch in wonder as the dolphins and seals dance, sing, juggle, play ball, jump through hoops and even create their own masterpiece!

2. Dubai Dolphinarium tickets are available with VIP seating and Regular seating options. The VIP seats are right in the center and provide the best vantage point for the show. The regular seats are spread on both sides of the VIP seats in an arc and ensures that you don't miss any action in the pool.

3. The regular seats are available for AED 105 while the VIP seats are available for AED 125. However, on Monday, Friday and Saturday, the price for regular seats for the 11:00 AM show is discounted at AED 75.

4. If you purchase Regular seats, a handy tip is to arrive at least 15 minutes before the show begins since seating is available on a first-come-first-served basis. To get the best views with your Regular seats, make sure to sit as close as you can to the center, near the VIP section.
Creek Park Exotic Bird Show
---
What to Expect at the Creek Park Exotic Bird Show
Home to over 20 species of parrots and exotic birds, the Creek Park exotic bird show is the only bird show in Dubai and a must-see. This entertaining experience will amaze you as these intelligent birds perform tricks and fly over your heads. Bird species at the Dolphinarium include Blue and Gold Macaws, Green Winged Macaws, Eclectus Parrots, Sulphur Crested Cockatoos, Sun Conures, African Grey and the Red Billed Hornbill.
Creek Park Exotic Bird Show Tickets
Get Your Tickets
1. The Creek Park Exotic Bird Show takes place at 12:15 PM, 4:15 PM and 7:15 PM. On Friday and Saturday, there is a fourth show early afternoon at 2:00 PM. Starting October 22, the timings will be 12:15 PM, 3:15 PM & 7:15 PM.
2. Tickets for the Creek Park Bird Show are priced at AED 55. Child tickets are priced at AED 30.
3. Creek Park Exotic Bird Show tickets are available for purchase online.
Swimming and Meet & Greet With Dolphins
---
What to Expect at Swimming with Dolphins
As the name suggests, this experience allows you to interact and swim with the dolphins. From poolside interactions to swimming with the dolphins in the water, this experience provides you with the incredible opportunity to meet these incredible animals. All this in the complete supervision of expert trainers as well. For those looking for an immersive dolphin experience, this is a once-in-a-lifetime chance to swim with these lovable creatures.
Swimming With Dolphins Tickets
Get Your Tickets
1. You have two options if you wish to swim with the dolphins - knee deep shallow water experience and deep water swimming experience.
2. Swimming with Dolphins takes place at 10:00 AM, 12:00 PM, 1:00 PM, 2:00 PM,4:00 PM & 5:00 PM.
3. The shallow water experience is available for AED 475 while the deep water swimming experience is for AED 630.
4. Advanced booking for Swimming with Dolphins is recommended since it is limited to 6 people per session and has a high chance of selling out.
Mirror Maze - Labyrinth @ Dolphinarium
---
What to Expect at the Mirror Maze
The mirror maze is one of the most fun and challenging puzzle experiences in Dubai. One has to go through a disconcerting labyrinth of made of mirrored glasses and find their way out using their sense of touch and orientation. Are you ready for the challenge?
Trampoline Park at Dubai Dolphinarium
---
What to Expect at the Trampoline Park
The trampoline park at Dubai Dolphinarium is fun for people of all ages, specially the children. After you're done watching the animals perfrom their acrobatics at the dolphinarium, you can make your way to the trampoline park and enjoy with your friends and family.
Know Before You Go
---
*Children above the age of 12 require an adult ticket.
Outside food and beverages are not allowed
Extra AED 5 - Entrance to Dubai Creek Park
Smoking is not permitted
Pets and animals not allowed
Free entrance for children under the age of 2
Dubai Dolphinarium Reviews - The Good and The Bad
---
The Good
1. Located within Dubai Creek Park, the proximity of the Dolphinarium to Dubai makes it the perfect experience if you're looking for an escape from the bustle of the city.

2. A wonderful experience for adults and children alike, the Dubai Dolphinarium allows one to not only see these amazing creatures in action, but also learn about them with interactive sessions as well.

3. The dolphinarium has also evolved to become much more than a dolphin and seal show. Additional facilities such as the mirror maze, the trampoline arena and the 5D/7D cinema have seen it transform into a major recreational facility in Dubai.
The Bad
1. The Dubai dolphinarium has a limited seating capacity and hence, getting a good seat may be tough on a busy day. However, there are numerous time slots for the various shows. So if you are not able to find seats for your preferred time, you can try a different time slot.

2. One should also note that the premise has only one restaurant which can host a max of 150 people. So if you're planning a day out at the dolphinarium, do keep this in mind.
This came as a surprise to us. You'll be truly amazed by the stunts performed by the dolphins. The auditorium is neat and the show is very well planned to leave you awestruck. Your kids are going to love and cherish the moments forever." - Harish B, TripAdvisor, Feb 2022
It was a beautiful experience dancing , playing and touching the dolphin. The trainer was super nice and gave a lot of information too about dolphins which is amazing. Its just a great feeling to interact so closely with just a friendly creature." - Horiya S, TripAdvisor, Jan 2022
That brings our Dubai Dolphinarium guide to an end. Now that you know all there is to know, purchase your Dubai Dolphinarium tickets and spend your day in the company of dolphins, seals and exotic birds.