Situated on the outer ring of the iconic Palm Islands is the famed Atlantis, The Palm Resort. Within it's grounds lies the largest waterpark in all of the Middle East and Europe, a must-visit attraction in Dubai, the Aquaventure Waterpark. An award-winning waterpark, experience record-breaking water rides and slides, swim with sharks and rays, or simply unwind at by the pristine beaches.
Why Visit Aquaventure Waterpark Dubai
---
There's no better way to beat the heat in Dubai than by soaking up some sun, sand, and waves. And a one-stop destination for this is Aquaventure Waterpark at the Atlantis in Dubai.
It is one the largest waterparks in the world! Imagine the sheer number of rides & attractions – 105 of them, to be exact – to keep you thrilled and refreshed all day long.
Enjoy a splash-tastic day filled with adventurous water slides, but also encounters with exotic marine creatures.
Aquaventure is home to several record-breaking rides. Don't miss out on some like Trident Tower and Blackout.
There's much more than meets the eye; at Aquaventure, try adventure activities like snorkelling & scuba diving, swim with dolphins & rays, and much more.
Unlike other in-house waterparks, to visit Aquaventure you do not need to be a guest at Atlantis. You can simply book your Aquaventure tickets online and get direct entry to the waterpark.
Visit one of the world's largest waterparks, Aquaventure!

It is home to iconic rides and thrilling waterplay areas.

Find yourself lost in a sea of action, adventure, waterslides and more!
Buying Aquaventure Waterpark Tickets Online
---
You can purchase Aquaventure tickets online in advance or at the venue itself. We recommend booking your tickets online at Headout to get some great deals and discounts. With each ticket booking, get up to 15% off with additional 5% cashback and enjoy flexible cancellation on your tickets.
Combo Tickets
Double your fun at Atlantis by visiting Aquaventure with other must-visit attractions in Dubai. With these combo tickets, you get direct entry to each attraction, along with up to 20% off with additional 5% cashback and flexible cancelation. This deal is just what you need!
Dubai Explorer Pass
Combine your visit to Aquaventure Waterpark with other iconic attractions in the city! The Dubai Explorer Pass lets you fit in the selected number of attractions into your itinerary spread across 60 days. Talk about convenience!
Adventure Activities
While at Atlantis, why not make the most of your visit by trying out some exciting activities? From scuba diving to meeting some adorable sea lions, there's something for everyone here.
Sign up for our monthly newsletter
Your dose of travel fix - from hacks and deals to travel tips and everything in between, delivered monthly to your inbox
Please enter a valid email
Unsubscribe anytime
Is The Aquaventure Waterpark Annual Pass worth it?
---
Book yourself the Aquaventure Waterpark annual pass for unlimited access to park for 365 days, and an additional host of benefits! Who should buy this? Anyone living in or around Dubai, or frequents this striking metropolis often. Prices for the annual pass starts from AED 990 for adults and AED 495 for children. If you're in Dubai for a shorter time period, consider the season pass. This grants you access to the park for 90 days. Prices for the season pass starts from AED 399 for adults and AED 299 for children. Learn more about the Aquaventure waterpark annual & season passes
Inclusions
Unlimited access to Aquaventure Waterpark
Unlimited access to all rides and the private beach
25% off food and beverages
Up to 25% off Animal Experiences
20% off Aquaventure Retail Store
15 Top Rides at Aquaventure Waterpark Dubai
---
Blackout
Prepare to be terrified by the bigger and bolder sister of Leap of Faith - an almost-vertical drop that brings extreme adrenaline rushes from start to finish. You'll reach high speeds as you plummet down this thrilling ride!
Zone : Trident Tower

Shockwave
Jump into a raft, grab your friends and family (up to six of you) and get ready for an adrenaline-pumping ride that is equal parts speed, power, and adventure. For more than sixty seconds you will be hurled 449 metres through tunnels at speeds comparable to those in the giant slalom ski course!
Zone : Trident Tower

Odyssey of Terror
The experience begins as riders accelerate and gain speed and momentum as they sweep up and across the apex of the wave where they momentarily experience near weightlessness before freefalling down the other side of the curved wall.
Zone : Trident Tower

Splashers Mountain
Are you brave enough to endure the deluge of 1,400 liters from Splashers' two colossal tipping buckets? Then head to Splashers Mountain for a world of water spills and thrills at this unique water playground! This is perfect for children less than 1.2 meters and their parents.
Zone : Children's experiences and activities

Splashers Island
Families with children under 1.2m can embark on a water-fueled adventure at Splashers Island, which is located next to Splashers Mountain and is three times larger! Launched in April 2018, the island features 20 thrilling wet attractions as well as an innovative dry play structure resembling a wrecked Dhow ship.
Zone : Children's experiences and activities

The Aquaconda
The Aquaconda is the world's largest waterslide. You and your friends will slide through a long serpentine tunnel of excitement before you are dropped into the largest fibre glass tube in the world.
Zone : The Tower of Poseidon

Zoomerango
Zoomerango is known to make you feel gravity like no other ride does. You will feel a mix of sensations as you slide up and down the giant Zoomerango slide.
Zone : The Tower of Poseidon

Poseidon's Revenge
The most thrilling ride at Aquaventure, Poseidon's Revenge has you wait in a chute before the trapdoor opens suddenly, sending you plummeting down at 60 km/hr through the heart of Poseidon's Tower.
Zone : The Tower of Poseidon

Slitherine
Slitherine is the first dual waterslide where you can compete against your friends and slide through a wild frenzy of twist and turns to see who is the fastest.
Zone : The Tower of Poseidon

Leap of Faith
A heart-pounding ride, Leap of Faith drops you down a 9-storey slide in just over a second to give you one of the most adrenaline pumping experience in the park.
Zone : The Tower of Neptune

The Shark Attack
Journey down to the core of the Tower of Neptune in a one or two-person tube before you emerge in a shark lagoon. The Shark Attack is a unique experience that brings you closer to these feared predators of the sea.
Zone : The Tower of Neptune

Water Coasters
These water slides use innovative technology to help you go up and down twisting tunnels on jets of water. Once you have navigated your way through these tunnels, you will emerge out into the Lazy River.
Zone : The Tower of Neptune

The Rapids
A 1.6 kilometre long river, the Rapids offers the excitement of white water throughout its length.
Zone : River Rides

The Torrent
The Torrent is a wave generator that produces sheet waves as well as swells up to meter high.
Zone : River Rides

Zero Entry Pools
Zero Entry Pools are present throughout the park and allow you to take a leisurely dip as you cruise down the Aquaventure's waterways.

Other Experiences
Aquaventure offers more than your typical waterpark facilities. Apart from some of the most thrilling and record-breaking rides, you can also partake in these unique experiences.
1. Shark Safari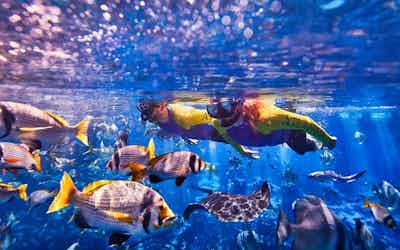 You do not need to be a scuba diver to experience swimming with the sharks. Put on a special helmet and dive into the lagoon for one of the most unique experiences at Aquaventure Waterpark.
2. Ray Feeding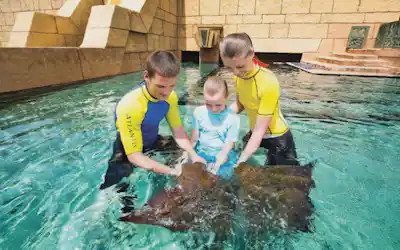 Step right into the shallow Aquaventure Waterpark's Shark Lagoon to hand-feed the cute cownose rays that call the lagoon home.
3. Splashers Kids Play Area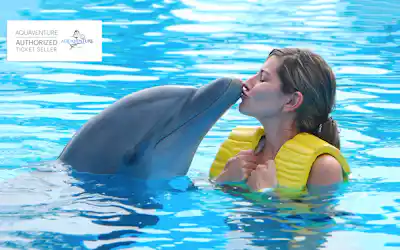 Designed for the little ones, Splashers is a play area for children full of open and closed slides, climbing frames, hanging bridges and water cannons.
4. Aquaventure Beach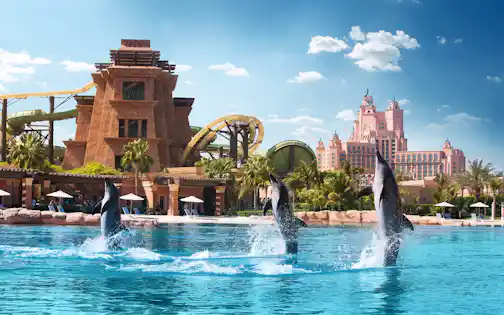 The only waterpark in Dubai to have a private beach for its patrons, Aquaventure Beach is a pristine 700m stretch of white sand beach for every one to enjoy.
Hacks To Avoid Crowds at Aquaventure Waterpark
---
Although theme parks can be loads of fun, standing in long queues is not. Here are some tips to avoid crowds and have a relaxing but fun time at the waterpark.
Try not to visit the waterpark on school and public holidays.
Stay clear of weekends, when there's sure to be large crowds. Weekdays are your best bet.
Get there in the morning to avoid long lines that build up during the day.
Avoid peak times like December and January when schools are on their winter break.
Visiting During Ramadan
Many are skeptical about taking a trip to Dubai during Ramadan because of the holiday rush, but there is a way around it. If you start your day early, hit the attractions right around the time they open, and avoid the weekends, you can enjoy the holiday season in the UAE to the fullest. Ramadan also comes with holiday discounts on your tickets, so it's a great way to save money.
Insider Information
---
Aquaventure Waterpark is the world's largest waterpark, spanning an impressive 22.5 hectares and holding 50 waterslides - a record-breaking amount that has earned it the official Guinness World Records™ title!
The waterpark offers an incomparable selection of 105 thrilling slides, attractions, and experiences!
Splashers Lagoon, Splashers Cove, Splashers Island and Splashers Mountain, together form the biggest kids-only waterpark experience in the Middle East
The Atlantis Aquaventure is home to 26 marine experiences, 26 food and beverage outlets, over 1000 sun loungers and 44 private cabanas!
All You Must Know Before Visiting Aquaventure Waterpark Dubai
---
Opening Hours
Aquaventure Waterpark is open from Monday to Saturday, from 10:00 am till Sunset. It is closed on Sundays.
Park Restrictions
Outside food or beverages
Any items deemed potentially harmful
Ice coolers or cold boxes
Pets (with the exception of service animals)
Ice coolers or cold boxes
Smoking in non-designated ares
Park Rules & Regulations
Entrance to the park is free for residential guests of the Atlantis Resort.
Your Aquaventure Waterpark ticket includes same day access to the private Aquaventure Beach, a 700m stretch of pristine white sand.
Children ages two and above require a valid ticket to enter the park. Also, all children under the age of 12 must be accompanied by an adult at all times.
Outside food and beverages, alcohol and glassware are not permitted in the park.
Aquaventure Waterpark is a shallow pool recreational zone and hence no diving is permitted anywhere in the park.
Life jackets are complimentary and available at the towel rental booths.
Facilities Available at Aquaventure Waterpark
Lockers are available for rent
Changing rooms
Food and drinks can be bought at the food courts and kiosks
Towel rental at AED 35 per towel
Best Time to Visit Aquaventure Waterpark
Outdoor attractions in Dubai like Aquaventure Waterpark are best enjoyed during the cooler months - November to April. During this time, weekdays are generally less crowded than weekends. This way you don't have to wait in long lines. Also, make sure you get there in the morning, just before the park opens to avoid crowds.
Getting to Aquaventure Waterpark
By car
Aquaventure Waterpark's location is very convenient for all residents of Dubai. If you are driving to Aquaventure, then you need to proceed on the Sheikh Zayed Road towards Jebel Ali. Opposite Mall of the Emirates, at Interchange 4, you need to turn right towards Souk Madinat Jumeirah. At Souk Madinat Jumeirah, turn left on Al Sufouh Road and drive straight for four kilometres then take The Palm exit on your right.

By Public Transport
Every cab driver will easily be able to take you to Aquaventure. Should you be taking the Dubai Metro, take the line that heads down towards Jebel Ali and stop at the Mall of the Emirates Station. From here, you can take a taxi to the waterpark.

Parking
There is limited parking at Aquaventure Waterpark. Guests are encouraged to take a taxi or other public transport to get there. If you need to take your car, you can park at Aquaventure car park and take a shuttle to the waterpark.
Gift shop & picking a souvenir at Aquaventure Waterpark
Grab yourself an Aquaventure-themed gift or souvenir on your way out to remember your visit. Choose from a range of items at the Aquaventure Gift Shop from t-shirts to stuffed toys, photo frames, and so much more! There's a little something for everyone.
What to wear to Aquaventure Waterpark
Lockers and changing rooms are limited at the park. Wear your swimwear under your clothes and pack light. Make sure you're wearing appropriate swimwear at all times. The staff at Aquaventure have the right to ask you to leave if you're dressed inappropriately.
What You Can Wear
Do Not Wear
Aquaventure Waterpark Dining Options
---
Hotels around the Aquaventure Waterpark Dubai
---
2. Sofitel Dubai Palm Apartments
3. FAM Living - Palm Jumeirah Sarai Apartments
Aquaventure Waterpark Reviews
---
Absolutely brilliant place for a great relax while the kids have fun in and out of the water fountains plenty of staff around watching every move we had a fantastic time and we r going again on friday weather permitting
Manji J, TripAdvisor, May 2021
ADVENTURE TIME!!! I wanna go back right now! Get there early and stay the whole day! There's so much to do! The water slides and activities seem endless. What an amazing place. Showers and towels available when you're done. Great food, stores and other activities available when you're done. The beach is breathtaking and huge! That have trollers that bring you throughout the park so you don't have to walk. We also did the dolphin encounter. I highly recommend!
Fernandez, TripAdvisor, April 2021