Dubai, while famous for its grand desert and the magnificent Arabian Gulf, is also home to some of the best attractions and theme parks in the Middle-East. Given the hot temperature that graces the city for the better part of a year, you bet there are some amazing water parks to help you cool down! If you're looking for some family-friendly water parks in Dubai, you are in the right place!
Let's look at some of the best water parks in Dubai, along with their reviews, discount ticketing info, insider tips and more! Beat the Dubai heat at Aquaventure, Wild Wadi or LEGOLAND Waterpark and other amazing water parks in Dubai.
Best Water Parks in Dubai
---
Below are the top water parks in Dubai. Simply click on the one you'd like to read more about- the good, the bad and everything in between about all the water parks.

Bonus: Right at the bottom of this article, you'll find a comparison between the top 5 water parks in Dubai. This could help you make a decision on which water park suits you best!
1. Wild Wadi Water Park Dubai
---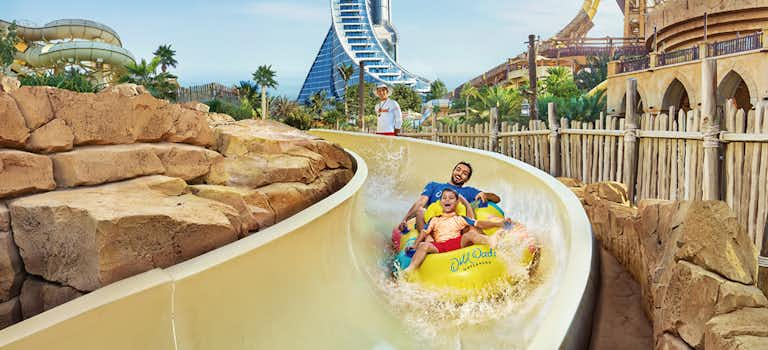 The Wild Wadi Water Park ranks 11th on TripAdvisor's list of top 388 things to do in Dubai and for good reason! This water park is not only the first of its kind in Dubai, but also located in one of the most popular destinations in the city, Burj Al Arab. Featuring Jumeirah Sceirah, the tallest and fastest free-fall water slide outside America, Wild Wadi is a Dubai must-visit! With numerous rides available for different age groups, this is one water park in Dubai you shouldn't miss!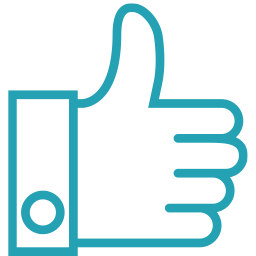 Good For:
If you're looking for a theme park with a view, then head to Wild Wadi
Situated next to Burj Al Arab, Wild Wadi allows you to experience a waterpark without traveling too far
Wild Wadi is the perfect waterpark for families with children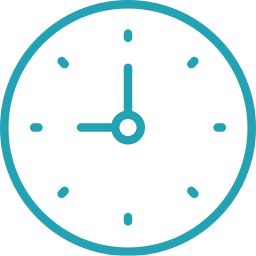 Opening Hours
Tuesday to Sunday: 10:00 AM - 06:00 PM
Closed on Mondays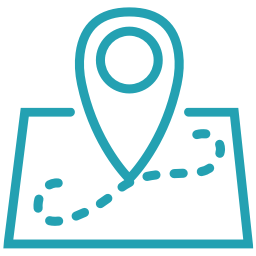 Location
Jumeirah Road, Dubai, UAE
Get Directions
What makes Wild Wadi tick
This water park has a huge interactive baby and toddler friendly play structure with over 100 water activities including slides, water guns, climbing frames and a dumping bucket.
Wild Wadi is home to Breakers Bay, the largest wave pool in the Middle East, producing 1.5 m (4.9 ft) waves in five different configurations.
The park offers a wide array of facilities to accommodate guests with disabilities. There is a pick up/drop off zone at the park entrance, as well as dedicated parking spaces in the car lot.
Wild Wadi is extremely crowded during the weekends and the waiting line for popular rides can often extend up to 1 hour.
Visiting the park during summers can be challenging, with the temperature rising above 40 degrees.
All guests staying at Jumeirah Hotels can enjoy free entry to Wild Wadi park.
Try not to save Jumeirah Sceirah for the end of the day - on busy evenings, the queue will close 45 minutes prior to the park's closing time.
If possible, visit the park on a weekday. It's far less crowded than the weekends!
Get more such insightful tips, along with restaurants nearby, directions, and reviews, with our Wild Wadi Water Park guide.
Recommended Experiences
Review of Wild Wadi Water Park Dubai
We were guests at one of the Jumeirah hotels and had access to this nice aqua park. It has a great variety of rides and water temperature throughout was excellent and well chilled to help customers fight the great heat. Everyone was very friendly and attentive. Our favorite was the ride 1 lazy river ride. The wave pool was also very nice place to cool off after going on the rides. Its a pleasant place for all ages. Will come back and recommend to everyone
Mr G, Tripadvisor, August 2020
2. Aquaventure Water Park
---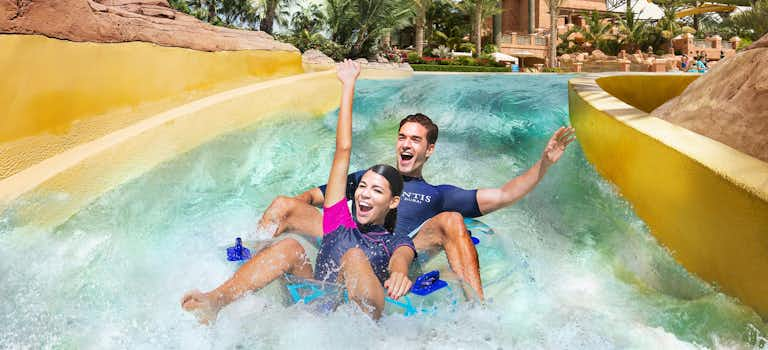 Aquaventure Water Park hosts over 42 acres of fun, including zip lines, shark filled lagoons and much, much more. Ride down the record-breaking Aquaconda, the world's longest water slide. Take a spin on the tidal surges of the Torrent River, or enjoy some delicious food at one of the cabanas. From adrenaline pumping rides to the relaxing Neptune's Retreat, you can experience the best of both world's at Atlantis Aquaventure.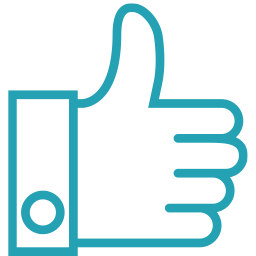 Good For
Aquaventure is perfect for thrill-seekers as it has the most thrilling rides of all waterparks in Dubai.
If you want more than just a waterpark experience, then head to the Aquaventure Beach or the Lost Chambers Aquarium.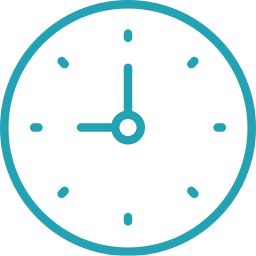 Opening Hours
Wednesday to Monday: 10:00 AM - 06:00 PM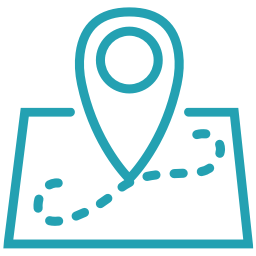 Location
Atlantis The Palm, Crescent Road, Dubai, UAE
Get Directions
What makes Aquaventure a firm Dubai Favourite
Get a special look at the wonders of marine life with Aquaventure's Marine Animal Adventure!
Fly through the air on the Atlantean Flyer zip line, the longest zip-line in the Middle East, and take in stunning views of Palm Jumeirah.
Given the park's popularity, expect a lot of queues for most rides, especially during weekends.
Aquaventure is a big water park and if you have an all access pass, chances are you won't be able to experience everything. To avoid missing out on some good rides, plan your time at the water park before going in.
Don't take your flip-flops off unless you want blistered feet and don't be afraid to take them on the ride with you, the staff are more than happy to let you down the slide with them.
To avoid wasting time on rides you might not enjoy, glance through the water park brochure and map to identify where you want to head.
To learn more about Aquaventure waterpark, check out our detailed Aquaventure Water Park guide to get discounted tickets and read all you need to know about the most popular waterpark in Dubai.
Review of Aquaventure Park
Fabulous rides and facilities. Plenty of staff around the park to assist and keep an eye out for any danger. Excellent photography throughout where your wrist band is scanned every time so you can collect them at the end.
rza124, TripAdvisor, August, 2020
3. Yas Waterworld
---
Yas Waterworld opened in 2013, quickly rising to the ranks of the best water parks in the world! Featuring the world's first hydro-magnetic tornado waterslide, amongst other water-based delights, Yas Waterworld offers great respite from Dubai's heat, offering patrons the best water park experience in the world. From A-list celebrities to families and UAE locals, Yas Waterworld attracts massive crowds round the year, a testament to it quality.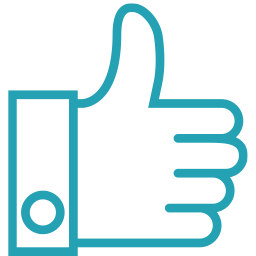 Good For
If you're traveling to Abu Dhabi, then head to Yas Waterworld for the best waterpark experience.
Yas Waterworld is the perfect waterpark for families with children.
Club Ferrari World with Yas Waterworld for ultimate theme park experience.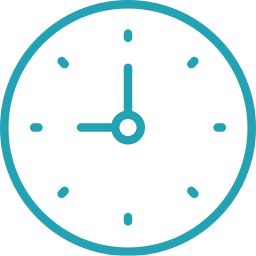 Opening Hours
Sat, Sun, Tue, Wed: 10:00 AM - 08:00 PM
Fri: 10:00 AM to 10:00 PM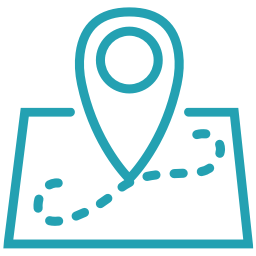 Location
Yas Island, Abu Dhabi, UAE
Get Directions
What makes Yas Waterworld a Must Visit
Yas Waterworld has some of the most unique and thrilling rides. The Dawama is the world's largest six-person waterslide, as well as the world's first hydro-magnetic tornado waterslide. There's also the Bandit Bomber, Liwa Loop, and other fun rides.
In terms of price, Yas Waterworld has the cheapest waterpark tickets in the UAE - while still being among the best.
For those staying or living in Dubai, you'll have to account for transportation time since the park is actually in Abu Dhabi.
Keep in mind that Yas Waterworld does not serve alcohol.
Grab a waterproof electronic wristband so that you don't have to worry about carrying cash or getting your money wet.
Take advantage of the free Yas Express shuttle.
Try and arrive to the park early in the day in order to beat the crowd and avoid long queues.
Tickets are available in three variants, BRONZE, SILVER, and GOLD. Check our Yas Waterworld guide to learn more about what each ticket type holds.
Recommended Experiences
Review of Yas Waterworld
This water park is the most fun we have had in another country. It did not disappoint! The slides are great for an adrenaline fueled day. The park felt safe, with lockers that worked great. There were plenty of sunloungers to leave you towel on and run off on your adventures before returning to it. There was a lot of choice for snacks, drinks and lunch also and there was no queuing for any of the rides or food!
RamS, TripAdvisor, February, 2020
Sign up for our monthly newsletter
Your dose of travel fix - from hacks and deals to travel tips and everything in between, delivered monthly to your inbox
Please enter a valid email
Unsubscribe anytime
4. Laguna Water Park Dubai
---
Taking things up a notch is Laguna Water Park. Laguna is the latest waterpark in Dubai and one of the few that are located on beach, in the heart of La Mer. The waterpark is split into 4 zones - Surf Zone, Splash Zone, Slides Zone and Relax Zone. Some of the most popular rides at Laguna Waterpark are the WaveOz - a 180 degree surf simulator, Free Fall, Constrictor and the Loop. Check out our guide on the Laguna Waterpark to learn more about these rides.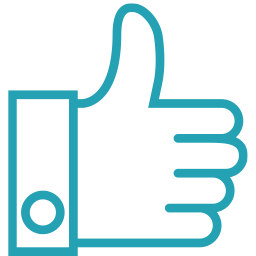 Good For
Laguna is the ideal water park for families traveling with children.
If you want more than a waterpark, then Laguna also has access to a beach.
If you're on a budget, then Laguna is your water park to go to.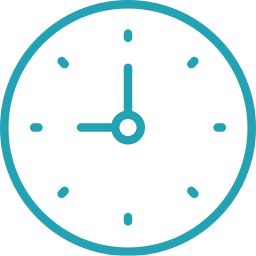 Opening Hours
Tuesday to Sunday: 10:00 AM - 06:00 PM
Closed on Mondays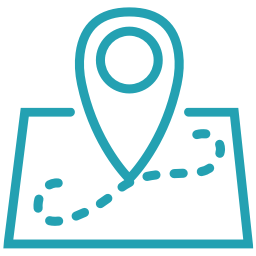 Location
La Mer - Jumeirah 1 - Dubai - United Arab Emirates
Get Directions
What makes Laguna Waterpark Popular
Laguna is located in La Mer, Dubai's newest beachfront address with wide open boardwalks, graffiti art and a breezy beachside charm.
Given its location in Dubai, Laguna water park is extremely accessible.
Useful amenities like cashless facilities, prayer rooms, free life jackets and designated smoking zones are all available.
Given that the park is new and in the center of the city, the park does get crowded. Plans need to be made keeping this in mind.
The park is smaller than the other waterparks.
Get your tickets online as they are cheaper and can be bought in advance.
Make sure your phone and/or camera are adequately charged before entering the park
Learn more about this water park with our detailed Laguna Water Park guide.
Review of Laguna Waterpark
This waterpark is amazing! Went here 3rd time now with family and friends and it never ceases to amaze me! The activities are not super scary - perfect for a person like me who is afraid of heights! It's so affordable and you can enjoy unlimited food, eat all you can all day! Their staffs are super accommodating to! Shout out to Mr. Shane, you're the best man! This place is highly recommended! I even bought annual pass so I can come back anytime I want, I hope i'll be able to master their flow ride activity
pochoy, TripAdvisor, February, 2020
5. LEGOLAND Water Park
---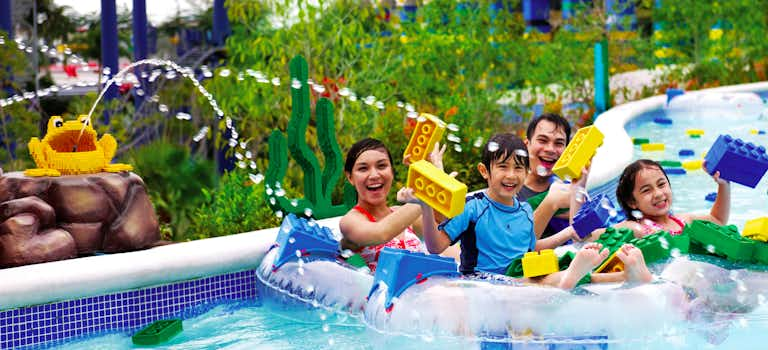 Based on the popular building block franchise, LEGOLAND Water Park is part of the bigger LEGOLAND Theme Park. Featuring elements from The LEGO Movie and LEGO toys, this is the perfect park for families with young kids! Bringing the fun of creating structures out of LEGO blocks this water park allows you to build your own raft out of LEGO blocks and use it to row down the LEGO river!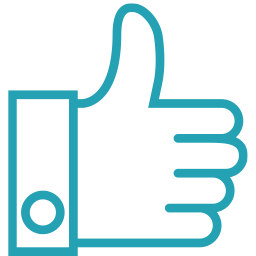 Good For
The complex is home to the LEGOLAND theme park and the LEGOLAND water park, making it easy to visit both.
LEGOLAND Waterpark is the ideal family-fun destination in Dubai.
With over 40 fantastic rides, family-friendly attractions, and innovative play areas for kids, LEGOLAND is a special place.
Situated in Dubai Parks and Resorts; Motiongate and Bollywood Park are easily accessible.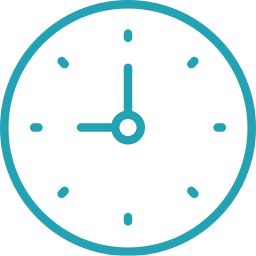 Opening Hours
The park is open every day, from 10:00 am to 7:00 pm.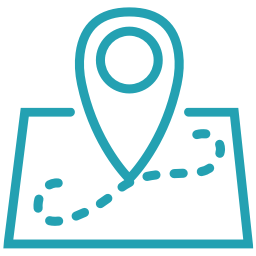 Location
Sheikh Zayed Road, Opposite Palm Jebel Ali, Dubai, UAE
Get Directions
What makes LEGOLAND Popular
An innovative space that serves fun and imagination in equal measures. LEGOLAND Dubai is the perfect place for a fun day out with the family.
The LEGOLAND Water Park allows for a winsome break from the Dubai heat with exhilarating rides suitable for the entire family.
LEGOLAND Dubai features a fine mix of both indoor and outdoor attractions, making it an ideal year round visitation.
There's a lot to see and do around LEGOLAND Dubai and one day might not be enough if you're planning on visiting the water park too.
While perfect for kids below 12, teenagers might not find the park to their liking given that most attractions are more kid-friendly than for teenagers.
There's a short walk from where you park your car to the entrance of the park. Avoid high heels or uncomfortable footwear because you'll be walking around a lot!
A combo pass for LEGOLAND Dubai and LEGOLAND Water Park is a great way to money and experience both parks together.
Bring water bottles aplenty. It will get pretty hot and you'll need to stay hydrated at all times.
Learn more about all the exciting rides and slides awaiting you at LEGOLAND Dubai with our handy guide.
Recommended Experiences
Review of LEGOLAND Dubai
We visited the park twice and both the times the staff was extremely patient courteous and friendly which is a big plus point for a theme park and my daughter went on almost all the rides except for the big roller coaster so she loved the park and so did we.
Zaras_tales1a, TripAdvisor, March, 2020
6. Jungle Bay Dubai
---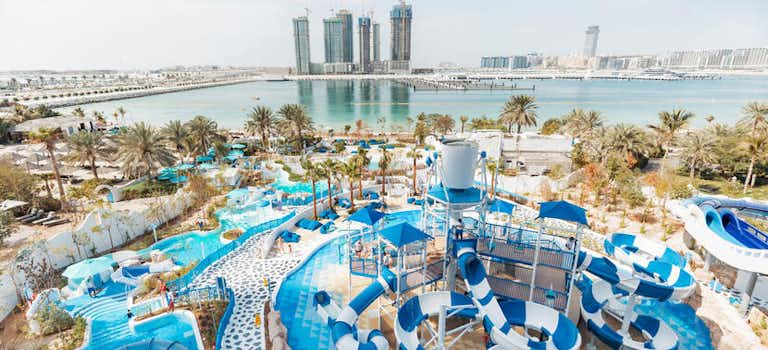 The newest kid on the block, Jungle Bay Dubai opened doors to public in Feb 2021 and is already a hit for summer solace. Located inside Le Meridien & The Westin Mina Seyahi Beach Resort & Marina, and conveniently situated on the gorgeous bay of Mina Sehayi; this family-friendly beachside water park has many fun rides and attractions to keep kids of all ages entertained for hours on end.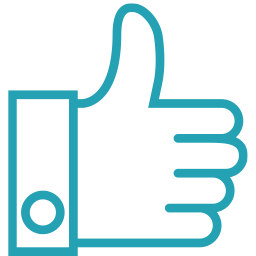 Good For
Its minimalist charm and hues of blue and white surrounded by lush greenery, lends the park a distinct Aegean vibe making it feel like you've been transported straight to the shores of Santorini.
Day passes are available for those who are not staying at the Westin Dubai Mina Seyahi Beach Resort & Marina as well.
Jungle Bay has a dedicated splash park called Aquaplay for kids of all ages.
This beachfront water park has a lighthouse slide, a six-metre wave pool and plenty of private cabanas - the perfect reciepe to relax and unwind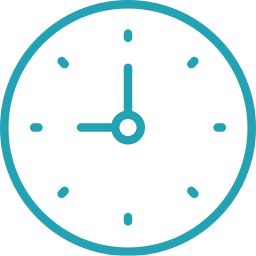 Opening Hours
The park is open every day, from 10:00 am to 6:00 pm.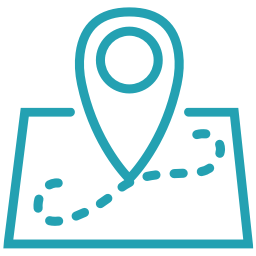 Location
Le Meridien Mina Seyahi Beach Resort & Marina - Dubai Marina
Get Directions
What makes LEGOLAND Popular
Jungle Bay has several attractions that are designed to entertain children, big and small.
The Beach restaurant at Jungle Bay serves light bites and refreshments.
There are no white-knuckle rides at Jungle Bay, hence those looking for thrills and spills may be disappointed.
The number of rides here are limited in comparison to the other water parks in town.
The day pass prices are a little steep (AED 200 for weekdays and AED 250 for weekends) for the number of rides in the park
Make sure to go early so you can pick a cabana for yourself. They fill out pretty quick.
The closest tram stop is Mina Seyahi, a 1-min walk to the water park. T1 will bring you here.
When you're done with the waterpark, make sure to catch the sunset on the Mina Seyahi Beach
Be among the first few to grab Jungle Bay tickets on Headout at a discount (online tickets to go live soon).
Dubai Water Park FAQs
---
Which are the popular water parks in Dubai?
Which is the largest water park in Dubai?
Which water park has the most rides?
Which water park has the most exciting rides?
Which water park in Dubai has discounted tickets?
Can I purchase Dubai water park tickets online?
Which water park is the easiest to get to?
Which water park is the most crowded?
When should I choose Aquaventure over other water parks?
When should I choose Wild Wadi over other water parks?
When should I choose Yas Waterworld over other water parks?
When should I choose LEGOLAND Water park over other water parks?
What are Aquaventure water park timings?
What are Yas water park timings?
What are Laguna water park timings?
What are LEGOLAND water park timings?
What is Wild Wadi entry fee?
What are Aquaventure water park ticket prices?
What are Yas Waterworld ticket prices?
What is Laguna water park entry fee?
What is the LEGOLAND water park entry fee?
Are outside food and drinks allowed inside the water parks?
Are towels and lockers available for rent?
Are these water parks open during Ramadan?