An exciting labyrinth of theme parks, superb dining, luxury and relaxation, Dubai Parks and Resorts is the ultimate destination for fun and entertainment in the Middle East. From thrilling roller coasters and action-packed water rides to themed outdoor plazas and enthralling live music and dance performances, DPR offers a world of recreation and pleasure fit for all ages.
Get the ultimate cinematic experience at Motiongate Dubai - the Middle East's "Hollywood in the desert". From Shrek and Kung Fu Panda to Toothless the Dragon and the Smurfs, enter the world of your favorite characters through a wide array of exciting rides and attractions. Head to Bollywood Parks Dubai and stroll the streets of Mumbai, dive into adventure in a rural village and catch the region's first and only Broadway-style Bollywood musical at the dazzling Rajmahal Theatre. At LEGOLAND Dubai let your imagination run wild as you build your own lego city, conquer the Dragon roller coaster, get your boating license and much more. If you're looking to escape the heat, hop over to LEGOLAND Water Park, the region's only water park specifically designed for children ages 2-12. And last, but certainly not least, travel back in time at Riverland Dubai and experience the street life, architecture and ambiance from four influential eras.
Quick facts
---
Dubai Parks and Resorts is Middle East's largest integrated theme park destination.
Dubai Parks and Resorts is expected to host over 6.7 million visitors by the end of 2017.
DPR is home to the ONLY Bollywood-themed park in the world, Bollywood Parks Dubai.
Rajmahal Theatre, one of Bollywood Park Dubai's greatest attractions, hosts the region's first and only Broadway style Bollywood musical, Jaan-e-Jigar.
Dubai Parks and Resorts Timings
---
LEGOLAND Dubai
Summer Hours | May 25 - June 27
Daily: 4pm - 12am

LEGOLAND Water Park Dubai
Summer Hours | May 25 - June 27
Daily: 10am - 7pm
MOTIONGATE Dubai
Summer Hours | May 25 - August 31
Daily: 4pm - 12am

Bollywood Parks Dubai
Summer Hours | May 21 - August 31
Daily: 4pm - 12am
DPR Theme Parks
---
Dubai Parks and Resorts is home to three theme parks, one water park, one resort and one hotel.
Bollywood Parks Dubai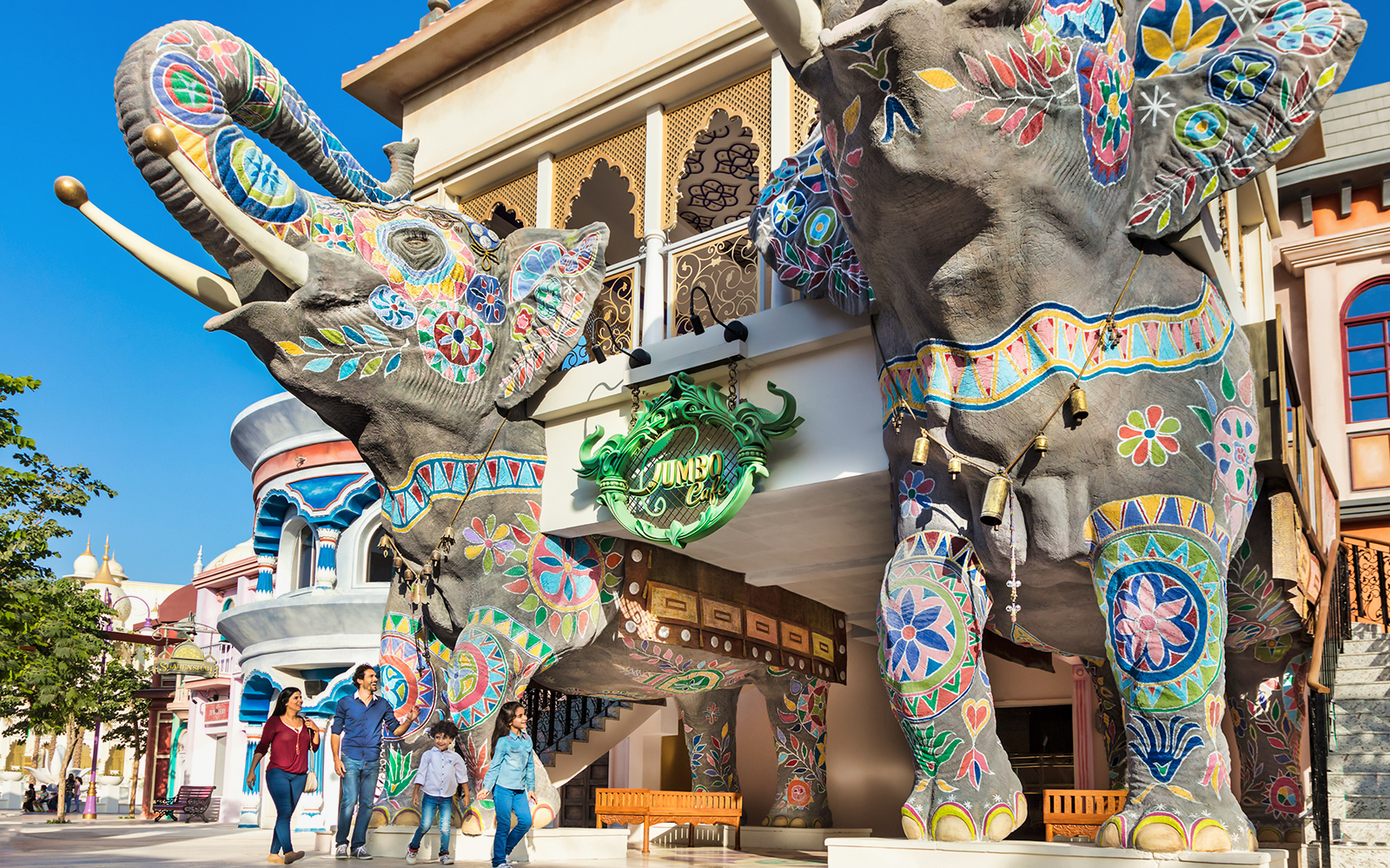 Based on the booming Indian film industry based in Mumbai, the park showcases the wonderful spirit behind Bollywood, and the stars who make it come alive. From multi-sensory 4D theatre adventures - think flying through the sky with Krrish, or plunging into the thrilling virtual world from Ra. ONE, to epic Bollywood performances that will transport you back through time, Bollywood Parks Dubai is a one-of-a-kind experience. Explore the park's five zones, each based on a hit Bollywood movie, and enjoy "Lagaan" themed rides, catch a show at the dazzling Rajmahal Theater, and grab a bite while catching some live music at the Rock On!! themed restaurant.

Learn more about Bollywood Parks Dubai.
MotionGate Dubai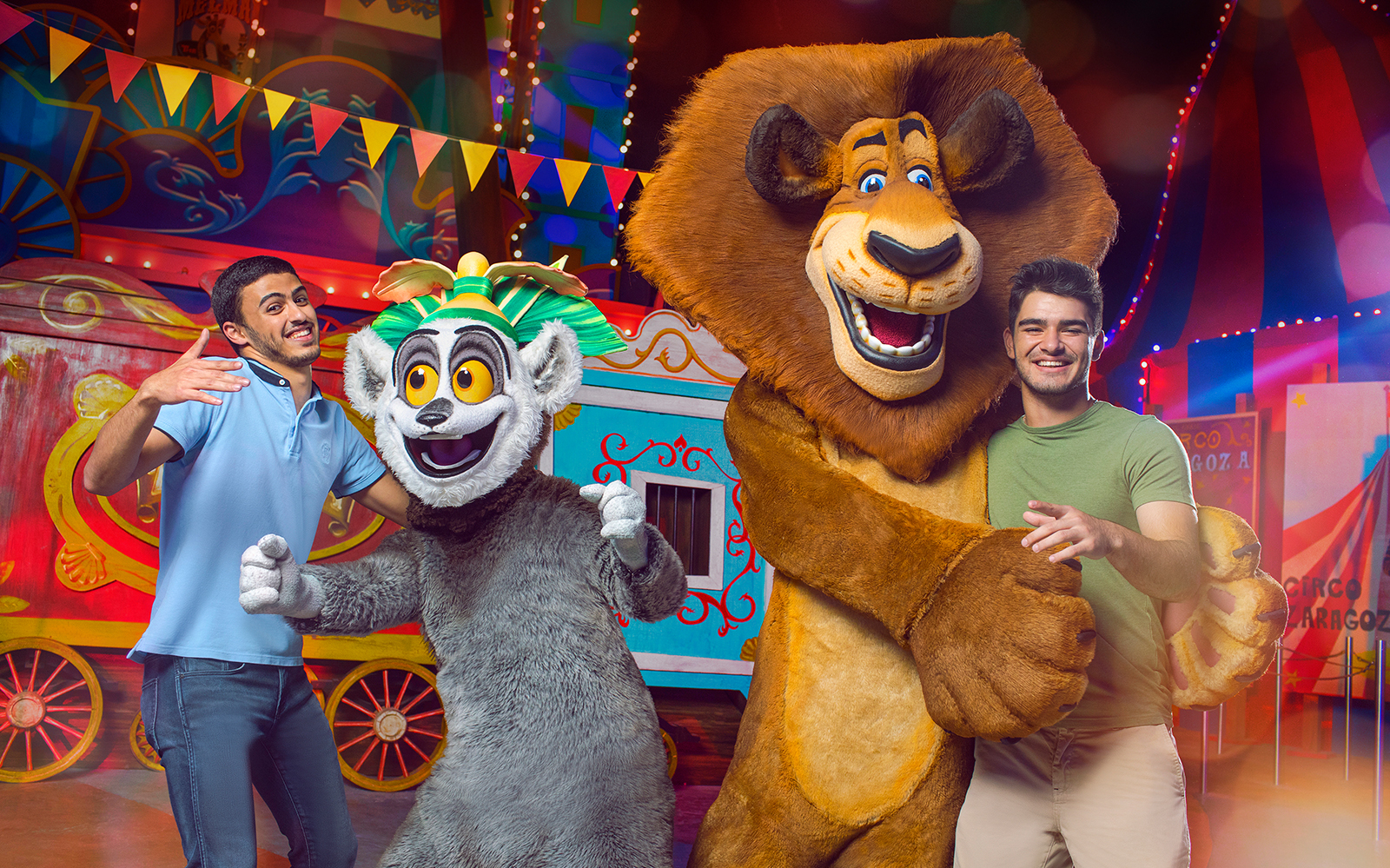 MotionGate is Dubai's very own, "Hollywood in the desert". Divided into four zones: Lionsgate, Columbia Pictures, DreamWorks, and Smurfs Village, the park features 27 rides and attractions. Fly through the sky with Toothless, hang out with Kung Fu Panda, take a behind-the-scenes tour of a movie set, free fall down Zombieland's 58-metre tower and visit the first-ever roller coaster based on The Hunger Games. At MotionGate, journey into the world of your favorite characters and prepare to be captivated by pure cinematic entertainment.

Learn more about MotionGate Dubai.
LEGOLAND Dubai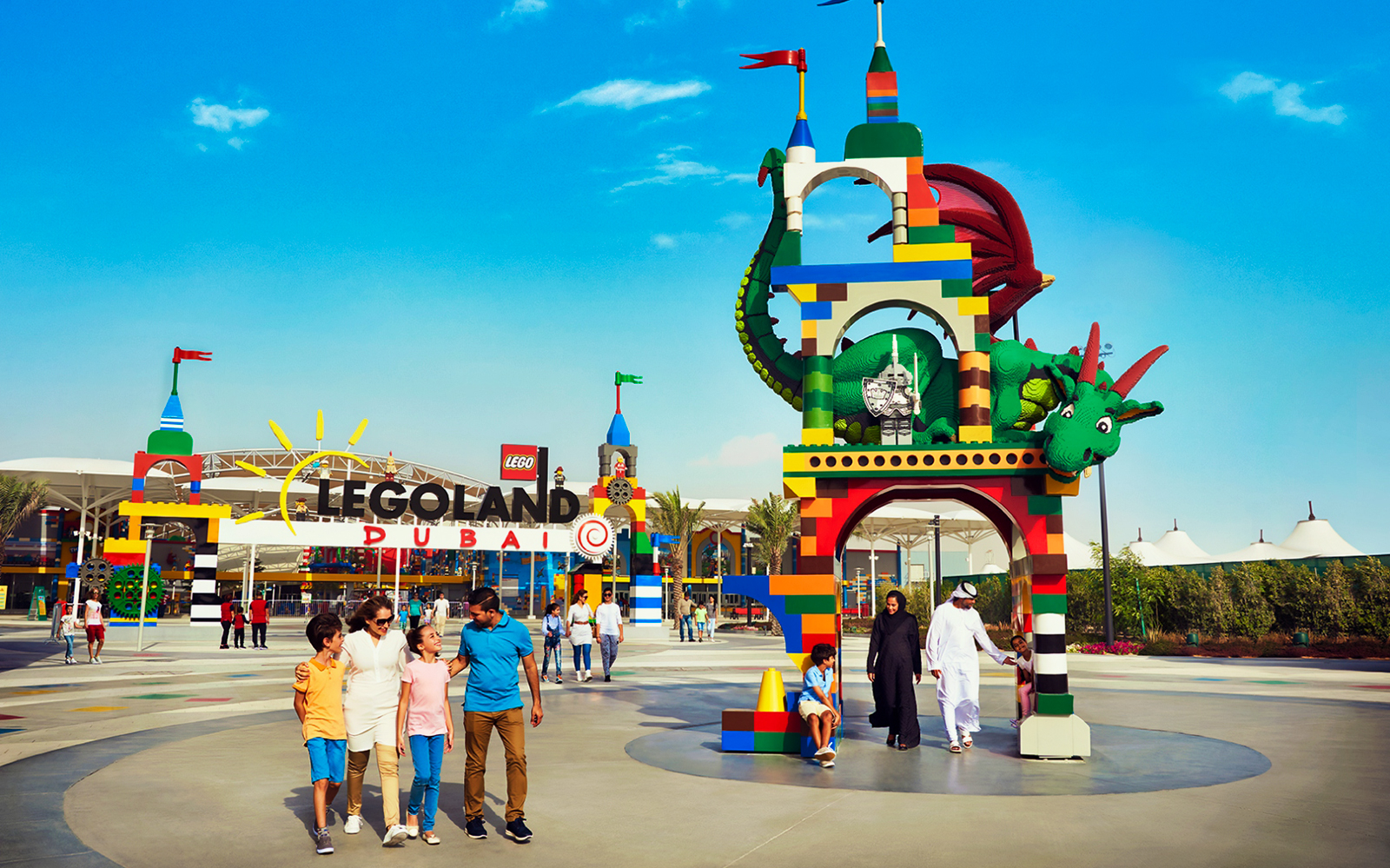 At LEGOLAND Dubai, let your imagination run wild! Build and race lego cars, save a burning building in Lego City, conquer the exhilarating Dragon coaster, build your own lego city at the ten-metre play table and tour the Lego factory to watch how legos are made. There are over 40 LEGO themed rides, shows and attractions at this theme park, all designed especially for children aged 2-12. Boating school, wave racing, junior driving school and more, this interactive park offers much more than just rides.

Learn more about LEGOLAND Dubai.
LEGOLAND Waterpark Dubai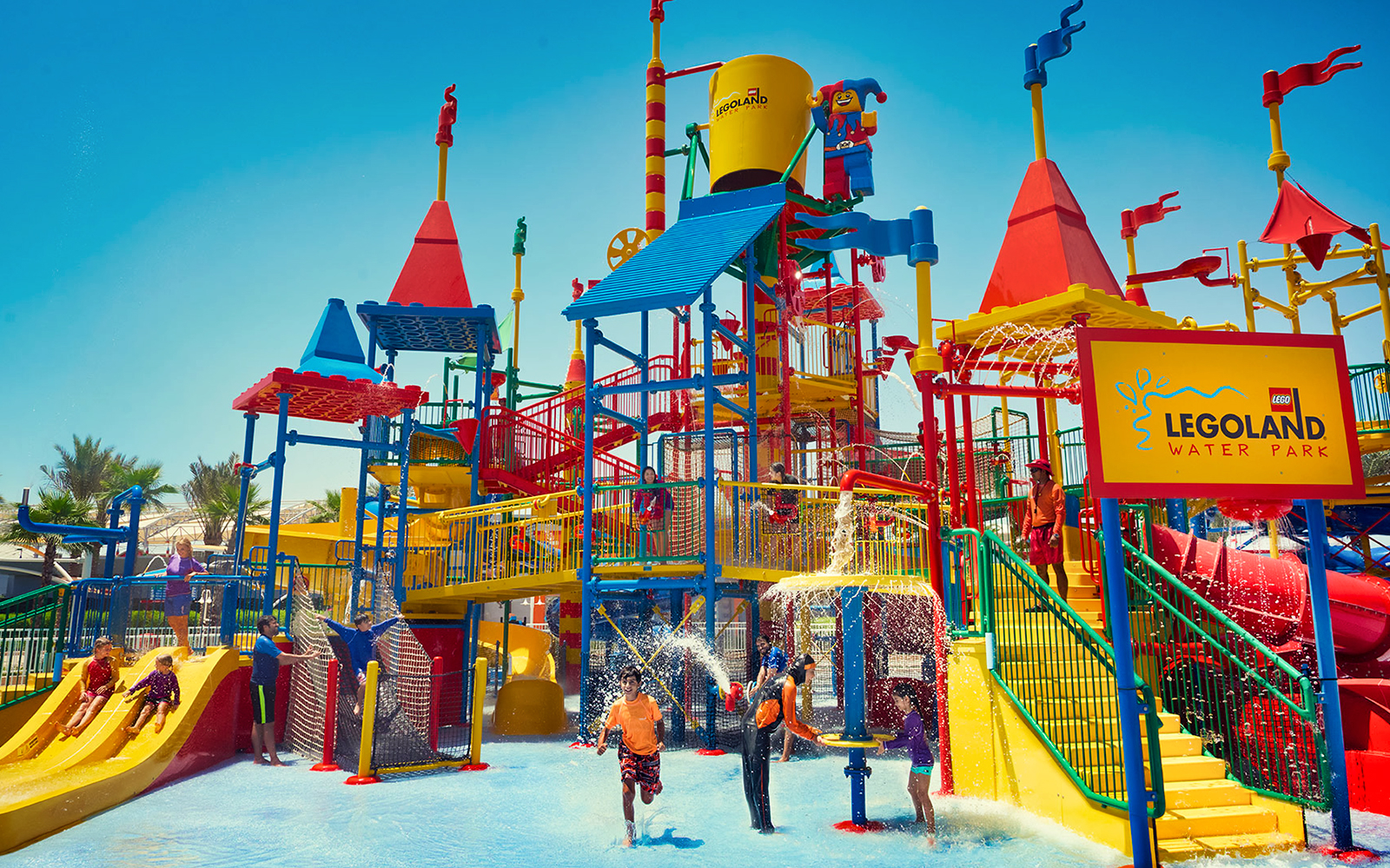 From building your very own Lego raft to venturing off on a splash safari, the park boasts over 20 water slides and attractions. It's also the only water park in United Arab Emirates designed especially for children ages 2-12. Exhilarating racer slides, a gentle wave pool, a family-sized raft ride that takes you rushing down a 312-foot-long slide and a huge interactive playground - it's fun for the whole family.

Learn more about LEGOLAND Waterpark Dubai.
Riverland Dubai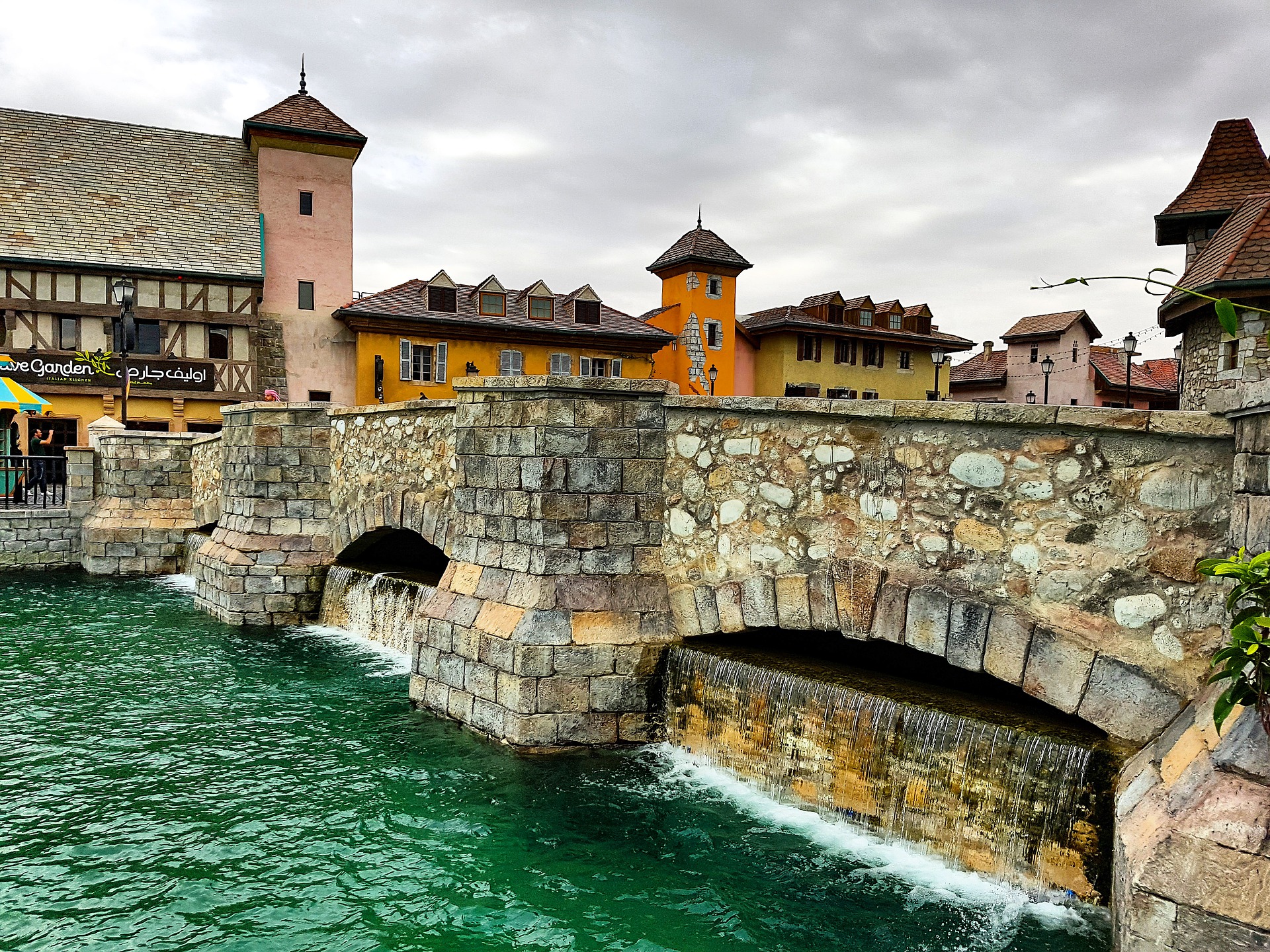 RiverLand Dubai brings together the awe-inspiring architecture and ambiance from four distinct eras. Explore each zone and experience street life, theatres, and cuisine from The French Village during the 1600's, America's of the 1950's, British Raj of the 1930's and Europe in the early 19th century. Full of excellent dining options, retail shops, live street performers, musicians, and acrobats, RiverLand is the gateway to Dubai Parks and Resorts. Meander through the medieval French Village and check out the towers and water wheel. Walk along the river at the Boardwalk and take in the glowing neon signs and soaring palm trees. Journey to South Asia at India Gate and take in the enthralling energy of the piazza at the Peninsula. RiverLand Dubai offers a glimpse into the rich worlds of our past.

Learn more about Riverland Dubai.
Lapita Hotel Dubai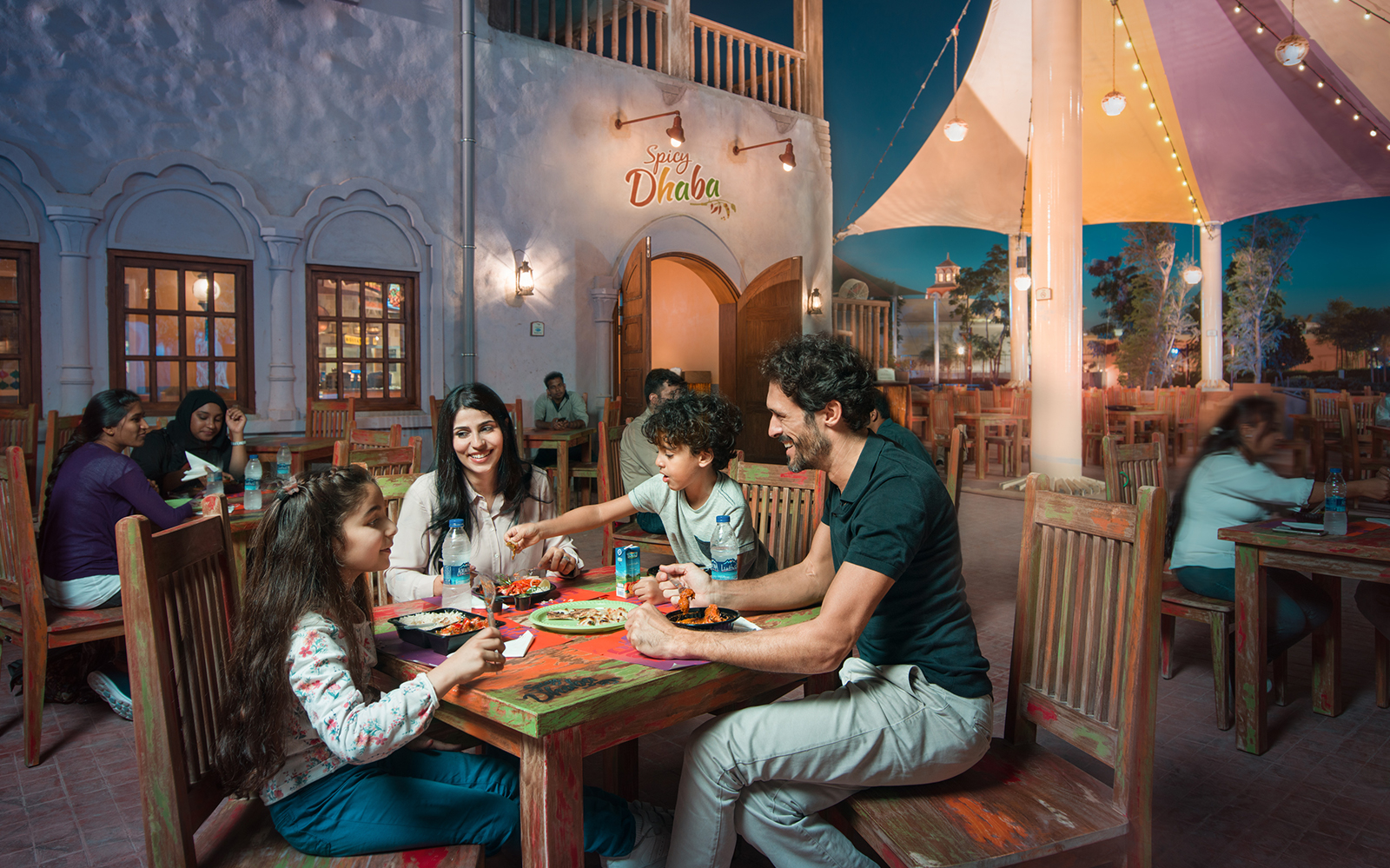 A unique getaway, Lapita Hotel is a Polynesian themed resort hotel. The property's detailed tribal theme offers guests an opportunity to learn about the culture and heritage of Polynesia. Take a culinary journey through Oceania at any of the resort's five restaurants, or head to the rainforest themed rooftop bar and enjoy the tropical atmosphere. The resorts also hosts a plethora of kid-friendly activities. After enjoying all the fun, relax and pamper yourself at the OLA Spa Boutique.

Learn more about Lapita Hotel Dubai.
---
Getting Dubai Theme Park Tickets
---
All park tickets can be purchased directly through the Dubai Parks and Resorts website, or, in person at the entrance of each corresponding park. For those looking to save some money, you can purchase discounted Dubai Parks and Resorts tickets via Headout, a trusted online marketplace. Tickets are available for all four parks. As an added bonus, when you book with headout you'll receive 5% cashback credit that you can use toward any other purchase on Headout.

Find more discount tickets to Dubai's top attractions on Headout.
Multi-Park Hopper Tickets
---
Maximise your experience with a one-day, two-day or seven-day hopper pass. Choose between a 2-park hopper pass, or an all 4-park combo pass.
Q-Fast
---
Q-Fast passes can be purchased for Motiongate Dubai, LEGOLAND Dubai and Bollywood Parks Dubai to reduce waiting times and pass up long queues for the park's rides and attractions. Q-Fast is purchased as an add-on to a regular park admission ticket - not in place of one.

LEGOLAND Dubai Unlimited Q-Fast
Unlimited Q-Fast entry to all rides - AED 175

MOTIONGATE Dubai

Option 1
Single Q-Fast for all rides: AED 125
Option 2
Unlimited Q-Fast entry to all rides: AED 175
Option 1
Single Q-Fast for all rides: AED 100
Option2
Unlimited Q-Fast entry to all rides: AED 150
Sign up for our monthly newsletter
Your dose of travel fix - from hacks and deals to travel tips and everything in between, delivered monthly to your inbox
Please enter a valid email
Unsubscribe anytime
---
Useful Information
---
Available Facilities
The following are available at each of the parks:
Strollers (available for rent)
Dress Code
There is no set dress code for any of the Dubai Parks. However, the following suggestions are recommended:
Wear comfortable shoes; you'll be walking all day.
Check the weather and dress accordingly.
For men, shorts and t-shirt are recommended.
For women, light trousers or shorts and a top are suggested.
For LEGOLAND Waterpark, do be sure to wear appropriate swim wear.
---
Dubai Parks and Resorts Review
---
Visited over the weekend and had a great time with the family. Although it is an outdoor park, many of the rides are indoors which is good. Queues were short and well managed. They have something for all ages...from thrilling to kiddy rides which makes a great experience for the whole family. Each of the parks delivers the theme well. Staff were also very friendly. So enjoyable, I have already re-booked for the coming weekend!
Rob, TripAdvisor, May 2017
Dubai park is one of the best parks I have visited, good shows dream works. Bollywood is again a good entertaining segment. Legoland is as usual the best.
One has to arrive early to the park if want to cover maximum attractions in one day; 02 days visit is good to explore everything. Nice family attraction.
A well planned and executed show. I love dolphins and hence this was special. The show was amazing with lot of dolphin acts and other animals. The auditorium was jam packed. A must visit when in Dubai. Superb experience.
atulsinigbaghel, TripAdvisor, April 2017
---
Dubai Parks and Resorts Location
---
Dubai Parks and Resorts is located in Dubai on Sheikh Zayed Road, opposite Palm Jebel Ali.
By car
It's a relatively easy ride to DPR Dubai. From downtown Dubai, the trip is around 40 minutes. Head south of Sheikh Zayed Road. Drive past Dubai Marina and Jebel Ali and you will see Dubai Parks and Resorts on the left.

Via public transport
Take the red metro line south all the way to the last station, Jebel Ali. From there, you will have to take a taxi the rest of the way - which should only take you about 15 minutes.

From Dubai International Airport
Head south on E11, also known as Sheikh Zayed Road, towards Abu Dhabi. It's just a straight shot from there, past Dubai Marina and Jebel Ali. You will see Dubai Parks and Resorts on your left. The trip takes around 45 minutes with low traffic, or close to an hour if there is heavy traffic.

From Al Maktoum International Airport
Dubai Parks and Resorts is only 20 minutes away from this Al Maktoum. Take the Sheikh Mohammed Bin Zayed Road south and turn right towards E11. Take another right, towards Dubai. DPR will appear almost immediately on the right side of the road.
Parking

---
Parking passes are available for purchase upon entering the park. Your pass is good for the whole day, across all Dubai Parks and Resorts.

General parking fees are AED 20 for the entire day. Preferred parking is AED 80, covered parking is AED 100 and valet parking is AED 150. Annual pass holders get complimentary parking. After 6:30pm, all general parking is free.

There are designated parking spots available for guests with disabilities. A valid parking permit is required.
Hotels Near DPR Dubai
---
Insider Tips
---
Try and arrive to the park before sunset. The park looks amazing at dusk!


If you plan to visit any of the theme parks at Dubai Parks and Resorts more than three times a year, it would be wise to purchase an annual pass to save money.


If possible, visit the park on a weekday. It's far less crowded than the weekends!


Buy a combo ticket to enjoy the best savings.


Get your tickets ahead of time to avoid long lines.


Take snack breaks, especially for kids, and make sure everyone in your group stays hydrated.


Check the weather before you go.


Make sure your phone and/or camera are adequately charged before entering the park.