Escape the prickly heat of Dubai by traveling to the UAE's winter wonderland at Ski Dubai! Visit the first indoor ski resort in the Middle East. Located in the Mall of the Emirates, Ski Dubai features an incredible 22,500 sq/m covered with real snow all year round. With 5 runs that vary in difficulty, height and gradient - skiers and snowboarders of all skill levels can enjoy the slopes. Meet the penguins, try snowboarding and skiing, and much more here.
With our guide, learn everything there is to know about this wonderful attraction, from booking discounted Ski Dubai tickets, to best time to visit, all the top adventure activities to try, and more.
Ski Dubai - In a nutshell
---
Handy information
| | |
| --- | --- |
| ⏰ Suggested Duration: | 3-4 hours |
| ☀️ Best Time to Visit: | Weekdays anytime |
| 💜 Must Do: | Zorbing |
| 🎟️ Classic or Plus Ticket: | From AED 265 |
| 😍 2 hours or Full Day: | From AED 220 |
Must-see
Ski slopes
Snowboarding
Zorbing
Penguin Encounters
Things to know
Size: 22,500 square meters
Temperature: 2°C to -4°C
Opened in: 2005
Number of Runs: 5
Longest Run: 400 m
Opening Hours And Address
Monday to Thursday - 10 AM to 11 PM
Friday - 10 AM to 12 AM
Saturday & Sunday - 9 AM to 12 AM

Address : Sheikh Zayed Rd - Al Barsha - Al Barsha 1 - Dubai - United Arab Emirates
Get Directions
Why You Must Visit Ski Dubai
---
You can escape the scorching heat outside and step into a snowy paradise at Ski Dubai. It's like stepping into another world!
If you're not a pro skier, no worries! Ski Dubai is perfect for beginners too. They've got friendly instructors to help you glide down the slopes without any embarrassing falls.
They have penguins! Penguins in the desert, can you believe it? You can actually hang out with these adorable birds – a rare experience for sure.
You can try your hand at snowboarding, tobogganing, or even take a chairlift ride for some breathtaking views of the indoor snow park.
Kids are gonna love it! There's this giant snow play area where they can build snowmen, have snowball fights, and just go wild in the snow.
Ski Dubai Tickets Options
---
Ski Dubai Snow Classic Pass
Slip and slide across the snow, try different activities like snowboarding and skiing, meet the penguins, and do more here.
If you're looking for endless fun and a chance to try all the major rides and attractions, your best option would be the Ski Dubai Snow Classic Pass.
Inclusions:
Unlimited access to the Snow Park.
Free rental of all winter wear necessary.
Avail one ride each on the Mountain Thriller & Chairlift
Enjoy multiple rides on the Zorb Ride, Snow Bumpers, and tobbagan runs.
Watch the March of the Penguins.
Choose one activity from a list of 4 special activities: 40 Minute Penguin Encounter, Discovery Skiing Session, Discovery Snowboarding Session, and Snow Bullet Ride (2 Runs).
20% Off on Food and Beverages at North 28 Cafe.
Ski Dubai Snow Plus Pass
Alternatively, if you're looking to get your fill of everything that this winter wonderland has to offer, we recommend opting for the Ski Dubai Snow Plus Pass. This pass not only includes all the activities of the Snow Classic Pass, but gives you an additional choice to choose one out of four different activities at Ski Dubai.
Inclusions:
Everything under the Snow Classic Pass
40 Minute penguin encounter
Discovery Skiing session
Discovery Snowboarding session
Two passes on the Snow Bullet Ride
Ski Dubai: Other Activities
Top Attractions At Ski Dubai Snow Park
---
Tobogganing hills, an epic chairlift, the world's first sub-zero zip line and more, Ski Dubai hosts an array of attractions, including the amazing opportunity to interact with penguins.
Tip: If you're looking for a way to cover all major rides & attractions at the park in one go, read about the Ski Dubai Snow Classic Pass!
Try indoor skiing in Dubai amidst the sweltering heat of the city. Glide through fresh snow on the five different slopes at Ski Dubai. Whether you're a beginner or an expert, there's a slope for you at Ski Dubai. Don't worry about not learning skiing, you can take ski lessons from the experienced teachers at the Ski Dubai Ski School.
Snowboarding is one of the most popular sports that can be enjoyed at Ski Dubai. There's professional guidance for novices and slopes for experts to enjoy. There are also lessons in the Ski School. Enjoy a 2-hour snowboarding session at Ski Dubai to make the most of your day.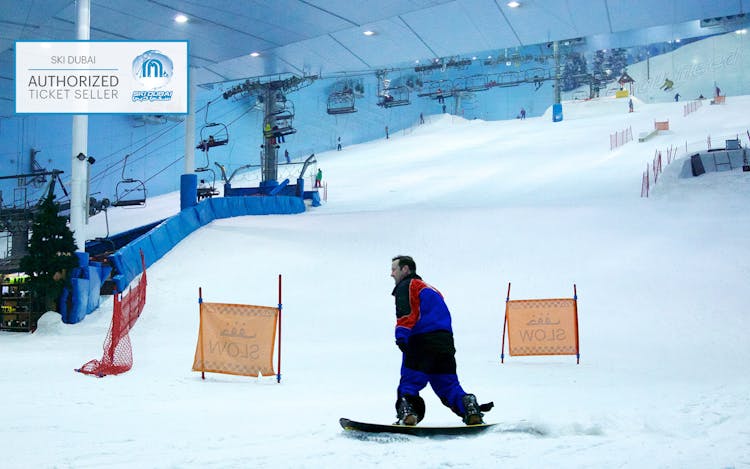 What's the best way to enjoy Ski Dubai? From the sky of course. Take a ride on the chair lift to get unparalleled views of Ski Dubai. One ride on the chair lift is included in the Snow Plus Pass.
This is Ski Dubai's bobsled. Did you always want to rush down a mountain slope and feel the wind on your face? The Mountain thriller starts from the highest point in Ski Dubai and you can enjoy a fast downhill ride. The Snow Classic Pass allows one Mountain Thriller ride.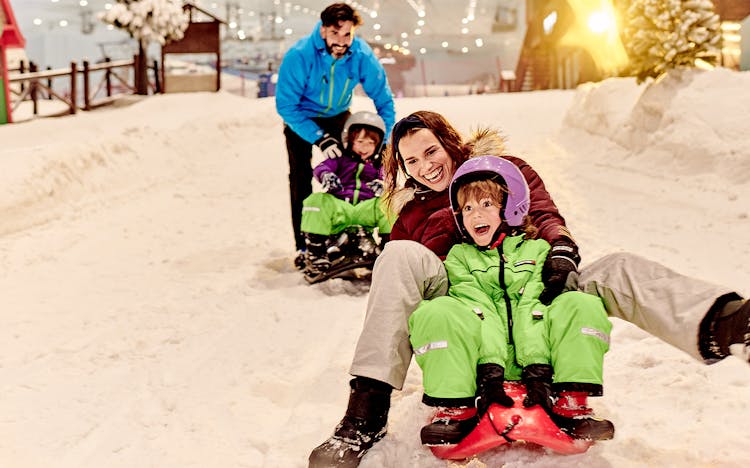 Another unique adventure activity to try at Ski Dubai is Zorbing. Imagine a giant transparent ball. And now imagine gently rolling down a slope while being inside it! What a thrill. When at Ski Dubai, go zorbing down the snow-covered slopes for an absolute fun time.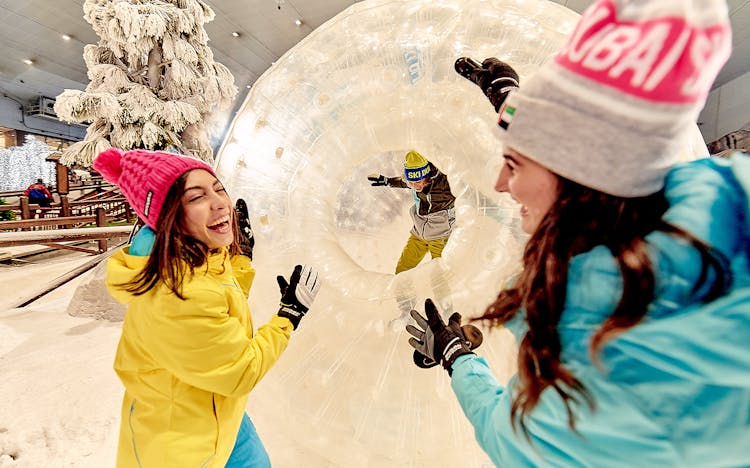 Enjoy a thrilling ride in slides called Snow Tubes. With the Snow Classic Pass, this is open for unlimited rides. This slide ride is absolutely magical as you make your way through the slopes.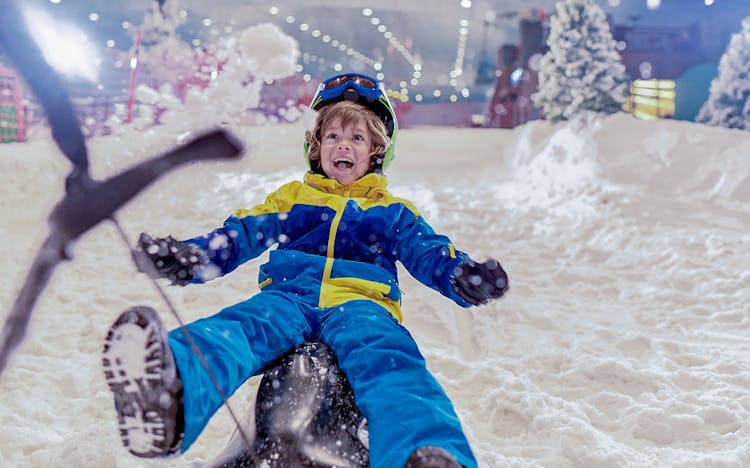 The star attraction here is the Penguin Encounter at Ski Dubai. The March of the Penguins is a display for everyone. For more intimate experiences, opt for the 40 minute penguin session in the Snow Classic Express pass where you can get close to the penguins and even see them swim. You can also choose to book the penguin encounter separately.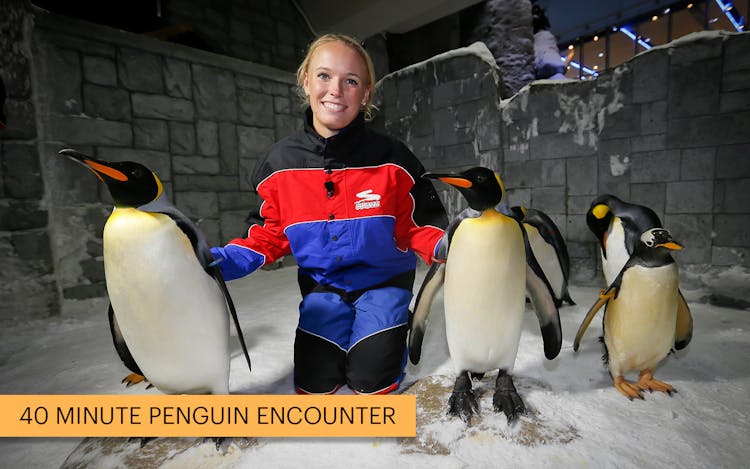 The Snow Bullet is Ski Dubai's very own zipline which allows you to fly down the hill side. The Snow Bullet is 16 meters above the ground. Enjoy this adrenaline filled ride for 150 meters.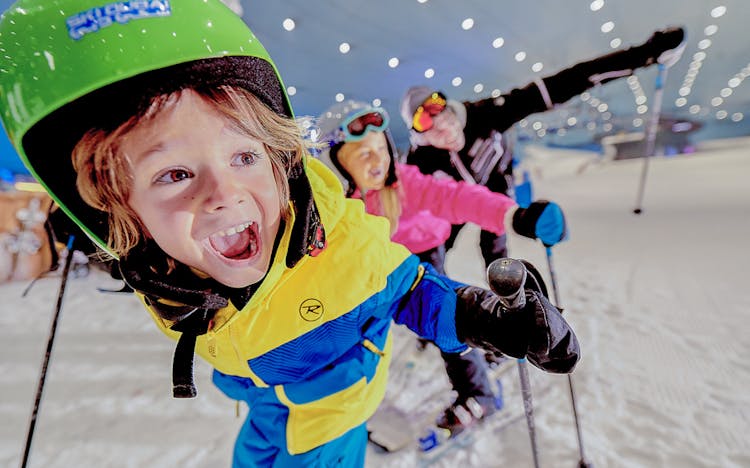 What should I wear at Ski Dubai?
---
Dress Code
Ski Dubai Snow Park provides guests with all the gear needed to stay warm, including disposable socks, jackets, winter trousers and snow boots. When you book with Headout, there is no additional rental price for any of the clothing items listed above. They come free, as a part of your ticket. Hats and gloves, however, are not included so plan ahead to bring your own.
Best time to visit Ski Dubai
---
The best time to hit up Ski Dubai is during the scorching summer months in Dubai, typically from May to September. Why? Well, it's a sweet escape from the blistering heat outside. Picture this: you step into a winter wonderland while the mercury soars outside. It's like a magical oasis in the desert! Plus, during these months, Ski Dubai often offers cool promotions and deals, making it a budget-friendly escape. So, if you're looking to chill out (literally) and experience winter vibes in the middle of summer, plan your visit to Ski Dubai during these hot months for a frosty, fun-filled escape!
Hacks To Avoid Crowds at Ski Dubai
The best part about Ski Dubai is that it is an indoor snow park open 7 days a week all-year-round. Dedicated to snow lovers and adventure seekers everywhere, this is a great visit to escape the harsh heat of the prickly Emirate. Note that weekends and holidays tend to attract a lot of guests- so if you want to beat the crowds, try visiting during the week and avoid peak/rush hours.
Visiting During Ramadan
Many are skeptical about taking a trip to Dubai during Ramadan because of the holiday rush, but there is a way around it. If you start your day early, hit the attractions right around the time they open, and avoid the weekends, you can enjoy the holiday season in the UAE to the fullest. Ramadan also comes with holiday discounts on your tickets, so it's a great way to save money.
Before you visit Ski Dubai, make sure you check the timings. Park timings and visiting hours are different for the summer, winter, and Ramadan.
Ski Dubai - Opening hours
---
Monday to Thursday: 10 AM - 11 PM
Friday: 10 AM to 12 AM
Saturday & Sunday: 9 AM - 12 AM
Penguin March
Daily from 2 PM - 4 PM
Please check the timings of the park on the Ski Dubai website on the day you visit. The park hours are subject to change.
Getting there
---
Ski Dubai is located in Dubai's Mall of Emirates, on Sheikh Zayed Road.
By car
Mall of the Emirates is located in the heart of 'New Dubai', at interchange 4 on Sheikh Zayed Road. As you approach interchange 4, you will be able to spot the distinctive Ski Dubai slope on the west end of the Mall.
If you're driving in from Dubai, a new approach road provides direct access to the centre. If you're coming from Abu Dhabi, simply follow the signs for the right turn to the Mall just before the 4th interchange.
By Bus
To reach Mall of the Emirates, you can take the F29, F30, F33, F35, J01, 81, 93 and 105.
By Metro
Ski Dubai can be reached on the Metro's red line. Mall of the Emirates Metro link is located on the first floor above Carrefour.
Parking
Located at the Mall is a 4-tiered car park with over 7,000 covered parking bays. Parking aisles are electronically monitored for available spaces.
Parking aisles are colour coded to ensure that you are able to easily find your way back.
Insider Tips
---
Get your tickets ahead of time to avoid long lines.


If you plan to visit any of Ski Dubai Snow Park more than three times a year, it would be wise to purchase an annual pass to save money.


If possible, visit the park on a weekday. It's far less crowded than the weekends!


Buy a combo ticket to enjoy the best savings.


Make sure your phone and/or camera are adequately charged before entering the park.