One of the newest theme parks in Dubai, Motiongate Dubai opened on December 16, 2016 and is one of the most popular theme parks in the United Arab Emirates. Get your Motiongate Dubai tickets today for an incredible Hollywood-inspired journey!
Why You Must Visit Motiongate Dubai
---
Motiongate Dubai is the city's latest push into becoming the entertainment capital of the world and is appropriately nicknamed "Hollywood in the desert".
A must-visit for all Hollywood lovers, this theme park boasts a great range of thrilling rides, exciting live shows, and interesting studio tours- promising the time of your life!
The theme park is divided into four themed zones, inspired by Hollywood giants such as Sony's Columbia Pictures, DreamWorks Animation, The Smurfs and Lionsgate.
Together, they feature 27 rides and attractions that provide the ultimate cinematic experience for the whole family.
From speeding roller coasters based on The Hunger Games to the Smurf Village Express, Motiongate Dubai has something for everyone.
With the more recent themed rides of John Wick and Now You See Me- you'll see it all!
Those in need for a little retail therapy, enjoy the number of gift shops! Feast your way through the seven cafés and restaurants at the theme park.
The pearly gates of Motiongate Dubai welcomes you and your family for an unforgettable adventure!

Enjoy rides, live shows, and studio tours at Motiongate Dubai.

Motiongate Dubai has something in store for all ages- all are welcome!
Buying Motiongate Dubai Tickets Online
---
Motiongate tickets can be purchased directly through the official website or in person at the entrance of the attraction. Or, save time, money, and energy by purchasing discounted tickets with Headout, a trusted online marketplace (enjoy 29% off your tickets!) As an added bonus, when you book with headout you'll receive 5% cashback credit that you can use toward any other purchase on Headout.

Peruse our list of discount tours of Dubai's top attractions to visit after this.
Combo Ticket Package: Park Hopper Pass
Instead of purchasing tickets to Motiongate Dubai alone, get yourself the Park Hopper Pass. Save time and money on this combo ticket package and enjoy the best of all 4 attractions at the Dubai Parks & Resorts together (Motiongate Dubai, LEGOLAND Dubai, LEGOLAND Waterpark Dubai & Bollywood Parks Dubai!
Optional Q-Fast Pass Upgrade?
Upgrade your ticket to Q-Fast, which lets you pass up long queues for the park's rides and attractions and reduces your overall waiting time. Q-Fast is purchased as an add-on to a regular park admission ticket - not in place of one. Upgrade your ticket here.
STANDARD
Can be used at all rides to skip the lines once.

Price
AED 125 / $34.03
UNLIMITED
Can be used to skip the lines at all rides unlimited times.

Price
AED 175 / $47.64
Motiongate Dubai Tickets
Dubai Explorer Pass
Combine your visit to Dubai Parks & Resorts with other iconic attractions in the city! The Dubai Explorer Pass lets you fit in the selected number of attractions into your itinerary spread across 60 days. Talk about one convenient package!
Is The Motiongate Dubai Annual Pass worth it?
---
The Motiongate Dubai annual pass gives you access to the Hollywood-themed park for an entire year! If you live in Dubai (or frequent this metropolis often), love theme parks parks, and Hollywood as much as we do, this annual pass is well worth your money. Prices for the annual pass starts from AED 395 per person.
Perks
Complimentary Visitor Parking
12 months unlimited admission to Motiongate – no blackout dates
10% off all shows within the parks
10% off all restaurants and retail shops at Motiongate
10% off general admission tickets to all theme parks within Dubai Parks and Resorts
Access to special seasonal offers
Zones In Motiongate Dubai
---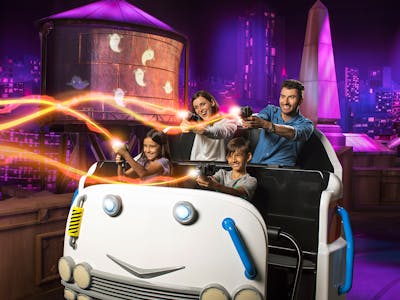 Columbia Pictures
Columbia Pictures is based on the Sony Pictures' popular films and franchises. At this zone, you'll recognize rides featuring Hotel Transylvania, Ghostbusters, Cloudy with a Chance of Meatballs, Zombieland, The Green Hornet, and Screen Gems' Underworld.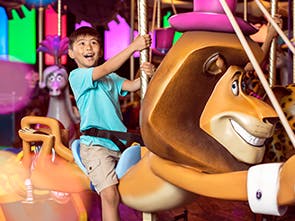 DreamWorks Pictures
Soar through the skies with Toothless, join the Furious Five on a great battle of martial arts, and then some, at the stunning world of DreamWorks. Recognize characters from Kung Fu Panda, How to Train Your Dragon, Madagascar, and Shrek – all entirely indoors!
Smurfs Village
The Smurfs' Village is themed to Peyo's The Smurfs! Enjoy 5 immersive attractions, including play zones, family rides, and a theater show- all promising fairytale mushroom-top houses and a colony of blue Smurfs around every corner.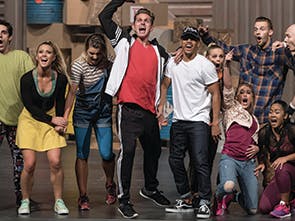 Lionsgate
LIONSGATE brings to life the world of the Hunger Games and the dance spectacular, STEP UP DUBAI! here, you'll find exciting attractions, lip-smacking food offerings, and some great merchandise pick-me-ups.
New IP attractions: Now You See Me & John Wick film series.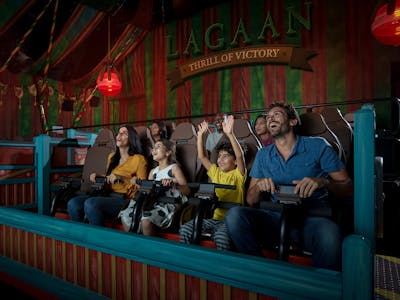 Studio Central
Venture into the world of film and get transported into the Golden Age of Hollywood as you step on real-life movie sets of New York City! Enjoy behind-the-scenes of filmmaking, opening shows, and tours of executive offices of a working movie studio.
Top 10 Rides at Motiongate Dubai
---
Each of the 5 zones offer a unique experience, but not all of them include rides. For those looking to get a list of the must-hop-on rides at Motiongate Dubai, peruse this helpful list of 10:
1. Zombieland: Blast Off
Being attacked by a rush of zombies in an old amusement park, your only way to escape the incoming hordes is a thrilling 58-metre drop tower. Special note: This ride depicts scenes of violence; parental discretion is strongly advised.
Zone : Columbia Pictures
Best for : Teenagers & adults
Who can ride : 130 cm or taller
2. The Green Hornet: High Speed Chase
An adrenaline pumping roller coaster, the Green Hornet High Speed Chase will take you through hazardous junkyards in a super fast "rapid response car". Children between 105 cm and 130 cm must be accompanied by an adult.
Zone : Columbia Pictures
Best for : All ages
Who can ride : 105 cm or taller
3. Hotel Transylvania
Ride aboard a coffin-like carriage and explore the haunts of Dracula, his daughter Mavis, Wayne the Werewolf, Frankenstein, Murray the Mummy and other frightfully funny creatures. Children between 90cm and 122cm must be accompanied by an adult.
Zone : Columbia Pictures
Best for : Families
Who can ride : 90 cm or taller
4. Cloudy With A Chance of Meatballs-River Ride
Get ready to head to Swallow Falls, a world where animals and food combine to create new species and live in their own world. This fun river expedition will take you into the heart of the jungle brimming with these foodimals.
Zone : Columbia Pictures
Best for : Families
Who can ride : 105 cm or taller
5. Dragon Gliders
Join Hiccup and Toothless as you soar above the skies on this epic adventure. A park favourite, fly to the Forbidden Islands and above the village of Berk on a suspended roller coaster ride!
Zone : DreamWorks Pictures
Best for : All ages
Who can ride : 100 cm or taller
6. Swamp Celebration
Surf Shrek's foggy swamp as he takes you to meet his family. Catch up with Fiona and join them as they celebrate their triplets' birthday.
Zone : DreamWorks Pictures
Best for : All ages
Who can ride : 105 cm or taller
7. Madagascar Mad Pursuit
Climb aboard this fast roller coaster and go on a ride through this mad circus. Join hands with the animals as the Zoosters escape the obsessive animal control officer, Captain DuBois, and head on their own adventures.
Zone : DreamWorks Pictures
Best for : All ages
Who can ride : 105 cm or taller
8. Kung Fu Panda: Unstoppable Awesomness
Po's friends, the Furious Five have been captured. Join Po as he embarks on an epic adventure to save his friends from the clutches of a villainous warlord.
Zone : DreamWorks Pictures
Best for : Children
Who can ride : 105 cm or taller
9. Smurfberry Factory
Aimed for the entire family, this berry factory allows you to join your kids in a Smurf factory as you work together to collect berries flying everywhere in this family play zone.
Zone : Smurfs Village
Best for : Children
Who can ride : No restriction
10. Smurf Village Express
A perfect roller coaster for children, this train ride takes you through the Smurf Village. However, watch out for the Howlibirds as they drop stones on the Smurf houses.
Zone : Smurfs Village
Best for : Families
Who can ride : 100 cm or taller
Top Shows at Motiongate Dubai
---
Apart from the rides, there are several shows that take place in Motiongate. Not only are these stunning and amazing to watch, they also provide a welcome break in between all the rides and attractions of the theme park. Check out some of the most popular shows at Motiongate below.
Backlot Crew
Learn the ways of Hollywood as you meet the director and his crew. This welcome show is a perennial hit amongst families and will remind you of the early Hollywood days.
Zone : Studio Central
Best for : All ages
Kung Fu Panda Academy
Learn the ways of Kung Fu under the tutelage of wise Master Shifu and be ready to join Po on stage. This is your chance to become a Kung Fu master.
Zone : Dreamworks Shows
Best for : All ages
King Julien's Side Show Stomp
King Julien and the cast of Madagascar King come together to bring one of the best show-stopping performances to the park.
Zone : Dreamworks Shows
Best for : All ages
Fountain of Dreams
Find sculptures of characters from How To Train Your Dragon, Madagascar, Shrek, Kung Fu Panda come to life at the multi-sensory fountain at DreamWorks!
Zone : Dreamworks Shows
Best for : All ages
Step Up Dubai, All In!
Enjoy a lively music-and-dance show, inspired by the great film series, Step Up! Featuring intoxicating beats, exciting stunts, and the best hip-hop dancers, you're bound to have a ball!
Zone : Studio Central
Best for : All ages
Hacks To Avoid Crowds at Motiongate Dubai
---
The best time to visit Motiongate Dubai is during the months of September through March. Not only are the crowds smaller, but Dubai's weather is rather pleasant during these months. That said, do not let summer be a deterrant for you- the park has multiple cooling stations, and many attractions here are indoors.
Visiting During Ramadan
Many are skeptical about taking a trip to Dubai during Ramadan because of the holiday rush, but there is a way around it. If you start your day early, hit the attractions right around the time they open, and avoid the weekends, you can enjoy the holiday season in the UAE to the fullest. Ramadan also comes with holiday discounts on your tickets, so it's a great way to save money.
Before you visit Motiongate Dubai, make sure you check the timings. Park timings and visiting hours are different for the summer, winter, and Ramadan.
All You Need to Know Before Visiting Motiongate Dubai
---
Motiongate Dubai Timings
Summer Timings:
Sat-Wed: 2 PM - 10 PM
Thur & Fri: 2 PM - 11 PM
Please check the timings of the park on the day you visit as the park hours are subject to change.
Getting To Motiongate Dubai
Motiongate Dubai is located within the Dubai Parks and Resorts in Dubai on Sheikh Zayed Road, opposite Palm Jebel Ali.
By car
It's a relatively easy ride to Bollywood Park Dubai. From downtown Dubai, the trip is around 40 minutes. Head south of Sheikh Zayed Road. Drive past Dubai Marina and Jebel Ali and you will see Dubai Parks and Resorts on the left.

Via public transport
Take the red metro line south all the way to the last station, Jebel Ali. From there, you will have to take a taxi the rest of the way - which should only take you about 15 minutes.

From Dubai International Airport
Head south on E11, also known as Sheikh Zayed Road, towards Abu Dhabi. It's just a straight shot from there, past Dubai Marina and Jebel Ali. You will see Dubai Parks and Resorts on your left. The trip takes around 45 minutes with low traffic, or close to an hour if there is heavy traffic.

From Al Maktoum International Airport
Bollywood Park is only 20 minutes away from this Al Maktoum. Take the Sheikh Mohammed Bin Zayed Road south and turn right towards E11. Take another right, towards Dubai. Dubai Parks and Resorts will appear almost immediately on the right side of the road.
Motiongate Rules & Regulations
Due to height and size restrictions, guests may not be able to enjoy all the rides at Motiongate.
Outside food and beverages are not permitted in the park.
Motiongate is a smoke free theme park.
Pets are not allowed in the park except for special cases such as service animals.
Motiongate: Available Facilities
Dress Code
There is no set dress code for Motiongate Dubai. However, the following suggestions are recommended:
Wear comfortable shoes; you'll be walking all day.
Check the weather and dress accordingly.
For men, shorts and t-shirt are recommended.
For women, light trousers or shorts and a top are suggested.
Sign up for our monthly newsletter
Your dose of travel fix - from hacks and deals to travel tips and everything in between, delivered monthly to your inbox
Please enter a valid email
Unsubscribe anytime
Restaurants in Motiongate
---
1. Supporting Rolls Bakery
3. Mr. Ping's Noodle Shop
4. King Julien's Side Show Cafe
7. Baby Brent's Luncheonette
Insider Tips
---
Arrive at the park early to beat the crowd and get ample time to enjoy all the park's rides and attractions.
If possible, visit the park on a weekday. It's far less crowded than the weekends!
Buy a multi-park ticket to get the best savings.
Get your tickets online, ahead of time, to avoid long queues.
Make sure your phone and/or camera are adequately charged before entering the park.
Take snack breaks, especially for kids, and make sure everyone in your group stays hydrated.
Check the weather before you go.
Motiongate Dubai Reviews
---
Amazing family day out we love the place so much we always buy annual passes even in the gear of summer you can always visit dreamworks first until the day has cooled off
A part of the Dubai parks. We visited Legoland and motiongate in one day( it's very possible) Suggest you go on a weekday where the parka are empty and we dint have to wait for any ride for more than 5 minutes.

My 5 year old loved the Smurfs village, where they have a roller coaster and an interactive theatre which is a highlight! The character meet and greet was also fun! Besides they have different studios which are all air-conditioned so it's the heat doesn't bother much! We loved the 'how to train your dragon ride' . The makers have put in a lot of effort for this park and it's definitely worth a visit!

Buy the 2 parks 1 day ticket instead of individual tickets!

Must do!
Ready to head to Motiongate Dubai?
---
Now that you know all there is to know about the largest Hollywood inspired theme park in the Middle East, it's now time for you to head to Motiongate. Purchase discounted tickets to Motiongate Dubai via Headout today or browse discounted tickets to Dubai's top attractions and theme parks.
Ready To Explore The Rest of Dubai?
Check out our comprehensive Dubai Travel Guide packed with itineraries, tours, culture trips, best hotels, restaurants and a lot more.