Motiongate Dubai in a Nutshell
Motiongate Dubai is the city's latest push into becoming the entertainment capital of the world and is appropriately nicknamed "Hollywood in the desert". The theme park is divided into four themed zones, inspired by Hollywood giants such as Sony's Columbia Pictures, DreamWorks Animation, The Smurfs and Lionsgate. Together, they feature 27 rides and attractions that provide the ultimate cinematic experience for the whole family. From speeding roller coasters based on The Hunger Games to the Smurf Village Express, Motiongate Dubai has something for everyone.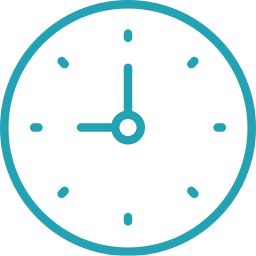 Hours
11:00 AM to 10:00 PM everyday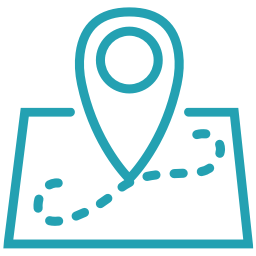 Address
Dubai Park & Resorts, Sheikh Zayed Road, Opposite Palm Jebel Ali, Dubai, UAE
Get Directions
Motiongate Dubai Tickets
Motiongate Regular Admission Tickets✪
Price - AED 211
Motiongate Regular Admission - GCC Resident Offer✪
Price - AED 149
Motiongate Tickets with Transfers
Price - AED 320
*Motiongate tickets on Headout are available with discounts of up to 10%.
GCC Resident Offer - For each valid Resident ID shown, a maximum of 5 tickets per park for the day can be redeemed.
Quick Jumplinks to Navigate the Guide
---
Insider Tips
---
Arrive at the park early to beat the crowd and get ample time to enjoy all the park's rides and attractions.
If possible, visit the park on a weekday. It's far less crowded than the weekends!
Buy a multi-park ticket to get the best savings.
Get your tickets online, ahead of time, to avoid long queues.
Make sure your phone and/or camera are adequately charged before entering the park.
Take snack breaks, especially for kids, and make sure everyone in your group stays hydrated.
Check the weather before you go.
---
Motiongate - Rules and Regulations
---
Park Rules and Regulations
Due to height and size restrictions, guests may not be able to enjoy all the rides at Motiongate.
Outside food and beverages are not permitted in the park.
Motiongate is a smoke free theme park.
Pets are not allowed in the park except for special cases such as service animals.
Available Facilities
---
Motiongate Dubai Ticket Options
---
Tickets for Motiongate can be purchased online in advance, or at the venue. There are several booths located at the entrance of Motiongate Dubai for you to purchase tickets to the park. If you're looking to purchase discount Motiongate tickets, you can book via Headout, a trusted online marketplace. Headout regularly offers exclusive discounted Motiongate Dubai tickets at up to 15% off the regular price.
You can also purchase discounted tickets to other top attractions and theme parks in Dubai via Headout.
Q-Fast
---
The Q-Fast can be purchased in addition to a regular park admission ticket to reduce waiting times and pass up long queues for the park's rides and attractions.

There are two types of Q-Fast passes:
STANDARD
Can be used at all rides to skip the lines once.

Price
AED 125 / $34.03
UNLIMITED
Can be used to skip the lines at all rides unlimited times.

Price
AED 175 / $47.64
Annual Pass
---
Perks
Complimentary Visitor Parking
12 months unlimited admission to Motiongate – no blackout dates
10% off all shows within the parks
10% off all restaurants and retail shops at Motiongate
10% off general admission tickets to all theme parks within Dubai Parks and Resorts
Access to special seasonal offers
Learn more more about the Motiongate Dubai Annual pass.
Combo Ticket Packages
---
Motiongate Dubai is one of the four theme parks located at Dubai Parks and Resorts. Other parks include: Bollywood Parks Dubai, LEGOLAND Dubai and LEGOLAND Waterpark Dubai. Maximize your experience with a one-day, two-day or seven-day hopper pass. Choose between a 2-park hopper pass, or an all 4-park combo pass.
Choosing the right combo package
---
Bollywood Park Dubai
Bollywood Park Dubai is the world's only theme park of its kind! Based on the booming Indian film industry based in Mumbai, the park showcases the wonderful spirit behind Bollywood, and the stars who make it come alive. From multi-sensory 4D theatre adventures to epic Bollywood performances that will transport you back through the 60's, 70's and 80's, Bollywood Parks Dubai is a one-of-a-kind experience.
LEGOLAND Dubai
At LEGOLAND Dubai, let your imagination run wild! Build and race lego cars, save a burning building in Lego City, conquer the exhilarating Dragon coaster, build your own lego city at the ten-metre play table and tour the Lego factory to watch how legos are made.
LEGOLAND Waterpark Dubai
From building your very own Lego raft to venturing off on a splash safari, the park boasts over 20 water slides and attractions. It's also the only water park in the UAE designed especially for families with children ages 2-12.
Sign up for our monthly newsletter
Your dose of travel fix - from hacks and deals to travel tips and everything in between, delivered monthly to your inbox
Please enter a valid email
Unsubscribe anytime
---
Motiongate Dubai Rides
---
Divided into four zones: Lionsgate, Columbia Pictures, DreamWorks, and Smurfs Village, the park features 27 rides and attractions. Fly through the sky with Toothless, hang out with Kung Fu Panda, take a behind-the-scenes tour of a movie set, free fall down Zombieland's 58-metre tower, visit the first-ever roller coaster based on The Hunger Games an much more.
1. Zombieland
Blast-Off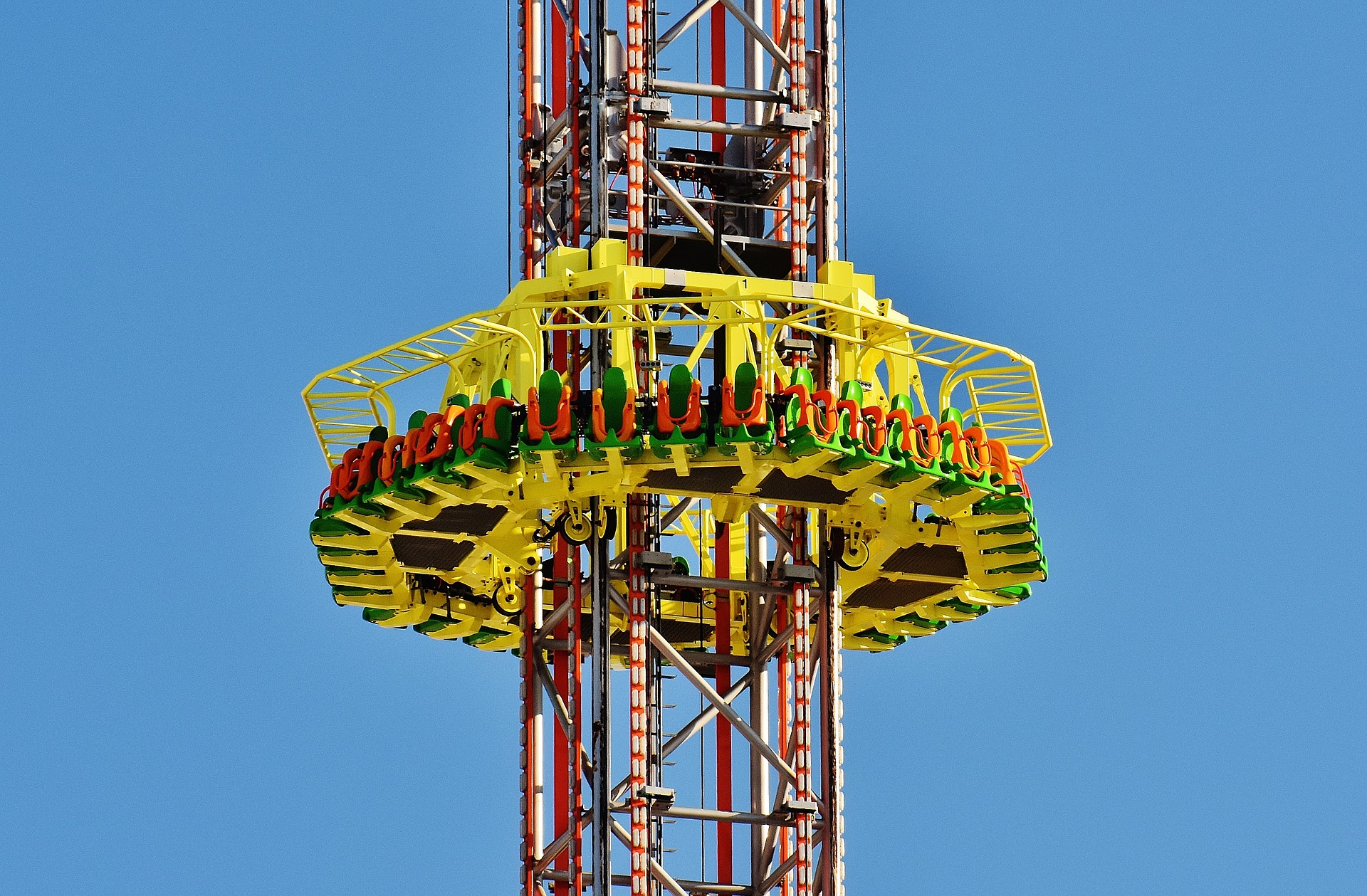 Being attacked by a rush of zombies in an old amusement park, your only way to escape the incoming hordes is a thrilling 58-metre drop tower. Special note: This ride depicts scenes of violence; parental discretion is strongly advised.

Who can ride:
Must be at least 130 cm or taller.


2. The Green Hornet: High Speed Chase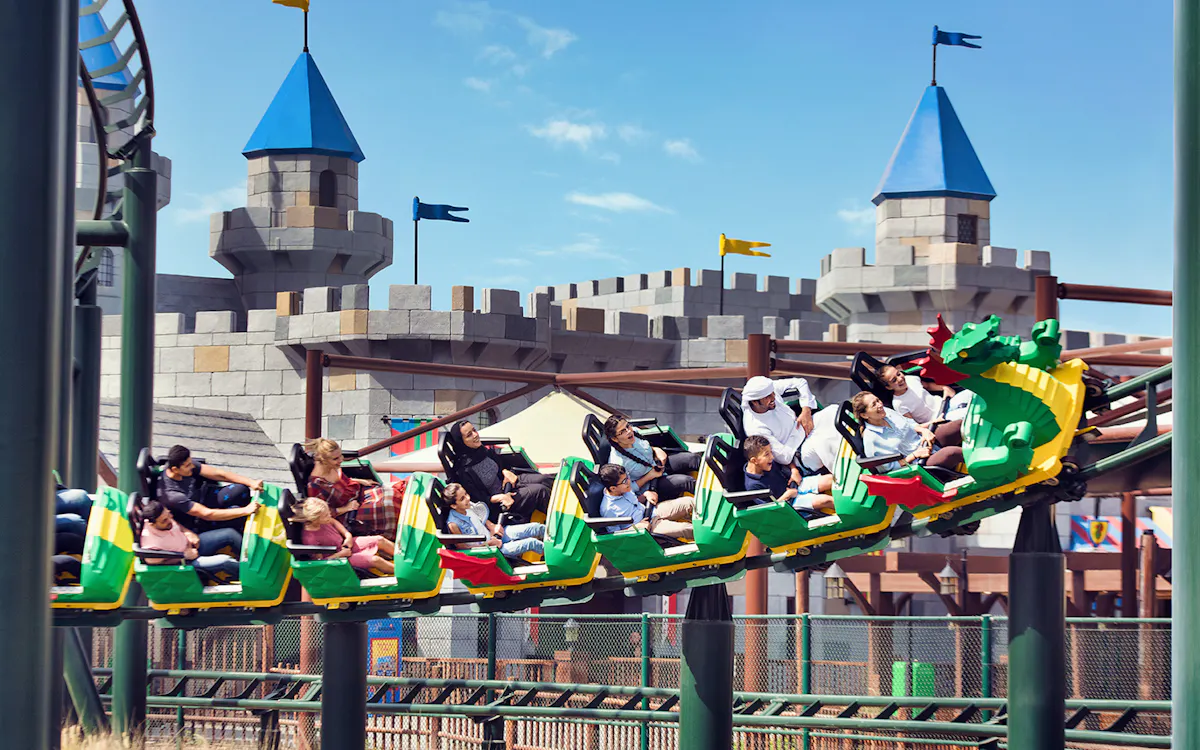 An adrenaline pumping roller coaster, the Green Hornet High Speed Chase will take you through hazardous junkyards in a super fast "rapid response car". Children between 105 cm and 130 cm must be accompanied by an adult.

Who can ride:
Must be at least 105 cm or taller.
3. Hotel Transylvania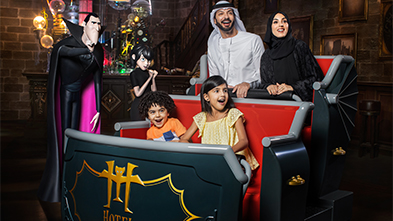 Image Courtesy: Motiongate Dubai
Ride aboard a coffin-like carriage and explore the haunts of Dracula, his daughter Mavis, Wayne the Werewolf, Frankenstein, Murray the Mummy and other frightfully funny creatures. Children between 90cm and 122cm must be accompanied by an adult.

Who can ride:
Must be at least 90 cm or taller.


4. Underworld 4D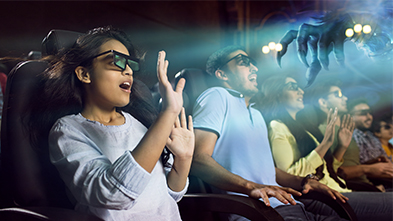 Image Courtesy: Motiongate Dubai
A multi-sensory experience, Underworld 4D takes you through 800 years of war between the Vampires and the Lycans. Roam the corridors deep inside the mansion of the Vampires' coven and attend a vampire party. Special note: This ride depicts scenes of violence, blood and gore; parental discretion is strongly advised.
5. Ghostbusters: Battle for New York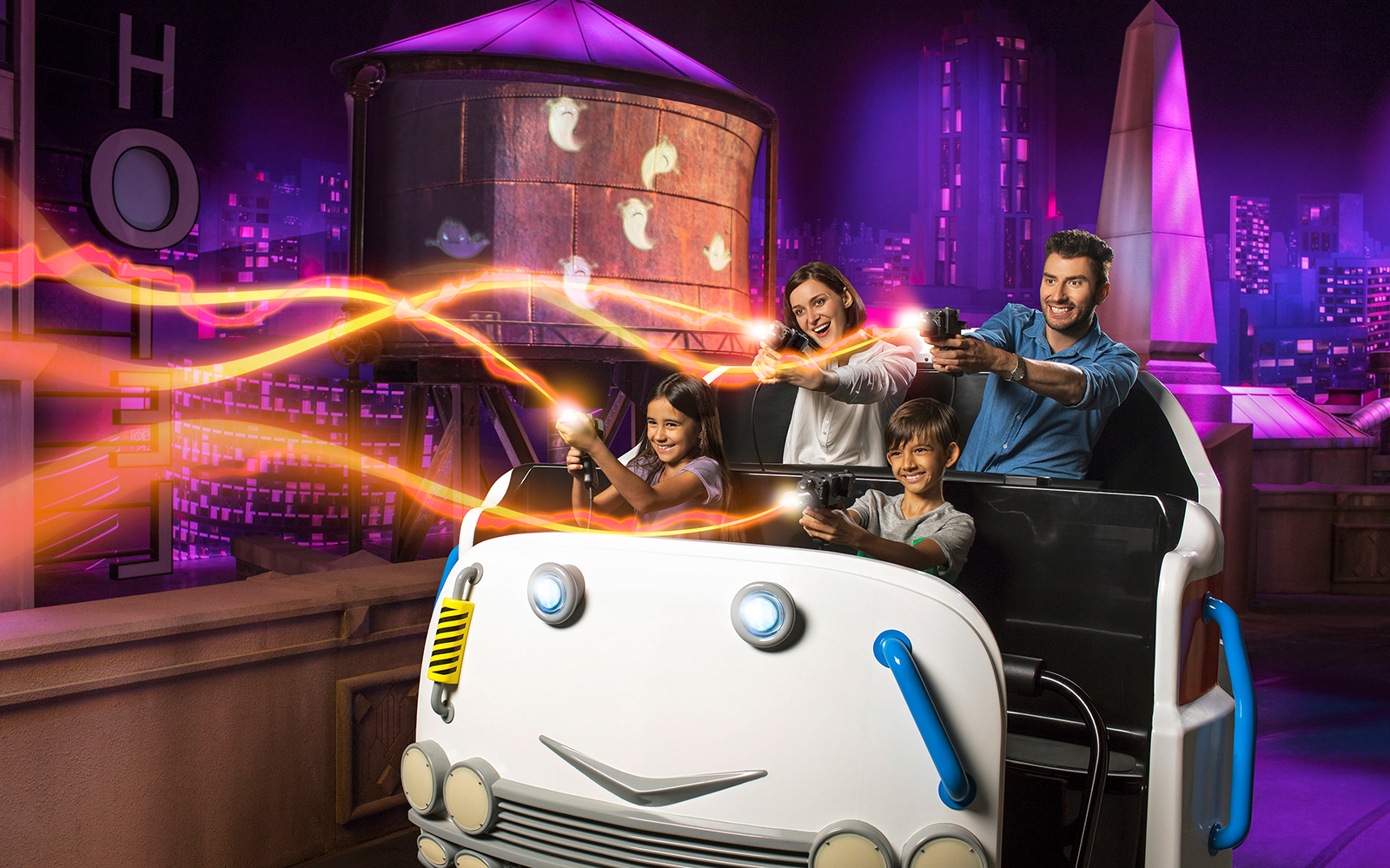 In this interactive ride, join the Ghostbusters gang and travel to the Temple of Gozer where you participate in an epic battle to save New York City. Who can ride:
Must be at least 92 cm or taller.


6. Flint's Imagination Lab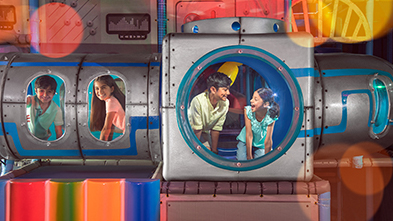 Image Courtesy: Motiongate Dubai
A fun lab for children to experiment in, Flint's Imagination Lab features science-themed slides, giant food and laboratory mazes.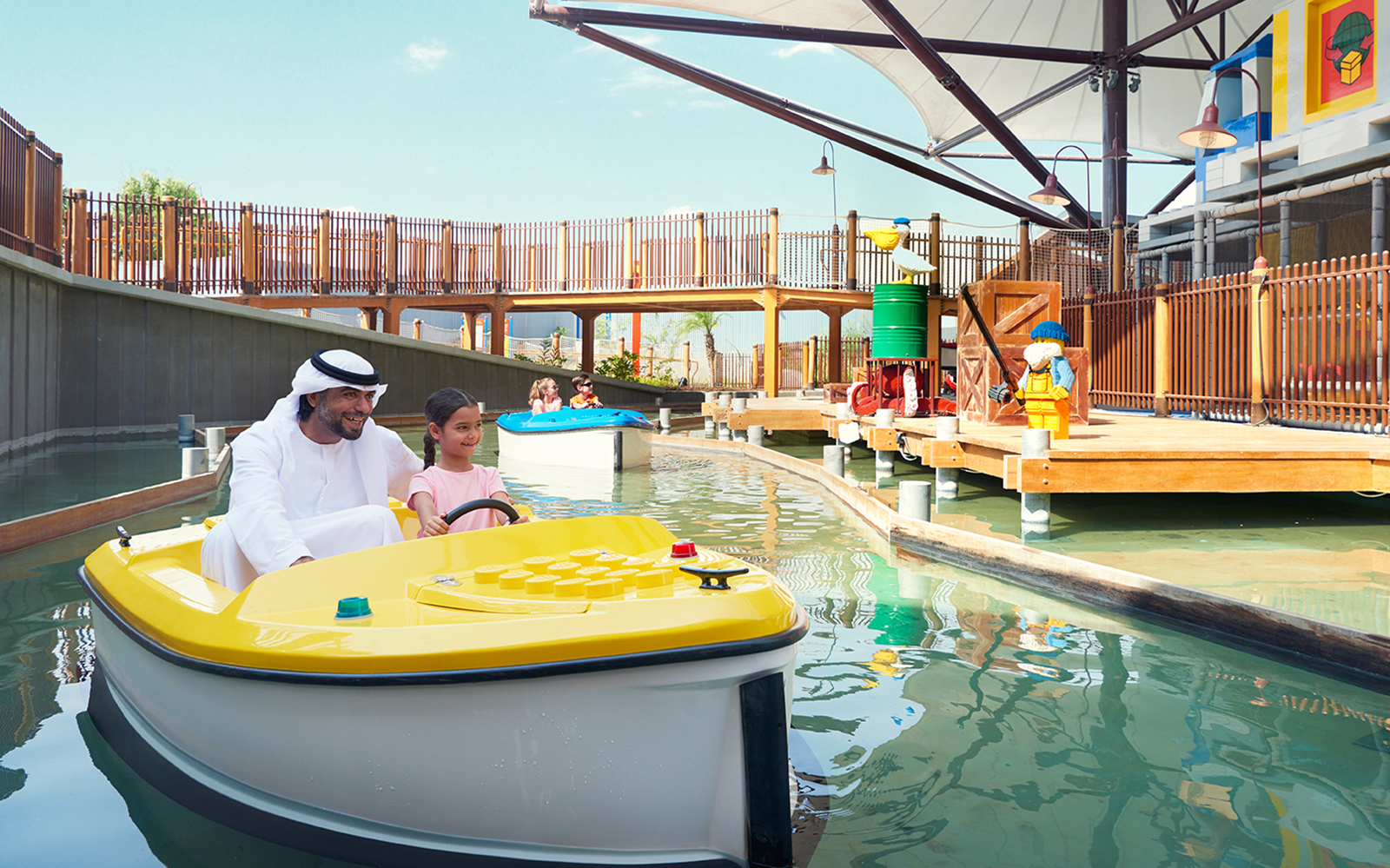 7. Cloudy With A Chance of Meatballs
- River Ride
Get ready to head to Swallow Falls, a world where animals and food combine to create new species and live in their own world. This fun river expedition will take you into the heart of the jungle brimming with these foodimals.
Who can ride:
Must be at least 105 cm or taller.
DreamWorks Pictures Rides
1. Dragon Gliders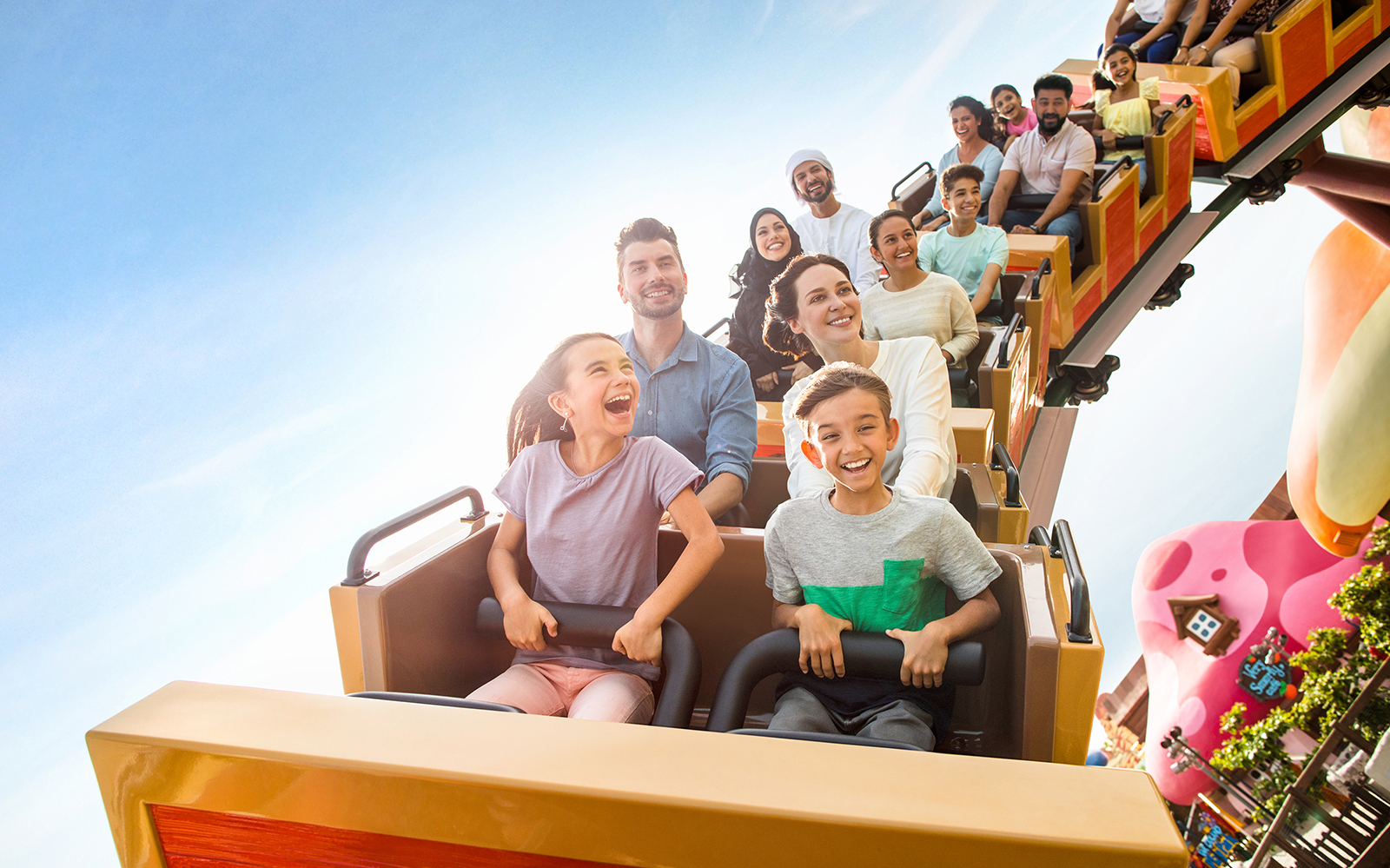 Join Hiccup and Toothless as you soar above the skies on this epic adventure. A park favourite, fly to the Forbidden Islands and above the village of Berk on a suspended roller coaster ride!

Who can ride:
Must be at least 100 cm or taller.


2. Melman-Go-Round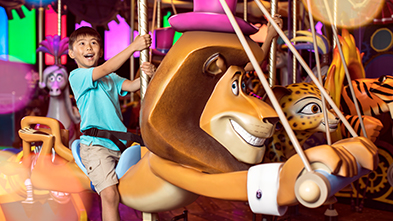 Image Courtesy: Motiongate Dubai
A spectacular musical carousel, this wonderfully unique take on the traditional merry-go-round is inspired the Madagascar movie.

Who can ride:
Must be at least 95 cm or taller.
3. Penguin Air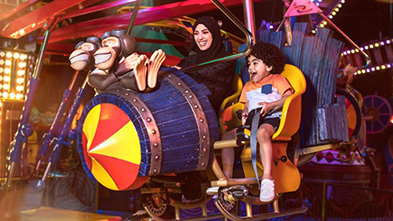 Image Courtesy: Motiongate Dubai
Fly with penguins and their crew of mechanic Chimpanzees on this penguin aircraft adventure. Get your aviators on - you get to be the pilot on this ride!
Who can ride:
Must be at least 105 cm or taller .
4. Madagascar Mad Pursuit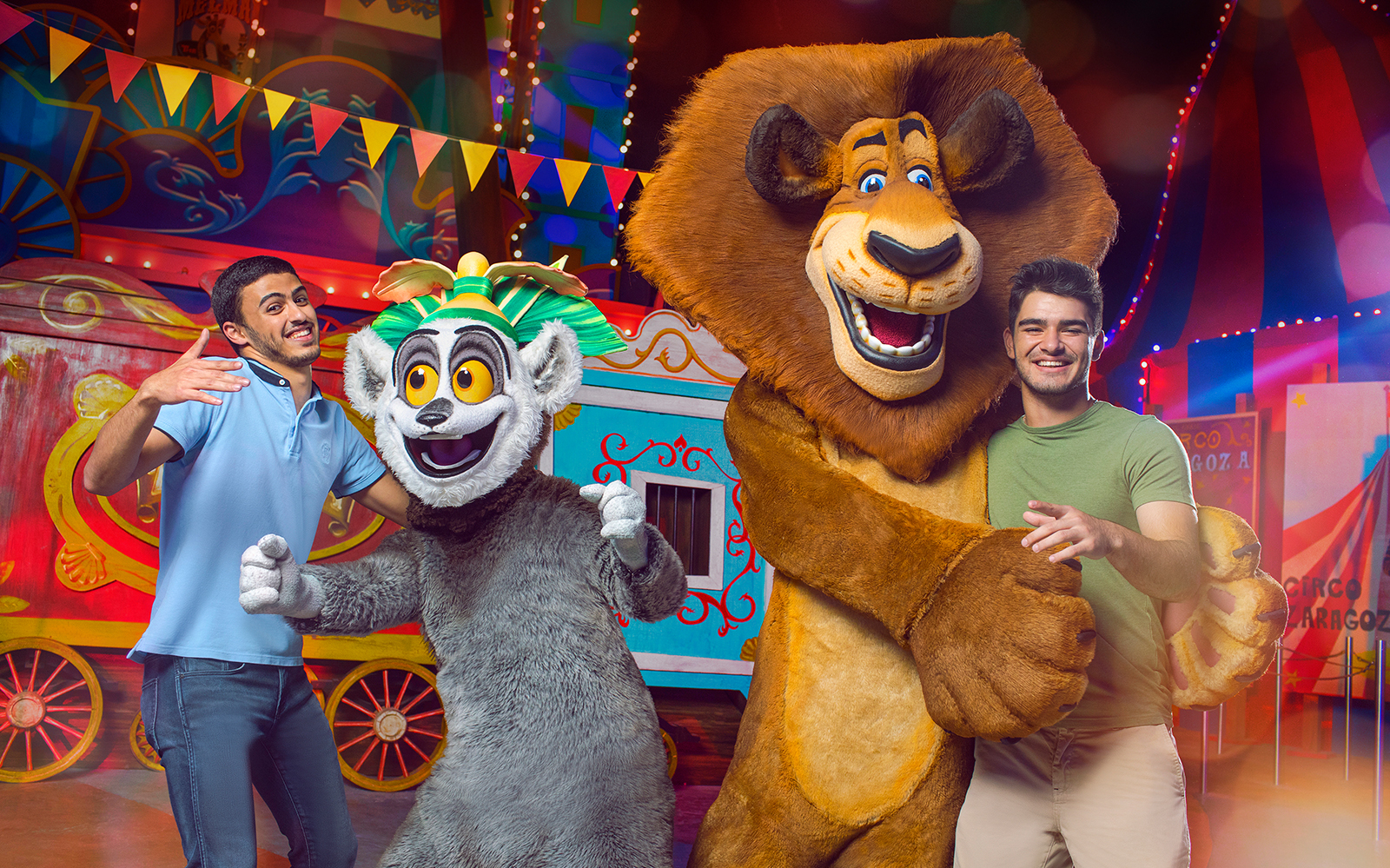 Climb aboard this fast roller coaster and go on a ride through this mad circus. Join hands with the animals as the Zoosters escape the obsessive animal control officer, Captain DuBois, and head on their own adventures.

Who can ride:
Must be at least125 cm or taller.
5. Swamp Celebration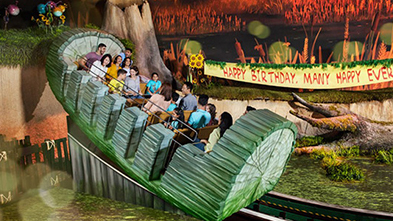 Image Courtesy: Motiongate Dubai
Surf Shrek's foggy swamp as he takes you to meet his family. Catch up with Fiona and join them as they celebrate their triplets' birthday.


Who can ride:
Must be at least 105 cm or taller.


6. Mr. Ping's Noodle Fling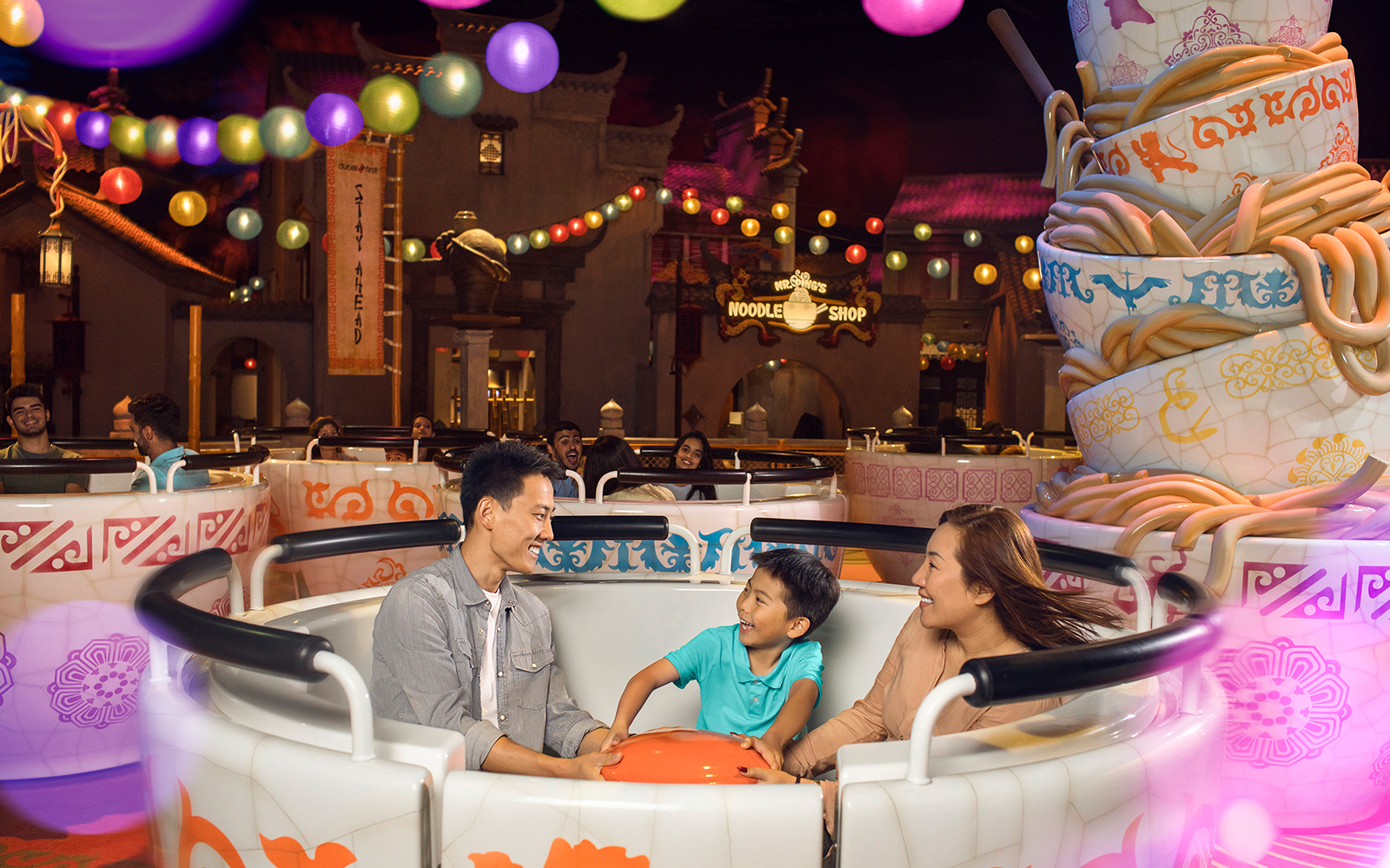 A whirling and twirling carousel of noodle pots, this ride has been inspired by Mr. Ping's Noodle Shop from the Kung Fu Panda. Hold on to your pots on this unique family fun ride.

Who can ride:
Must be at least 90 cm or taller.
7. Kung Fu Panda: Unstoppable Awesomness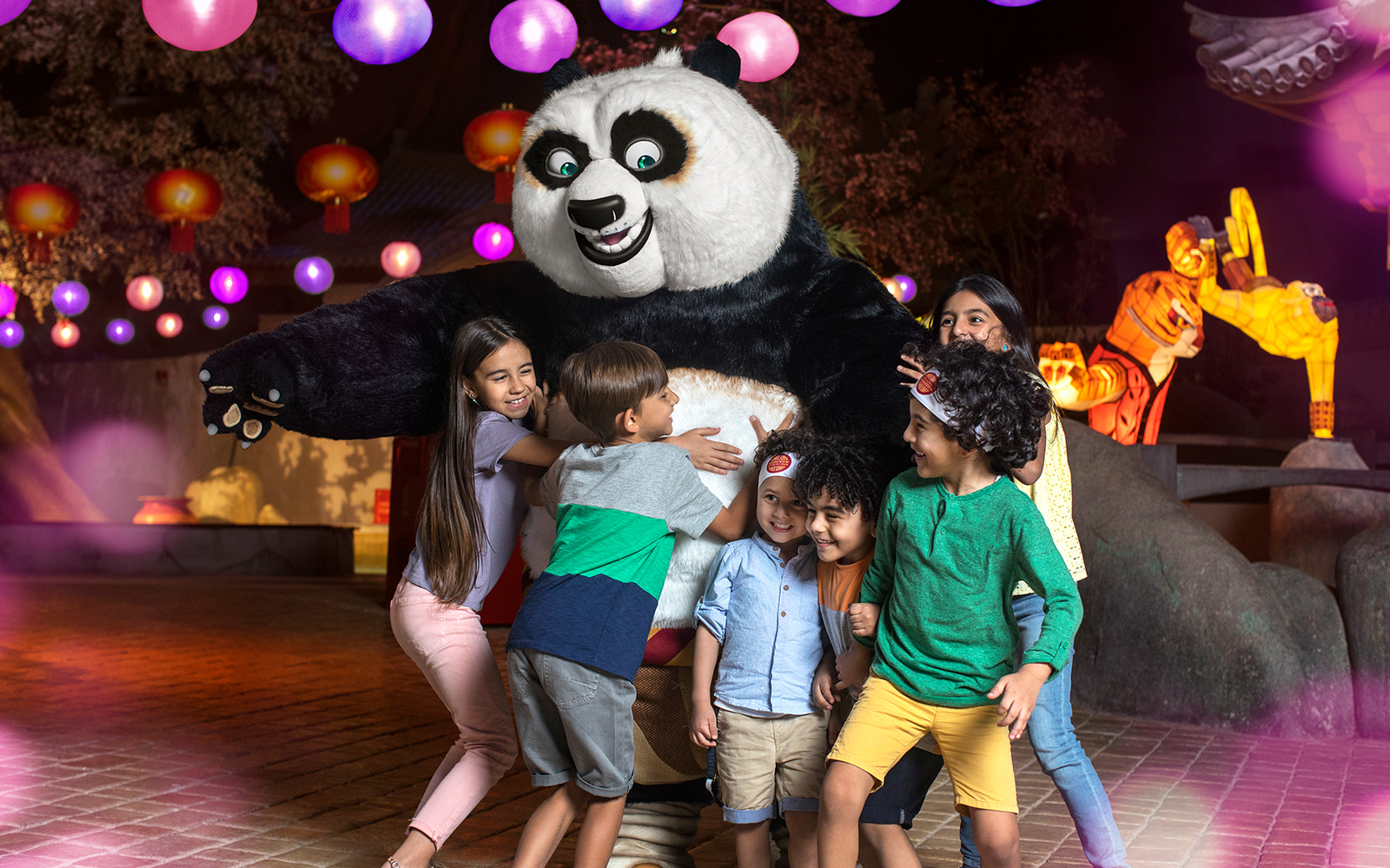 Po's friends, the Furious Five have been captured. Join Po as he embarks on an epic adventure to save his friends from the clutches of a villainous warlord.

Who can ride:
Must be at least 105 cm or taller.


8. The Swinging Viking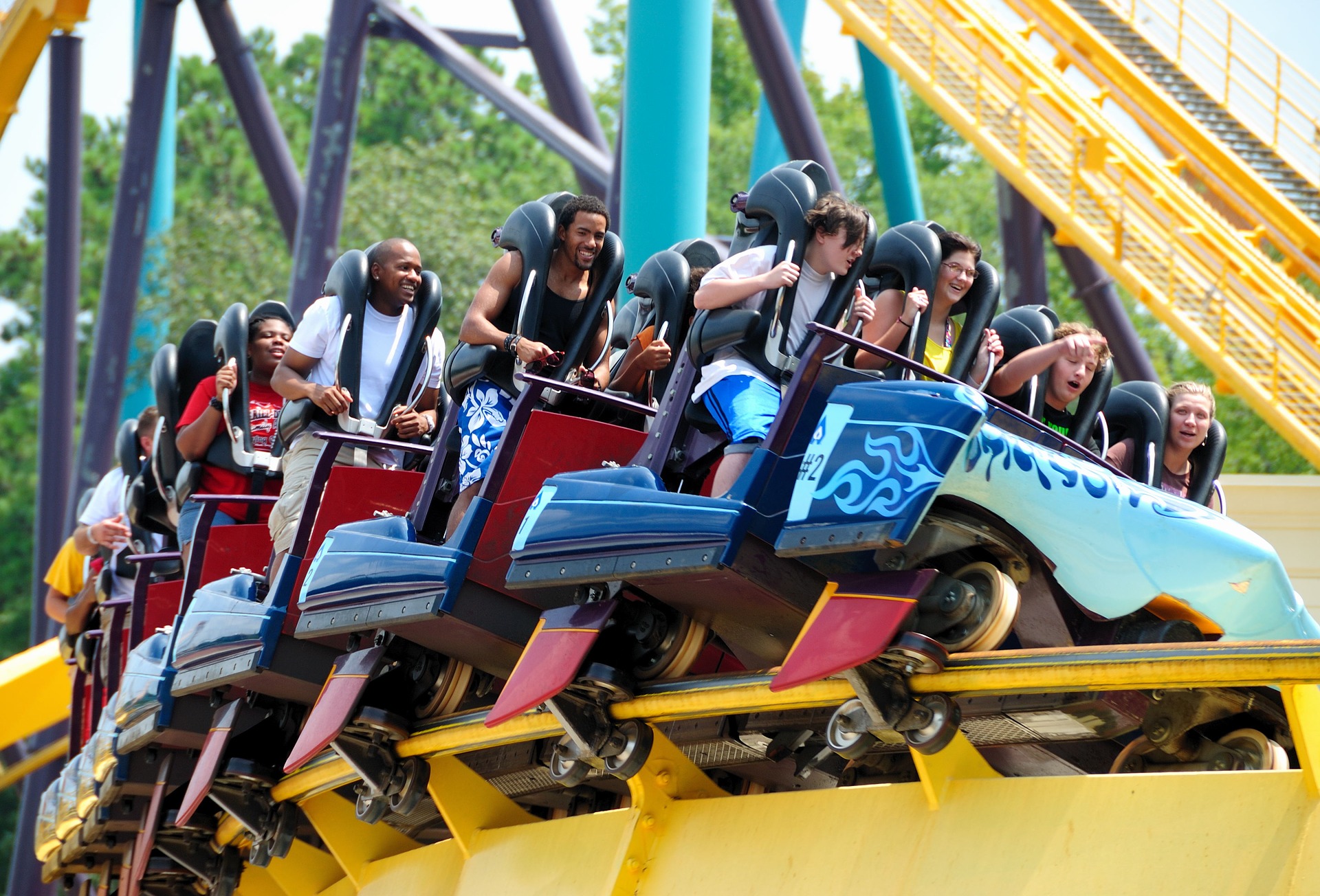 Inspired by the movie How To Train your Dragon, you will be joining the Viking twins Ruffnut and Tuffnut as they hijack a ship and go an a swinging adventure.

Who can ride:
Must be at least 120 cm or taller.
9. Camp Viking
A perfect playground for little Vikings, this experience will have the kids participate in net crawls, dodging dragons, firing water guns and shooting them from the ship.
1. Smurfberry Factory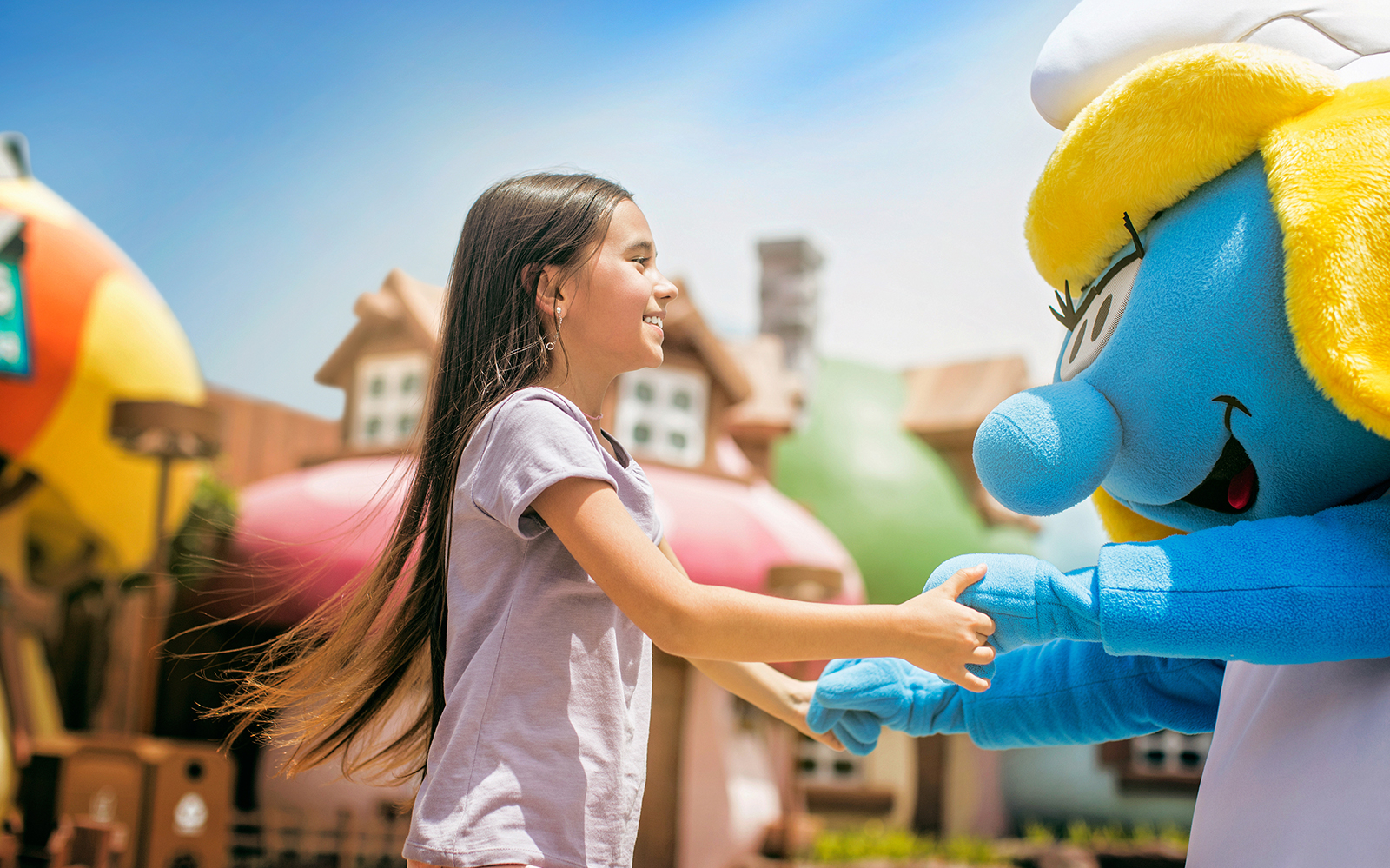 Aimed for the entire family, this berry factory allows you to join your kids in a Smurf factory as you work together to collect berries flying everywhere in this family play zone.
2. Woodland Play Park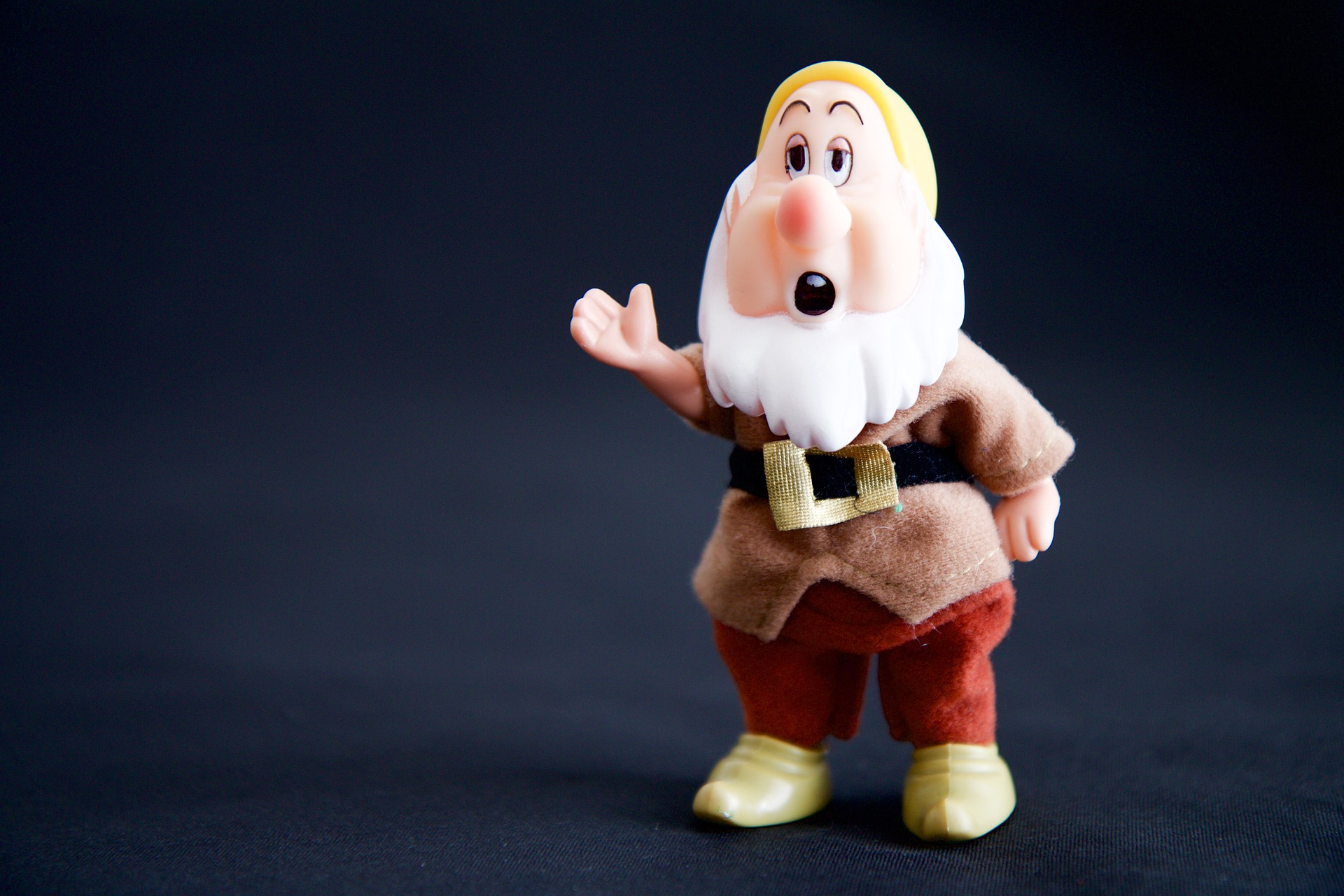 The Woodland Play Park is a wide outdoor park with a host of fun activities for children to participate in.
3. Smurf Village Express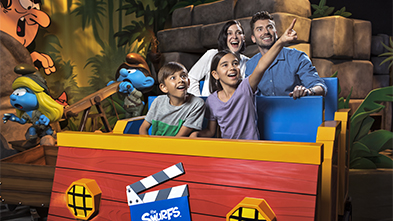 Image Courtesy : Motiongate Dubai
A perfect roller coaster for children, this train ride takes you through the Smurf Village. However, watch out for the Howlibirds as they drop stones on the Smurf houses.

Who can ride:
Must be at least 100 cm or taller.


4. Smurfs Studio Tours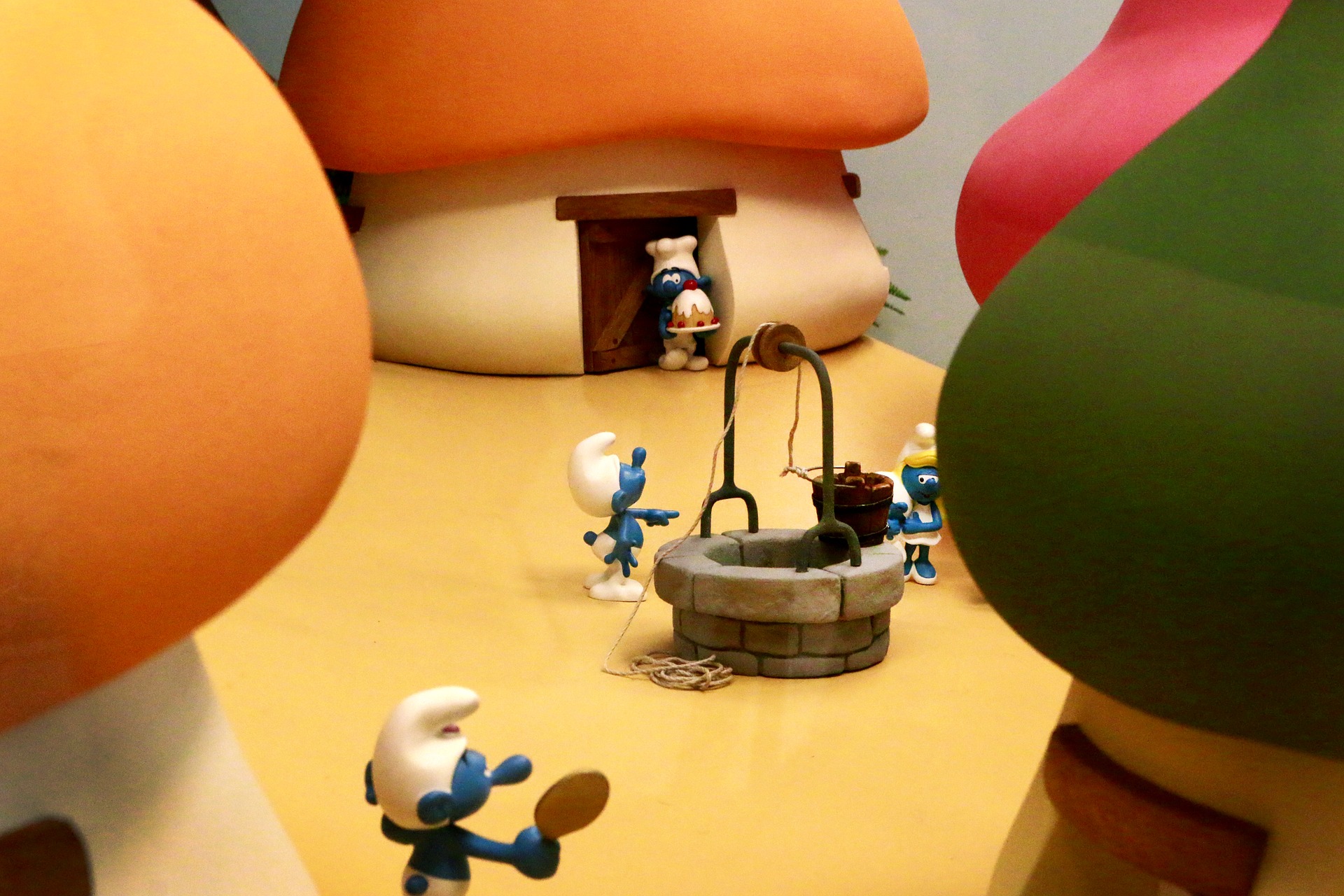 Go on a tour with the Smurfs through the movie studios and become a star of the show. But be sure to keep an eye out for Gargamel as he tries to bring in chaos to the ride.

Who can ride:
Must be at least 92 cm or taller.
---
Motiongate Dubai Shows
---
Apart from the rides, there are several shows that take place in Motiongate. Not only are these stunning and amazing to watch, they also provide a welcome break in between all the rides and attractions of the theme park. Check out some of the most popular shows at Motiongate below.
Studio Central Shows
Backlot Crew
Learn the ways of Hollywood as you meet the director and his crew. This welcome show is a perennial hit amongst families and will remind you of the early Hollywood days.
Columbia Pictures Shows
Ghostbusters Block Party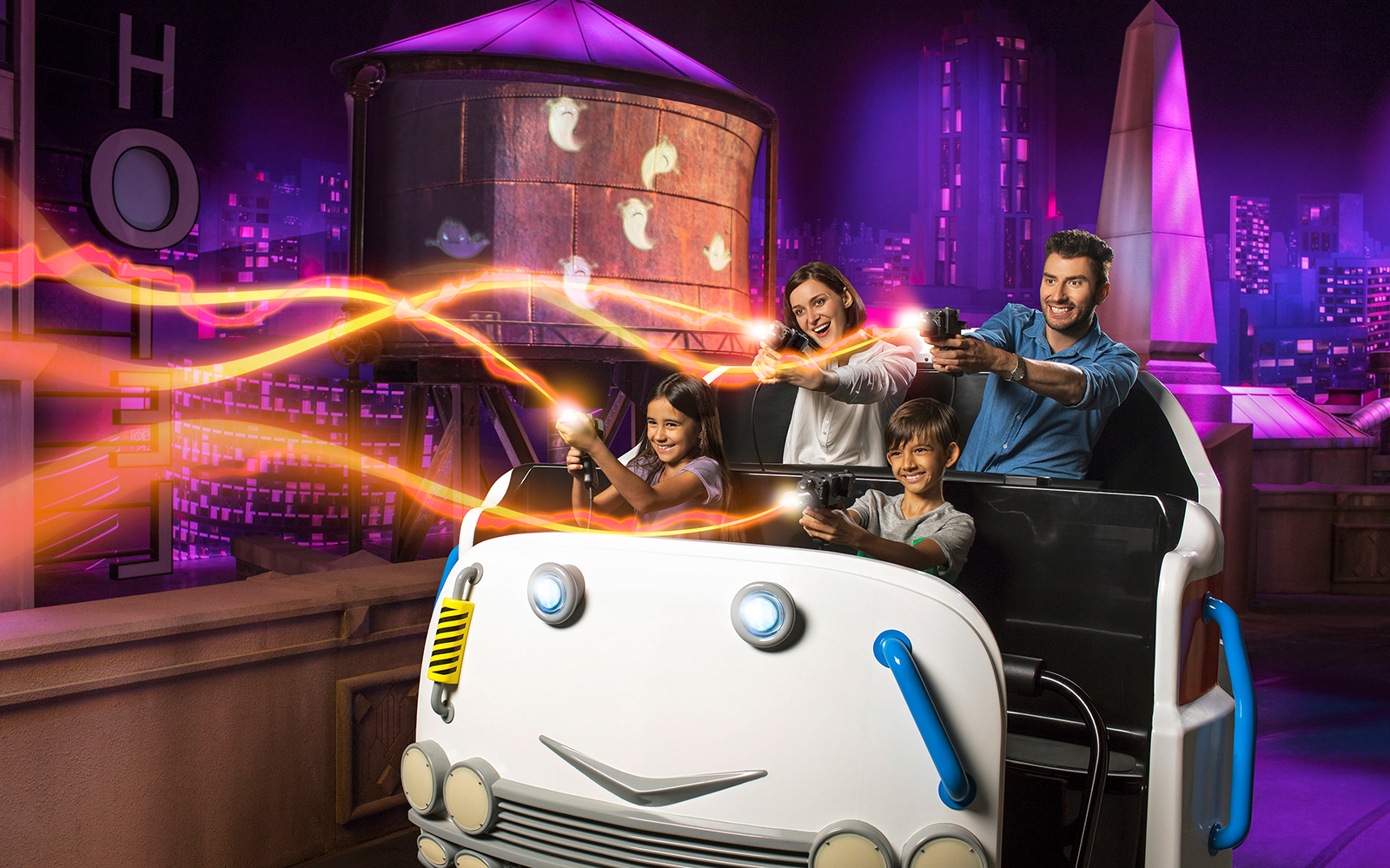 The Ghostbusters are now a dancing boy band who must try and capture the possessed Dr. Janosz Poha.
Backlot Beat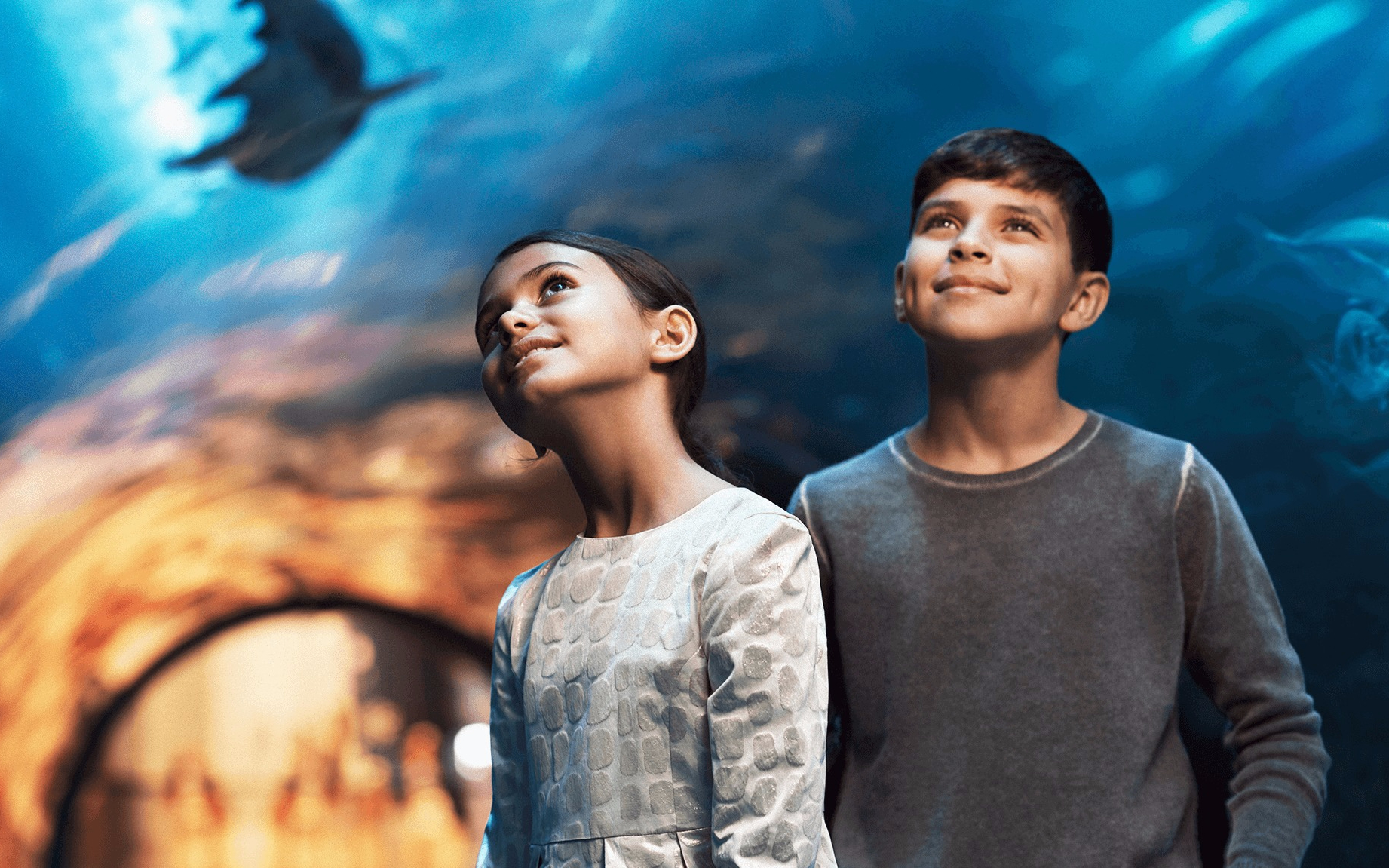 A wonderful fun show put on by the Backlot singers as they sing the hits of yesterday and today.
Dreamworks Shows
Kung Fu Panda Academy
Learn the ways of Kung Fu under the tutelage of wise Master Shifu and be ready to join Po on stage. This is your chance to become a Kung Fu master.
King Julien's Side Show Stomp
King Julien and the cast of Madagascar King come together to bring one of the best show-stopping performances to the park.
Operation Penguin Shake
The show follows Captain Chantel DuBois and her hunt for the penguins in King Julien's Side Show Café.
Fountain of Dreams
Image Courtesy: Motiongate Dubai
A magical dancing fountain that features sculptures of characters from Shrek, Madagascar, How To Train Your Dragon and Kung Fu Panda.
Lionsgate Shows
Step Up Dubai, All In!
Image Courtesy: Motiongate Dubai
The most popular show in Motiongate, Step Up Dubai features a live music and high energy dance performance by the crew of Step Up Dubai.
Smurfs Village Shows
Smurfs Village Playhouse
Interact with Brainy Smurf and the cast of the Smurfs Village Playhouse with this live animated show.
---
Restaurants in Motiongate
---
1. Supporting Rolls Bakery
3. Mr. Ping's Noodle Shop
4. King Julien's Side Show Cafe
7. Baby Brent's Luncheonette
---
Motiongate Dubai Reviews
---
This theme park is excellent and was such an amazing day out. The different areas are very exciting and pay great attention to detail. A lot of hard work and effort has gone into this theme park and it really pays off. The rides are fantastic and there is a good mix for kids and adults. The staff are very friendly and helpful. Because it's new there were little queues which make it all the better for me. I've been to Florida and waited hours to get on rides; I'm sure that'll happen at this park soon too but for the moment it's not too busy so you can experience everything you want! Would highly recommend Motiongate which will be even better when the Lionsgate area opens end of June.
A part of the Dubai parks. We visited Legoland and motiongate in one day( it's very possible) Suggest you go on a weekday where the parka are empty and we dint have to wait for any ride for more than 5 minutes.

My 5 year old loved the Smurfs village, where they have a roller coaster and an interactive theatre which is a highlight! The character meet and greet was also fun! Besides they have different studios which are all air-conditioned so it's the heat doesn't bother much! We loved the 'how to train your dragon ride' . The makers have put in a lot of effort for this park and it's definitely worth a visit!

Buy the 2 parks 1 day ticket instead of individual tickets!

Must do!
---