Whether you're looking for an adrenaline-pumping experience or a break from the chaotic glitzy life in Dubai, a desert safari is something that should be on your itinerary.
There are different types of desert safaris, but they all include an thrilling off-road ride in a 4x4 over the sand dunes. You will also get to visit a Bedouin camp, where you can learn about the traditional nomadic lifestyle and try some delicious Arabic cuisine. Camel rides and Sandboarding are also popular activities in the desert.
Well-known for its desert safaris, Dubai offers several different locations to choose from. Each of these safari locations offers a unique experience, and it is important to pick the right one. If you are planning your Desert Safari trip in Dubai, then this guide is sure to help you find your fit!
How long does a typical Desert Safari in Dubai take?
---
The Safari generally lasts for around six hours, during which time the visitors can enjoy a number of different desert activities.
Ideally, most desert safaris in Dubai start at 3 or 4 pm, when the sun has slowly moved away from the horizon, until 10 or 11 pm.
However, overnight desert safaris are popular and recommended, where you can camp all night, enjoy some BBQ under the starlit skies, and catch a sunrise in the morning before heading back!
Top Desert Safari Locations to Visit
---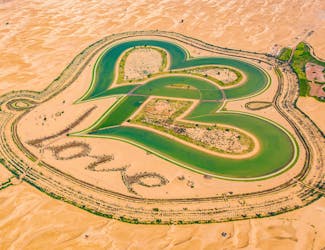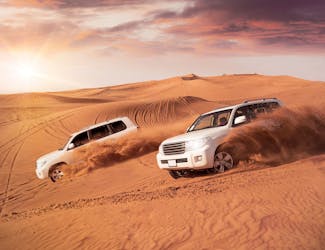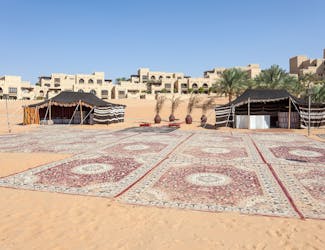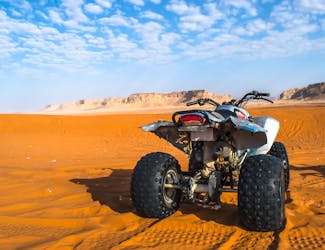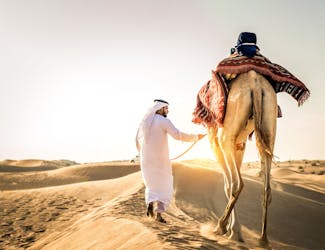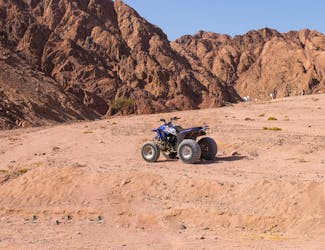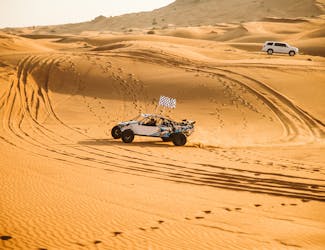 Less than an hour from the city, this desert is pretty popular among the locals. Part of the Al Marmoom Desert Conservation Reserve, it is located in the Saih Al Salam area and is popular for its beautiful sand dunes, and amazing views. It is also one of the best places to see wildlife in the Emirate. The reserve is home to oryx, gazelles, and desert foxes. And with over 130 species of birds, it's a birdwatcher's paradise, making it a great spot for photography or just taking in the sights. The man-made Al Qudra lake is located in the middle of the desert and is surrounded by dunes. It's a peaceful oasis in the middle of the sand.
Best Time to Visit
November to February
Perfect For
Camping, Quad biking, Wildlife Photography

The Rub' al Khali is a vast stretch of desert that covers much of southern Arabia, with the Liwa Desert being on its northern end. Translating to 'empty quarter', it is one of the harshest environments on Earth, with temperatures often exceeding 50 degrees Celsius and little to no rainfall. The desert is home to a variety of plants and animals that have adapted to extreme conditions. Despite its hostile environment, the region is of great cultural and historical importance. For centuries, it has been used as a trade route between Arabia and Africa. In more recent times, it has become a popular destination for adventure seekers and archaeologists alike. The Liwa Desert is truly a unique and fascinating place.
Best Time to Visit
November to February
Perfect For
Dune Bashing, Learning about Bedouin Culture & History
Travel Time (from Dubai)
3.5 hours

Stretching for over 2,000 square kilometers, the Lahbab Desert is home to a variety of desert wildlife, including oryx, gazelles, and spiny-tailed lizards. Despite its harsh conditions, the Lahbab Desert has a long history of human occupation. Archaeological evidence suggests that people have been living in the area for over 6,000 years. Today, about 1000 people still call the desert home, most of whom are wealthy Bedouins who are friends with the Dubai royal family. Although life in the Lahbab Desert is challenging, these nomadic people have adapted to the harsh conditions and continue to lead a traditional way of life, which the visitors can see.
Best Time to Visit
November to February
Perfect For
Sandboarding, Dune Bashing, Bedouin style camps
Travel Time (from Dubai)
40 minutes

Known as the 'Big Red' due to its terracotta red colour, the location is famous among 4x4 enthusiasts. This spot has the smoothest dunes that can be tackled by both rookies and professionals alike. The desert stretches from Sharjah to Dubai, and is located on the way to the Hatta Oman Road, making it easily accessible.
Best Time to Visit
November to February
Perfect For
Quad Biking, Dune Bashing, Camping
Travel Time (from Dubai)
45 minutes

Also known as 'Little Liwa', since this is the training ground for most Liwa enthusiasts, the desert borders the three Emirates of Dubai, Abu Dhabi, and Al Ain. However, Sweihan is recommended only for experienced drivers, due to its risky big dunes and soft sands combo. The Naqrah, a sand mountain is located in the Sweihan Desert. You can often find lone locals walking with their camels throughout the desert.
Best Time to Visit
November to February
Perfect For
Off-roading, Dune Bashing
Travel Time (from Dubai)
1 hour 15 minutes

Located towards Kalba, the Jebel Maleihah or the Mleiha desert is also known as the 'Fossil Rock'. The amount of marine fossils in the region has given itself this name. The UNESCO nominated world heritage site, is home to the Mleiha Archeological center, from where they search and study ancient artifacts found in the region. Many tools, utensils, and skeletons of camels were found here and many photographers flock here due to its unique offerings. The Mleiha desert is a great place to learn more about the past while having an adventurous desert safari!
Best Time to Visit
November to February
Perfect For
Off-roading, Photography, Historical Relevance
Travel Time (from Dubai)
1 hour

One of the most notable features of the desert is its huge sand dunes, and hence is known as the 'Big Fall'. In recent years, the the ruby sand desert has also become a popular location for extreme sports. The place can get pretty crowded during the weekends, so be sure to start early.
Best Time to Visit
November to February
Perfect For
Sandboarding, Dune buggy racing
Travel Time (from Dubai)
50 minutes
Best Recommended Desert Safari Tours
---
Are you looking for an exhilarating and adventure-filled desert safari? Desert safari tours offer travelers the opportunity to explore some of the most beautiful and remote locations on earth.

And, with Headout's so many different tours to choose from, it's easy to find a desert safari tour that's right for you!
Start planning your desert safari today!
Ready to Explore Dubai?
---
Fancy heading out to some other must-visit Dubai attractions? Take inspiration from our list of the best things to do in Dubai here. Use our comprehensive Dubai Travel Guide to explore the rest of Emirate in a hassle-free fashion with all the need-to-know information in hand.
Best Desert Safari Locations in Dubai
FAQs
---
Sweihan is the ultimate location for Off-Roading. However, it is recommended only for experienced drivers.
The Liwa Desert is home to the highest number of sand dunes in the country. It is the playground, and ultimately the best place for Dune Bashing in the UAE.
The safari typically lasts for around six hours, though this can vary depending on the package you choose.
The Al Qudra Desert is highly recommended, considering its proximity to the Dubai city and the wide range of activities inside - like cycling tracks, bird watching, love lake and more, which is perfect for both young and old.
Though all the deserts in Dubai are equally picturesque, the best bet for wildlife photography enthusiasts would be the Al Qudra desert with its artificial lakes, dunes, and fauna. The Mleiha Desert or 'Fossil Rock' is known for its sheer amount of fossil collections and Bedouin culture in the breathtaking surroundings.
The Bidayer or the 'Big Red' is the best place for quad biking due to its easy to handle dunes. The place is filled with motorbike enthusiasts on weekends.