If you're looking for an unforgettable camping experience, the Dubai desert is the place to be. Camping in Dubai can be an incredible experience. The desert landscape is unlike anything else in the world and the night sky is simply breathtaking. If you're looking for an adventure, Dubai is the perfect place for it.

So what are you waiting for? Start planning your trip!
Things to Keep in Mind Before Planning Your Camping Trip
---
When it comes to camping in Dubai, there are a few things you need to know -
First, the desert can be extremely hot during the day, so it's important to bring plenty of water and sunscreen.
Second, if you're planning on spending any time hiking or exploring the desert, be sure to wear appropriate footwear and clothing.
Third, the nighttime temperature can drop dramatically, so make sure you pack some warm clothes.
Finally, there are a few areas where camping is not allowed, so be sure to check with the local authorities before setting up camp.
And voila, you're all set to have an amazing camping experience!
Best Recommended Desert Tours
---
Are you looking for an exhilarating trip to the desert? These tours offer travelers the opportunity to explore some of the most beautiful and remote locations on earth.

And, with Headout's so many different tours to choose from, it's easy to find a desert tour that's right for you!
Start planning your desert trip today!
Top Desert Camping Locations to Visit In Dubai
---

Catch flamingoes and swans alongside the backdrop of the Saih Al Salam desert at Al Qudra. Located just half an hour from the Mall of the Emirates, the location offers a more rustic camping experience. Part of the Al Marmoom Desert Conservation Reserve, it is one of the best places to see wildlife in the Emirate. The reserve is home to desert foxes, oryx, and more. You may even spot camel herds on their way. The Al Qudra lake is home to about 360 different varieties of avian species, including the endangered Steppe Eagle, it's a birdwatcher's paradise. The location is a great spot for watching sunsets and wildlife photography. Also, don't forget to visit the Love lake!
Best Time to Visit
November to February
Travel Time (from Dubai)
30 minutes
Insider Tips
Carry bags to store trash, as disposing them in the desert may harm the animals.
Bring a stove to cook instead of using a campfire, as they have the potential of damaging the plants.
Avoid trampling on the vegetation, as they may not grow back easily.

AL Quaa Desert is located near Al Ain, in Rub Al Khali, or the 'Empty Quarter', the world's largest sand desert. The desert is home to massive dunes - perfect for those who look forward to dune bashing or sandboarding. However, what makes Al Quaa special is its sky. The desert is secluded away from the city, and is considered to be the darkest place in the country, making the constellations and the Milky Way shine bright enough to be visible by the naked eye.
Best Time to Visit
October to March
(Autumn to Spring)
Travel Time (from Dubai)
2.5 Hours
Insider Tips
The best time to visit would be when the skies are clear on a new moon night.
Make sure to look at the weather forecast before planning your trip. Foggy weather can reduce visibility in the desert and has a potential for danger, and hence a trip to Al Quaa on a foggy day has to be avoided at all costs.
If you are planning to stargaze, avoid full moon nights as moon light can block the view of the Milky Way and constellations.
Always carry headlamps/torches. However, be considerate while using light sources as it may obstruct the view for others.
Toilets are not available. Be prepared.

The eye-catching red sands are a popular spot for the campers. Home to the 'Big Red', a massive sand dune, the spot is filled with camping and sand bashing enthusiasts. Some others can be found enjoying a wholesome BBQ meal whilst watching the shifting sands. The picturesque desert camping sight has something for everyone. Stretching for over 2,000 square kilometers, the Lahbab Desert is home to about 1000 people, most of whom are wealthy Bedouins, making it accessible for people to get a sneak peek into the life of bedouins.
Best Time to Visit
November to February
Perfect For
Sandboarding, BBQ, Bedouin-style Camping
Travel Time (from Dubai)
40 minutes
Insider Tips
Make sure to pack your supplies in bulk to avoid shortage while BBQing, setting up the campsite,etc.
Safely dispose and carry your trash with you while leaving your campsite.

The Liwa Desert is yet another beautiful place located in the Rub' al Khali, a vast stretch of desert that covers much of southern Arabia, with the Liwa Desert being on its northern end. Translating to 'empty quarter', it is one of the harshest environments on Earth, and home to a variety of plants and animals that have adapted to extreme conditions. You may choose to explore the Liwa Oasis, where the Bani Yas tribe lives, or climb over the Tel Moreeb, the nation's tallest sand dune while camping. You can also greet some of the local Black Liwa Camels, or try their milk from the local farm!
Best Time to Visit
November to February
Perfect For
Dune Bashing, Bedouin-style Camping
Travel Time (from Dubai)
3.5 hours

The Jebel Maleihah or the Mleiha desert, also known as the Fossil Rock is conveniently located close to the city, yet away from the hustle and bustle of the city. The UNESCO nominated world heritage site is home to many marine fossils. Surrounded by orange dunes, the Fossil Rock is best-suited for campers who look for off-roading in a 4×4 or dune bashing in the desert.
Best Time to Visit
November to February
Travel Time (from Dubai)
1 hour
What type of supplies/camping equipment do you need?
---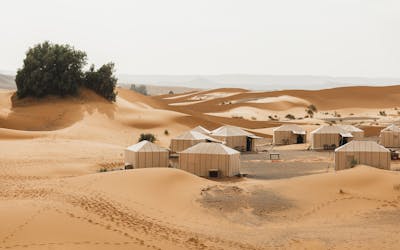 Tents made of absorbent and flammable materials with no ventilation should not be used.
Fire extinguishers are best for ensuring safety against potential fires.
Headtorch to avoid burning yourself while cooking.
Keep extra tow ropes and shovel always in the tent/car.
A good quality sleeping bag to keep yourselves warm.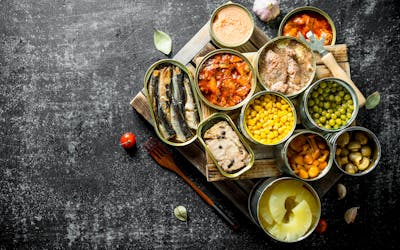 Carry canned foods or those that do not require heating, like khuboos (arabic bread) or tea cakes.
It is best to pre-cook and pack marinated meat/vegetables in coolers to avoid spoilage.
Store different food items seperately - like raw meat, vegetables and fruits.
Get 5 Gallon water bottles (many) instead of small bottles to decrease plastic waste.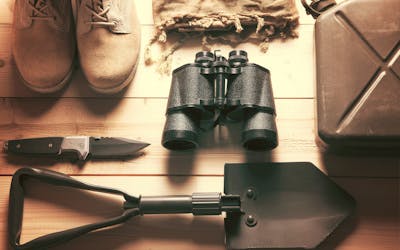 Get a shade (Gazebo) to protect against the heat during the black.
A sharp knife can always be handy
A UV Lamp to switch on while sleeping. Slithery creatures like scorpions can be spotted in the dark with them.
Waterproof sealed bags - for medical suppplies or to store clothes.
Lots of firewood, to keep warm!
Carry duct tape and super glue, you may never know when you need them!
Safety Tips to Follow While Camping
---
Carry a large flag of top of your car, this can make it easy to spot you when stuck in a sand dune.
Do not pollute the area. Deserts and the life in it are best when it is well preserved, so make sure not to litter around and harm the animals.
Be wary of stepping/driving on vegetation.
Carry your power banks and mobile phone at all times. 999 is the emergency number in UAE, and make sure to save it on your device!
Don't ever pitch your tents near sand dunes. Off-roaders may not realise your presence under the dunes, and there could be chances of accidents.
Ensure your car is serviced before starting the trip.
Make sure to check the fluid and tire pressure levels in your car before starting the journey.
When using public washrooms on campsites, keep them clean and take all the necessary safety precautions as it is a public space.
Always pack all the necessary items extra, like water, wipes, masks, and snacks
And voila, you're all set to have an amazing camping experience!
How to Reach the Camping Locations?
---
Although Public Transportation in Dubai is great, cars are the only way to access the best and most isolated camping locations. Ideally, travellers may rent a car or book under expert travel guides to get the best out of the trip.
In case you're on the lookout for information on Airport Transfers in Dubai or using the NOL Card, do check our handy guides!
Overnight Desert Camping Packing Checklist
---
Check out our downloadable Overnight Desert Camping travel checklist for a stress-free and easy packing experience!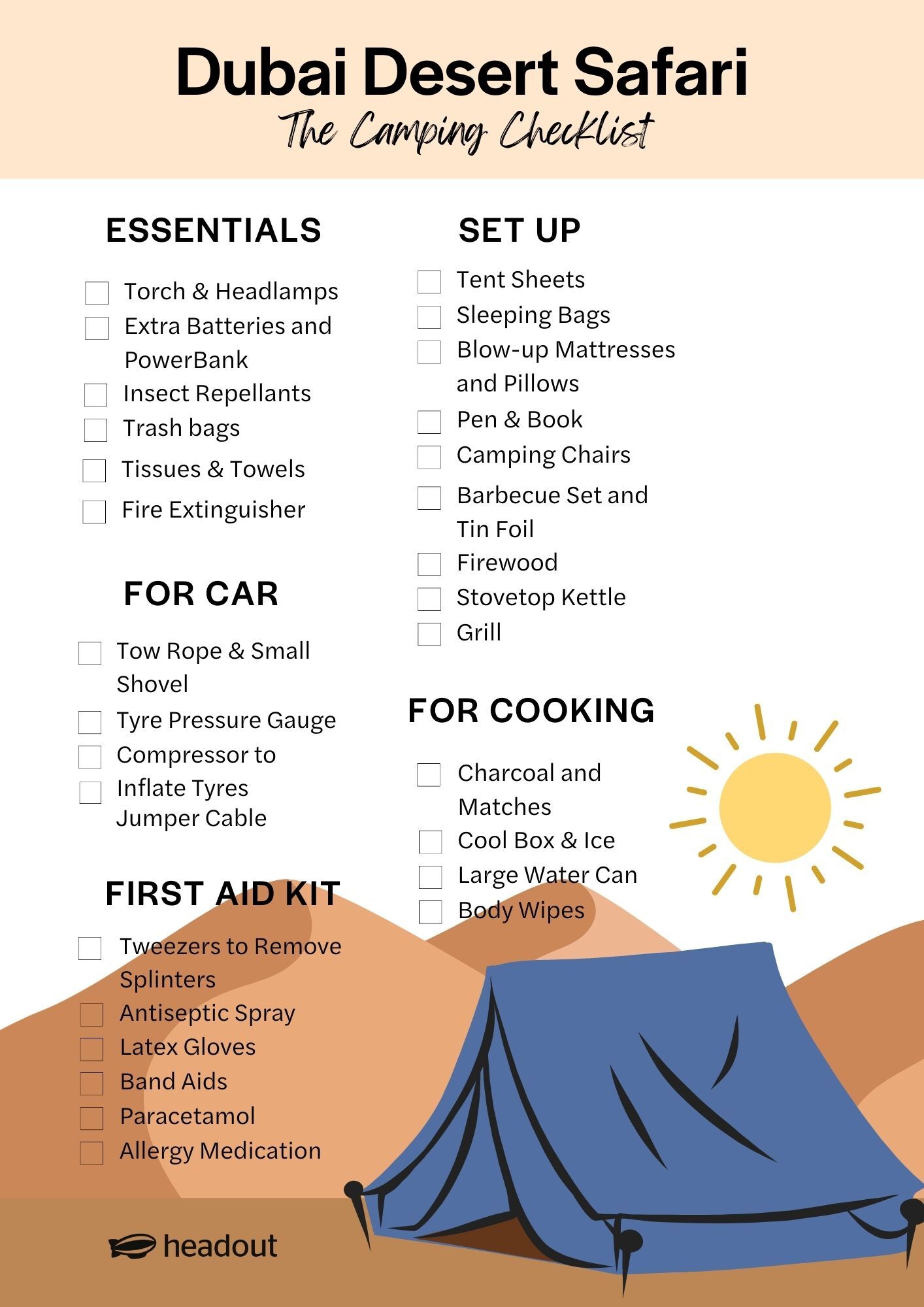 Have an extra day in UAE?
---
If you're looking for an amazing travel destination, you can't go wrong with the United Arab Emirates. This breathtaking country is home to some of the most unique and beautiful architecture in the world, as well as stunning natural scenery. And of course, no visit to the UAE would be complete without spending some time in its two major cities, Abu Dhabi and Sharjah.
Abu Dhabi is the capital of the UAE, and it's easy to see why. This city is truly a sight to behold, with its impressive skyline and stunning buildings. There's plenty to do in Abu Dhabi since the city has got much to offer!
Sharjah is another must-visit city in the UAE. This city is often referred to as the "cultural capital" of the country, thanks to its many museums and art galleries. Sharjah is also home to a number of natural spots, including the Sharjah Desert Park.
No matter what type of traveler you are, you're sure to find something to love in the UAE. So what are you waiting for?
Start planning your trip today!
Ready to Explore Dubai?
---
Fancy heading out to some other must-visit Dubai attractions? Take inspiration from our list of the best things to do in Dubai here. Use our comprehensive Dubai Travel Guide to explore the rest of Emirate in a hassle-free fashion with all the need-to-know information in hand.
FAQs
---
A permit is not required for short-term desert camping in Dubai.
Yes! In fact, overnight desert camping is always recommended!
The Al Qudra Desert is highly recommended, considering its proximity to the Dubai city and the wide range of activities inside - like cycling tracks, bird watching, love lake and more, which is perfect for both young and old.
The best way to reach is by car, as it lets you explore the place at your own pace. Tours groups and guides also offer trip to the the camping locations.
The deserts in Dubai can be very cool at night, with the breeze making it even cooler. Temperatures can vary, though the average is usually 5 °C during the winter.