Once a small fishing village in the Middle East, Dubai has grown tremendously over the years and has become the world's most luxurious vacation spot. Every year, millions of tourists visit this city from all over the world to experience its rich heritage. From sandy beaches to stunning desert dunes, to the world's largest structures, this city has it all. Whether you are traveling with family, friends, or your partner, you will easily find the right things to do in Dubai. In this Dubai trip planner, you will learn when to visit Dubai, how to get around here, the best day trips from Dubai and more to plan your epic vacation here.
Best Time To Visit Dubai
---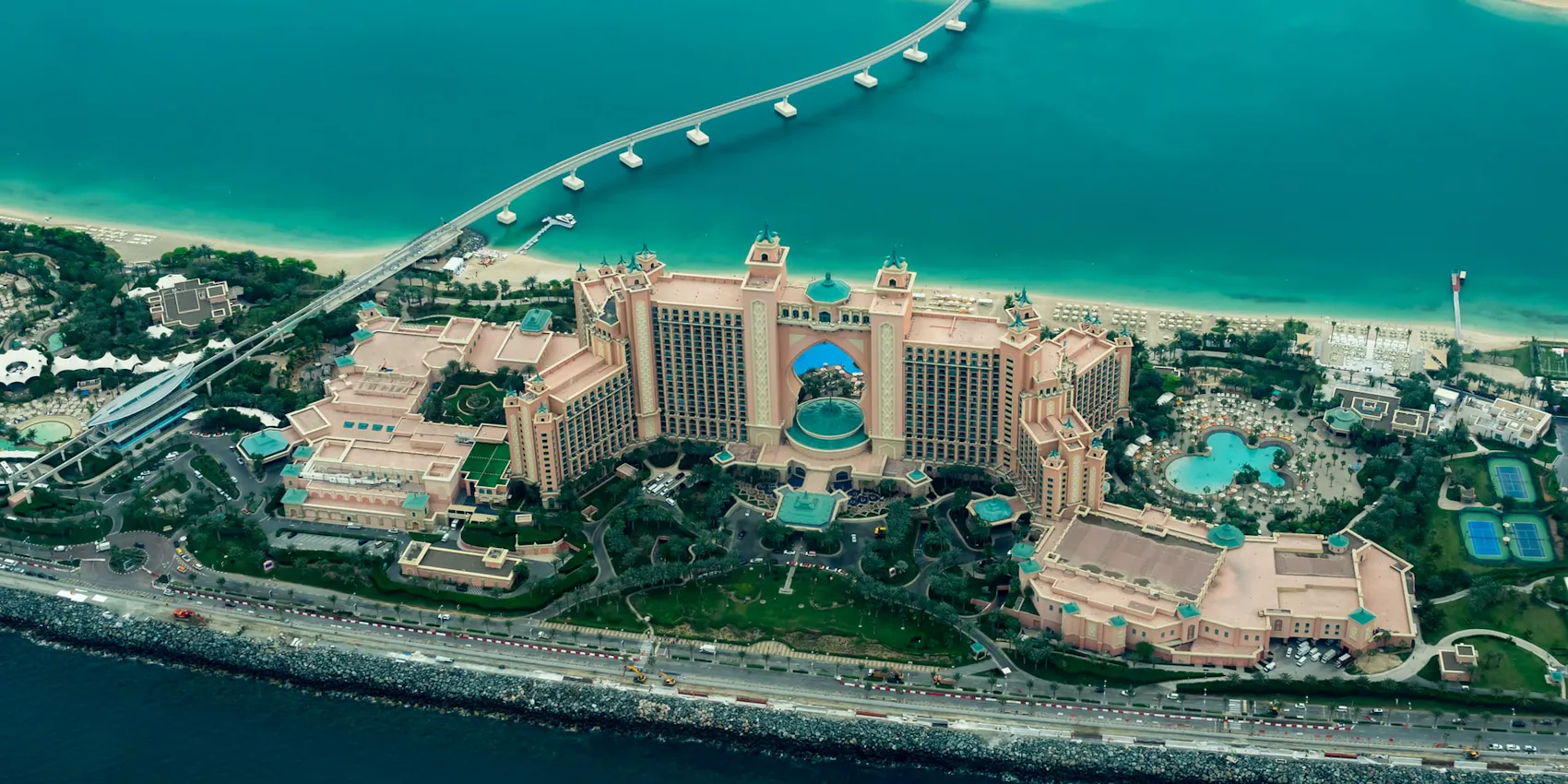 Dubai is warm throughout the year but the winter season (November - March) is the coolest time to visit. The average temperature ranges between 13° and 30°, making it a pleasant time to explore the city. However, this also means that it is the peak season for visitors and everything from flights to accommodation costs is high at this time.
If you are planning to spend most of the time on the beach, then avoid going between January and March as it is the rainy season in Dubai.
For those who hate the heat, it is recommended that they avoid July and August. Although rainfall is unlikely at this time, it tends to be really hot and humid. But you can always get amazing deals and discounts if you choose to visit Dubai in the summers. Read more about the best time to visit Dubai.
Dubai Itineraries
---
Depending on how long you're in Dubai for - whether it's just a day or 5 days, we have the perfect itineraries crafted for you. Go through these Dubai itineraries and plan your stay well in advance!
If this is your first time traveling to Dubai, you could use some help planning your daily itineraries. Apart from the basic planning (flight tickets, visa, accommodation in Dubai, etc.), you'll need to consider your day-to-day activities in Dubai - where to go, what to see, how to get there, and more. But fret not, for we are here to help.
1-Day Dubai Itinerary
3-Day Dubai Itinerary
5-Day Dubai Itinerary
Dubai Travel Restrictions
---
Given the current situation across the globe, it is important to read up on the travel restrictions. Find out about the new rules and reopening of attractions on the blog post below.
Hacks To Buying Cheap Dubai Flight Tickets
Now that you've figured out the perfect time to visit Dubai and braved through the restrictions, it is time to look for flight tickets. Go through our 17 golden hacks for cheap flight tickets before scouring through the flight ticket websites. You'll be surprised how easy it is to save a pretty penny while booking flight tickets!
Do I Need Travel Insurance?
Traveling involves a certain amount of uncertainty always. With the pandemic, this amount has only increased. Opting for travel insurance is not something many people have done (pre-pandemic), but post-pandemic, it is highly recommended that you opt for it. Choosing the right travel insurance plan gives you a safety net to prevent losses if things go downhill.
Travel insurance can be complex- how do you know what to choose? For this very reason, we can crafted a ultimate guide to choose travel insurance post-covid.
Packing For Dubai
---
Of course, when you are planning a trip to Dubai, you have to pack efficiently too. Now, what you pack depends a lot on the month you will be visiting the city but a few things remain constant. Don't forget to pack a universal adaptor, photo ID, a camera, and comfortable shoes to walk in.
Apart from that, consider what activities you will be indulging in Dubai. For adventure activities such as skydiving, ziplining, etc., pack comfortable and appropriate fit clothes. For beaches, pack your favorite bikinis and shorts, and for visiting religious places, pack clothes that cover your shoulders and your legs.
Also, if you are visiting Dubai in the summers, then do carry loose, cotton clothes along with a hat and sunscreen.
Where To Stay In Dubai
---
One of the most important things to do when planning a trip to Dubai is research the place where you will be staying. One thing to keep in mind is that Dubai is big, so you might be close to a few destinations and quite far from some other popular attractions.
So, where do you stay? Well, this depends a lot on your itinerary and the places that you choose to visit in Dubai, not to mention your budget.
If you want to pamper yourself during your Dubai trip and are looking for both fun and entertainment, then Dubai Marina and Jumeirah Beach Residence area is a good place to consider. This area has plenty of beach spots, restaurants, bars, and skyscrapers for you to enjoy. However, this is also the most expensive place to stay in Dubai.
If you are looking for cheap and budget-friendly accommodations, then check out Al Barsha or Old Dubai. Al Barsha is well-connected to the metro and close to both Downtown and Marina. The only caveat is that it is not close to the main attractions.
For those who wish to stay close to the main attractions, Downtown is one of the best places to stay in Dubai. You are in close proximity to Burj Khalifa, Dubai Mall, and other amazing skyscrapers and is home to several clubs and restaurants. There are both expensive and budget-friendly hotels available here but this place is a little far from the beach.
Want to experience the traditional culture of Dubai? Then choose to stay in Bur Dubai, the heart of Old City. Here, you won't find fancy restaurants or bars but lots of buildings with traditional architecture, bazaars, narrow alleys, and more. Plus, this place offers the cheapest accommodation rates in Dubai.
Getting Around In Dubai
---
Getting around the city is not an issue at all because despite Dubai being huge, it offers a decent public transportation system for budget travelers. Dubai metro features 2 lines that connect around 49 stations and a metro train runs every 2-3 minutes. Another viable option is to take the Dubai buses that have 119 internal lines and cover over 80% of the city.
You can also use the Dubai trams that connect Dubai Marina to the Al Sufouh and Palm Jumeirah or the Dubai monorail. Taxi cabs are also easily available in the city but they are quite expensive.
For a traditional experience, you can use the Dubai Abras to cross the water creeks or the Dubai Ferry. All these public transportation options are managed by the RTA and can be availed using the NOL card.If you are planning to stay in Dubai for a couple of days, we recommend you get this travel card. It will not only help you get discounted prices on most of the transportation options but eliminate the need to buy tickets for every trip too.
Dubai Travel Tips & Hacks
---
Dubai is just about as touristy as it gets. A city rich with history and modernity, there's something for everybody here. Go through our guide and jot down some interesting travel tips that even the locals swear by. Learn how to navigate tourist traps in Dubai , how to save money on transport, food, and accommodation, and then some. Start making notes and use these tips before your trip to Dubai .
Ready To Head Out To Dubai?
---
Check out the top things to do in Dubai & our comprehensive Dubai Travel Guide packed with itineraries, tours, culture trips, best hotels, restaurants and a lot more.
Here are a few more guides that should help you plan your visit.
FAQs: Dubai Trip Planner
---
Dubai is one of the most popular and luxurious destinations in the world. The city is home to sandy beaches, tall skyscrapers, beautiful parks, the world's largest mall, and more. As a result, Dubai has something to offer to all kinds of travelers.
The best time to visit Dubai is in the winter season (November – March) when the weather is pleasant.
A few top things to do in Dubai are relaxing on the beaches, try skydiving, visiting the amusement parks, and so on.
Make sure to pack a universal adaptor, a hat, and sunscreen for your trip to Dubai.
You travel around Dubai by using the metro, buses, trams, monorail, abras, ferries, and taxis.
Yes, it is completely safe to take cabs to travel around New York City. For additional security, always share the number of your cab with a friend or family member when you are traveling alone at night.
If you want luxurious stays, then stay near Marina or Palm Jumeirah. But if you want a budget-friendly stay then Al Barsha or Old City are the best areas to stay in Dubai.
Novotel Dubai Deira City Center, Four Points by Sheraton Downtown Dubai, Atlantis The Palm, ibis Dubai Mall of the Emirates, etc. are a few of the best hotels to stay in Dubai.