Dubai is the crown jewel of the desert kingdom of the UAE, shining like a beacon attracting tourists from all over the world. Yet, it is not the only tourist friendly city in the Emirates, its neighbor – Abu Dhabi, is definitely making its mark on the tourist itinerary. If you are in Dubai for 4 days or more or are an expat eager to soak in the sights of UAE, then definitely take a day trip from Dubai to Abu Dhabi- you won't regret it.
Abu Dhabi - UAE's Cultural Heart
---
Abu Dhabi is the capital city of the Emirate of Abu Dhabi as well as the capital city of the United Arab Emirates.
The city rivals Dubai in terms of infrastructure and economy and is fast catching up to a reputation of a world city.
A mere 90 miles away from Dubai, Abu Dhabi is the perfect getaway and suitable for day trips from Dubai.
Not only is it extremely accessible, but also home to some of the most iconic attractions in the Middle East.
It may not get as much attention as Dubai does, but Abu Dhabi landmarks such as the beautiful Sheikh Zayed Grand Mosque and Emirates Palace, the modern racing circuit at Yas Marina or the exhilarating Ferrari World are unmatched.
Abu Dhabi houses some of the most massive theme parks in the world. It also boasts of diverse Arabian wildlife with its many nature reserves in the city.
Read on to find out the reasons why we urge you to take a day trip from Dubai to Abu Dhabi. With the many attractions that dot the Abu Dhabi skyline, there is plenty for you to do from morning till night.
Find out further details like where to visit, where to eat, where to stay, and how to figure out transportation.
Gasp at the architectural wonders that dot Abu Dhabi's skyline.

Even in a metropolis like Abu Dhabi, you'll feel authentic arab vibes.

Feel connected to the rest of the world by visited renowned landmarks, like Louvre.
Why take a day trip from Dubai to Abu Dhabi?
---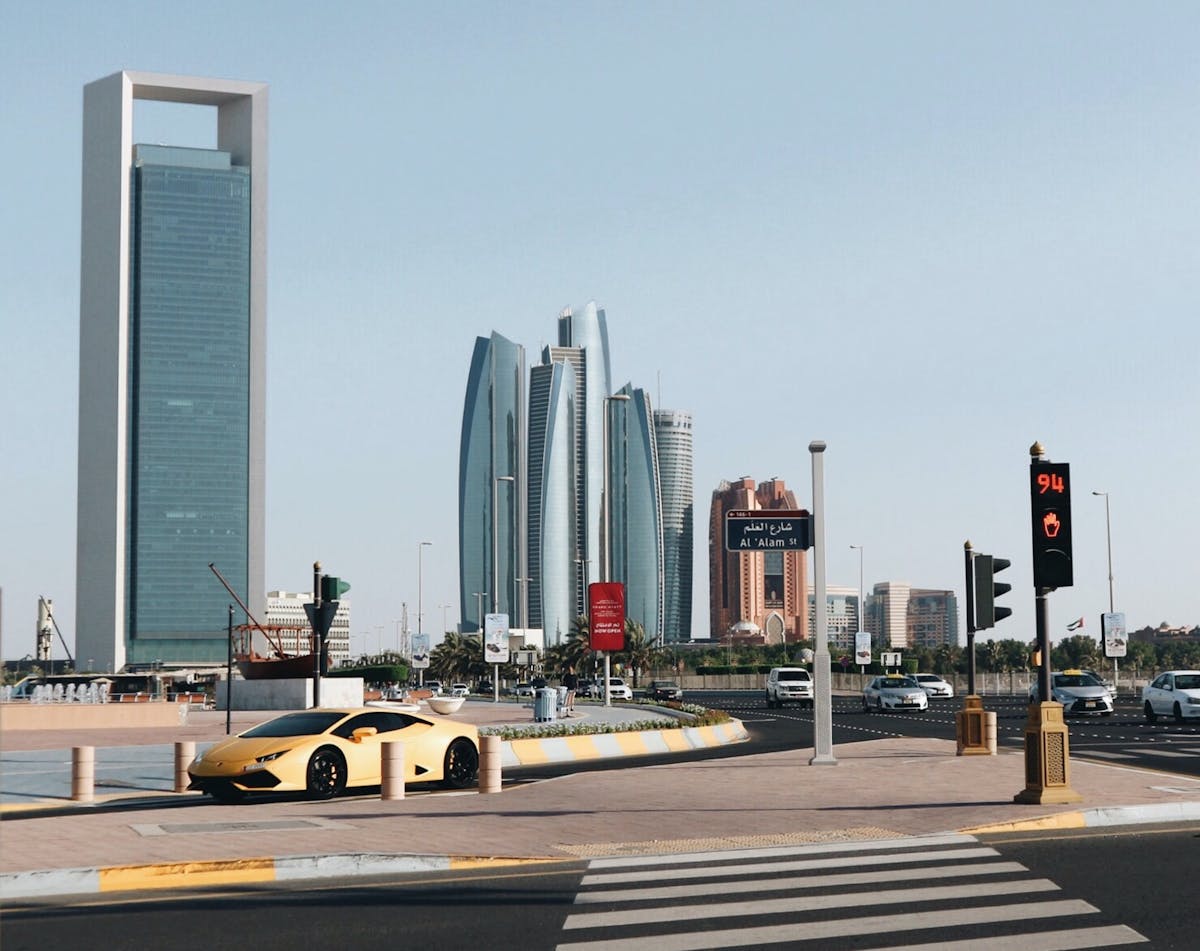 Admire the jaw-dropping architecture
Abu Dhabi is replete with some of the Middle East's most iconic architectural wonders. Marvel at the mosques inlaid with pristine marble, sumptuous hotels, and skyscrapers that rival those in neighboring Dubai. You can also find well-preserved structures from some of humanity's earliest permanent settlements that date all the way back to the Bronze Age.
Enjoy the picturesque ride from Dubai to Abu Dhabi
The road from Dubai to Abu Dhabi is meticulously maintained all year round, making it one of the safest and most enjoyable roads to drive on. The highway runs along the coast, meaning that you will get great views of the coastline throughout your journey. You might also be able to spot camels walking on sand dunes in certain sections of the route.
Give your kids an experience they will never forget
Abu Dhabi houses some of the most gargantuan theme parks in the world. With a limitless supply of rides and themed activities, the city is an excellent place to spend some quality time with your loved ones.
Conquer your fears with adventure sports
Get your adrenaline going by skydiving or dune-dashing in a 4x4. Abu Dhabi is well-known for its eclectic collection of adventure activities for insatiable thrill-seekers. This includes high-octane roller coaster rides (specifically designed for speed junkies) at the many theme parks.
Spend a tranquil evening on the water
Dhow cruises and kayaking are popular tourist activities in Abu Dhabi, and rightly so. Watching the city light up as you drift serenely along the coast is truly an unforgettable experience. Some of the cruises also offer dinner packages.
Best Day Trips from Dubai to Abu Dhabi
---
Guided Tour from Dubai to Abu Dhabi
If you're looking to squeeze in a full-day round-trip Dubai to Abu Dhabi day trip, an efficient organized tour might be the way to go. This way, you don't have to worry about travel logistics: all will be taken care of for you- transportation, entrance tickets, information about each attraction, etc.
Guided Tours in Abu Dhabi
If you want to travel from Dubai to Abu Dhabi on your own, but want to book guided tours in Abu Dhabi, check out Abu Dhabi city tours.
Self-Guided Tours in Abu Dhabi
If you're a culture vulture who likes to venture into a new land on your own, a self-guided visit to Abu Dhabi might be the way to go. Rent a comfortable car and drive your way through the well-maintained roads of Dubai at your own pace, making pitstops wherever you deem necessary.
Planning your own day trip to Abu Dhabi is no piece of cake. Allow us to help you craft your itinerary from scratch, with some of the must-try experiences in the capital city:
Must-see attractions in Abu Dhabi
---
1

Sheik Zayed Grand Mosque

HISTORY •CULTURE •ARCHITECTURE
Everything about the mosque screams of magnificence. The gleaming white marble structure is one of the most beautiful mosques in the world and a sight to behold! The mosque has many unique elements that add up to its architectural beauty. You can even visit the mosque at night when you can see the amazing play of light and shadow along the pillars and ponds of the mosque.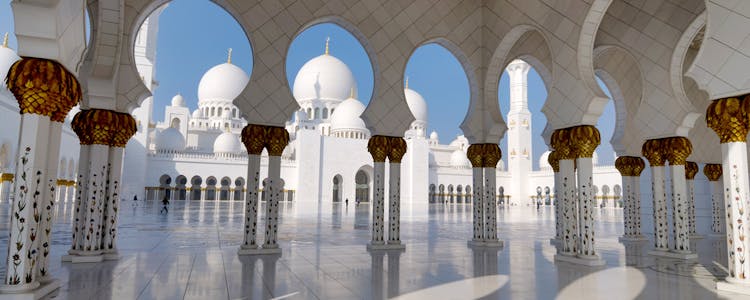 2

Emirates Palace

GRANDEUR •ARCHITECTURE
The Emirates Palace is actually a 7 star hotel that is built along a private beach and is set amidst 85 hectares of verdant lawns and gardens. The palace has 114 domes, the Grand Ballroom and palace auditorium. The opulent brown architecture resembles the desert sands and is a perfect backdrop for your photographs.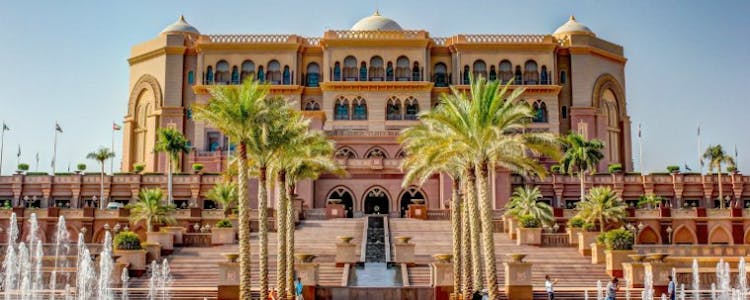 3

UAE Heritage Village

GRANDEUR •ARCHITECTURE
The Heritage village provides travelers an insight into this desert life through the unique village setup. The Village is a reconstruction of a traditional oasis village replete with goat hair tents and the falaj irrigation system. There are live workshops where you can see artisans demonstrate traditional skills like metalwork and pottery.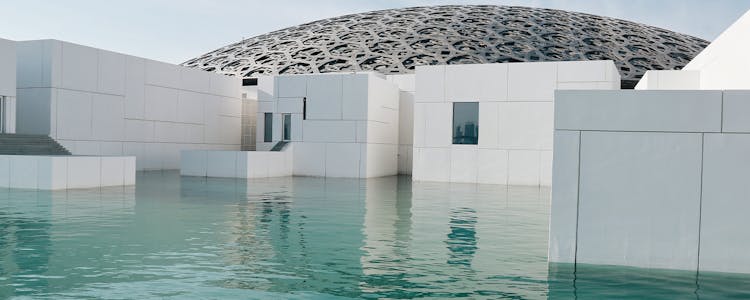 4

Desert Safari Experiences

CULTURE •ADVENTURE
The iconic image of camels ambling along the desert dunes is what strikes you when you think of a desert! The desert right outside Abu Dhabi offers a plethora of activities for all kinds of travelers. These safaris usually include a session on dune bashing. Tucked comfortably in a 4x4, you will be driven across the desert on a roller-coaster ride over the dunes.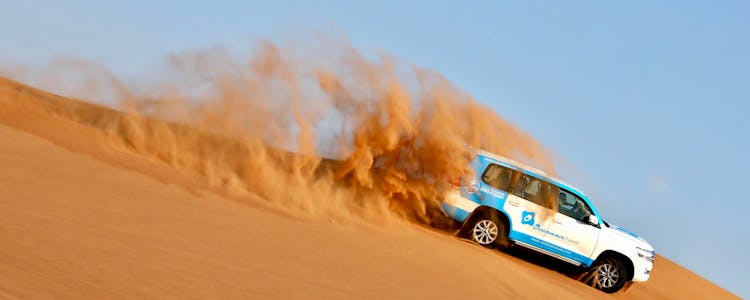 5

The Corniche

SIGHTSEEING •CULTURE
This waterfront is a public road lined with parks, walkways and cycle paths. It has a spectacular backdrop of the Abu Dhabi skyline and the blue waters in the front. In fact the Corniche beach is given the Blue Flag status which is an eco-label for beaches that guarantees safe and clean bathing water. If you are short on time then you can even take the Abu Dhabi sightseeing tour which will cover the Corniche, Heritage Village and Sheikh Zayed Mosque.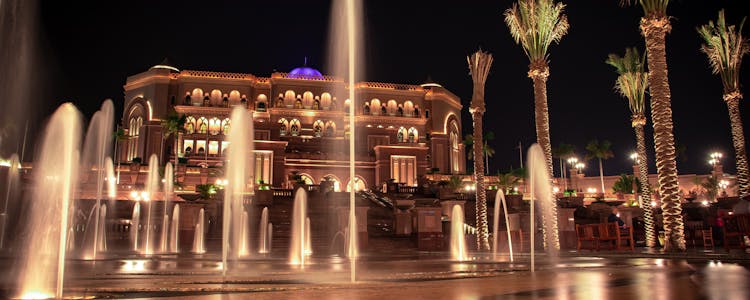 Is 1 Day Enough To Experience Abu Dhabi?
---
If you're in Dubai for more than 4 days, then it makes sense to spend a night in Abu Dhabi and experience its offerings further on the next day.
If you spend your first day sightseeing and visiting the cultural hotspots of the city, you can spend the night in the city and experience Yas Island the following day. With the exhilarating Ferrari World and the ever-enchanting Yas Waterworld, you can enjoy a day of fun and frolic at these two parks. If you aren't visiting any other theme park in Dubai, then you should definitely not miss these two Yas Island theme parks.
Fancy extending your day trip to Abu Dhabi by a day?
---
We recommend you spend a whole day at Yas Island, to explore the major attractions in an unrushed manner.
6

Yas Waterworld

WATERPARK •ADVENTURE
If you are planning for day trips from Dubai with your family then you have to include the Yas Waterworld theme park! It is one of the world's top 10 water parks and is spread across 37 acres. The water park has 45 rides which includes the world's first hydromagnetic tornado waterslide! This is one place where every member of the family is guaranteed to have a jolly good time!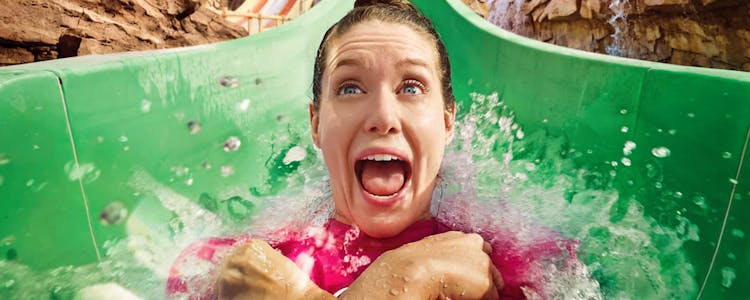 7

Ferrari World

THEME PARK •ADVENTURE
The biggest attraction of Abu Dhabi region is the Ferrari World Abu Dhabi, located right next to the Formula One track and home to the first Ferrari World Theme Park. Of the 25 rides here, the most popular is Formula Rossa, the fastest roller-coaster in the world that will catapult you from 0-62mph in 2 seconds. This popular destination is most enjoyed by car enthusiasts and speed freaks.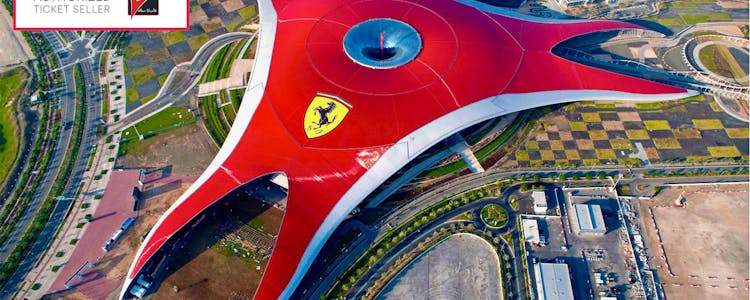 If you're definitely visiting Yas Island and wish to hit both attractions together, we recommend you buy the combo ticket of both Yas Waterworld and Ferrari World.
Ways to Travel from Dubai to Abu Dhabi
---
Abu Dhabi is about 140 Kilometers (87 miles) from Dubai and can be reached within 1.5 hours by car. The drive is pretty smooth with great views of both metropolises. Here are all your travel options:
| Mode of Travel | Time | Cost | Best For |
| --- | --- | --- | --- |
| Bus | 2 hours 30 minutes | from AED 75 | Budget travel |
| Car | 1 hour 30 minutes | AED 300-370 (rental) | Quickest journey |
| Organised Tour | 9-10 hours roundtrip | AED 330 (all-inclusive) | Seamless journey |
Dubai to Abu Dhabi by Bus
To get to Abu Dhabi from Dubai by bus, there are 3 operational bus services: E100, E101 & E102- all operated by Dubai Roads & Transport Authoritty (RTA). They depart from Al Ghubaiba & Ibn Battuta bus stations in Dubai and drop you off at Abu Dhabi central station & Mussafah Shabiya bus station. To learn more about timings and departure points, click here.
Dubai to Abu Dhabi by Car
Hiring a car and driving down on your own is a popular transport choice. Driving in Dubai can be daunting, but once you're outside the city limits, it's quite straightforward. The easiest route out of Dubai follows Sheikh Zayed bin Sultan Street (E11 Highway). Just before Abu Dhabi airport, turn onto the E10 Highway or Sheikh Zayed bin Sultan Street which will take you to the central city.
TIP: Download the Smart Roads app from the RTA website to help navigate your way out of the city (better choice than Google maps).
TOLLS: All main routes have toll fees (4 AED). While renting a car, make sure it has a "salik" sticket tag that pays the toll fee automatically.
Dubai to Abu Dhabi by Private Tour
Hiring your own car and driving to Abu Dhabi from Dubai sounds exciting, but there are a thousand things you'll need to take care of on your own. If you're short on time in Dubai and don't want to waste time worrying about the travel details, book a private tour from Dubai to Abu Dhabi. This way, you'll get to enjoy the sights around you while being escorted by a local tour guide.
Best Time To Visit Abu Dhabi
---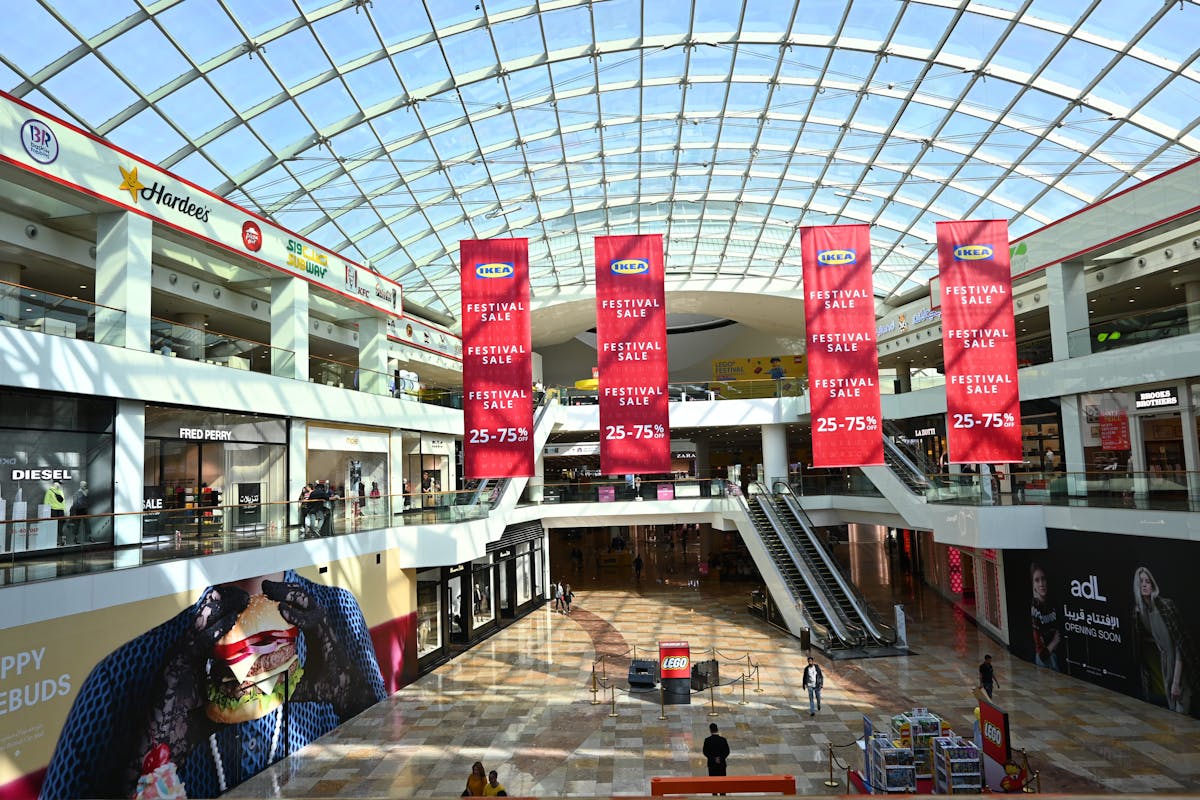 Each year, a host of glamorous events are lined up between October and late March in Abu Dhabi. The Abu Dhabi Film Festival, Abu Dhabi Shopping Festival, and National Day Festival are just a few of the enticing events in the winter months. A celebration of visual arts, literature, and music is organized by the Abu Dhabi Music and Arts Foundation in mid-March. Tourist crowds begin to thin by the end of February and early March. The winter months offer the most pleasant weather with temperatures ranging from 79°F (26°C) to 62.5°F (17°C).
If you are traveling on a budget, you can consider visiting Abu Dhabi in April or May. The temperatures will tend to be on the higher side, especially in May, but hotel rates will be quite affordable. You can catch the Dance Festival, the Eid ul Fitr celebrations, and several sporting events between April and early June.
Where can I eat in Abu Dhabi?
---
In the midst of all the sightseeing, don't forget to refuel your bodies. Here are three of the eateries we recommend trying in Abu Dhabi: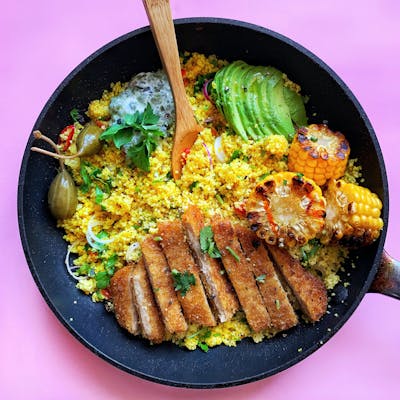 Mezlai
Located inside the Emirates Palace Hotel, Mezlai has the ambiance of a traditional Bedouin tent and a royal palace combined. You will find mouthwatering local delicacies including lamb machboos and couscous with saffron and garlic.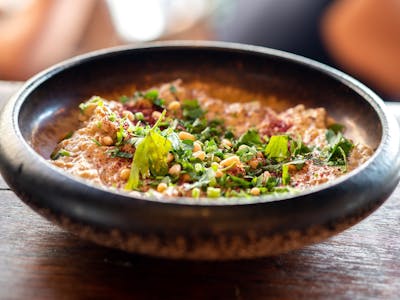 Saudi Kitchen
Embellished with traditional lanterns and woven textiles, Saudi Kitchen is an excellent place to sample the local cuisine. Treat your tastebuds to authentic Saudi dishes such as Mathlotha Chicken and a special dessert made with date syrup known as Luqaimat.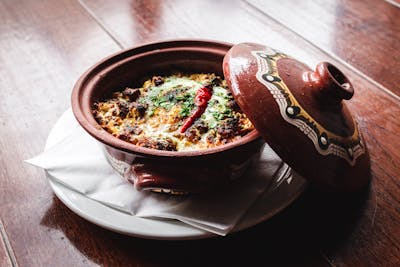 Meylas
An open kitchen with a more modern and informal ambiance, Meylas offers classic Middle Eastern dishes ranging from Salonat Badu (traditional Bedouin Stew) to rice or noodles garnished with cardamom and other spices. The recipes for some of these delicacies have been passed down from generation to generation over centuries!
Shopping in Abu Dhabi?
---
Abu Dhabi is a hub for souvenirs such as hand-woven carpets, Arabic perfumes, coffee pots, and dates.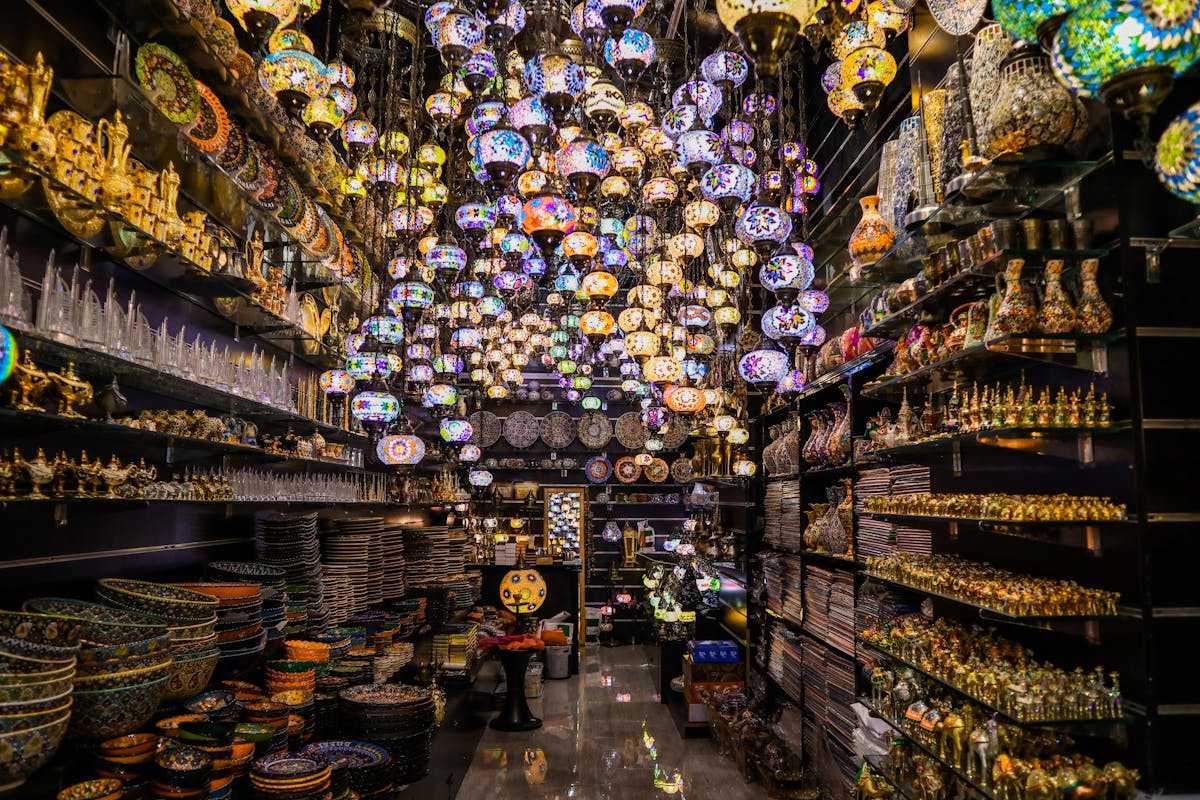 The Carpet Souk:
Spice up your living room with brilliantly woven silk or woolen carpets at the famous Carpet Souk of Abu Dhabi. Feel free to bargain for a good price. You can also request the seller to ship the carpet to your home country for a small fee.
Yas Perfume stores:
Special Arabic perfume made from the Agarwood resin extract (Oud) can be purchased at this store. You could also choose to buy the Oud separately as a block, and manually add it to a fragrance of your choice.
Central Market Souk:
Middle Eastern tableware has been a symbol of opulence for centuries. The Arabic coffee pot for brewing and serving coffee and tea is the epitome of Arabic craftsmanship. You can find these at the Central Market Souk or the Iranian Souk.
Abu Dhabi Dates Market:
Dates are shown to be highly nutritious, containing fiber, minerals, and rejuvenating antioxidants. Consider picking up these fine delights at the Abu Dhabi Dates Market or the Al Reef Dates Center.
Other day tour options from Dubai
---
That brings our Abu Dhabi day trip from Dubai question-answer guide to an end. We hope that you're now inspired to check Abu dhabi out on your trip to the UAE.
Have some more time on your hands? Want to check out other destinations you can whisk away to from Dubai? Check out our list of best day trips from Dubai, 8 destinations you'll want to cover at a go!
If you wish to learn more about Dubai instead, then check out our Dubai travel guide to get all your questions answered.
FAQs: Day Trip From Dubai To Abu Dhabi
---
Yes, you can do a full day trip from Dubai to Abu Dhabi. In fact, it is advisable to do so.
Some of the must-see attractions in Abu Dhabi are: Sheik Zayed Mosque, Emirates Palace, The Corniche, Ferrari World, Yas Waterworld, and more.
There are two preferred modes of transportation from Dubai to Abu Dhabi- by taxi or bus. By bus, you'll reach in 2.5 hours and the ticket costs approximately $8.6. By taxi, you'll reach in 2 hours, and pay at least $92 for your ride.
It is no longer mandatory to take a PCR test when you arrive in the Abu Dhabi International Airport.
The city of Abu Dhabi, a 1.5 hour drive away from Dubai, was named the world's safest city by Numbeo's Safe City Index.