If you've already soaked the sun in Dubai's many beaches, taken a dhow cruise on the Dubai Creek and climbed atop the world's tallest building - the Burj Khalifa, it's maybe time to head out of the glitzy city and discover what the other emirates have to offer. From the glamourous capital city of Abu Dhabi to the green emerald pools of Hatta, there's a lot you can do if you wander outside the perimeter of Dubai. Here are our top 7 picks for the best day trips from Dubai.
Best Day Trips From Dubai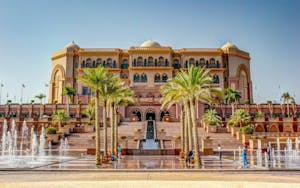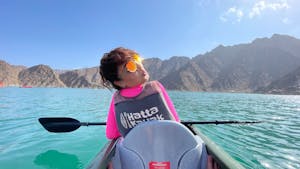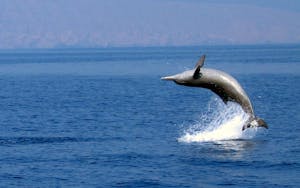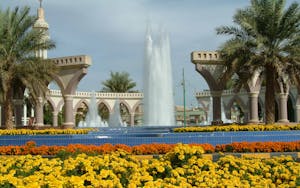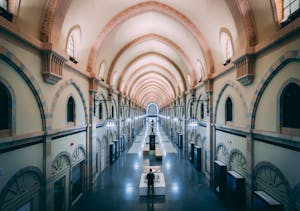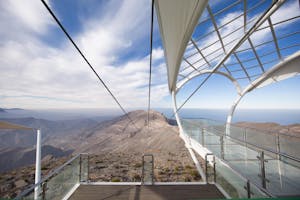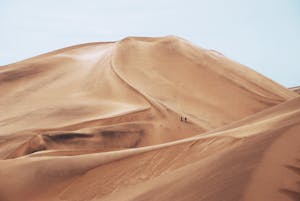 1

Abu Dhabi
Day Trips From Dubai
120 km
Distance
UAE's capital city of Abu Dhabi is the largest of the seven emirates, a heady mix of traditional and modern Arab architecture. From the Sheikh Zayed Mosque to Yas Island and Ferrari World, a day trip to Abu Dhabi will help you experience everything the city has to offer. Other noteable attractions in the city include the Emirates Palace Hotel, the Corniche, Louvre and the newly opened Jubail Mangrove Park. Among its many man-made islands, the Yas Island, Saadiyat Island and Sir Baniyas Island deserve a visit during your time here.
Best Time to Visit
November to February
Regional Importance
There's no leaving UAE without visiting the capital emirate, even if it's just for a day. The Founders Tomb is in Abu Dhabi and so is the presidential palace - Qasr Al Watan.
Ease of access
There is a transportation option for every budget to get from Dubai to Abu Dhabi. Buses, taxis, flights, helicopters or a serene 2 hour drive.
Lots to Explore
Abu Dhabi has its fair share of must-see attractions - Ferrari World, the Louvre and Sheikh Zayed Mosque to name a few. We'd recommend squeezing in 2 days to discover all of Abu Dhabi.
Bus (Cost - AED 30 | Duration - 2.5 hours)
If you close to in Bur Dubai, Satwa, or Karama in Dubai take the E100 bus from the Al Ghubaiba Bus Station to the Abu Dhabi Central Bus Station. If you are closer to Marina, JLT, or the JBR area in Dubai take the E101 bus from the Ibn Battuta Metro Station. The services run multiple times an hour, although the E100 service is slightly more frequent than the E101. The coaches are also air-conditioned, and offer free Wi-Fi, making it a comfortable journey.
Taxi (Cost - AED 250 | Duration - 2 hours)
Taking a taxi from Dubai to Abu Dhabi is an expensive affair, however, if an emergency arises - you have the option of hailing a taxi from anywhere in Dubai to anywhere in Abu Dhabi. Taxis in UAE accept debit card and NOL card payments. You can also use taxi booking apps like Uber and Careem, although rates may vary.
Car (Duration - 2 hours)
The most common route from Dubai to Abu Dhabi is via the Sheikh Zayed Road, or Highway E 11. Depending on where you enter the highway, it has at least one toll. Each toll typically costs AED 4. Organised Tour (Cost - AED 100 | Duration - 8 hours)
If you're looking to explore the city of Abu Dhabi with coach transfers to and fro Dubai, sightseeing, lunch and a great tour guide keeping you company through the day - an organised tour from Dubai to Abu Dhabi is a great choice. If you're a first timer in UAE, we'd recommend signing up for an organised tour and let the logistics be taken care of. You can sit back, relax and enjoy the sights and beauty of the emirates.
Airport coaches (Cost - Free | Duration - 2.5 hours)
If you've arrived in Dubai via Etihad you can avail the free airport coach transfer. The pick-up and drop-off point is the Etihad Travel Mall in Downtown Dubai.
Sheikh Zayed Grand Mosque
The gleaming white marble structure is one of the most beautiful mosques in the world and a sight to behold! And a trip to Abu Dhabi is incomplete without a visit to the Sheikh Zayed Mosque. The mosque has many unique elements that add up to its architectural beauty. But the exterior of the pristine white domes and imposing minarets itself is quite a sight.
The Corniche
Corniche is a waterfront promenade lined with parks, walkways, restaurants and cycle paths with a spectacular backdrop of the Abu Dhabi skyline and the clean blue waters to the front. Abu Dhabi's Corniche beach has been given the Blue Flag status which is an eco-label for beaches that guarantees safe and clean bathing water. Stroll along a stretch of the Corniche and feel the salty breeze in your hair.
Heritage Village
The Heritage Village provides travelers an insight into the desert life that bedouins in UAE led before the skyscrapers and glass structures came along. The Village is a reconstruction of a traditional oasis village replete with goat hair tents, the native falaj irrigation system and traditional artefacts used in the past. There are live workshops where you can see artisans demonstrate traditional skills like metalwork and pottery.
Louvre
The Louvre Abu Dhabi is a treasure trove of art and culture - twenty galleries that journey through twelve chronological chapters of world civilisation. Built on 64,000 sq.m of a man-made island, the massive Arabian counterpart of Paris's Louvre houses unique paintings, sculptures, and other artworks that have been sourced in collaboration with the Agence France Museums.
Qasr Al Watan
Qasr Al Watan, the Presidential Palace of Abu Dhabi is an exquisitely crafted tribute to Arabian heritage and artistry. It is more than just a palace, it is a fountain of knowledge on the enriching journey of Arabian history in a contemporary setting. A mysterious labyrinthine of white domes, opulent buildings and well manicured gardens that were off limits to the public is now open to the public, giving travelers a chance to step foot into the grandiose palace and revel in its architecture, precious manuscripts and sculptures
Yas Island
Spread over 25 KM, Yas Island Abu Dhabi is is one of the finest man-made wonder's and truly a 'leisure destination' as they call it. With an array of world-class entertainment hubs like Warner Bros, Ferrari World, Yas Waterworld, Yas Marina Circuit, Clymb - there's no dearth of fun here! Activities aside, Yas Island is home to an array of opulent hotels like the Yas Viceroy, Crowne Plaza, Rotana etc. You also have the Yas Mall, a one stop destination for shopping, movies, arcades and fine restaurants.
Emirates Palace
The Emirates Palace, Abu Dhabi is one of the few 7 star hotels in the world, a true world of opulence. This royal offering is decked with 394 rooms and suites and features 114 domes gilded in marble and gold. When the setting sun shines on the vast surface area of the hotel - it resembles a striking image in gold. For a quick taste of luxury and a glimpse of the different parts of this palatial hotel, you can sign up for an Emirates Palace tour.
Top experiences in Abu Dhabi
2

Hatta
Day Trips From Dubai
130 km
Distance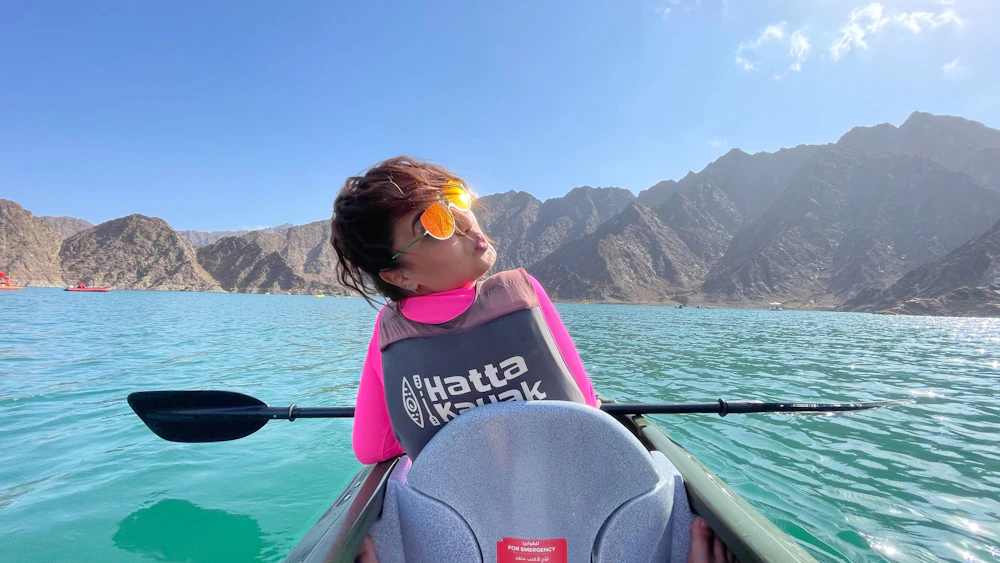 An hour's drive out of Dubai leads you to the aesthetic mountain ranges and emerald green rock pools of Hatta. Set off on an unplanned bike ride or battle the waves on a colourful kayak, there's a lot to do in Hatta for adventure seekers. To acquaint yourself to rural Emarati culture, take a walk down its heritage street and step into the Hatta Heritage Village for an insight into the glorious past of the mountain region. Hatta is also now home to the region's first "trailer hotel", where you can camp along the banks of Hatta Dam in luxuriously Hatta Sedr Trailers. Don't forget to check out the all new Hatta Wadi Hub - a fun set of challenging outdoor experiences - from zorbing to horse backing riding and axe throwing!
Best Time to Visit
November to February
Adventure Hub
Hatta is synonymous with adventure among locals in UAE. Be it off-roading, kayaking, ziplining, zorbing, mountain biking or a mountain safari - Hatta has it all!
Scenic Drive
The drive from Dubai to Hatta exposes you to a different terrain in UAE. Rugged and craggy greyish-brown mountains on either side of the road stretching for miles dotted by lush oases ever frequently.
Offbeat
If you're looking for an offbeat experience, Hatta is where you should head. With the only glamping facility in the emirate, state of the art spas and a host of adventurous activities at the Hatta Wadi Hub and Hatta Drop-in, Hatta is the perfect example of luxury meets outdoors.
Bus
Bus number E16 from Dubai's Sabkha bus station to Hatta Bus Station 1 will take you around 3 hours. Bus fare typically costs AED 2.
Car
A 1.5 hour drive away from Dubai, Hatta is located 130 kilometers away from the city. Take the S112, Maliha road from Dubai and follow E-102 route towards Hatta for 90 minutes. A typical car rental in Dubai will charge you around AED 110 a day.
Hatta Heritage Village
Get a chance to see age-old watchtowers, mosques and forts that were constructed years back in the village of Hatta. Restored in 2001, the Hatta Heritage Village is treasure trove of traditional artefacts, weapons, furnishings, clothing and vessels of the bedouin tribes who lived in the rugged mountains of Hatta.
Hatta Hill Park
Developed by the Dubai Municipality for recreational and environmental reasons, the Hatta Hill Park is a lush greentop with a terrific view of the mountains surrounding Hatta. Set up a barbecue picnic and enjoy the crisp mountain air with your family at the Hatta Hill Park.
Mountain Safari & Biking
Experience the rugged ranges of Hatta first hand with a challenging mountain safari or a mountain bike and traverse the rocky ranges of Hatta. Most adventures start from the Wadi trails, crossing the dried river beds of Hatta and finally ends near the freshwater emerald pools. Feel free to take a dip in the pools!
Glamping In Hatta
The region's first "trailer hotel" the Hatta Sedr Trailer, better known as glamping spots these days is open along the banks of Hatta Dam. If you're not much of a glamper, you can also opt to stay at the Hatta Damani Lodges featuring cosy purpose-built cabins closeby.
Hatta Wadi Hub & Hatta Drop-In
For an additional dose of adrenaline rush, head to the Hatta Wadi Hub or Hatta Drop -in. You can enjoy a range of adrenaline pumping activities like downhill carting, a human sling shot, axe throwing, archery, adventure rope courses, zip lines, and a lot more. Right next door the Wadi Hub is the the Hatta Drop-In -"water jump park" with crazy slides and intriguing "drop-in donuts". You can also go zorbing here, a chance to roll down a hill in a giant transparent orb. It's unlimited fun here!
3

Musandam
Day Trips From Dubai
155 km
Distance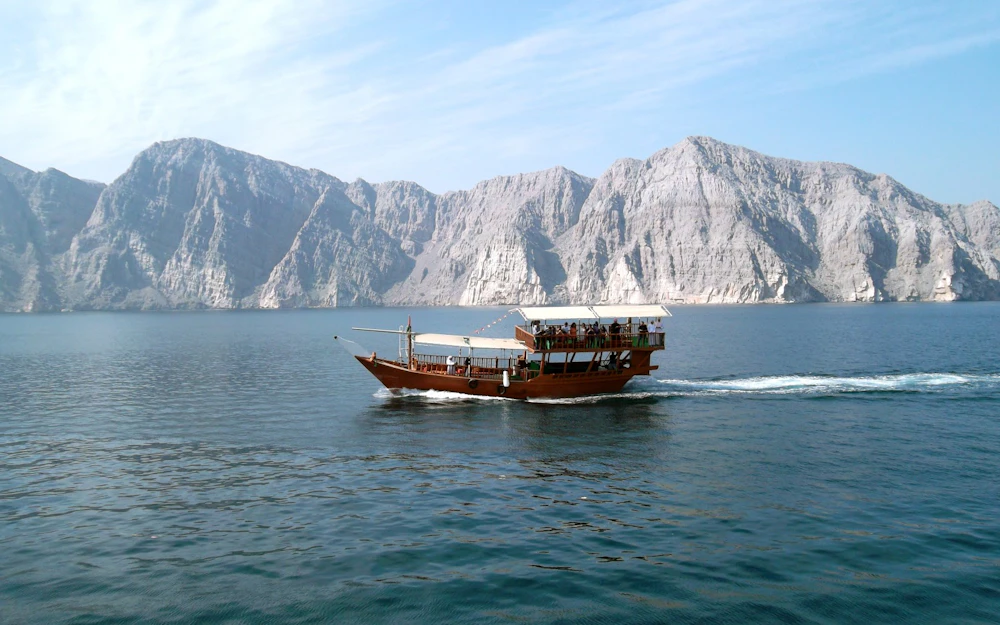 Musandam is where the mountains meet the ocean, a breath-taking quaint coastal villages with an eclectic culture, vibrant local markets, historic forts and towns along with an abundant aquatic wildlife. Though it is geographically a part of Oman, it lies in close proximity to Dubai and hence one of the most popular weekend getaways from the city life. Thanks to its picturesque landscapes, Musandam is often hailed as the 'Norway of Arabia' - a spectacular combination of coastal indulgence and the magic of mountains.
Best Time to Visit
November to February
Scenic Beauty
Musandam is nestled among deep beautiful fjords, tranquil blue waters and the mighty red Hajar Mountains - a landscape like no other.
Omani hospitality onboard a dhow
A dhow cruise ride against the idyllic backdrop of Musandam is the cherry on top. These dhow cruise rides are also a chance to experience the Omani hospitality, replete with unlimited refreshments and a sumptuous spread of buffet lunch. The charming traditional dhows dotting the waters makes for the perfect environment for relaxation and rejuvenation.
Water activities galore
One can indulge in a bunch of water sports on the sparkling waters of Musandam - snorkelling, canoeing, kayaking and swimming.
Car
The best (and only) way to travel from Dubai to Khasab, Musandam is via car. The road from Dubai to Musandam is pretty straightforward. The route you will be following is Dubai - Sharjah - Ras Al Khaimah. At Ras Al Khaimah, drive on to the Cement Factory road which has road signs that direct you to Oman.
Since Musandam is geographically a part of Oman, you'll need a visa to cross the border. The crossing posts for UAE and Oman at Al'Darah are right next to each and the border processing time can be accounted for 20-30 minutes.Oman visit visa is AED 85 for both UAE visa and UAE tourist via holders and can be obtained on arrival from border and can be applied online at Oman E-visa website. You can pay by credit card, debit card or cash to the get visa from border.
Organised Tour
This is one of the most preferred ways to travel from Dubai to Musandam . Sign up for an organized tour and enjoy a hassle free getaway. Your visa processing, dhow cruise and travel to and from Musandam will be taken care of. All you have to do is sit back and enjoy the Omani landscape!
Heritage and History of Musandam
In towns like Khasab and Bukha of Musandam, one can witness the rich heritage of local tribes - old forts with unique architecture, a traditional hand mill and the house of locks which were vaults for precious belongings of the tribes. The museum also showcases weapons, clothes, gems and jewellery of the Hajar tribes. The Khasab Fort has restaurants serving Lebanese, Omani, and Indian cuisines.
Dhow Cruise
Hop aboard an Omani Dhow cruise and glide along the crystal blue waters of the Strait of Hormuz, contrasting the imposing mountains. Enjoy unlimited refreshments and a traditional buffet spread for lunch and if you're lucky, you might even spot a pod of dolphins swimming alongside your dhow!
Snorkelling & Diving
The Musandam coastline has been carved through the centuries and has created shallow caves and fissures underneath the mountains dotting the coast. Deep dive and snorkel through the beautiful natural reef teeming with sea creatures - a refreshingly delightful experience. Even if you don't know swimming, you can snorkel under the guidance of instructors and float on the blue waters. If you are PADI certified diver, you can also dive in and explore the secrets of the ocean.
Fishing & Kayaking
Fan of fishing? Musandam is just the right place. Relax and forget the ticking clock as you hop onboard a boat and go fishing! You can also fish from your dhow and if you get lucky catch one for the trip home! You can also kayak or canoe and explore the overhanging cliffs of the mountains. The crystal clear waters are very inviting and you might find yourself jumping in to cool off after a day of adventure!
4

Al Ain
Day Trips From Dubai
147 km
Distance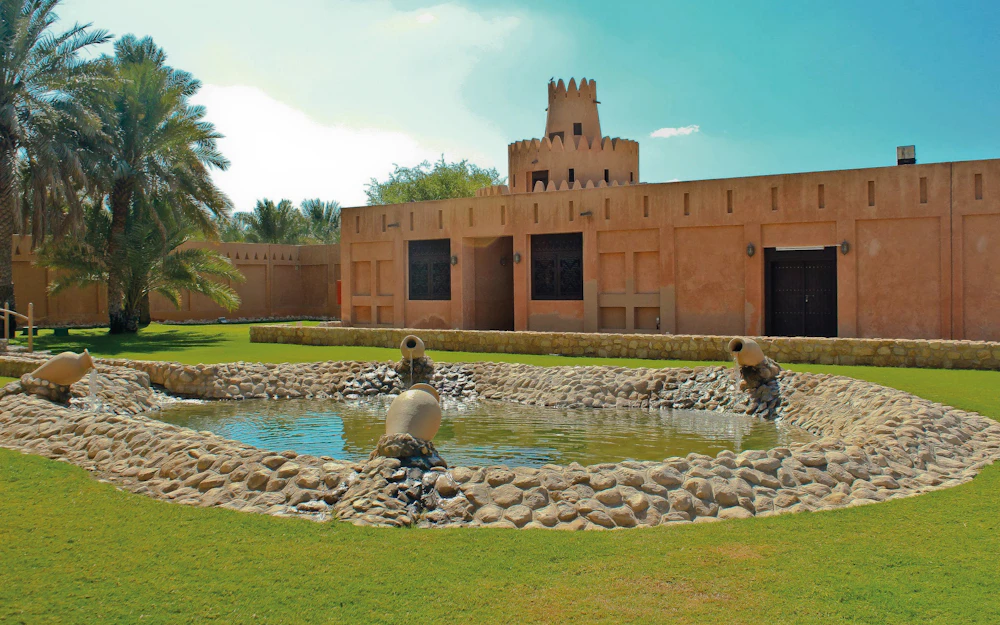 Walking beneath lines of fruited date palm, listening to the babbling of a nearby hot spring and exploring the Jahili Fortress which houses UAE's oldest museum are all experiences exclusive to Al Ain. Nicknamed "The Garden City", this tranquil city of tall trees and quiet walled lanes - a modern age oasis is a popular getaway destination for locals and tourists alike. The Al Ain Zoo is a favourite among kids and views from Jebel Hafeet, the second tallest peak in the Emirates is a sight to behold.
Best Time to Visit
November to February
Animal Haven
From the Al Ain Camel Souk, UAE's biggest camel market where you can pet super-cute baby camels to the Al Ain Zoo where you have Arabian oryx, big-horned Barbary sheep and African gazelles - Al Ain is an animal lovers happy place.
Landscape & Views
Al Ain's called the Garden City for a reason. Blessed with bountiful greenery, unlike most of UAE, the greenery here is soothing and simply lush. Climb atop the Jebel Hafeet and you'll have a panoramic view of this oasis. Keep your cameras ready!
Natural Hot Springs
Hot Springs are a good enough reason to go just about anywhere! After a day's adventure, dip your feet in these hot springs and relax. It's absolutely free and you can sit as long as you'd like!
Bus (Cost - AED 25 | Duration - 2.5 hours)
Bus E201 departs from Al Ghubaiba bus station in Deira, Dubai every 30 minutes and terminates at Al Ain Central Bus Station.
Taxi (Cost - AED 250 | Duration - 2 hours)
Taking a taxi from Dubai to Al Ain is an expensive affair, however, you have the option of hailing a taxi from anywhere in Dubai to anywhere in Al Ain.
Taxis in UAE accept debit card and NOL card payments.
You can also use taxi booking apps like Uber and Careem, although rates may vary.
Drive (Duration - 1.5 hours)
The most common route from Dubai to Al Ain is via the Al Ain Rd/E66.
There are clear signboards throughout the journey or you can use the GPS to help you navigate better
Organised Tour (Cost - AED 100 | Duration - 8 hours)
If you're looking to explore the Al Ain with coach transfers to and fro Dubai, sightseeing, lunch and a great tour guide and entrance tickets to prime attractions - an organised tour from Dubai to Al Ain is a great choice. If you're a first timer in UAE, we'd recommend signing up for an organised tour and let the logistics be taken care of. You can sit back, relax and enjoy the sights and beauty of the Al Ain.
Minibus ( Cost - AED 20 |Duration - 1 hour 45 minutes)
Al Ghazal minibuses are available every 40 minutes from Al Ghubaiba bus station.
The minibus service starts from 05:40 am with intermittent services until 11:40 pm.
Al Ain Zoo
A family-friendly reserve famous for its research facilities and acclaimed breeding program for endangered species, the Al Ain Zoo is home to a diverse range of animals. Arabian oryx, big-horned Barbary sheep, African gazelles, giraffes, rhinos, hippos, monkeys, lions, tigers, pumas, leopards and jaguars to name a few. Some of the highlights include giraffe feedings, a walk-through lemur experience and the largest man-made safari trail in the world.
Jebel Hafeet
Rising 1,400 meters above the suburbs of Al Ain, Jebel Hafeet offers epic vistas views of the neighbouring lands of Al Ain, Abu Dhabi and Oman. Scramble to the top of the country's second highest peak and snap some unforgettable views of the seemingly endless desert. In the vicinity, you'll find Bronze Age tombs where archeologists have unearthed 5,000-year-old ceramic and copper artefacts. The 12 km hairpin drive to the summit is a testing, yet fun one. The uphill road is also a particular favorite for cyclists who relish mile after mile of 8% inclines under a sweltering Arabian sun.
Green Mubazzarah
At the foothills of Jebel Hafeet, you'll find a stream trickling by. It's no ordinary stream - its a natural hot spring! Dip your feet for a few therapeutic hours and enjoy your commune with nature. The lush greenery around and never ending rows of palm trees is all the shade you need for hours of feet soaking!
Al Jahili Fort
The Al Jahili Fort was rehabbed in 2007 and now houses a cultural center and permanent exhibit about Wilfred Thesiger. Twenty odd minutes should suffice here, after which you can head to the Al Ain National Museum and Al Ain Palace Museum for your dose of historic fix.
Camel Souk
Al Ain's Camel Souk is a wonderful immersion of traditional Arab culture. From young Arabian camels that might grow up to be racers to impressive adult camels grown to breed, the market is a one-of-a-kind experience and glimpse into a treasured part of Emirati heritage. You can attend mock camel races, feed camels and see the way of life among locals and lifestock in here.
5

Sharjah
Day Trips From Dubai
27 km
Distance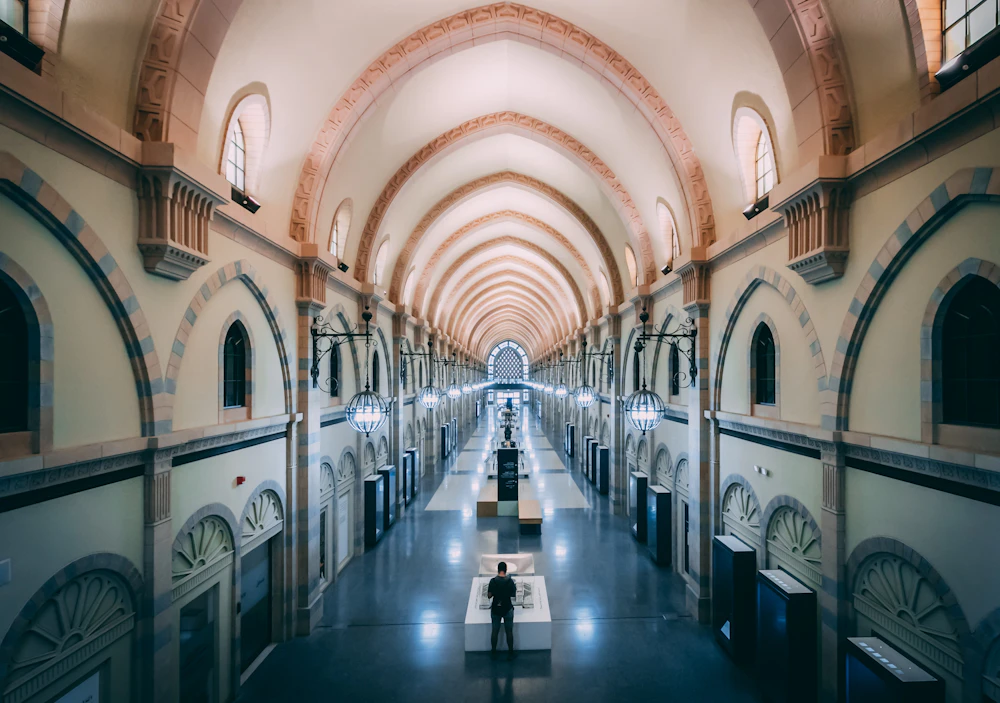 Though it may not be as glitzy as Dubai, the neighbouring emirate of Sharjah, nicknamed the Cultural Capital of UAE has a lot to offer. An interesting melange of sights, experiences, and activities - Sharjah is a true melting pot of cultures. For museum and art lovers, Sharjah is crammed full of excellent sightseeing opportunities. Since it is near the Persian Gulf, there is much to do by the shore too!
Best Time to Visit
November to February
Melting pot of art and culture
Exploring the emirate of Sharjah is like taking a walk through the timeless souks, awe-inspiring museums, elegant mosques, romantic waterfront promenade, and elegant heritage buildings.
Blue Souq
The tourist magnet of Sharjah is undoubtedly the Blue Souq. Sharjah's Central Market adorned with intricate blue tile work on the exterior has given it the nickname the Blue Souk. With more than 600 shops where shoppers can find anything from gold to electronics, the souq is a favourite in Sharjah.
Museums galore
From the Sharjah Archaeology Museum to the Maraya Art Center and Sharjah Science Museum; there's a lot for museums buffs in Sharjah.
Metro + Bus (Cost - AED 10 | Duration - 1 hour)
Take the Red line metro from Al Nakheel Station to Deira City Center.
Transfer to bus E307 at Deira City Center Bus Station and get off at Sharjah Jumbo station.
You can also take the Red line metro to Union Square Metro Station, transfer to bus E400 at the Union Bus Stand and get dropped at Sharjah Jumbo. This is a slightly longer route.
Taxi (Cost - AED 90 | Duration - 30 min)
Taking a taxi from Dubai to Sharjah is an expensive affair, however, you have the option of hailing a taxi from anywhere in Dubai to anywhere in Sharjah.
Taxis in UAE accept debit card and NOL card payments.
You can also use taxi booking apps like Uber and Careem, although rates may vary.
Drive (Duration - 1.5 hours)
The most common route from Dubai to Sharjah is via the E11.
There are clear signboards throughout the journey or you can use the GPS to help you navigate better.
Blue Souk
The most photographed building in Sharjah, the Blue Souk is the city's central market decked with an exquisite blue-tile patterned exterior. This huge mall cum market is spread across 6 buildings with as many as 600 shops. From electronics, to handicrafts, intricately woven carpets, and antique jewellery, you can shop anything and everything here.
Sharjah Archaeology Museum
The Sharjah Archaeology Museum houses artefacts that can be dated to as far back as the Stone Age. Expect to find jewellery, pottery, and household goods, each telling the story of the city and its regional, centuries before the sky-scrapers went up!
Eye of the Emirates Wheel
In the picturesque waterfront promenade of Al Qanat Qasba, the Eye of the Emirates Wheel is the highlight. This large Ferris wheel provides fantastic views of the high rises in the city standing tall against the scintillating waters of the Persian Gulf. For an aerial view of the emirate, and even a microscopic view of Dubai, the Emirates Wheel is your answer.
Sharjah Heritage Area
The Sharjah Heritage Area is a blast from the past - a combination of several museums namely the Sharjah Heritage Museum, Al Hisn Sharjah, Al Midfaa House, and Hisn Fort that encompass different aspects of the region's culture. You can also indulge in some souvenir shopping at the Souk Al Arsah, a large courtyard in the middle with several small stalls selling handmade goods.
Maraya Art Center
The Maraya Art Center is one of the most famous art galleries in UAE, located in the center of Al Qanat Qasba. With art curation by Giuseppe Moscatello, an Italian artist who designated three floors of exhibitions, expect to walk through various themed exhibitions hosted throughout the year. Contemporary art lovers must make a visit to Maraya Art Center.
Al Noor Mosque
This beautiful Ottoman style mosque overlooking the Khalid lagoon is the most magnificent mosque among the 600 mosques in Sharjah. It also happens to be the only mosque in Sharjah open to non-muslims. Soaring majestically over the city's skyline with its domes and minarets, a visit to the Al Noor Mosque is great opportunity to learn a little about Islamic beliefs and digging deeper into the Islamic heritage of UAE.
Al Qasba
This beautiful waterfront quarter in the heart of the city is the perfect spot for hanging out in the evening. Designed like a Venetian canal fringed on either sides with restaurants, cafes, galleries, shops and indoor play areas - Al Qasba is ideal for a long stroll. Head here also for boat rides, which launch out of the canal and into the bay to see the city lights from the glittering waters.
6

Jebel Jais
Day Trips From Dubai
158 km
DISTANCE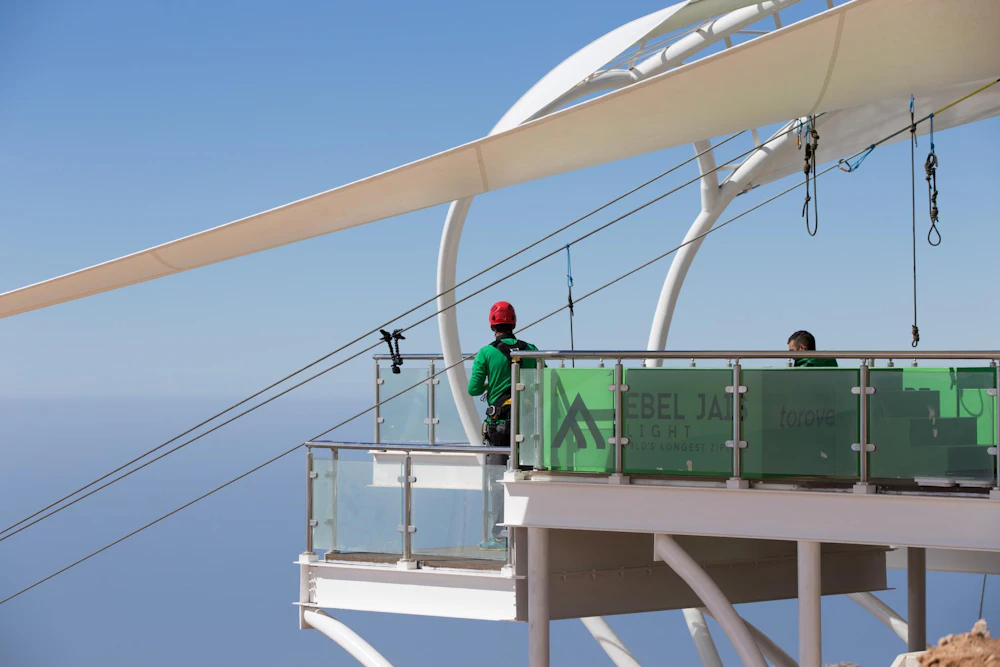 The world's longest zipline in just 2 hours north of Dubai, in the rocky mountains of Jebel Jais. Scaling 1,934 meters, Jebel Jais is the tallest mountain in the Hajar range situated in the northern most emirate of Ras Al Khaimah. While the zipline is the star attraction, the mountains of Jebel Jais are a bikers favourite - with its winding roads flanked by a deep rugged valley. You can also indulge in bungee jumping, mountain climbing, Jebel Jais Sky Tour, Via Ferrata and even keep your kids entertained at the Jebel Jais Skating Rink.
Best Time to Visit
November to February
Adventure Hub
The Hajar mountains are the true hub of adventure. With ziplining,bungee jumping, via ferrata, moutain boking and a skating rink, you can choose your pick of adventure here!
World longest Zipline
The very fact that the world's longest zipline is just 2 hours from Dubai is reason enough to head to the Hajar mountains!
Explore the northern most emirate
Ras Al Khaimah is more raw and pristine, less commercialised and starkly different from the other emirates. On your way to Jebel Jais, make sure you drive around Ras Al Khaimah and get a feel of this emirate.
Luxury Shuttle (Cost - AED 30 | Duration - 2.5 hours)
If you're traveling from Dubai to Ras Al Khaimah, you can use the luxury shuttle that will drop you from Dubai Airport to Hotel Tulip in RAK.
The shuttle is equipped with free wifi and complimentary water bottles.
From Hotel Tulip in RAK, you can easily arrange for a cab or rent a car to Jebel Jais.
Metro + Bus + Taxi (Cost - varies | Duration - varies)
Onboard the Red Line at the Nakheel Metro Station and get off at the Dubai Deira Terminal.
Hop onto buses C-19, C19, or C26 and get off at Ras al Khaimah Bus Station.
Hail a taxi or uber from here to Jebel Jais
Note, this is a very roundabout, time consuming and expensive way to travel from Dubai to Jebel Jais.
Drive (Duration - 2 hours)
The most common route from Dubai to Jebel Jais is via the E311
There are clear signboards throughout the journey or you can use the GPS to help you navigate better.Jebel Jais has a free parking lot so if you drive up to the peak, you can park your car conveniently
Shuttle from Ras Al Khaimah (Cost - AED 25 | Duration - 1 hour)
Jebel Jais Tours is a shuttle transfer from Al Hamra and Al Marjan Island in Ras Al Khaimah to the UAE's highest mountain peak, Jebel Jais.
You must book a seat online in advance here. We advise booking a seat both ways in advance.
Jebel Jais Zipline
The Jebel Jais Flight is the longest zipline in the world and is over 2.7 km long. Zoom past stunning mountain views from a height of 1,680 meters above sea level at 120kph to 150kph for two-three minutes in a special harness fit for the experience.
Ice Skating Rink
Right in the heart of this mountain, you have an ice rink at 1300 meters above sea level that offers you to skate for as long as you want.This skating rink is the highest in UAE by virtue of being located on the country's tallest mountain.
Jebel Jais Via Ferrata
A Via Ferrata is a guided 1km route along the mountain that features fixed steel cables every 1 to 10 meters so climbers can be harnessed to it. The Via Ferrata experience involves a combination of walking, scrambling/climbing, and zip lining around a purpose-built course.
Camping
Outdoor camping in UAE is quickly picking up and Jebel Jais is a favourite. Pitch your tent and enjoy clear skies as you bask under a thousand stars. Many campers stay the night just to catch a glimpse of the rising sun over the rocky mountain. Keep in mind that bonfires should be made in fire pits and barbecues must be done on a grill, else you'll be charged a hefty fine.
Viewing Deck Park
The Jebel Jais mountain features some of the most scenic views in the region. The views of the winding road through the deep rocky canyon of the mountain is truly breathtaking and a unique experience. The Viewing Deck Park has seven viewing decks with twelve binoculars that visitors can use to view the stunning valleys of the mountain which is 1,250 meters above sea level. The park is open from 8 am to 8 pm on weekdays and 8 am to 11 pm on weekends and costs AED 5 for entry and tariff on parking is applicable (AED 5 for motorbikes, AED 20 for cars and AED 100 for buses or vans).
7

Rub Al Khali
Day Trips From Dubai
310 km
Distance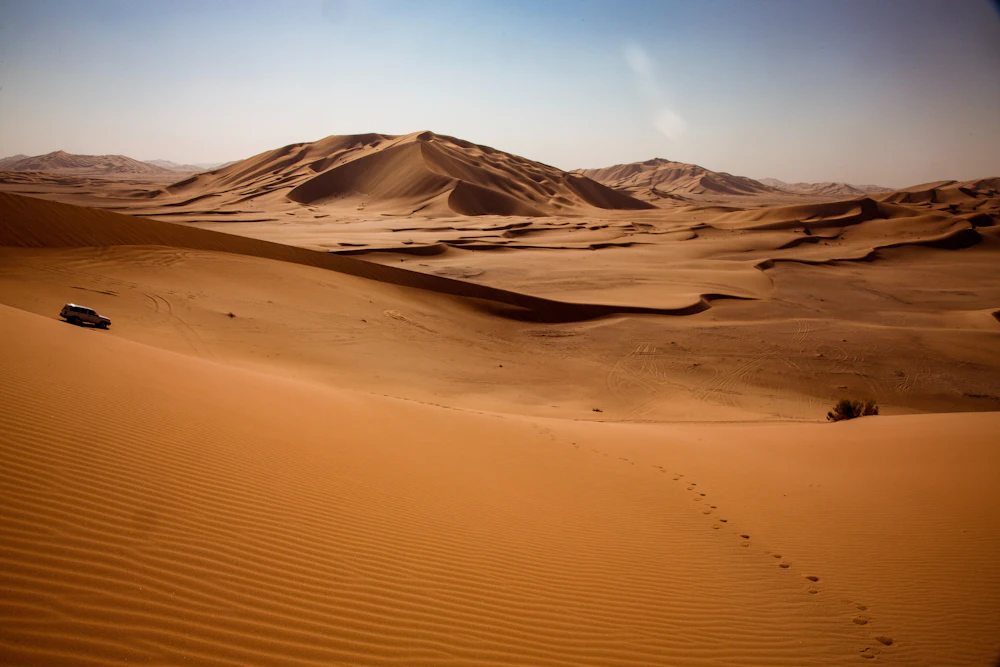 Stretching for over 255,000 square miles, the Rub' al Khali is the largest expanse of sand in the world, its skyscraping dunes and otherworldly salt flats crossing borders into four countries: Saudi Arabia, Yemen, Oman, and the United Arab Emirates. "Rub' al Khali" translates to "the Empty Quarter," and is a desert second only in size to the Sahara.
Best Time to Visit
November to February
Qasr Al Sarab Desert Resort
Run by the Anantara Group, this luxurious stay is a a veritable oasis in the middle of the desert. Architected like an old Arabian fortress town nestled in the valley of mountainous dunes, this is the perfect desert stay.
Slice of Desert Life
If you're staying in hotel, you can take part in in dune dawn walks, camel trekking and dune bashing, as well as falconry.
World's largest expanse of sand
While there are many deserts in UAE, Rub Al Khali is like no other.
The only way one can reach Rub Al Khali is via car.
Get on E11 from Dubai to Abu Dhabi.
Look out for Liwa Rd/Hameem St/E65 to Qasr Al Sarab Rd in Abu Dhabi and follow this road to reach the resort.
Qasr Al Sarab
"Qasr Al Sarab" translates to "mirage palace," a luxurious oasis with 154 rooms and 42 multi-bedroom villas. During the day, its dramatic dunes are astounding and the starry expanse of sky unmarred by city lights at night are simply mesmerising. Themed around a devotion to the original nomadic tradition of the region, saunter around the souk-style boutiques selling handicrafts from local merchants, and while away your day at the library is stocked with historic artefacts and thick tomes.
Falconry
Qasr Al Sarab is home to 9 falcons - the ultra-fast Peregrine and Saker species. During the months between October and April, guests are treated to displays of falconry just before sundown, when the birds demonstrate their speed—which can top 215 mph while diving to capture prey.
Desert Activities
Fat-tire biking, land sailing, camel trekking, archery, yoga, tennis, horseback riding, sunrise and sunset dune walks and trips to the Liwa Oasis - choose your poison of adventure during your dtay here.
Spa
The on-site spa treatment suites open to a view to the horizon - golden dunes stretching infinitely. The view beats the spa treatment for some.
Day Trips From Dubai - Compare Your Options
| Day Trips from Dubai | Distance | Duration | Category | Good For |
| --- | --- | --- | --- | --- |
| Sharjah | 27 KM | 25 Minutes | Shopping | Family, Couples |
| Abu Dhabi | 120 kms | 2 hours | Historic | Family, Couples |
| Hatta | 130 kms | 1.5 hours | Adventure | Family, Couples |
| Al Ain | 147 KM | 1.5 hours | Culture | Family, Couples |
| Musandam | 155 KM | 2 hours | Nature lovers | Family, Couples |
| Jebel Jais | 158 KM | 2 Hours | Adventure enthusiasts | Youngsters, Couples |
| Rub Al Khali | 310 KM | 3 Hours | Desert Adventure | Family, Couples |