February might be super cold in some parts of the world but in Dubai, it is one of those months that boast extremely pleasing weather conditions. This puts tourists as well as locals in a favorable position to go out and experience some of the city's fascinating attractions and events. From music-and-food festivals to adrenaline-pumping adventure sports to shopping extravaganzas, Dubai in February can enthrall you in more ways than you can imagine.
Even though it is winter, there's absolutely no need to be covered from head to toe in warm clothes. In fact, it's the time of the year when you're not bothered by the fact that you're living or staying in a desert city. Therefore, plan your days accordingly so that this month turns out to be a memorable one. Need a guide? That's what we're here for!
Why is Dubai in February a must-visit?
---
Favorable weather: This is the kind of weather you crave for, all year - a bright yet harmless winter sun coupled with clear skies. The weather obviously calls for a host of outdoor activities and yes, there's plenty in the city to be seen and experienced. Activities range from simple sightseeing to dhow cruises, desert safaris, skydiving, and many more!
A plethora of events and attractions: Dubai Food Festival, Dubai International Jazz Festival, Dubai Tennis Championships, and several other events make Dubai a must-visit during the month of February. You will also witness a partial revamp of offerings provided by the city's various attractions in order to keep tourists occupied throughout.
Reduced tourist influx: By February, most schools reopen and business resumes to a rapid extent, marking a reduced influx of family tourists. This, in turn, gives you a greater opportunity to explore the city to its fullest.
Dubai Weather in February
---
Dubai in February is one of the best times to visit the city - it's sunny, but not hot. The temperature lurks around a comfortable 20°C, with lows of 15°C and highs of 24°C. Expect about 8 hours of sunshine and a 16% chance of rain in Dubai in February.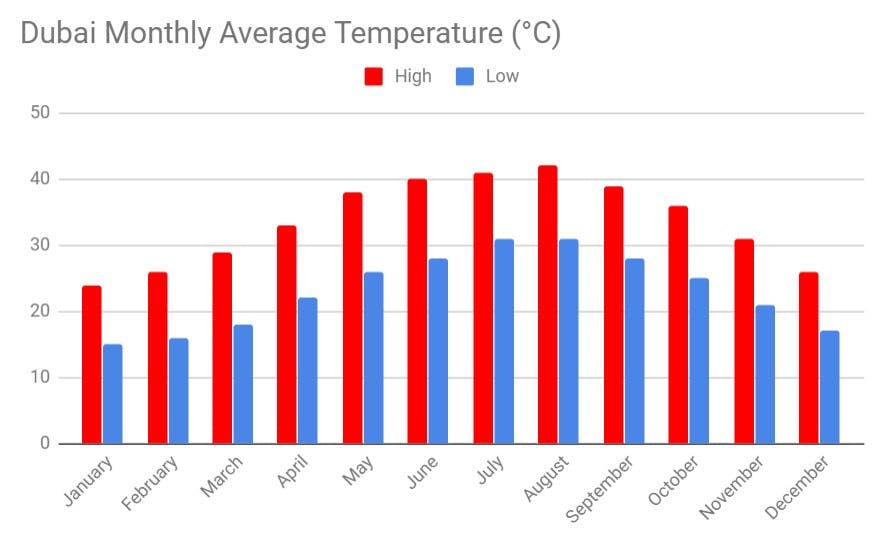 Dubai in February : Things to do
---
In light of COVID-19, a few attractions in Dubai have been temporarily suspended until further notice. Find out the live status for all major experiences through Headout's Attractions Reopening Tracker.
The Burj Khalifa, still the world's tallest structure, offers a view of the cosmopolitan city of Dubai unlike no other. Get to the observation deck and watch the pleasant skies of February add to the beauty of this city, rendering it one of the best times of the year for stunning views. Make sure that you're carrying your camera!
February Timings
Sunrise - 5:30 AM – 8:00 AM
At The Top – 8:30 AM – 11:00 PM

1 Sheikh Mohammed bin Rashid Blvd, Dubai
United Arab Emirates
Getting There ›
Dubai Garden Glow is back in its fourth season to fascinate tourists with its Wonderland-like aura. This exhibition features some of the most captivating light-and-sound arrangements in addition to spectacular music and visual entertainment. Covering various themes, these installations are simply bound to amaze each and every traveler.
February Timings
Daily, 4:00 PM – 11:00 PM (open till 12 AM on Fridays)
Zabeel Park, Gate No - 6 & 7 Area - B, Dubai
United Arab Emirates
Getting There ›
Standing at a height of 150 meters, the Dubai Frame, appropriately positioned at Zabeel Park, provides the perfect platform to witness the old, rustic side of the city (Deira and beyond) as well as the modern, swanky side of the city (Satwa, Jumeirah, and beyond). Head to the top of the frame for views that you'll never forget!
February Timings
Daily, 9:00 AM to 9:00 PM

Al Kifaf, Zabeel Park Jogging Track, Dubai
United Arab Emirates
Getting There ›
Another vintage Dubai attraction, Dubai Dolphinarium is located in Creek Park. This is Dubai's signature Dolphin show featuring a pod of dolphins that have got various tricks up their sleeve such as dancing, jumping through hoops, and even play ball. If you are looking for something more, enjoy shows that feature North Fur Seals as well as Exotic Birds. Craving something offbeat? Dolphin Planet also allows you to swim with the dolphins.
February Timings
Dolphin shows at 11:00 AM, 2:00 PM, 6:00 PM
How about a slice of the charming Dubai skyline alongside a meal served 50 meters off the ground? That is exactly what 'Dinner In The Sky' offers. This unique experience combines the thrills of an adventure, savoring delicious cuisines, and a truly fantabulous photo opp. Do not miss this on your next trip to Dubai!
February Timings
Daily from 2:00 PM – 11 PM

Experience the thrills of a lifetime when you tandem-skydive off a height of nearly 13,000 feet. The clear skies of February ensure panoramic views of the city of Dubai down below. Witness the Palm Jumeirah, Dubai Marina and more, as you float about in the sky before gliding your way down. Low humidity in the month of February also ensures refreshing, fun-filled, heart-stopping dives all day long. Do you need to hear more?
February Timings
Daily from 10:00 AM to Sunset
What's a trip to Dubai without being a part of one of the city's signature experiences? The weather in the month of February is simply the best for an activity like Desert Safari. Relish authentic Arabic cuisine at the desert camp, bash some sand dunes along the way, ride a camel or hop aboard an ATV/quad for a racy drive, and most of all, enjoy a stunning belly-dance.
February Timings
Daily from 8:30 AM to 10:00 PM, overnight Desert Safari – 4:00 PM – 9:00 AM
This is yet another experience that is unique to the Middle East. You hop aboard a traditional (yet fully equipped with modern facilities) dhow and cruise along the waters of the Creek or the Marina for a couple of hours. While on board, enjoy soothing Arabic music as well as delicious food and beverages. Adding to the experience is the pleasant weather in the month of February.
February Timings
Daily, 8:30 PM – 10:30 PM
Deira Creek Opposite Radisson Blue Hotel
Deira, Dubai, United Arab Emirates
Getting There ›
Make your way to Dubai Safari Park to explore the 119-hectare animal sanctuary. Discover five unique villages featuring wild animals brought in from various parts of the world including, Pygmy Hippo, Gorilla, Chimpanzee, Ostrich, Mouflon and many more that is definite treat to watch. Don't miss out on the interactive shows where you'll get a glimpse of the animal kingdom and learn all about their natural habitat as well.
February Timings
Daily from 9:00 AM - 5:00 PM
Head over to this award-winning water park spanning an area of 17 hectares, filled with adrenaline-pumping water slides and rides. Additionally, you can also experience a 700-meter stretching serene beach and swim with sharks and rays. Check out rides such as the 'Leap of Faith' and 'Poseidon's Revenge' when you're here. This is wholesome family fun at its absolute finest!
February Timings
Daily, 10:00 AM to 6:00 PM
Dubai in February : Events to Look Out For
---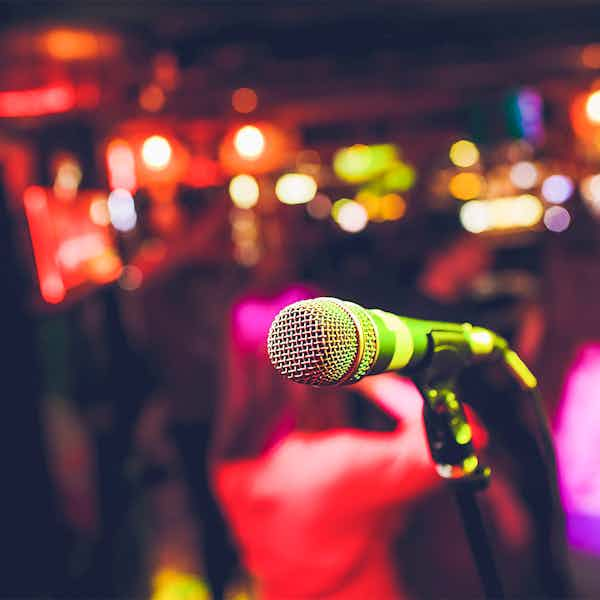 Kevin Hart - Live
22 February, 2023
Dubai, prepare yourself for a laugh attack! Kevin Hart is coming to town and it's sure to be an epic time. The world-renowned comedian is set to bring his hilarious comedy styling to the city like never before. Get ready for some side-splitting jokes and unforgettable memories as this comedy king takes over the stage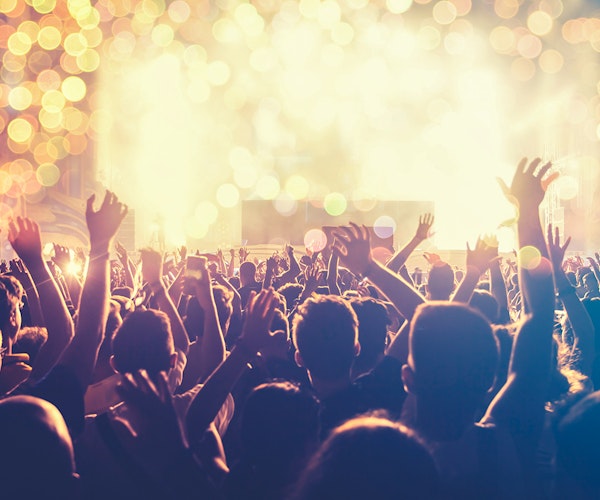 Jackson Wang - Live
4 February, 2023
The dazzlingly talented Jackson Wang is set to treat the audience of Dubai to one night only at the iconic Coca-Cola Arena on Saturday, 4 February 2023. Experience his incomparable showmanship as part of his spectacular Magic Man World Tour! Witness the King of K-pop as he performs hit songs from his albums, and show off his dance moves.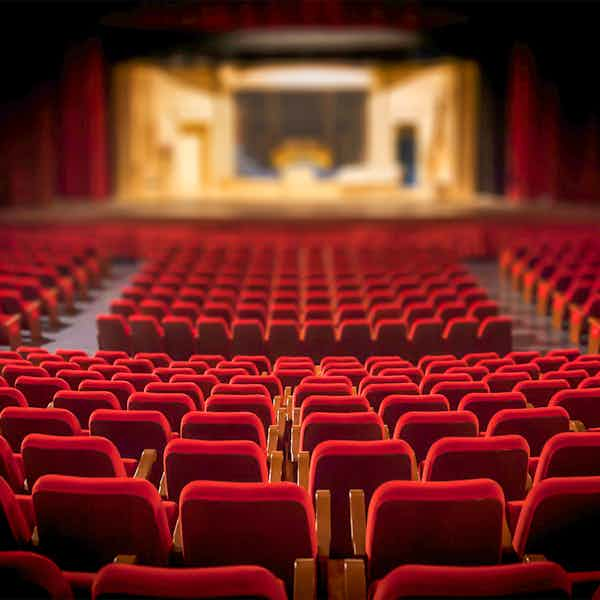 DreamWorks' Shrek The Musical
22 - 26 February, 2023
Get ready to be captivated by the Broadway Entertainment Group and Live Nation's presentation of Shrek The Musical, based on the Academy Award-winning DreamWorks movie! This enchanting stage show will bring everyone's beloved ogre to Dubai Opera for a series of performances between February 22nd - 26th 2023. Don't miss out on this memorable experience!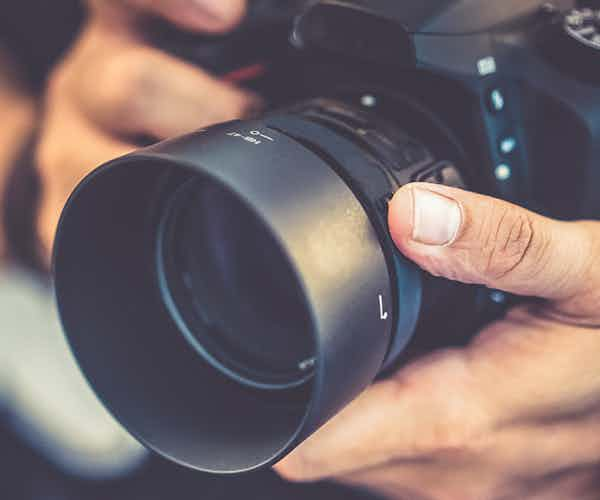 Xposure International Photography & Film Festival
9 - 15 Feburary, 2023
At the Xposure International Photography & Film Festival, network with some of the biggest names in photography, production, and picture editing. During this seven-day festival, you can attend dozens of talks, workshops, and focus groups while admiring over 1500 outstanding exhibits! Winners from each category will be able to proudly showcase their work during a special exhibition or screening at the end of the event.
Dubai in February : 5-day Itinerary
---
5 Days in Dubai Itinerary
Dubai February Essentials
---
Dubai Weather in February
February is, in fact, a great time of the year to visit Dubai as the temperatures range between 16°C and 26°C. The humidity levels are also very low, making sightseeing activities during the day a pleasant affair. Akin to a European summer, this month is perfect for outdoor activities. Expect the sun to be out for a good 10-12 hours.
Where to Stay in Dubai during February
Dubai is a city that caters to all kinds of tourists, ranging from solo backpackers to luxury seekers. Therefore, you can easily find accommodation best suited to your budget:
4 & 5 Star Hotels - Ritz Carlton Dubai JBR, Grosvenor House Dubai, Sheraton Dubai Creek, Ramada Jumeirah, One & Only The Palm, and Nikki Beach Resort & Spa.
Budget Hotels - Holiday Inn Express Safa Park, Citymax Bur Dubai, Arabian Park Hotel, Fortune Hotel Deira, Royal Ascot Hotel.
Hostels - At The Top, Dubai Beach Host, UAE Youth Hostel Association, Hey Beach, Central Dubai, Top of Marina.
What to Pack for Visiting Dubai in February
If you are planning a Dubai trip in the month of February, here's a summary of what all you'll need: outdoor accessories such as hats, shades/coolers, and a summer coat since it is going to be bright and partially sunny during the day; a pullover/sweater for the fully air-conditioned indoors; walking shoes, a pair of flip-flops (for the beach), and sufficient sun-screen. If a desert safari is part of your itinerary, carrying scarves would certainly help.
Getting Around Dubai in February
The Public Transport System in Dubai has undergone rapid development over recent times and provides tourists with multiple choices in terms of moving around/within the city. The public transport system is completely managed by the RTA and includes a good number of buses in addition to the Dubai Metro, Tram, and Marine Taxi.
While bus and metro (two lines - Green & Red, extensively covering major landmarks in the city) remain popular modes of public transport, the Dubai tram (11 stations between Al Sufouh and JBR) has found its share of takers as well. Water transport is also well managed with the RTA servicing 43 stations (through Dubai Water Taxi), and over 5 water routes (through Dubai Ferry).
Dubai in February - Must Try Delicacies
Fattoush
Try this traditional Middle-Eastern salad featuring a mix of lettuce, diced tomatoes, mint leaves, onion, garlic, lemon, cucumbers, and olive oil served over a toasted Levantine bread. This healthy and fully-vegan salad is one of our top recommendations!
Where to order: Zaroob, near World Trade Centre Metro station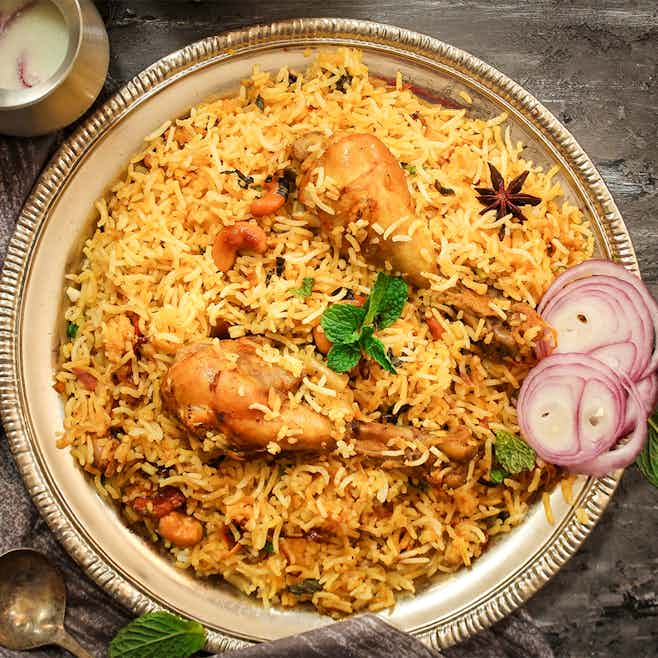 Kabsa
Originally from Saudi Arabia, Kabsa hails from a family of delicious mixed rice dishes. Kabsa includes a portion of long-grained rice blended with a selection of meats (such as chicken, mutton, or seafood) and vegetables. The aromatic Kabsa proves to the perfect comfort food for February.
Where to order: Azkadenya, MOE or Zafran, Mirdif City Centre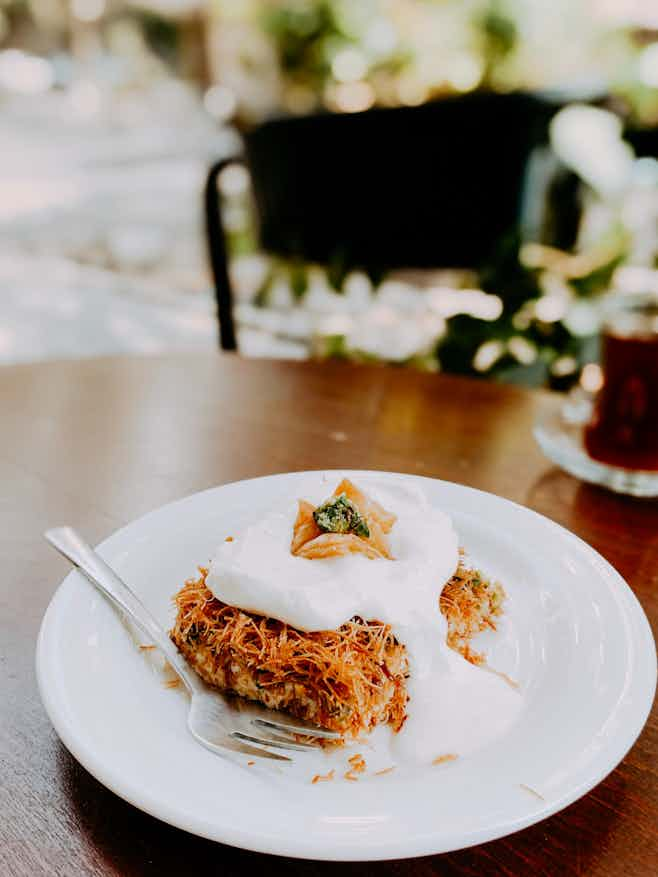 Kanafeh
Known to be the Queen of Arabian Desserts, Kanafeh is one of the region's finest. A sticky pastry made out of yummy sweet cheese or semolina dough, Kanafeh is best served with a rose-scented/sugar-based syrup and a generous sprinkling of chopped pistachios.
Where to order: Zam Zam Mandi, Al Karama or Feras Al Diyafa Sweets, Al Barsha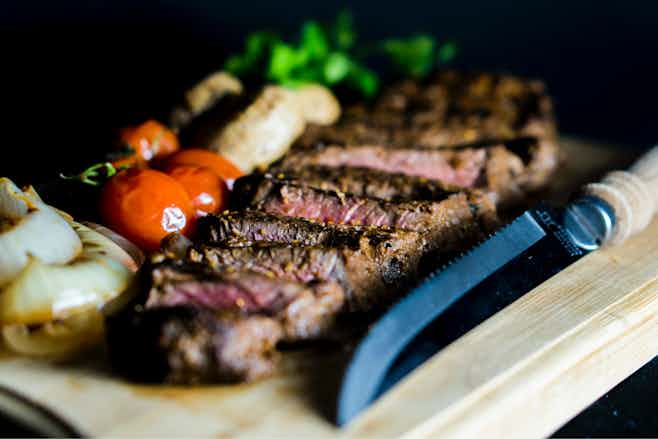 Shish Taouk
A traditional chicken shish kebab dish widely consumed in the Middle East, Shish Taouk can be found in almost all major restaurants in Dubai that specialize in Arabic cuisine. The dish comprises of boneless cubes of chicken marinated in yogurt or tomato puree, skewered and grilled. It can be eaten as a standalone platter or in the form of a sandwich.
Where to order: Al Hallab, Dubai Mall or Al Halabi, MOE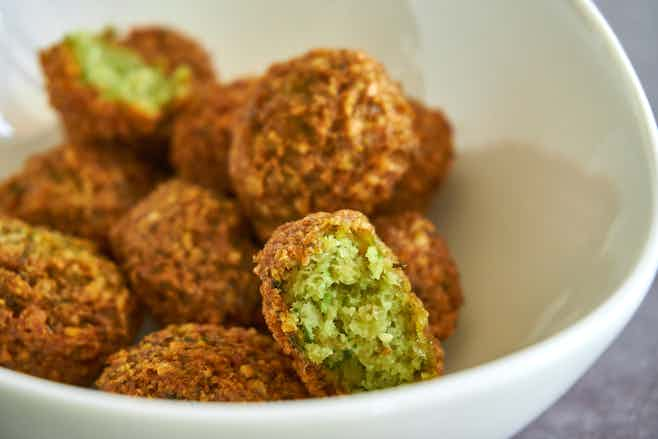 Falafel
A falafel is a Middle-Eastern snack that comes in various forms - ball (most common), patty, or doughnut. They are made using fava beans, ground chickpeas or a mix of both. Usually served in a pita bread alongside an assortment of salads, pickles, and sauces, this is one of the famed street-eats in Dubai (and UAE as a whole).
Where to order: Operation Falafel, JBR

Tips for Visiting Dubai in February
---
Clothing: Carry clothing keeping a European summer in mind. Certain (religious) attractions, however, would require clothing suited to the customs/traditions of the Middle East. Basically, we suggest dressing up to suit the occasion/place of visit.
Alcohol restrictions: Without a license, you cannot purchase alcohol directly off stores in Dubai (except duty-free, of course!). Pubs, clubs, and discotheques, however, serve alcohol to guests above 21 years of age. Be forewarned that the neighboring Sharjah is a dry emirate.
Events: Apart from the ones we've listed above, do check out other events happening during the month such as the Emirates Airline Literature Festival, shows at the Dubai Opera, Dubai World Cup Carnival, and more, that pique your interest.
Go local: Once you're done exploring the popular high-end spots such as the shopping malls, head to places like the Deira Gold Souk, Deira Waterfront Market, Meena Bazaar, and Karama Market for a no-frills shopping experience. You're bound to crack some excellent deals along the way!
FAQs
---
Can I travel to United Arab Emirates?
What are the travel restrictions in Dubai?
What are the attractions open in Dubai?
What are the top things to do in Dubai in February?
What is the temperature in Dubai in February?
What are the best day trips to take from Dubai in February?
Are any famous attractions closed in Dubai in February?
What is an ideal itinerary for visiting Dubai in February?
Is February a good time to visit Dubai?
Explore Dubai By Months
---