Dubai Garden Glow will close for the season on the 17th of July; visit soon! Expected date of reopening - To be announced soon!
Meanwhile, here are the other fun things you can do while in Dubai!
Located in Zabeel Park, right in the heart of Dubai, is the famed Dubai Garden Glow. A unique celebration of light, the famous attraction is now entering its highly-awaited Season 7 and has transformed Zabeel Park from a green escape to the foremost leisure and entertainment venue for children and families in the city. With artistic contributions from around the globe, the Garden Glow features some of the most enchanting light sculptures in the world. Be it giant floating jellyfish moving to the sound of music over Zabeel Lake, a glittering Burj Khalifa or Cinderella's glowing carriage, you must score Dubai Garden Glow tickets to witness this fantastic art installation.
The 7th chapter of Garden Glow begins in October 2021.
Dubai Garden Glow In A Nutshell
---
Know Before You Go
Best time to visit - Late evenings
Suggested duration - 3 Hours
Closest Bus Stop - 2nd Zaabel Rd 2


Must-do
Glow Park
Dinosaur Park
Ice Park
Art Park
Address
Zabeel Park, Gate No- 6 & 7 Area - B - Dubai - United Arab Emirates
Get there
What's Incredible about Dubai Garden Glow?
---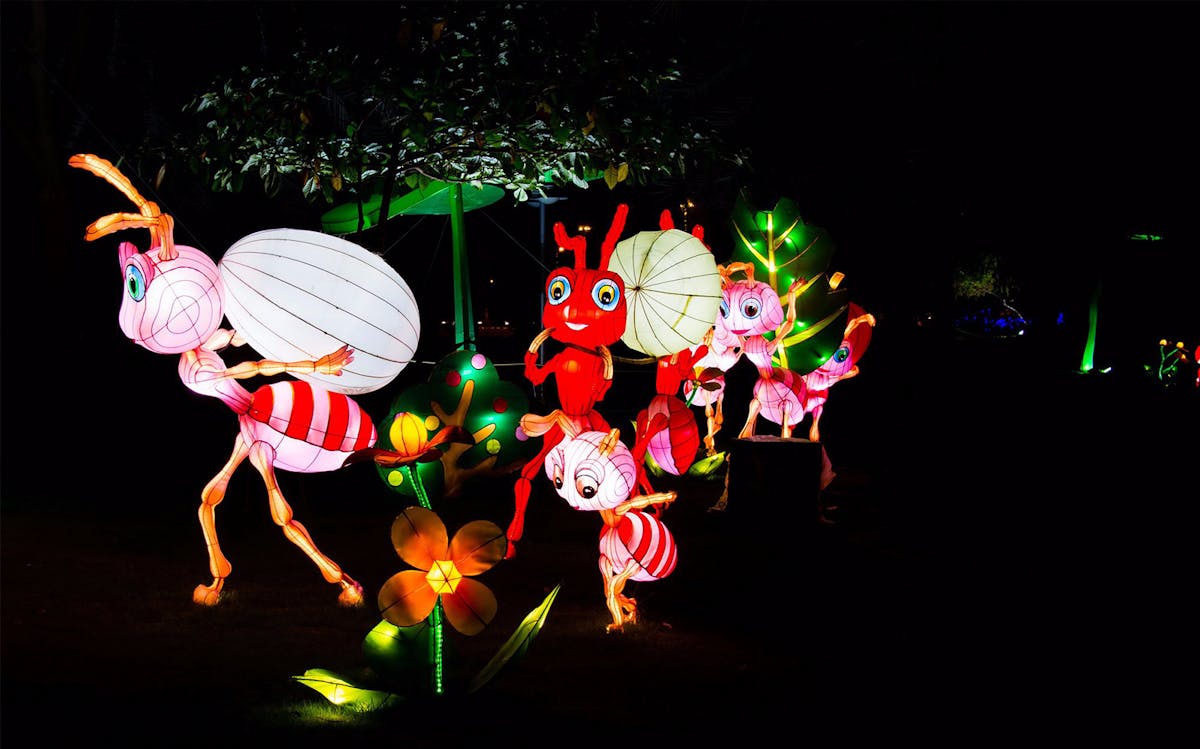 A temporary exhibition that takes place in Zabeel Park every year, Dubai Garden Glow is one of the most popular attractions in the city every winter. Hundreds of artists, engineers and technicians from around the world have come together to create some of the most fascinating exhibitions in the world. What makes this attraction special? Making up the exhibitions are 10 million energy saving bulbs, miles of recycled luminous fabric, more than 100 animatronic Dinosaurs and the 'largest Ice Sculpture Park' created with 5000 tons of Ice.
Dubai Garden Glow Tickets
---
You can get great combo offers with your Dubai Garden Glow tickets. Score the entry to not just the exhibits, but also to prime attractions like Expo2021 and Dubai Frame! Get exciting cashbacks and additional discounts with your Headout tickets.
What To See At Dubai Garden Glow?
---
Inspired by some of the most beautiful experiences in the world, the installations at the Garden Glow will take you from the wilds of the Masai Mara and the wildebeest migrations to unending tulip fields in the Netherlands and the exotic marine environments of the world's oceans. Season 1 featured a tribute to the wonders of the world while Season 2 focused on nature and conservation. Season 3 unveils an 'Underwater' theme where the wonderful installations will take you on a magical underwater journey.

Situated within the precincts of Zabeel Park and part of the Glow Garden is another popular attraction - the Dinosaur Park. With animatronic dinosaur models to scale and a resemblance strikingly similar to those that walked the earth millions of years ago, the added feature of the Dinosaur Park is the biggest hit with children and families. Not only are they set in enclosures similar to the ones in "Jurassic Park", but some of them also walk about and provide ample amazement and brilliant photo opportunities.

The Ice Park made its debut at the Garden Glow as the largest Ice Sculpture Park in the Middle East in 2020 and was an immediate hit! 150 artists from around the world have come together to sculpt over 5,000 tons of ice to create an outrageous environment that brings the Arctic to the shores of the Arabian Peninsula.
Note: Tickets for Ice Park cannot be bought online and can only be bought at the park for an additional AED 40.

Art Park is the latest and fourth addition to Garden featuring about 500,000 different types of recyclable glass vials, porcelain ware, plastic bottles, dishes and 1,000 CDs. It took 60 days for 200 artists from around the world to create the gigantic installations that include a big raging bull, colourful swans, a king cobra, a panda, a peacock, all made up of tiny glass bottles; camels done with CDS, and a huge elephant made of porcelain ware.

Magic Park is the most recent addition to the list of parks. The space of illusions embraces the art of science tagged along with 3D artwork to create 25 exciting exhibits. Geometric art combined with unique creativity form a hypnotic effect on you. This is a fun space to visit, especially if you are with children who will surely be awestruck.
Dubai Garden Glow Location and Timings
---
Address: Zabeel Park, Gate No- 6 & 7 Area - B - Dubai - United Arab Emirates
Get Directions
How to get to Dubai Garden Glow
Gates: Garden Glow inside Zabeel Park and can be accessed by Gates 6 and 7. You may then have to either walk or take a short cab ride to Gates 6 and 7 of Zabeel Park.
Cab or Metro: The best way to get to the park is by taking a cab. However, if you wish to take the metro, the closest metro station is the Al Jafiliya Metro Station on the Red Line.
Dubai Garden Glow Opening Time
Every day from 4:00 PM to 12:00 AM.
Dubai Garden Glow Rules & Regulations
---
Children under the age of 3 or 0.9 meter in height can enter the park for free
Ice Park tickets need to be bought on-site at the park for an additional AED 40.
Free entrance for visitors who are handicapped
Outside food and drinks are not allowed
Smoking is not permitted
Pets and animals not allowed
Bicycle, scooters and balls not allowed
Dubai Garden Glow Reviews
---
After visiting Dubai Frame we walk to the glow garden. It is very near. Visit the park in the dark. It is magical. Everything is shining and full of colors. If you have kids or even teenagers they would love it.
Martina P, TripAdvisor, February 2020
The Dubai Garden Glow is an amazing place with a park theme dedicated to light displays. The ticket costing AED 110 also includes the Dinosaur Park & Ice Park. One can also include the magic park for additional AED 30. The dinosaur park is alright & good for kids. The ice park is small with limited exhibits but world a visit. The main highlight however is the glow garden. The various displays & light shows just amazes you. Our 2 year old daughter just enjoyed the various themes around cartoon characters.
Memoirs-Sachin TripAdvisor, November 2019
Handy Tips For First Time Visitors
---
Since you will mostly be visiting in the evenings, wear appropriate clothes for the weather and cold.
Make sure you are there early evening so that you explore all the areas before they close.
Wear comfortable shoes and bring a bottle of water while you get ready to visit.
Make sure you withdraw money before you enter since there are no ATMs in the park.
There are plenty of authentic food stalls to grab a snack from if you want to explore the food culture of the region.
Dubai Garden Glow Facts
---
The attraction is spread over 40 acres and features over 30 installations.
150 artists from around the world have worked on these installations with over 200,000 man hours spent in creating these luminescent works of art.
The Dinosaur Park features over 34 models of dinosaurs to scale.
The light-exhibitions are installed with energy-saving LED lights that help conserve more power than before.
The two parks are home to several attractions - Dino Museum, Symphony of Lights, Kid's Fun Area, World of Underwater, Mushroom Forest, Animal Kingdom, Stage Shows and numerous restaurants.
FAQs
---
How do I travel to the Dubai Garden Glow?
How long will the Dubai Garden Glow be open?
How do I avoid the long queue to the Dubai Garden Glow?
When is the best time to visit the Dubai Miracle Garden?
What are the different attractions in Dubai Garden Glow?
What's incredible about the Dubai Garden Glow?
Which Zabeel Park gates provide access to Dubai Garden Glow?
Are pets allowed for Dubai Garden Glow?
Can I buy Dubai Garden Glow Tickets online?
Ready To Explore Dubai?
Check out our comprehensive Dubai Travel Guide packed with itineraries, tours, culture trips, best hotels, restaurants, and a lot more.
Best things to do in Dubai