Miracle Garden will close for the season from the 5th of June. Expected date of reopening - To be announced soon!
Meanwhile, here are the other fun things you can do while in Dubai!
While a full-fledged garden in a desert is a rarity, Dubai in its true majestic self, presents you the world's largest natural flower garden, the Dubai Miracle Garden. Going over and above the usual display of flowers and flowerbeds, the Miracle Garden in Dubai offers over 120 flower varieties including sunflowers, petunias, geraniums, and marigolds; arranged in an array of vertical and horizontal landscaping designs that range from quirky to elegant. Enticing over 1.5 million visitors a year, this attraction is ranked #26th of the 353 must do things in Dubai by Tripadvisor.
Dubai Miracle Garden
---
Handy Information for a smooth visit
Top Installations at Miracle Garden 2020-21
Smurfs Village (New attraction)
Floral Clock
Teddy Bear
Floating lady
Emirates A380
Disney Avenue
Umbrella Tunnel
Heart Tunnel
Lake Park
Hill Top
Floral Villas
Typical duration of visit
2-3 hours
Best Time to Visit
November to March
Address
Address: Al Barsha South 3 - Dubai - United Arab Emirates
Get Directions
Top things to do around
Butterfly Garden
Dubai Autodrome
Global Village
Al Qudra Lake
Dubai Miracle Garden 2021-2022
Season 10 opens from November 2021 and ends in May 2022
---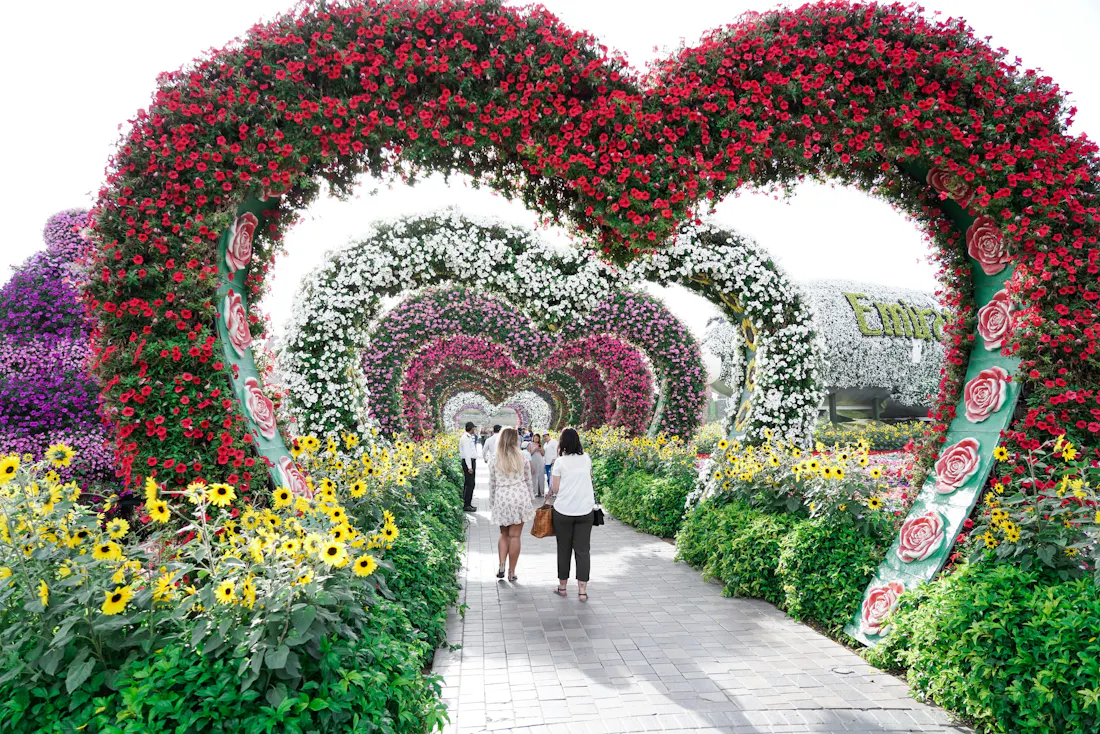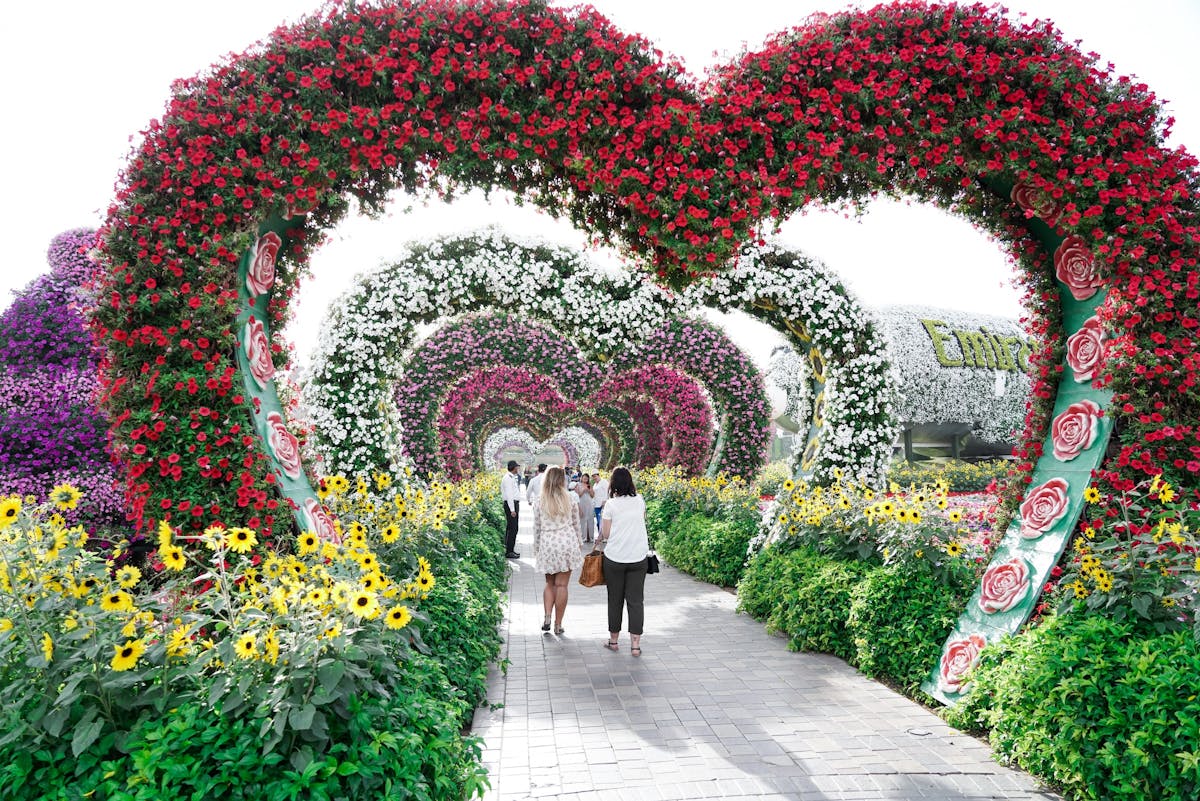 Spread across seventy-two thousand square meters near the Arabian Ranches, the Dubai Miracle Garden is home to over 100 million blooms that are preserved by reusing wastewater through drip irrigation. The flowers here are manured into intricate displays that marries naturesque beauty with magical thoughts, skills, and hard work by man. Opened on Valentine's Day in 2013, it is currently prepping for its 9th season, that is set to open in November 2021 and will run until May 2022. One visit is simply not enough because the floral structures are changed each season to ensure a unique experience every year.
Why Visit Miracle Garden Dubai?
---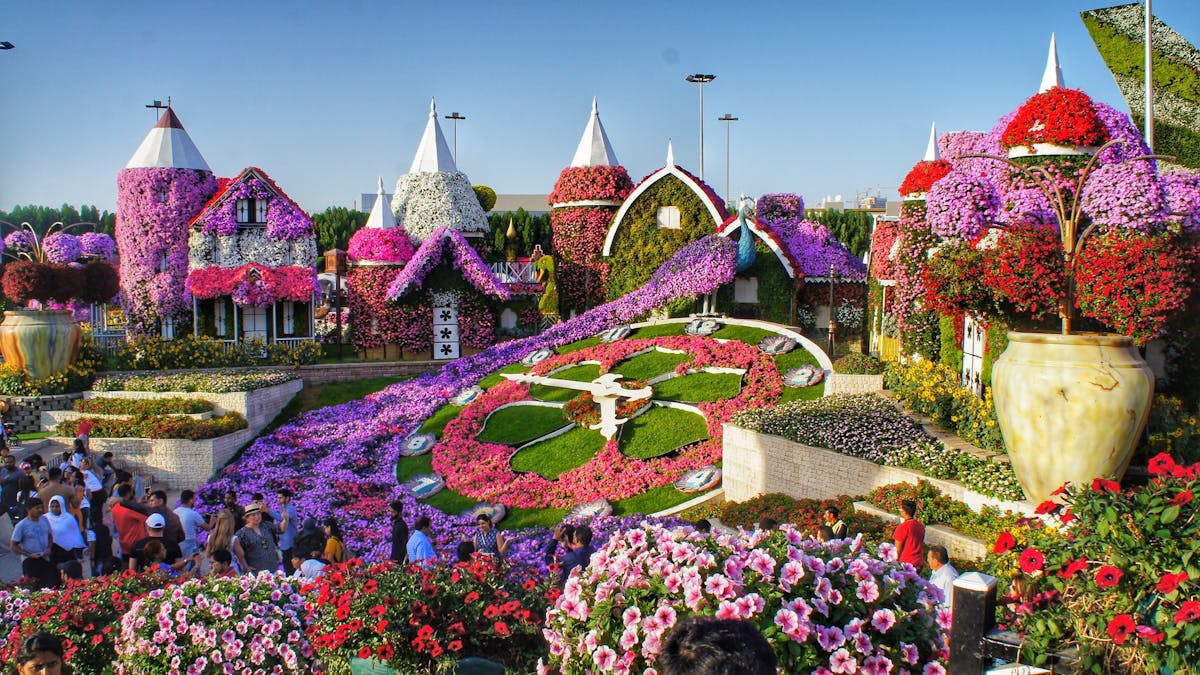 The desert bloom: The scent of fully bloomed flowers drifting upon desert hot air and their picturesque vibrant color play against the barren backdrop of Dubai's desert, this desert-garden combination makes for a must visit sensory experience.
Ever-changing: The decor and structure of the park follow a theme every year, which implies that this horticultural marvel is different every season; adding it to the must-visit list over and over again.
Accolades: The Miracle Garden has earned various accolades over its six seasons, including the Moselle Award by the Garden Tourism Award in April 2015. Two Guinness Book of World Records: the largest floral installation - the life-size model of the Emirates Airbus A380 and the tallest topiary structure that is an 18.06 m tall Mickey Mouse replica.
Miracle Garden Dubai Tickets
---
It's best to grab your Miracle Garden Dubai tickets online so as to save time and walk in with no hassles. With these tickets, you can skip the long ticket queue and waltz into the garden carefree!
Looking for discounts on your Miracle Garden Offers 2021? Here is how you can save some extra money.
Must See Exhibits
---
The concoctions developed by the designers of the Miracle Garden Dubai are surely the star attraction of the park. Most favorite installations are repeated over the seasons with some certain amount of changes. Here are a few creations that will mostly await you at the 2021 season:
Smurfs Village
The village of the small, blue creatures who live in mushroom-like houses, Smurf Village, is the newest addition to the Miracle Garden. You get to visit the home of the Smurfs, have a squint at their cute furniture, and explore the colorful arrangement of flora and fauna, which makes for the perfect family photo!
The Emirates Airbus A380
The Guinness Book of World Records holder is created with Petunia, Sunflower, Marigold, Geranium, etc. At the height of its blooming period, the life-size replica has almost 5 million flowers.
The Hearts passage
A fixture from the inception of the garden, the dozen or so heart structures are engraved with thousands of flowers and act as a passageway throughout the garden.
Floating Lady
The latest addition, the Floating Lady lies in the air, arms outstretched without a care in the world as her long hair dangles to the ground.
The Burj Khalifa
A floral version of the world's tallest building was initially built in 2014, the equally formidable floral structure still holds the heart of many visitors and thus returns every year.
The Floral Auditorium
This one of a kind auditorium can host an array of creative events and shows. It boasts a center stage surrounded and backdropped by mesmerizing flower arrangements.
The Floral Houses and Bungalows
A dozen or so Floral Houses and Bungalows, each one unique in its shape, size, color, look,and theme has been a star attraction from 2014.
Practical Information
---
Miracle Garden Opening Date 2021
The tenth season, 2021 - 2022 will be open from November 2021 until May 2022.
Miracle Garden Dubai Timings
9AM – 9PM on Weekdays
9AM – 11PM on Weekends (Friday and Saturday)
Getting to Dubai Miracle Garden
The Dubai Miracle Garden is quite far from the city center and thus pose a little difficulty in terms of travel in comparison to other attractions.
From Dubai
By Metro - Take the red line metro and alight at the Mall of Emirates metro station and from there you can either take a bus or a cab.
By Bus -The simplest option is the red Dubai Sightseeing Bus as it stops right in front of the Dubai Miracle Garden. You can take the metro to the Mall of Emirates metro station, here you can either choose Bus Route 105 that will directly take you to the garden, or you can take Bus F30 via Arabian Ranches, alight at Saheel Fate 2 bus stop, which is little walk away from the garden.
By Car - While cab rides are an expensive affair in Dubai, the ride to Miracle Garden Dubai can burn a huge hole in your pocket as it lies outside of city limits. The simpler way is to reach the Mall of Emirates via metro and take a taxi from here.
From Abu Dhabi
By Bus - Dubai RTA Bus E101 will shuttle you from the Abu Dhabi, Central Bus Station to Ibn Battuta Metro Bus Stop, from here you can take a cab to the garden.
By Car - Cab services are readily available from Abu Dhabi to Miracle Garden.
Sign up for our monthly newsletter
Your dose of travel fix - from hacks and deals to travel tips and everything in between, delivered monthly to your inbox
Please enter a valid email
Unsubscribe anytime
Dubai Miracle Garden Map
Dubai Miracle Garden is located at Al Barsha South 3, Dubailand Area, Dubai, United Arab Emirates. You can find the Google Map coordinates here and travel to Miracle Garden Dubai with ease.
Below is a Dubai Miracle Garden Map that shows you where Dubai Miracle Garden's parking and the actual garden as well as the distance between Dubai Butterfly Park and the Miracle Garden . Download this Dubai Miracle Garden Map and keep it handy for your visit.
Know Before You Visit Dubai Miracle Garden
---
Miracle Garden Dubai Ticket Price
Adults Ticket Price - AED 55
Child Ticket Price (3 years to 11 years ) - AED 47
Babies (Less than 2 years)- Free
Individuals with Disability - Free

Best Time to Visit
Dubai miracle garden remains open only from November to March, the winter months in UAE. This is because Dubai observes high temperature through the rest of the year and visiting an outdoor facility can get highly uncomfortable. Even during these months, it is best to plan your trip towards the latter half. You can enjoy the flowers in the comparatively milder sun and can also enjoy the light up version of the installations as the sun sets. Also, try visiting during the weekdays as the weekend tends to be too crowded.
Duration of Visit
Well, you can't expect the world's largest natural flower garden to be small. Plan your day's itinerary accordingly, as exploring the Miracle Garden would easily take up a 2-3 hours.
What To Wear To Dubai Miracle Garden
Opt for something that is lightweight and comfortable. You'll have to walk around the garden so prefer comfortable shoes. Also carry sunglasses, cap/hat, umbrellas to save yourself from the sun.
Visitor Facilities
The garden has souvenir shops, commercial kiosks where you can shop as per your will. Many food kiosks ensure the visitor can choose from a variety of food products including, kebabs, ice cream, waffles, etc. Tented cabanas are strategically places to allow visitors to enjoy their food or relax while ogling the flowers. Miracle Garden Dubai also has open parking, VIP parking, prayer room, sitting areas, toilet blocks, shower or bathing facility, first aid room, security room. Handicapped visitors can avail carts.
Photography at Dubai Miracle Garden
While selfies and portraits from you handy cameras will come out beautifully, the park can also be hired for a full blown photoshoot. The backdrop is especially perfect for a romantic setting.
Top things to do around Miracle Garden
---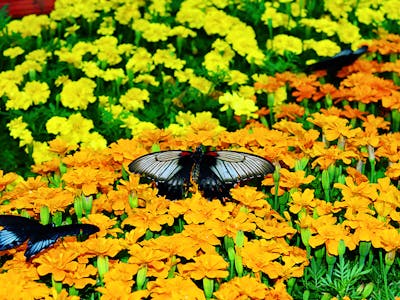 Butterfly Park
The world's largest natural flower garden also hosts the World's Largest Covered Butterfly Garden, Dubai Butterfly Garden in its premises. Through various domes, you get to discover close to 50 species, each with its unique shape, colour, and features. The Butterfly Park is open throughout the year from 9:00 AM - 6:00 PM.
Dubai Autodrome
The Dubai Autodrome Circuit is an FIA Grade 1 race circuit that incorporates various different experiences for kids, adults and families - Advanced Driving Experience Center,the Indoor and Outdoor Kartdrome, Lasertag center and the Race Simulator room to name a few.
Global Village
Global Village Dubai is the world's largest tourism, leisure and entertainment project, featuring 26 massive pavilions represented by over 100 countries. Watch live award-winning culture and stage shows, stunt shows, concerts and parades which highlights different cultures and lets you learn about the different types of people all over the world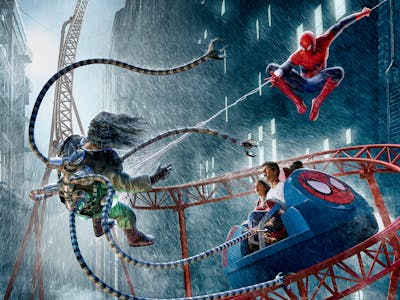 IMG Worlds of Adventure
IMG World Dubai, the world's largest indoor theme park has 4 epic adventure zones, where you can enjoy 22 adrenaline-fueled rides and roller coasters across 1.5 million square feet of playground. Wave at your favorite superheroes, cartoon characters and watch them come to life!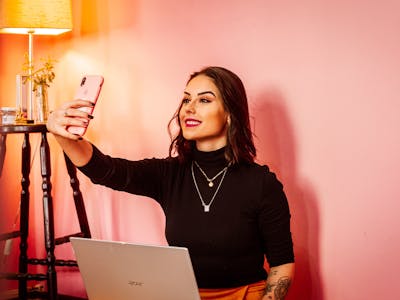 The Selfie Kingdom
The Selfie Kingdom (TSK), Dubai's first ever Instagram inspired and dedicated selfie museum for photo / selfie enthusiasts of all ages. All the rooms are carefully designed keeping in mind social media and Instagram trends and ensures that you don't have to depend on someone to get your selfie, thanks to the self-controlled mobile pod.
Dubai Miracle Garden Reviews
---
A colorful garden with tons of potted plants being used in an unique way to create some interesting landmarks and structures from around the world. Theme keeps changing every year. What is fascinating to see is how well they are able to maintain the garden in dry and hot weather in this region.
It's just just amazing and will leave you speechless. Just don't know how to express it. It's good to visit in the evening as the temperatures come down so we can just relax, enjoy the Garden of flowers in different shapes you just name it. You will require least two hours for a walk around and enjoy this colorful garden of flowers. No doubt it is called "Dubai Miracle Garden" in the middle of the desert.
FAQS
---
How much is the entrance fee in Miracle Garden Dubai?
Is Miracle garden worth visiting?
What is the best time to visit Miracle Garden Dubai?
What months is Dubai Miracle Garden Open?
Are you allowed to take food inside Miracle Garden?
Are Butterfly Garden and Miracle Garden same?

How long does it take to see Miracle Garden?

How many types of flowers are there at Miracle Garden?

Which bus goes to Miracle Garden?

Which is the closest metro to Miracle Garden?

Is there Wi-Fi at Miracle Garden?
Ready To Explore Dubai?
Check out our comprehensive Dubai Travel Guide packed with itineraries, tours, culture trips, best hotels, restaurants, and a lot more.
Best things to do in Dubai