Global Village is exactly what it sounds like. An outrightly extravagant event featuring food, attractions, shopping avenues, and much more, the event brings the world together in a way no other event can. Self described as the world's largest tourism, leisure, shopping, and entertainment project, Global Village Dubai attracts over 5 million visitors every year! What's especially great about it is that it features 27 pavilions that represent more than 75 countries with different cultures.
Season 28 of Global Village are from 18 October 2023 to 28 April 2024. So if you're planning a trip to Dubai, now would be the perfect time to get your tickets because trust us when we say this; it's a once-in-a-lifetime opportunity.
Dubai Global Village
---
Know Before You Go
☀️ Best time to visit - Mornings or late evenings
⏰ Suggested duration - 3 Hours
🎟️ Starting Global Dubai Village tickets price - AED 30
🚏 Closest Bus Stop - Global Village bustop

Opening Hours
Monday to Thursday: 4 PM – 12 AM
Friday to Sunday: 4 PM – 1 AM
Tuesdays are exclusively reserved for Families and Ladies. (Unless it falls on a public holiday)
Must-see
MENA Pavilions
Far East Pavilions
Carnaval
Ripley's Believe It Or Not!®
Address
Sheikh Mohamed Bin Zayed Road and
Emirates Road - Exit 37 - E311 - Dubai - United Arab Emirates
Getting there
Global Village Dubai 2023-24
---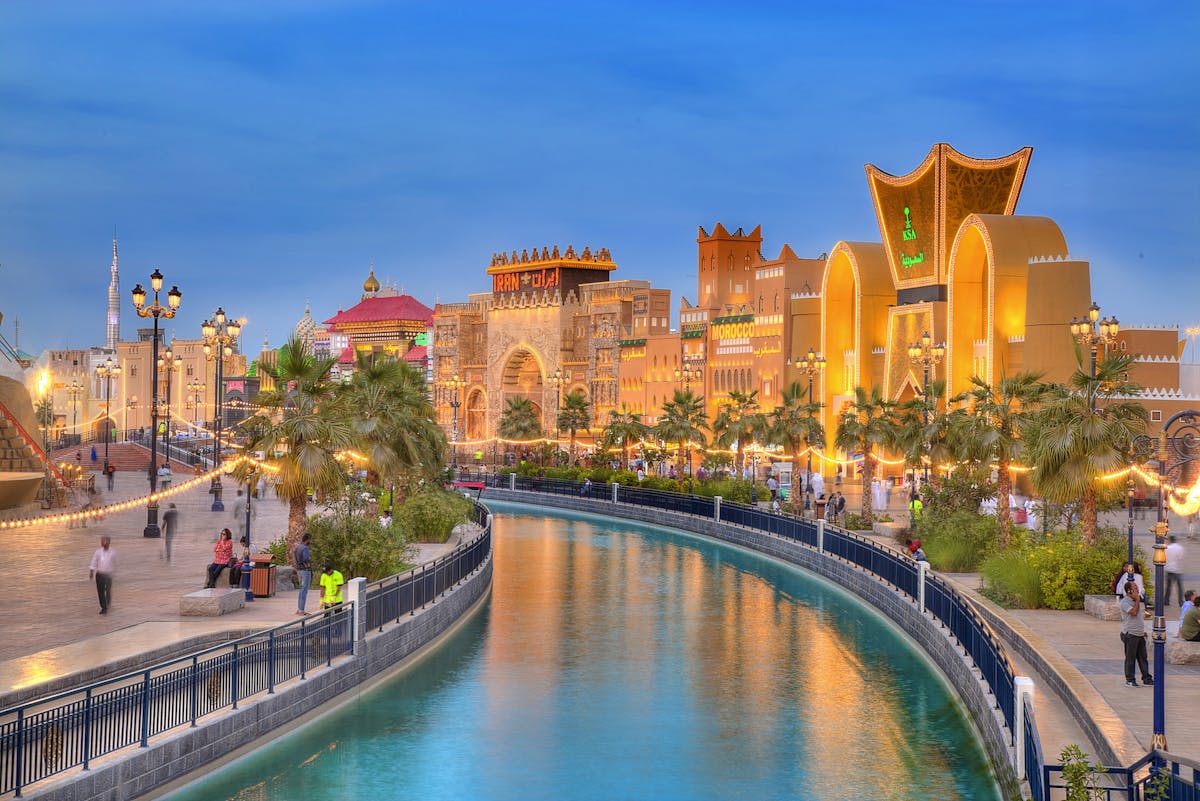 Global Village started in a small site along Dubai creek in 1996. Back then as well, the idea behind the event was to showcase everything the world has to offer. Since it was just the beginning, the site only had small kiosks representing different countries. Even with no fanfare, the event was able to attract more than 500,000 visitors during its first year! There was no stopping the festival from then on out. By 2004, the event featured 38 participating countries and attracted over 5.20 million visitors!
Global Village Dubai is celebrating its 28th anniversary! Global Village Dubai 2023-24 is scheduled to go on from 18 October 2023 to 28 April 2024. The event is going to be bigger and better than ever before with brand new pavilions, countless new shopping outlets and more surprises! Last year, Global Village offers visitors about 40,000 entertainment options and activities. This year promises to only get bigger! It has also been awarded a 'Dubai Assured Stamp' that emphasizes on their commitment to the city's strict public safety standards and measures.
Dubai Global Village Tickets
---
Entry Ticket (Any Day): AED 30
Entry Ticket (Sunday to Thursday)*: AED 22.5
Entry Ticket + Stunt Show: AED 50
Entry Ticket + Ripleys Believe It Or Not!®: AED 75
Entry Ticket + Stunt Show + Ripleys Believe It Or Not!®: AED 95
Entry Ticket + 5 Free Carnaval rides**: AED 180
Entry Ticket + Meal***: AED 90
*Not applicable on public holidays.
**Honolo Loop & Slingshot rides are not included in the Entry + Carnaval rides package.
***Meal Vouchers will only be accepted in Grand Dabba restaurant, Belgrave restaurant, Chin Chin restaurant, and Naseem Beirut restaurant.
Entry + Meal ticket explained:
This ticket guarantees you entry into Global Village Dubai, as well as a free meal of your choice in select restaurants at Global Village Dubai.
Grand Dabba Restaurant

Belgrave restaurant

Chin Chin Restaurant

Naseem Beirut
Grand Dabba Restaurant - Indian
Veg Combo 1
Mains - Paneer Tikka, Subzi Kadai, Daal tadka, Biryani Rice, Roti & Salad
Drinks - Soft Drink/Water Bottle
Dessert - 1 Pc Gulab Jamun
Veg Combo 2
Mains - Veg Biryani
Drinks - Soft Drink/Water Bottle

Non-Veg Combo 1
Mains - Chicken Tikka ,Butter Chicken, Daal Tadka, Biryani Rice, Roti & Salad
Drinks - Soft Drink/Water Bottle
Dessert - 1 Pc Gulab Jamun
Non-Veg Combo 2
Mains - Chicken Biryani
Drinks - Soft Drink/Water Bottle
Global Village Dubai Pavilions and Attractions
---
There are 6 pavilions each representing traditions, culture, events and food from their respective countries. Here is a glimpse of the pavilions and what countries they represent.
Featuring pavilions from the Middle East and North Africa region, the MENA pavilion as a whole is a heartwarming representation of the culture and, more importantly, the people of the area. The pavilion includes the following regions: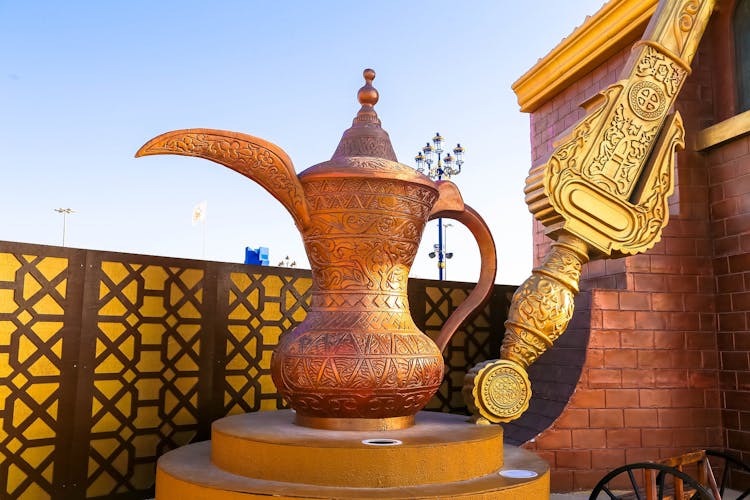 The Far East pavilion features products and attractions that represent Japan, South Korea, Indonesia and the Philippines. This year, the pavilion is set to host an all new cultural experience zone where you can indulge yourself and learn about various Far Eastern cultures.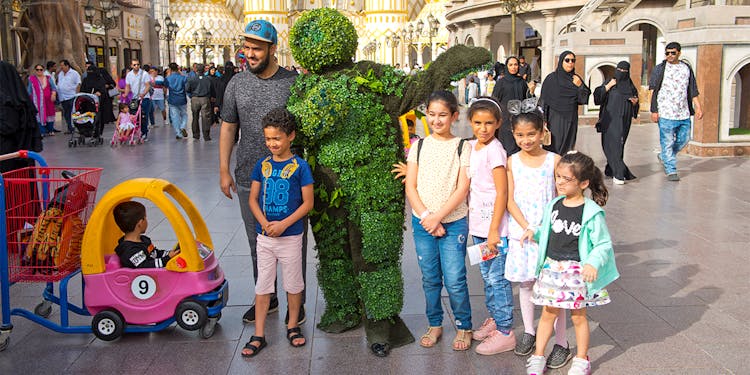 Ready to experience the wonders that await you in the charming continent of Europe? The Europe Pavilion allows you to pick up everything from typical European styled clothes, perfumes, and memorabilia!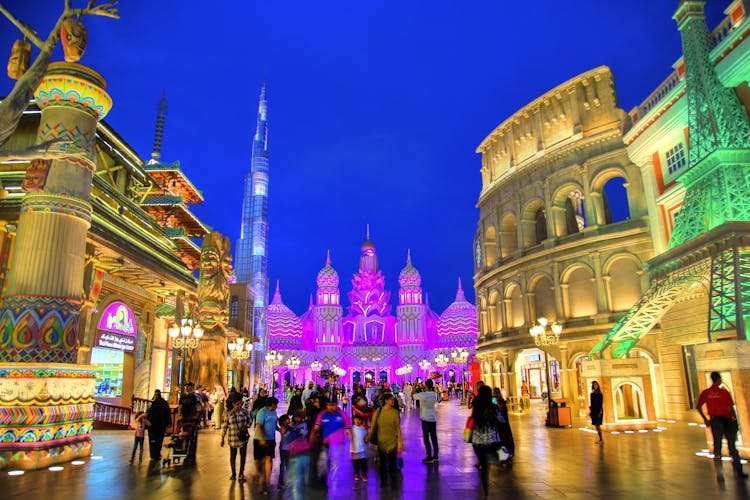 The African pavilion highlights more than 15 countries, including Kenya, Uganda, Tanzania, Senegal, Ghana, Ethiopia, Mauritania, Angola, Zimbabwe, Sudan, Rwanda, Madagascar, Namibia, South Africa and Nigeria. Most of these countries showcase their authentic products as well as their respective country's art, wealth and traditions.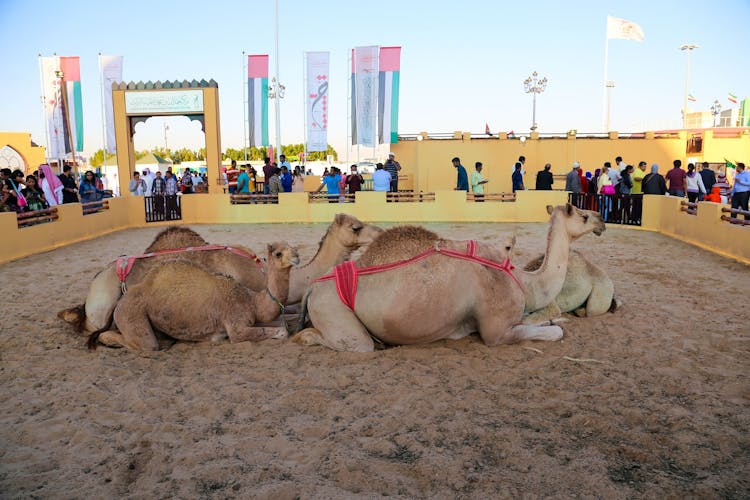 The Americas Pavilion brings a wide range of fascinating products that represent North, Central and South America. The pavilion allows you to sample the lifestyles and tastes of the 48 countries in North and South America.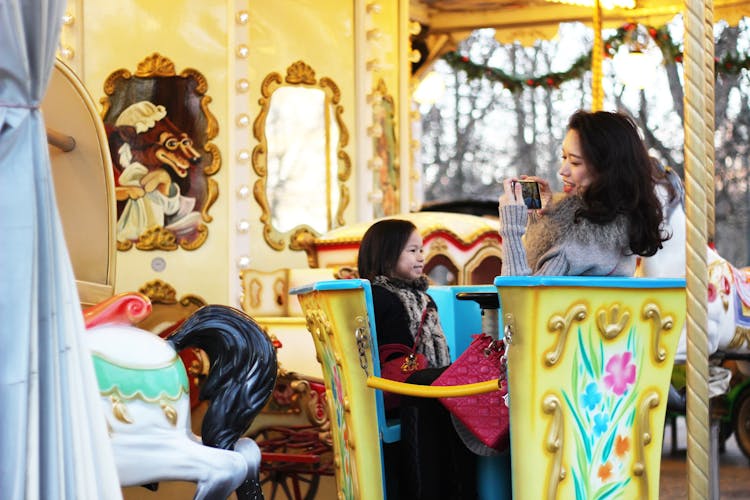 Carnaval offers more than 170 rides, games, and attractions for all ages, including thrilling rides for the daring and fun options for little ones. You can also enjoy 125+ arcade and skill games, from modern virtual games to classics like hoops and darts.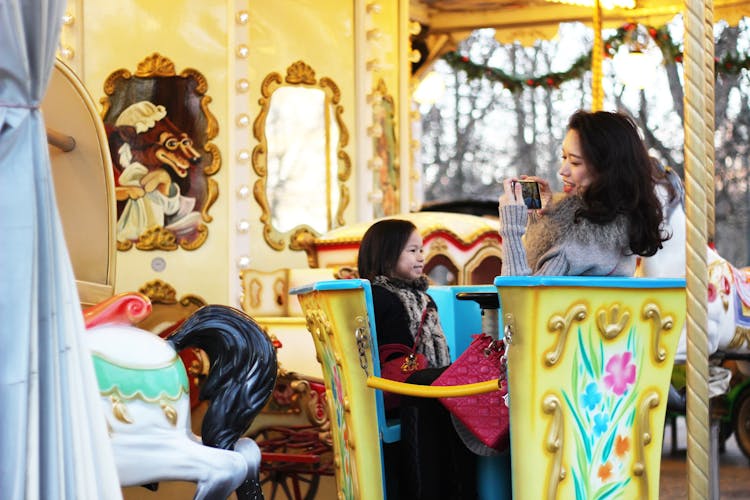 7

Ripley's Believe It Or Not!® - Attraction
Explore the wondrous oddities at Ripley's Believe It or Not!®, the region's first 'Odditorium.' This family-friendly attraction showcases a variety of eccentric displays, from visual illusions and pop culture memorabilia to unbelievable, yet true tales.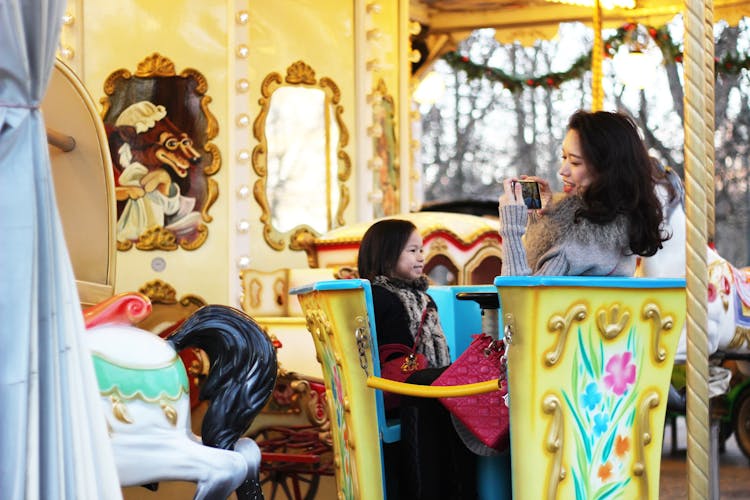 7

Shows and Events - Attraction
Experience over 40,000 captivating shows at Global Village, including kids' entertainment, cultural performances, international street acts, Main Stage concerts, and mind-blowing stunt shows featuring world-class talent.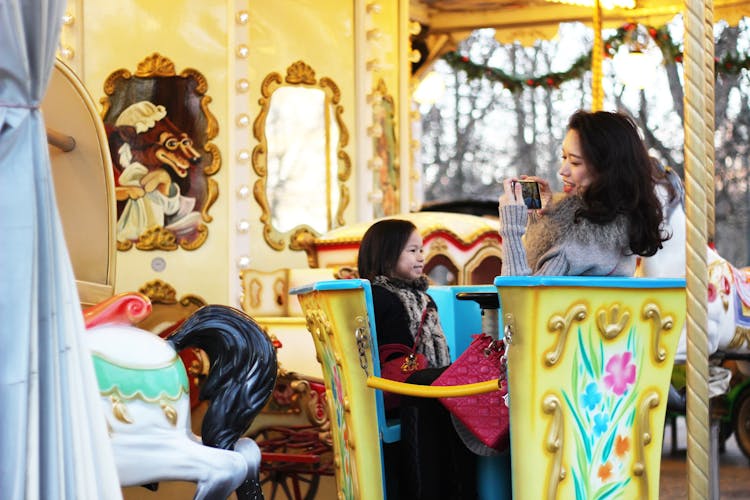 Dining at Global Village Dubai
---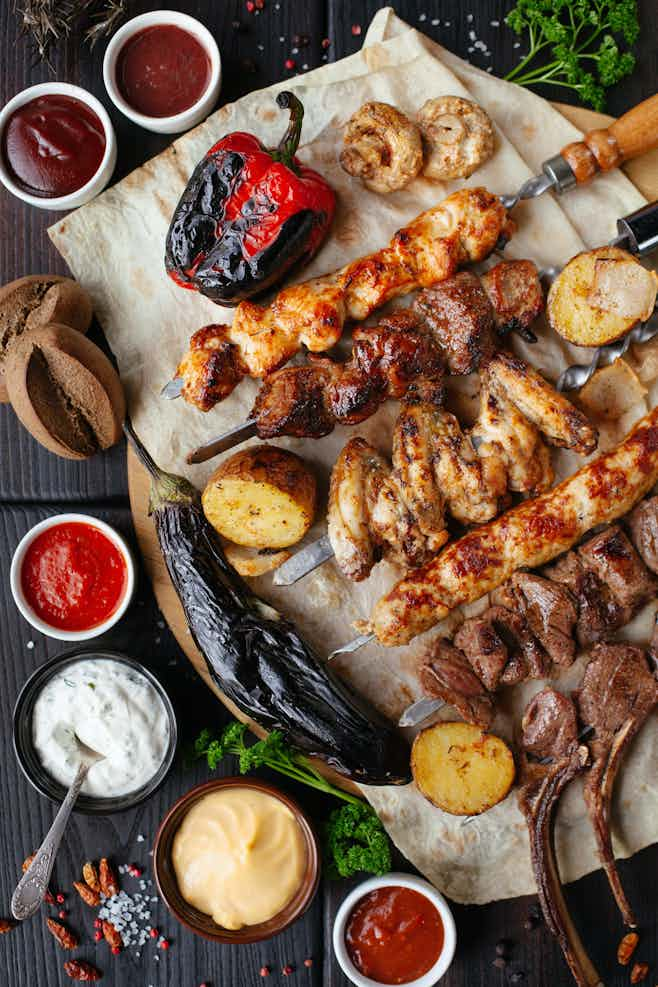 Road of Asia
Experience the pinnacle of Asian flavors with our signature street food offerings, featuring Taipei Hotpot, Pancit from the Philippines, Pho from Vietnam, and authentic Ceylon Koththu from Sri Lanka. This is your ultimate destination for homegrown products hailing from 13 diverse Asian countries.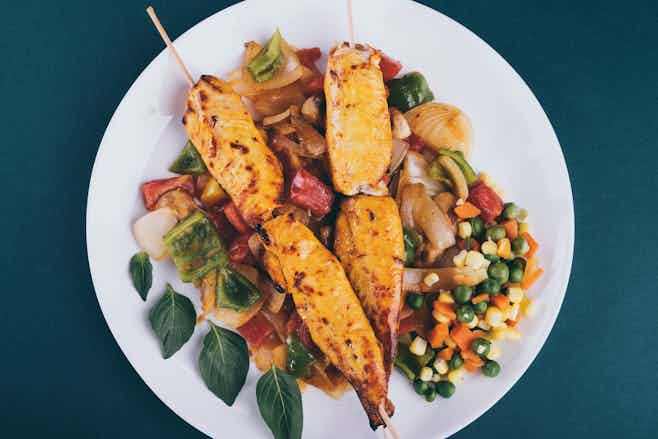 Indian Chaat Bazaar
Evoking the vibrant ambiance of bustling old-world bazaars, the Indian Chaat Bazaar introduces a medley of flavors ranging from sweet and spicy to tangy and savory. Get ready for a tantalizing journey with samosas, dosas, and zesty grilled sandwiches that are sure to pique your taste buds' curiosity.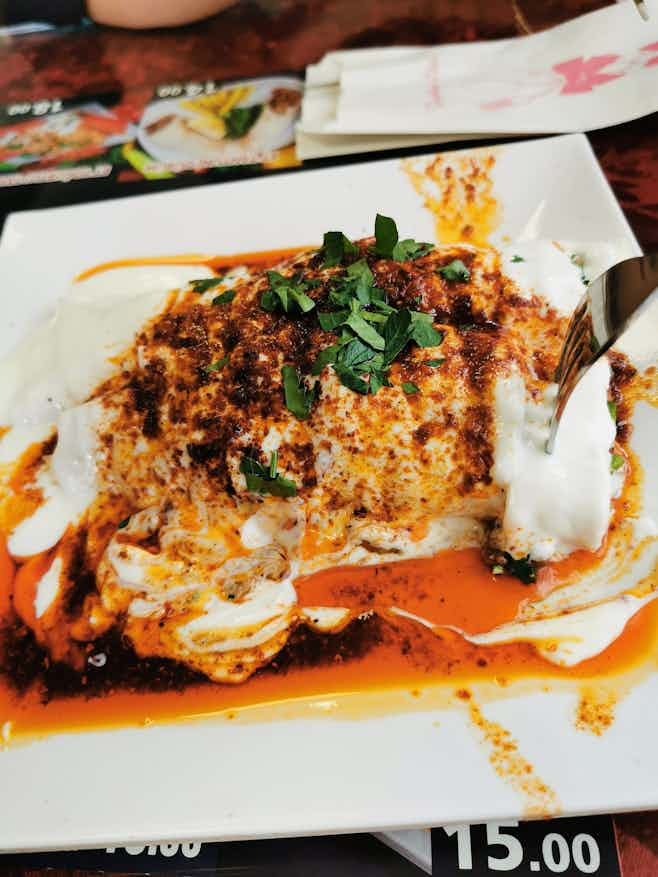 Floating Market
As an Asian culinary paradise, the Floating Market offers a creative and wonderfully diverse selection of baos, bites, bowls, and barbecue plates that exude coolness. Discover a plethora of seafood delights, steaming Indonesian ramen, flavorful Vietnamese pho, zesty Malaysian grills, and delectable Korean dumplings.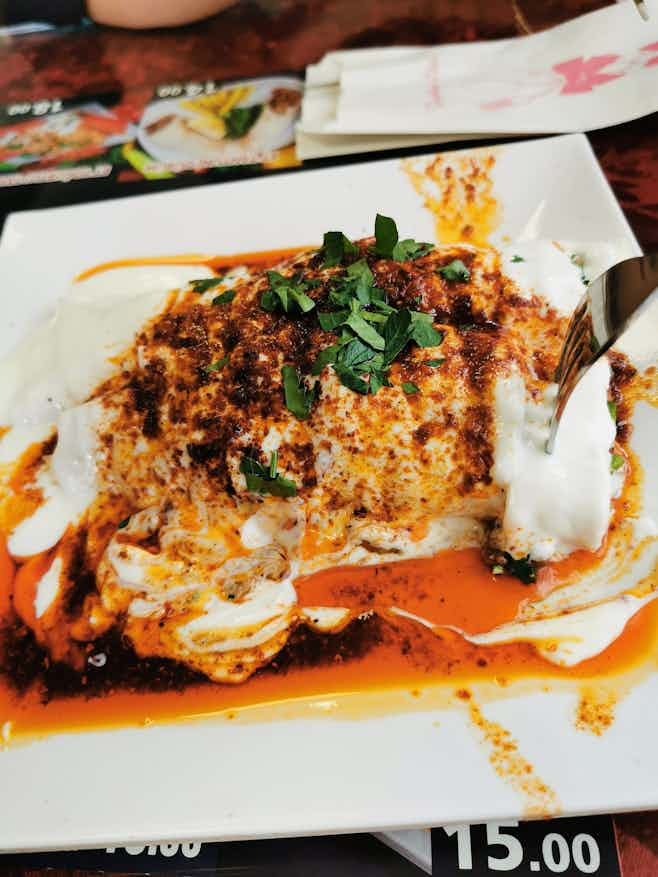 Happiness Street
The cuisine at Happiness Street is guaranteed to bring joy not only to your spirits but also to your taste buds! Infusing whimsical twists into beloved classics, the offerings here are a culinary adventure you can't miss. Indulge in Mac & Cheese crowned with crispy, fiery Cheetos, dynamite shrimps generously smothered in cheese, incredibly loaded potatoes, and colossal 60 cm slices of pizza that will leave you thoroughly content.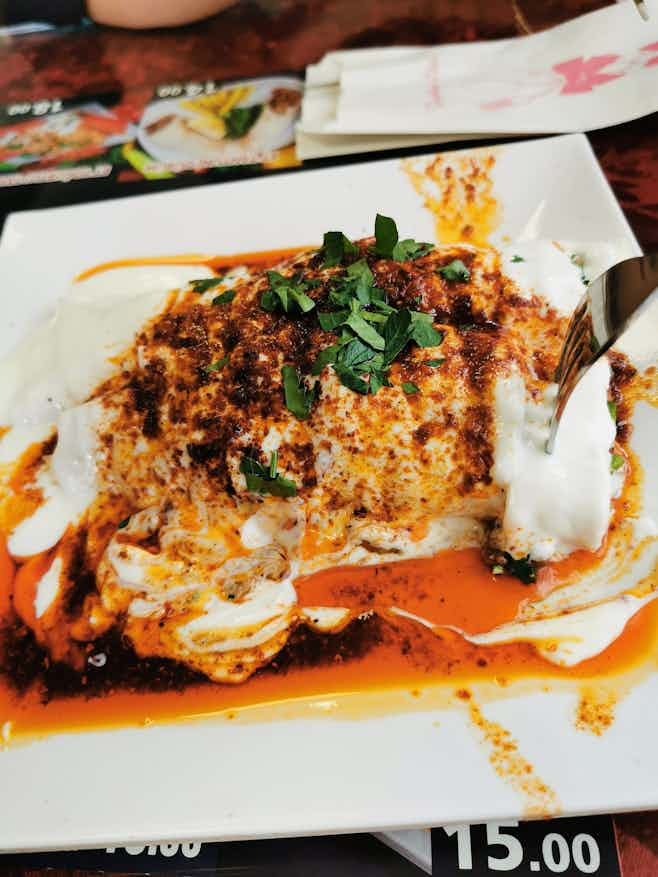 Fiesta Street
Participate in the lively street food fiesta at Fiesta Street! This is where you'll encounter a delightful array of our most delectable street food concepts, offering everything from toasted chicken sandwiches and loaded fries to creamy risottos and baklava frappes that will tantalize your taste buds.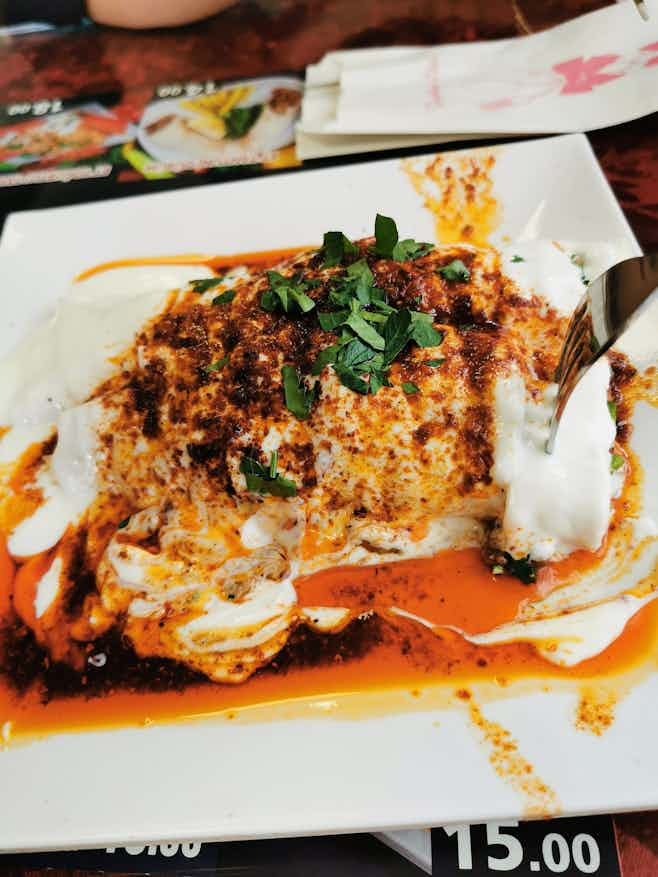 Railway Market
Drawing inspiration from the renowned Maeklong Railway Market in Bangkok, Thailand, this specialty dining experience guarantees a delightful journey into the world of sweets. A haven for those with a sweet tooth, you'll be transported to a realm of endless delights, with a cornucopia of sweets, cakes, pastries, chocolates, ice creams, and desserts awaiting your indulgence, making you feel like a child in a candy store.
Know Before You Go To Global Village Dubai
---
Global Village 2023-24 Dates
The 28th season of Global Village opens on 18 October 2023 and winds up on 28 April 2024.
Timings
From Monday to Thursday from 4:00 PM – 12:00 AM (entry gates close at 11:30 PM)
Friday to Sunday from 4:00 PM – 1:00 AM (entry gates closed at 12:30 AM)
Please note that Tuesdays are dedicated to families and ladies only, unless it's a public holiday.
Global Village Dubai Directions
Here's how you can get from Dubai and Abu Dhabi to Global Village.
From Dubai
By Bus
Bus number 103 starts from Ittihad Station and will pass by Baniyas Street, Al Rebat Street, and Nad Al Hamar and bus number 102 starts from Rashidiya Metro Station. You can alternatively board number 104 which starts from Al Ghubaiba Station and passes by Sheikh Rashid Street, Al Jafiliya Metro Station, 2nd Za'Abeel Street and Dubai-AlAin Street.
By Metro
No direct metro is available to Global Village at the moment.
By Car
Get on Dubai - Al Ain Rd/E66, take Sheikh Mohammed Bin Zayed Rd/E311 to Exit 37 and continue on Exit 37 to Global Village.
From Abu Dhabi
The only direct way to get from Abu Dhabi to Global Village Dubai is by car. Get on Abu Dhabi - Al Shahama Rd/Sheikh Zayed Bin Sultan St/E10 from Al Karamah Street and Shakhbout Bin Sultan Street. After around 4.4 km, take E11 to Latifa bint Hamdan Road/D67 in Dubai. Take exit 37 from Sheikh Mohammed Bin Zayed Rd/E311 and you'll reach Global Village.
Location
Global Village is located at Exit 37, Sheikh Mohammed Bin Zayed Road and Emirates Road, Dubai, UAE. Find Global Village on Google Maps.
Handy Tips For Your First Global Village Dubai Visit
---
Global Village Dubai is massive and when we say massive, we really mean it. The event is spread across an area of 17,200,000 sq ft! While there's no humanly possible way for you to cover everything in the event, you can still make the most of your time there by planning your visit in advance. Figure out which country's pavilion you're interested in experiencing and then make a plan accordingly.
While Fridays and Saturdays see the maximum crowd, you also get to enjoy the fireworks, get better bargains and discounts over the weekend. If you're ready to brave the crowd, weekends it is!
If you're visiting the park with your family, make sure everyone sticks together. Given the size of the event, it's very easy to get separated.
To avoid unnecessary queues and crowds, reach the venue as soon as possible. You can save a lot of time waiting around for your turn if you time your arrival.
Grab a Global Village Dubai Map as soon as you enter. This will help you navigate the huge area and ensure that you don't waste trying to find the place you wish to visit.
Make sure to check the website for shows and events happening on the day of your visit. That way you can squeeze in a cultural extravaganze along with your shopping expedition.
If crowds and queues are not your thing, get a VIP pass on the official website which gives to access to a whole bunch of benefits and discount coupons.
According to event rules, you're expected to dress modestly, so keep that in mind while deciding your outfit for the day. Also, Dubai get really hot in the summer and Global Village involves a lot of walking around, so dress comfortably.
Book your Global Village Dubai tickets online to get great deals on them. This is especially important if you're planning on attending one of Friday concerts since those happen to sell out faster than everything else.
No public displays of affection are allowed inside the park premises and you also cannot bring your pets along.
FAQs
---
What is the entry fee for Global Village Dubai 2023-24?
Where can I buy Dubai Global Village tickets?
What is the last date of Global Village 2022-23?
What are Global Village Dubai timings?
How can I reach Global Village Dubai?
What is the dress code in Global Village?
What are the rules in Global Village?
How many countries are participating in Global Village?
What are the ticket prices for children and senior citizens in Dubai Global Village?
What can I buy in Global Village?
What is the parking in Global Village Dubai 2023-24?
Dubai Global Village Guide