On October 22, 1797, André-Jacques Garnerin donned his crudely fashioned silk parachute and jumped from a hydrogen balloon flying 3,200 feet above Paris, placing his name in history as the first person to descend from high altitude using air resistance.
More than 300 years later, skydiving has become one of the most sought after extreme sports. Thousands upon thousands of jumps are made around the year and one of the most popular places to experience this thrilling sport is Dubai. Skydiving in Dubai has grown in popularity over the years, and with world class facilities, stunning skydive locations and expert instructors, it has cemented its place as one of the leading skydiving destinations in the world. Where else do you get the options to skydive on to a massive desert expanse or the most majestic of all man-made islands - the Palm Islands?
Skydive Dubai was founded in 2010 by H.E. Nasser Al Neyadi when Dubai hosted its first international parachuting championship at the Palm Drop Zone. Today, Skydive Dubai enjoys an excellent reputation for safety and expertise, and is one of the leading skydiving companies in the world. When you go skydiving with Skydive Dubai, be rest assured that you are in excellent hands and in the company of experienced skydivers with over thousands of jumps under their belt. They also hold several Guiness World Records and have developed 2 amazing skydiving locations in Dubai.
In this guide, we will take a look at all there is to know about skydiving in Dubai. Whether you're a seasoned flyer or a first timer looking to check skydiving off your bucketlist, skydiving in Dubai is your answer.
Before You Go Skydiving in Dubai
---
Rules & Restrictions
You must be at least 18 years old.
Please carry your valid photo id proofs Emirates ID, driver's license, ID card with photo, passport.
Weight and BMI (Body Mass Index) with clothing and sport shoes must not exceed the maximum safety requirements.
The BMI and weight requirements are as follows:

Women - 90 kgs (198 lbs) or less. Maximum BMI 27.5.
Men - 100 kgs (220.5 lbs) or less. Maximum BMI 30.
Recommended Tickets
Outdoor Skydiving Locations in Dubai
---
All skydiving operations in Dubai are managed by Skydive Dubai. Skydive Dubai runs the biggest outdoor skydiving school in the world in the deserts outside Dubai. Their jumps take place in two incredible locations in Dubai - the Desert dropzone and the more premium Palm Drop Zone. Book your Skydive Dubai tickets today!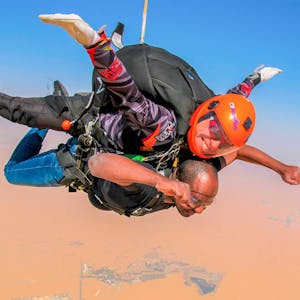 Desert Drop Zone
The Desert Drop Zone is located outside the city, off the highway that leads from Dubai to Al-Ain. The desert drop zone not only hosts first timers, but also has a school where you can take courses en route to becoming a professional skydiver. While you skydive in the desert zone, you will be met with stunning views of desert dunes leading up to the Dubai skyline in the distance.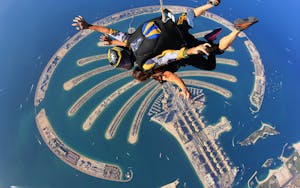 Palm Drop Zone
The Palm Drop Zone is the more premium drop zone offered by SkyDive Dubai. Skydiving in the Palm Drop Zone will present you with once-in-a-lifetime views of the magnificent Palm Islands and the Dubai city skyline. Prominent views include Ain Dubai (the world's largest Ferris wheel), the Palm Jumeirah Island, Atlantis Hotel, Burj Al Arab, "The World" islands and Dubai Marina.
Indoor Skydiving in Dubai
---

Indoor skydiving is a relatively new concept but has quickly caught on in the short time it has been around. To the uninitiated, indoor skydiving involves a vertical tunnel where conditions for a free fall are recreated through stimulation. Here's a technical breakdown of how indoor skydiving works:
A vertical wind tunnel with fans at the top draws air through the flight chamber and then pushes it back down the sides through Return Air Towers (RATs).
The air is 'turned' from the RATs into the bottom of the tunnel and back up toward the flight chamber through an inlet contractor.
The inlet contractor reduces the space the air can travel in, thus compressing and speeding up the air before it reenters the flight chamber.
The result: a smooth column of air that enables you to fly.
Here's why indoor skydiving is perfect for newcomers
Offering the experience of regular skydiving without any of the risks involved, indoor skydiving is the literal definition of the phrase, "best of both worlds".
Compared to the outdoor version, indoor skydiving is quite cheap, costing about AED 200 on an average.
When you are short on time and have a lot of things you want to experience, indoor skydiving is the way to go. Given that it's relatively safer than outdoor skydiving, putting all the security measures in place doesn't take that long and the entire process is much shorter.
Children above the age of 2 can go for indoor skydiving, which is not the case with outdoor skydiving in Dubai.
Gyrocopter Flight Dubai
---
What's a gyrocopter? Well, imagine a helicopter, shrink its size down to half, remove the rotor engine while keeping the rotor blades as is, attach a thrust motor at the back and allow the air flowing across the rotor blades to generate the necessary lift required to fly. It goes without saying that you will be accompanied by a pilot on your gyrocopter journey.
On a gyrocopter, the blades of the wing are angled such that they rotate in all phases of flight, ensuring that they are extremely safe. The rear motor propels that gyrocopter forward and helps control the direction and altitude of the flight.
Total Flight Duration: 20-30 minutes
Your Dubai Skydiving Experience Deconstructed
---
Your experience begins at the SkyDive Dubai center where upon arrival, you will be requested to fill in the necessary documents and a brief health checkup that includes weighing and measuring your BMI.
Half an hour before the flight, you will meet your instructor/tandem partner who will brief you on the sport, check your harness and provide you with all the necessary instructions.
The accompanying camera person will take a brief interview of yours before you take off. Remember to smile, it's going to be in your skydive video.
In the boarding area, there will be a final gear check and a photo op.
As you fly to the diving altitude, you will be greeted with immense views of Dubai, the Palm Islands and the surrounding areas. The total flight time to the diving altitude is 20 minutes. These are the last 20 minutes you have in which to settle your nerves before you take the leap.
Once the plane reaches 13,000 feet, you will be secured to your expert tandem instructor and together with the camera flyer, you will exit the plane and free fall for nearly 60 seconds, clocking speeds of up to 120 miles/ hour!
At an altitude of 6,000 feet, the parachute will be deployed and over the course of the next 5 minutes, you will gently descend to earth, all this while taking in some truly spectacular views of Dubai.
After the touchdown and a post-jump interview, the experience will come to a close. You will be able to collect the video of your jump and any other memorabilia from the store at the center.
Book your Skydive Dubai Tickets today - An experience of a lifetime!
Things to Remember for First Time Sky Divers
---
Eat a moderate nad healthy breakfast before you head out for your experience. Just know that skydiving with an empty or full stomach is not fun. Just keep it light and make sure you're nourished well before your dive.
Get a good sleep the night before. Though it is normal for the excitement of the jump to keep you up all night, try and ensure that do you manage to get some good hours of sleep.
Wear the right clothes - athletic and comfortable clothes, sneakers/sport shoes. Sandals, high heels and shirts with collars won't be allowed.
Be prepared to wait. Skydiving is an extremely weather dependant sport. The SkyDive Dubai officials keep a constant check on the weather monitor to keep track of the winds. If the wind picks up or the weather deteriorates, be prepared to wait. If the conditions are not suitable, your experience may take a little longer.
If you're a female and would want a female tandem instructor, then kindly request the same at the campus.
You don't need to be an athlete to be a skydiver. If you're weight is under the limit and you live an average healthy lifestyle, you should be good.
Relax, breathe, jump and enjoy! Statistically, skydiving is safer than being on the road according to the United States Parachuting Association.
Dubai Skydiving FAQs
---
Where can I skydive in Dubai?
How much does skydiving in Dubai cost?
Are there any offers or deals for skydiving in Dubai?
Is a reservation required to skydive in Dubai?
What's the age limit to skydive in Dubai?
Is there a weight limit to skydive in Dubai?
What should I wear to Dubai Skydive?
What is the duration of a skydive experience in Dubai?
How long does the free fall last?
Will I get a video of my jump?