If there's one place you go to for adventurous outdoor activities in all of UAE, it's Jebel Jais. We don't make the rules. And if you didn't have reasons enough to visit the attraction, now there's one more! The Jebel Jais Sledder.
What's the Jebel Jais Sledder, you ask? Well, this blog has all the answers you need. Read on to know more!
Jebel Jais Sledder in a Nutshell
---
Opening Hours
Tuesday to Sunday: 9 am to 6:00 pm
P.S. the opening hours are limited during the month of Ramadan
Know before you go
| | |
| --- | --- |
| ⏰ Suggested Duration: | 30 minutes - 1 hour |
| ☀️ Best Time to Visit: | Early Morning or Late Evening |
| 🎟️ Jebel Jais Sledder Ticket: | AED 40 |
| 📍 Location: | Ras Al Khaimah, UAE |
Address
W4VR+FX7 - Ras al Khaimah - United Arab Emirates
Get there
Which Jebel Jais Sledder Tickets Should You Buy?
---
Since Jebel Jais as a whole is a popular choice among tourists and locals alike, as it should be - it IS the perfect way to get your fix of adventure, this newly opened attraction is sure to pull in a crowd.
Hence, long waiting lines are natural. Here are some Jebel Jais Sledder Tickets you can buy, so you can save time and dime:
Plan Your Visit
---
Jebel Jais Sledder Opening Hours
The Sledder is open from 9 am to 6:00 pm daily execpt on Monday
Getting to the Sledder
By Car
A 30 km drive up the Jebel Jais Mountain is your gateway to the Sledder - especially if you're a big fan of scenic drives and views.
By Taxi
Taxis are very commonly available in most parts of UAE, and is the best option to get around if you're a tourist/visitor.
By Metro
If a car is not your first choice, don't worry. You can always get to Ras Al Khaimah using the combination of a metro, a bus, and a taxi. Fun!
Best Time To Visit Jebel Jais Sledder
In a day, the best time to visit the Sledder is early morning, because that's when you'll bump into the least crowds. Although, for the best views and photo-ops, it is suggested that you visit during late evening or the golden hour.
In a year, visiting Dubai, and especially this attraction is between November to February (the winter months), as this allows you to enjoy the weather, which might be useful when you're exploring the attraction.
Top Things to Do at Jebel Jais
---
1

A Sky Tour Over the Jebel Jais Cliffs
If zipping from one place to another has been your lifelong dream, the Jais Sky Tour is your gateway to it. A self-guided aerial tour that gives you awe-inducing views of the Hajar mountains, also takes you to UAE's highest sky bridge which is nearly 1,250 meters above sea level and 300 meters above the ground.
The zipline covers a total distance of 5 kms via a series of 6 ziplines, ranging from 337 meters just over 1 km, with an average speed of about 60 kmph. The experience takes about an hour, and we're sure you'll come back for seconds.
P.S. there's a small little weight restriction you should know about.
Minimum weight: 40 kgs
Maximum weight: 120 kgs
P.P.S. the weather conditions all in all may have an impact on your experience.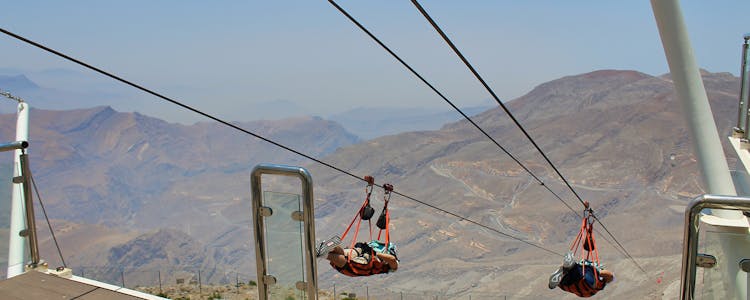 2

Zipline over the Jebel Jais Mountains
No, we're not kidding. If you're zipping through at a speed of about 120 kmph, you'd call it flying too, wouldn't you? The Jebel Jais Flight is the world's longest zipline adventure, that starts at a point 1,680 meters above sea level. Insane, right?
Here's something more insane, top speed on this zipline, can actually go up to 160 kmph, and no, we're not kidding. At all. But rest assured, this experience is entirely safe and in fact, absolutely worth doing because of the adrenaline it gives you.
P.S. there's a small little weight restriction you should know about.
Minimum weight: 40 kgs
Maximum weight: 100 kgs
P.P.S. the weather conditions all in all may have an impact on your experience.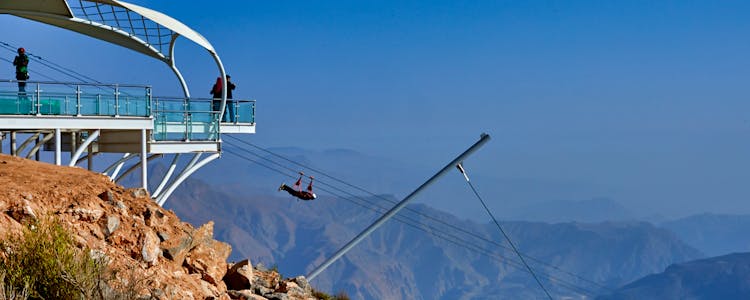 3

Learn to survive in the wild at the Bear Grylls Camp
If you've ever thought about: 'What if I end up in a man vs wild situation?' 'What if I'm stuck with nowhere to go?', well the Bear Grylls Explorers Camp is a must-visit. Run by a fully trained team of professionals, they'll teach you dynamic and handy tips and tricks to survive in the wild. This one's for adventure lovers who intend to spend time in the wild and learn the ropes of living life in the wild.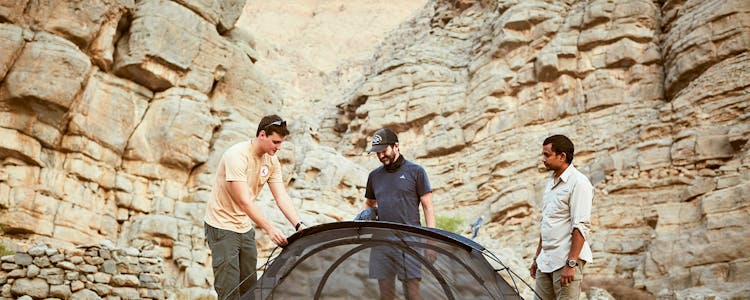 4

Bungee Jump (COMING SOON)
The Jebel Jais Bungee Jump is synonymous with adrenaline in this part of town. If a controlled fall is your idea of fun, then my God are you at the right place. Situated at a height of 1,500 meters above sea level, is the best way to take that leap of faith you've always wanted to. This high controlled drop is ideal for thrill-seekers and adrenaline junkies.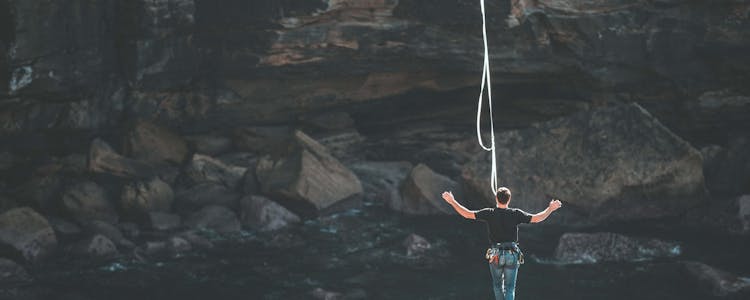 Insider Tips for Visiting the Sledder
---
1. Always, always book your tickets in advance because adventure sells fast here. Especially if it's Jebel Jais.
2. Since you're going to be going down a slide, it's best that you wear comfortable clothing - but also ensure that it's not loose. Shoes are preferred.
3. Hire a camera and record your experience. It's worth it, we promise.
4. Although this ride might seem scary at first, relax and try to have fun while you're at it. You won't regret it.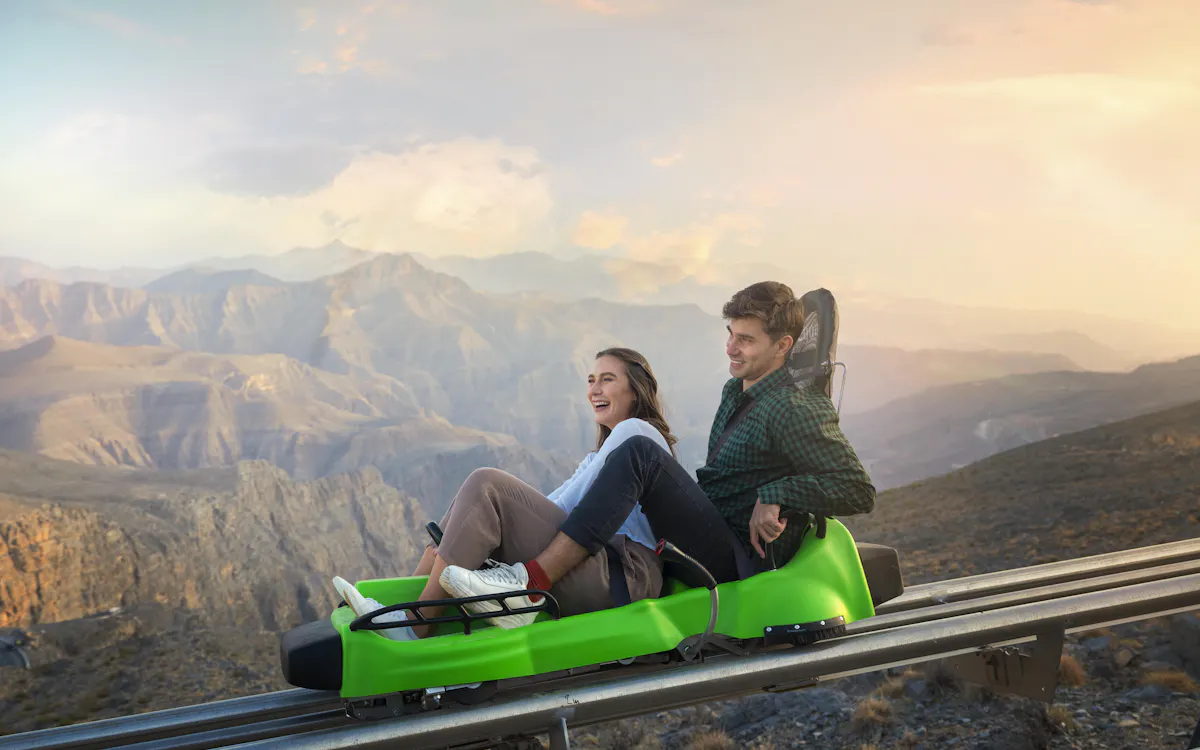 Restaurants near Jebel Jais Sledder
---
Here are some top restaurants which are located near the attraction, that you must add to your plan for the day!
Hotels near Jebel Jais Sledder
---
Although a day's trip is enough to see everything there is at the Ras Al Khaimah, it's never enough for adventures. And honestly, who doesn't love a vacation?!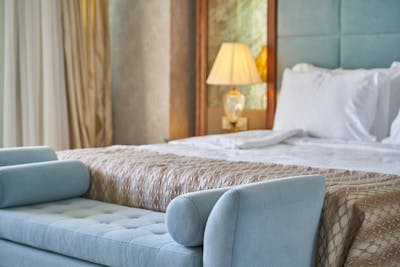 Radisson Resort
If doing every adventure available in Ras Al Khaimah, is your idea of a perfect vacation, Radisson Resort is your hotel of choice. Located right in the heart of the city, this hotel will help you save up on your travel time, and keep adding attractions + experiences to your itinerary. What's more, is that this hotel is the perrrfect way to relax after a day full of adrenaline!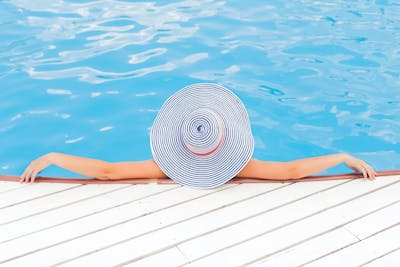 Hilton Garden Inn
Known for its ideal location and great views, Hilton Garden Inn, is a hotel widely known for the same. For comfy stays at a hotel that saves time and dime? Sign us up right now!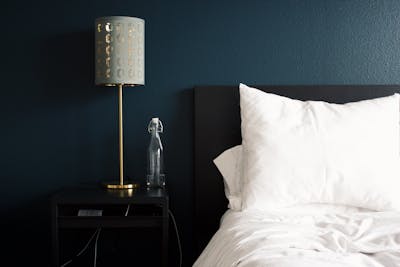 Ras Al Khaimah Hotel
We're providing you with a list of hotels to choose from that are located extremely close to major attractions. This hotel is another one of those. For luxury, efficiency, and the good times in life, stay here! Oh, and don't forget the easy commute it provides.
Frequently Asked Questions
---
What is Jebel Jais famous for?
What are the different activities you can engage in at Jebel Jais?
How much does the Jebel Jais Sledder ticket cost?
Is there an age restriction for the Sledder?
Is there a height or weight restriction for the Sledder?