Dubai's endless deserts are the perfect playground for adventure sports enthusiasts. Due to the hot climate, many outdoor activities are only possible during the cooler winter months. However, this just adds to the adventure of exploring Dubai's desert landscapes on foot, by bike or even on a camel! For something truly unique, there sand-boarding and dune-bashing. ATV ride is another activity popular among the locals and the tourists as well.

With a little preparation, Dubai's deserts can be the perfect place to enjoy some exhilarating outdoor activities.
What is an ATV Ride?
---
An all-terrain vehicle (ATV), also known as a quad, three-wheeler, or four-wheeler, is a vehicle that travels on low-pressure tires or non-pneumatic tires, with a seat that is straddled by the operator, along with handlebars for steering control. As the name implies, an ATV is designed to handle a wider variety of terrain than most other vehicles, including deserts. These vehicles usually have four wheels; however, some models have six or even eight wheels. ATVs are equipped with large, low-pressure tires that allow them to float over soft surfaces such as mud or sand. They also have a high ground clearance, which allows them to navigate rough terrain and avoid obstacles. In addition, ATVs typically feature suspension systems that absorb shocks from rough terrain, helping to protect the operator from being jolted by bumps. While ATVs are frequently used for recreation and off-road racing in deserts, they also have valuable uses in farming, ranching, and other work applications.
Top 3 Reasons Why You Should Ride an ATV In Dubai!
---
1

A Challenge for the Brave
The desert offers a unique challenge for ATV riders. With its soft sand and steep dunes, the desert provides a playground for those who love to push their limits.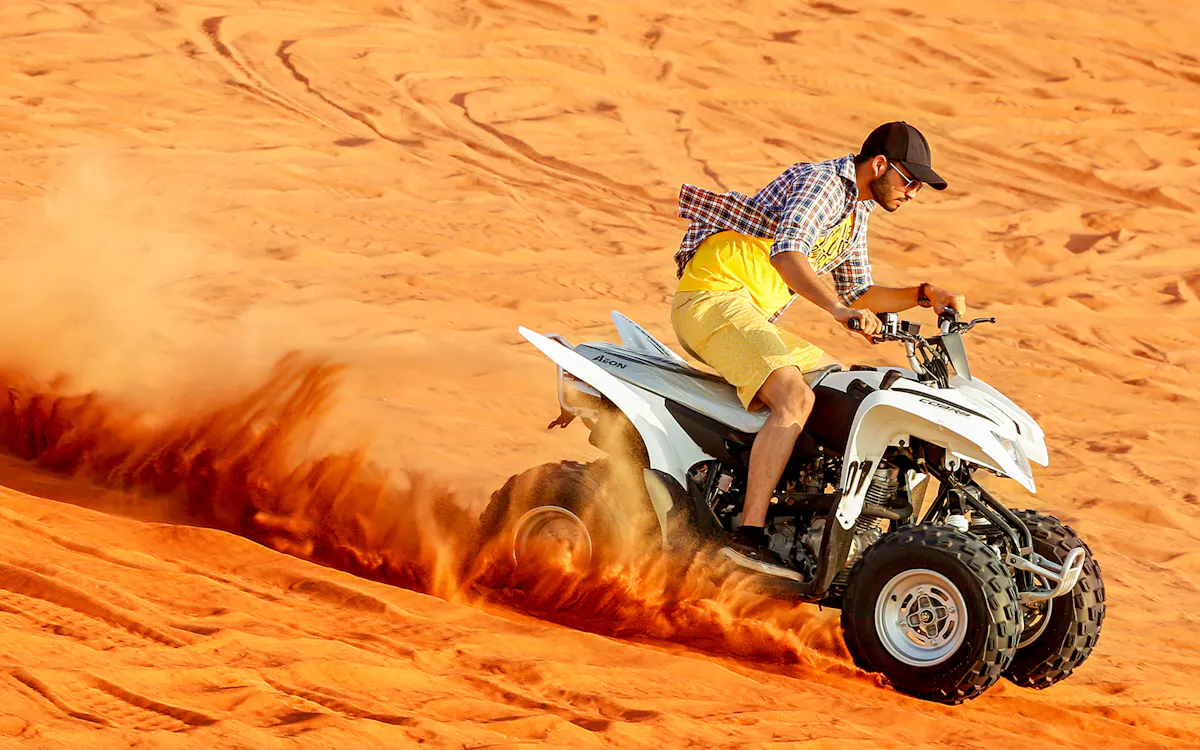 2

Experience the Ecosystem
Riding through the desert is a great way to explore the rugged beauty of this unique ecosystem. From the native Desert Eagle Owl to the evergreen Ghaf tree, there is much to see in the desert.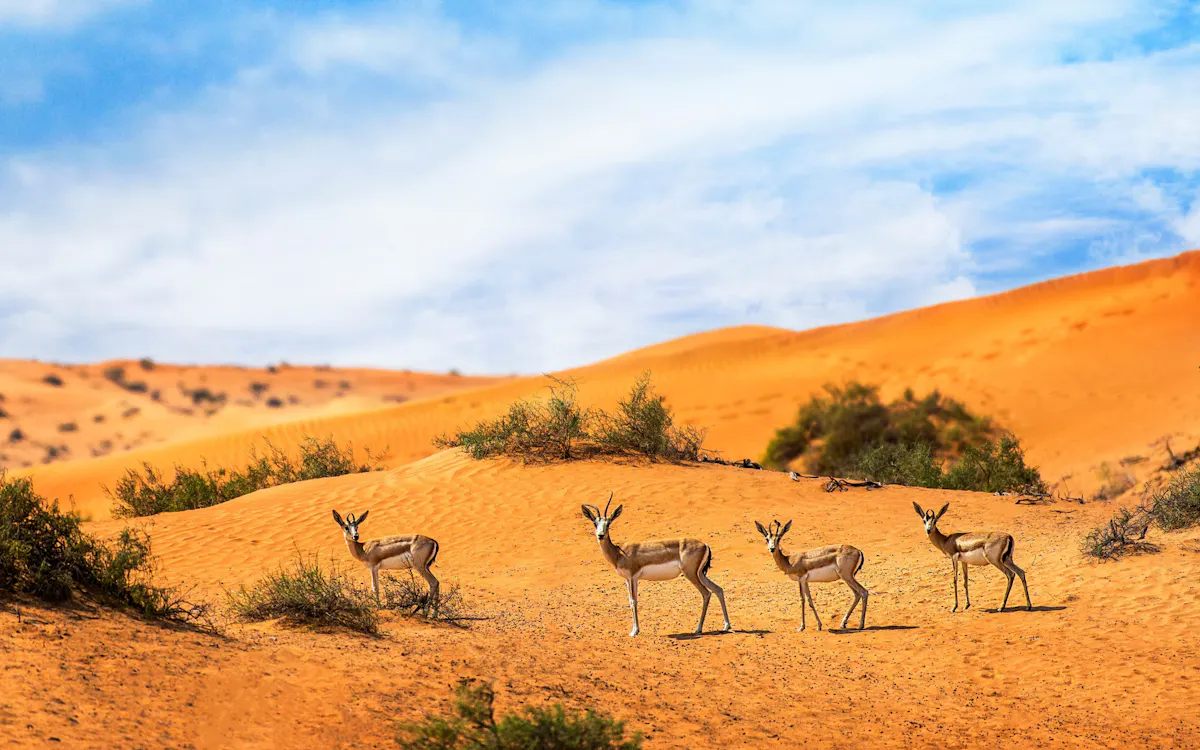 Riding an ATV in the desert can be simply fun. There is nothing quite like flying over a sand dune at full speed, feeling the wind in your face and the sand beneath your wheels.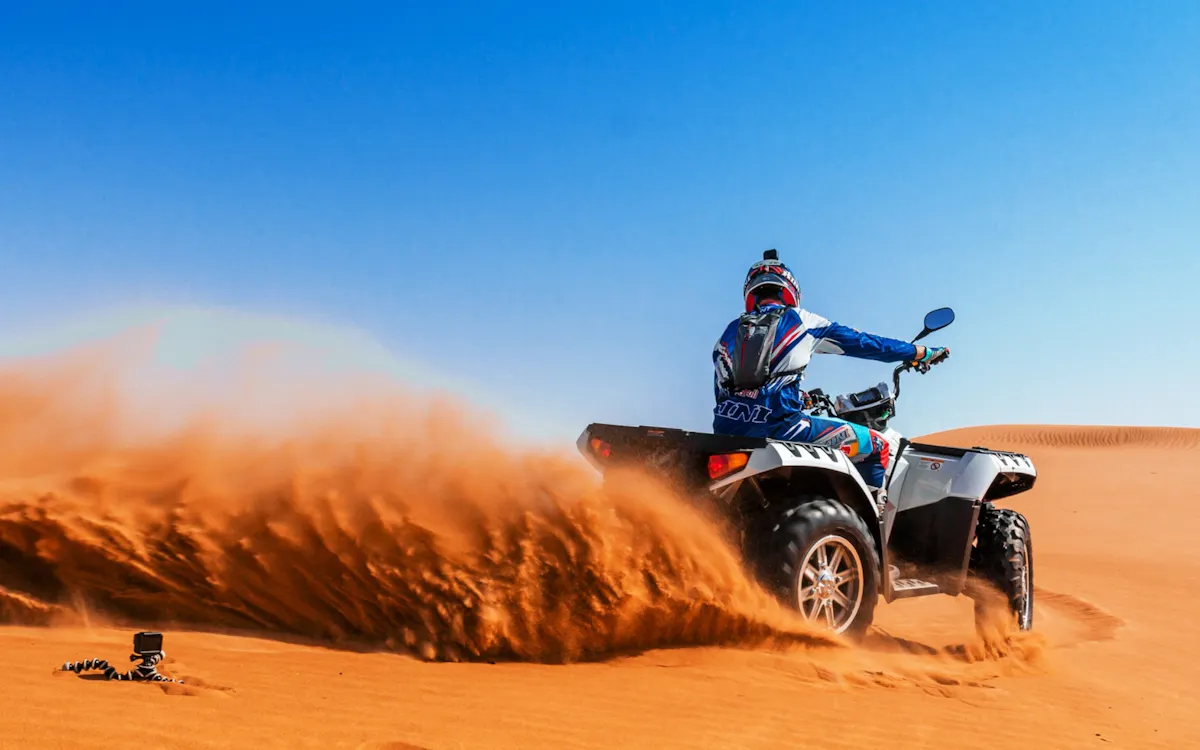 So if you're looking for an adventure, don't write off the desert just yet - it might be the perfect place to go for a ride on your ATV.
Best Recommended ATV Rides
---
Which ATV Rides Should You Choose in Dubai?
---
ATV riding is a thrilling experience that everyone should try at least once. But with so many different ATV ride packages available at Headout, it can be hard to know which one to pick. Here are a few things to consider when making your decision:
Level of experience
If you're a beginner, you'll probably want to stick to a less challenging course. On the other hand, if you're an experienced rider, you might be ready for something more adventurous.
Length of the ride
Some ATV packages offer short rides that last just an hour or two, while others include all-day excursions. Choose the length that's right for you and your schedule.
Budget
ATV ride packages can vary widely in cost, so be sure to shop around and compare prices before making your final decision.
Keep these factors in mind, and you're sure to find the perfect ATV ride package for you.
Safety Tips to Consider While Riding an ATV
---
Before you head out on your next desert adventure, there are a few things you should keep in mind to stay safe and comfortable.
Always ride with a friend or group. Not only will this help you stay safe, but it can also be more fun.
Make sure you have the proper gear. This includes a good helmet, goggles, gloves, long pants, over-the-ankle boots and closed-toe shoes to prevent scrapes.
Be aware of your surroundings and plan your route accordingly. Avoid riding during the hottest part of the day, and be prepared for sudden changes in weather.
Always carry plenty of water. Dehydration is a real danger in deserts, so it's important to stay hydrated at all times.
Ride an ATV only during the day. Navigation can be difficult during the night, and there are chances of potential danger.
Do not ride an ATV while drunk or on any sedative medications.
Never let kids or teenagers ride the ATV, as a reckless ride can result in serious injuries.
Be sure to let someone know where you're going and when you'll be back.
By following these simple tips, you can ensure that your desert adventure is safe and enjoyable.
Other Popular Desert Sports to Try in Dubai Deserts
---
One of the popular desert sports in Dubai is dune bashing . This involves driving a four-wheel drive vehicle up and down sand dunes. It's a thrilling experience and one that you won't forget any time soon.

Another popular desert sport is sandboarding . This is similar to snowboarding, but instead of snow, you'll be sliding down sand dunes on a board.

If you're looking for a more relaxing desert experience, then camel riding is definitely for you. Camel rides are a great way to explore the desert at your own pace and take in the stunning views.

So if you're looking for an adventure, be sure to add some of these popular desert sports to your list. You won't be disappointed!
Have an extra day in UAE?
---
If you're looking for an amazing travel destination, you can't go wrong with the United Arab Emirates. This breathtaking country is home to some of the most unique and beautiful architecture in the world, as well as stunning natural scenery. And of course, no visit to the UAE would be complete without spending some time in its two major cities, Abu Dhabi and Dubai.
Abu Dhabi is the capital of the United Arab Emirates and is known for its luxury lifestyle and stunning architecture. The city is home to many iconic landmarks, including the Sheikh Zayed Grand Mosque and the Louvre. There's plenty to do in Abu Dhabi since the city has got much to offer!
Dubai is one of the most popular tourist destinations in the world, and it's easy to see why. This vibrant city offers something for everyone, from luxury hotels and shopping malls to traditional markets and desert safaris . Visitors can explore the world 50 years from them at the Museum of the Future or take in the stunning views from the top of the Burj Khalifa , the tallest building in the world.
No matter what type of traveler you are, you're sure to find something to love in the UAE. So what are you waiting for?
Start planning your trip today!
Ready to Explore Dubai?
---
Fancy heading out to some other must-visit Dubai attractions? Take inspiration from our list of the best things to do in Dubai here. Use our comprehensive Dubai Travel Guide to explore the rest of Emirate in a hassle-free fashion with all the need-to-know information in hand.
FAQs
---
Costs for the ATV Ride differs as per the package. With Headout you can save up to 40% for your next ATV ride!
Though we recommend going through a formal training first, you do not need any training or license for your ATV ride in Dubai.
Only individuals 14 and above can ride an ATV in Dubai.
Only individuals 14 and above can ride an ATV in Dubai.
Yes absolutely! When done with the right safety precautions and gear, ATV ride is safe.
No, though they work similarly, they are not to be confused as one. ATV generally refers to a quad or 4-wheeler while dune buggy is slightly bigger, like an open car.