Dubai Safari Park opened its doors for the 2022-2023 Season on September 27, 2022.
A project initiated to replace Jumeirah Zoo, the Dubai Safari Park is a diverse reserve sprawling over a massive 119 hectares. The park gives visitors the rare chance to get up close and personal with hundreds of exotic animals.
Currently, the park is home to 2,500 animals, covering 250 different species. Lions, tigers, gazelles, hippos, buffalo, hyena, flamingos, gorillas, chimpanzees, reptiles, and plenty more, the park strives to replicate various natural habitats found across the globe. WIth elephants, zebra, cheetahs and more still yet to arrive, the park plans to increase its number to over 5,000 animals by 2020, with 350 species including endangered animals.
Transport yourself to the African Savannah, wonder through the jungles of Asia, venture through the Arabian Desert and much more - Dubai Safari Park is your ticket to the wild! With this ultimate guide, discover all the major attractions, find all your practical information, and learn where to score discounted Dubai Safari Park tickets so that you can make the most of your experience.
Dubai Safari Park In A Nutshell
---
Know Before You Go
Best time to visit - Early opening hours or late evenings
Suggested duration - 5 Hours
Closest Bus Stop - Al Warsan 1, Eppco 2


Opening Hours
Open every day from 9 am to 5 pm
Last entry for ticket holders- 4:00 pm
Last entry for non ticket holders- 3:30 pm

Holy Month of Ramadan: 10 am to 6 pm

Must-do
Guided Tour Villages
Reptile House
Safari Journey
Animal Feeding
Why Visit Dubai Safari Park
---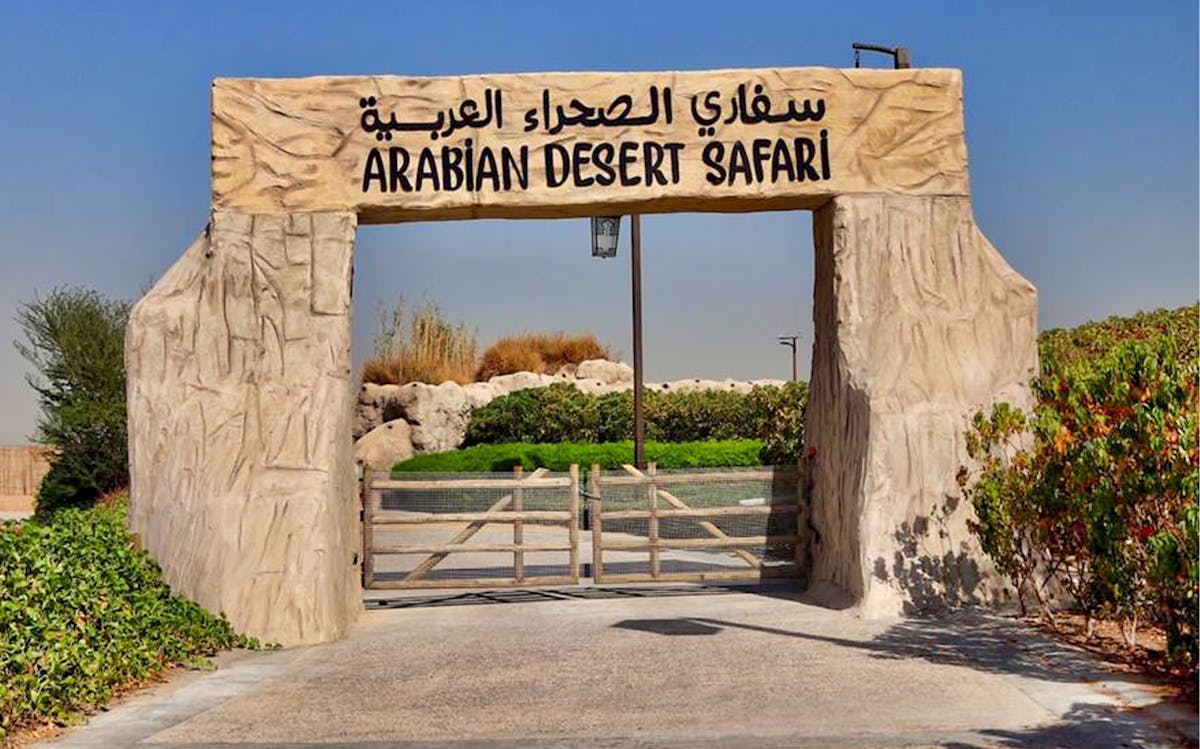 Dubai Safari Park is the perfect activity for families travelling to Dubai with kids. The interactive park is home to 2,500 animals, birds, and reptiles, comprising of 250 different species from various habitats. A DH150 million project, Dubai Safari Park aims to educate visitors about the different animals and their ecosystems, taking them as close to the wild as possible.
Dubai Safari Park was built with a focus on conservation and promotes the breeding of endangered species, with an aim to release them back into the wild. The park is also built in a way that allows visitors to enjoy a comprehensive world tour, meeting different species from all over the world. Be it Savannah grasslands, or tropical rainforests, each area replicates the animals' natural habitat.
Education is also a huge priority for the park, with several programs dedicated to local schools. On site, children can enjoy a great kids zoo and an interactive theatre with films about wildlife and conservation. Throughout the park, there are also a plethora of interactive games and activities - the cheetah race and bird flight exhibitions are major crowd pullers!
Scoring Dubai Safari Park Tickets
---
Since the reopening of Dubai Safari Park has been awaited since a long time, the ticket counters on site will see long waiting times. Free yourself off such obstacles and book your tickets in advance. Purchasing the Dubai Safari Park Tickets online will also save you money and time.
Dubai Safari Park Main Attractions
---
Dubai Safari Park is divided into seven areas: Arabian Desert Safari, Explorer Village, African Village, Asian Village, Wadi, Kids Farm, and, thee Grand Aviary. Each zone is dedicated to providing visitors with a unique learning experience tailored to a specific region. Guests can see animals, view interactive shows, watch theatre presentations, and more. Two of the villages (Arabian Desert Safari and Explorer Village) can only be visited by on a guided tour, by tram or bus, while the others can be explored independently by foot.
Guided Tour Villages
---
These villages can only be accessed by vehicle. A professional and friendly guide will lead the way, providing informative, interesting and fun commentary throughout the way.

Upon entering Dubai Safari Park, your adventure will begin with a guided tour of the Arabian Village. From the comfort of a luxurious tram, travel through the desert as your expert guide informs you all about the animals and creatures that make up this fragile ecosystem. You'll also get to see firsthand what the park's conservation team is doing to protect indigenous species.
For an interactive experience, hop off the tram at the Children's Farm, or petting zoo. In addition to interacting with animals, children can also partake in a variety of educational and fun activities. From an animal footprint activity where kids can try on different paw prints to get a feel of what it's like to 'walk in their shoes', to a training session on how to milk a goat or cow, the petting zoo is family favorite.
Animals found
Addax, Arabian Oryx, Arabian gazelle, Sand gazelle, Mountain gazelle, Scimitar-horned Oryx, and Arabian Wolf
Time Taken
10-15 minutes for the tram tour; 30 mins at the petting zoo

Explorer Village is the park's main attraction. Nothing short of a thrilling adventure, this tour takes your from Africa to Asia. As you set off in a 4WD, prepare to drive by the UAE's most diverse collection of animals. As you make your way through the African grasslands, watch out for the troop of over 70 baboons, cruise past a group of white rhinos, come face to face with giraffes, zebras and deer, and catch the mesmerizing sight of African lions basking in the sun. The fun doesn't stop there - you'll also get to visit the UAE's only drive-through tiger and hippo exhibits, as well the world's first drive-through Nile crocodile exhibit!
As you venture through the Asian region, pass thars, mountain goats and cheetahs. Home the UAE's largest herd of elephants, you'll also get to watch these lovable creatures as they swim and play in the water at the Elephant's Region. At Tiger Falls, pass under a waterfall as the bus takes you past some of Asia's most magnificent big cats.
After touring around, relax at one of the village's restaurants or cafes before heading to the Safari Theater where you can learn more about the park's species. Dedicated to the park's feathered creatures, shows here educate on five different species of birds, ranging from owls to hawks. Guests will have the opportunity to see and interact with the birds in their habits.
Animals found
Cheetah, Hippo, South africa Giraffe, Giraffe, Sarus cranes, Guineafowl, Baboon, Zebra, African buffalo, Ostrich, Blackbuck, Nilgai, and Sambar Deer.
Walking Tour Villages
---
These villages can explored by foot, at your leisure. Professional guides are available to answer any questions you might have about the exhibits.

Get a taste of Africa as you step into this village's diverse collection of mammals and reptiles. Upon entering, you'll pass by huge baobab trees, setting the scene for your tour of the African Savannah. Visit two of the continent's great apes (chimpanzees and gorillas). Watch lemur monkeys swinging in the trees, catch a family elephants, visit the UAE's largest aviary exhibit, admire a plethora of snakes at the reptile house, and see pygmy hippos swimming in the water. And last, but certainly not least, witness lions laying in the grasslands.
Animals found
African White Lion, Spotted Hyena, Bongo, Chimpanzee, Pygmy Hippo, Aftican Elephant, Gorilla, Flamingo, Ring Tailed Lemur, Black and White Lemur, and more.

The Asian Village is characterized by its orangutan population. A species originally from Indonesia and Polynesia, orangutans are a severely endangered species. This village is also home to the moon bear, also known as the Asian black bear. Komodo dragons and other reptiles can also be visited here.
Also situated in the Asian Village is the park's largest theater. Accommodating more than 600 people, the theatre features five different shows each day.
Animals found
Black bear, Orangutans, Komodo dragons, Gibbon, Southern Cassowary, and Mandarin Duck

Al Wadi, also known as the valley, is the place you go to recharge energy. Relax under the shade of tall trees, have a picnic with your family, or have a meal from the two authentic Arabian restaurants located in the area. This section also offers leisure activities that you can do watching the river, a variety of birds such as peacocks, swans, and pelicans; and many small kiosks to grab a snack from.
Animals found
Duck, Peacocks, Swans, and Pelicans

Today's children hardly have the access to be in a farm-like environment and live closer to several domestic animals. Kids Farm in Dubai Safari Park gives children the experience and an opportunity to learn about living on a farm. Interaction with many farm animals like ponies, cows, sheep, goats, ducks, chickens, donkeys, and others will help them care more for animals and know about their habitat. Children can have the best of both worlds; a petting zoo and a farm, at once and in one place.
Animals found
Donkey, Eurasian bullfinch, Cockatiel, Local duck, Love bird, Najdi sheep, Pony, Amazon parrot, and more

To wake the ornithologist in you, make a visit to your feathered friends at the Grand Aviary. You can find every species of bird from Canary to the Australian Cockatiel, Red-billed Toucan to the American White Pelican, and a wreck of seabirds. The unique flock of birds from around the world who live across water, air, and land will leave you startled. The Aviary offers a lot to see and learn about and is a no-miss, especially if you have your little ones around.
Animals found
Australian Cockatiel, Red-billed Toucan, American White Pelican, and more
8

Park Experiences – Live Shows

Amazing Creatures of the World: In this interactive show, you will meet several birds and mammals as they go about their everyday activities in the air, water, and on land. Not only will you get to see them up close, but you'll also learn about how important they are to the environment.
Birds of Prey: The skills, flight patterns, and behaviors of our birds of prey (raptors - such as eagles and falcons) are displayed in this show. With natural actions, you'll see these magnificent creatures soar and fly high in the air.
Location
Amazing Creatures of the World: Asian Village Theater
Birds of Prey: Birds of Prey Square
Time Taken
25 mins per show

The tour offers an up-close and personal experience with the animals and their handlers. You will be guided through the facility in a private vehicle, learning about how we care for our animals. The tour is limited to 10 people.
Location
Dubai Safari Park

For photographers, there's a special package that includes park entrance, Safari Journey tickets, and a private vehicle during the trip. (Package for three people)
Location
Dubai Safari Park

A tour for just 10 people, where you're greeted at the main entrance by a personal guide. Then, you get to ride in your own private vehicle with a driver, have reserved seats for all the live shows, and even have your own bus while on the Safari Journey.
Location
Dubai Safari Park
This new experience is all set to be announced soon!
Location
Dubai Safari Park
Dubai Safari Park Timings
---
Dubai Safari Park Opening Hours
Dubai Safari Park is open from 09:00 AM to 05:00 PM, every day of the year including holidays. Timings during the Holy Month of Ramadan will be from 10:00 AM to 6:00 PM.
Live Shows and Interactions at Dubai Safari Park
Bird Show - Bird Theatre, Explorer Village:
First Show: 12 PM
Second Show: 2 PM
Amazing Creatures of the World - Asian Theatre, Asian Village:
First show: 1 PM
Second show: 3 PM
Birds of Prey - Between Asian Village and Explorer Village roundabout:
Daily at 4 PM

Giraffe feeding - Explorer Village
Daily at 10:30 AM, 12:30 PM, 2:30 PM and 4 PM
Animal encounters - Glass Building and Education Center:
Guinea pigs feeding: 10 AM to 2 PM
Kids Farm Aviary feeding: 12 PM and 3:45 PM
Kids Farm Goat feeding: 11:30 AM and 4:15 PM
Pony walk & Goat Feeding : 10 AM, 1 PM and 3 PM
Getting to Dubai Safari Park
---
Dubai Safari Park is located on Al Waqra 5, at the Hatta Road. The main approach road is Al Awir, opposite the Desert Palm Resort and Hotel. It is easily accessible by cab. Here are the distances from some of Dubai's major landmarks:
• International Airport: 17kms
• Dubai city: 23kms
• Jumeirah: 25kms
• Palm Jumeirah: 41kms
• Sharjah: 30kms
Dubai Safari Park Map
---
Here is a handy map for you to navigate the park with ease.
Tips For First-Time Dubai Safari Park Visitors
---
Buy the Safari Journey Package: It gives you access to all the zones including a safari ride in the Explorer Village to make the most of your time while saving a few bucks.
It is always a good idea to download the map and keep it handy since the park is huge and you can get lost if you don't follow the signs.
Purchase Safari Journey Plus Package to get around with ease and have free access to the buses. If not, you will need to pay extra every time you take a Safari Taxi (a small golf car) to get around.
Plan your visit during October to January when the days are not very humid since most of the park is located outdoors.
Wear a comfortable pair of shoes, bring a hat and sunscreen since Dubai is mostly sunny all year round.
Make sure to participate in the feeding sessions of your favorite animals if you want to get close and personal with them.
Dubai Safari Park Reviews
---
Definitely a must visit place for families. The bird cage near the entrance was really entertaining. You can go in and feed the birds and they'll feed from right off your hand.
Eliyas, Google, August 2021
A great family experience to explore another great part of Dubai. The Safari Park is vast with more than 300 animals. Different areas and each worth exploring. Not too big or too small to enjoy. The best part are the shows and Safari rides. Better not go in the heat and maybe visit in the winter. Always book in advance to get the Safari journey, as they sell out quick. Also to enjoy the feeding of the animals, make sure to go at the exact time.
Issa Eid, Google, April 2021
Dubai Safari Park FAQs
---
How much is the ticket for Dubai Safari Park?
Is Dubai Safari Park reopened?
Is a camera allowed in Dubai Safari Park?
What animals are in Dubai Safari Park?
How big is the Dubai Safari Park?
What is the best time to visit Dubai Safari Park?
Is food allowed in Dubai Safari Park?
Are pets allowed in Dubai Safari Park?
What should I wear to Dubai Safari Park?
Ready To Explore Dubai?
Check out our comprehensive Dubai Travel Guide packed with itineraries, tours, culture trips, best hotels, restaurants and a lot more.
Best things to do in Dubai