They say love is a roller coaster ride, and what fun is a roller coaster without the thrill? Spending your Valentine's Day in Dubai might just be the thrill that you and your lover need to experience next! Love isn't always about the quiet candle-lights and starry nights. Sometimes what really makes you cherish it are the moments of joy and laughter during some adventurous experiences. Amidst all the adventure and glam of Dubai, the city has plenty of soft spots for some romantic moments too. Here are the top ideas for you to plan some dates you never would have thought of!
Valentine's Day in Dubai - Top Picks
---
1. Visit IMG Worlds of Adventure: Valentine's Day Special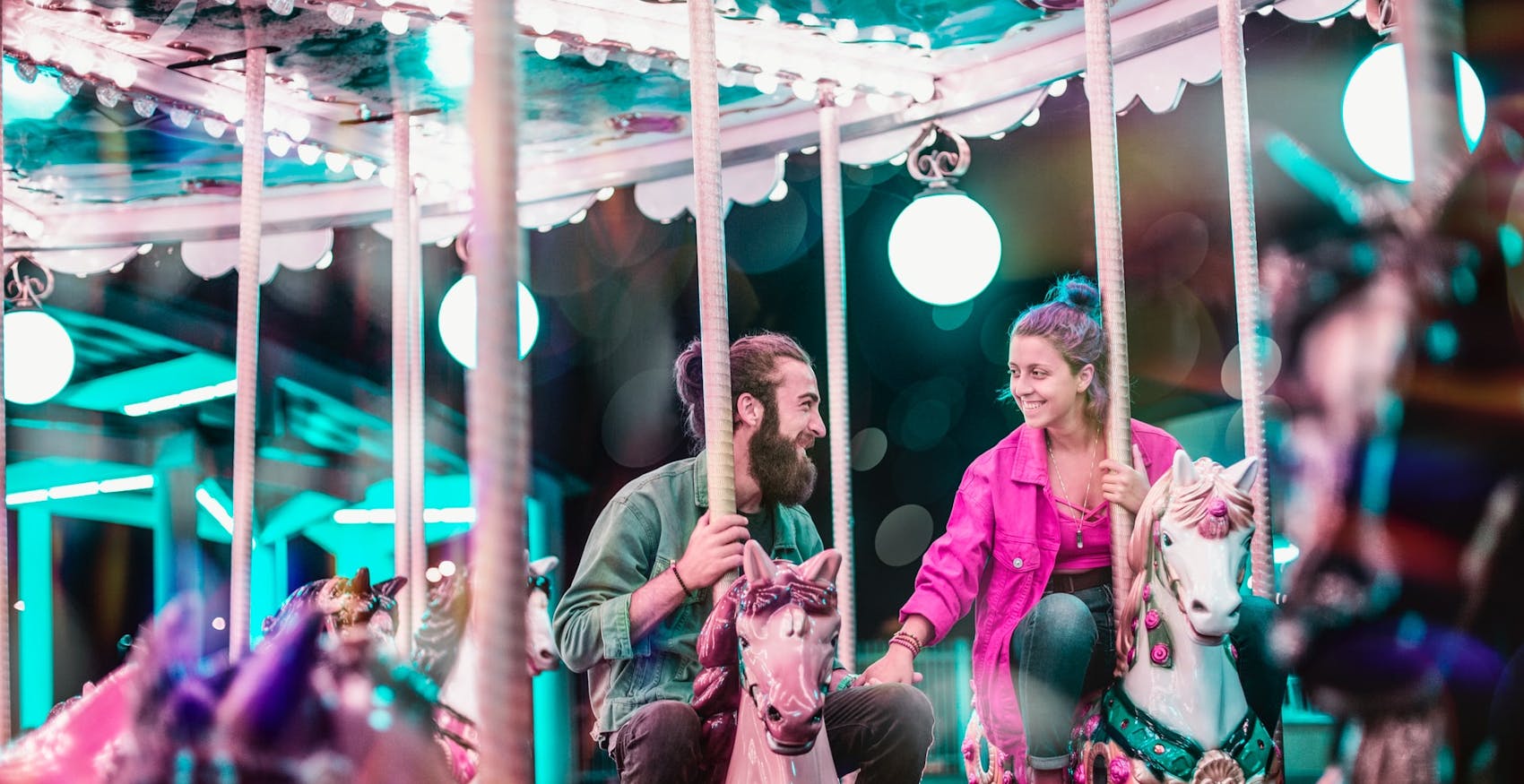 Experience a thrilling day at the IMG Worlds of Adventure on Valentine's Day, a setting all decked up to match up to the romance and heat that comes with celebrating the day of love. From 11th February, to 14th February, IMG Worlds Adventure will be decked up in heart shaped decorations so you can savor this holiday with the adventurous rides from the 4 zones across the park. The thrilling evening can be concluded with a romantic fine-dining experience with your partner. You can buy tickets for this special occasion here!
2. Hold Tight at The Top of The World in Burj Khalifa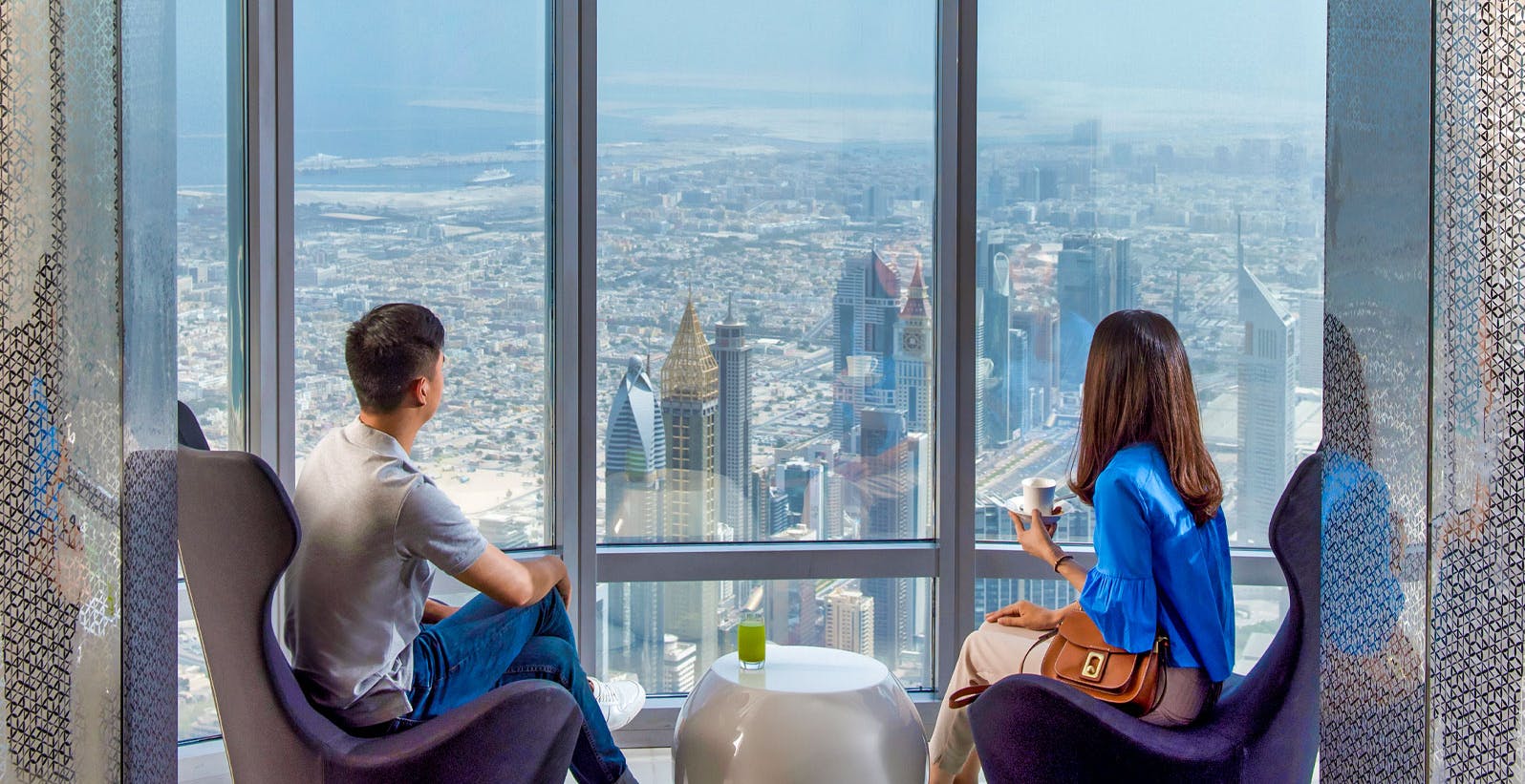 Burj Khalifa is synonymous with Dubai. Having a conversation with your loved one while sipping on Arabian coffee in the world's most iconic skyscraper will surely be an experience to cherish. You'll get to enjoy scenic sights of the Dubai coastline and cityscape, which will surely stick with you for years to come and make your Valentine's Day one to remember. Is your partner a little shaky at heights? Perfect! There's your opportunity to hold them tight and share some close moments together. Spend a romantic evening at the top of the world, quite literally!
3. Kiss under the Desert Sun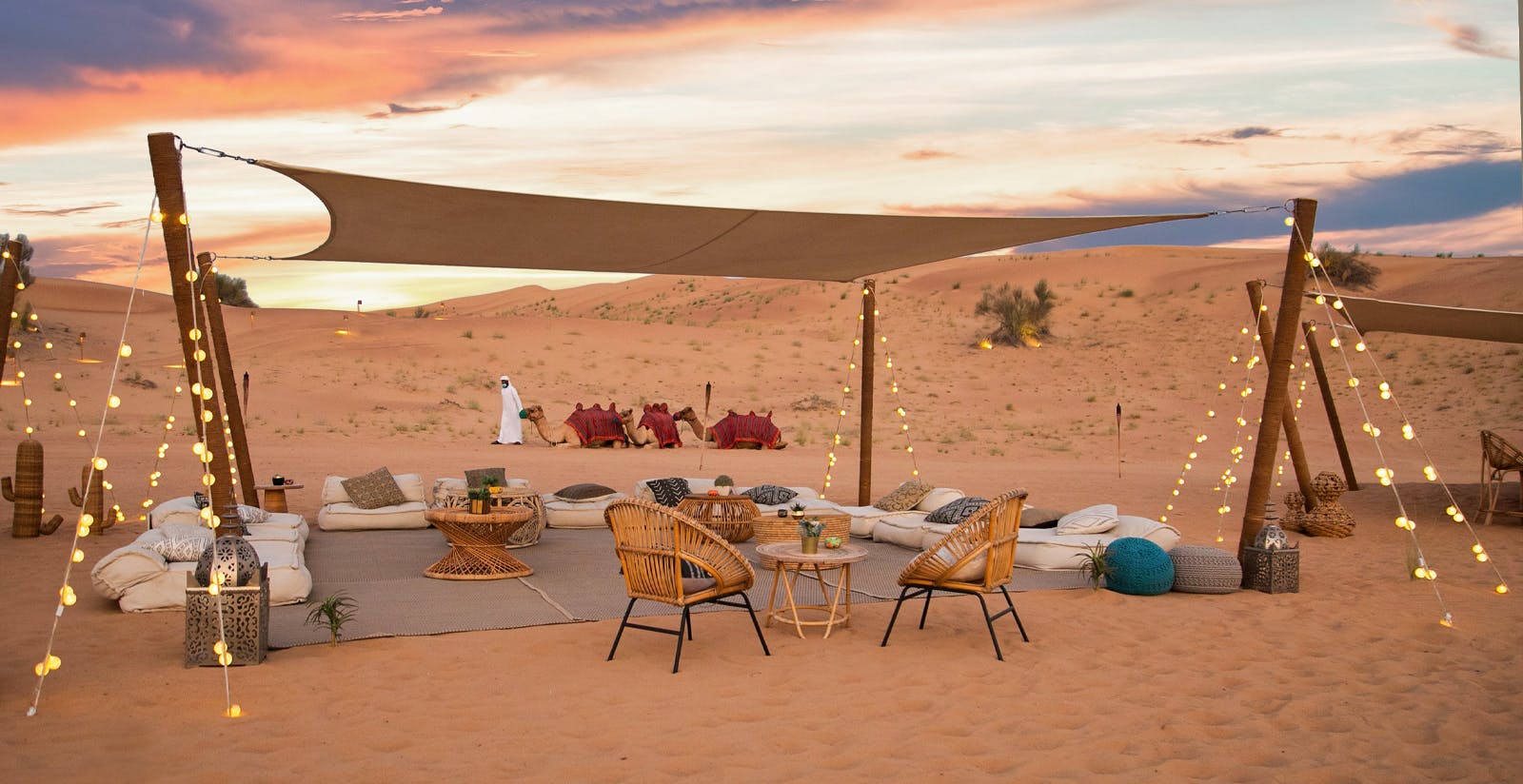 Away from all the glam and hustle-bustle of the city, lies the tranquility of the desert. Let this overnight safari in Dubai take you on an unforgettable journey, as it captivates the traditional Arabian desert culture. Engaging in activities like camel riding, sand boarding, dune bashing and many more will ensure that you will spend some quality time with your partner. Not to forget, the sun setting behind the golden dunes is a sight to behold too. You can visit the camp in the morning or evening based on what backdrop you want for your romantic kiss under the Desert Sun!
4. Helicopter Ride Over the Jumeirah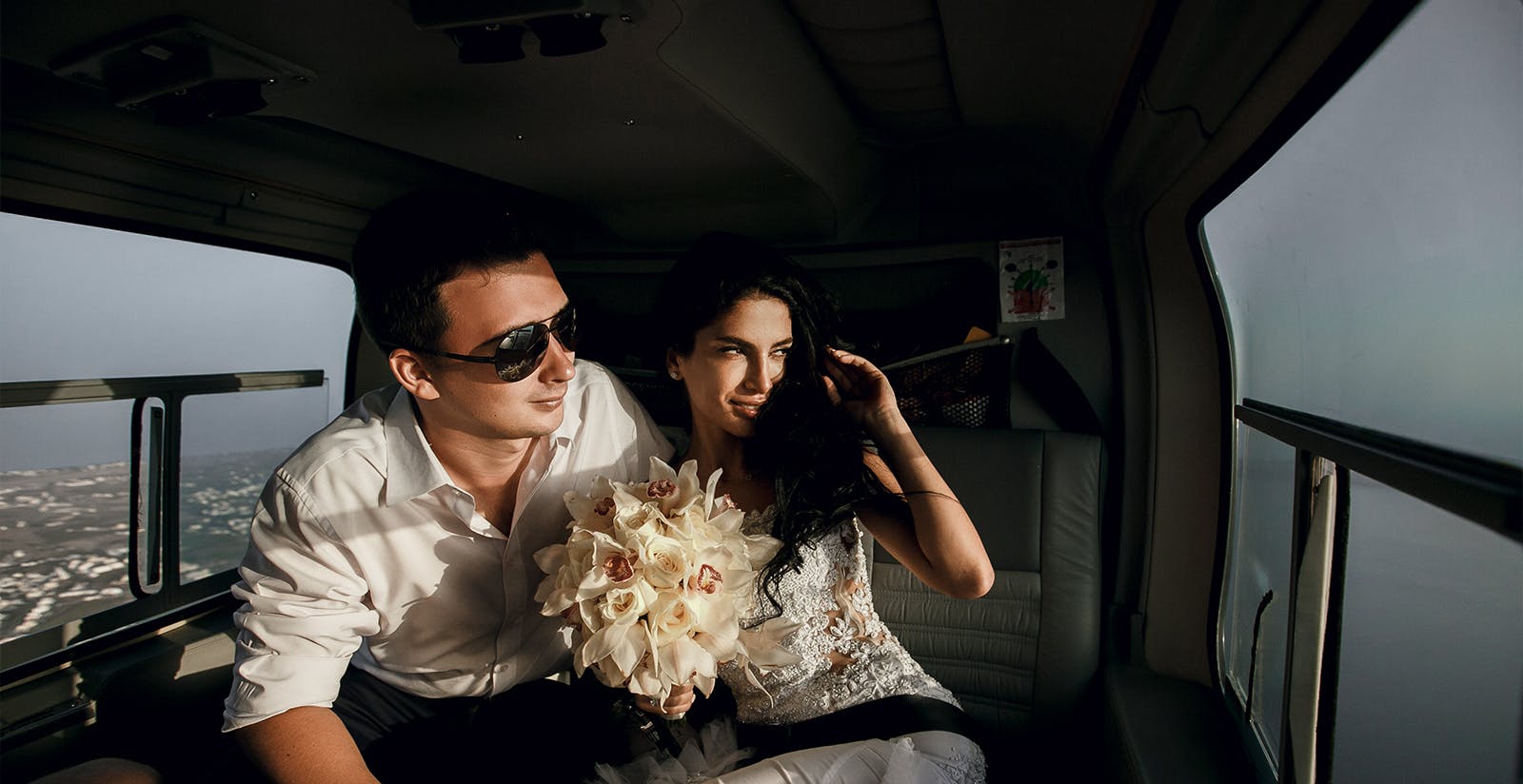 Had enough of calm candle light or movie dates? Now's the time to break the monotony and do something out of the ordinary to take your dates one step further - helicopter rides! Just hop into the soundproof cabin of a helicopter and catch glimpses of the City of Gold like you never would have imagined. Get a bird's eye view of iconic landmarks like Burj Al Arab, Atlantis Hotel, Meydan racecourse and many more. The thrill and rush of the flight will get your heart racing and be a wonderful romantic adventure right from take off. The helicopter ride calls for plenty of picture-perfect views as you soar over the Jumeirah, so keep your camera ready.
5. A Romantic Dinner in the Sky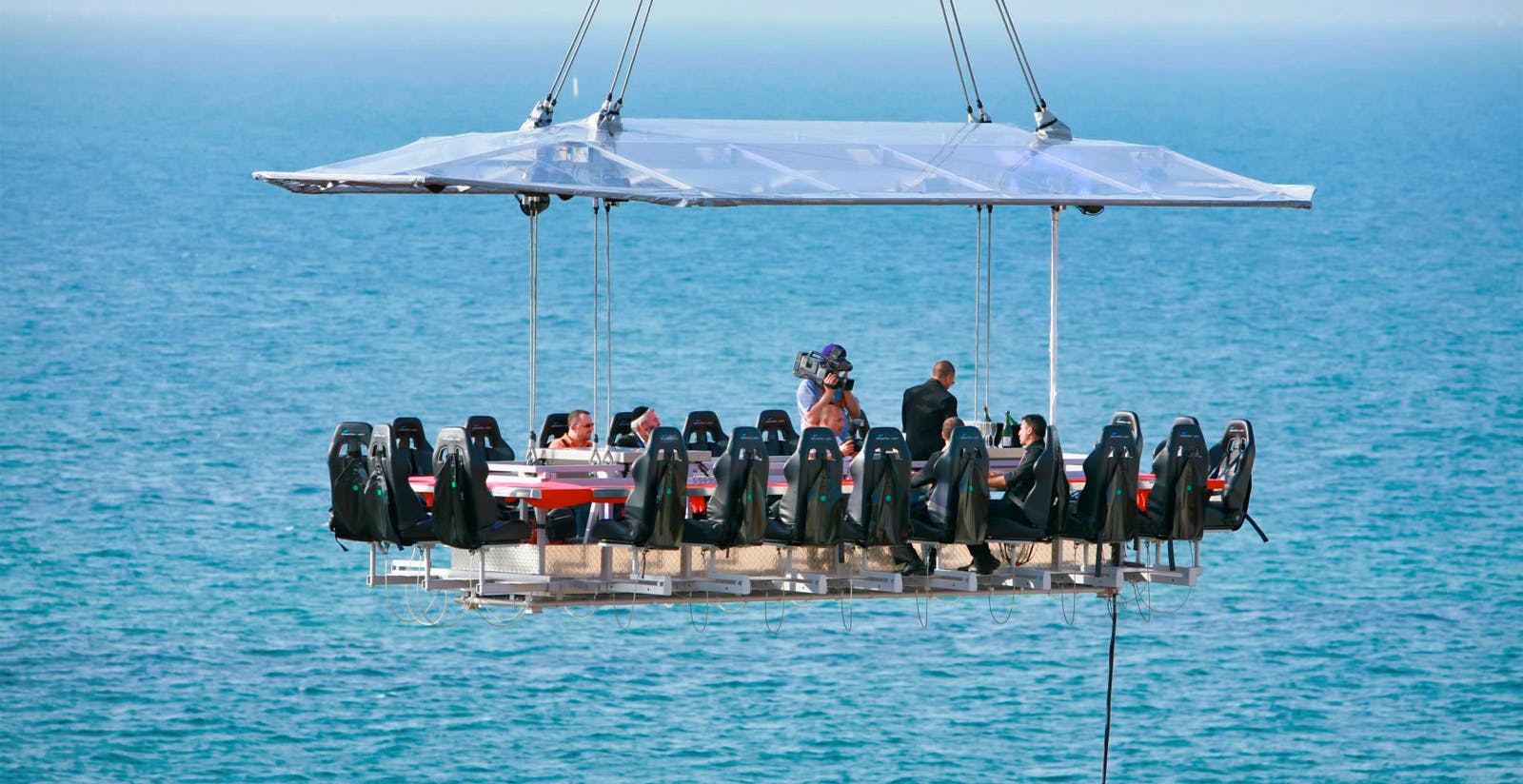 We get it, a dinner date is probably not the most original plan when it comes to Valentine's Day, but what if you could put a twist to this old-school idea, and etch this one dinner date in your minds like none before! Savour some flavoursome meals while you're suspended 50 meters above the ground by a crane. Having dinner in the sky, you will be able to feel the rush with each bite as the wind strikes your face. This one's for the thrill seeking, adventure loving couples out there who want to take their love to a new height. Your safety is guaranteed and you will be accompanied by professionals while you dine. You can book your tickets in advance here!
6. Cling to each other at La Perle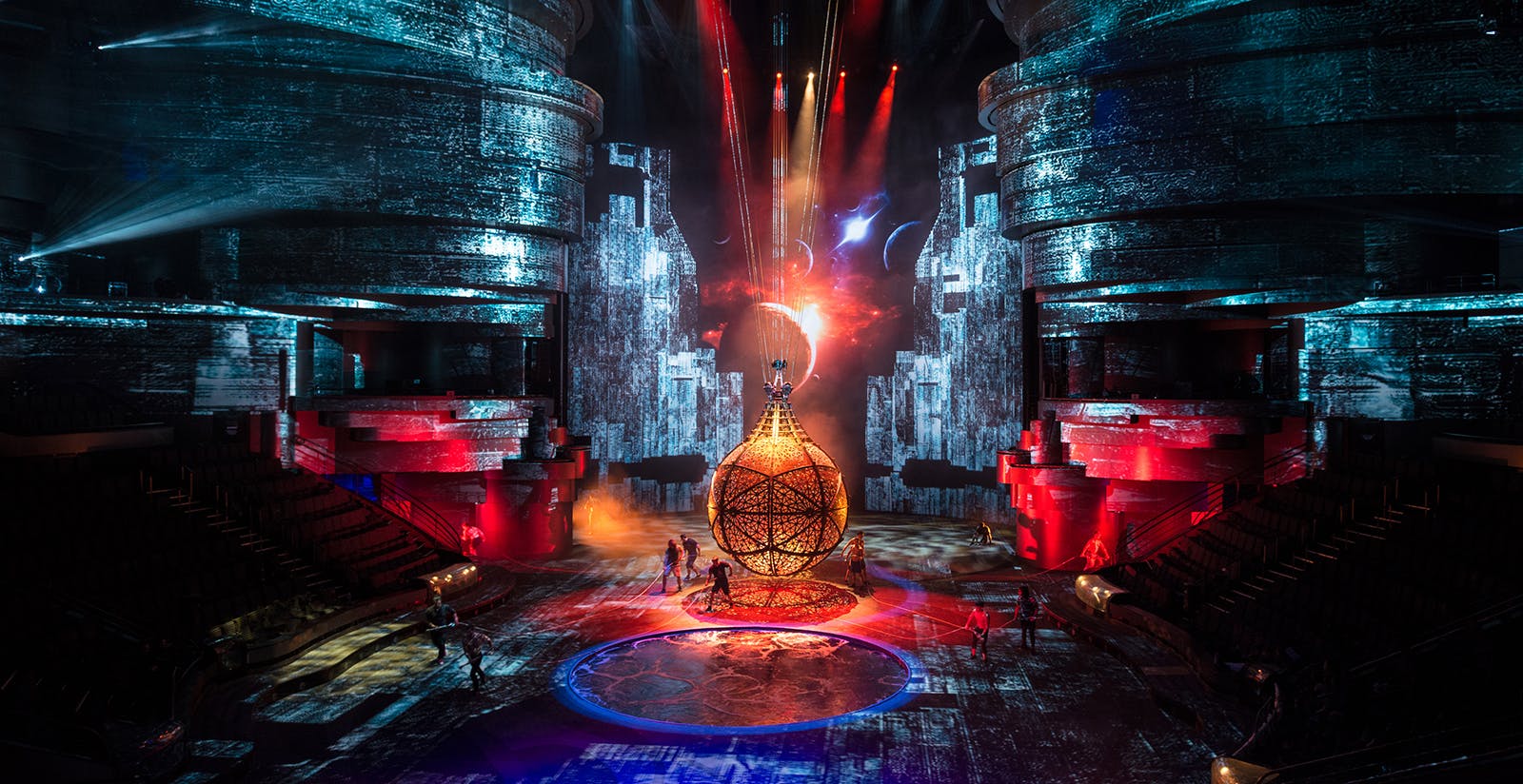 If you are a couple that prefers live entertainment over movies, or just want to spend this Valentine's Day treating yourself to a breathtaking spectacle, there won't be a better option than the La Perle Show. It is a 90 minute journey featuring world-class performance artists who present a stupendous fusion of aerial acrobatics, stunts, death-defying dives and aquatic effects, and some brilliant use of technology. This edge of the seat thriller is a touching experience and leaves you with a bunch of new perspectives. These moments would make for a cherishable memory to share with your partner. If you decide this is for you, than look no further and book your tickets in advance here!
7. Decompress at a Luxury Resort
If your idea of love is spending a sunny afternoon by the beach waves or in a luxurious pool, Dubai has plenty of options for you. You'll have a variety of beach resorts to choose from, like the Le Meridien Al Aqah. Having a gala time in the pool till you get tired and then lying down next to each other on the warm beach sand, hearing the crashing waves will be extremely calming and relaxing. So Dubai is not all about adventure and out of the world entertainment, but has plenty of room for relaxing and leisurely pleasures too.
Sign up for our monthly newsletter
Your dose of travel fix - from hacks and deals to travel tips and everything in between, delivered monthly to your inbox
Please enter a valid email
Unsubscribe anytime
8. Capture memorable shots at The Dubai Frame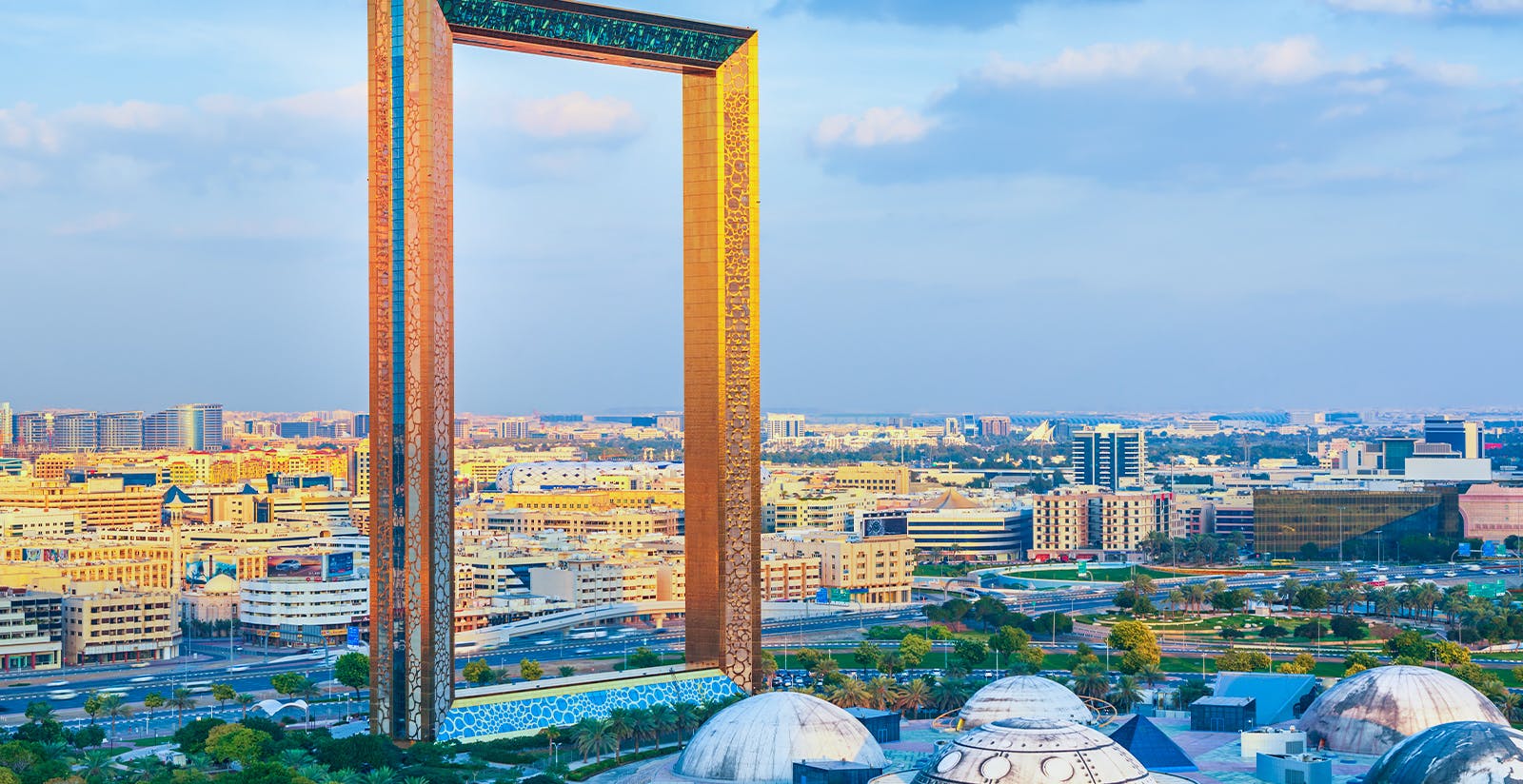 If your significant other is a shutterbug, Dubai Frame is definitely the place to take them this Valentine's Day. Capture some aesthetic pictures at the world's biggest picture frame and its glamorous architecture. Make sure to strike some sizzling poses while you're the center of attraction inside the gigantic frame. You can also explore the museum inside to learn how Dubai became the epitome of modernity and what the future plans for the city are. That's not all, you can take an elevator to the top, which boasts a splendid view of the skyline of the city.
9. Dinner Date in a Dhow Cruise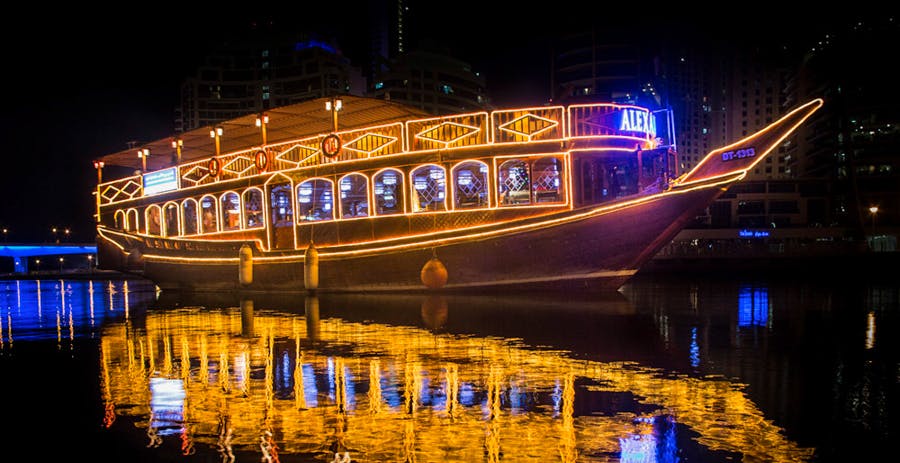 Spend your Valentine's Day in Dubai on a traditional Dhow Cruise as you sail across the beautiful Dubai Deira Creek and have a romantic dinner with your significant other. The lit up cruise looks like a shimmer on the water under the starry sky from the outside, and is equally beautiful on the inside. Savour a variety of continental and traditional Arabic dishes, and grab a drink from the bar to make your evening a memorable one. The majestic illuminated skyline in the background is the icing on your Valentine's Day cake. The soothing ambience of the cruise with light traditional music and Tanoura and puppet shows sets up a perfect ambience for a gentle romance.
10. Walk through flowers at The Miracle Garden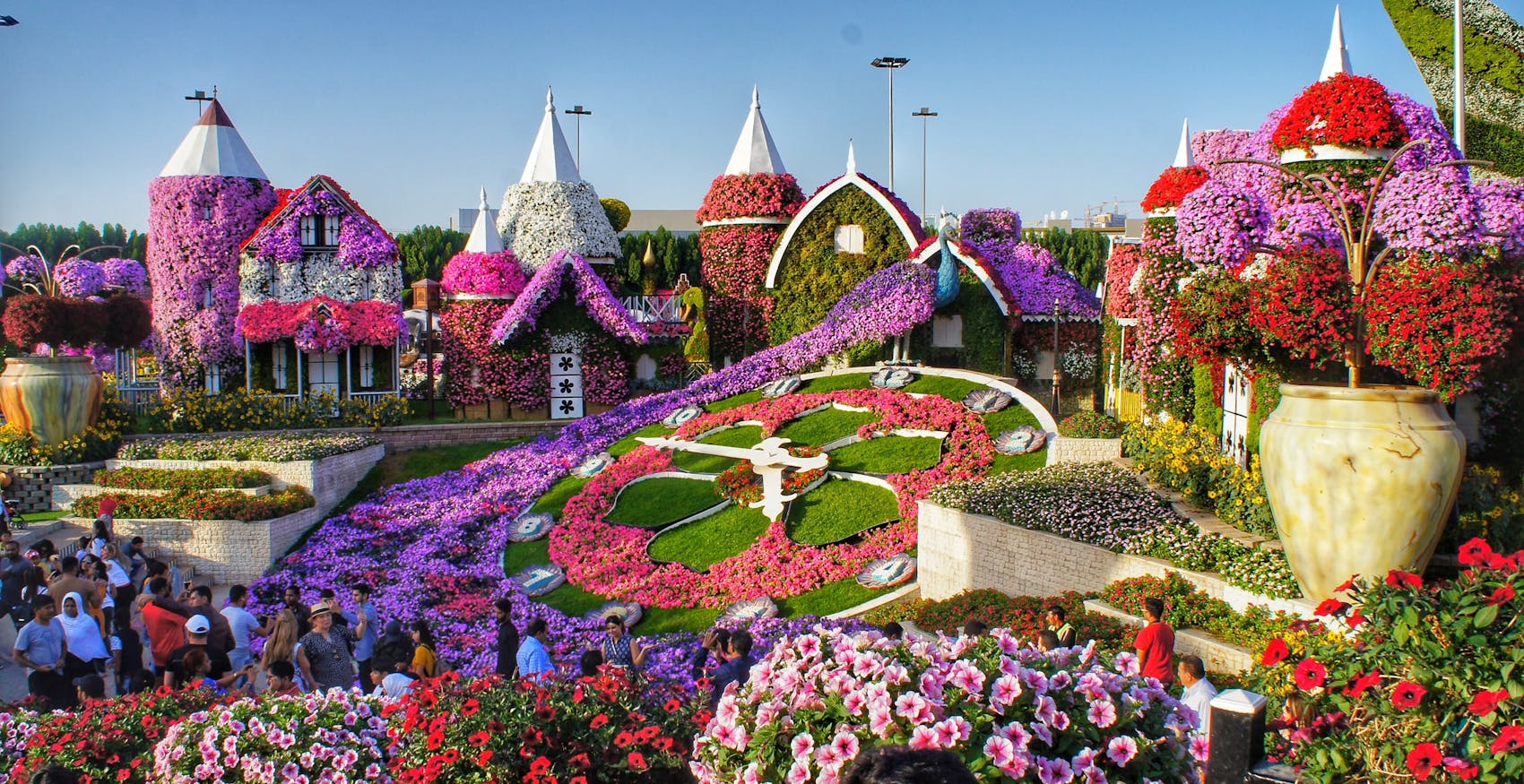 A flower is probably one of the oldest Valentine's Day gifts in the book. If one flower can express so much love, imagine the love more than 150 Million flowers can shower! The Miracle Garden was opened back in 2013, coincidentally on Valentine's Day, and the experience it offers justifies the date even today. The world's largest floral garden is a mesmerizing treat to the senses with a potpourri of mingling aromas and spectacular floral sculptures. Taking a long romantic walk, hand-in-hand while soaking in the floral beauty is guaranteed to stir up emotions and a conversation, or at the very least a comfortable walk hand-in-hand. While you're there, just lose yourself and pretend that you two are walking through your own flowery wonderland!
11. Glide at the Dubai Ice Rink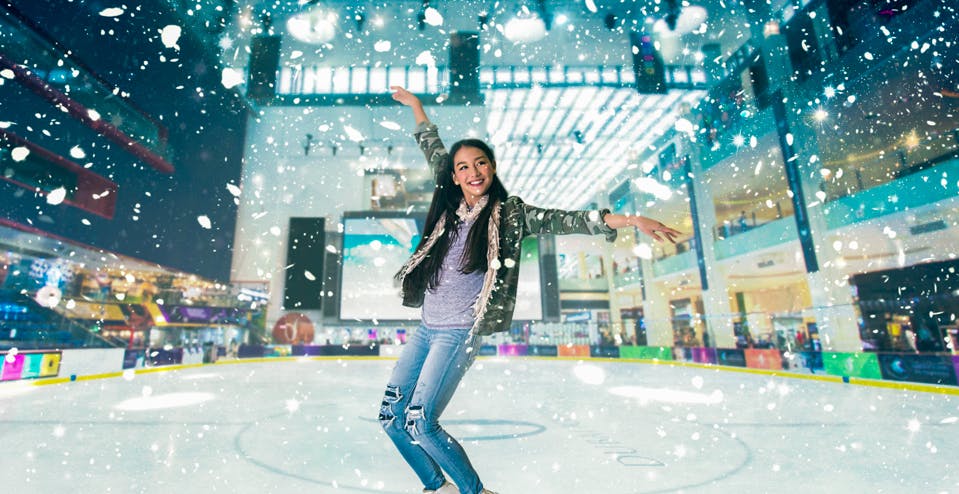 Ice skating while holding hands is quite an underrated romantic experience. The Olympic-Size Dubai Ice Rink is always a lively place with a chirpy and fun atmosphere. Not to mention, it is a great escape from Dubai's scorching heat. All you sporty couples will surely dig this idea to relish a unique Valentine's Day in Dubai!
FAQs
---
The cosmopolitan city of wonders has some sort of unique experience for literally everyone! Even a simple movie night can be a spectacular evening if you have it outdoors at Galleria! If you prefer a softer, romantic experience, you can turn the simple walk-through-a-garden in a magical experience at the Miracle Garden. As mentioned before, there is something for everyone, so make sure to check out our Dubai Travel Guide to find the perfect fit for you and your partner!
Dubai is the city of plenty, and they love to celebrate everything with splendour. So of course Dubai celebrates Valentine's Day! Some of the places in the city have discounts for couples like the Aura Skypool at Palm Jumeirah and of course, the infamous Dubai desert camps!
Don't worry, UAE is definitely not on the list. Malaysia, Saudi Arabia, Indonesia, Pakistan and the Belgorod region of Russia prohibit Valentine's Day from being a public celebration.
Well, it's going to be hot. But you can expect about 3 to 8 days of rain in the city during the month. Pack an umbrella for ease of convenience, but also never mind the heat of the city because nearly all indoor places are thoroughly air-conditioned.
Despite the heat during the day, February is one of the better times to visit Dubai because the nights are cooler. Of course, this also means that February also finds the city crowded with tourists.
Valentine's Day Dubai Guide