They say, the way in which you welcome a new year is a reflection of how the entire year itself will play out. My thoughts: better make it a good New Year's Eve!
Celebrating New Years Eve in Dubai is a great way to bring in 2023 with style! With its glitzy nightlife, world-class entertainment, and breathtaking skyline views, there's no place quite like Dubai to ring in the start of the next twelve months. Plus, since Dubai is located right at the crossroads of East and West, you can experience a unique blend of cultures throughout your celebrations—which means more delicious food, dance moves, and traditions than ever before! From world-renowned fireworks displays in iconic locations like Burj Khalifa, to beachfront parties under the stars, this city has it all.
Here are 13 incredible ways you can spend New Year's Eve in Dubai - a mixbag of fireworks, feasting and festivities. Ring in the new year on a kayak, sandboard down a dune, or spend your day in the clouds - whatever it is you decide to do, just make sure you welcome the new year in pomp!
New Year's Eve in Dubai - What's the Hype?
---
For starters, you'll experience a once-in-a-lifetime fireworks display display of fireworks that lights up the sky like no other show on Earth. Plus who knows, you might just rub shoulders with celebrities from around the world who come to join in the festivities. And if all of that isn't enough for you, there's also delicious food and drinks to be had at any number of amazing restaurants and bars across town.
Many people in Dubai, as well as tourists, spend New Year's Eve at one of the city's many nightclubs. Some iconic clubbing destinations in Dubai include Armani/Privé Nightclub, Billionaire Mansion Nightclub, and Nasimi - Atlantis The Palm. You're guaranteed to have a great time with your friends at any of these places.
But if you're looking to do something more exquisite, you can hop on to a Luxury Dinner cruise along the Dubai Creek or Marina. Or maybe bring in the New Year in a traditional Arabian way with a modern touch at the Desert Safari. With tons of options to explore, we're here to give you the best ways to celebrate New Year's Eve in Dubai!
13 Experiences for an EPIC New Year's Eve in Dubai
---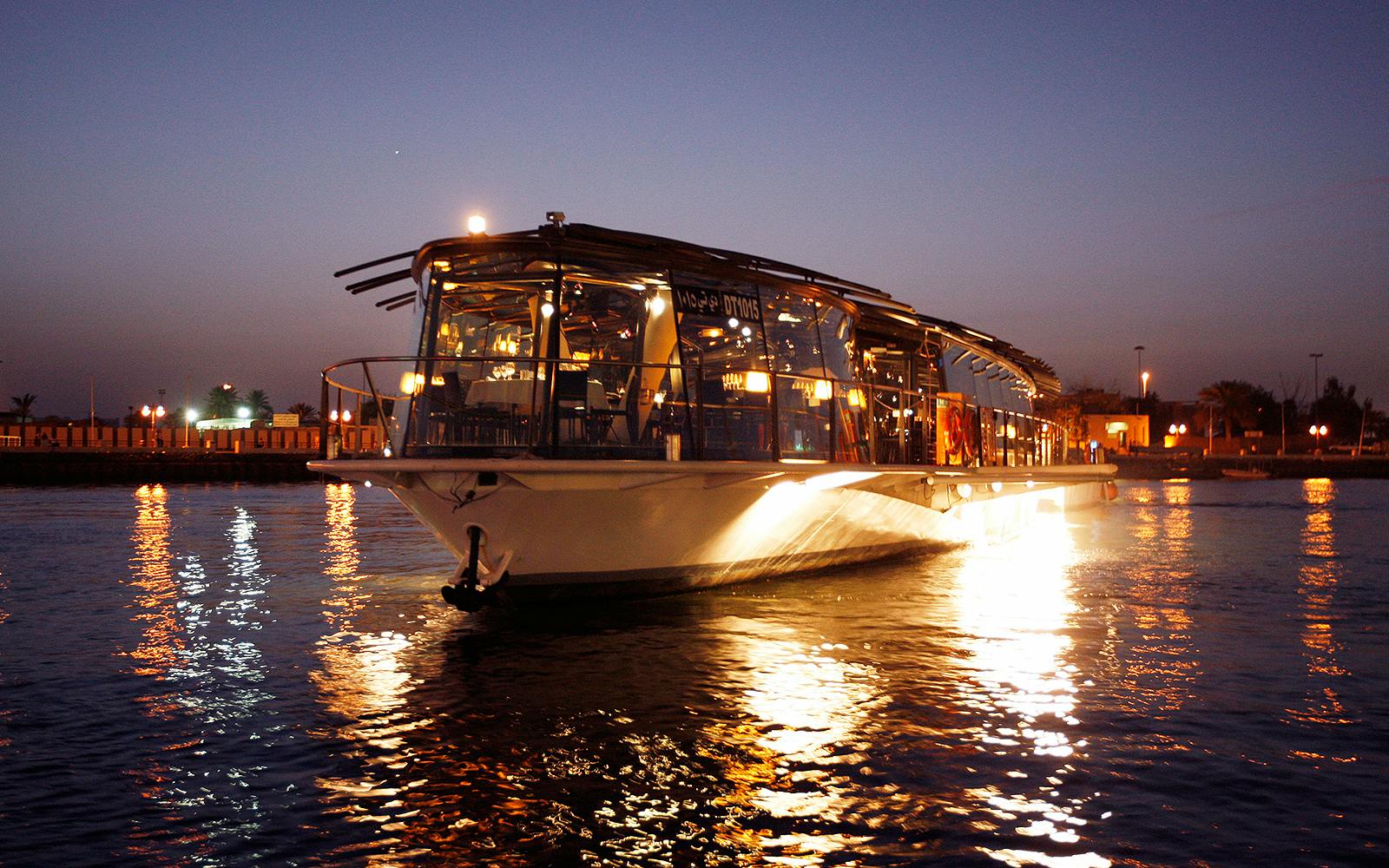 Take in Dubai's breathtaking views from the comfort of a glass-enclosed, air-conditioned luxury vessel. The boat also has a gorgeous open terrace and outdoor deck, perfect for enjoying the shimmering skyline under the stars and moon. This is a fun, relaxing evening on the water with guaranteed stellar views of iconic Dubai landmarks, along with an obstruction-free view of the New Year fireworks. If you want something fancier and more private, you can also rent out a yacht to take you out along the Dubai Creek or Marina.
Check out the best dinner dhow cruises.
Most popular Dubai Dinner Cruises for New Year's Eve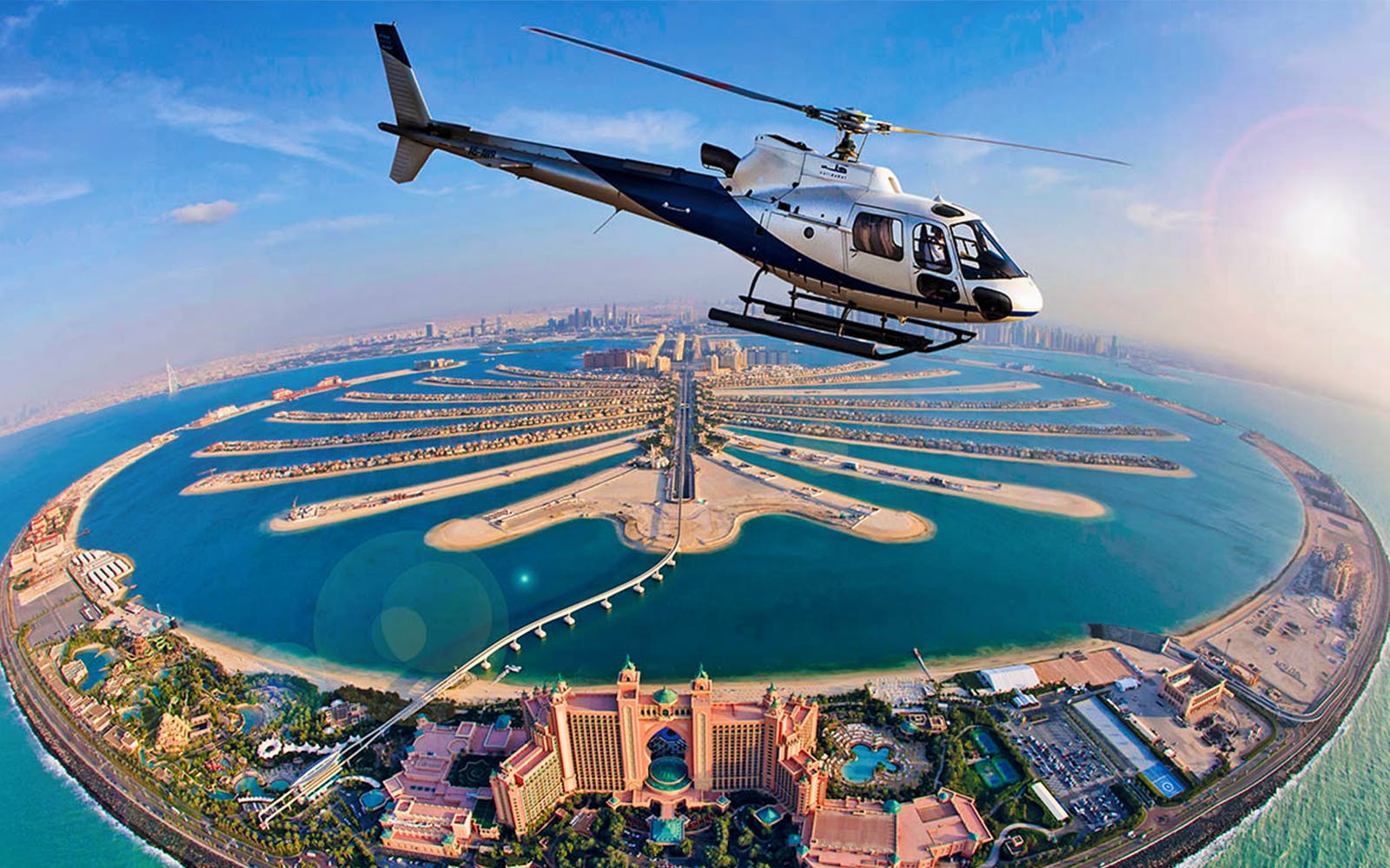 This New Year, scratch something off your bucket list. A helicopter tour of Dubai offers the most mesmerizing views of the city. Depart from the gorgeous Palm Jumeirah Island and enjoy a ride above the Dubai's most iconic monuments and landmarks. Your private tour also includes a guide who will share interesting, fun, informative stories throughout your flight. The pre-departure lounge is also a treat in itself so be sure to arrive a little early.
Here's a complete guide to choosing the best Helicopter tours in Dubai.
Top rated Helicopter Tours for New Year's Eve
Desert Safari with Dune Drive, BBQ Dinner, Belly Dance and Tanoura Show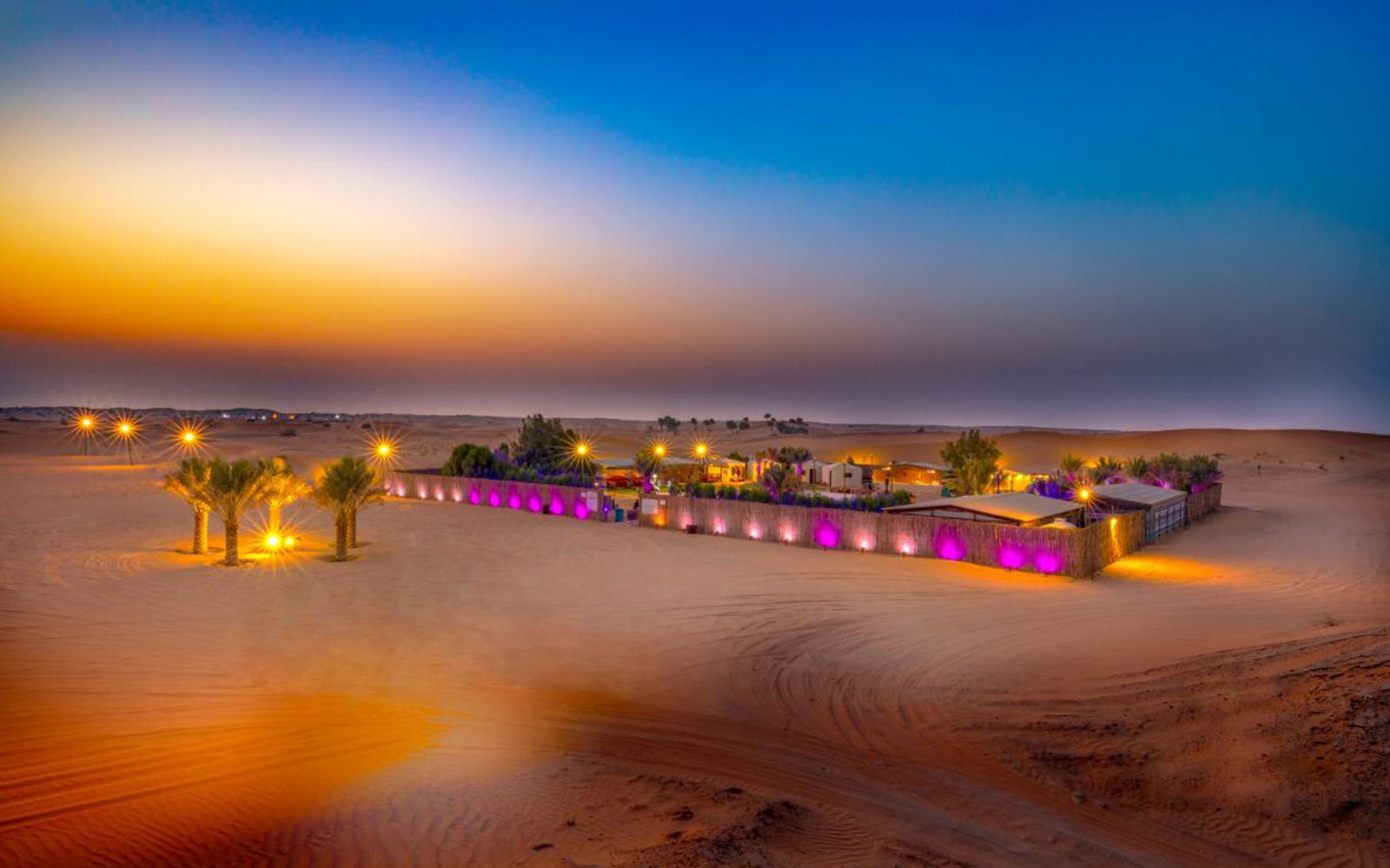 It doesn't get much better than a thrilling drive over gorgeous, golden sand dunes. Head deep into the heart of the desert and witness one of the most stunning sunsets of your life. You'll be guided to a posh Bedouin desert camp and greeted with a traditional Arabian welcome. Next, enjoy a delicious buffet dinner that includes barbecue meats, salads, an array of main-course dishes, and plenty of desserts. The ambiance is nothing short of enchanting. It's an unforgettable evening camel rides, sand boarding, henna painting, sheesha, and belly dancing!
Read our curation of tips and hacks for a memorable Desert Safari experience.
Top rated Desert Safari experiences for New Year's Eve
Watch The Burj Khalifa Fireworks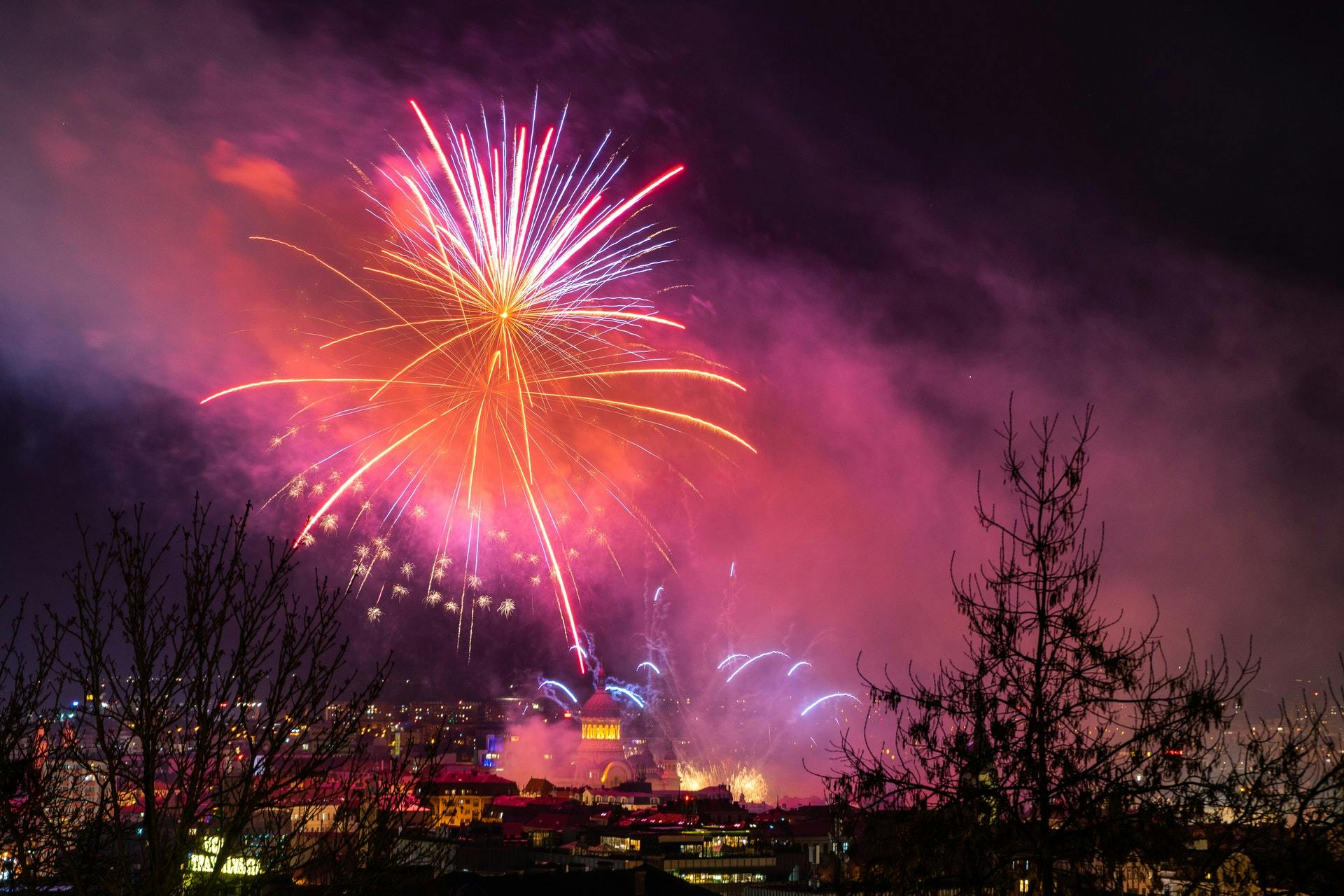 New Year Eve in Dubai sees a spectacular display of fireworks - marking the good times ahead. Tourists and locals flock in thousands catch a glimpse and concenterate around the Dubai Fountain, Souk al Bahar, Umm Suqeim Park, Burj Park, Mohammed bin Rashid Boulevard, Jumeira beach and sometimes bang in the middle of the roads! If you have plans to travel within Dubai on New Year's eve, make sure you reach your destination before 10 PM. The roads are chock a block until 12 AM as everyone is trying to score a good spot to watch the fireworks.
Read on to know the best spots to watch the Burj Khalifa fireworks.
Climb atop Burj Khalifa for a unique vantage view of the Burj Khalifa fireworks
Dance Your Way Into The New Year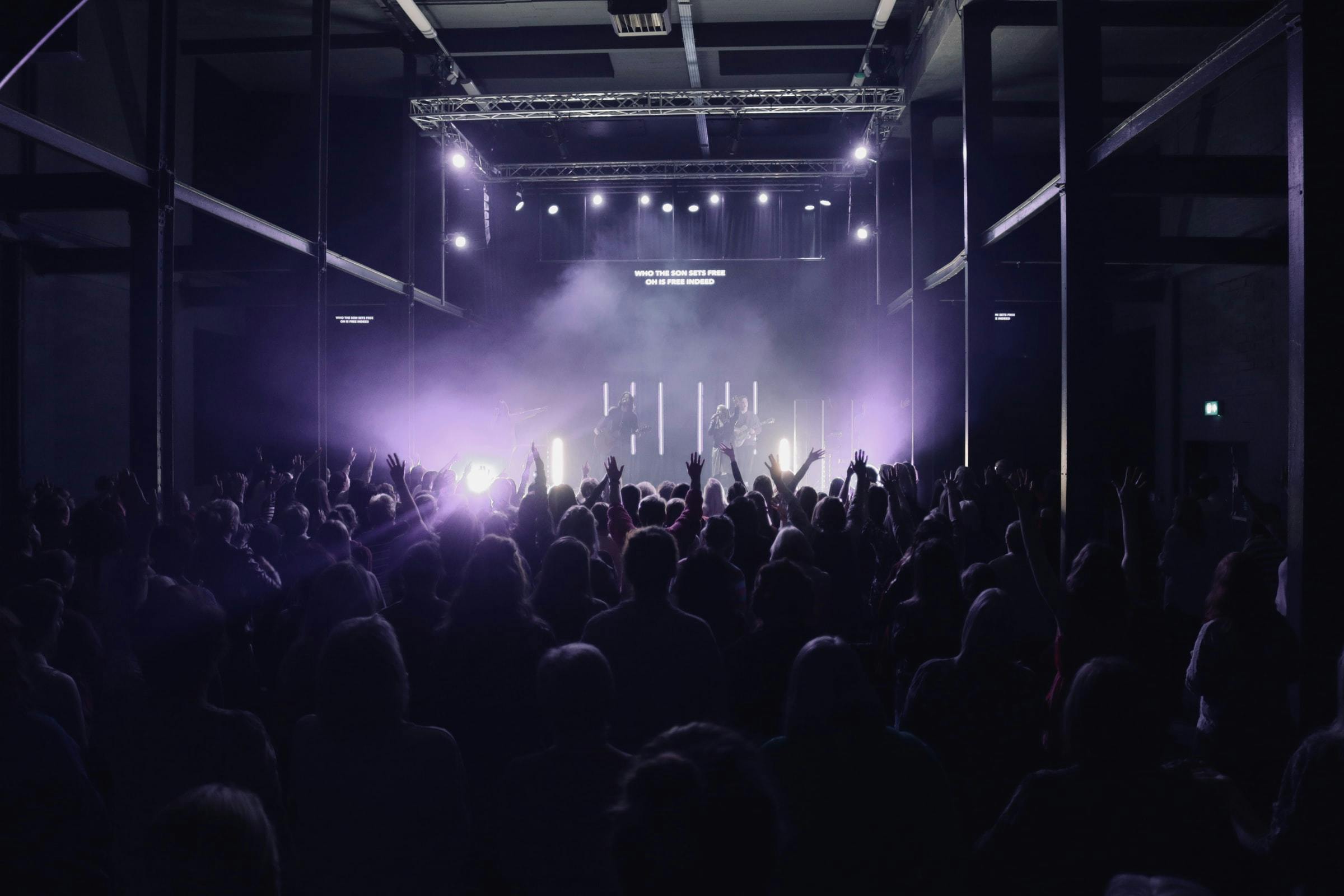 Dubai hosts some of the most happening New Year parties in the world and if you're a party animal, there's no better way to clock in the New Year than dancing your way into it. Watch the Australian Diva and Grammy Award winning star Kylie Minogue at Atlantis, The Palm, or head to the Dubai Opera for a stellar line-up of DJs and bands performing through the night. If you're feeling super luxurious, head to the Lotus Mega Yacht party, or a sky high celebration at Ce La Vi. You won't find a shortage of parties in Dubai, that's for sure!
Check out the top New Year parties and concerts taking place this year.
An Evening In Madinat Jumeirah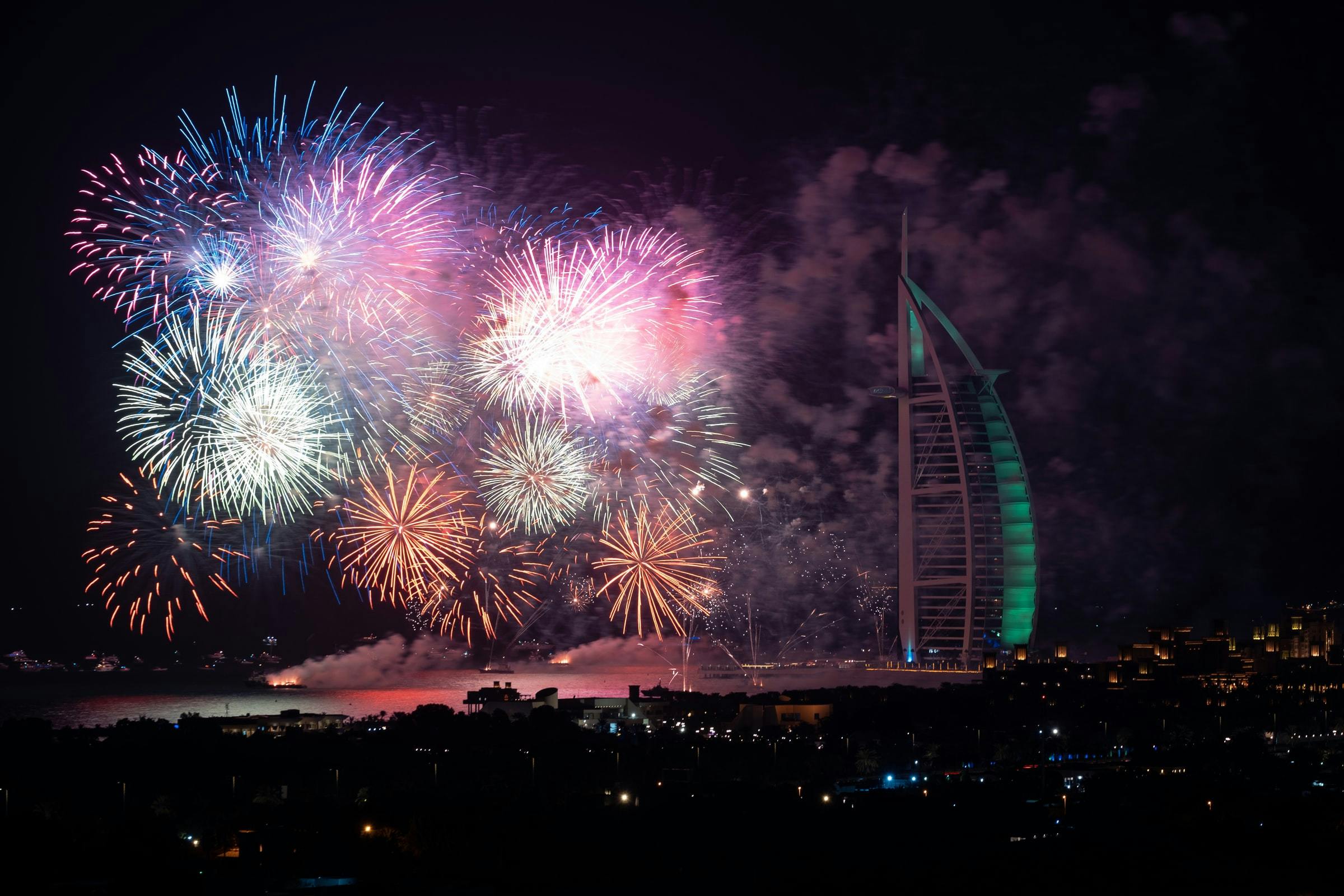 Madinat Jumeirah boasts one of the most coveted New Year's gala dinner with fire dancers, musicians, live entertainment and free-flowing champagne topped with myriad options of cuisines. The fireworks from here are spellbindingly beautiful and for a chance of scene, carry a beach mat and head to one of the public beaches at Jumeirah to spend some time under the starlit sky. Don't forget to get here early for a decent parking spot!
Head Over To La Mer Or Al Seef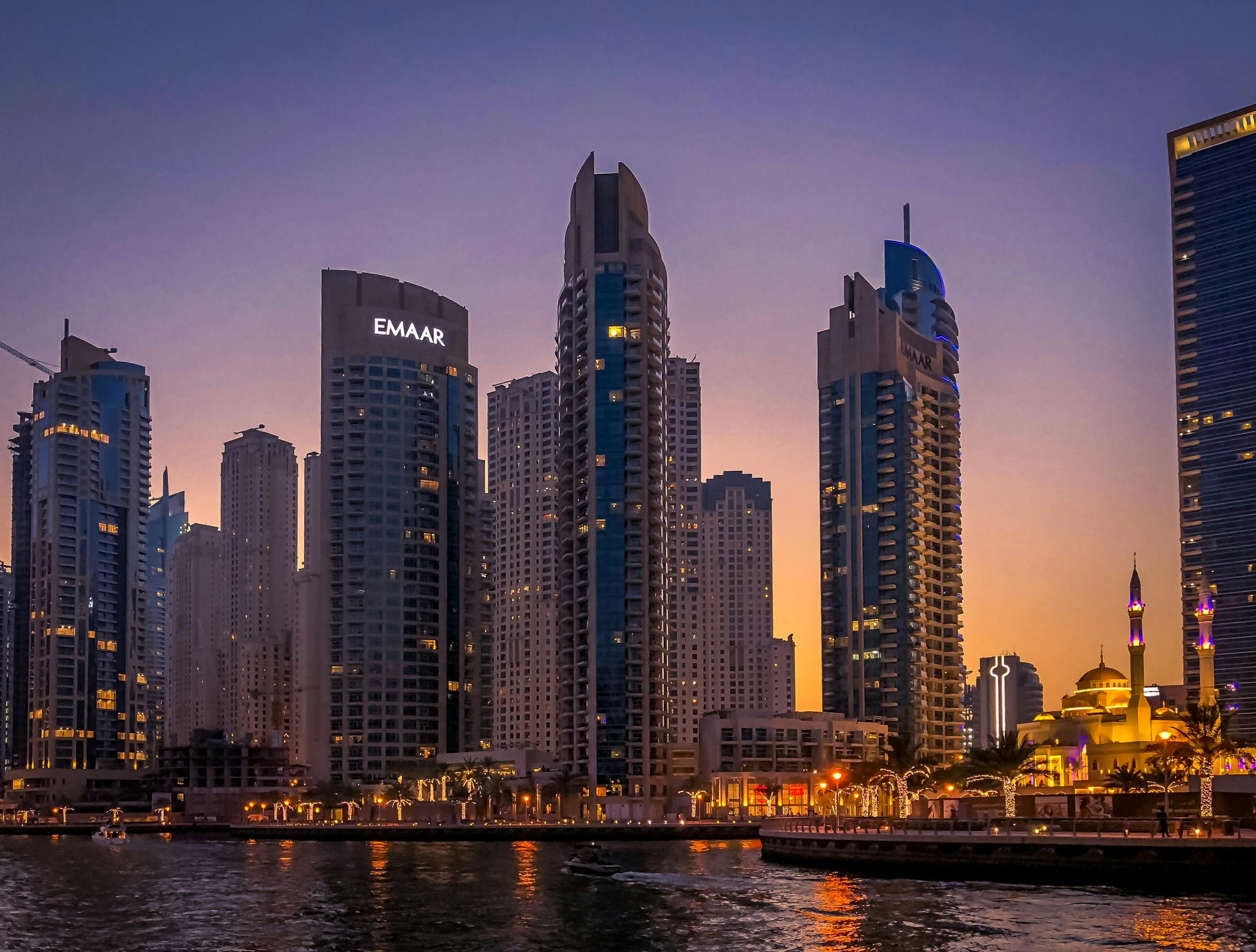 For an offbeat New Year eve experience in Dubai, head to Al Seef or La Mer and spend some quality time at these waterfront markets decked in festivity and live music, while kids have fun at the carnival rides and petting zoo! You're spolit for dining choices and be ready to be surprised with New Year special additions to the aura. Not to forget, the spectacular views of the New Year fireworks you're bound to witness as the clock strikes 12.
If you're visiting La Mer for the first time, here's our guide to the best in La Mer.
A New Year's Eve In Global Village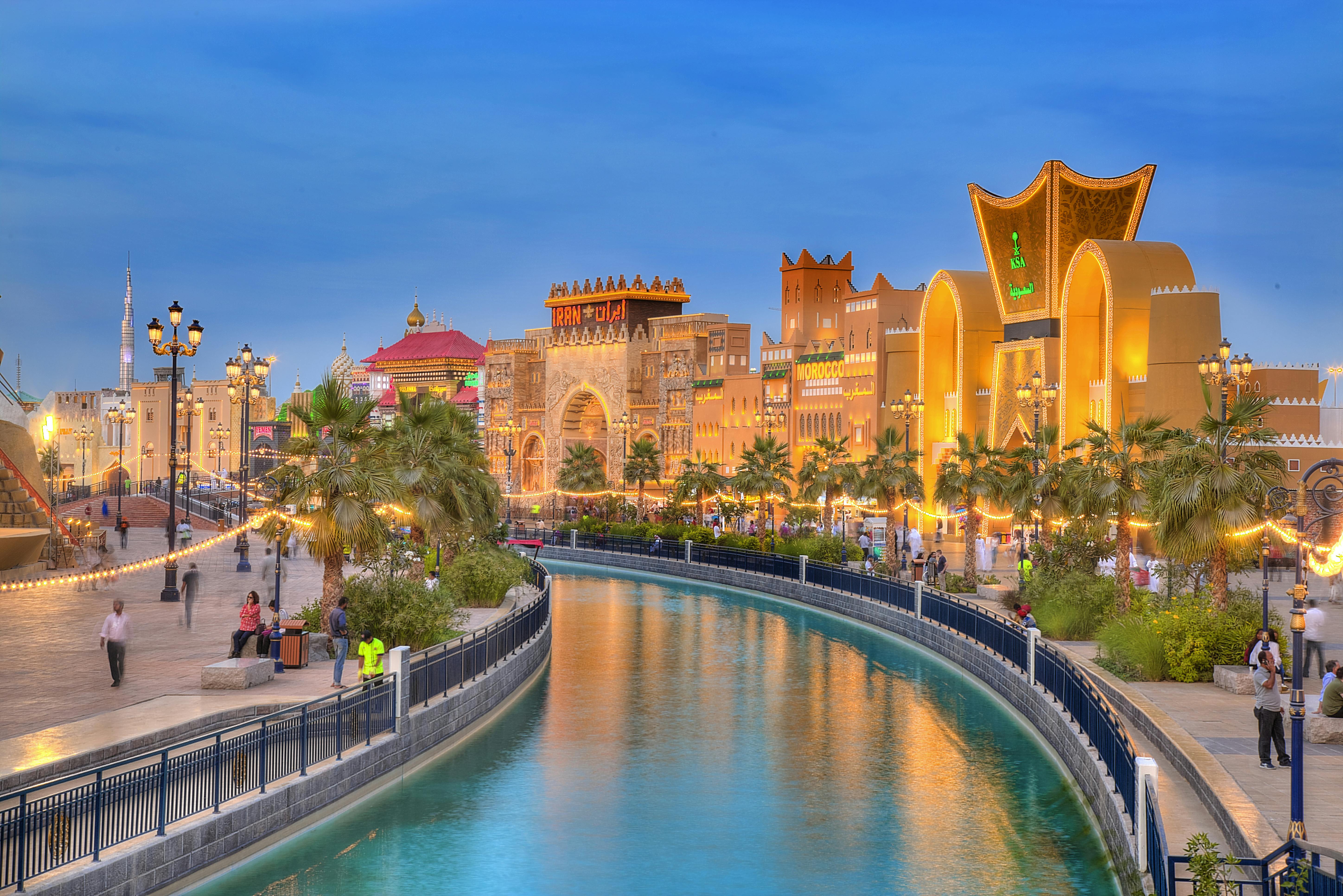 Global Village New year celebrations are well renowned among locals and tourists - so expect to see tens of thousands flocking in. An amalgamation of world culture, Global Village Dubai is the ideal place for celebrating New Year as you can witness New Year traditions of more than 75 countries around the world. The Global Village New Year musical fireworks are a class apart and quite the visual-treat. Shop, dine and spend your New Year's eve doing all things fun. The Carnaval is favourite among kids, so don't worry about keeping them entertained. Here's all you need to know before visiting Global Village Dubai.
Set Off On A Hatta Adventure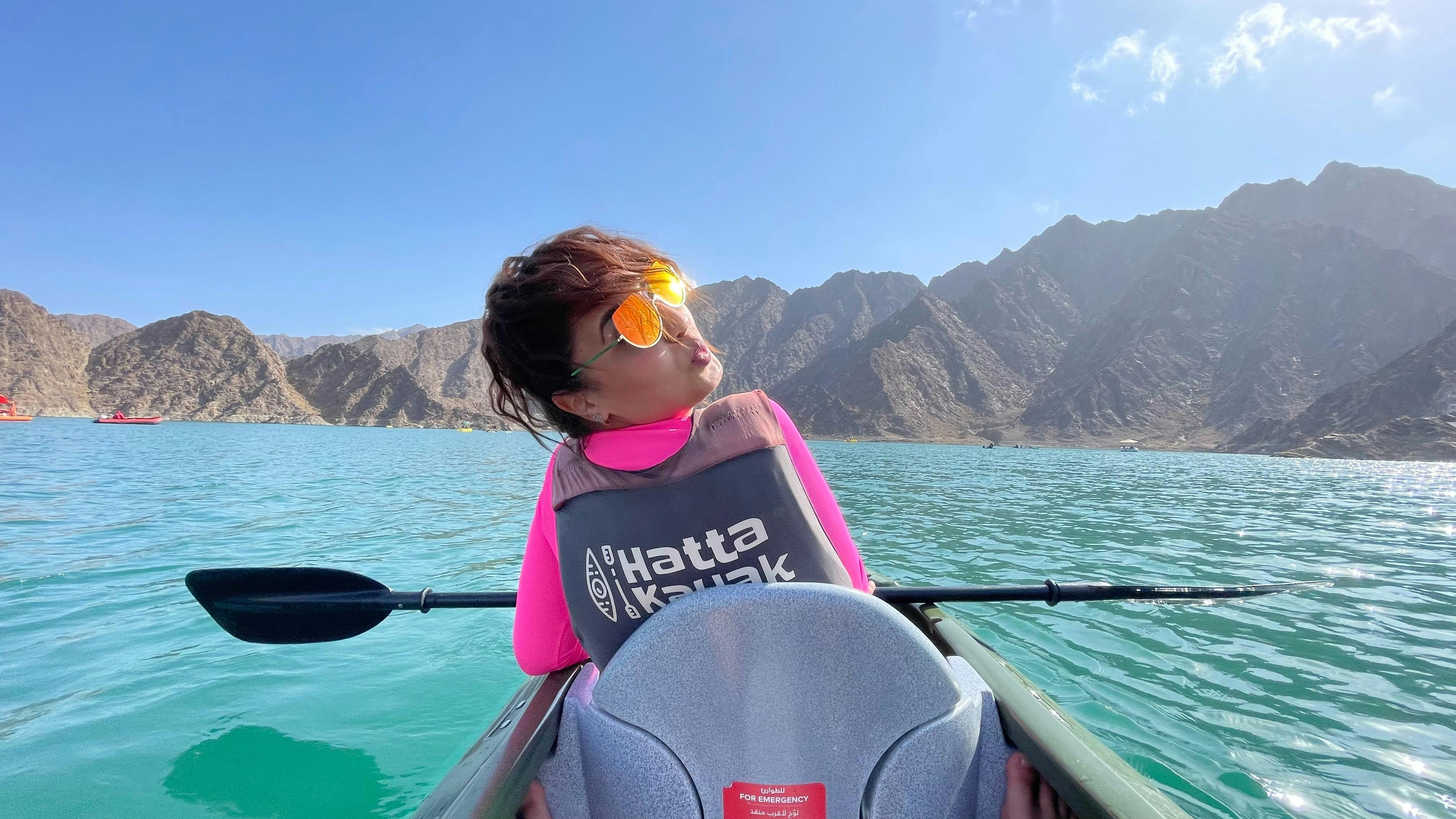 If you're more of an outdoorsy person, leave the glamour and decadence in Dubai and make your way to Hatta. An exclave of Dubai and Oman perched high up in the scenic Hajar Mountains, Hatta is an adventeruous hub with kayaking, mountain biking, zip-lining, hiking and more other adrenaline pumping activities. For those who prefer a slower pace, head over to the region's natural treasures and cultural attractions, like the Hatta Lake and Heritage Village. We'd strongly suggest an overnight stay at the chic Hatta Damani Lodges or the best glamping site in the town - the Sedr Trailer Resort. Whatever you choose to do in Hatta, you're clocking in the New Year in style!
Check out the Top 12 things to do in Hatta
Skydive Your Way To A New Year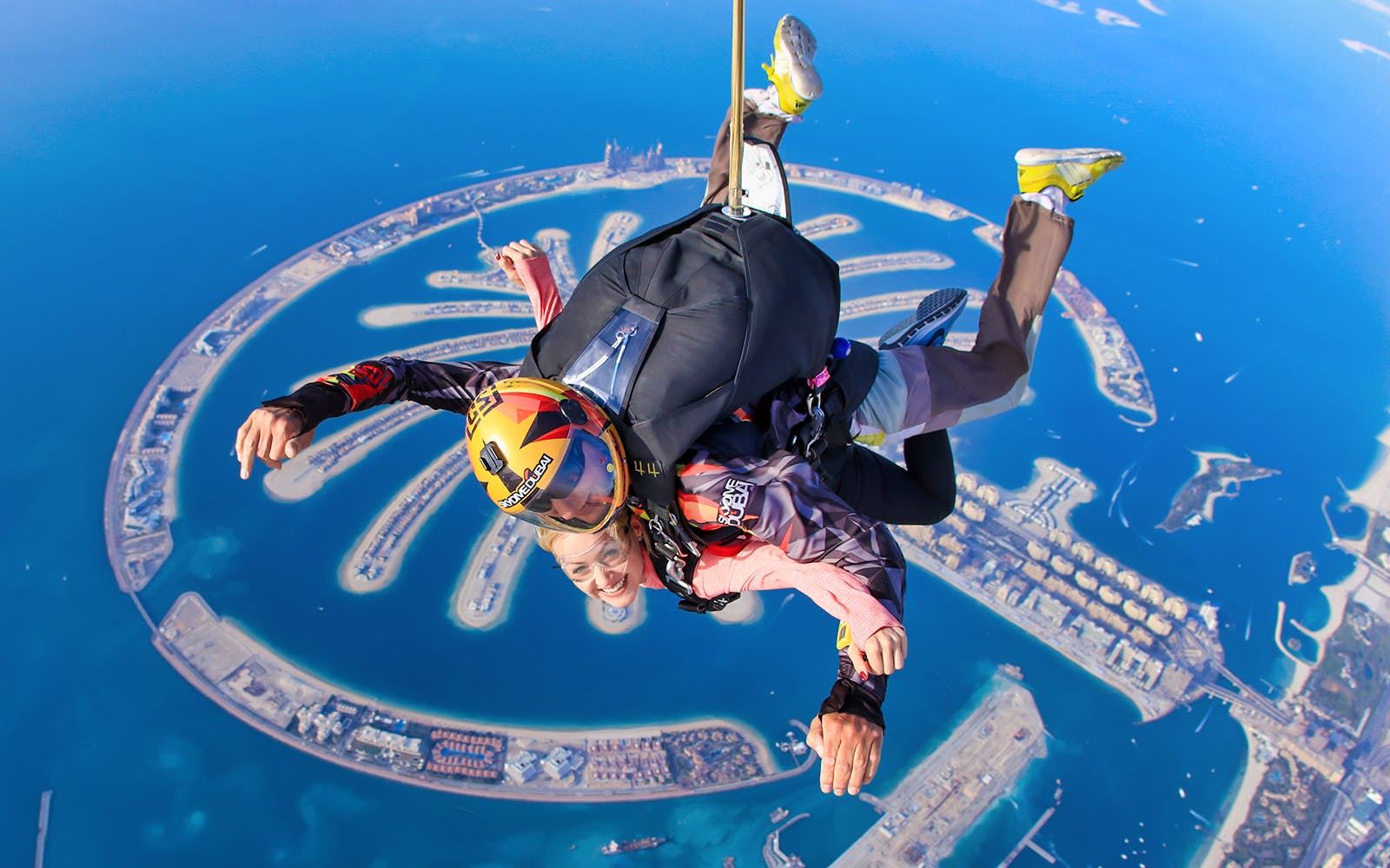 What better way to start a New Year than push your boundaries and step out of your comfort zone? Those of you who've had Skydiving on your bucketlist, why not tick it off before the year ends? Skydiving over the Palm Drop Zone and catching a glimpse of all the New Year festivities from above is an experience to remember, so grab your tickets before these prime New Year slots sell out.
Still having second thoughts about Skydiving? Our first-timer's guide to Skydiving in Dubai will prep you end to end.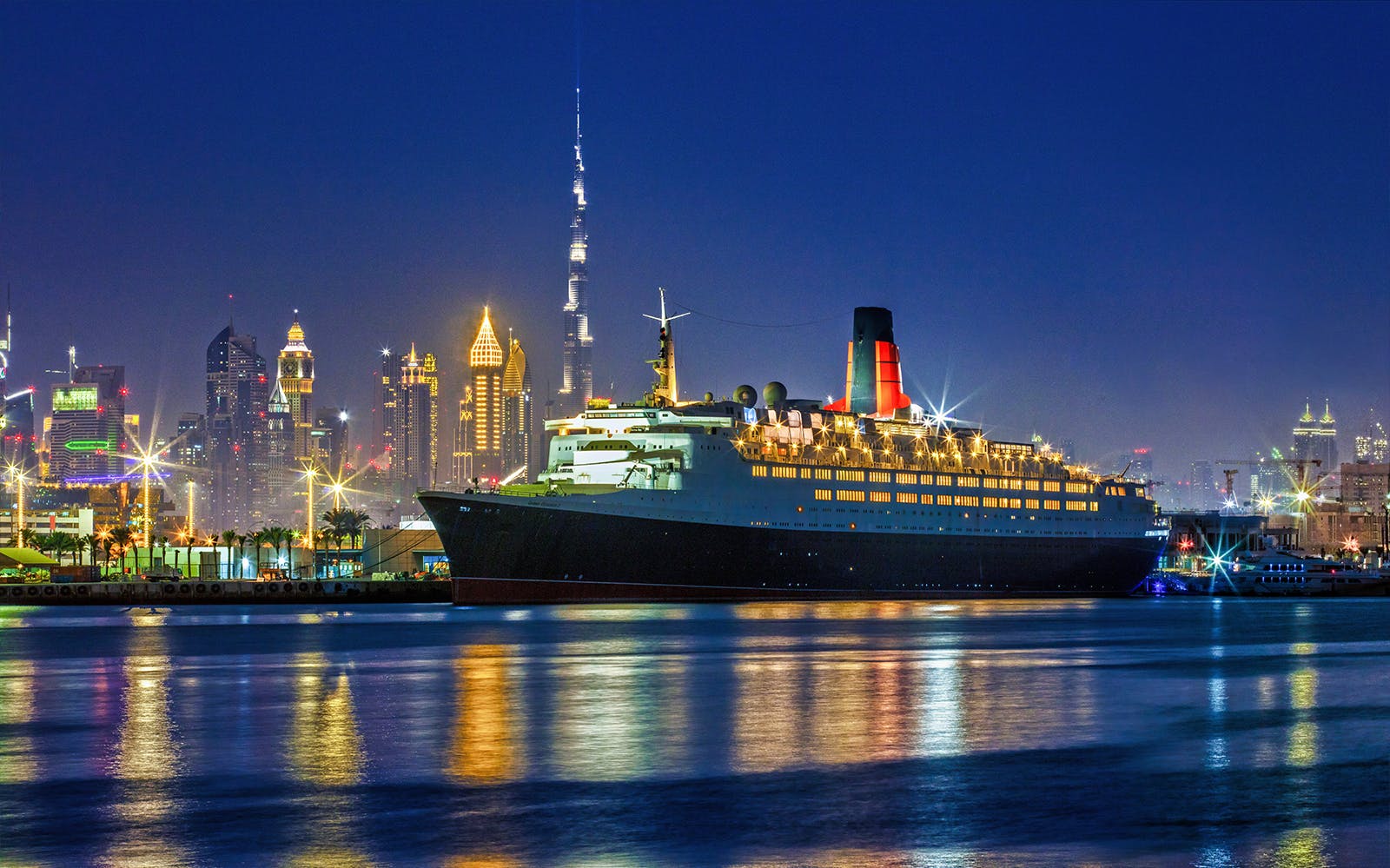 If you're in the mood to enjoy some delicious food as well as look out at the beautiful glimmering Dubai skyline, head to the QE2 for a Gala Dinner. This black-tie event features a divine seven course meal and delicious drinks to enjoy as you listen to the live band playing some of your favourite songs. And if you want something less glam, the Boat Deck is hosting a Tea Party with an open bar. More so, when the clock strikes midnight, enjoy a prime view of the Burj Khalifa fireworks from the world-famous cruise ship-turned-hotel.
If you haven't taken a QE2 tour yet, now would be the best time to go for it.
Dance the Night Away at Dubai Opera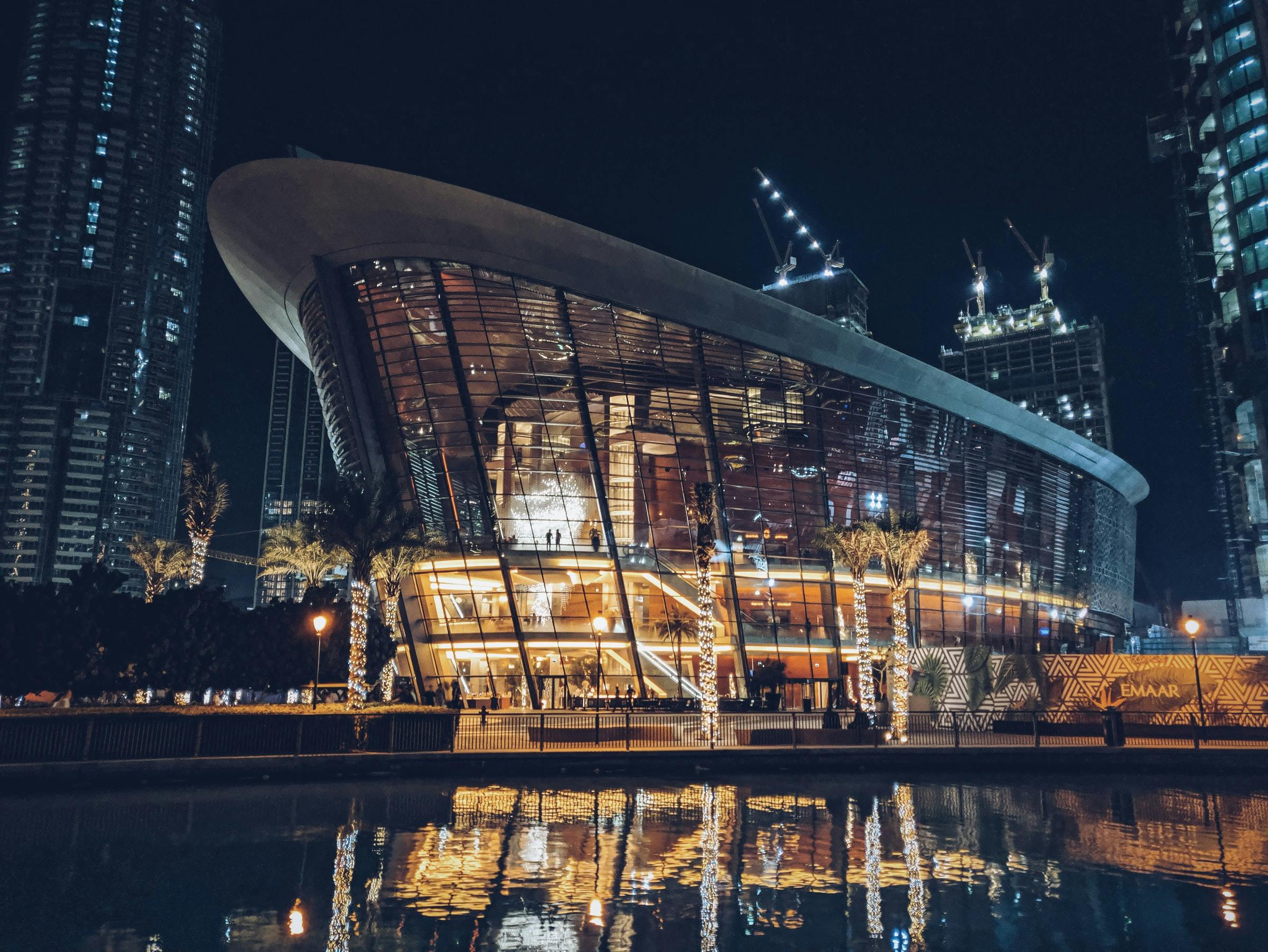 Ring in the new year with eminent musicians at Dubai Opera. On this special occasion, world-renowned dancers Jasmine & Aaron will amaze guests with an unbelievable live performance alongside their band. Additionally, DJ Bliss and DJ Keza will be playing music throughout the event to keep everyone entertained.
Dubai Opera also has a number of shows playing currently, find the list of Dubai Opera shows here.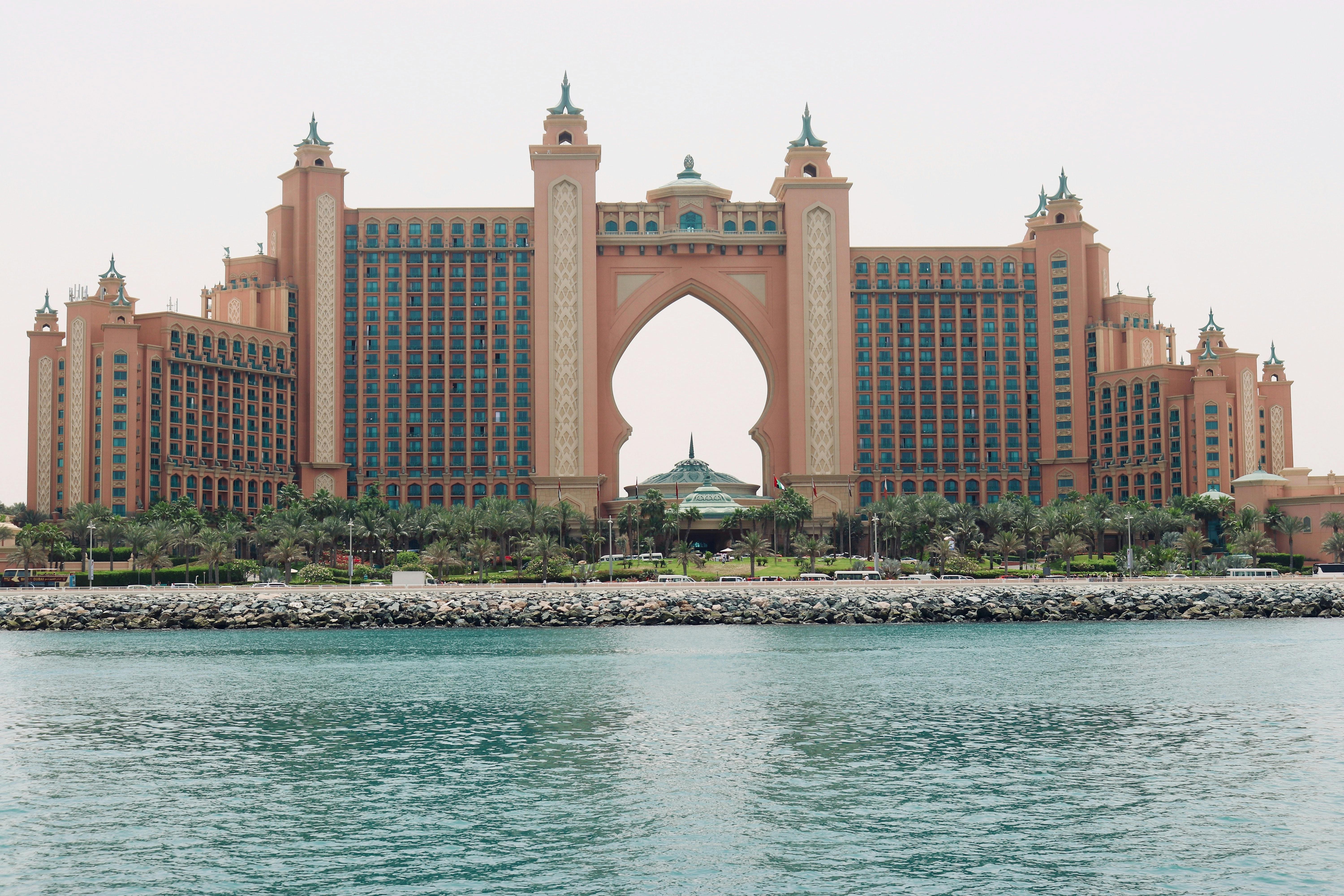 Dubai is home to some of the most beautiful properties around the world. Why not spend a night or two in the lap of luxury? Wake up to 2023 in a comfortable yet exclusive location and enjoy everything the property has to offer. Some options are Waldorf Astoria Dubai, Raffles Dubai, Five Palm Jumeirah, and Atlantis the Palm. Plan it right and you can attend their New Years' Eve parties, enjoy delicious fare, or even access waterparks that are close by like Wild Wadi in Jumeirah.
New Year Parties and Events In Dubai 2023
---
Looking for the top places to groove your way into the New Year? Here are the top New Year parties and events in Dubai you should be heading to.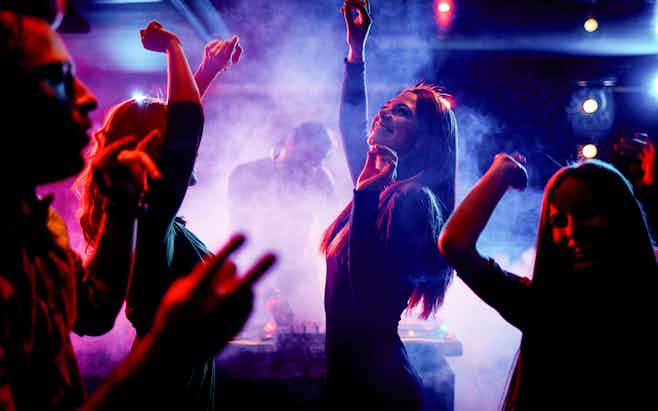 1. Disco Till Dawn at Dubai Opera
On December 31st, Dubai Opera will ush in the new year with an fantastic gala and themed party celebrating Disco till Dawn. Internationally recognized dancers Jasmine & Aaron, finalists of Britain's Got Talent, will give a live performance alongside their band. Additionally, DJ Bliss and DJ Kezawill be playing music throughout the night to ensure that everyone has a great time! At the stroke of midnight, make your way outside the Dubai Opera to see the world-famous Burj Khalifa fireworks display.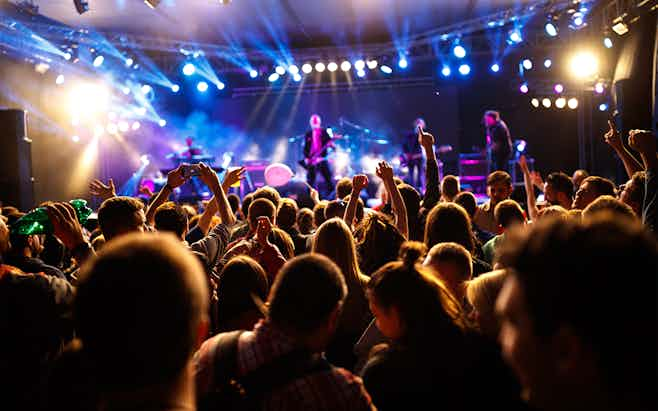 2. Kylie Minogue at Atlantis, The Palm
This December 31st, Australian legend Kylie Minogue will be descending on Atlantis with nothing but good vibes and a string of hits guaranteed to get you dancing. Rounds out the night's festivities which include decadent food options like lobster and caviar, an unforgettable fireworks display, all while being serenaded by a 30-piece band live music!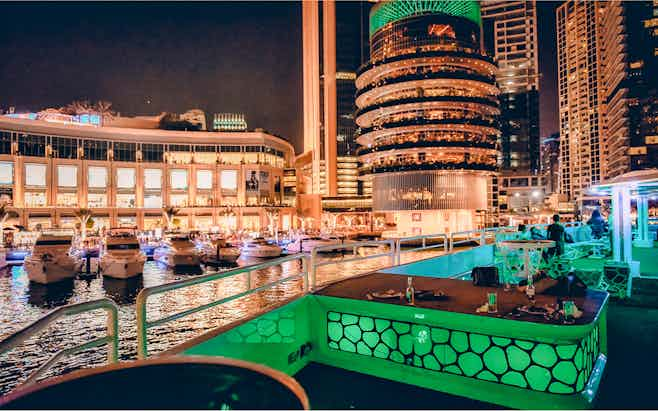 3. New Year's Eve Yacht Party
Party into the new year with a 6-hour extravaganza on board a luxurious super yacht. Indulge in delectable hors d'oeuvres, feasts from live cooking stations, an open bar with top-shelf drinks, and an unforgettable view of Dubai's fireworks display. International DJs will keep you entertained all night as they cruise around Dubai Marina, Blue Water Bay, and Palm Jumeriah.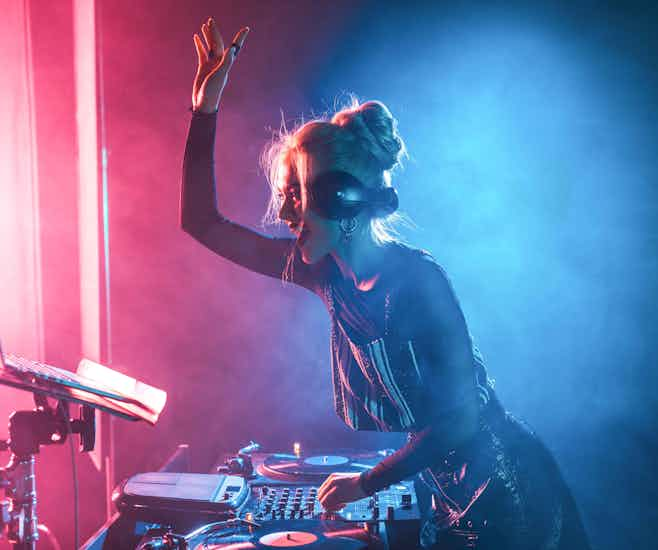 4. Club Armani/Prive
Dubai's crème de la crème will be frequenting Armani/Prive's New Year's Eve celebration located at the Burj Khalifa. World-class DJs will fill the night air with chart-topping tunes, and there is no better party in town to rings in 2023.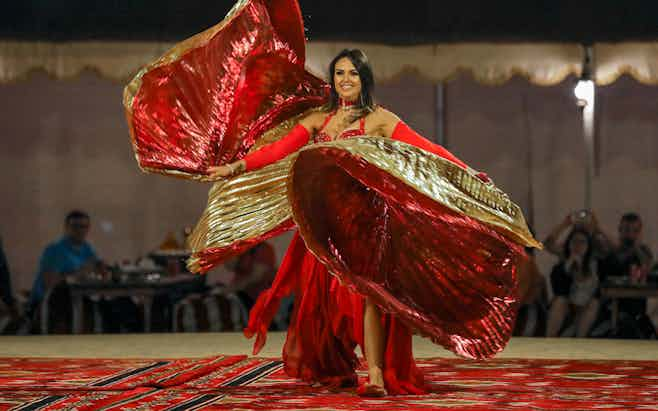 5. Sonara Camp
Is there anything more Dubai than spending New Year's Eve in the sand dunes? The luxurious Sonara Camp will be hosting a glamorous affair at its fairy-lit, all-white location complete with a gourmet dinner, live band, fire shows and an international DJ. This year Sonara is promising to reveal even more additional thrills on the night so this is worth splashing out on if you're looking for a celebrity favorite experience.
Getting Around Dubai On New Year's Eve
---
The best way to get around Dubai during New Year's Eve is with a magical carpet and a trusty steed! But if you don't have access to those, then there are still plenty of options for getting around the bustling city.
Taxi
To make your night easier, if you're going out with friends on New Year's Eve, you can book a taxi or safe driver in advance. These services are available all throughout the city at different rates - just be sure to check how much they cost beforehand since prices tend to be more expensive during NYE celebrations. Make sure you leave well in advance to make it to your party!
Metro
The metro currently consists of two lines: the Red Line, which runs from Rashidiya to Jebel Ali and the Green Line, which runs from Etisalat to Creek. Covering almost 50 kilometers in total, the metro offers direct access to many places such as Burj Khalifa and Dubai Mall. Additionally, with over 80 stations spread across the city, getting around is made much simpler during New Year's Eve.
Bus
Dubai's bus network has never been easier to navigate, with over 175 routes covering the entirety of the city. Whether you're commuting or exploring, there's a bus route that can take you where you need to go. With convenient transfers and multiple payment options—including the Nol card—getting around Dubai in a bus during New Year's Eve is highly recommended.
Tips For Those Traveling To Paris During New Year's
---
Pack lightly - but bring your dancing shoes! Dubai knows how to throw a party, and you'll want to be prepared.
Take advantage of the freebies! Most hotels in Dubai offer free drinks and snacks during New Year's celebrations, so make sure to take advantage of them!
Get out and explore - with safety first! With its skyline lit up like a fairytale, there's no better place to experience New Year's Eve than in Dubai. Make sure to come equipped with appropriate attire (think modest) and stay aware of your surroundings when exploring the city at night.
Don't forget the fireworks show! One of the best parts of being in Dubai on New Year's Eve is the incredible fireworks show. Grab a spot early and get ready to be amazed!
Start early - with food, drinks, and conversation. Dubai is a great place to start celebrating early, so don't be afraid to get the festivities going before midnight! Enjoy some delicious food and drinks with friends (old and new) while you count down the hours until midnight.
Frequently Asked Questions About New Years Eve In Dubai
---
Absolutely! There's no shortage of incredible celebrations and events taking place throughout the city. From extravagant dinners at luxury hotels, dazzling fireworks displays, lively street parties and cultural entertainment, you'll never be short of something exciting to make your New Year unforgettable.
It really depends what kind of atmosphere you're looking for; whether it's an outdoor event with great music or a more upscale clubbing experience. Dubai is home to some of the world's greatest DJs and electronic music festivals, so if you're a fan of EDM you won't be disappointed. If live entertainment is more your thing, then head over to Dubai Marina for an epic night out.
It depends on what kind of experience you're looking for – tickets to events can range from a few hundred dirhams right up to several thousand. However, there are plenty of free activities around the city such as beach barbecues, street parties and even historical tours if that's more your thing. Also keep an eye out for special offers from hotels and restaurants which usually run around this time of year.
Absolutely! Security measures are ramped up around the city on New Year's Eve, so you can rest assured that your safety and well-being is taken very seriously. In addition, with plenty of activities and entertainment options available there'll never be a dull moment! Just make sure to plan ahead so you don't miss out on all the fun festivities taking place throughout December.
You can expect pleasant average temperatures ranging from 18-28 degrees Celsius during this time; perfect for long beach walks, sightseeing and exploring the city! Just make sure to pack plenty of sunscreen and light layers for when you venture outdoors.
There are plenty of spots around the city where you can get a great view of the show. The Dubai Fountain, Souk Al Bahar, and Burj Park are all popular places to watch the fireworks from. However, if you want to really make an impression on your friends and family, then why not book yourself a dinner reservation or cruise around the city in style?
13 Ways To Spend New Years Eve In Dubai