Christmas in Dubai involves bringing out the festive cheer in spades. From cozy ski chalet stays, sing-along carols, festive markets, Christmas in UAE has a lot to offer. Indulge yourself in a diverse experience and take a break from the monotonous dinners and visits with relatives. Head to Dubai and go on an adventure this holiday season and enjoy the fabulous festive events happening in the city.
Christmas in Dubai 2021
---
December brings on the chill and Dubai is all set to transform itself into a stage for winter activities and Christmas celebrations. From ice rinks to Christmas Markets, exotic dine-in experiences, and prominent sightseeing structures, there is something in store for everyone this Christmas. This may not be the ideal snow-strewn celebration, but we ensure you have bucket loads of fun.
If you're looking for that perfect Christmas weather, Dubai is the place to be! Perfect to celebrate Christmas, it is pleasantly warm during the day and gets a little chilly during the evenings, so it would be ideal for you to carry a light jacket or a cardi for your night strolls in the city. The temperature during the day has an average of about 21⁰C and at nights it can drop to 16⁰C. For tourists from across the globe who are averse to heat, Christmas is the best time to enjoy in Dubai.
Here are some of the top places you must visit in Dubai to make your Christmas a memorable one.
6 Things to do during Christmas in Dubai
---
Treat Yourself With A Great Feast At Dubai's Top Dine-In Restaurants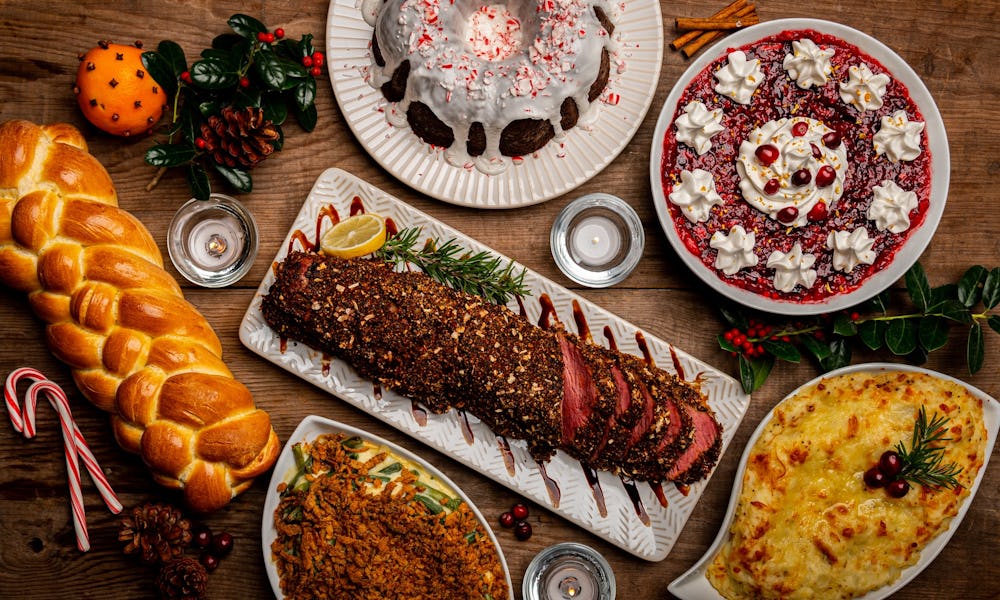 Celebrate Christmas by exploring Dubai's culinary treasures as you eat, drink, and merry with your family and friends. Whether you are looking for a seasonal Christmas dinner or a brunch, some restaurants are all set to quench your palette. You can indulge in the gourmet flavors of Atlantis, or enjoy the culinary heritage of the Mediterraneo by exploring various cuisines. So, are you set to have that lip-smacking meal?
Shop And Hop At Dubai's Largest mall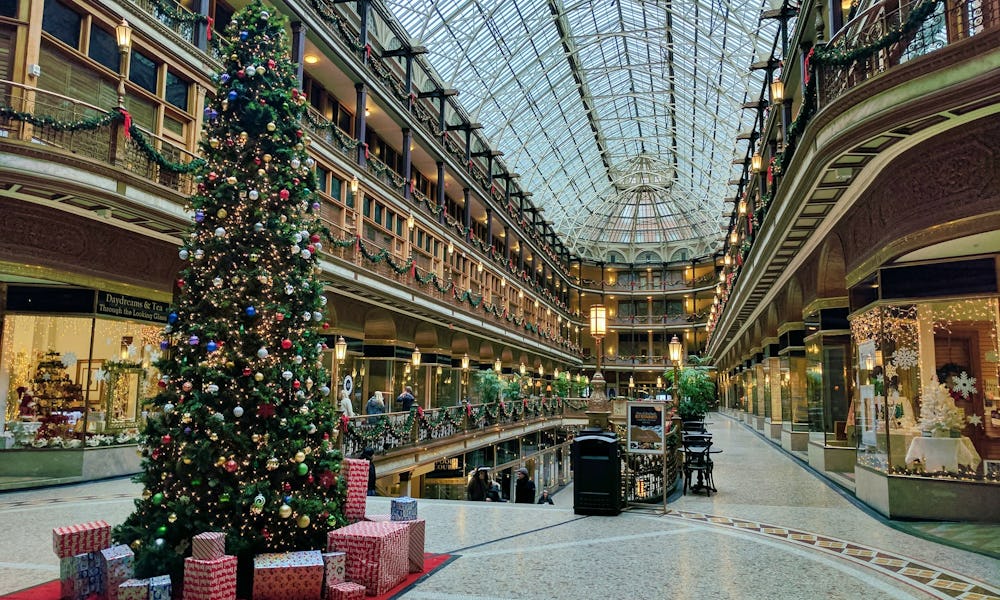 Touted as one of the largest malls in Dubai, The Dubai Mall features 1200 retail outlets, in an astonishing space of 12.1 million square feet. Just like every space in the city is decked up for the Christmas festivities, the Dubai Mall is no less and one can enjoy a perfect blend of world-class leisure, dining, entertainment attractions, and much more under one roof. You can also walk through one of the largest fish tanks and have an out-of-world experience at the Dubai Aquarium.
A Christmas Celebration Like No Other – Sound Of Christmas At Dubai Opera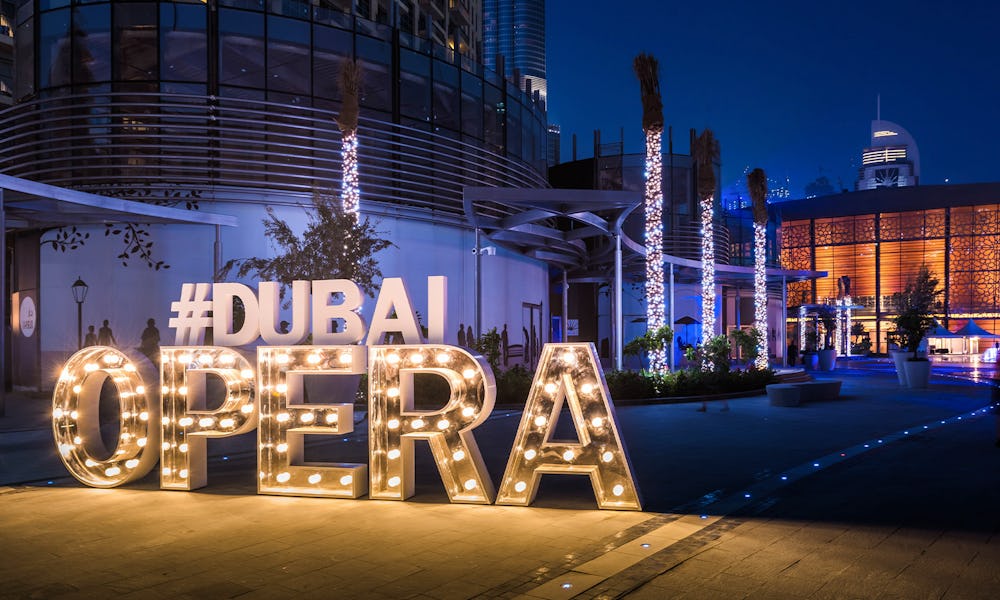 A Christmas Extravaganza is in store for you where you can catch the sound of Christmas at Dubai Opera. Groove to your favorite Christmas songs, may it be Santa Baby or the Jingle Bell Rock, Rockin' Around the Christmas Tree or All I want for Christmas is You, the Dubai Opera Big Band is here to take your celebration a notch higher. Featuring more than 20 talented jazz musicians, the band is sure to make you sing your heart out to all your festive favorites on the occasion of Christmas.
Date and Time: 21 Dec – 22 Dec, 2:00 PM – 8:00 PM
Feel Festive At The Best Christmas Markets In Dubai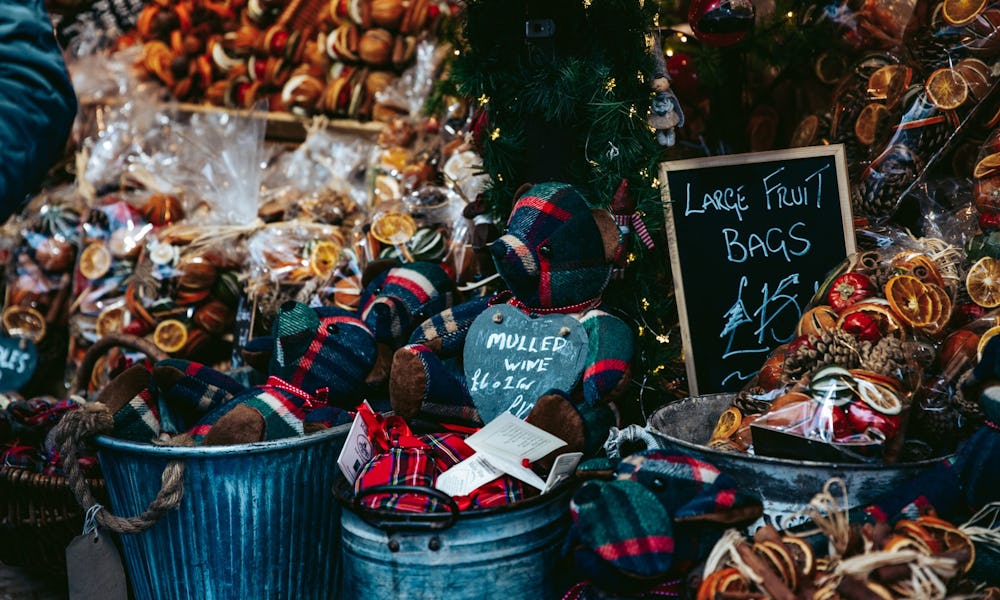 A major contribution to the Christmas celebrations in Dubai is the holiday markets clubbed with traditional delights and world-class entertainment. From fun stalls to glamorous fairs, Dubai has a range of Christmas markets that will make you go gaga. Here are a few:
AB AL SHAMS:
A unique Christmas market in the city is filled with beautifully decorated 40 ft. tall Christmas trees, stalls, and holiday special cuisines from 10th Dec to 21st Dec 2021.
Timings: 06:00 PM to 10:00 PM
SKI DUBAI:
A snowy Christmas celebration packed with fun rides, movies, gifts, festive food stalls, snowman building activities and so much more, every day till the 25th Dec 2021.
CHRISTMAS CARNIVAL AT GEMS PRIVATE SCHOOL OUD METHA:
Transformed into a Winter Wonderland, visitors can come and shop from across 50 local exhibitors on 12th Dec 2021 between 2:00 PM to 10:00 PM.
MADINAT JUMEIRAH FESTIVE MARKET:
One of Dubai's top Christmas markets, where you can shop and create art, check out Santa's grotto, a Venetian Carousel and so much more, to engage your family! This is open from 16th Dec 2021, till the month-end.
Timings: Sunday-Wednesday 03:00 pm onwards | Thursday-Saturday noon onwards
This Christmas, Take A Break At An Exotic Stay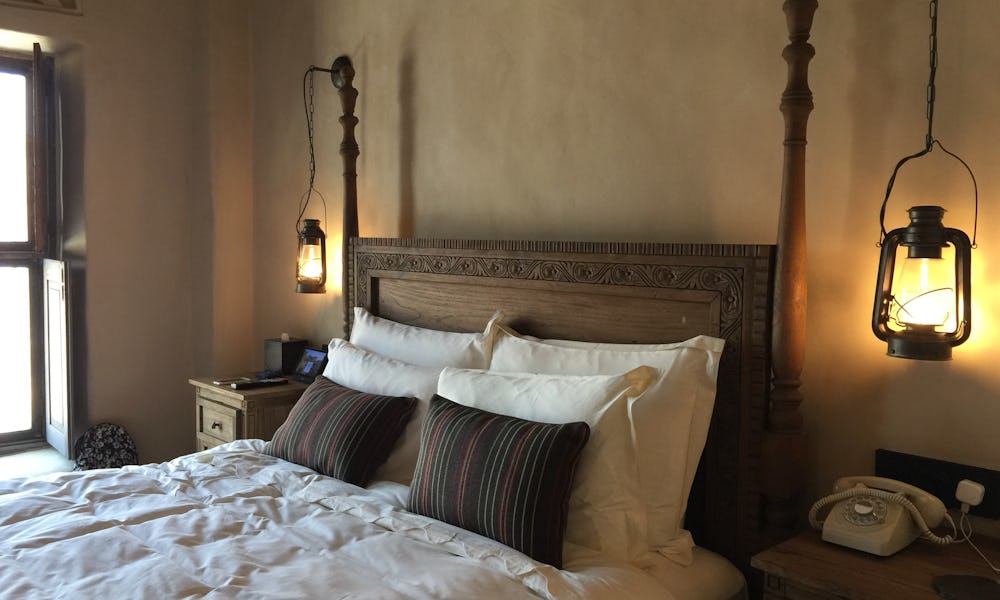 Wrapped in clusters of gifts and gingerbread houses larger than London flats, the hotel lobbies in Dubai are densely decorated to celebrate Christmas. We recommend you to book in advance to enjoy this over-the-top festive feast, conducted the whole of December. If you are seeking a Christmas getaway or just a winter break, a festive break in Dubai is the place to be. Let us help you with a few fabulous hotels in Dubai to spend your Christmas.

Atlantis, The Palm: The famous hotel in Dubai goes all out during Christmas with no less than 27 trees adorned with more than 7000 decorations and half a mile of fancy lights. Enjoy a Christmas day lunch at one of the 10 restaurants at the Atlantis.
Kempinski Hotel, Mall of Emirates: Dreaming of that beautiful white Christmas? Known to be home to the city's only ski chalets created to reflect Aspen Mountain lodges, this hotel overlooks the Emirate's indoor ski park. When the cold gets onto you, just get a cocktail in the sun by the pool and enjoy the view.
JA The Resort: Witness a Christmas miracle by hopping onto themed rides, games and indulging in live entertainment from December 6 to January 7 all night long at the croquet lawn. Enjoy the tree-light ceremony with carollers on 15th December 2021.
Witness Dubai's Skyline Through A Fun Helicopter Tour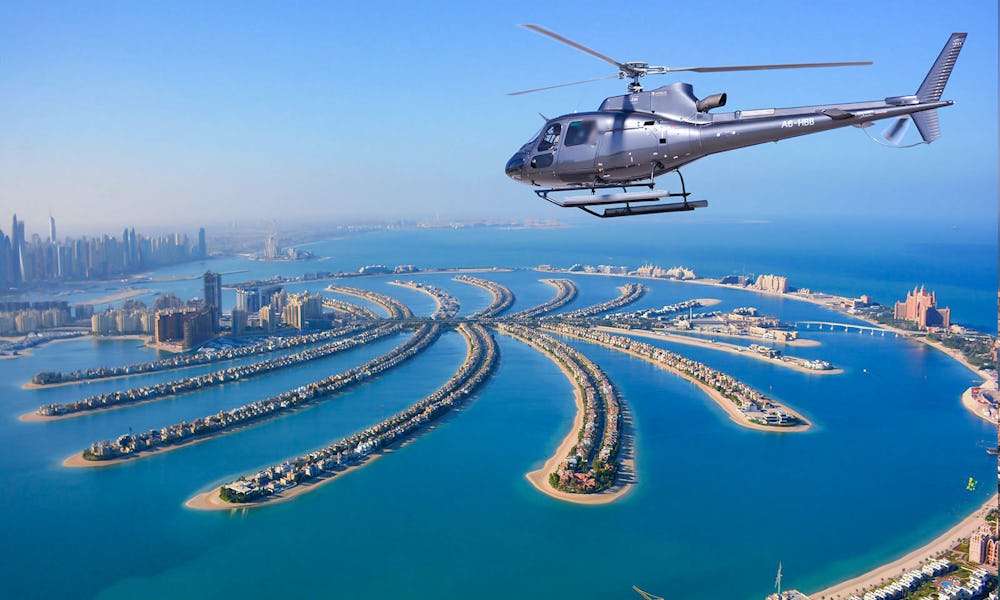 What if we told you that it is possible to fly across the city's skyline while witnessing some of the iconic structures from above sea level? A Helicopter Tour in Dubai will give you just that. If you are in Dubai during Christmas time and are an adventure geek, you must hop onto that helicopter and experience a tour of zipping through the city sky like never before. Dubai has 5 different kinds of helicopter tours which provide you with some of the glorious views of the city's famous landmarks like the Burj Khalifa, Burj Al Arab, Dubai Canal, Dubai Frame amongst many others. The duration of each tour differs from the other, giving you something more to see each time.
Tips on how to spend Christmas in Dubai 2021
---
If you wish to grab a Christmas dinner, we recommend you book in advance as the prices can be slightly higher considering it is a festive season.
All public transport in the city is functional on Christmas. You can check out our complete guide to public transportation in Dubai and plan your commute around the city.
Considering the climate, you can carry light and loose cotton clothes, along with a few cardigans.
Since the city has a beautiful beach and most hotels have pools within, make sure you carry swimwear.
Karama is a great place to buy souvenirs and gift items for your loved ones. If you need a good bargain, try buying most of the items for the same store.
Frequently Asked Questions
---
How do they celebrate Christmas in Dubai?

Is Christmas a good time to visit Dubai?

Where should I go to in Dubai for Christmas?

Is Dubai expensive during Christmas?

Is Dubai busy during Christmas?

Is Dubai hot during Christmas?