When the heat gets unbearable in Dubai, you'd think people would run to the malls for shelter. Fortunately (or unfortunately), that's not the case anymore. When people think of heat, they think of beaches, tanning, and all things nice.
So, if you find yourself in Dubai this summer, or are just in the mood to visit the 'best beaches in Dubai' - we've got you covered.
We did the groundwork for you, and prepared a list of the best/must-visit beaches in Dubai so you don't have to!
Top 10 Best Beaches in Dubai
---
1.

La Mer
Best for: Beach Clubs, Beachside Restaurants
Dubai, UAE
Location

If you happen to be looking for 1.24 million square meters of beach and fun, you're in the right place! La Mer Dubai is essentially the perfect blend of contemporary and minimalist design. The architecture at La Mer follows the theme of 'sea marine' (fair, given that La Mer literally translates to the 'sea'), and the objects that have been used are said to be embodying rusted metal and tinted barrels.
With four important zones: The Beach, The Entertainment Hub, The North Island, and The South Island , La Mer promises all things sun, sand, and fun! With wide open walkways lined with palm tree boulevards, cabanas, and graffiti, La Mer is essentially the best way to relax on a day out.
Best Time to Visit
October to February
Travel Time from Dubai Mall
15 minutes
2.

Kite Beach
Best for: Kiteflying, Sunsets
Dubai, UAE
Location

No matter what the name might suggest, Kite Beach isn't restricted to just surfers and people who enjoy sports. No. No matter your age and what you do/like doing, Kite Beach is essentially the perfect way to have a fun day out, as the GenZ likes to call it.
Although, if you are someone who enjoys time out on the waves and a good surf, Kite Beach is just for you!
Best Time to Visit
October to February
Travel Time from Dubai Mall
15 minutes
3.

Palm Jumeirah Beach
Best for: Views, Cruises, Speed Boat Rides
Dubai, UAE
Location

The Palm Jumeirah is more like a collection of beaches rather than a single location. The Palm Jumeirah, along with Palm Jebel Ali and Palm Deira, is one of three artificial islands in Dubai's artificial archipelago, the Palm Islands. The island measures five kilometers by five kilometers.
Whether you're looking for a romantic weekend or an exciting outing with your friends and family, Palm Jumeirah's beaches have everything you need. Atlantis, The Palm is one of the island's top attractions. The resort features a beautiful private beach and Aquaventure Water Park, as well as The Lost Chambers Aquarium, one of Dubai's most popular attraction
Best Time to Visit
October to February
Travel Time from Dubai Mall
19 minutes
4.

Marina Beach
Best for: Sea-side drinking, Camel rides on the beach
Dubai, UAE
Location

The Marina Beach is a tourist magnet. A short distance from Dubai's Jumeirah Beach Park, this white beach is lined with large palm trees and tourists who lazily drink their drinks sitting at the bar. Facing the magnanimous Ain Dubai, the sea at Marina Beach is calm, the water is clean and bathing is a real pleasure. If you're bored of lounging on the beach, treat yourself to the Flying Cup experience or hop over across the waters for a ride on the world's largest giant wheel - Ain Dubai. You could also sign up for a quintessential camel ride on the beach!
Best Time to Visit
October to February
Travel Time from Dubai Mall
21 minutes
5.

Jumeirah Beach Residence (JBR)
Best for: Sunbathing, Watersports
Dubai, UAE
Location

JBR, the busiest beach in Dubai, is full of fun activities to explore! From sunrise until sunset (and beyond), this stretch of coast – and the busy promenade behind it – is jam-packed with action, people, and endless things to do.
There's a lovely wide beach area where you can sunbathe on the sand or take a dhow cruise while relaxing in the shade. Whether you're resting on a boat or participating in an adrenaline pumping water sport, there's plenty to do at the JBR!
Best Time to Visit
Year round
Travel Time from Dubai Mall
24 minutes
6.

Mamzar Beach
Best for: Beach picnic, Lounging with a book
Dubai, UAE
Location

The Al Mamzar Beach, in Dubai, has acres of lush grass, over 1,600 palm trees, 300 coconut palms, and 6,000 distinct types of cultivated green life. Al Mamzar provides an unusual beach experience in Dubai with a gorgeous park by the sea where you can stroll along the sand, enjoy a variety of water sports. Whether you're the kind of person who likes a picnic at the park, or just sit quietly under a tree and read a book, Al Mamzar has it all!
Best Time to Visit
December to March
Travel Time from Dubai Mall
19 minutes
7.

Black Palace Beach
Best for: Volleyball, Fishing
Dubai, UAE
Location

The Black Palace Beach is a hidden gem, nestled between the royal fortresses of Al Sufouh. Also known as the Al Soufouh Beach, this beach has stunning views of the Burj Al Arab and Palm Jumeirah while you relax and unwind. Joining locals in playing beach volleyball here is a custom among visitors.
The sand at the Black Palace Beach is clean and the water is crystal clear, making it perfect for swimming, sunbathing, and enjoying the incredible views. The beach is also great for fishing, as there are many good spots along the shoreline.
Best Time to Visit
December to February
Travel Time from Dubai Mall
19 minutes
8.

Sunset Beach
Best for: Sunset, Photography
Dubai, UAE
Location

Located behind Sunset Mall, the Sunset Beach also known as Umm Suqeim Beach is almost always bustling with sunbathers, families and picnickers. With gorgeous views of Burj Al Arab and a colourful sky of kites from the neighbouring Kite Beach. It is a tranquil escape from the busy city and a photographer's dream beach. One of the calmer spots along the coast, it's also a favorite beach for lovely morning runs and romantic evening strolls.
Best Time to Visit
Year Round
Travel Time from Dubai Mall
16 minutes
9.

Mercato Beach
Best for: Mall by the beach, Cycling
Dubai, UAE
Location

While not the most attractive of beaches, the Mercato Beach across from the Mercato Mall is a peaceful retreat from Dubai's bustle. It's the ideal location to unwind with some sand sports on the beach or relax with a book in your hand. Families enjoy the promenade and cycling track that runs along the beach, which is also perfect for a sunset stroll.
Best Time to Visit
Year Round
Travel Time from Dubai Mall
10 minutes
10.

Royal Beach
Best for: Luxury/Private beach time, Pool by the beach
Dubai, UAE
Location

The Royal Beach is one of two private beaches on the Island, being one of Dubai's World Island projects. The Royal Island Beach Club on Lebanon Island offers a variety of beach and water activities. The resort is packed with 5-star international restaurants, posh bars, beautiful swimming pools, and panoramic views of the city skyline. This beach has something for everyone whether you are looking to relax or have some fun in the sun. There is an admission fee of AED 250 to enter this beach, but the environment is well worth the cost for those who enjoy a more exclusive atmosphere.
Best Time to Visit
October to February
Travel Time from Dubai Mall
20 minutes
Top Water Activities in Dubai
---
Looking out for water activties in Dubai? Here's our handpicked curation of the best deals on water activties in Dubai. Put on your adventure caps and get ready for some water fun!
PS: Check out our extensive guide on water sports in Dubai before you go!
Scuba Dive in Dubai

Located on northeastern coast of the Arabian Peninsula, Dubai offers a little slice of marine heaven for scuba divers. The gulf's popularity with snorkelers and scuba divers stems from regional pearl-diving traditions and folk tales that go back thousands of years.
If you're keen on indoor scuba diving, check out Deep Dive Dubai - the world's deepest diving pool.
Snorkeling in Dubai

Snorkel into gorgeous, turquoise waters and explore the colourful world beneath the waves. Swim with thousands of fish, friendly black-tip sharks, eels, rays and more. For those who aren't quite ready to dive, this activity is an incredible alternate way to experience marine life.
For those who aren't willing to enter the ocean, snorkelling in the Ambassador Lagoon in Atlantis is the perfect place for you. Not only do you get to see a wider range of aquatic animals, you are also within a controlled environment where you can swim the fishes with ease, without having to worry about anything else. The snorkel masks, wetsuits, and towels are included in the experience. All you need to do is book your tickets and make your way to the Aquaventure water park.
Jet Ski in Dubai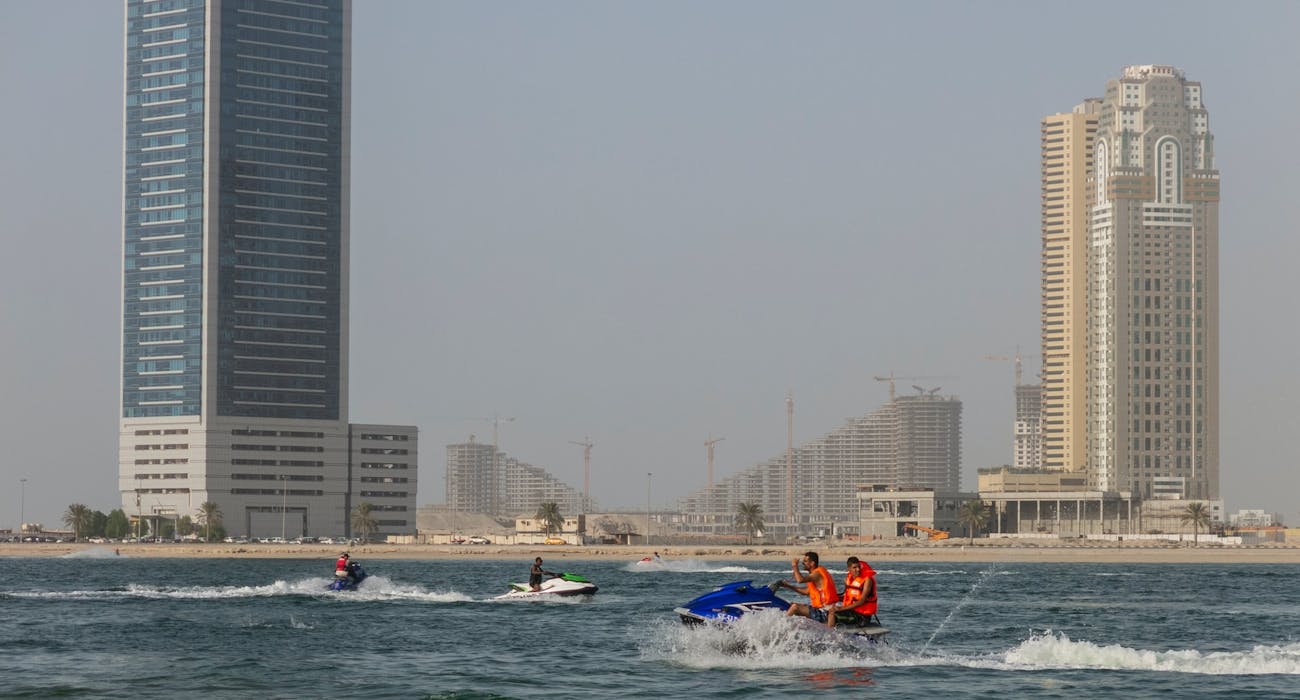 Looking to add a little speed to your beach day? Ride the waves aboard a jet ski and whiz across Dubai's coast. It's the most thrilling way to take in the city's iconic landmarks! Start your journey in Dubai Marina and zip around Jumeirah Beach before touring Palm Island. Or, base yourself in the Marina and soak up beautiful views of the skyline.
Check out more Dubai Jet Ski Tours here.
Boat Tours in Dubai

Experience Dubai from the water on one of the city's stunning boat tours. Sightsee on a Yellow Boat tour and enjoy incredible photo opportunities. Spend the day on Lebanon Island, part of the World Islands, and soak up majestic views of the Dubai skyline. Or, turn things up a notch on a high-speed tour around Dubai Marina. With plenty of options, there's a boat tour to satisfy every sea lover's desire.
Tube Rides in Dubai

What better way to cool off than with an exhilarating tube ride. Dubai's beaches offer solo rides or group tube rides for up to three people. Glide over waves as you take in the magnificent sights along the shoreline and enjoy the thrill of the sea.
Cruises in Dubai

Set sail on a traditional dhow boat and cruise around Dubai Marina. Enjoy gorgeous sights and delicious food as you watch the sun set on a dinner cruise. Or, opt for the day sightseeing cruise and listen to exquisite Arabian music as you take in phenomenal views of iconic landmarks and lavish hotels.
FAQs
---
Dubai has many nice beaches. The nicest beaches in Dubai as of 2022 are La Mer, Marina Beach & Kite Beach.
Yes, access to the Jumeirah Public Beach is free from 7 a.m. to 11 or 11:30 p.m. Access to the beach is free, but expect to fork out a few dirhams if you want to access the Jumeirah Beach Park.
The 5 best free beaches in Dubai are
1. La Mer
2. Kite Beach
3. Jumeirah Beach
4. Mamzar Beach
5. Al Soufoh Beach
Yes, you can swim till a certain point in most sandy beaches in Dubai. If you're visiting a rocky beach, we recommend swimming only if you're a professional swimmer.
Kite Beach is less crowded and feels more airy, while JBR is very commercialised and can seem crowded on most days. JBR is ideal for people who are looking for a more engaging beach experience - restaurants, washrooms, cafes, shopping. But, if you are keen on water sports, then Kite Beach is a better option.
No, you do not have to pay for most beaches in Dubai. Unless you're visiting a private beach or a beach club in Dubai, access to beaches are free.
Yes, you can sunbathe in Dubai, but women are not allowed to sunbathe topless.
The best public beach in Dubai is the Jumeirah Public Beach.
No, Dubai beaches do not have sharks.
The best private beaches in Dubai are:
1. Only&Only Royal Mirage Beach
2. Madinat Jumeirah
3. Ritz Carlton
4. Sofitel The Palm
5.Sheraton Jumeirah Beach Resort