The Burj Al Arab needs no introduction to many. Synonymous with luxury, grandeur, and all things extravagant, the 5-star hotel stands at 920 ft and has made appearances in many pop cultural references, movies, and more that have helped it earn the status of an iconic site. Designed by architect Tom Wright to look like the sail of a ship, it stands on an artificial island and receives an average footfall in the millions, a number that steadily increases each year. While the number of experiences that the hotel has to offer knows no bounds, a peek into what makes this establishment so special will help you see just how symbolic this global benchmark of Arabian luxury really is. Keep reading to know why the Inside Burj Al Arab tour should make it to your Dubai bucket list.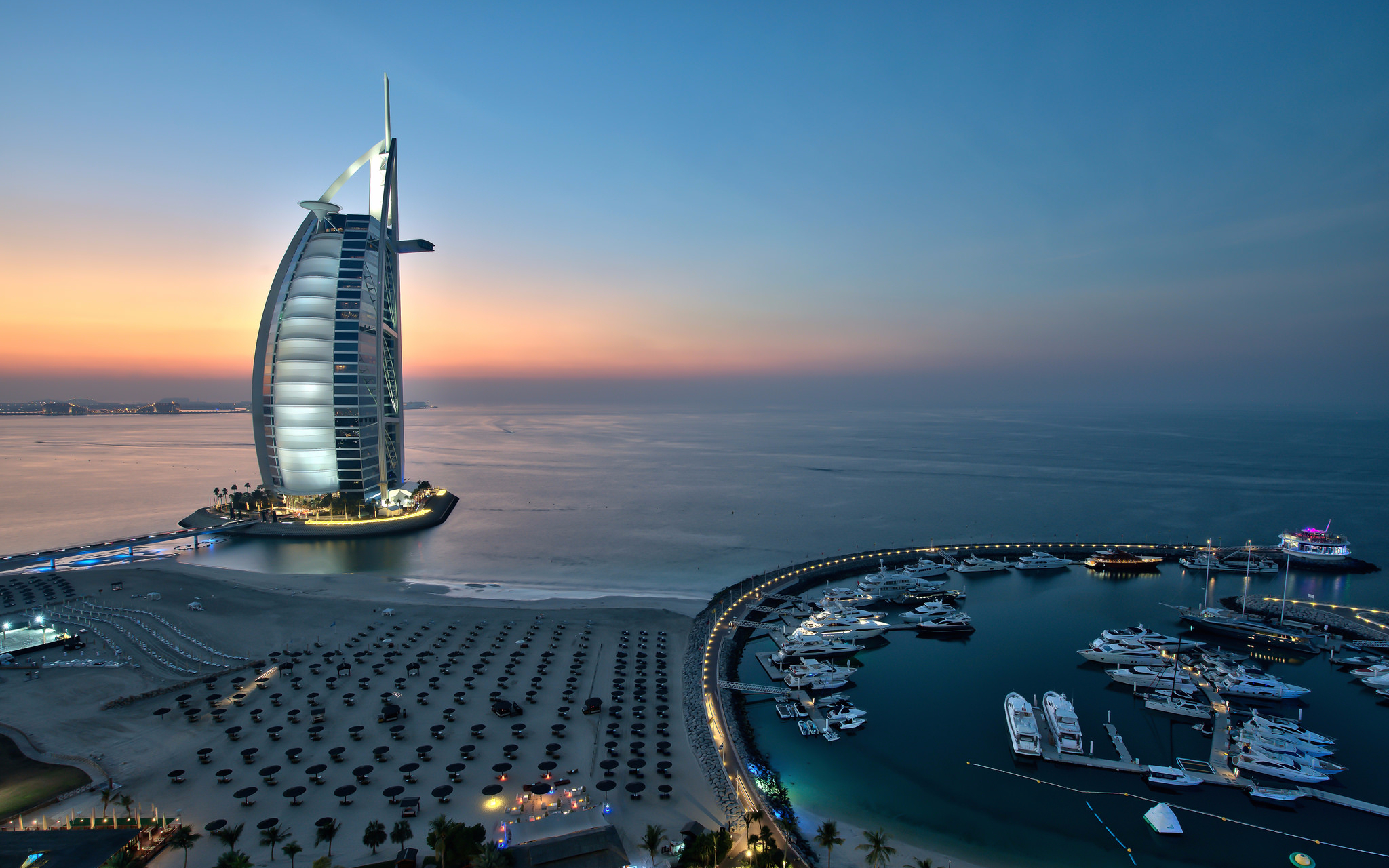 Why you must visit Burj Al Arab
---
We all deserve a break. But have you ever wondered what it would be like to kick back in a hotel that, from the moment you enter, envelops you in a luxury, offering you the finest of all services? Well, the Burj Al Arab is just that. Seated only 280 meters from Jemeira beach on a man-made island, the location of the hotel is the perfect metaphor to describe the height of opulence that seems just too good to be true. The use of cutting-edge technology and architectural innovation seeps out of every corner of the hotel from the infinity pool on the terrace to the man-made beach that it houses which only adds to the long list of reasons to visit the Burj Al Arab. Continue reading to find out how you can take a tour of what is inside this world-famous landmark.
Inside Burj Al Arab tour tickets
---
Exploring the Burj Al Arab requires you to book a room in the hotel, but what if there was a way to sneak a peek without having to spend on reserving a room? The Inside Burj Al Arab tour tickets offer you a chance to access exclusive areas within the hotel and on the 25th floor while accompanied by a guide. Book your tickets for the tour now and get a taste of world-renowned Emirati hospitality.
Taking an Inside Burj Al Arab Guided Tour
---
Taking a tour of what lies inside one of the world's finest hotels is now just a click away. On the Inside Burj Al Arab Guided Tour, you will feel the warmth of luxury as you make your way across gilded corridors to see what lies inside. Accompanied by a butler, you will get to revel in richness throughout the tour, starting with the Royal Suite on this immersive experience. As you learn about the never-seen-before elements of design that went into making the Burj Al Arab, your guide will take you through the Boutique and exclusive areas on the 25th floor set against phenomenal backdrops. Feel free to capture as many memories as you'd like as you make your way through the lap of luxury.
You can also add to your experience at the Inside Burj Al Arab Boutique, that many abundant souvenirs, merchandise, and more for you to take a piece of experience back home with you.
History and Architecture of the Burj Al Arab
---
From the get-go, the aim was to build an experience that was unmatched in terms of exclusive tourism, allowing people to live grand, even if it was just for a couple of hours or days. When the hotel was commissioned by Sheikh Mohammed bin Rashid al Maktoum with Tom Wright at the architectural helm, the most challenging aspect was a 590 ft layer of sand that covered the rocky, stable ground for construction of the island. With the help of special blocks of rocks, and 230 foundation piles later, the Burj Al Arab was finally complete and ready to open its gates in December 1999.
Translating to the "The Tower of Arabs", the Burj Al Arab resembles an Arabian dhow sail and stands tall at a height of 321 meters and is flanked by golden columns. There are two "wings" placed to form a "V" that make the "mast" and in between lies the world's tallest atrium. The palatial interiors adored by elements of Arabian heritage and the vibrant colors that adorn the wall can be accredited to the Chinese interior designer Khuan Chew, who, with the use of exquisite materials like Statuario marble, 24carat gold leaves, and 86,500 pieces of hand-fixed Swarovski crystals give the Burj Al Arab its awe-inspiring interior. The hotel also sports a helipad that was designed by Rebecca Gernon which has been used on many occasions as a tennis court, a car race track, and a boxing ring.
Inside Burj Al Arab Tour highlights
---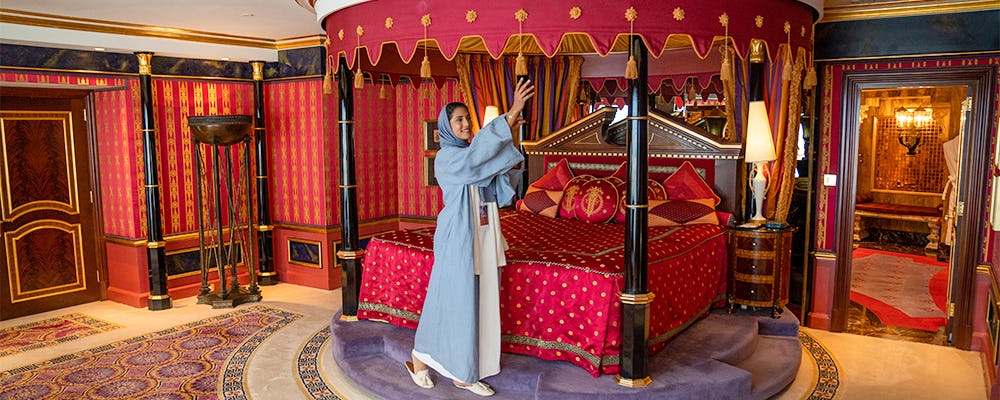 The famous 25th floor is where lies the Royal Suite of the Burj Al Arab. On this floor, you will also find displayed, the paper napkin on which Tom Wright designed the sketch of the Burj Al Arab.
A peek inside the Royal Suite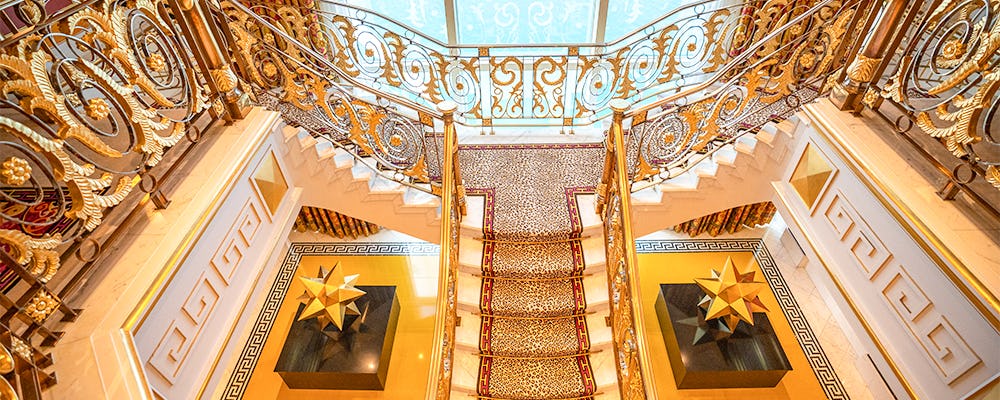 As one of the most expensive hotel rooms in the world, the Royal Suite has its own private elevator and spans an area of 8,395 sq ft. spread across two floors, you will be greeted with a gold and marble staircase with massive pillars on either side, covered in 22-karat gold. The Suite also comes with a private dining area and an Arabic-style lounge.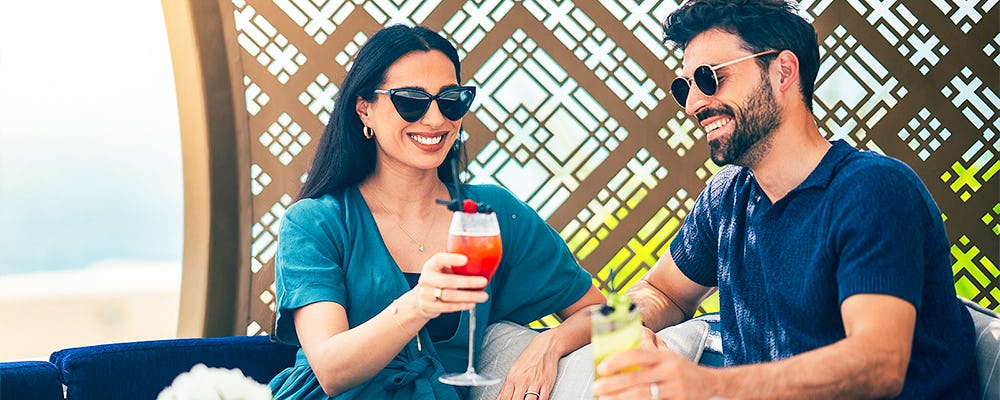 Experience the height of luxury and sophistication at UMA lounge. Enjoy a unique blend of Arabian hospitality, with an edge of modernity, while admiring breathtaking views of Dubai's beautiful skyline. The lounge is at its best during sunset, as you take in the views with a complimentary glass of cocktail or wine. Modify your ticket to the 'Tour + Premium Beverage at UMA Lounge (21+ only)' option for this experience.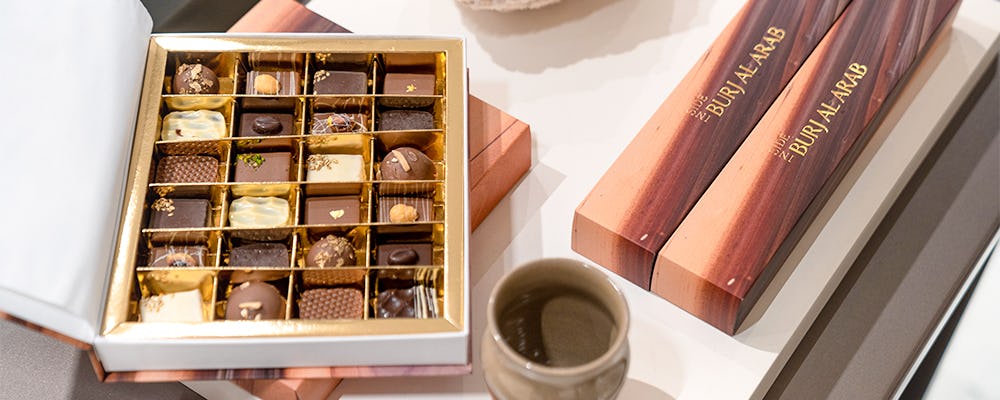 In keeping with the grandeur of Burj Al Arab, The Boutique inside the hotel is a high-end retail experience that features merchandise, souvenirs, and fashion accessories in a warm ambiance with mirrored ceilings and soft lighting.
While the 25th floor, the Royal Suite, Uma Lounge, and The Boutique are all places that come included in the Inside Burj Al Arab tour, should you choose, there are a bunch of other experiences that you can select through specific bookings and registrations. By booking one of the luxurious rooms and suites, you will have access to the indulgent complimentary breakfast as well as the Cabana on the Terrace. For a thrilling dining experience, you can also visit Ristorante L' Olivo at Al Mahara, the underwater restaurant, play tennis on one of the highest courts in the world, go for a swim in the terrace pool or unwind in the Talise Spa.
Burj Al Arab Hours
---
There is never a bad time to treat yourself to the luxury comfort of the Burj Al Arab especially since the hotel is open 24 hours, 365 days a year. Previously, you could only enter the hotel through a reservation in any one of their restaurants or as one of their guests. You could book a dining experience or even opt for something lighter like an afternoon tea overlooking the coastline from the 27th floor. However, now you have the option of paying a visit through the Inside Burj Al Arab tour that runs from 10:30 am to 9 pm daily.
How to get to the Burj Al Arab
---
By Bus - Buses 8, 81, and X28 all follow routes that pass Burj Al Arab Hotel Bus Stop 2 which is a 9-minute walk to Burj Al Arab
By Metro - The closest metro station to Burj Al Arab, Sharaf Dg Metro Bus Stop 2-1 cancna be accessed by the M2 and is 350 meters from the hotel. You can also take the M1 to Al Ras Metro Station which is an 8-minute walk away from the hotel or to the Burjuman Metro Station which is a 25-minute walk away.
Restaurants Inside the Burj Al Arab
---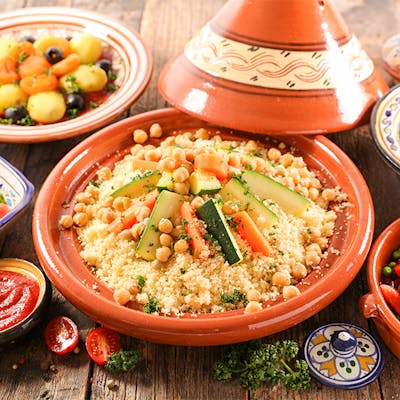 Al Iwan
Burj Al Arab's Al Iwan has some of the finest Arabesque cuisine and ambiance and serves traditional Arabian delicacies as well and you can enjoy your meal with a stunning view of the Persian Gulf Water.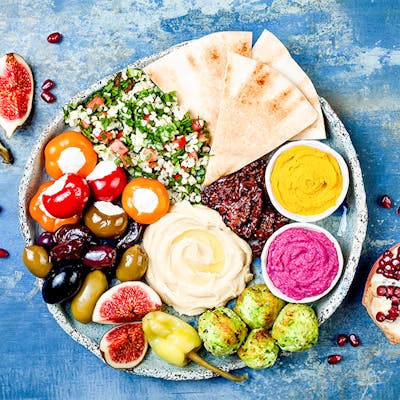 SAL
This beachside restaurant overlooks the Arabian Gulf, creating a beautiful backdrop for your chic southern Mediterranean meal. Seated by the pool, you have a wide range of menu items to choose from that will help you palette explore Iberian Peninsula cuisine.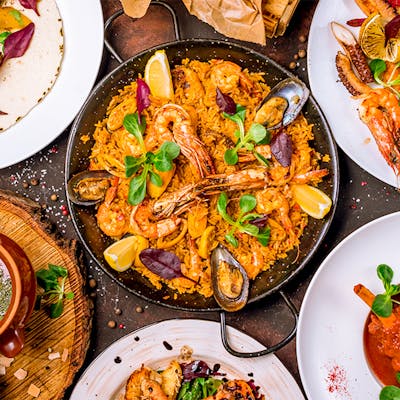 Terrace Burj Al Arab
This outdoor leisure space not only houses a restaurant but also has a beach, a pool, and a cabana space for you to kick your feet up in. Hhere, you can enjoy the waves of the beach and the warm sun on your back as you relish delicious bites of Spanish and Portuguese cuisine from SAL.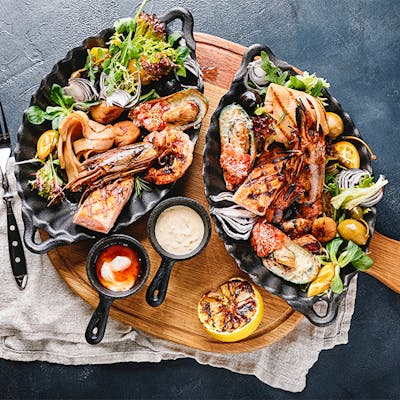 Ristorante L' Olivo at Al Mahara
Dive into mouth-watering Italian seafood by Chef Andrea Migliaccio in the perfect space, an underwater dining room. From the shell-shaped chairs to the roaming champagne trolley, you a bound to have a truly excellent experience.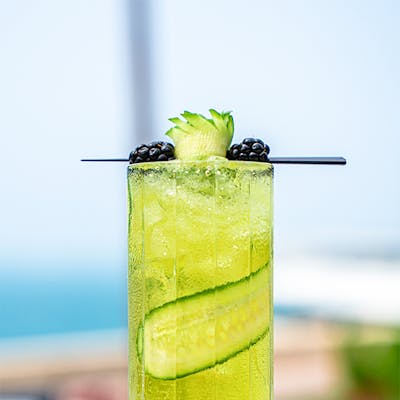 Skyview Bar
Skyview Bar, up on the 27th floor offers you a chance to indulge in the finest results of mixology with the Dubai skyline to give you company. Choose from classic concoctions to innovative cocktails as you enjoy the lash interiors of Skyview.
At Burj Al Arab, there are also plenty of other restaurants to choose from, with many different cuisines. Head over to Sahn Eddar for lunch or afternoon tea served in style or to Bab Al Yam to experience an open kitchen. You can also enjoy a drink at Gilt, a gastro bar, or savor Italian cuisine at Al Muntaha. To mix it up, attend the Culinary Flight at Burj Al Arab to enjoy five course at four different restaurants or simply relax at the Juna Lounge
Burj Al Arab Insider Tips
---
If you are planning a visit with children, don't worry, there is a little something for the little ones too. LEGO, board games, access to Sindbad's KiDS Club, and more are a few of the activities that will make sure that your young ones too have a great time.
The hotel also has a space where you can host events, from outdoor venues to ballrooms.
If you are a guest at the hotel, be sure to check out the Wild Wadi Waterpark and Summersalt Beach Club since you will have unlimited access.
At the Burj Al Arab, even your sleep is taken care of since the hotel offers you 17 different types of pillows to choose from!
Things to do around Burj Al Arab
---
1

Wild Wadi Waterpark Dubai
This outdoor waterpark in Jumeirah offers fun for all. Based on Juha, a beloved character from Arabian folklore, the park has 30 different rides and attractions to choose from ands is 1.7km away from Burj Al Arab.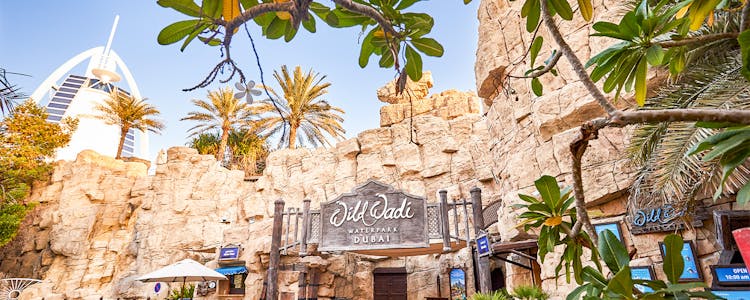 Described as a playscape, XPark Jr. is a space for children to indulge in play while in the lap of Mother Nature. This urban forest has tons of activities for groups and individuals alike to help children learn and have fun at the same time. If you are visiting the Burj Al Arab, XPark Jr. is only 5.5km away.
3

3D World Selfie Museum Dubai
As the largest 3D museum in the world, 3D World Selfie Museum Dubai offers you a one-of-a-kind experience that gives the impression of defying reality. This interactive space has optical illusions, "trick art", and an interactive gallery, only 9km (15-minute car ride) away from Bur Al Arab.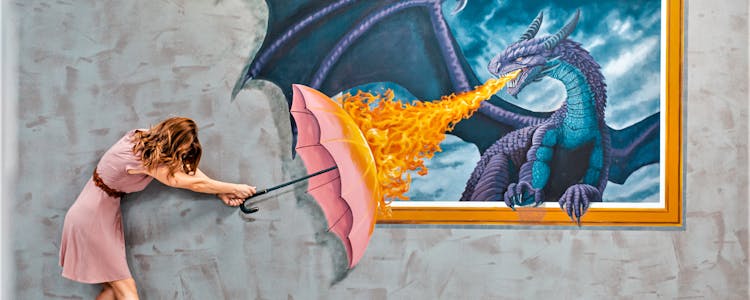 Escape from the heat with a visit to Ski Dubai, an indoor ski resort located in the Mall of the Emirates located 3.7km away. In addition to the activities there, you can also interact with penguins!
5

IMG Worlds of Adventure
IMG Worlds of Adventure is the largest indoor, themed amusement park in Dubai where you have five "epic zones" to choose from. Located 27.7k away from Burj Al Arab, this theme park has more than 20 rides and attractions, catering to all levels of thrill-seekers.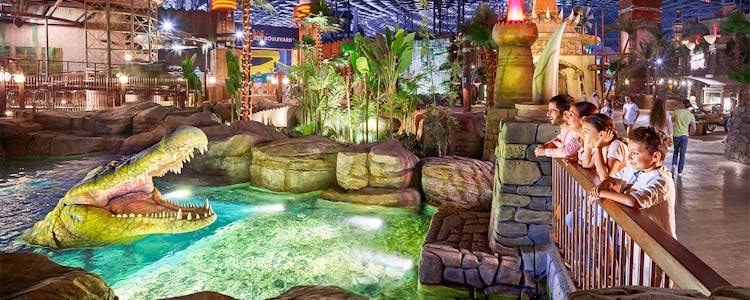 FAQs
---
What is Burj Al Arab famous for?
Are pets allowed inside Bur Al Arab?
Which is the cheapest room at Burj Al Arab?
Why was Burj Al Arab built?
Are bags allowed during the Inside Burj Al Arab tour?
Are food and drinks from outside allowed during the Inside Burj Al Arab tour?
Does Burj Al Arab have buggies for transport?
Can I take pictures inside the hotel?
Ready to head to Burj Al Arab?
---
Purchase discounted Burj Al Arab tickets via Headout today!
Explore The Rest of Dubai
Fancy heading out to some other must-visit Dubai attractions? Take inspiration from our list of Dubai Travel Tips & Hacks here. Use our comprehensive Dubai Travel Guide to explore the rest of Dubai in a hassle-free fashion with all the need-to-know information in hand.