The City of Gold is on a constant path of outdoing itself. It attracts millions of visitors each year, offering a myriad of fun, cultural attractions. Outside of the known realm of experiences like visiting its beautiful beaches or the Burj Khalifa, going for a dhow cruise, or indulging in some local cuisine, Dubai has taken things up a notch by hosting the Expo 2021.
Initially set to open its doors to the public in October 2020, the event was pushed and now has been rescheduled, bigger and better, to October 2021. Themed around 'Connecting Minds, Creating The Future', Dubai Expo 2021 will be a global platform that aims to bring together networks, economies, cultures and of course, people from all walks of life. Here's all you need to know about this much awaited global phenomena.
What Is Expo 2021?
---
Expo 2021 is a platform for millions from different countries to come together and share ideas, showcase innovation, encourage collaboration and celebrate human ingenuity. World Fairs are held every 5 years and last for 6 months.
Before learning about Dubai Expo 2021, let's go back to the first World Expo that was held in 1851 at London's Crystal Palace. It was titled "The Great Exhibition of the Works of Industry of All Nations" and brought to display over 10,000 inventions from the industrial revolution.
The last World Expo was held in Milan in 2015 with the theme "Feeding the Planet, Energy for Life". Interesting innovations like solar trees and energy saving elevators were showcased in Milan, a concenterated effort to channel worldly affairs in a sustainable fashion.
Expo 2021 in Dubai will be centered around the theme "Connecting Minds, Creating the Future". For 6 months, between 1 October 2021 to 31 March 2022, Dubai Expo 2021 will host hundreds of countries, companies, and people who convert insights into possibilities in the spheres of opportunity, mobility, and sustainability. Read more about the Expo 2021 Theme in the following section.
Fun Fact: World Expo is the world's oldest and largest international event.
Dubai Expo 2021 Theme - Connecting Minds, Creating the Future
---
World Expo is a catalyst for social, economic and cultural transformation, a way to bring together the global community to share innovations and work towards a better for future generations around the world. Expo 2021's theme is "Connecting Minds, Creating the Future", a way to build partnerships and inspire ideas that will forge the world of tomorrow. There are three sub-themes that are key pillars to reaping the best of the chosen theme is "Opportunity, Mobility and Sustainability". All ideas and innovations will circle around this theme and subthemes, bringing together an abundance of ideas for a greater, better future.
Dubai Expo 2021 Location
---
If you're staying in Dubai, you've probably noticed the upcoming 'city' called Dubai South. Yes, the Dubai government is building a city within a city for Expo 2021!. Covering a total of 438 hectares, Dubai South where Expo 2021 will be held is located close to the Al Maktoum International Airport.

Fun Fact: The Dubai Metro Route 2021 is expected to take 46,000 passengers per hour to and from the Expo 2021 site in under 16 minutes from Dubai Marina.
Expo 2020 Logo - The Story Behind The Logo
--- Image Courtesy : Expo 2020 Official Website
The Dubai Expo 2020 logo is fascinating, yet abstract, stirring discussions about what it really denotes. The inspiration behind the logo is said to have come from a ring found at a 4,000-year-old archaeological site in a desert located in the Al Marmum area of Dubai. Mohammed bin Rashid Al Maktoum, Vice President of UAE added,"It represents our message to the world that our civilisation has deep roots. We were and will always be a pot that gathers civilisations and a centre for innovation".
What To Expect At Dubai Expo 2021?
---
Limitless possibilities that you have never imagined in your wildest dreams! Expo 2021 is going to be nothing short of a utopian fair we've often seen in futuristic movies. Here are some pictures to give you a glimpse of what it's going to look like.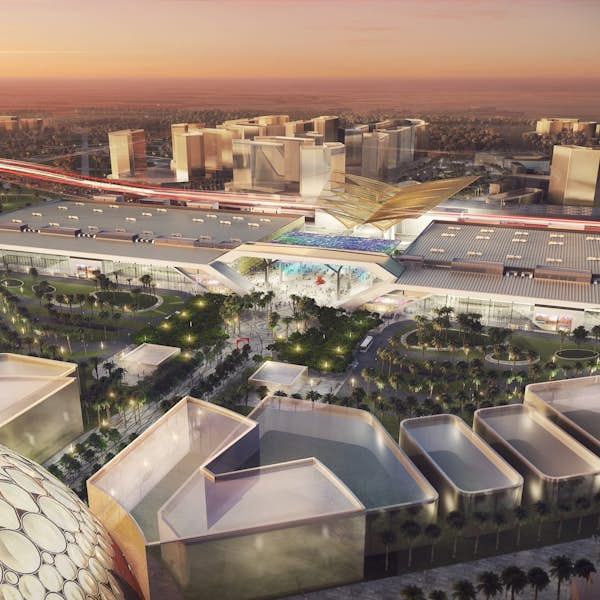 Exciting, right? There's so much more in store. Here's are a few to get started :
Hundreds of pavilions featuring interactive exhibits, like entertainment, lavish meeting spaces, quirky hangouts and a lot more. From the Azerbaijan Pavilion to the Monaco Pavilion, there's no dearth of ideas and opportunities at Expo 2021. Check out the complete list of Pavilions.
Palatable authentic dishes from every corner of the world - from street food to haute cuisine in more than 200 food and beverage outlets.
Art installations from local and global talents across Expo 2021's living, thriving canvas.
Dubai Expo 2021 Tickets
---
With over 60 daily live shows, 192 country pavilions and over 200 restaurants from around the world, Dubai Expo 2021 tickets will be a complete value for money.
Pavilion Premiere Passes
To keep the excitement afloat, Expo 2021 will premiere three pavilions: Terra, the Sustainability Pavilion; Alif, the Mobility Pavilion; Mission Possible, the Opportunity Pavilion. Terra is currently open to the public until 10 April 2021, while the remaining two will open soon.
Skip the Line Pass
The current buzz around the Expo assures that it will be a widely-visited, busy event. To avoid waiting in lines, book your skip-the-line tickets online and get priority access to the Dubai Expo.
Hotel Transfers
If you're in town just for this event, save the hassle of planning your commute from your hotel to the venue by opting for tickets that incldue hotel transfers. With these, you'll be picked up and dropped back to your hotel.
Combo Tickets
The city of Dubai is brimming with attractions and experiences to try. The best way to make the most of your trip is by booking combo tickets. These include entry not just to the Dubai Expo, but also provide admission to the Burj Khalifa, Dubai Frame, Dubai Garden Glow, Dubai Parks and Resorts, Dubai Aquarium and more (depending on your ticket).
Dubai Expo 2021 Tickets Discounts
Reduced Pricing - Youth aged 6 to 17
Free Access for People of determination - caregivers at half price
Explore Dubai At Expo 2021
---
So, you're coming to Dubai for Expo 2021 and you're wondering how to make the best of this vacation/business trip. Here's all that you can do in Dubai during your visit! From Burj Khalifa to the Hub Zero Park, grab your tickets in advance and enjoy heavily discounted rates.
To explore top thing to do in Dubai, head here.
Getting To Dubai Expo 2021 - Directions
---
The best way to reach the Dubai Expo 2021 site is via the Dubai Metro. Route 2020, an extension of the Dubai Metro's Red Line will get you to the footsteps of Expo 2021 with great connectivity from different parts of Dubai. Furthermore, the Expo 2020 Metro station is set to be the biggest and most eco-friendly station in the Dubai Metro network, capable of handing an incredible 46,000 passengers per hour.
Head here to know more about Public Transportation in Dubai. If you're looking for easy transfers from Dubai Airport to Expo 2021, here's what you need to know.
Once Expo 2021 launches, you can expect bus connectivity from various parts of Dubai. It is also rumoured that Uber will be testing flying cars at Expo 2021. If things go well, you could maybe take a flying car to the World Expo!