The City of Gold is on a constant path of outdoing itself. It attracts millions of visitors each year, offering a myriad of fun, cultural attractions. Outside of the known realm of experiences like visiting its beautiful beaches or the Burj Khalifa, going for a dhow cruise, or indulging in some local cuisine, Dubai has taken things up a notch by hosting the Expo 2020.
Initially set to open its doors to the public in October 2020, the event was pushed and now has been rescheduled, bigger and better, to October 2021. Themed around 'Connecting Minds, Creating The Future', Dubai Expo 2020 will be a global platform that aims to bring together networks, economies, cultures and of course, people from all walks of life. Here's all you need to know about this much awaited global phenomena.
What Is Dubai Expo 2020?
---
Expo 2020 is a platform for millions from different countries to come together and share ideas, showcase innovation, encourage collaboration and celebrate human ingenuity. World Fairs are held every 5 years and last for 6 months.
Before learning about Dubai Expo 2020, let's go back to the first World Expo that was held in 1851 at London's Crystal Palace. It was titled "The Great Exhibition of the Works of Industry of All Nations" and brought to display over 10,000 inventions from the industrial revolution.
The last World Expo was held in Milan in 2015 with the theme "Feeding the Planet, Energy for Life". Interesting innovations like solar trees and energy saving elevators were showcased in Milan, a concenterated effort to channel worldly affairs in a sustainable fashion.
Expo 2020 in Dubai will be centered around the theme "Connecting Minds, Creating the Future".
For 6 months, between 1 October 2021 to 31 March 2022, Dubai Expo 2020 will host hundreds of countries, companies, and people who convert insights into possibilities in the spheres of opportunity, mobility, and sustainability.
Experience the thematic pavilion of Terra at the Dubai Expo 2020!

Explore the power of connections in shaping our world.

Participate in an emotive experiment that will question your attitude towards environmental conservation.
Dubai Expo 2021 Theme - Connecting Minds, Creating the Future
---
World Expo is a catalyst for social, economic and cultural transformation, a way to bring together the global community to share innovations and work towards a better for future generations around the world. Expo 2021's theme is "Connecting Minds, Creating the Future", a way to build partnerships and inspire ideas that will forge the world of tomorrow. There are three sub-themes that are key pillars to reaping the best of the chosen theme is "Opportunity, Mobility and Sustainability". All ideas and innovations will circle around this theme and subthemes, bringing together an abundance of ideas for a greater, better future.
Expo 2020 Logo - The Story Behind The Logo
---
Image Courtesy : Wikipedia.org
The Dubai Expo 2020 logo is fascinating, yet abstract, stirring discussions about what it really denotes. The inspiration behind the logo is said to have come from a ring found at a 4,000-year-old archaeological site in a desert located in the Al Marmum area of Dubai. Mohammed bin Rashid Al Maktoum, Vice President of UAE added,"It represents our message to the world that our civilisation has deep roots. We were and will always be a pot that gathers civilisations and a centre for innovation".
Things To Do At Dubai Expo 2020
---
Expo 2020 is going to be nothing short of a utopian fair we've often seen in futuristic movies. Brace yourself as we paint you a picture of the main attractions to keep your eyes peeled for!
Expo 2020 Pavilions
For the very first time in World Expo history, each country participating has their own pavilion! Walk in and out of pavilions learning fascinating facts, picking up interesting historic tidbits, and participating in immersive cultural experiences offered at each unique country pavilion.
Theme Weeks
Delve into the greatest challenges of our time: from climate change to space exploration, each of the 10 weeks focuses on a special theme- addressing challenges and promoting opportunities and awareness through a cultural, social, and environmental lens. Be the change you want to see: implement this in real life at the Dubai Expo 2020!
Innovation & Technology
With every passing second, technology advances. Reveal your inner techie at the Innovation and Technology centre that focuses on specific areas of interest (Artificial Intelligence, Healthcare Innovations, and more) to help improve the already high-tech super-connected world we live in.
Non-Stop Entertainment
With street festivals, celebrations, stage shows, and music concerts aplenty, you'll never run short of entertainment at Dubai Expo 2020. Whether you choose to first check out the Beethoven-inspired robo-band or dance and sing along with the Expo's Young Stars, you're promised non-stop entertainment!
A Paradise for Foodies
You've officially found the best part of Dubai Expo 2020: the place where taste knows no borders! Try the clean plant-based cuisine of your favorite dishes like pizza, kebabs, and more. More importantly, find out how climate change and strides in technology will change the way we source and cook food in the future. You'll be spoilt for choice at the Dubai Expo with the 50+ kitchens available across 200+ food outlets.
Sports & Fitness
For the adrenaline-junkies, Dubai Expo 2020 hasn't forgotten about you. There is a myriad of sports and fitness activities, spread across football pitches, cricket nets, exhibition games, tournaments, workshops, and sports clinics.
PS: This is also a great place to take the little ones to tire them out for the day!
Shopping
It's time for you to unleash your inner shopaholic: at Dubai Expo 2020, you can shop for absolutely anything at all: stationary, clothes, food items, toys- you name it! From small shops to big businesses, you'll find them all. Keeping in line with its theme, most products are made of organic or recycled material.
Educative Programs
Partake in a range of educative programs and talks organized for your benefit. You'll cover a range of topics, including biodiversity, and the environment, inclusiveness, rural growth, knowledge, mental health, agriculture, water, digital communication, and more- all while keeping the general theme intact: crafting a better tomorrow.
Dubai Expo 2020 Tickets
---
With over 60 daily live shows, 192 country pavilions and over 200 restaurants from around the world, Dubai Expo 2020 tickets will be a complete value for money.
Dubai Expo: Terra Pavilion
Experience the thematic pavilion of Terra at the Dubai Expo 2020. The Terra Pavilion brings to you the idea of "sustainability" in everything. This helps you reimagine your world intertwined with the idea of sustainability and our future.
Combo Tickets
The city of Dubai is brimming with attractions and experiences to try. The best way to make the most of your trip is by booking combo tickets. These include entry not just to the Dubai Expo, but also provide admission to the Burj Khalifa, Dubai Frame, Dubai Parks and Resorts, Dubai Aquarium and more (depending on your ticket).
Dubai Expo 2020 Tickets Discounts
Reduced Pricing - Youth aged 6 to 17
Free Access for People of determination - caregivers at half price
Dubai Expo 2020 Pavilions
---
1

UAE Pavilion

THE DREAMERS WHO DO
Meet the UAE's Dreamers Who Do! From farmers to scientists, you'll see them all. Get inspired by their commitment to generating collective progress to build their nation, while building bridges to the outside world as well. Learn how the UAE inspires their community to pursue their dreams.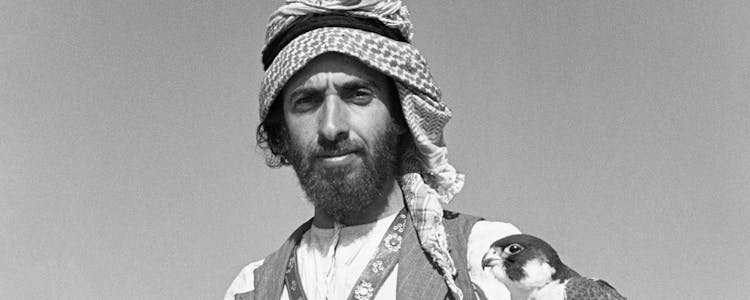 2

Singapore Pavilion

RAINFOREST IN THE DESERT
Singapore Expo 2020 epitomizes Singapore's evolution from the small, polluted city from the '60s to the urban haven it is today. As you walk through the pavilion, you'll be surrounded by the modern urban design, architecture, and sustainability that Singapore embodies oh so perfectly.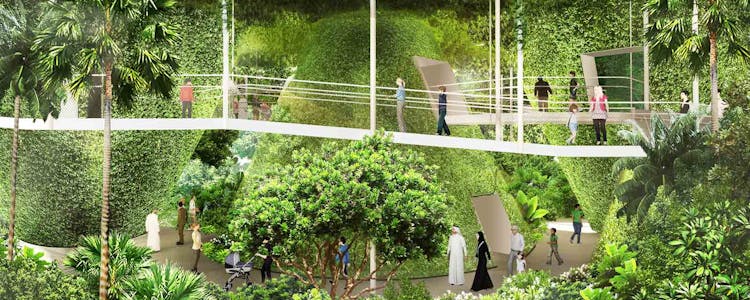 3

United Kingdom Pavilion

INTERACTIVE POETRY
Otherwise known as the "Poem Pavilion", the UK pavilion building is inspired by world-renowned scientist, Stephen Hawking. The mastermind behind the genius structure is first-female architect, Es Devlin. The architecture of this building showcases an ever-changing poem, powered by artificial intelligence.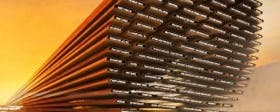 4

Netherlands Pavilion

MINIATURE FARM, MAXIMUM IMPACT
Yet another giant in the race for sustainability are the Netherlands. They will be one of the country pavilions in Dubai Expo 2020, with a cone-shaped farm that has its own micro-climate while generating food, water, and energy. This tiny country has been leading the global debate on food for years now, and demands to be heard. They urge you to think about food and sustainability options for producing food in the future.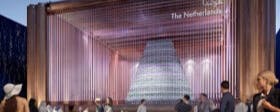 5

China Pavilion

PROGRESS & TRADITION
Created by a state-owned construction company in China, China's pavilions is one of the largest in the Expo. It will epitomize the country's growth, progress, and continuous strides to move further, while being sealed to its culture and traditions. Walk through the beautifully-designed pavilion that combines technology with traditional elements.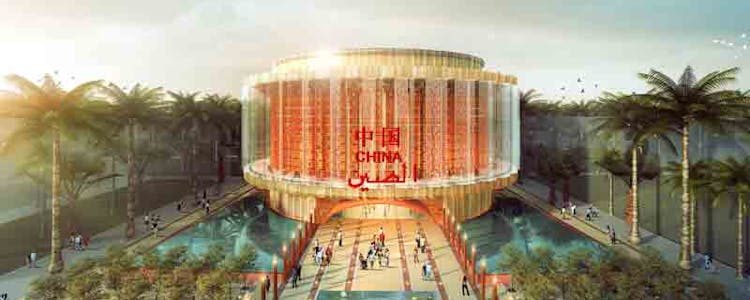 Dubai Expo 2020 Location
---
If you're staying in Dubai, you've probably noticed the upcoming 'city' called Dubai South. Yes, the Dubai government is building a city within a city for Expo 2021!. Covering a total of 438 hectares, Dubai South where Expo 2021 will be held is located close to the Al Maktoum International Airport.

Fun Fact: The Dubai Metro Route 2021 is expected to take 46,000 passengers per hour to and from the Expo 2021 site in under 16 minutes from Dubai Marina.
Getting To Dubai Expo 2020 - Directions
---
By Metro
The best way to reach the Dubai Expo 2020 site is via the Dubai Metro. Route 2020, an extension of the Dubai Metro's Red Line will get you to the footsteps of Expo 2020 with great connectivity from different parts of Dubai. Furthermore, the Expo 2020 Metro station is set to be the biggest and most eco-friendly station in the Dubai Metro network, capable of handing an incredible 46,000 passengers per hour.
By Bus
You can now head over to Dubai Expo 2020 from 9 locations spread across Dubai using any of the 126 public buses "Expo Rider".
Head here to know more about Public Transportation in Dubai. If you're looking for easy transfers from Dubai Airport to Expo 2021, here's a guide on Dubai airport transfers.
Once Expo 2020 launches, you can expect bus connectivity from various parts of Dubai. It is also rumoured that Uber will be testing flying cars at Expo 2020. If things go well, you could maybe take a flying car to the World Expo!
Best Time To Visit Dubai Expo 2020
---
Dubai Expo 2020 starts from October 1st 2021 to March 31st 2022, aligning perfectly with the best months to visit the UAE. While the rest of the world battles the frigid winter, Dubai is blessed with balmy days and mildly-cold nights, making outdoor activities very much doable.
The fair is open 7 days a week for you to explore. The timings are as follows:

- Sat-Wed: 10 AM - 12 Midnight
- Thur & Fri: 10 AM - 2 AM
Explore Dubai At Expo 2020
---
So, you're coming to Dubai for Expo 2020 and you're wondering how to make the best of this vacation/business trip. Here's all that you can do in Dubai during your visit! From Burj Khalifa to the Hub Zero Park, grab your tickets in advance and enjoy heavily discounted rates.
Beyond Dubai Expo 2020
---
Dubai is a city of hyperbolic symbols – the world's tallest building, the largest indoor aquarium, massive amusement parks, and an assortment of fun experiences. As one of the most fascinating tourist hubs in the world, be sure to visit these top attractions in the city.
Check out our Dubai Travel Guide for additional insight into your trip to Dubai.
Burj Khalifa
Book Burj Khalifa tickets and visit the world's tallest manmade structure! Drawing in millions of visitors each year, it is not surprising that Burj Khalifa was one among the attractions that spearheaded Dubai's architectural prowess. While here, visit At The Top(levels 124 & 125) or At The Top SKY (level 148). Step out onto the observation decks to drink in remarkable views of the Dubai skyline and the desert!
Dubai Frame
Get yourself Dubai Frame tickets, an attraction that remains one of the most significant additions to the glittering Dubai skyline. Resembling a giant picture frame, the Dubai frame is a great place to visit with your family and drink in striking views of the city and beyond. It offers you views of Dubai's past, present, and future- all in one perfect picture frame!
Dubai Aquarium
Book Dubai Aquarium and Underwater Zoo tickets today! This must-visit attraction is located inside the world's largest mall- the Dubai Mall- for your convenience! Head here if you want to explore a sparkly world underwater: a thousand creatures spanning across 140 animal species. You don't want to miss out on the 10-million-litre-tank, the aquarium's main highlight. Partake in shark diving, feeding sessions, crocodile encounters, and more - if you dare!
Dubai Parks and Resorts
Head to Dubai Parks and Resorts if entertainment is on your mind. It is home to 4 parks: Motiongate Dubai- the delightful Hollywood-themed park, Bollywood Park Dubai- famous for its Indian film industry-themed attractions, and LEGOLAND Dubai & Waterpark- two attractions that promise splashtastic adventures for you and your family!
Dubai Expo 2020 FAQs
---
A World Expo is a global event that takes place every 5 years. It lasts about 6 months.
Dubai Expo 2020 will take place from 1 Oct 2021 - 31 March 2022.
There are over 200 participants in Dubai Expo 2020, including nations, educational institutions, businesses, multilateral organisations, and more.
If you are unvaccinated or not fully vaccinated, you must present a negative PCR test at the site. The test must be conducted 72 hours before you visit the site.
Since it will be balmy during the day, lightweight clothing is recommended. Carry a windbreaker with you just in case.