When you need a break from the heat that Dubai has on offer 24*7 (well, almost), the Dubai Ice Rink is just the place to be! Located on the ground floor of the Dubai Mall, the Dubai Ice Rink is an Olympic-sized skating rink that extends right up to the second floor.
A perfect place to relax in-between shopping, eating, and admiring the beauty that is the Dubai Mall Fountain and/or the Burj Khalifa - the Dubai Ice Rink is the ideal spot to unwind, and learn a thing or two about ice-skating.
The Dubai Ice Rink in a Nutshell
---
Know before you go
| | |
| --- | --- |
| 📍 Location: | Dubai Mall |
| ⏰ Suggested Duration: | 90 to 120 minutes |
| ☀️ Best Time to Visit: | Early opening hours or afternoons |
| 🎟️ Dubai Ice Rink Ticket: | AED 85 |
| 🚇 Closest Subway: | Burj Khalifa |
Opening Hours
Monday to Friday - 12 noon to 10 pm Saturday and Sunday - 10 am to 10 pm
Address
Ground Floor, Dubai Mall, Financial Center Street, Along Sheikh Zayed Road, Next to Burj Khalifa - Dubai - United Arab Emirates
Get there
Why Visit Dubai Ice Rink
---
1. It is the snow-filled break you didn't know you needed from the scorching heat of the sun in Dubai.
2. Throw on your skating equipment and get ready for a fun-filled 90-minute session trying to balance and skate on snow.
3. It's the perfect spot to unwind and relax after a long day with your family and friends.
4. For in-between entertainment during your ice-skating sessions, classic arcade games and concession food counters will always be at your service.
5. The 'Dubai Snowfall' helps you enjoy a romantic skate with your partner as a blanket of white snow envelopes you.
Top things to do at the Dubai Ice Rink
---
1. If you're an amateur who is looking to learn ice skating or a part of the general public who just wants to sit and watch, the public training sessions that are conducted are a good way for you to either hone your skills or relax and have good fun watching
2. For pro-ice-skaters who want to show off their figure skating skills, freestyle skating is right at the top of things to do at the Dubai Ice Rink
3. The Dubai Snowfall not only adds authenticity to your ice-skating experience but also acts as the perfect backdrop for a romantic evening with your date/partner
4. The DJ Night Disco is a two-hour session where the Ice Rink transforms entirely. It turns into a highly energetic dance/disco floor with a resident DJ to entertain you fully
Which Dubai Ice Rink Tickets Should You Buy?
---
The Dubai Ice Rink is a favourite for tourists and locals alike, as it IS the perfect way to catch a break from all the heat. Hence, long waiting lines are natural. Here are some Dubai Ice Rink tickets you can buy, so you can save time and dime:
Combo Tickets
There are plenty of attractions that you can visit around the Dubai Ice Rink, and if you're planning on visiting more than that - pick the combo tickets! You can couple your Ice Rink tickets with the coffee from At the Top in Burj Khalifa, or IMG world, OR the Dubai Frame, only for a few more dirhams!
Plan Your Visit
---
Dubai Ice Rink Opening Hours
The Ice Rink is open from 10 AM to 12 midnight, everyday.
Getting to the Ice Rink
By Bus
There are two buses that service The Dubai Mall every 16 minutes: route 27 from the Deira Gold Souk station and route 29 from Ghubaiba bus station. The buses arrive and depart from the tourist drop-off area, located in front of the Grand Drive Entrance, on the Lower Ground Floor of The Dubai Mall.

By Metro
The nearest metro station is the Burj Khalifa/The Dubai Mall station, which is within a walkable distance from the Mall if you use the Metro Link Bridge. Alternatively, feeder buses service the mall directly with frequent passenger drop-offs daily.

By Car
If you're planning to drive in from the center of Dubai, take the first interchange and go on to the Financial Centre Road.
Best Time To Visit Dubai Ice Rink
While there is no perfect time to visit the Ice Rink - it's always hot during the summers - peak afternoons will be a good time to relax and take in the cold. Ideally, it's also the perfect time to beat the crowds. Most people are bound to visit the attraction in the latter half of their days, and so, visiting in the afternoon is the best time to practice your figure skating skills.
Insider tips for visiting Dubai Ice Rink
---
Always pre-purchase your tickets. Although offline tickets are available, it's better to buy your tickets in advance to avoid crowds and the disappointment of not getting any at the last minute.
There are tons of options available for ice-skating lessons. Pick one that suits your needs and preferences the best. Depending on how confident you are about your skills, you could pick an amateur/a pro lesson. There's a Disco Ice Skating session, group, and/or individual lessons.
Wear comfortable clothing, but also ensure it fits well. Avoid loose/ill-fitting pants and long coats, especially if your skating session includes an IceByke.
Ensure that you pair your clothing with thick socks, shoes, gloves, etc - now, you can either bring your own, or rent/purchase some from the Dubai Ice Rink.
Don't carry any phones, electronics, or sharp objects while you're out on the ice rink.
Lockers are available for the safekeeping of your belongings and precious items (AED 15 per session)
Attractions near Dubai Ice Rink
---
Here are some top attractions which are located near the Ice Rink, that you should add to your itinerary.
Restaurants Near the Dubai Ice Rink
While the Dubai Ice Rink has your standard food concession stands for a quick bite, there are several great restaurants around it too. Some of these are:
---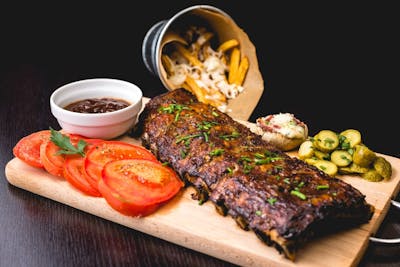 Tribes Carnivore
This restaurant is the perfect spot to explore, and indulge in what is typically known as African dining/cuisine. Although they're famous for their steaks and cheeseburgers, rest assured that they're a vegetarian-friendly restaurant. The views of the Dubai Fountain and the Burj Khalifa, enhance the meal.
Distance from the Ice Rink: 0.3 kms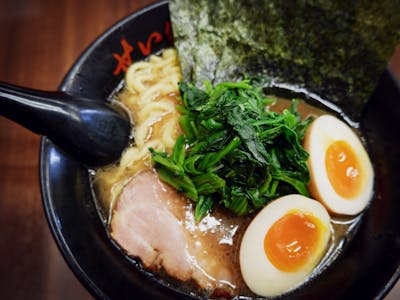 Wagamama
One of the best restaurants in town for Asian (more specifically Japanese) food, is the place to be! Famous for its ramen, Wagamama is the perfect spot to be when you're hungry and need prompt service.
Distance from the Ice Rink: 0 km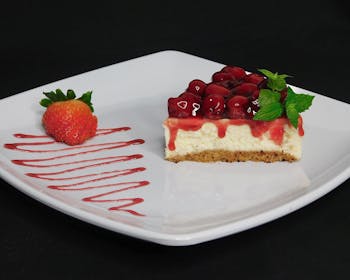 The Cheesecake Factory
A one-stop shop for every meal and cuisine you can imagine, The Cheesecake Factory is certain to raise your spirits every time you visit. Oh also, don't forget to try the cheesecake - it's in the name!
Distance from the Ice Rink: 0.1 kms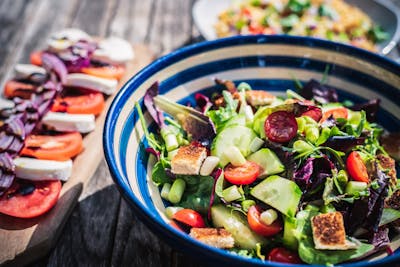 Awani
Mediterranean food that makes you visit the restaurant over and over again, Awani is a place with near-perfect views, and the perfect food. With options aplenty for breakfast, lunch, dinner, or brunch, you're guaranteed to have a good time.
Distance from the Ice Rink: 0.2 kms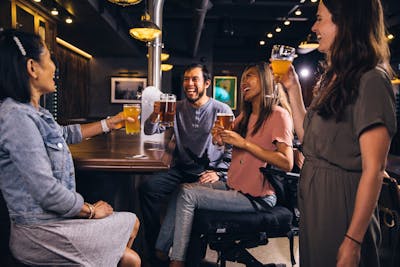 Social House
As the name suggests, Social House is the spot to unwind after long days of shopping and exploring the Dubai mall. A global hub of cuisines, the views, and the design is enough to pull you in and ensure that you don't feel like leaving.
Distance from the Ice Rink: 0.2 kms
Frequently Asked Questions
---
Where is the Dubai Ice Rink?
How much does a ticket to the Ice Rink cost?
Are five-year-olds allowed at Dubai Ice Rink?
Can you rent the ice rink?
What are the offers at Dubai Ice Rink?
How can I buy Dubai Ice Rink tickets?
Do I need tickets to enter the Ice Rink?