Topgolf Dubai is a happening sport, entertainment, and leisure hub housed within the Emirates Golf Club. Located in Dubai, it is the first of its kind in the Middle East! A massive draw for golf lovers and non-golfers alike, this venue comes across as a futuristic driving range, but with food and drinks! Topgolf is essentially a modern take on an ancient sport, and aims to inspire people of all ages and skills through a mingling of play, food, and music!
Topgolf Dubai
Essential Information
---
Topgolf Dubai - Things to know
☀️ Best time to visit - Weekdays
⏰ Suggested duration - 2 Hours
🎟️ Starting Topgolf Dubai Tickets price - AED 130
🚄 Closest Metro Station - Al Khail Metro Station
Topgolf Dubai - Opening Hours
Sun - Wed: 11:00 AM - 12:00 AM
Thu: 11:00 AM - 1:00
Fri: 9:00 AM - 1:00 AM
Sat: 9:00 AM - 12:00 AM
Topgolf Dubai - Highlights
High-Tech Interactive Games
The Bunker Minigolf
The Yard
The Loft
Topgolf Dubai - Address
Emirates Golf Club, Dubai,
United Arab Emirates
Get Directions
Why Visit Topgolf Dubai?
---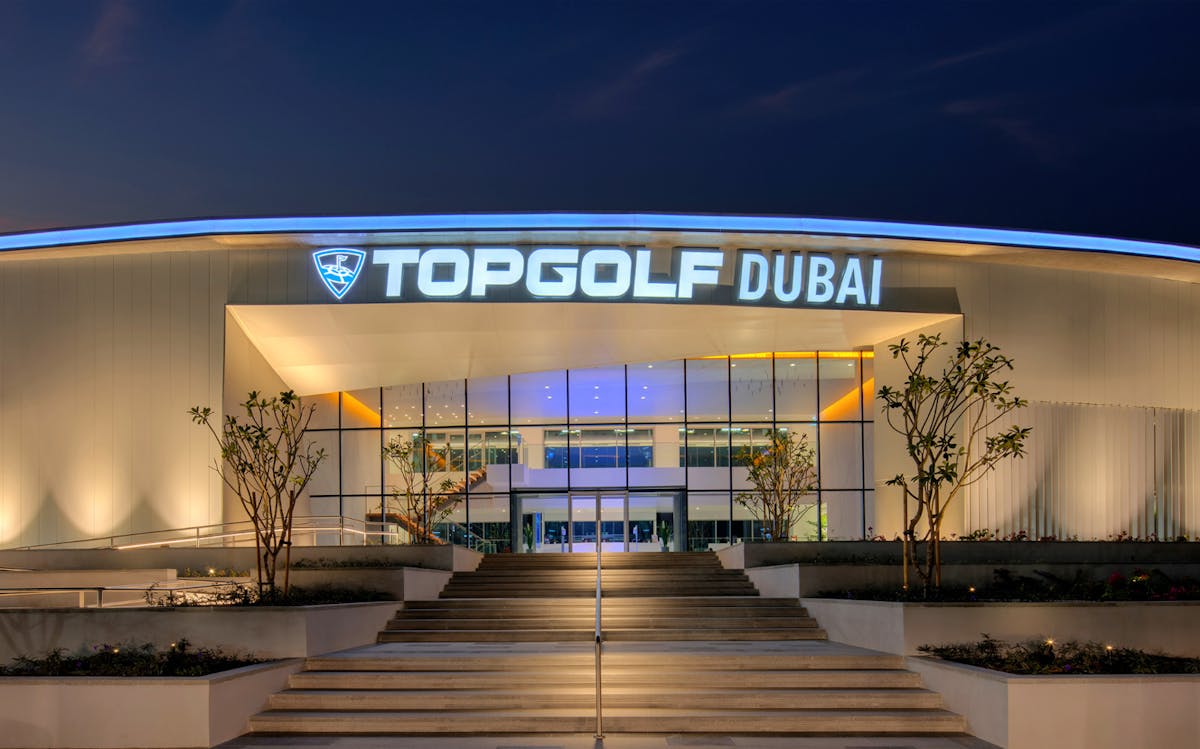 Whether you're looking to have a good time with family or friends or celebrate an occasion, or just do something out of the ordinary, Topgolf is your destination. Over here, visitors can enjoy golf in a casual environment, which is lax compared to the protocols of traditional golf clubs. In addition to this, it also guarantees a lively atmosphere, a fun time, and finger-licking good food.
Topgolf Dubai Venue
---
Located at Emirates Golf Club, Topgolf offers unspoiled views of the Dubai Marina skyline. The three-level mega-entertainment structure is sprawled across 60,000 square feet and can accommodate up to 1,100 visitors. It features high-tech gaming, 96 climate-controlled hitting bays with over 300 state-of-the-art digital screens, three serviced restaurants and bars, free Wi-Fi, a Topgolf Academy, a miniature golf course, meeting rooms, and private spaces for events.
High-Tech Interactive Games
Topgolf Dubai Gaming
---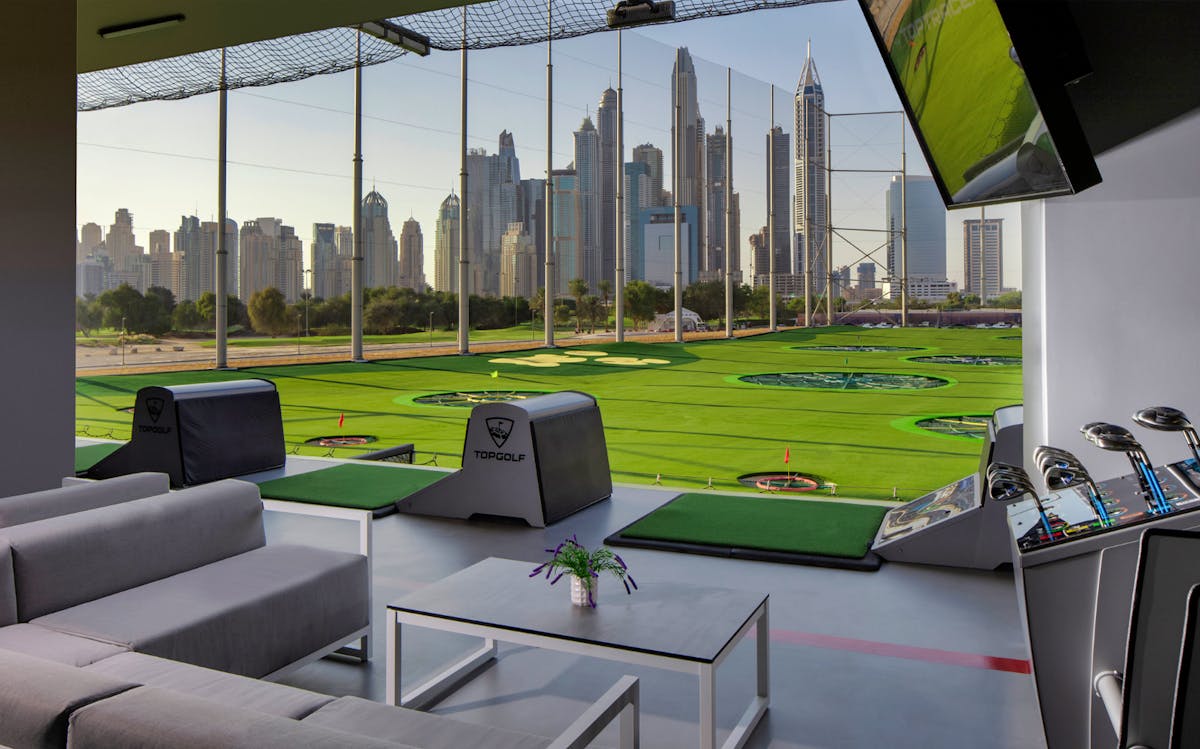 At Topgolf, the game of golf is taken to the next level. Oversized circular targets, similar to dart boards but much bigger, dot the artificial lawn. Microchips in the balls will read how close they come to these circular targets. Guests score points when they hit the target – further the target, more the points. It's essentially a digital version of golf, involving high-tech elements to make the experience interactive and inclusive.
Topgolf Dubai Tickets
How Much Will Topgolf Dubai Tickets Cost?
---
TopGolf Dubai Tickets price varies by day and time and start from AED 130 per hour per bay. Check the official website for accurate ticket prices. Bays are rented by the hour and 1-6 people can play the game in a bay. The rental also includes unlimited golf balls.
Topgolf Dubai Social Event Spaces
---
The venue includes dynamic social event spaces, ideal for celebrations, corporate outings, family get-togethers, and casual hang-outs. Food and beverage are a vital portion of the Topgolf experience.
1

The Bunker Minigolf and Café
Located on the lower level, The Bunker is an engaging minigolf experience that honors racecar driving, cricket, falconry, tennis, horse racing, cycling, rugby, soccer, and golf. Combine this with the service Topgolf is famously known for and you've got the perfect day out!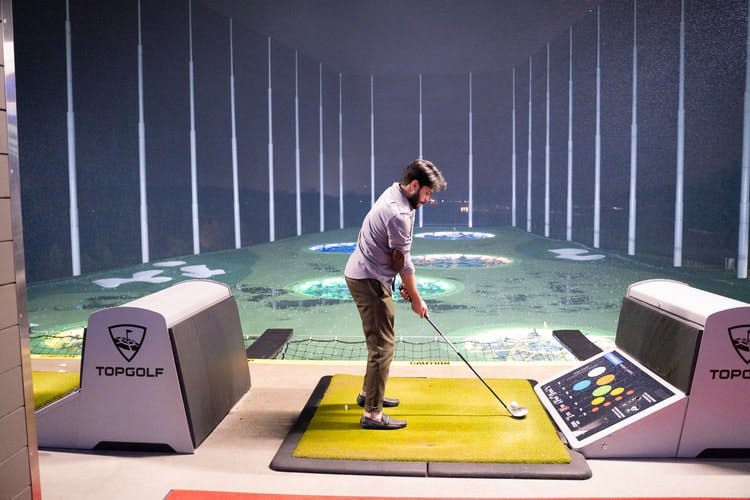 Located on the ground level, The Yard is a sports bar, and Topgolf's latest attempt to enrich the visitor's nightlife! Featuring live music, sports, and a classic American menu, The Yard is where you can let loose and have fun! Modern industrial interiors ensure a casual atmosphere where people can be themselves and have a good time! If you want to catch live telecasts of your favorite sport, then this is the place to be!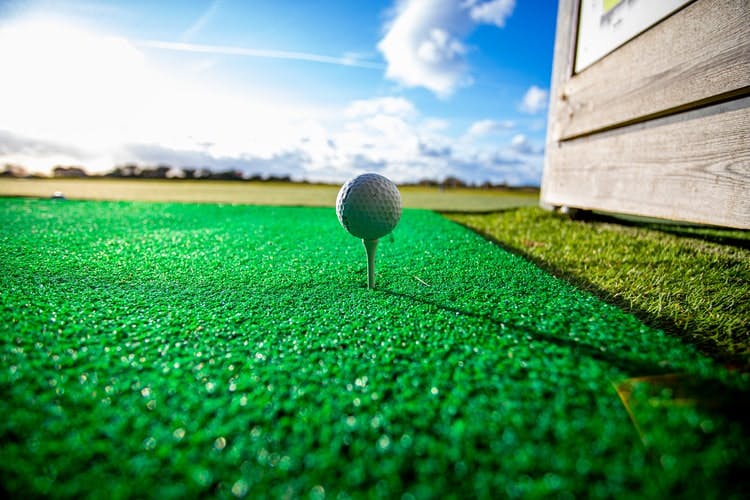 Located on the top, The Loft offers a premium experience involving fine dining and stunning views of the Dubai Marina skyline. Pair contemporary American dishes with handcrafted drinks and soak in your surroundings!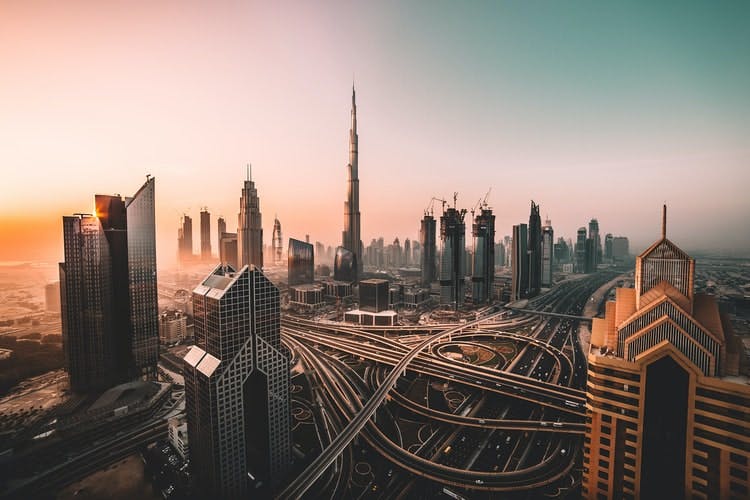 Topgolf Dubai Practical Information
---
Timings
Sun - Wed: 11:00 AM - 12:00 AM
Thu: 11:00 AM - 1:00 AM
Fri: 9:00 AM - 1:00 AM
Sat: 9:00 AM - 12:00 AM

Getting There
Location: Emirates Golf Club, Dubai, United Arab Emirates
Get Directions to Topgolf Dubai
By Bus: 8, 83, 84, 93 By Metro: M1

COVID-19 Safety Measures
Wear a mask at all times.
Temperature checks will be taken at the entrance.
Wash or sanitize your hands frequently during your visit.
Maintain a good distance between yourself and others.
Things to Do Near Topgolf Dubai
---
Dubai is a place where there are numerous attractions to explore. Here are some of them near TopGolf Dubai for your fun day-out.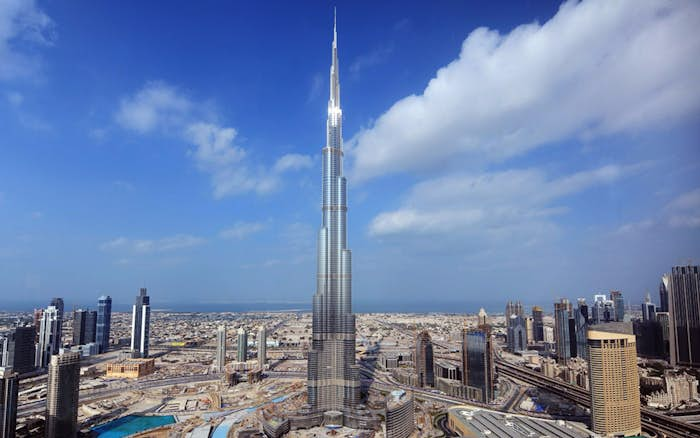 See the Burj Khalifa
Synonymous with the image of Dubai itself, the Burj Khalifa Dubai is one of the most exciting attractions to discover and explore. Ride a super-fast elevator, soak in stunning views from the top and dine in some of Dubai's poshest restaurants.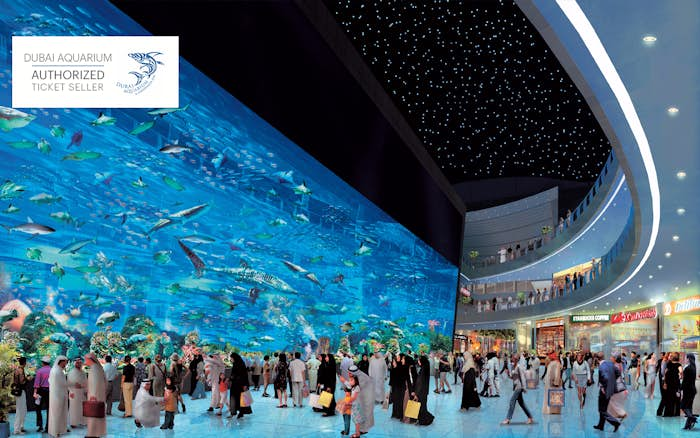 Explore Dubai Aquarium & Underwater Zoo
Plunge into deep waters and discover an aquatic wonderland at Dubai Aquarium & Underwater Zoo. Don't miss the enormous 10 million-liter tank, containing over 33,000 aquatic species and the largest collection of sand tiger sharks anywhere in the world.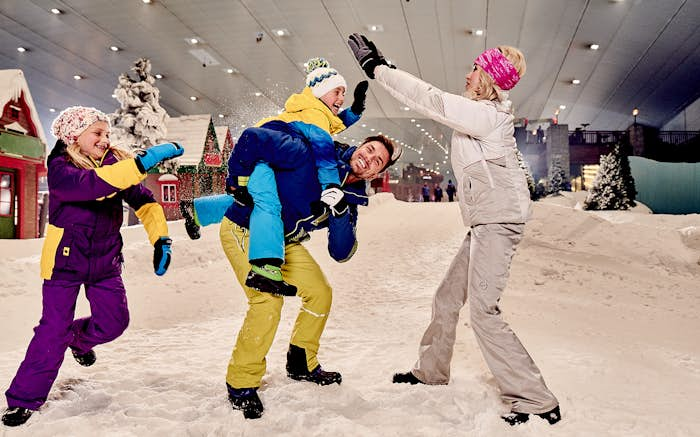 Check out Ski Dubai
Located inside Emirates Mall, Ski Dubai is the UAE's first and largest indoor ski resort. It has a lot to offer to visitors with activities and attractions like snow parks, penguin sightings, adventurous mountain rides, skiing on slopes, and much more.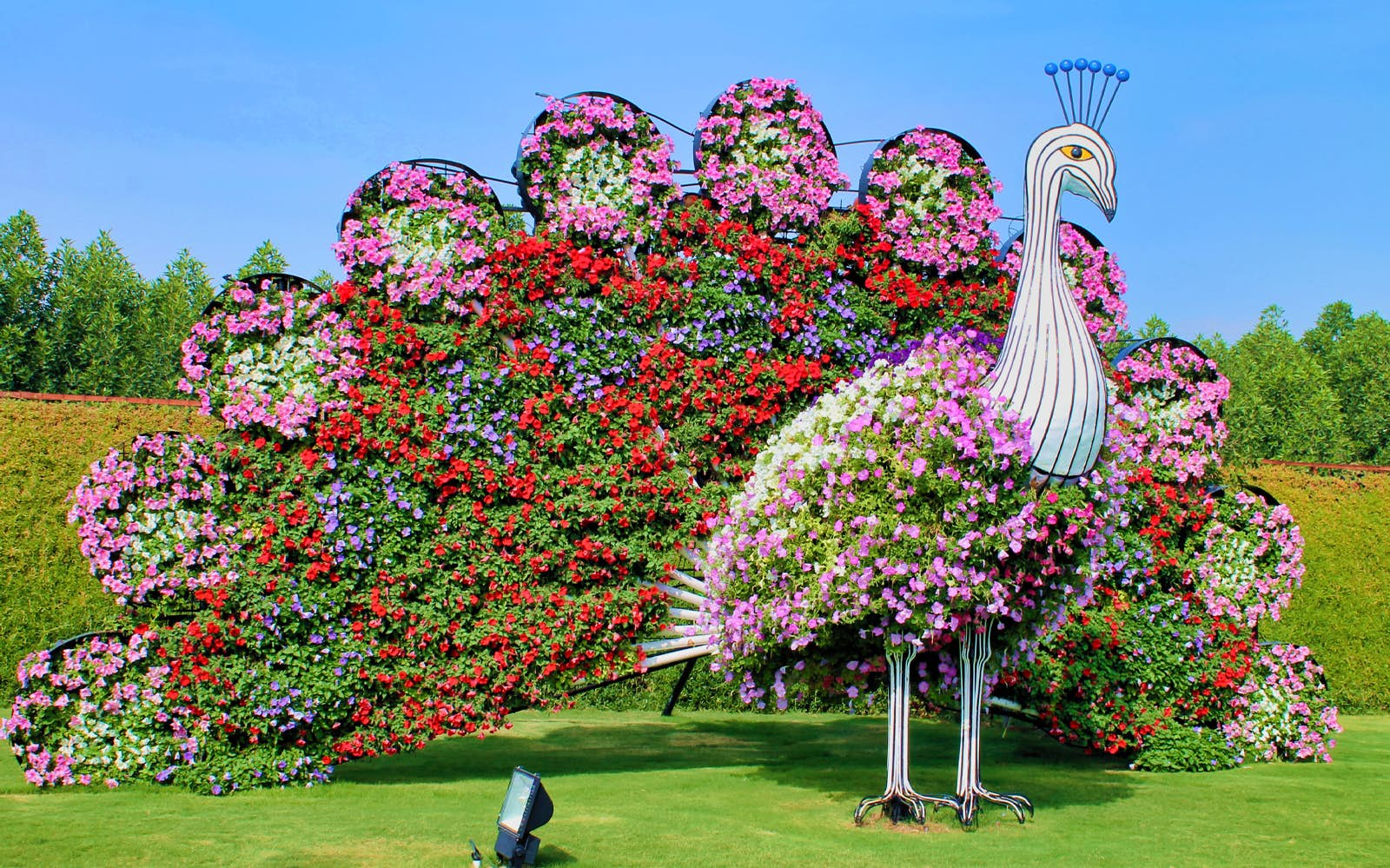 Tour Dubai Miracle Garden
Visit the world's largest flower garden, showcasing over 109 million plantations. Enjoy a pleasant sensory overload with floral blossoms and picturesque beauty. Dubai Miracle Garden is more magical after sunset, where one can enjoy the raw beauty of illuminated flowers glowing against a black night.
Topgolf Dubai Frequently Asked Questions
---
Where is Topgolf Dubai located?
How much do Topgolf Dubai tickets cost?
What services are offered at Topgolf Dubai?
Is Topgolf Dubai wheelchair accessible?
Is any golfing experience required at Topgolf Dubai?

What is the contact number of Topgolf Dubai?

Does Topgolf Dubai take bookings?