The capital of UAE, Abu Dhabi is a cosmopolitan city that is home to some of the most futuristic, well-planned buildings and skyscrapers of the world yet it continues to retain the traditional Arabian charm. Sheikh Zayed Mosque, Ferrari World, Louvre museum, Yas Marina Circuit, and Emirates Palace are some of the popular attractions that make this city so radiant while compelling tourists to visit. A trip to Abu Dhabi will remain incomplete without visiting Emirates Palace Tour - a grand edifice of hospitality that celebrates the true essence of Arabia and allows you to savour the finest experiences and culinary delights of a luxury stay.
Emirates Palace Tour - In a Nutshell
Emirates Palace Tour - Things to know
| | |
| --- | --- |
| 📍 Location: | Abu Dhabi |
| ⏰ Suggested Duration: | 1 Hour |
| ☀️ Best Time to Visit: | Any time of the year |
| 🎟️ Emirates Palace Tour Tickets: | AED 257 |
| 🚇 Closest Subway: | Corniche St |
Emirates Palace Tour Opening Hours
Sunday to Saturday - 10:00 am to 04:00 pm
Must-see at Emirates Palace Tour
Las Brisas
Mezlai
Emirates Palace Address
West Corniche Road - Al Ras Al Akhdar,
Abu Dhabi, United Arab Emirates
Get Directions
Emirates Palace, Abu Dhabi
---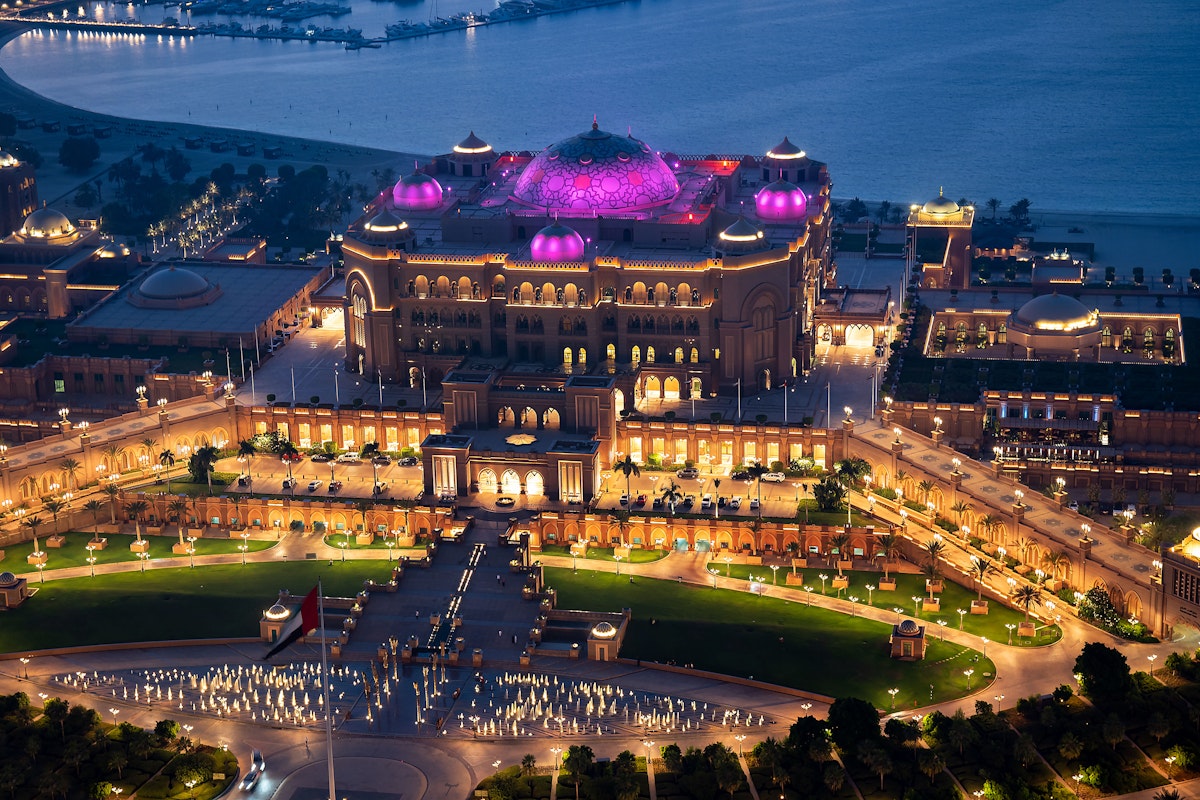 Currently owned and operated by the Kempinski Group of Hotels, Emirates Palace, Abu Dhabi opened to the public in 2005 and is a royal offering with up to 394 rooms and suites. Featuring 114 domes gilded in marble and gold, the building is designed as an ode to the desert. When the setting sun shines on the vast surface area of the hotel - it resembles a striking image in gold. The property is ensconced by waters of the Arabian Gulf and landscaped with pathways of palm trees and fountains. The property that is spread over a thousand hectares boasts of two state-of-the-art, temperature controlled swimming pools, finest spas, underground parking, a marina, and a two-helicopter helipad.
Emirates Palace houses multiple restaurants, bars, lounges and cafés that provide a wide assortment of culinary delights. Together with the ethereal lighting, pools, and marina, it delights everyone as an Arabian fantasy. If you're traveling with family, you can rejoice and remain carefree as children can revel in the all-day activities at the Kids Club. One can also avail water sports activities such as water skiing, kayaking, windsurfing and paddle boarding out here.
Why You Must Visit The Emirates Palace In Abu Dhabi
---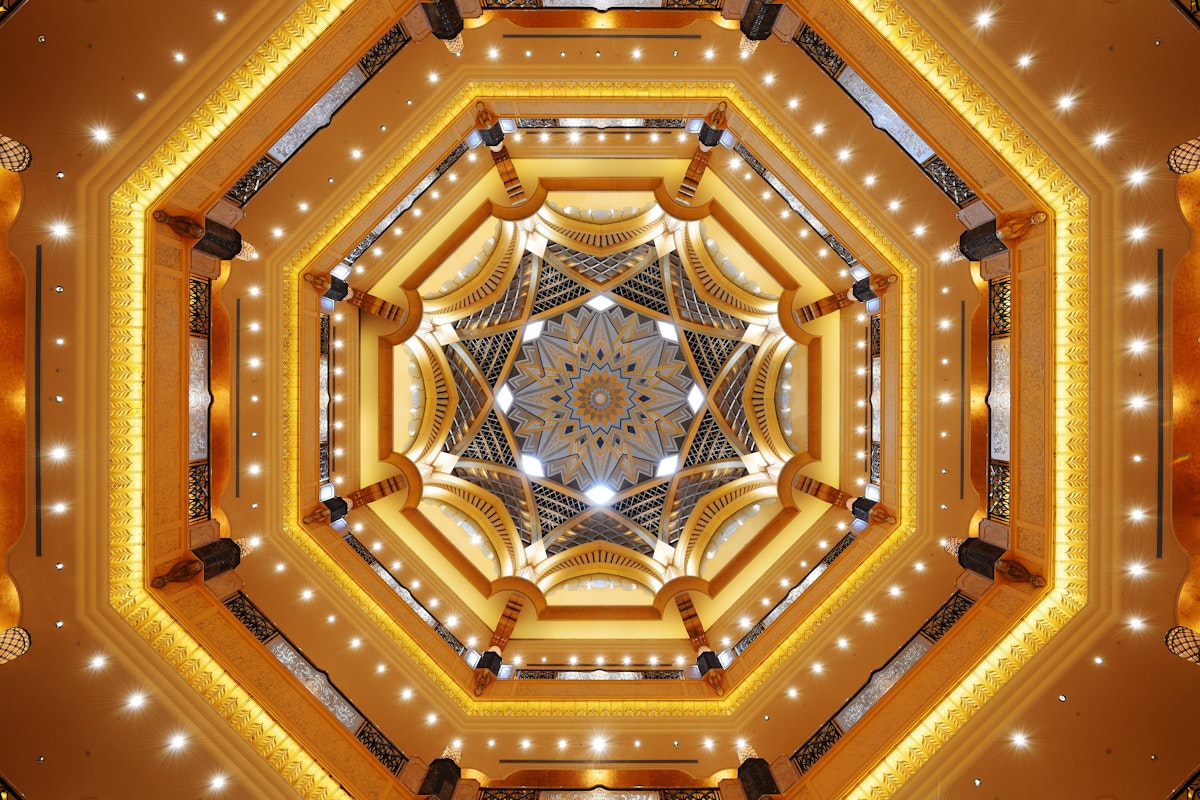 The beach-front lavish property is one of the city's top attractions for its sheer scale and grandeur.
The multi-domed luxury hotel is replete with soaring arches, staircases, fountains and traditionally designed staircases, making it a picturesque location for a photo op.
The plush interiors and hallways are inlaid with gold, crystal and marble patterns and adorned with Swarovski chandeliers, making them a visual treat for the eyes.
Le café housed at Emirates Palace Abu Dhabi serves the famous Palace Cappuccino which is a gastronomic delight of rich coffee sprinkled with real 24-carat gold flakes and is a must-try for all visitors.
Your Emirates Palace Tour Experience
---
A stay at the Emirates Palace would be a wonderful gift to yourself, however you can still enjoy a day of luxury without booking suites. The Emirates Palace Tour is an exclusive and royal experience that takes you through a secret VIP entrance with an elusive tour of the Palace few visitors ever get to see. Go around the 1 million m² of landscaped gardens in a club car after which you can indulge in local customs as you partake some Arabian coffee, tea, and dates in the Bedouin Tent, on the grounds of the Emirates Palace. You can go on a camel ride by the shores of the white sand beach after your meal or go for something less adventerous, and more soothing like a therapeutic spa treatment. At the end, dazzle yourself with a signature elixir--the very special Palace 24 karat gold Cappuccino in addition to the signature Emirates Palace Abu Dhabi cake.
Best Emirates Palace Restaurants
---
Las Brisas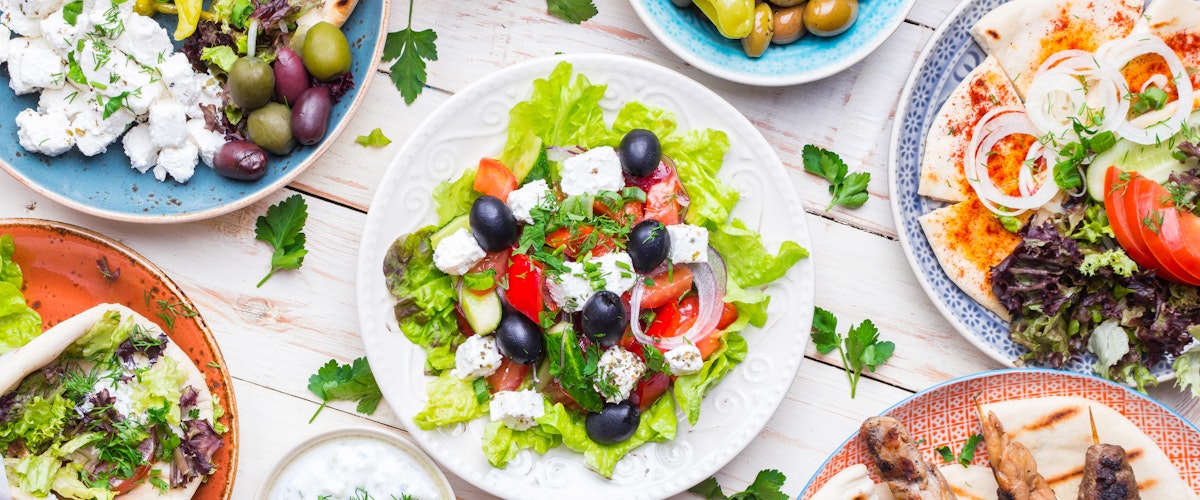 To fully experience the regality of Emirates Palace, one must savour the gastronomic delights at Las Brisas. A brunch at the palace is a must to relish the Mediterranean extravaganza. You will be spoilt for choice with the fusion of cuisines and can take your pick among the coffee bar, patisserie, and boulangerie.
Le café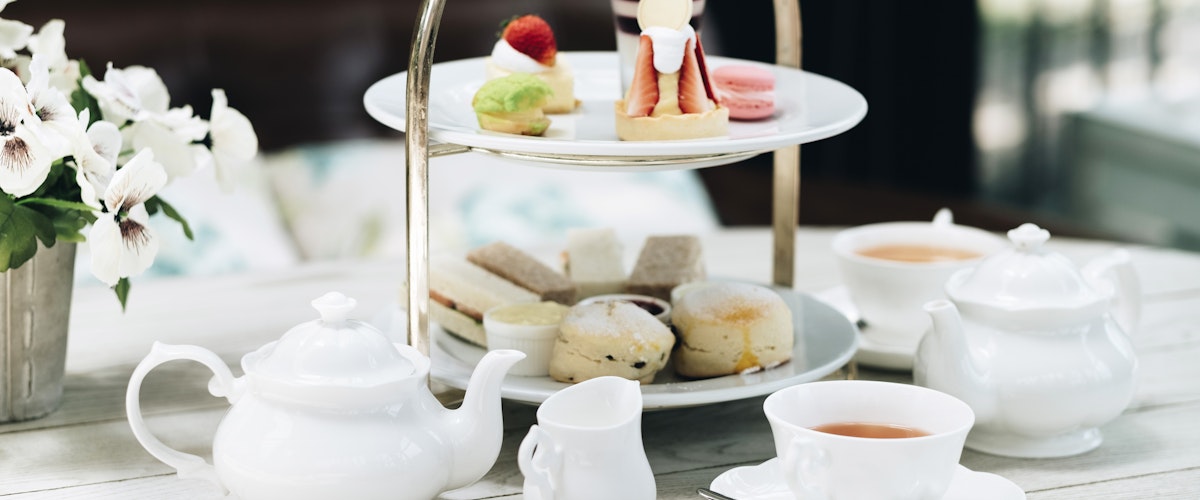 Le café promises to mesmerize with its signature 24K gold-flaked Palace Cappuccino and Camel Burger - often described as the real taste of luxury. You can always try the classics if you want to stick to the traditional - their assortment of cakes, chocolates, and coffee are amazing, to say the least, and the setting serves as the perfect spot to catch up with friends
At Le café you can also indulge in the luxury of Afternoon High Tea with freshly baked scones, savoury tea sandwiches, and Smoked Salmon pinwheel. Food connoisseurs will have a field day as varieties of tarts, crème brulée, and cakes are available to satiate those mid-afternoon hunger pangs.
Le Vendôme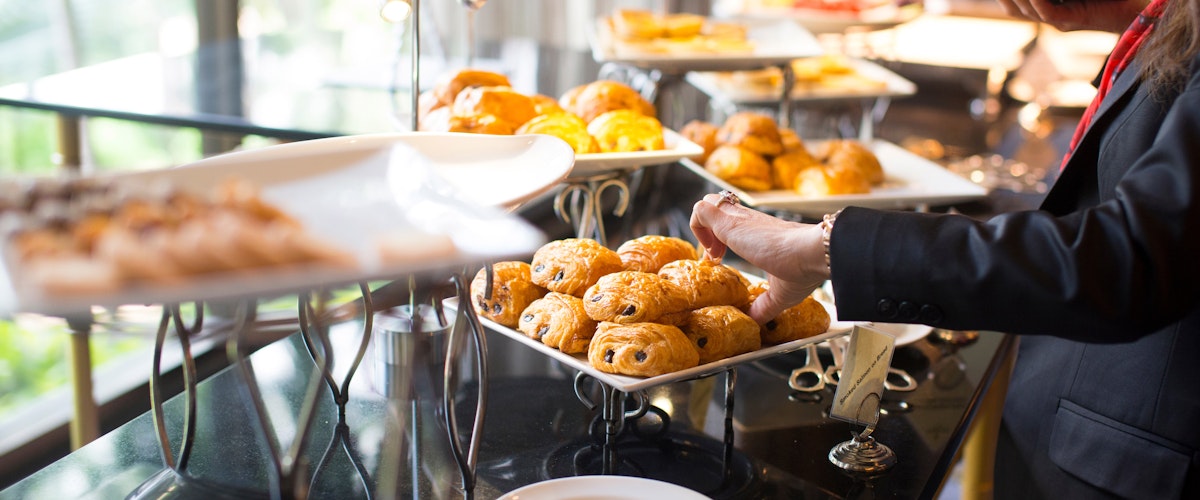 Rated among the best buffets served in the city, Le Vendôme in Emirates Palace transports you to another era as the elegant ambience provides grandeur and overlooks the pristine beach and lavish marina. The restaurant features theme nights and one can savour the best of the worlds at this carapace.
Hakkasan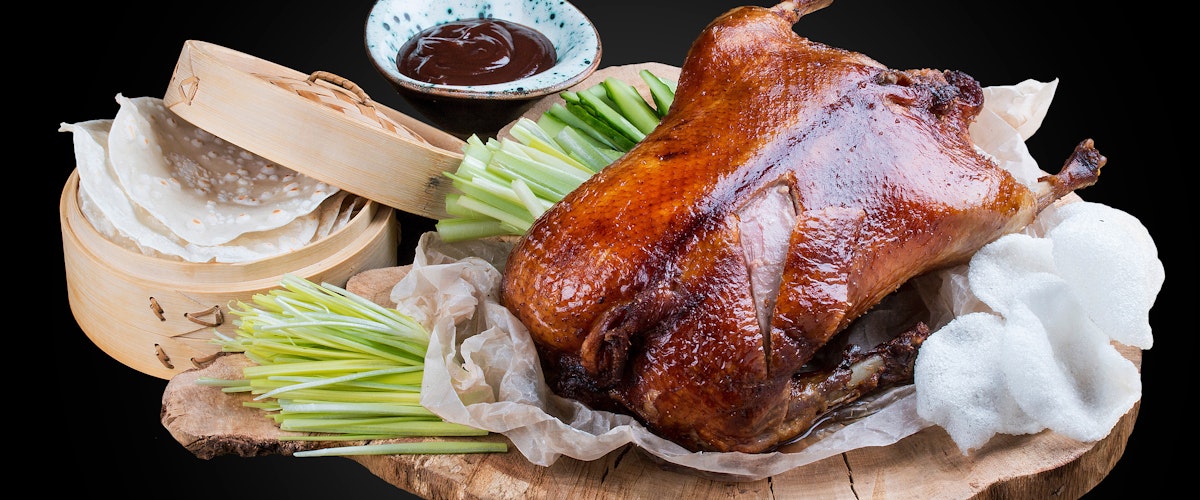 For guests who prefer a Cantonese touch to their food, one can brunch at Hakkasan -and experience the tantalizing taste of Chinese dishes. The restaurant's signature Peking duck which is topped with caviar and delivered in a puff of apple wood smoke is sure to entice all and leave one wanting more. One can enjoy the cool night air on the terrace lounge and witness the city lights come alive while relishing their meals.
Mezlai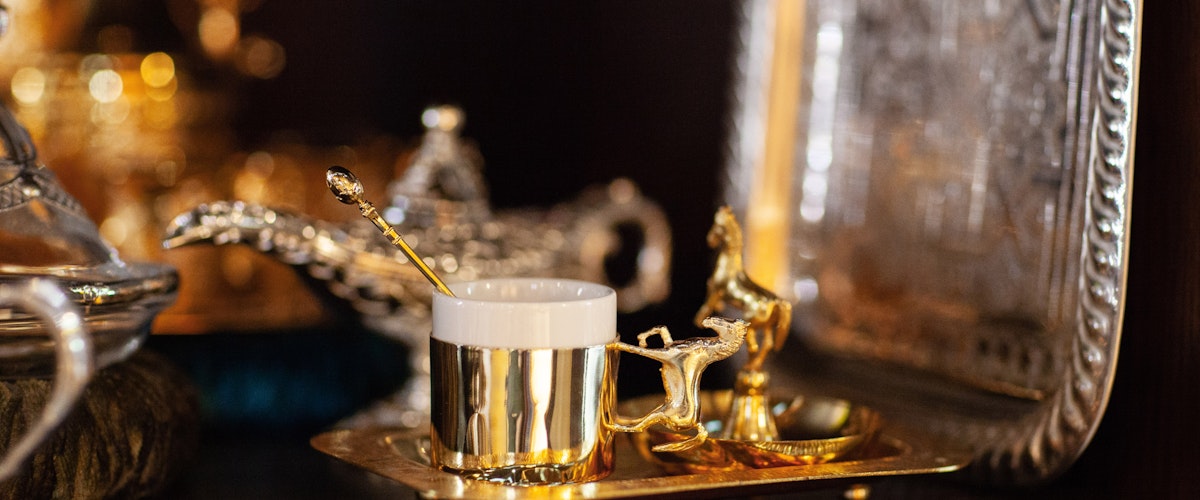 Designed like a traditional Arabic Bedouin tent, Emirates Palace's award-winning Emirati restaurant, Mezlai, pays homage to the culture and heritage of Abu Dhabi Dhabi in all its elements - menu to music to decor. To sample the real Arabic flavours, visit Mezlai on a Thursday and feast on sumptuous dishes prepared by Mezlai's Emirati Executive Chef Ali Ebdowa. A meal here is a window into Emirati culture, a warm welcome to the long history of Arabian hospitality and a journey into flavours as old as the sands of time, fresh and inspired as this city of tomorrow.
Tips For Your Emirates Palace Visit
---
The Emirates Palace Tour books out months in advance. It is best to make an online reservation in order to secure an assured slot.
It is a good idea to schedule your Emirates Palace visit on a weekday as massive crowds on weekends can make it a hassling experience.
Reserving a table in advance at the restaurant or the café will ensure that you have a good time despite the crowds.
It would be best to be dressed in smart casuals as dress codes can be strict in some areas. Do avoid shorts and slippers.
Emirates Palace Tour Reviews
---
There is a reason this place is considered a "7-star"" hotel. From the entrance fountains and stately steps to the eye-poppingly luxuriously appointed rooms, the Emirates Palace doesn't disappoint. I highly recommend taking the property tour (reserve in advance) to see inside the high-end rooms and learn about the many details that set this hotel apart.
Christie E, October 2018 Tripadvisor
My husband and I were fortunate to have a private tour. Our German guide Karin brought us to the suites in the Palace building - not the Rulers Suites but the ones directly below them. The rooms are large with heavy looking furniture. There are balconies overlooking the Corniche. The sinks in the bathroom were gold plated. There was a dining room and living room. Karin told us that it was possible to rent only the bedroom. She herself had not yet had a chance to see the Rulers Suites. These are for the use only of the heads of the Gulf States. This building is where they meet when they have a big conference, but there has only been one since the hotel was built. They have a dedicated elevator from the floor of their suites to the meeting room.
The ceilings in this place are gold leaf, and these are everywhere. The place is so huge that guests prefer to ride golf carts that regularly go back and forth. One has to do a lot of walking here. The grounds are 5 square kilometers. To walk from the West Wing to another end of the hotel could mean walking a kilometer.
We also saw the auditorium which can accommodate 1,500 people- about the size of a cruise ship's theater. By the end of our tour we were quite tired from walking around the complex.
Coellum , October 2018 Tripadvisor
Read more Emirates Palace Tour reviews on Tripadvisor and know what past visitors have to saw about this breattaking mosque.
Know Before You Visit Emirates Palace Abu Dhabi
---
Emirates Palace Timings
Open 24 hours
Emirates Palace Location
Emirates Palace Address is as follows :
West Corniche Road , Abu Dhabi, United Arab Emirates. You can find it on Google Maps.
From Abu Dhabi
If you're planning to take the buses run by the Hotel, then hop onto bus 034 and get down at Corniche Street.
One can rent a car and drive to the city's West Corniche Road to reach Emirates Palace.
It is a great idea to take a guided tour as you can avail of the pickup and drop facility from the hotel you'll be staying in.
From Dubai
Emirates Palace is located 147 km from Dubai city proper
By Train & Bus

From Dubai Marina, take the red line metro to Ibn Battuta Mall. From the Ibn Battuta Metro Bus Stop take E101 to the Abu Dhabi Central Bus Station. From the Abu Dhabi Central Bus Station, you can take Bus Number 034 or 033 to Corniche Street and walk 10 minutes to Emirates Palace Entrance.
Emirates Palace Location Map
Emirates Palace Dress Code
In respect of the local culture, one is expected to respect and abide by the dress code inside the Palace. Smart casual clothing style or the traditional Arab national dress is highly encouraged. Refrain from wearing shorts, bermudas, flip flops, open shoes, tankinis or any other skin-exposing garment.
Best Things to do in Abu Dhabi
---
Here are some more experiences and attractions to visit when visiting Abu Dhabi. Find the full list here.
FAQs: Emirates Palace
---
There is no entrance fee for just visiting the Emirates Palace, Abu Dhabi.
Emirates Palace is a world-famous hotel known for its enchanting Arabesque style, award-winning five-star hospitality and wonderfully unique and authentic local experiences. The hotel's main building stretches over one kilometre from wing to wing, with the gardens spread across 100 hectares.
On November 2005, the Emirates Palace opened its doors for the first time. The hotel is operated by the Kempinski Hotel Group and owned by the government of Abu Dhabi.
Dubai property tycoon Hussain Sajwani is the richest Arab in UAE: Forbes. Dubai property tycoon Hussain Sajwani has topped the latest Forbes list of richest people in the UAE for the first time after adding $300 million to his fortune
Most of the restaurants at Emirates Palace Hotel require smart casual attire for lunch and dinner. Long trousers are required for men and shorts are not allowed. At breakfast, the hotel asks guests to avoid shorts and t-shirts, sandals, flip flops or beach wear.