Sheikh Zayed Grand Mosque, Abu Dhabi
---
Spread over acres of land, the Sheikh Zayed Grand Mosque Abu Dhabi is one of the largest mosques in the world. With a capacity of over 40,000 people, the mosque attracts tourists from all over the world. Known as the White Pearl of the Gulf, this magnificent structure of marble and gold, flanked by finely trimmed grass and clear pools, is a feast for your eyes. The hollows of its onion-top domes meticulously engraved with verses from the Quran is sure to leave you in complete awe. Voted the world's third favorite landmark by TripAdvisor, the Sheikh Zayed Mosque Abu Dhabi is an absolute must-see while in the capital city.
Here's our comprehensive guide to Sheikh Zayed Grand Mosque, with snippets on its history, architecture, what a guided tour experience would look like, reviews and other handy tips that will help you plan your visit.
Sheikh Zayed Mosque History
---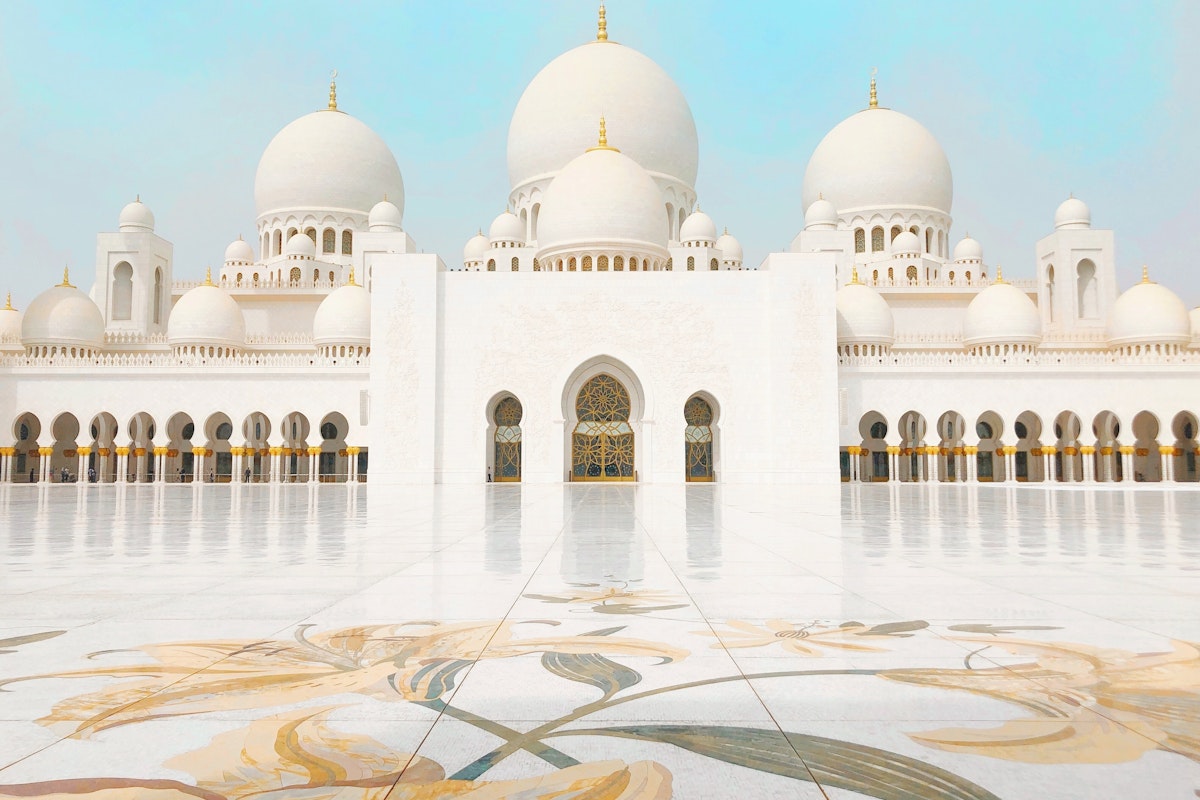 Constructed between 1996 and 2007, the Sheikh Zayed Mosque was built as an icon of cultural diversity by the late president of the UAE, Sheikh Zayed bin Sultan Al Nahyan. He intended the mosque to symbolize the Islamic message of peace and tolerance. He strived for a tructure to celebrate and bring together the cultural diversity of the Islamic world, and merge it with the modern values of art and architecture.
With an open-door policy that invites all, regardless of religion, sex and age; the Sheikh Zayed Grand Mosque stands today as a celebrated religious site welcoming tourists and seekers alike. Diversity is even reflected in the mosque's architects (they were British, Italian and Emirati) and in the elements used (tiles were sourced from Turkey, wool from New Zealand and crystals from Germany). It now attracts more than one million visitors a year and is ranked #1 of 112 things to do in Abu Dhabi by Tripadvisor
Sheikh Zayed Mosque Architecture
---
The mosque was designed by a Syrian architect with the support of British, Italian and Emirati architects. The mosque includes aspects inspired by designs from Turkey, Morocco, Pakistan, Egypt and other Islamic countries. It took more than 3000 workers more than 10 years to complete the construction of the mosque.
The most prominent feature of the Sheikh Zayed Mosque is the pure white marble domes, decked with gold mosaic designs. There are 82 domes in total, the largest of which is located in the center of the main prayer hall. The 96 pillars inside the main prayer hall are made with mother of pearl. There are four minarets surrounding the structure that serve as the mosque's offices, a library, and centers for cultural activities and programs. The courtyard is paved with white marble tiles which are painted with elaborate floral designs. Outside the mosque, lies the tomb of the late Sheikh Zayed.
The Sheikh Zayed Mosque Tour Experience
---
Walking the length and breadth of the Sheikh Zayed Grand Mosque with an Emirati historian guide explaining the lesser known stories and lores about the mosque, telling you in detail about the artisans who carved the faint designs on the white marble and narrating the dream that Sheikh Zayed Bin Sultan Al Nahyan saw for this mosque, is a one of a kind experience. While simply taking a stroll around the Sheikh Zayed Grand Mosque is mesmerising enough, a guided tour that draws you into the history and meaning of the mosque is what makes all the difference.
Sheikh Zayed Mosque Tour with Fast Track Entrance
Explore the Sheikh Zayed Grand Mosque on a 1 hour Emirati historian english guided tour
Get fast track entrance and swoosh past the queues
Get 5% cashback when you purchase your pass from Headout
Sheikh Zayed Mosque Tour Details
Tour Timings
There are 3 slots through the day for these guided tours : 9:00 AM, 10:30 AM and 12:00 PM
Tour Dates
These guided tours take place on 3 days a week - Saturday, Monday and Wednesday
Meet Your Guide
Arrive Sheikh Zayed Grand Mosque from the North Parking (Tourism) area next to Security Gate #4 and you will find your guide wearing a blue OceanAir Travels T-Shirt waiting outside the gate. Make sure to arrive atleast 10 minutes prior to the selected timeslot and display the tickets on your smartphone to proceed for the tour.
Highlights of Your Sheikh Zayed Grand Mosque Visit
---
The Central Courtyard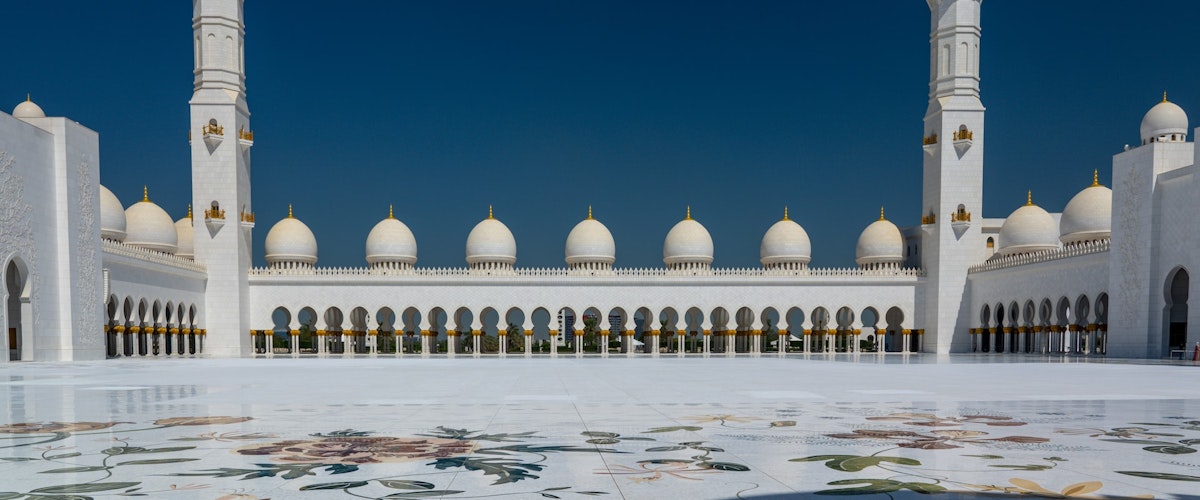 Inspired by Pakistan's Badshahi Mosque and Morocco's Hassan II Mosque, the mosque's central courtyard is a vast glistening white area fringed by reflective pools and inlaid columns with enough space to fit about 30,000 people. There are four high minarets that bring together three geometrical styles in each corner from three different civilisations: the Mamluk cubes from Egypt, the Fatimid-style hexagons from North Africa and the cylinderical top inspired by Turkey's Ottoman architecture.
The Chandeliers
There are 7 chandeliers inside the Grand Mosque, but the largest and grandest of them all hangs in the main prayer hall. Crafted from stainless steel and brass, both gilded with 40kg of 24-carat gold, this chandelier is crowned with luminous red and green crystal balls to model the date palm's fruit. It is said that almost 40 million Swarovski crystals to adorn the mosque's seven chandeliers, so make sure to look up plenty while walking around the mosque.
Main Prayer Hall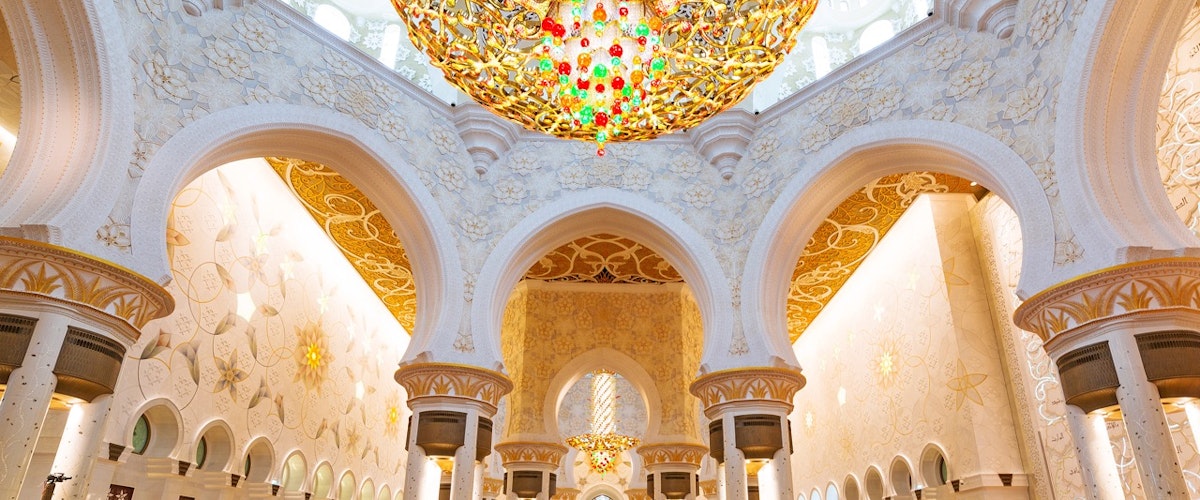 A colossal space with two side halls (one reserved exclusively for women worshippers) and a combined capacity of 10,000 people, the main prayer hall is supported by 96 soaring columns, each decked with Macedonian marble and inlaid with mother-of-pearl and other semi-precious stones. The main prayer hall also houses the world's largest hand-knotted carpet - a tapestry measuring 5,700sqm
Studded Columns
The columns are decorated with semi precious stones such as dark lapis lazuli, white mother of pearl and fancy jasper. The columns give way to painfully symmetric curved archways that reflect quintessentially Moorish, or North African Islamic, architecture.
Eight Two Domes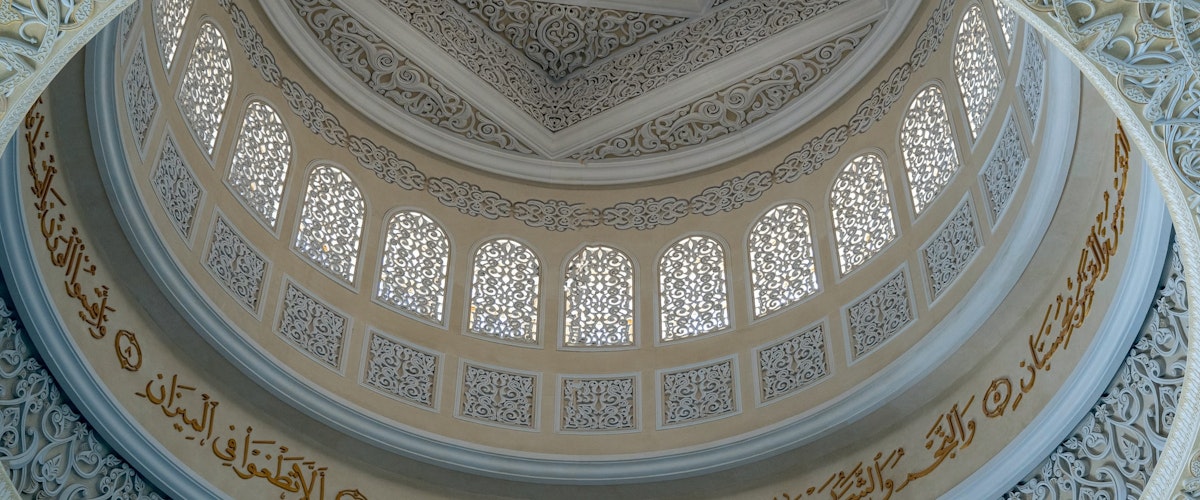 With 82 onion-top domes of seven different sizes inspired from the Badshahi Mosque in Pakistan, make sure to crane your neck and look up plenty during your tour. These domes epitomise the beauty, passion and grandeur of Islam's Mughal era and if you notice carefully, you'll see that the inner side of the domes is intricately etched with verses from the Quran and painted with gold leaves in An-Naskh lettering.
The Qibla Wall
The Qibla wall, the wall of Allah that is the wall facing Mecca inside the mosque is engraved with the 99 names of Allah in Kufic script. The calligraphy work is back-illuminated with fiber optic lighting. The semi-circular niche is inlaid with stripes of 24-carat gold.
Mother of all Carpets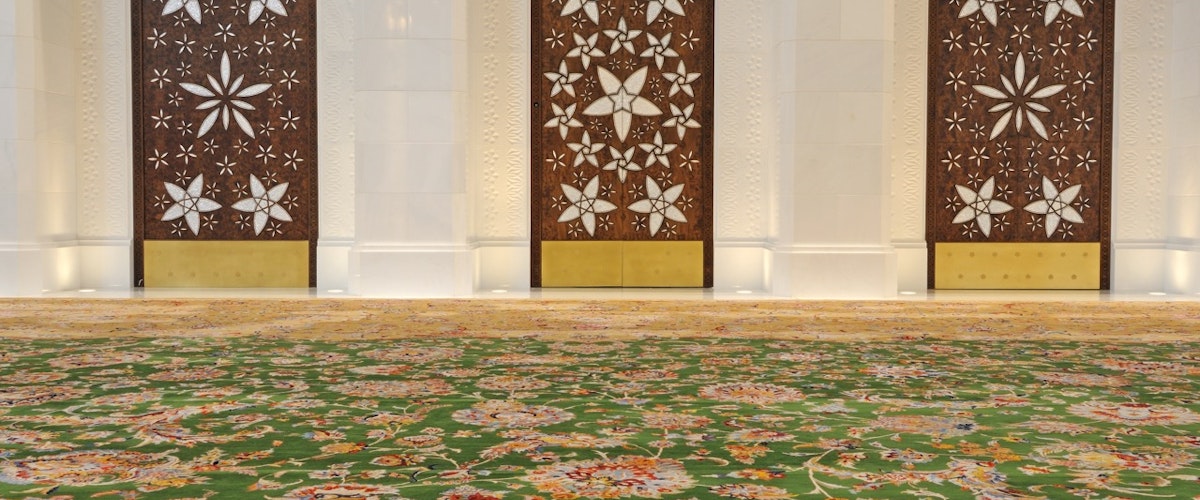 Designed by third-generation carpet master, Dr Ali Khaliqi of Iran the largest hand-knotted carpet in the world measuring 5,700sqm is housed in the main prayer hall of the Sheikh Zayed Mosque. It is said to have taken 16 months and 1,200 artisans to make this carpet; after which it was cut into 9 pieces and transported from Iran in two jumbo jets. While it was weaved in Iran, is made of New Zealand wool.
The Reflective Pools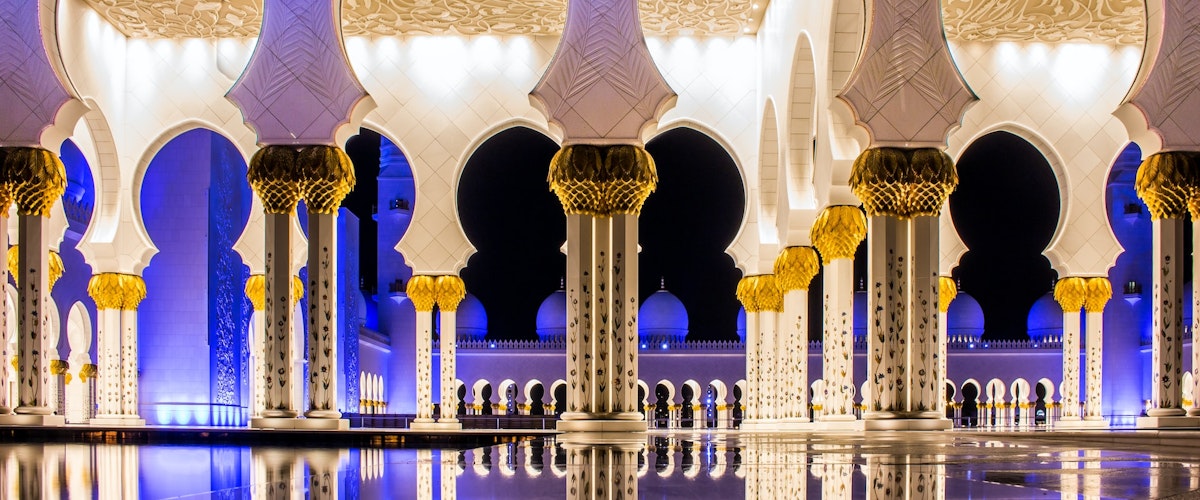 The Sheikh Zayed Grand Mosque is flanked by reflective blue tiled pools that glow under floodlights at night. These pools feature prominently in the thousands of photos sent to the Grand Mosque each year by visitors hoping to win the yearly Spaces of Light photo competition. The winning images are displayed in the lobby of the Emirates Palace Hotel and published in Spaces of Light, a hardback anthology sold in all Abu Dhabi gift shops.
Best Time To Visit Sheikh Zayed Grand Mosque
---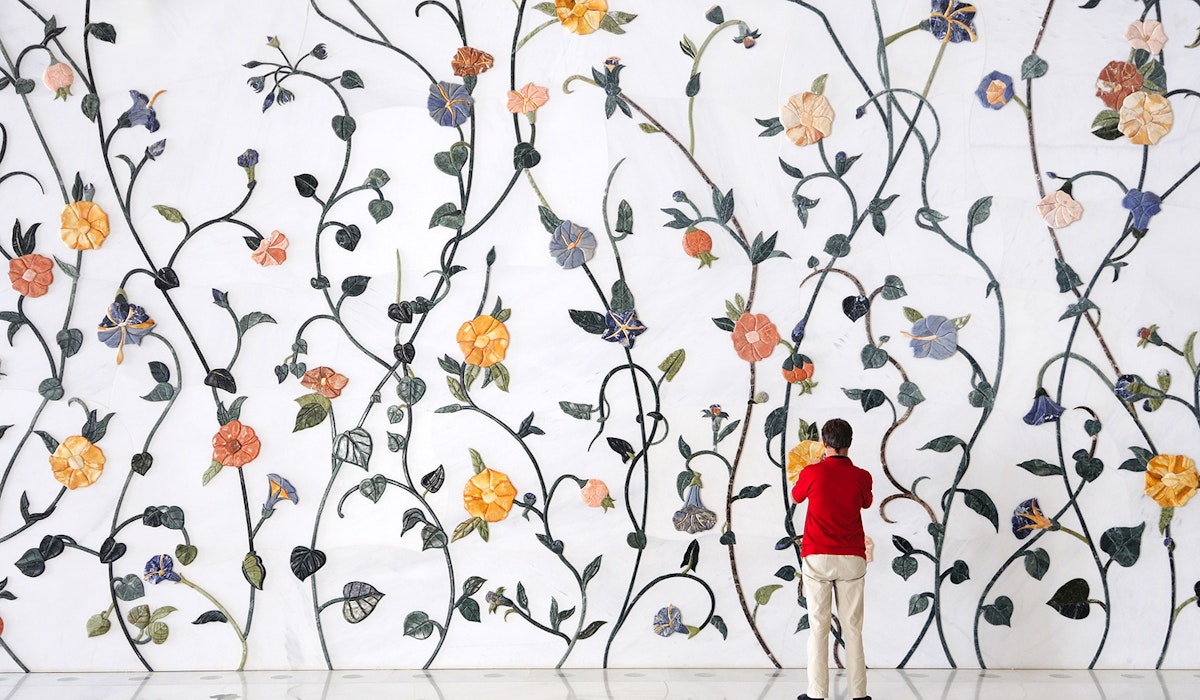 While the Sheikh Zayed Grand Mosque is open throughout the year, Abu Dhabi experiences scorching summer between April and October, making it too hot and uncomfortable to visit during these months. November to May is an ideal time to visit the mosque as the weather is less humid and cooler.
Visiting the mosque in the evening, around 5:30 PM is deemed the best time to visit as you can walking around outside the mosque without the blistering heat burning your feet. Stick around for an hour and you can take in spectacular views of the mosque against the sunset as well. Stay on for a while longer, and you get to see the mosque illuminated in the wake of the evening sky. However, if you prefer lesser crowds in exchange for braving the heat, you can choose to visit the mosque during the afternoon hours which sees sparse visitors.
Sheikh Zayed Mosque Tour with Fast Track Entrance
Explore the Sheikh Zayed Grand Mosque on a 1 hour Emirati historian english guided tour
Get fast track entrance and swoosh past the queues
Get 5% cashback when you purchase your pass from Headout
Sheikh Zayed Mosque At Night
---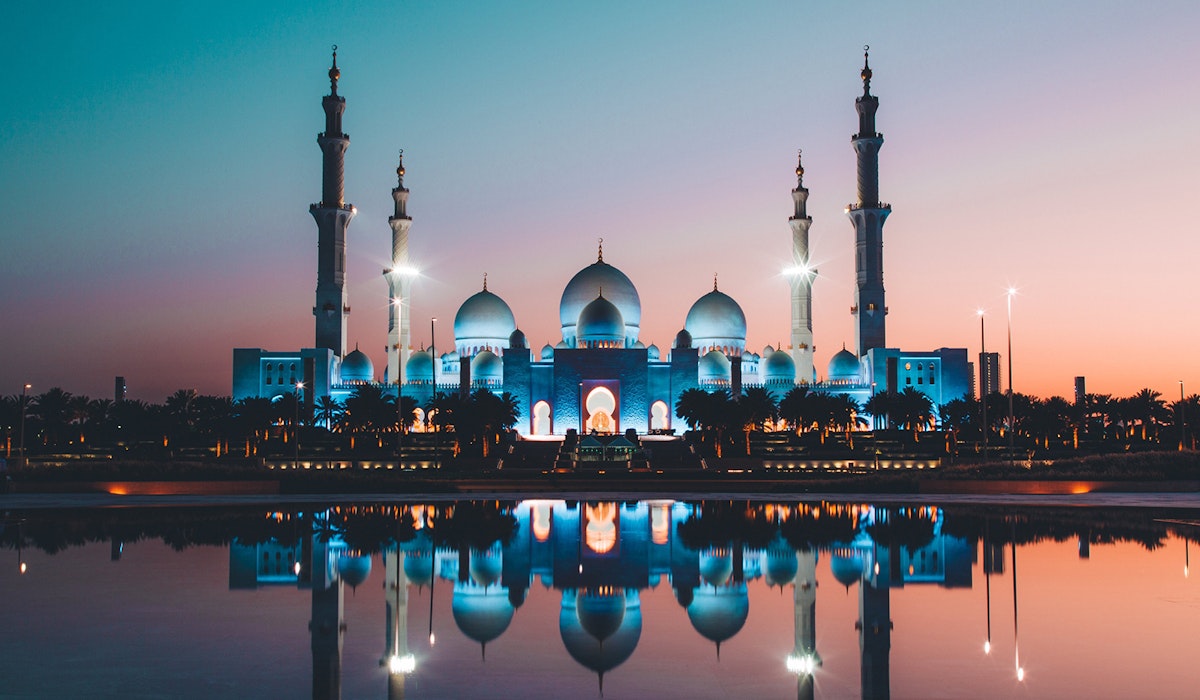 The Sheikh Zayed Grand Mosque offers spectacular views at night. The pools along the courtyard glisten against the night sky and offer a more striking reflection of the white columns. A unique lighting system is used to project varying intensities of bluish gray clouds onto the mosque's exterior walls to mirror the phases of the moon. The color of the mosque gradually changes every two days from white to blue, becoming deeper as the moon wanes. On the fourteenth night of the cycle, the mosque is lit in its deepest blue to signify a "no moon". The lights are also designed to give the effect of clouds moving across the mosque.
Witnessing the Sheikh Zayed Mosque at night is sight of a lifetime. Schedule your visit such that you can see the Sheikh Zayed Mosque in its peak of glory at night.
Interesting Sheikh Zayed Mosque Facts
---
It cost over $500 million to complete the construction of the Sheikh Zayed Mosque.
The mosque is entirely made of natural materials, such as precious stones, marble, gold and crystals.
The library in one of the minarets contains books in a wide range of languages, including Arabic, English, French, Italian, Spanish, German and Korean.
The Sheikh Zayed Mosque has the proud title of owning the largest handmade carpet in the world. Made of Iranian cotton and New Zealand wool, the carpet measures over 60000 sq. ft. and weighs about 35 tons.
The mosque has seven chandeliers. Under the main dome of the mosque hangs the world's largest chandelier. This gold-plated beauty is made of millions of Swarovski crystals.
The beautiful design of the minarets combines Mamluk, Ottoman, and Fatimid architectural styles.
The mosque was awarded the "Middle East Lighting Design Award 2008" for best lighting design throughout the Middle East.
Sheikh Zayed Mosque Reviews
---
Ranked #1 of 112 things to do in Abu Dhabi by Tripadvisor, the Sheikh Zayed Grand Mosque is nothing short of exhilarating for everyone who has stepped foot in there.
This destination is not to be missed. It is the only mosque that allows non-Muslims to visit. It is over the top opulent and awe inspiring. If you don't visit while you are in Abu Dhabi, you will be sorry later. Also worth a day trip from Dubai. I did heaps of research and thought long pants and sleeves would be enough. Nope, you will still need to wear an Abaya (covers hair and body). It has the world's largest hand knitted rug and chandelier. Please go, you will not be even a little bit sorry.

I also suggest taking a guided tour to make the best of your experience. I have done a lot of traveling around the world over the last few years, and this was my #1 place to visit. Tip: take a Big Red Bus Tour as this is one of the stops, and you can also figure out other places to visit. I didn't do so, and had to pay extra for the taxi to and from the mosque. The bus is also a great way to find out other sites to visit. Side note: try to also ride a camel in the desert. I had to get up at 6:30 AM to do so, which I typically don't do on vacation, but was glad I did.
- sherryr888 , October 2018 Tripadvisor
My wife and I visited the mosque on a guided tour led by Mohamed Ali, a man who lived in Germany for 7 years and can communicate fluently and with flair in German and English.
Dress Code: If you are a woman, dress comfortably for the weather—however you want—because you will not be granted entry unless you are wearing an Abaya, the traditional floor-length (black) covering. Shorts underneath are fine; you aren't getting in without covering yourself from the head down. Your face may remain exposed, but hair is covered, period. We booked as part of a tour, so when the bus parked, they brought out Abayas for all of the women.
Men: Long sleeves and pants (no shorts!) Other rules: No food or drink (except water for small children)
I highly recommend taking a guided tour. The structure is fantastically impressive, but without context to explain the *why* of it's various features and how it came to be, the meaning would be lost.
- queriedit , October 2018 Tripadvisor
Read more Sheikh Zayed Grand Mosque reviews on Tripadvisor and know what past visitors have to saw about this breattaking mosque.
Know Before You Visit Sheikh Zayed Grand Mosque Abu Dhabi
---
Sheikh Zayed Mosque Timings
Saturday to Thursday - 9:00 AM to 10:00 PM
Friday - 4:30 PM to 10:00 PM

The mosque closes every Friday mornings to tourists (open only for worshippers) and re-opens in the afternoon.
Sheikh Zayed Mosque Location
From Abu Dhabi
Sheikh Zayed Grand Mosque is located 12 km from Abu Dhabi city proper
By Bus
There is a direct bus that goes from Abu Dhabi - Omar Bin Al Khatab to Abu Dhabi - Sheikh Zayed Grand Mosque. Services depart every 30 minutes, and operate every day. The journey takes approximately 30 minutes.
By Cab
Cabs are easily available from Abu Dhabi to the entrance of Sheikh Zayed Mosque. Since the mosque is a tad bit off the city limits, be prepared to pay a heavy fare.
By Dubai
Sheikh Zayed Grand Mosque is located 128 km from Dubai city proper
By Bus
Take a bus from Bur Dubai bus station to Abu Dhabi, and from there take a bus or cab to the mosque. You can also book a day tour of Abu Dhabi that includes the mosque in the package.
By Cab
Cabs cost approximately 240 Dirhams one way and takes about 90 minutes, one way.
Sheikh Zayed Grand Mosque Abu Dhabi Location Map
Visitor Facilities at Sheikh Zayed Mosque Abu Dhabi
Ample free parking spaces beside the mosque.
Coffee Club Café for refreshments.
Free drinking water coolers
Washrooms available for men and women outside the mosque
Sheikh Zayed Mosque Dress Code
Visitors are required to be dressed conservatively and modestly
Women must wear long, loose clothing to ensure that their arms and legs are fully covered. Women are also required to cover their heads at all times.
Men must not reveal any flesh above their knees and their shoulders must be covered and any tattoos .
Failure to do so will result in refused entry.
Hijabs and Abayas are available at the mosque free of cost. Women can also rent Hijabs and Abayas before visiting the mosque.
Tips For Your Sheikh Zayed Grand Mosque Visit
---
As of 2018, the entry for Sheikh Zayed Mosque has become a tad bit complex, hence factor in this time while planning your day. From the parking lot, you are required to go to the building at the entrance and print a ticket ( free of cost), undergo security check, get the burqas ( ladies only ) and then take the walkalators to the mosque. During peak hours, this whole process can take upto 30 minutes and on return, ladies are required to deposit their burqas back in the same place.
While entry to the mosque is free and there are free guided tours too, purchasing tickets to a small group guided tour that takes you around in the company of an Emirati historian guide is a better enriching experience.
Be prepared to tour the mosque barefoot as you are required to take your shoes off.
If you are visiting during the day, wear your sunglasses, as you will be exposed to excessive amounts of heat.
You are not allowed to bring in the following items into the mosque - food & drinks, cosmetics , cigarettes , lighters, extra batteries, high zoom tools, telescopes, alcohol drinks and chewing gum. If these items are found in your bag, you may have to deposit them at the entrance and collect them back on your way out.
More Abu Dhabi Guides
---
Looking out for more things to do in Abu Dhabi? Here are a few of our detailed Abu Dubai guides that will help you plan your vacation better!