The roar of a Lion, the trumpet of an elephant and the shriek of a parrot, these might sound odd in the deserts of UAE! But this is a reality in one of the best zoos in the country and the Middle East, at the Emirates Park Zoo and Resort, Abu Dhabi. The zoo is home to more than 1,700 animals from around the world including wild and farm animals. The well-maintained zoo is staffed with animal specialists who take care of the animals and host sessions and shows where they teach visitors about the animals and their lifestyle. The Emirates Zoo is an excellent destination for wholesome family fun.
Emirates Park Zoo entrance
Why Visit Emirates Park and Zoo
---
The Emirates Zoo was started in 2008 in Abu Dhabi as an initiative to bring nature and wildlife closer to the people of UAE. It began as a private endeavor that has flourished into an edutainment destination where families can come and interact with wildlife. The infrastructure is safe, secure and ideally suited for families seeking to introduce their children to the wonders of nature and witness animals that are rare even in the wild today!
The Emirates Park Zoo has several animal habitats and enclosures as well as live shows like Breakfast with Giraffes and Parrots, Sea Lion Show and feeding of several animals. At every point, the zoo allows for exploration and interaction with animals with an element of fun. The friendly staff and food and entertainment options keep the whole family happy.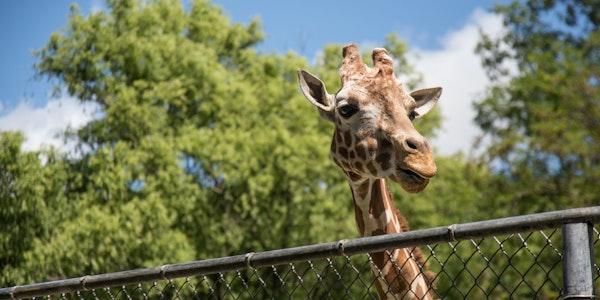 Say hello to the giraffe at Emirates Park Zoo
The adjoining Emirates Park Resort is a beautiful property with family chalets and rooms that offer a splendid view of the animal caves and enclosures, providing a unique wildlife experience. It is perfect for families who wish to extend their trip to the zoo over a weekend. Within a short distance of other Abu Dhabi attractions like Ferrari World and Yas Waterpark, the Emirates Park Zoo is the ultimate holiday destination for a weekend of entertainment, adventure, and roaring fun!
Emirates Park Zoo Tickets
---
What your Emirates Park Zoo Tickets include?
Enjoy access to over 1,700 animals with the Zoo admission tickets.
Access over eight animal enclosures including Reptile House, Primate Parade & Snake Alley.
Watch exciting live shows and access one ticket for the Sea Lion show or Elephant Encounter.
Admire the huge Siberian Bear, Asiatic Elephant, White Tiger and many more exotic animals from across the world.
Get the opportunity of a lifetime to view endangered species and learn about the importance of animals and saving their habitat.
Feed the animals, pet them and photograph with them.
Enjoy a comfortable pick-up and drop from your hotel.
Animals at Emirates Park Zoo
---
The Petting Zoo
The urban and rural divide has grown so wide that city children often go their entire childhood without so much as a glimpse of a farm animal. The Petting Zoo is a fantastic opportunity for parents to introduce children to farm animals like donkeys, camels, ostriches, sheep, and goats.
Bird Park
Owls, Harris Hawks, Eagles, Falcons, Ducks and Parrots, there are a variety of colorful and exotic birds that occupy the Bird Park at the Emirates Park Zoo. Visitors can observe the birds and learn about their natural behavior. The Parrots, Jelly Bean, Lucky, and Lady, are the superstars of the park.
Snake Alley
Snakes strike fear in the heart of bravest of people, but a trip to Snake Alley will give an opportunity to visitors to understand snakes. Children will see and learn about a variety of snake species, handle them and learn to respect them, and at the same time appreciate their value in the ecosystem.
Flamingo Park
The pretty pink flamingos are a sight to behold! The large birds are uniquely distinguished from other bird species and can be identified thanks to their pink plumage and their thin legs which strike a pose for hours together. The Flamingo Park is the best place to observe these regal creatures.
Giraffe Park
Giraffes are the gentle giants of the Emirates Park Zoo. Visitors at the Zoo get to admire these exquisite Giraffes, pet them, feed them and even take photographs. These long-legged creatures are native to South Africa but are just at home in the Giraffe Park where they love interacting with people.
Wildlife Walk
The world's most ferocious, strongest, fastest and most fascinating wild animals line up for visitors at the unique Wildlife Walk at the Emirates Park Zoo. The wildlife show includes a knowledge session and a feeding session for animals like Elephants, Cheetahs, Bears, Lions, Leopards, Tigers and Arabian Oryx.
Reptile House
Reptiles are one of the most misconstrued animals on Earth, but in reality, they are shy, interesting and some of the most beautiful creatures with vivid patterns. The Reptile House is the best place to meet reptiles like lizards, geckos, pythons, tortoises and water dragons.
Primate Parade
Spunky Capuchins, funny Rhesus Macaques, serious Mandrills and naughty Vervet Monkeys, the Emirates Park Zoo has a variety of primates to see. The zoo's most adorable and active animals, these monkeys are a treat to watch, and visitors can spend hours watching them play and even get to feed and pet them.
Sign up for our monthly newsletter
Your dose of travel fix - from hacks and deals to travel tips and everything in between, delivered monthly to your inbox
Please enter a valid email
Unsubscribe anytime
The Emirates Park Zoo & Resort
---
Spend the day at the zoo interacting with hundreds of wild animals and end the day with a refreshing swim in the luxurious pools of the Emirates Park Resort. Wake up and watch the animals in their caves right opposite your room. Of course, from a safe distance! Enjoy breakfast with the colorful macaws and head back home with a ton of memories and photographs.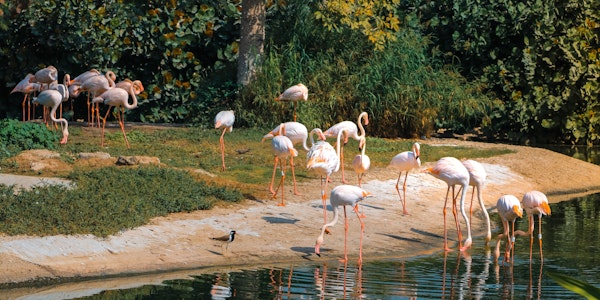 Flamingos at Emirates Park Zoo
Highlights
27 family chalets and 56 rooms well-equipped with modern amenities.
Within 10 minute-drive of Ferrari World and Yas Water Park, and 20 minute-drive of Sheik Zayed Grand Mosque and Abu Dhabi International Airport.
Enjoy delicious food at Al Dar Garden restaurant and in-room dining all day long.
Ideal location for fun with extended family and get-together with children.
Practical Information
---
Getting To Emirates Park Zoo
The Emirates Park Zoo is located at 12th Street, Al Bahia, Abu Dhabi City, UAE.
Public Transport: Visitors can take Bus Service Numbers 225, 202, 210, 218, 420 that stop near the Zoo.
By Car: Visitors can take the Sheikh Zayed Road (E11) and take the Al Bahia exit. This applies for those coming from Dubai.
Emirates Park Zoo Timings & Opening Hours
The Emirates Park Zoo is open all through the year.

Sunday – Wednesday: 9:00 AM to 8:00 PM
Thursday – Saturday and Public Holidays: 9:00 AM to 9:00 PM
Emirates Park Zoo & Resort Reviews
---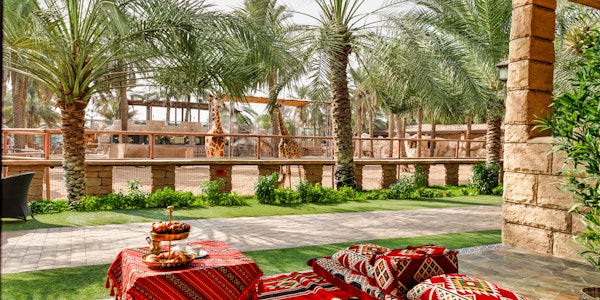 A meal with Giraffes
This was our 4th visit. The place keeps surprising us and best thing is that my 5yr old kid just love it. Fact that we get opportunity to stay next to animals overnight its just amaizing. The best part for the month being dec the weather was just amaizing. We really love the chall type room setup and they have done very well with the decor. It feels like you are staying in flintstone home. We enjoyed the experince, staff was really nice and friendly there are food option.
nitinbansal, TripAdvisor, January 2017
Staff are amazing! Really good customer service. We went with our 2 girls. We had a wonderful time. The zoo has everything. We stayed at the resort and it was a lovely stay - we didn't feel like leaving and miss the place a lot. One of the best zoos in the whole world - best thing is animals look lovely and happy 🙂
Boardingpass, TripAdvisor, September 2017
Read what others have to say about the Emirates Park Zoo & Resort on TripAdvisor.
FAQs: Emirates Park Zoo
---
Plan your visit to the Emirates Park Zoo during its beginning hours. This might help you to avoid the crowd and you can freely enjoy your personal space with your favorite animals. People usually spend around 2 to 3 hours at the Emirates Park Zoo to explore it thoroughly.
Yes, there are no entry charges for children or kids between the age of 0 to 2 years.
No, you are not supposed to carry any outside food or beverages inside the Emirates Park Zoo. In case you feel hungry, you can approach the different food points within the Emirates Park Zoo. Al Dar Garden Restaurant and Paramiza Café, Bird's Café, Bee Café, Flamingo Café, Fresh Juice Point, Giraffe Café, Pearl Café, and Candy Shop are some of them.
Yes, Emirates Park Zoo is accessible to wheelchairs.
Board Service Number 225 from Al Shahama Bus Station. This bus will drive you through the Al Rahba Hospital and finally, take you to the Emirates Park Zoo and Resorts. Alternatively, you can either board Service Number 202 or 210 or 218 or 420.

These service numbers stop on Street 17, which is opposite to the Ramez Hyper Market (Al Bahya). From Dubai, your final destination is at a 45-minutes distance by car. From Abu Dhabi City Centre, it is at a distance of the around 30-minute drive.