The United Arab Emirates is home to some of the world's most stunning desert landscapes. From the towering sand dunes of the Liwa Desert to the oasis-dotted sands of Al Ain, there is no shortage of incredible places to explore.
Whether you're looking for an adventure or a chance to reconnect with nature, the Dubai deserts are sure to impress.
Here's are the top Desert Safari activities that will leave you experiencing the best of Dubai's deserts!
Best way to experience the deserts in Dubai
---
We're not going to lie. The best way to experience the golden dunes of UAE is signing up for a wholesome Desert Safari Tour that takes you through the best of what the deserts in UAE have to offer.
There are many different desert tours available in Dubai, and it can be difficult to decide which one to choose.If you're looking for an authentic desert experience, you should consider a desert safari. These tours typically last for several hours, and you might have the opportunity to explore the desert on the back of a camel. You can also go on a dune buggy tour, which is a great way to see the desert at high speeds. If you want to stay overnight in the desert, there are also camping tours available. These tours generally include activities such as stargazing and sandboarding.

No matter what type of tour you choose with Headout, you're sure to have an unforgettable experience!
Top 5 Dubai Desert Safari Activties You Cannot Miss
---
Check out the top things to do during a Desert Safari experience and make sure to include these in your itinerary.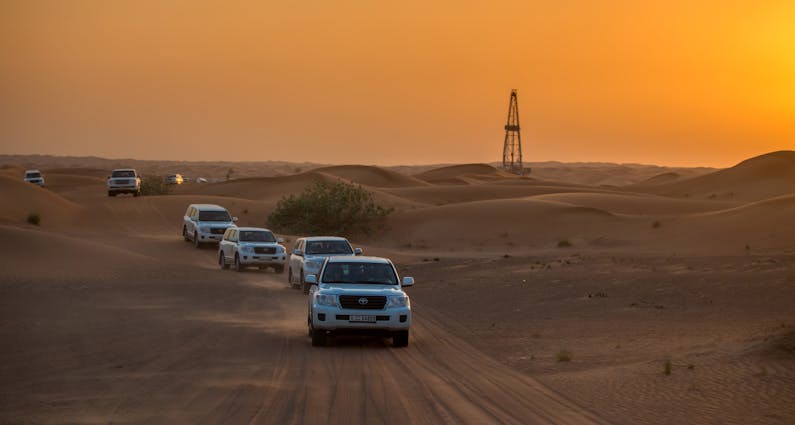 Dune bashing in Dubai deserts is an adrenaline-pumping experience that is not to be missed! After a safety briefing, you will be strapped into a 4x4 and set off into the desert. The skilled drivers will navigate the rugged terrain, taking you up and over the sand dunes. As you climb to the top of each dune, you will be treated to breathtaking views of the desert landscape. Then, it's time to enjoy the ride of a lifetime as you descend through the valleys at high speed. The whole experience lasts for around 45 minutes, and it is sure to leave you with lasting memories. So, if you are looking for an exhilarating adventure, make sure to add dune bashing in Dubai deserts to your bucket list!
2

Starry-Eyed Overnight Camping


There's something magical about spending a night under the stars, and there's no better place to do it than in the Dubai desert. Camping in the desert is an exhilarating experience, and it's the perfect way to escape the hustle and bustle of city life. The clear night sky and lack of light pollution make it possible to see a profusion of stars. The Milky Way galaxy is particularly visible, and it's a stunning sight. And, of course, no desert camping would be complete without a traditional Arabian BBQ. If you're looking for a chance to relax and unwind, camping in the Dubai desert is the perfect option.

Bedouins are nomadic people who have made their home in the desert for centuries, and they offer a unique insight into the land. A Bedouin camp typically consists of a number of large tents, called barastis, which are made from animal hair and date palm fronds. Inside, there is usually a central area for cooking and eating, as well as sleeping quarters for families and guests. Visitors to a bedouin camp can expect to enjoy traditional foods such as lamb stew and flatbread, as well as learning about the Bedouin way of life. With its fascinating culture and stunning scenery, a Bedouin experience is an unforgettable way to discover Dubai.
4

Sway in the Arabian Winds with Hot Air Ballooning

There's something truly magical about hot air ballooning. Drifting peacefully through the air, and taking in stunning panoramic views, it's an experience unlike any other. And there's nowhere quite like Dubai for a hot air ballooning adventure. With its vast deserts and beautiful coastline, Dubai offers unforgettable vistas at every turn.

Taking a hot air balloon ride over the Dubai desert is an experience you'll never forget. As you gently float through the air, you'll be able to take in the incredible views of the sand dunes and desert landscape stretched out below you. And if you're lucky, you might even spot some wildlife such as gazelles or oryxes.
5

Go Safarying in Quad Bikes

With quad bike , you can zip across the desert at high speeds, enjoying the wind in your hair and the sand in your face. A quad bike safari is a perfect way to see the wilderness beyond the city limits. While most safaris last around two hours, some operators offer half-day or full-day options. You'll be guided by an experienced driver who knows the best routes to take and can show you amazing sights that you would never see otherwise. There are numerous quad bike safaris in Dubai, so you can easily find one that fits your budget and schedule with us! And don't worry - even if you've never ridden a quad bike before, you'll quickly get the hang of it. Just strap on your helmet, hold tight, and enjoy the ride!
Ready to Explore Dubai?
---
Fancy heading out to some other must-visit Dubai attractions? Take inspiration from our list of the best things to do in Dubai here. Use our comprehensive Dubai Travel Guide to explore the rest of Emirate in a hassle-free fashion with all the need-to-know information in hand.