Based on the booming Indian film industry based in Mumbai, Dubai's Bollywood Parks™ showcases the wonderful spirit behind Bollywood, and the stars who breathe life into it. From multi-sensory 4D theatre adventures - think flying through the sky with Krrish, or plunging into the thrilling virtual world from Ra. ONE - to epic Bollywood performances that will transport you back through the 60's, 70's and 80's, then all the way to today's hottest hits, Bollywood Parks Dubai is a one-of-a-kind experience.
Why You Must Visit Bollywood Parks Dubai
---
For Bollywood buffs and 'filmi keedas', a visit to this unique Bollywood-themed park is a must. From glamorous shows, striking performances, and hair-raising rides, you'll have a jolly good time.
Situated in the middle of Dubai Parks and Resorts, Bollywood Park is divided into five zones based on the biggest hits of Indian cinema.
Experience the colourful streets of Mumbai and join mafia boss Don on his epic chase via an immersive, thrilling 3D tunnel ride.
Visit the majestic, rural Indian village modelled after the hit film "Lagaan" and embark on a series of adventurous rides and attractions. Stroll through Bollywood Boulevard, home to the Rock On!! themed restaurant.
Marvel at the Rajmahal Theatre, the heart and soul Bollywood Parks Dubai, and get a behind-the-scenes glimpse into Bollywood production at the Film Studios. It's every Bollywood lover's dream come true.
Bollywood Parks™ Dubai is the world's first park dedicated to Bollywood.

From the world's tallest swing ride to family-friendly 4D experiences, you'll see it all.

Find yourself lost in a sea of action, adventure, romance, dance, and more!
Buying Bollywood Parks Dubai Tickets Online
---
Bollywood Parks tickets can be purchased directly through the official website or in person at the entrance of the attraction. Or, save time, money, and energy by purchasing discounted tickets with Headout, a trusted online marketplace (enjoy 29% off your tickets!) As an added bonus, when you book with headout you'll receive 5% cashback credit that you can use toward any other purchase on Headout.

Hot tip: Peruse our list of discount tours of Dubai's top attractions to visit after this.
Combo Ticket Package: Park Hopper Pass
Instead of purchasing tickets to Bollywood Parks Dubai alone, get yourself the Park Hopper Pass. Save time and money on this combo ticket package and enjoy the best of all 4 attractions at the Dubai Parks & Resorts together (Motiongate Dubai, LEGOLAND Dubai, LEGOLAND Waterpark Dubai & Bollywood Parks Dubai).
Optional Q-Fast Pass Upgrade?
Upgrade your ticket to Q-Fast, which lets you pass up long queues for the park's rides and attractions and reduces your overall waiting time. Q-Fast is purchased as an add-on to a regular park admission ticket - not in place of one. Upgrade your ticket here.
STANDARD
Can be used at all rides to skip the lines once.

Price
AED 125 / $34.03
UNLIMITED
Can be used to skip the lines at all rides unlimited times.

Price
AED 175 / $47.64
Bollywood Parks Dubai Tickets
Dubai Explorer Pass
Combine your visit to Dubai Parks & Resorts with other iconic attractions in the city! The Dubai Explorer Pass lets you fit in the selected number of attractions into your itinerary spread across 60 days. Talk about convenience!
Is The Bollywood Parks Dubai Annual Pass worth it?
---
The Bollywood Parks Dubai annual pass gives you access to the Bollywood-themed park for an entire year. If you live in Dubai (or frequent this metropolis often), love theme parks parks, and Bollywood as much as we do, this annual pass is well worth your money. Prices for the annual pass starts from AED 275 per person.
Zones & Attractions at Bollywood Parks Dubai
---
Bollywood Park Dubai is divided into 5 zones: Bollywood Boulevard, Mumbai Chowk, Rustic Ravine, Royal Plaza and Bollywood Film Studios. Each zone has it's own theme, attractions, rides and dining options. Modeled after Bollywood's biggest hits, each zone offers a unique experience.
1

Bollywood Boulevard

BOLLYWOOD LOVERS
Vibrant colours, live entertainment, fun cafes and more - this boulevard is full of Bollywood spirit. Head to Crossroads stage and travel back to the 60's, 70's and 80's with amazing Bollywood performances. Through music and dance numbers that highlight these legendary decades, it's a true glimpse into India's fabulous entertainment past.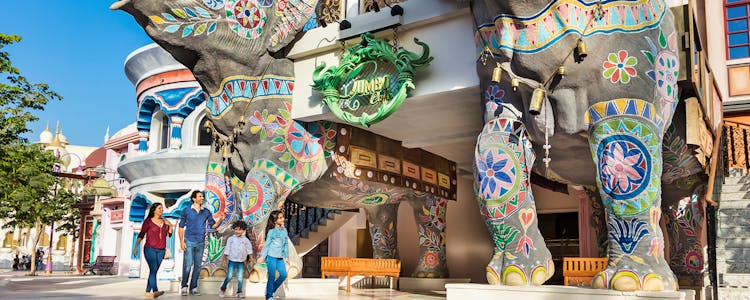 2

Mumbai Chowk

BOLLYWOOD LOVERS •CINEMATIC ENTERTAINMENT
Dubai's very own Mumbai, explore the city's famous streets and get a taste of the Indian city that sparked India's thriving film industry. Join mafia boss Don on an epic chase in this immersive and thrilling 3D tunnel ride, Don - The Chase Begins. After you've tired yourself out, catch an amazing show atop the Mumbai Express and get a first hand experience of the songs that romanticized Indian trains.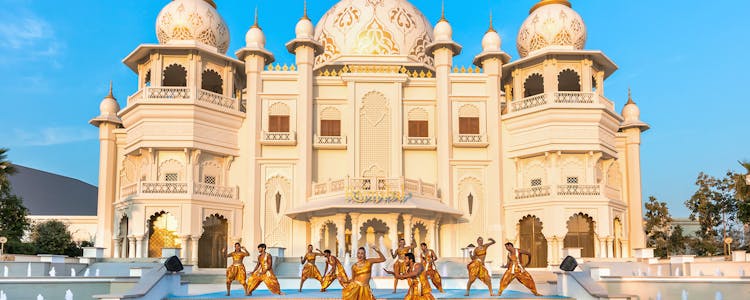 3

Royal Plaza

BOLLYWOOD SHOW LOVERS
Head to the beautiful landmark, also known as Bollywood Park Dubai's heart and soul, Rajmahal Theatre. Catch a variety of classic Bollywood shows here, including the region's first Broadway style Bollywood musical, Jaan-e-Jigar. Want to take your Bollywood experience to the next level? A variety of high energy performances regularly take place at Stars on Steps.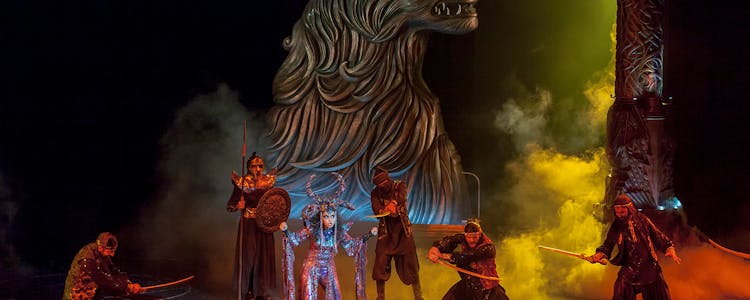 4

Rustic Ravine

BOLLYWOOD LOVERS
Transport yourself to the magical world of rural India and dive into the zone's adventurous attractions based on the hit film, "Lagaan". Join Bhuvan for an epic cricket match against the British Raj at Lagaan -Thrill of Victory, a motion simulator ride. Ride a mini Ferris wheel, hop on a themed carousel, and arm yourself with sound injected infrared guns and hunt for Gabbar Singh.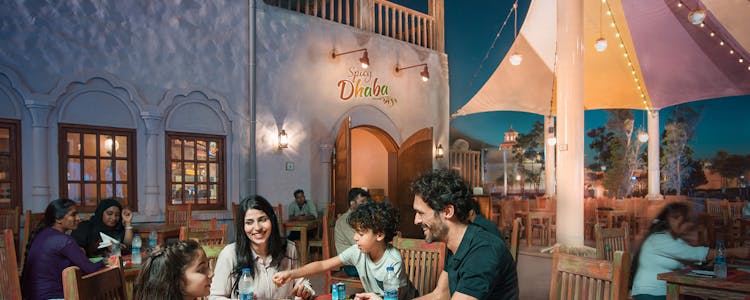 5

Bollywood Film Studios

HINDI FILM LOVERS
Now is your chance to bump into your favorite Bollywood stars! Multi-sensory 4D theatre adventures will take you flying through the sky with Krrish on the Hero's Flight, and on a thrilling plunge into the virtual world of Ra.ONE. After you've returned to the real world, head to Rangmanch for traditional Banjara (gypsy) style dances and Nautanki (folk style performers).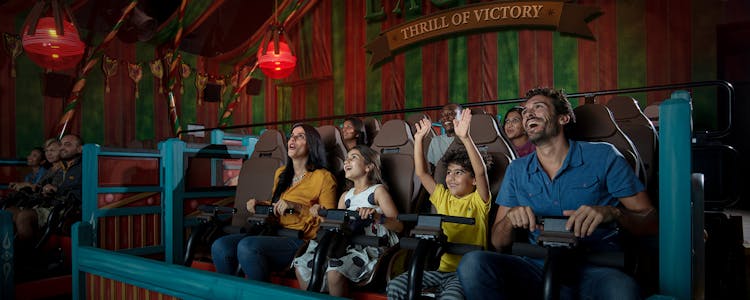 Top Rides at Bollywood Parks Dubai - You Cannot Miss These!
---
Krrish: Hero's Flight
Take to the skies on this 4D flying theater ride. As you soar through the multihued landscape of India alongside your hotshot superhero, Krrish, you'll enjoy the best panoramic views of India's spectacular landmarks and a front-view seat of Krrish saving the world from an alien invasion!
Park : BOLLYWOOD FILM STUDIOS
Best for : All ages
Height restriction : 120 cm
Category : Family
Ra.One: Unleashed
Enjoy the thrilling 4D virtual ride of Ra.One. The villain, Ra.One is on the loose again and this time, you're invited to the epic battle. More powerful than ever before, Ra.One is out to wreak havoc. Only this time, you're in the center of it all.
Park : BOLLYWOOD FILM STUDIOS
Best for : All ages
Height restriction : 90 cm - 120 cm
Category : Family
Sholay: The Hunt for Gabbar Singh
Armed with laser guns, you'll enter this exciting, interactive 3D dark ride. Shoot at dacoits, led by the infamous Gabbar Singh (from the classic movie, Sholay), and compete with your friends to get the highest score. Treat yourself to some mangoes afterward.
Park : RUSTIC RAVINE
Best for : All ages
Height restriction : 90 cm - 120 cm
Category : Family
Lagaan: The Thrill of Victory
Travel back in time with Bhuvan and his team in a game of cricket against the British Raj. based on the super hit movie Lagaan, this motion simulator-based ride gives you all the feels.
Park : RUSTIC RAVINE
Best for : All ages
Height restriction : 105 cm
Category : Family
TAXI NO.1
Enjoy Taxi No. 1, a thrilling high-speed roller coaster ride for the children, a unique journey through the streets of Mumbai. This set is designed in the style of Mumbai's unique taxi stand!
Park : MELA JUNCTION
Best for : Children
Height restriction : 105 cm
Category : Family
Hacks To Avoid Crowds at Bollywood Parks Dubai
---
The best time to visit Dubai Parks & Resorts is during the months of September through March. Not only are the crowds smaller, but Dubai's weather is rather pleasant during these months. That said, do not let summer be a deterrant for you- Bollywood Parks has multiple cooling stations, and many attractions here are indoors.
Visiting During Ramadan
Many are skeptical about taking a trip to Dubai during Ramadan because of the holiday rush, but there is a way around it. If you start your day early, hit the attractions right around the time they open, and avoid the weekends, you can enjoy the holiday season in the UAE to the fullest. Ramadan also comes with holiday discounts on your tickets, so it's a great way to save money.
Before you visit Bollywood Parks, make sure you check the timings. Park timings and visiting hours are different for the summer, winter, and Ramadan.
All You Need to Know Before Visiting Bollywood Parks Dubai
---
Bollywood Parks Dubai Timings
Summer Timings: 3 PM - 11 PM (GST)
Please check the timings of the park on the day you visit as the park hours are subject to change.
Getting To Bollywood Parks Dubai
Bollywood Park Dubai is located within the Dubai Parks and Resorts in Dubai on Sheikh Zayed Road, opposite Palm Jebel Ali.
By car
It's a relatively easy ride to Bollywood Park Dubai. From downtown Dubai, the trip is around 40 minutes. Head south of Sheikh Zayed Road. Drive past Dubai Marina and Jebel Ali and you will see Dubai Parks and Resorts on the left.

Via public transport
Take the red metro line south all the way to the last station, Jebel Ali. From there, you will have to take a taxi the rest of the way - which should only take you about 15 minutes.

From Dubai International Airport
Head south on E11, also known as Sheikh Zayed Road, towards Abu Dhabi. It's just a straight shot from there, past Dubai Marina and Jebel Ali. You will see Dubai Parks and Resorts on your left. The trip takes around 45 minutes with low traffic, or close to an hour if there is heavy traffic.

From Al Maktoum International Airport
Bollywood Park is only 20 minutes away from this Al Maktoum. Take the Sheikh Mohammed Bin Zayed Road south and turn right towards E11. Take another right, towards Dubai. Dubai Parks and Resorts will appear almost immediately on the right side of the road.
Parking
Parking passes are available for purchase upon entering the park. Your pass is good for the whole day, across all Dubai Parks and Resorts.

General parking fees are AED 20 for the entire day. Preferred parking is AED 80, covered parking is AED 100 and valet parking is AED 150. Annual pass holders get complimentary parking. After 6:30pm, all general parking is free.

There are designated parking spots available for guests with disabilities. A valid parking permit is required.
Available Facilities
---
Dress Code
There is no set dress code for Bollywood Dubai Parks. However, the following suggestions are recommended:
Wear comfortable shoes; you'll be walking all day.
Check the weather and dress accordingly.
For men, shorts and t-shirt are recommended.
For women, light trousers or shorts and a top are suggested.
Sign up for our monthly newsletter
Your dose of travel fix - from hacks and deals to travel tips and everything in between, delivered monthly to your inbox
Please enter a valid email
Unsubscribe anytime
Bollywood Park Reviews
---
Great Place to visit.If you love loud music and colourful places it's the right place for you.it was a day well spent .There are loads of interactive amusements featuring Indian movies of all times.Many of the rides are 3d or 4d and kid's would surely enjoy them.I would recommend the Krrish ride.
Bollywood park, is a heaven for Bollywood lovers, Its an experience that will touch the heart of every Bollywood fans of all ages, Kids will love it for the amazing 3D & 4D themed ride as well as the fact that all information and instructions are given in English.
Restaurants at Bollywood Park
---
Souvenir Shops at Bollywood Park
---
6. Desi Emporium with Maharani Sweets
Hotels Near Bollywood Park
---
Dubai Bollywood Park: Tips
---
Try and arrive to the park before sunset. The park looks amazing at dusk!
If possible, visit the park on a weekday. It's far less crowded than the weekends!
Buy a combo ticket to enjoy the best savings.
Get your tickets ahead of time to avoid long lines.
Take snack breaks, especially for kids, and make sure everyone in your group stays hydrated.
Check the weather before you go.
Make sure your phone and/or camera are adequately charged before entering the park.
Dubai Bollywood Park FAQs
---
Dubai Bollywood Park tickets cost AED 195.
From downtown Dubai, your drive to Dubai Bollywood Park is around 40 minutes.
Dubai Bollywood Park has no set dress code. It is, however, recommended that you wear comfortable clothing and footwear as there is a lot of walking involved.
There are 5 different zones in Dubai Bollywood Park: Bollywood Boulevard, Mumbai Chowk, Royal Plaza, Rustic Ravine & Bollywood Film Studios.
The best time to visit Dubai Bollywood Park is between the months of September through March. It is advisable to visit during the week instead of the weekends.