A recently completed high-rise building in the heart of Downtown Dubai, Sky Views Dubai is THE attraction to be at. Fascinating heights, iconic views and adventure - what else do you really need?
A glass slide, an observatory, a walk in the air and a meal with a view - thats what you get when you sign up for a day at Sky View Dubai. If that doesn't make you scramble for tickets right away, we don't know what will!
Sky View Observatory Dubai
---
Know before you go
| | |
| --- | --- |
| ⏰ Suggested Duration: | 60 minutes |
| ☀️ Best Time to Visit: | Mornings, or late afternoons |
| 🎟️ Sky View Dubai Tickets: | AED 65 |
| 🚇 Closest Metro Station | Dubai Mall Metro station (6 min walk) |
Opening Hours
Observation & Glass Slide: Daily, 10:30 am to 9pm
Edgewalk: Daily, 2 pm to 9 pm
Address
52nd and 53rd floor, Sheikh Mohammed Bin Rashed Boulervard, Downtown Dubai
Get there
Why Visit The Sky View Observatory Dubai
---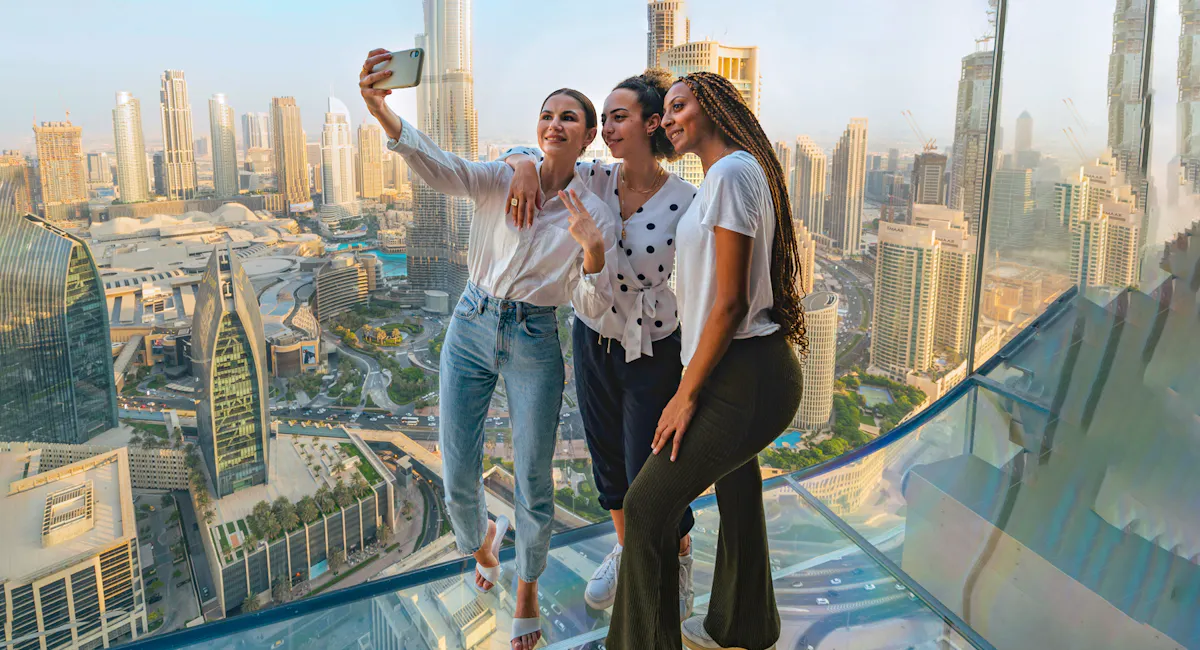 1.The Sky View Observatory, situated at 219.5m above Dubai, serves you with delicious views of the city, and the iconic Burj Khalifa.
2. There's an outdoor glass slide that takes you from the 53rd level to the 52nd, in a transperant glass tube.
3. Upgrade your experience with the Sky Walk! It's an experience of a lifetime where in you air-walk, hands-free, around the top of the tower's main pod.
4. You can also choose to admire the city with a delicious meal at the Panorama 52 restaurant (yet to open)
Sky Views Dubai Tickets - Which One Should You Buy?
---
The Sky View Observatory is a favourite among tourists and locals alike, as it IS the perfect way to end a day with a beautiful sunset and some adventure. Hence, long waiting lines are natural. Here are the top rated Sky View Dubai tickets you can buy, so you can save time and dime:
A ticket to the Sky Observatory includes the Sky Glass Slide experience, and costs AED 70 for adults (AED 90 at sunset) and AED 60 for children aged three to 16 (AED70 for sunset). For the Sky Edge Walk, tickets are priced at AED 704 including a safety briefing and all equipment.
Buy your Sky Views Observatory Dubai tickets on Headout and save AED 20 using code: GODUBAI
Top things to do at Address Sky View Dubai
---
1

Drool over the views!

Observatory
The Sky View Observatory is known for the beautiful views it has on offer. Once here, not only will you see the city in a different light (from 219.5m above ground), but the iconic Burj Khalifa tower, is nothing less than a sight to behold.
Good for: Couples and Families
Timings: 10 am to 6 pm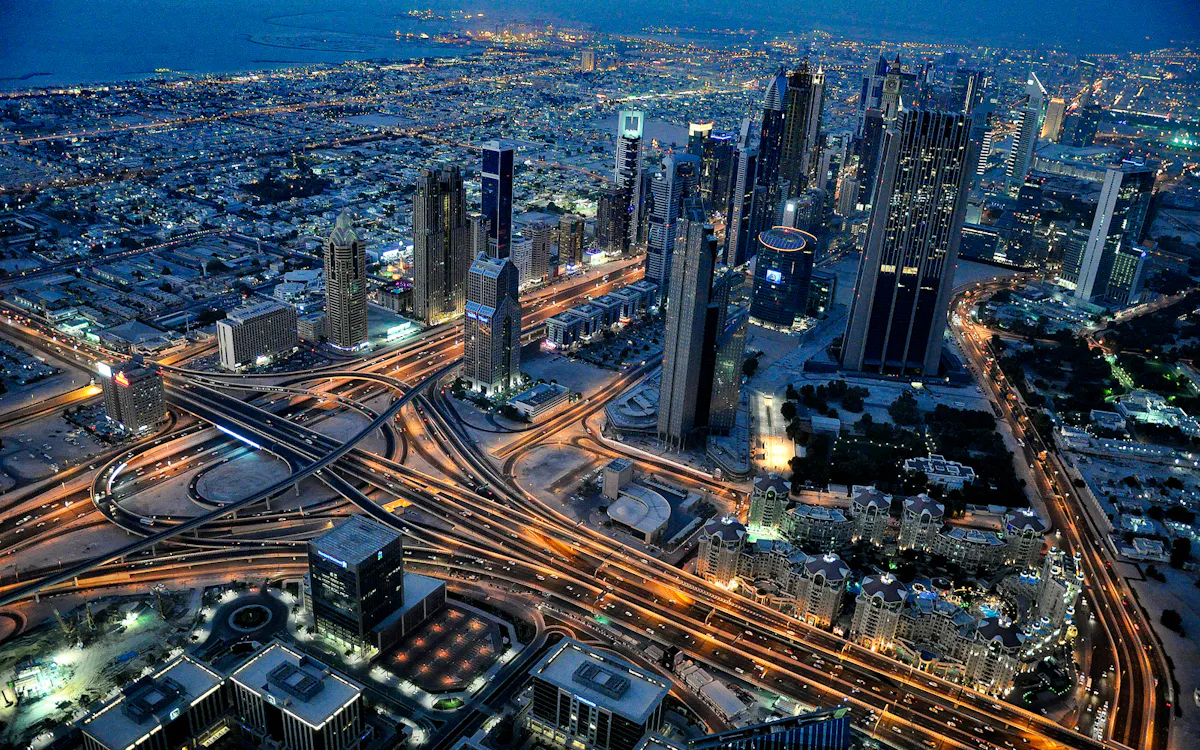 2

Glide down a Glass-Slide

Activity
Nope, we're not kidding. The Sky View Observatory has on offer the chance for you to glide down a glass slide, from the 53rd to the 52nd floor of the tower. If you manage to keep your eyes open through this adventure, you'll get more stunning views, at an incredible speed!
Good for: Adventure enthusiasts
Timings: 10 am to 6 pm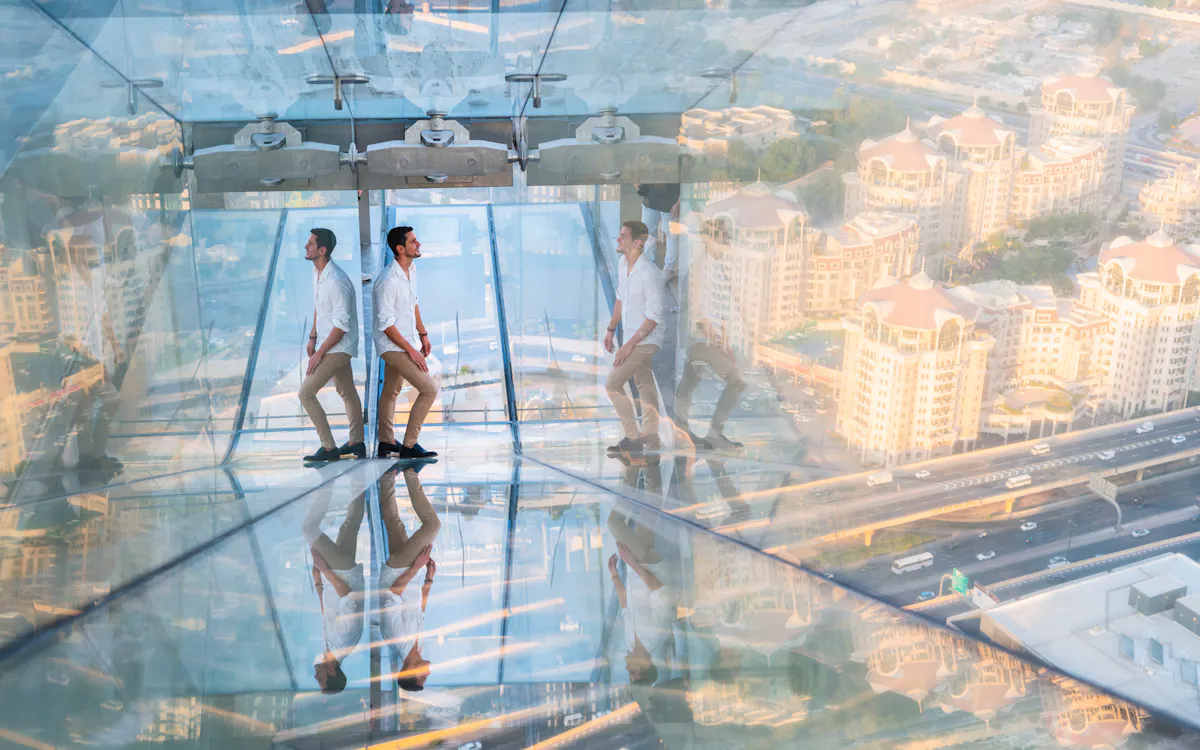 3

Live on the Edge, literally!

Adventure
Have you ever wanted to casually hang off of the edge of building? If yes, the Sky Walk might just be the experience for you. The experience is a hands-free walk along a ledge that goes around the top of the tower's pod. No windows, no protective barriers - just you, your safety equipment, and the ledge. Oh, and the views!
Good for: Adventure enthusiasts
Timings: 10 am to 6 pm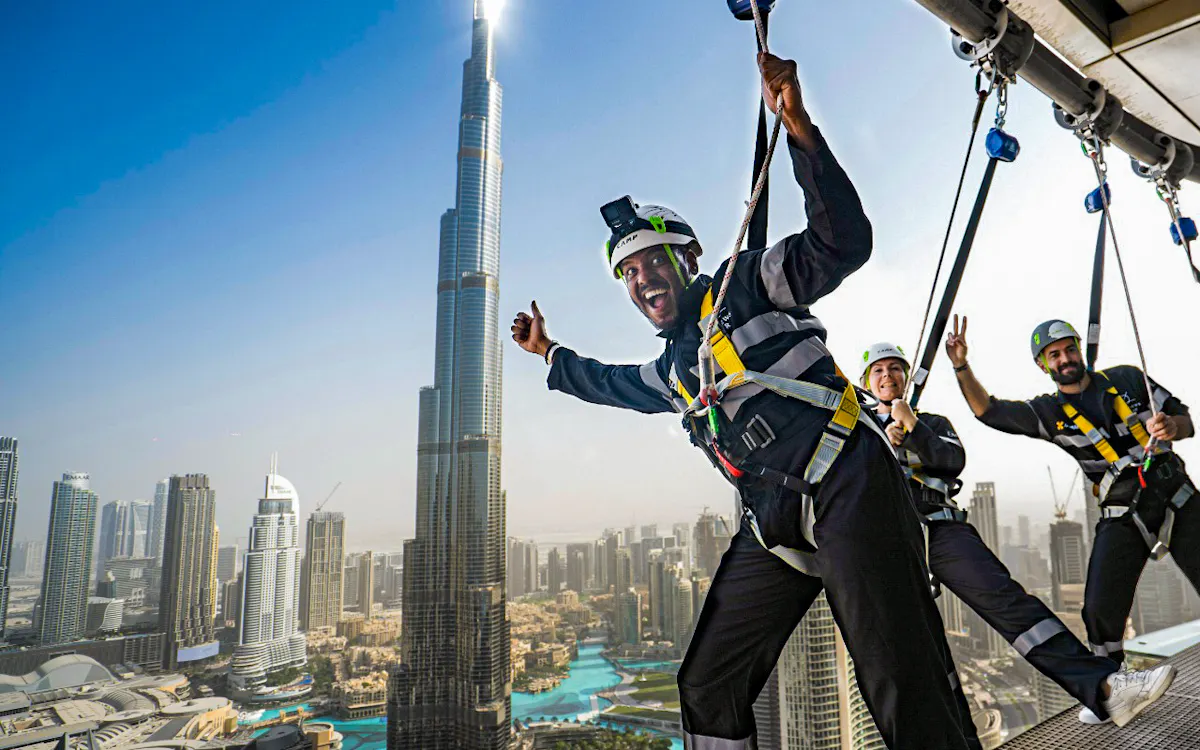 4

A culinary affair at Panorama 52

Dine
If you're not in the mood for nerve wrecking adventure, you can choose to grab a meal at the American diner restaurant at Sky Views. Panorama 52 is scheduled to open in 2022, where guests can enjoy casual comfort food with epic views of Dubai city.
Good for: Food enthusiasts, Family
Timings: Timings TBA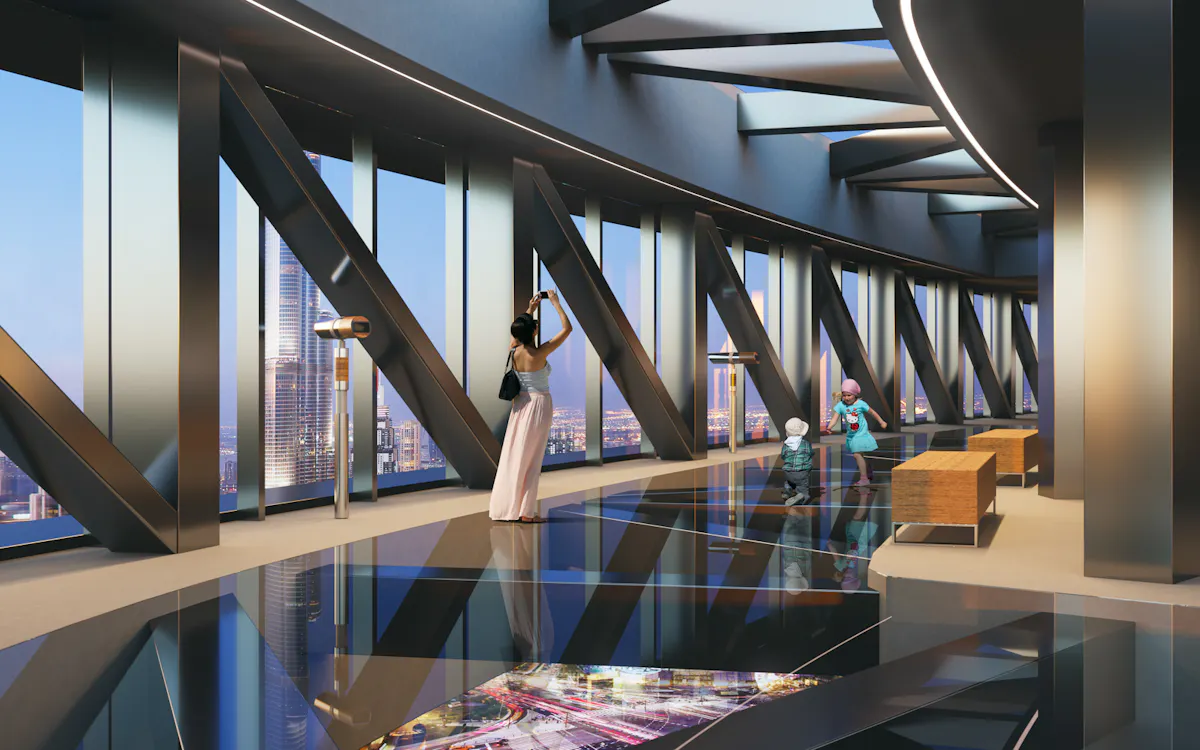 Plan Your Visit
---
Sky Views Observatory Opening Hours
Sky Views Observatory is open from 10:30 am to 9 pm, everyday.
Getting to the Sky View Observatory
By Bus
The stop that's closest to Sky Views Dubai is the Dubai Mall Metro Bus Stop Landside 1, which is an easy 6 6-minute walk from the attraction. Here's the list of buses you can board: #30, #D03, #D03A, or #F13.

By Metro
The nearest metro station is the Burj Khalifa/The Dubai Mall Metro station, which is again, a 6-minute walk from the attraction. Boarding the line MRed will get you there.

By Car
If you're planning to drive in from the center of Dubai, take the first interchange and go on to the Financial Centre Road.
Best Time To Visit the Sky Views Observatory Dubai
While there is no perfect time to visit the Sky Views Observatory Dubai - it's an established fact that the views are best during sunset. Ideally, it's also the perfect time to bump into a plethora of people. If you're someone who loves beating the crowd, sometime early afternoon, or late evening should be the best time to visit.
Know Before You Go
---
1. It is mandatory to carry your passport or Emirates ID to Sky View Dubai
2. It's better to inform the Sky View staff about any and every pre-existing health conditions you might have - physical and medical.
3. The Glass Slide has height and weight restrictions. While the minimum height is 130 cm, the maximum is 210 cm. The minimum weight, is 50 kg, while the maximum is 100 kg.
4. For the Edge Walk, while guests between the age of 12 to 65 can participate, it is mandatory for minors (those under the age of 18), to have consent from their parents in-person. Height and weight restrictions exist for this experience too. Minimum height and weight: 120 cm, 30 kg
Maximum height and weight: 200 cm, 150 kg
Insider tips for visiting Sky Views Dubai
---
Always pre-purchase your tickets. Although offline tickets are available, it's better to buy your tickets in advance to avoid crowds and the disappointment of not getting any at the last minute.
Inform the Sky View staff of any pre-existing conditions (physical, intellectual and medical) that you might have.
Wear comfortable clothing, but also ensure it fits well. Avoid skirts, dresses, and high heels/ shoes with sharp metal edges that might damage the glass.
Don't carry any phones, electronics, or sharp objects while you're out on the glass slide and/or edge walk.
When engaging in either of the two experiences, follow instructions to the T.
Thing to do near near Sky Views Observatory
---
Here are some top attractions which are located near Sky View, that you should add to your itinerary.
Restaurants Near Sky Views Observatory
With good views, good food is primary. Here are the restaurants where you can find the best meals to unwind with after an adventurous day at Sky View:
---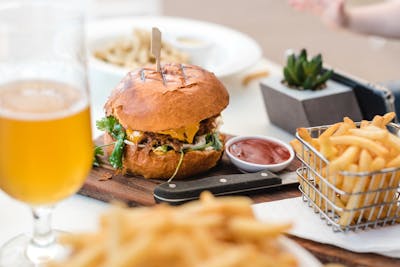 Panorama 52
A fancier take on a classic American diner, Panorama 52 is a sure-shot way to eat good food with the best views. Famous for its entrees, burgers and desserts, what else do you really need after a day full of beautiful views and hair-raising activities? Opening soon, close to a glass slide near you.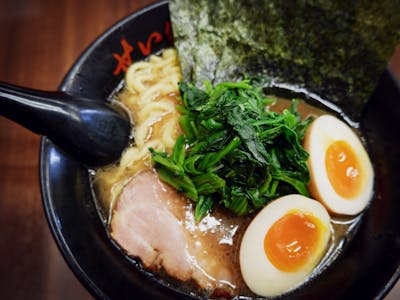 Wagamama
One of the best restaurants in town for Asian (more specifically Japanese) food, is the place to be! Famous for its ramen, Wagamama is the perfect spot to be when you're hungry and need prompt service.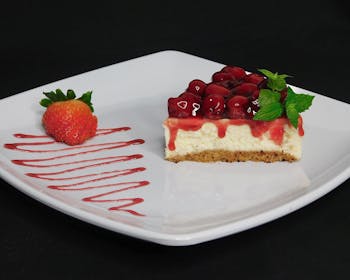 The Cheesecake Factory
A one-stop shop for every meal and cuisine you can imagine, The Cheesecake Factory is certain to raise your spirits every time you visit. Oh also, don't forget to try the cheesecake - it's in the name!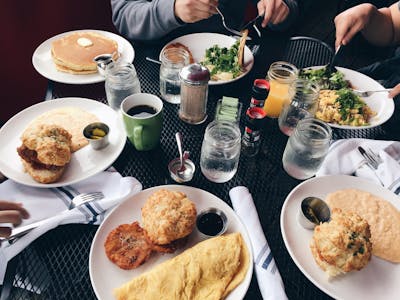 The Restaurant
Located at Address Downtown, The Restaurant overlooks the Burj Khalifa and the beautiful hotel gardens. Called The Restaurant, and designed like an apartment, it solidifes the experience of being a home-away-from-home.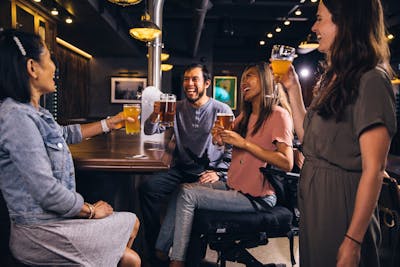 Social House
As the name suggests, Social House is the spot to unwind after long days of shopping and exploring the Dubai mall. A global hub of cuisines, the views, and the design is enough to pull you in and ensure that you don't feel like leaving.

Frequently Asked Questions
---
Where is Sky View Observatory?
How much does a ticket to Sky View Observatory cost?
Are five-year-olds allowed at Sky View?
What time does Sky View Dubai open?
How can I buy Sky View Dubai tickets?
Do I need tickets to enter the Sky View Observatory?