Dubai doesn't have a lack of towering skyscrapers- one of its most recently completed projects is Sky Views, nestled in the heart of Downtown Dubai. With a striking observatory and exhilarating activities to behold, you're in for a real treat.
Of the activities, Sky Walk Dubai is one of the more recent attractions open to the public. The Sky Walk is essentially the world's longest footbridge between the two Sky View Towers. Brace yourself for the ultimate adrenaline rush as you scale the building 220 meters above ground level.
Mind you: you're walking OUTSIDE the building, high above ground level. But fret not, for you'll be roped in with a safety harness. Besides, once you're on the outside, you'll be so distracted by the spectacular views of Dubai, you won't have time to think about your fear!
What Is The Edge Sky Walk Experience?
---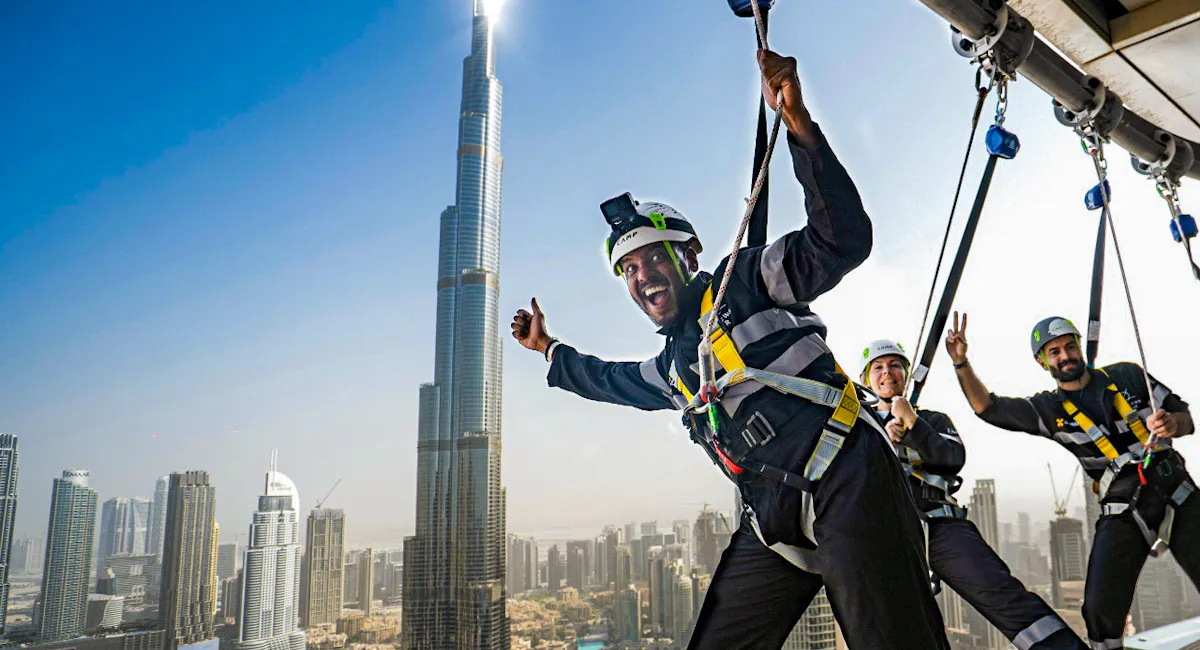 Add a splash of adventure to your trip to Dubai with The Edge Sky Walk! Sky View's Edge Walk is not for the light-hearted, for you walk hands-free along the ledge of the building's 53rd floor. That's right- you're 220 meters above ground level, scaling the outside of the building. This is the activity daredevils were meant to try!
The Sky Walk is considered to be one of Dubai's more recent thrilling activities and everyone is giving it a go (as should you!) It is definitely the first of its kind and guests are eagerly taking to the skies and enjoying the full circle hands-free walk on the Tower's main pod.
As you defy gravity, make sure you soak up the stunning views of Dubai's glittering skyline (notice the Burj Khalifa sticking out like a sore thumb!) With nothing between you and the views but thin air, this takes thrill-seeking to the next level.
Why Try Out Sky Walk Dubai
---
Picture this: walking in the sky with the Dubai skyline sparkling in front of you. Add to this a balcony view of the world-famous Burj Khalifa? Sign me up! Make this dream a reality by heading to the Address Sky View and zooming up to the 53rd floor for the exhilarating Sky Walk experience.
In the year of 2017, Address announced its ambition of opening up the Sky Walk, also known as Edge Walk allowing all guests to walk in the sky. This is not your ordinary observation deck (although there is an observation deck as well!) Walk on a 30-meter-long cantilever that runs outside the observation deck on the 53rd floor of the Address Sky View!
....Need we go on?
Sky Views Observatory Dubai
---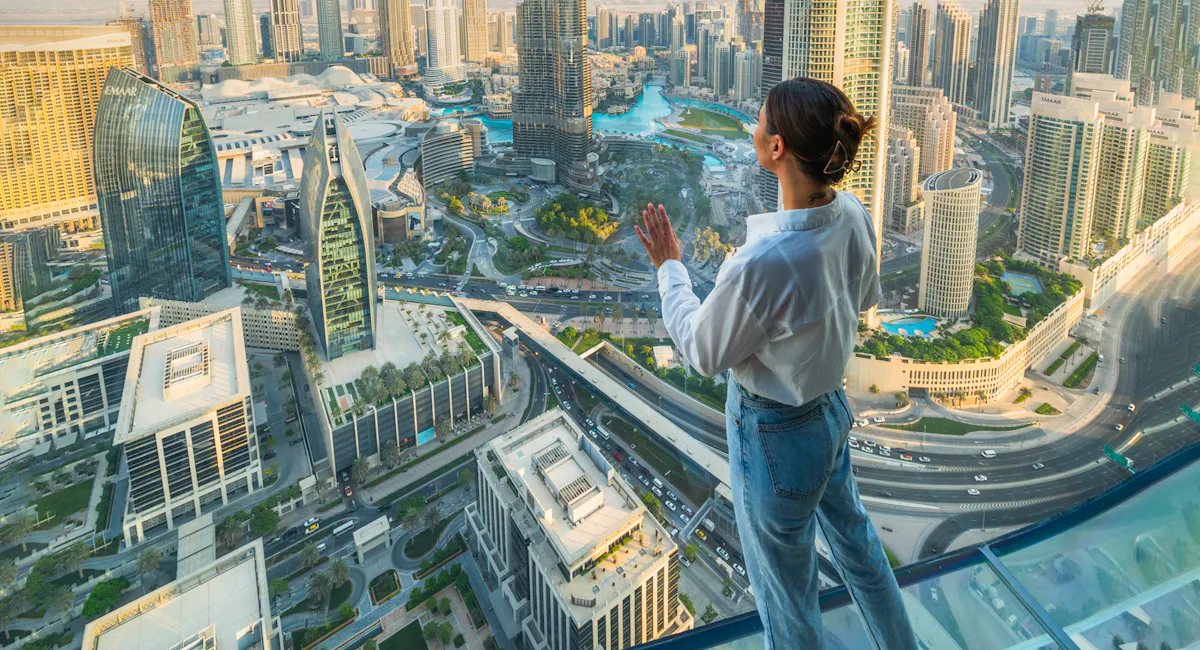 The Sky View Observatory is a recent but already quite popular attraction in Downtown Dubai. You can expect long ticketing queues here. Beat the crowds by pre-booking your Sky View Dubai ticket here.
A ticket to the Sky Observatory includes the Sky Glass Slide experience, and costs AED 70 for adults (AED 90 at sunset) and AED 60 for children aged three to 16 (AED70 for sunset). For the Sky Walk experience, tickets are priced at AED 699 including a safety briefing and all equipment.
Buy your Sky Views Observatory Dubai tickets on Headout and save AED 20 using code: GODUBAI
Other things to do at Address Sky View Dubai
---
1

Drink in the delicious views

Observatory
The Sky View Observatory is a must when in Dubai. Not only are you promised striking views of the Dubai skyline (from 219.5m above ground) but you also see the iconic Burj Khalifa tower from a different angle!
Good for: Families
Timings: 10 am to 6 pm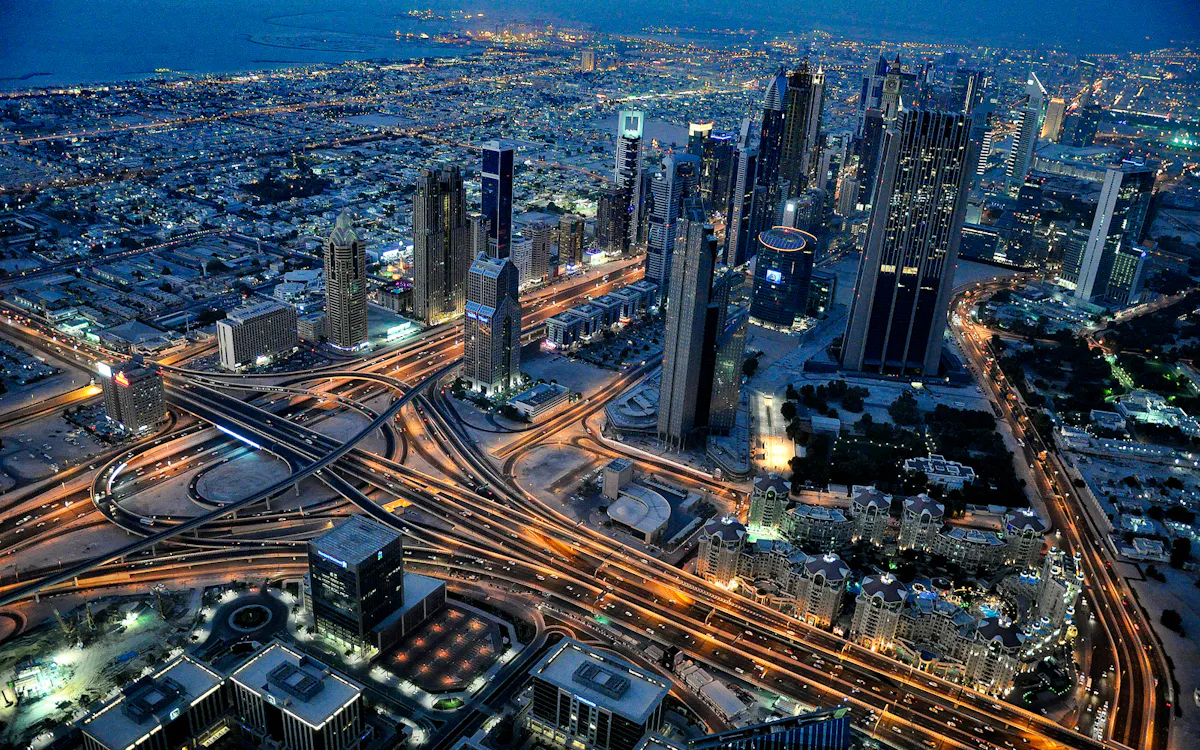 2

Slither down the glass slide

Activity
Embrace the playground-like feels atop the Sky View Observatory with this exciting activity: that's right, you're sliding down from the 53rd floor to the 52nd floor on a large glass slide. Keep your eyes wide open for this adventure, you're going to want to savor every milisecond of this experience!
Good for: Adventure lovers
Timings: 10 am to 6 pm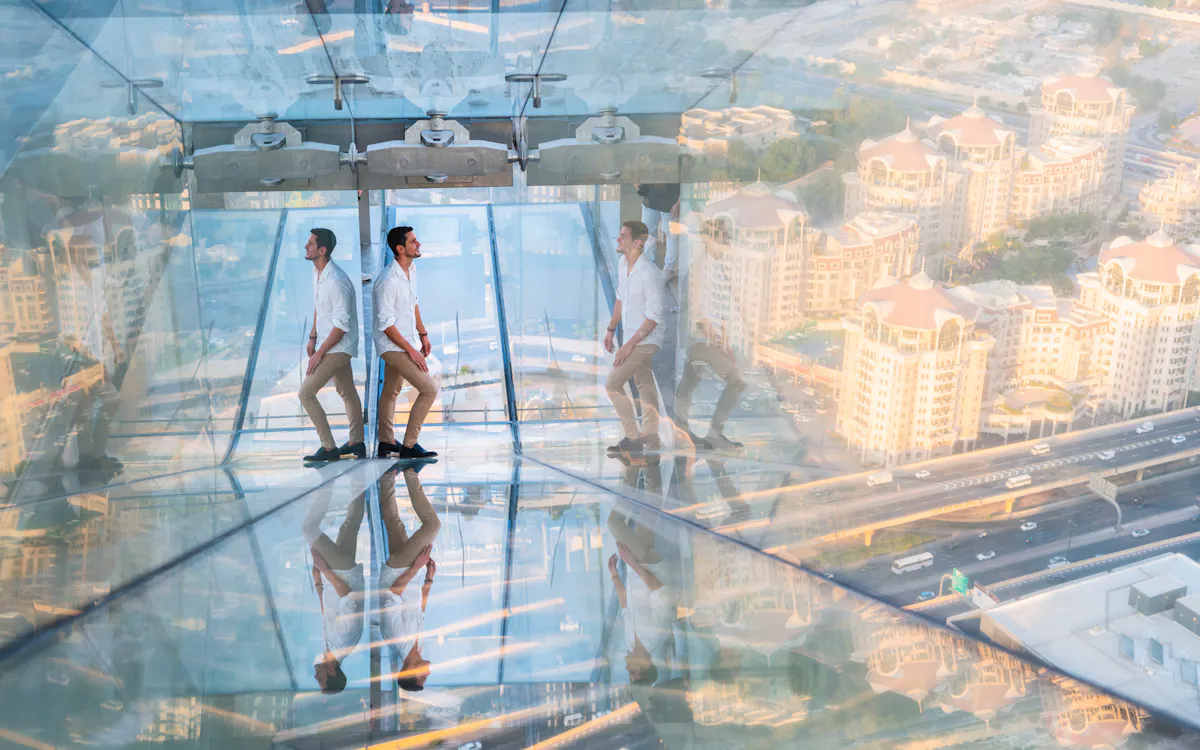 Not everyone comes to Sky Views Address for an adrenaline-laced affair. After you've witnessed the striking skyline from the observatory, head over to Gourmet Bistronomy, Deck Too or Patisserie for a delicious meal.
Good for: Family & food enthusiasts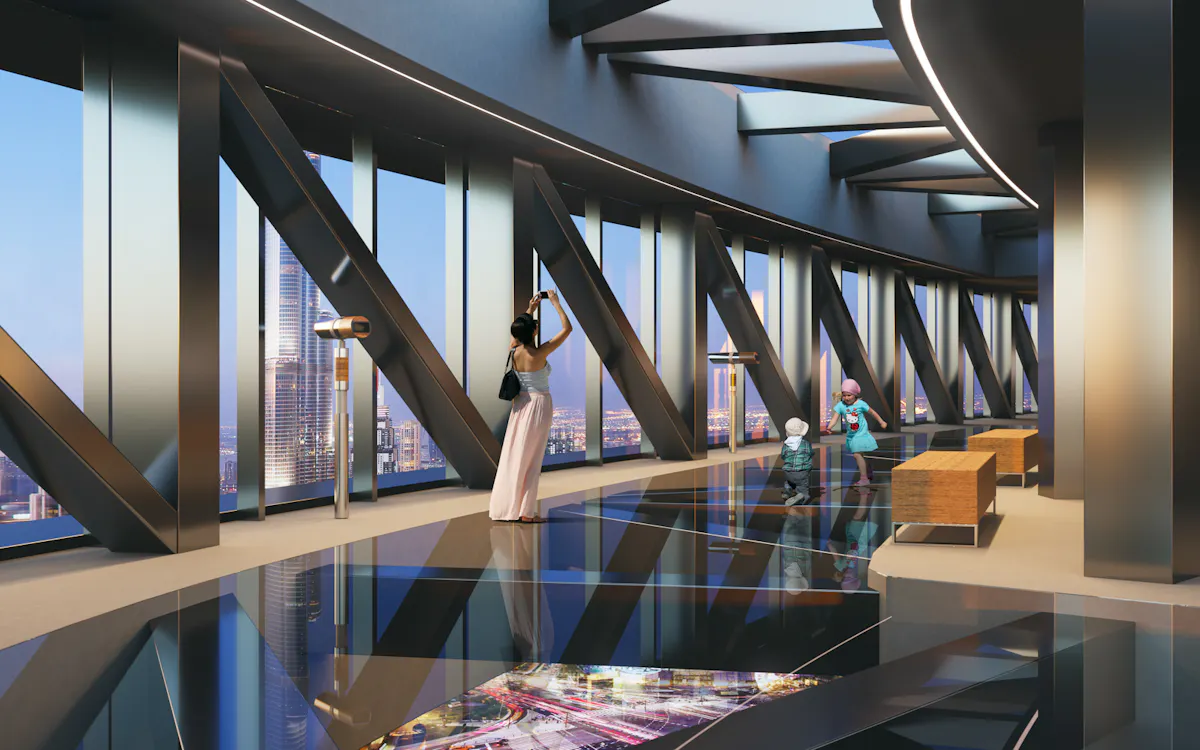 Plan Your Visit
---
Sky Walk Dubai Opening Hours
The Sky Walk experience is open from 11 am to 7 pm, everyday. However, the Observation & Glass Slide is open from 10:30 am to 9pm
Getting to the Sky View Observatory
By Bus
The stop that's closest to Sky Views Dubai is the Dubai Mall Metro Bus Stop Landside 1, which is an easy 6 6-minute walk from the attraction. Here's the list of buses you can board: #30, #D03, #D03A, or #F13.

By Metro
The nearest metro station is the Burj Khalifa/The Dubai Mall Metro station, which is again, a 6-minute walk from the attraction. Boarding the line MRed will get you there.

By Car
If you're planning to drive in from the center of Dubai, take the first interchange and go on to the Financial Centre Road.
Best Time To Enjoy The Sky Walk Dubai Experience
There is no perfect time to scale the edge of a building. That said, it has been said by most that the skyline views of Dubai are best at sunset. This would also imply that it is most busy around sunset as well. If you'd rather beat the crowds, try this experience in the morning or afternoon.
Things To Know Before You Experience The Sky Walk Dubai
---
Please carry your passport or Emirates ID to Sky View Dubai.
If you have any pre-existing health conditions - physical and medical, best to inform the Sky View staff ahead of time.
For the Edge Walk, while guests between the age of 12 to 65 can participate, it is mandatory for minors (those under the age of 18), to have consent from their parents in-person.
Height and weight restrictions exist for this experience are:

- Minimum height and weight: 120 cm, 30 kg
- Maximum height and weight: 200 cm, 150 kg
Insider tips for visiting Sky Walk Dubai
---
Book your Sky Walk Dubai tickets in advance. This lets you avoid last-minute delays and tourist crowds.
If you're feeling under the weather, please inform the Sky View staff before entering.
For the Sky Walk, we recommend you wear comfortable but fitted clothing, as well as comfortable footwear. Needless to say, please avoid heels as it can damage the glass.
Don't carry any phones, electronics, or sharp objects while you're on the sky walk.
You will be briefed on the activities at Sky Views- please make sure you adhere to them strictly.
Thing to do near near Address Sky View
---
Have some spare time to kill after visiting Sky Views? There are some attractions located nearby that you can add to your itinerary: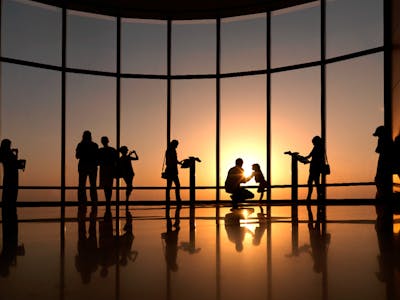 At the Top - Burj Khalifa
Book yourself the At the Top at Burj Khalifa experience if you're not tired of observatory decks. Zoom to the top of the world's tallest building on the world's fastest elevator and peer down at the marvellous views from a unique vantage point up up in the sky! Book your Burj Khalifa tickets now!

At.mosphere
If you're still at the Burj Khalifa and want to grab a bite, head over to the At.mosphere restaurant for a delectable treat! It has a variety of cuisines for you to choose from, and the drinks and dessert menus are especially extensive.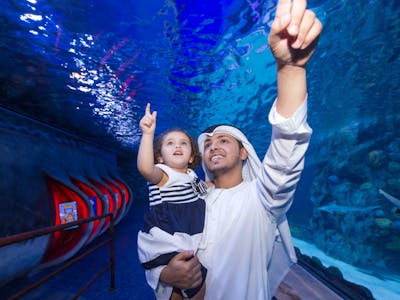 The Dubai Aquarium
At the marvellous Dubai Aquarium, you get to walk under a 48-meter long tunnel while residents of the aquarium swim peacefully above and about! Head to level two, where the underwater zoo lets you in on various aquatic environments, unique displays and some exciting activities. Book your Dubai Aquarium tickets now!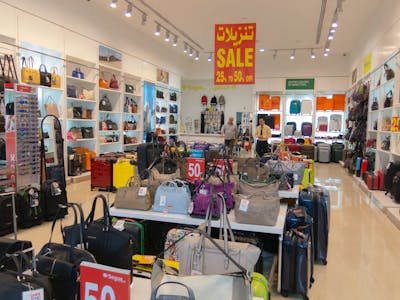 Dubai Mall
Shopaholics- assemble! The shopping haven in Dubai - the famous Dubai Mall is the place to go if you have a little time on your hands and don't mind window shopping for a bit. From your favorite fashion brands to amazing dining outlets, you won't have a second of boredom.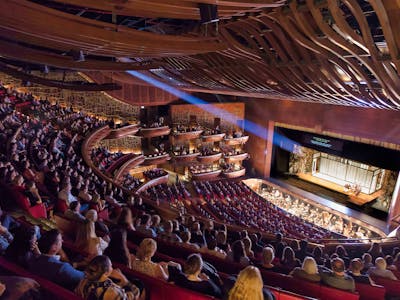 Dubai Opera
Are you a fan of the performing arts? The Dubai Opera should definitely be on your list of things to do in Downtown Dubai. This 2000-seat performing arts center hosts a range of opera, ballets, concerts, conferences, and exhibitions. Book Dubai Opera tickets now!
FAQs: Sky Walk Dubai
---
Where can I try out the Dubai Sky Walk experience?
What floor does Sky Walk Dubai take place on?
Is the Sky Walk Dubai experience safe?
Are kids allowed to do the Sky Walk in Dubai?
How can I buy Sky View Dubai tickets?
Do I need tickets for the Sky Walk separately?