Sandboarding in Dubai is one of the most sought after adventure sports in the city. Taking place in the dramatic deserts that surround Dubai, sandboarding has gained an immense popularity in the recent years, along with Dubai desert safaris.
The abundance of mighty sand dunes with varying heights and slopes have helped position Dubai as a center for a variety of desert-based adventure sports. If you're planning to visit the city, or even a Dubai local looking to give sandboarding a hand, then you've found yourself at the right place. In this guide, we will take you through the process of finding the best Dubai Sandboarding experience and help you with all there is to know about this unique desert adventure sport.
What is Sandboarding?
---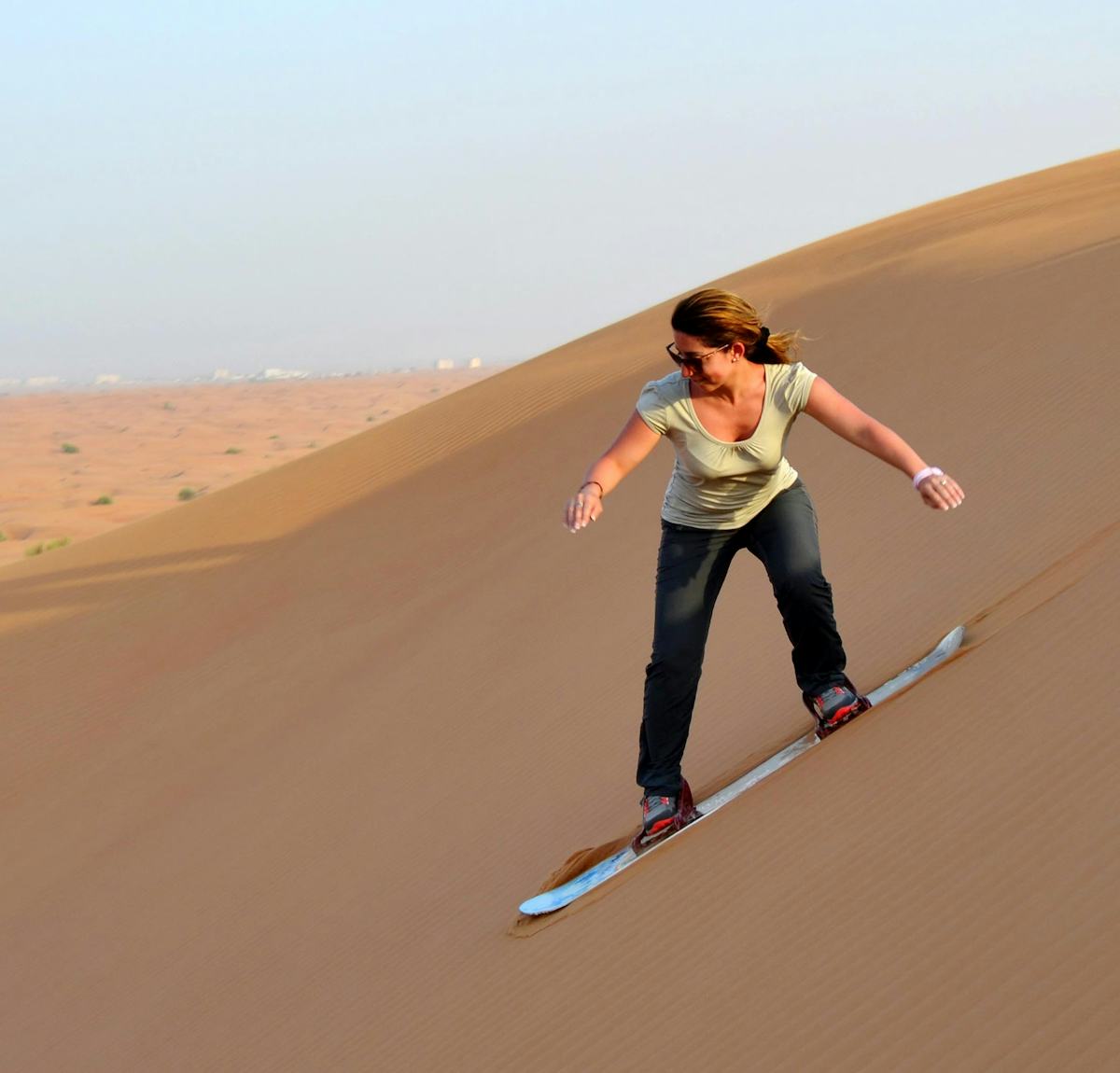 Sandboarding is a desert based activity that involves sliding down the slopes of a desert dune on specially adapted boards fastened to your feet, much like snowboarding. Thanks to Dubai's natural topography and climate, sand-boarding in Dubai can be experienced throughout the year. From atop the dunes, sometimes as high as 1,000 feet you slide over the sand just as you do on snow. The sport is completely safe and appropriate for all ages. All you have to do is strap your boots along a smooth sand-board that facilitates easy sliding down the dunes.
Why You Must Go Sandboarding In Dubai?
---
It's easy and super safe
When you compare sandboarding to other desert sports, it is one of the safest and easiest one to do. You do not need to know to drive or hop onto any gigantic vehicle ( dune buggy like). All you need to do is, grab a board, walk up the sand dune, strap it onto your feet and let go!
There's no better solo sport!
While most other desert sports in Dubai are tandem, sandboarding is one solo sport that does not require another person's help or accompaniment. Solo travelers, here's your sport!
It's economical
While tickets to Sandboarding in Dubai is rarely sold standalone, you can get amazing deals and offers that allow you to sanboard at an economical fare. Check out our curation of the best Sandboarding deals in Dubai below!
Sandboarding in Dubai - Best Deals!
---
There are several offers available for this attraction. We have curated the best Sandboaring experiences along with other activities that go hand-in-hand for your best experience. With the lowest price guarantee, the offers mentioned below will definitely be some of the best you can source online. Here are a couple of combo-tickets and experiences that you should grab while you're planning your Dubai desert adventure :
Know Before You Go Sandboarding in Dubai
---
All sand-boarding Dubai experiences require that you sign an indemnity form before proceeding with the ride. Signing this form relieves the vendor from damage/personal injury to the participants, so ride carefully.
While it is not mandatory, make sure you strap your boots on to the board if you're trying your hand at the sport for the first time.
Carrying your camera along with you during the trip can cause it get damaged, Make sure it can withstand minor impacts.
Pay close attention to the trainer, whether or not you have prior experience in sand-boarding.
Wear comfortable clothes that can cover your entire body.
Choose a smaller dune if you're trying your hand at the sport for the first time.
Other Popular Desert Sports In Dubai
---
Apart from sand-boarding, there are several other desert activities that you can try your hand at during your visit to Dubai. Here are a few other exciting sports that make Dubai one of the most sought after destination for adventure activities:
Sandboarding in Dubai: FAQs
---
Is

sandboarding

in Dubai safe?
Is sandboarding in Dubai safe?
Is there an age limit for sandboarding?
How much does a sandboarding session cost?
Do I need training to do sandboarding?
What should I keep in mind before I go sandboarding?
Do I need a partner to do sandboarding?
Can I bring my own sleds?
Is sandboarding like snowboarding?
When is the best time to go sandboarding?
More Desert Safari Guides
---
Looking to plan your Desert Safari adventure better? Check out our detailed guides on more things to do during your desert safari trip and don't forget to check out our Desert Safari deals to save a few dirhams!
Sandboarding in Dubai Guide