'Live life king-size' is a mantra that Dubai takes seriously! From the world's best architecture to one of a kind activities, Dubai is where everyone can get a taste of luxury and unique experiences. The city offers exciting land and water adventure sports, but the latest thrilling addition will take you off into the air, much like a superhero! The Xline Dubai is the world's longest urban zipline and allows enthusiasts to enjoy hair-raising adventures in the urban landscape. Soaring over the city, the Xline Dubai gives you a bird's eye view of Dubai Marina and lets you enjoy an experience that not many can boast of!
XLine Dubai in a Nutshell
---
Know before you go
☀️ Best time to visit - The best time to visit the attraction is either first thing in the morning, to avoid the crowd, or late evening so as to try and get the best views of the sky and the city
🎟️ XLine Dubai Ticket Prices - AED 650
🕛 Suggested duration 60 minutes (an hour)
📍 Location - Dubai Marina, UAE

Opening Hours
9 am to 4 pm, every day except Wednesday
Address
Dubai Marina Mall, Dubai Marina, United Arab Emirates
Get there
XLine Dubai - The Hype
---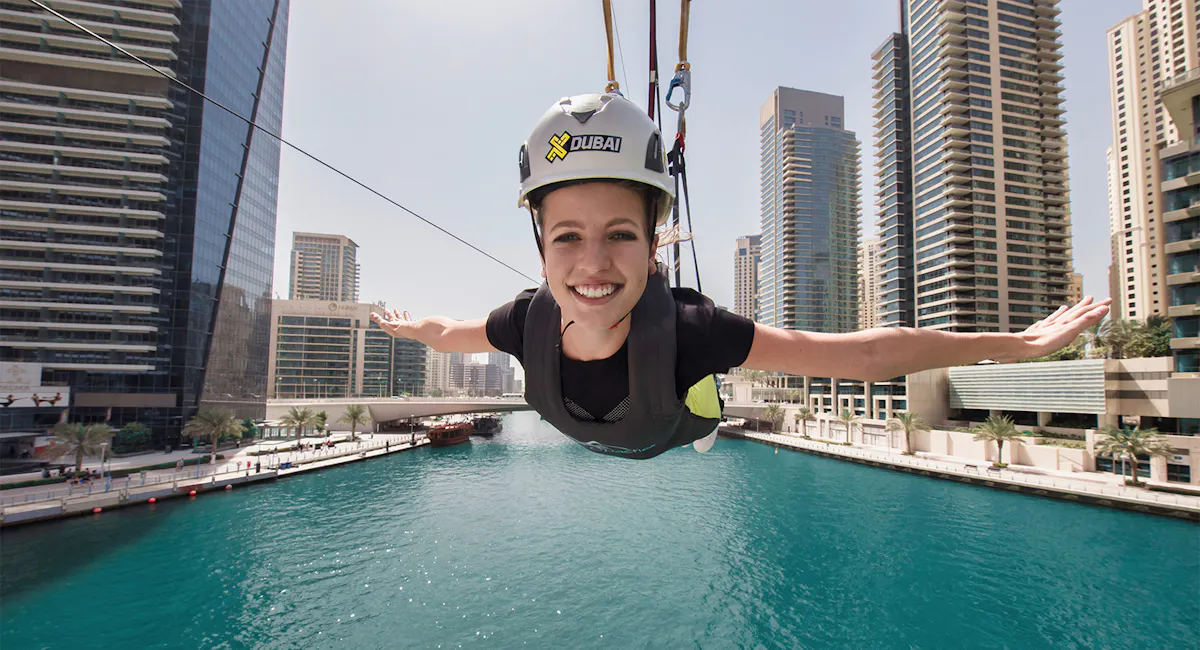 1. Xline Dubai is the world's longest urban zipline and stretches to 1 KM spanning the Dubai Marina
2. Run by adventure experts, Xline Dubai ensures safety procedures and offers an unparalleled urban adventure experience
3. Xline has two parallel ziplines which means you can experience the once in a lifetime adventure with a loved partner, friends and family
4. The zipline launches from a height of 170m and goes from 0 to 60 kmph in 2.5 seconds and reaches a top speed of 80 kmph
5. You can relive the thrill and adrenaline rush and share it with friends back home thanks to the free GoPro video of your flight
Where to Buy XLine Dubai Tickets?
---
Since XLine Dubai (and the Dubai Marina Mall) as a whole is a popular choice among tourists and locals alike, as it should be - it IS the perfect way to get your fix of adventure, this attraction is sure to pull in a crowd.
Hence, long waiting lines are natural. Here are some XLine Dubai Tickets you can buy, so you can save time and dime:
XLine Dubai Price Point - Is it worth it?
---
First questions first, how much does this exotic adventure sport cost? Most adventure activties cost a fortune and you're forced to push it for a later time, but not this one! Xline Dubai's price for a solo zipline is AED 650 and the price for tandem zipline with a friend or family member costs AED 1200 ! Not bad for the world's longest urban zipline eh? You and your best bud can now glide over Dubai Marina and enjoy the terrific views for just AED 1200!
Plan Your Visit
---
Dubai XLine Opening Hours
The zipline is open from 9 am to 4 pm everyday except Wednesday
Getting to Dubai XLine
By Metro
You can get down at the Jumeirah Lake Towers Metro Station and walk across the overpass to get to the Mall. There are also shuttles from the station to the mall every 10-15 minutes.
By Tram
You can get down at the Dubai Marina Mall Station (No. 4) and take a short walk to Dubai Mall
By Bus
You should take the RTA bus number 8 and get down at Marina Promenade. You have to walk for 10 minutes to reach the mall, or you can take a taxi to reach faster.
By Car
From Abu Dhabi and Dubai – Take the exit 32 off Sheik Zayed Road from where you will start seeing the signs to Dubai Marina until you are on Emaar Drive. The Dubai Marina Mall has a large car park space where you can park, you can also use the valet parking services.
Best Time To Visit XLine Dubai
In a day, the best time to visit the Zipline is early morning, because that's when you'll bump into the least crowds. Although, for the best views and photo-ops, it is suggested that you visit during late evening or the golden hour.
In a year, visiting Dubai, and especially this attraction is between November to February (the winter months), as this allows you to enjoy the weather, which might be useful when you're exploring the attraction.
Insider Tips for Visiting the XLine
---
1.The experience takes about 1.5-2 hours so ensure you don't have any time-specific activities before or later as you may get late. Also, make sure you arrive at the meeting point on time for your slot
2. In order to experience Xline Dubai, you must be 12 to 65 years of age, taller than 130cm, weigh 50 to 100kg and in good medical health
3. There is a storage facility but only for small handbags, phones, keys, wallets etc. Avoid carrying large bags including shopping bags
4. Wear comfortable clothes with closed footwear, avoid flowy clothes and accessories as it may hamper the safety gear. Get a hair tie as the wind is crazy up there and you would want a hindrance free experience
5. You must bring some valid ID (passport, driving license or Emirates ID) and your confirmation email ( on mobile or print, whichever is convinient) when you come for registration
6. If you are doing this for the first time then avoid eating or limit to a light meal prior to the flight, you would want to avoid queasiness due to a heavy meal
7. Contact lens wearers should be aware that you are not given goggles but you can wear glasses/sunglasses to keep your lenses safe
8. You will be given a copy of your photograph and video within a few days of your activity. Relax and enjoy the experience without worrying about taking photographs
9. Xline Dubai Tickets bought from Headout enjoy a super flexible cancellation policy which allows you to cancel upto 48 hours in advance for a full refund
10. Full Refunds will only be permitted in case of bad weather or unavailability of services on your booked date and time
11. Pregnant women and anyone with serious medical issues will not allowed on the Zipline. During the health check up, authorities reserve the right to deny you entry if you're certifited with a condition that does not suit the activity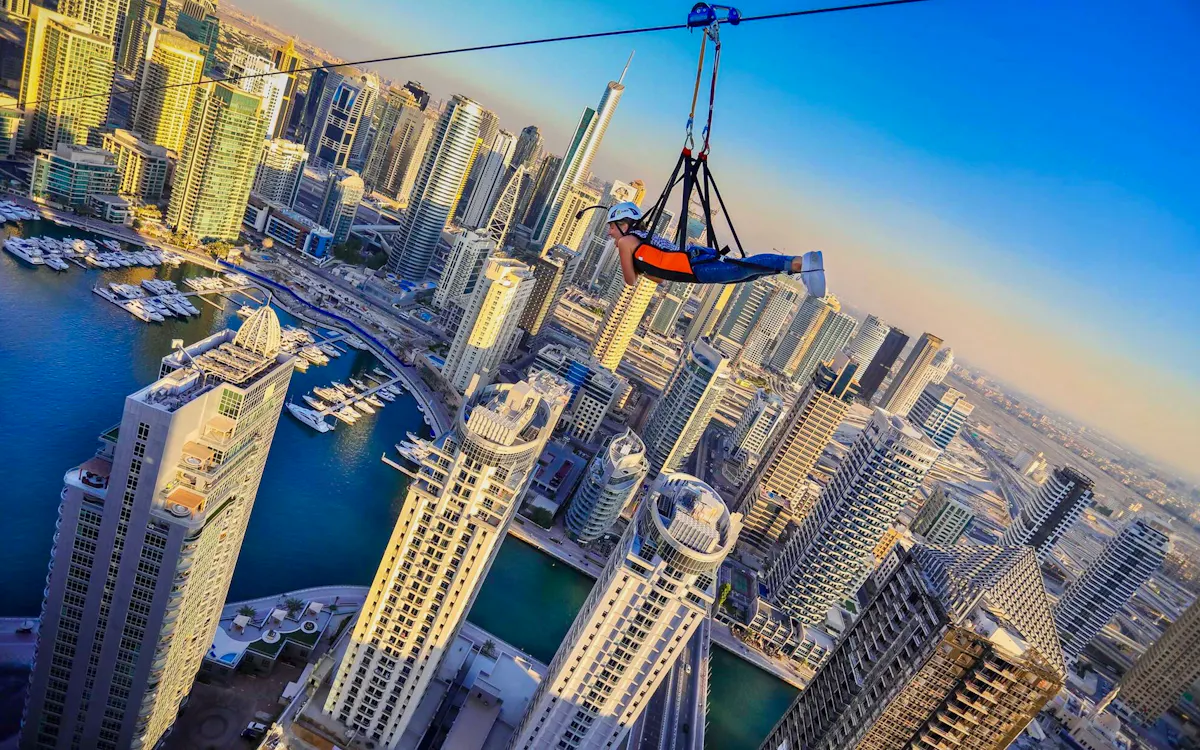 Thing to do near near XLine Dubai
---
Here are some top attractions which are located near XLine Dubai, that you should add to your itinerary.
Restaurants Near XLine Dubai
With good views, good food is primary. Here are the restaurants where you can find the best meals to unwind with after an adventurous day at XLine:
---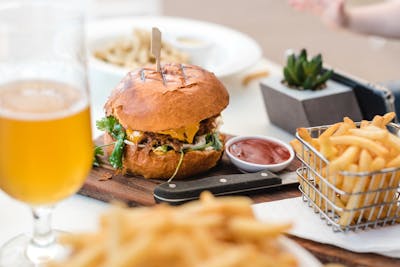 Panorama 52
A fancier take on a classic American diner, Panorama 52 is a sure-shot way to eat good food with the best views. Famous for its entrees, burgers and desserts, what else do you really need after a day full of beautiful views and hair-raising activities? Opening soon, close to a glass slide near you.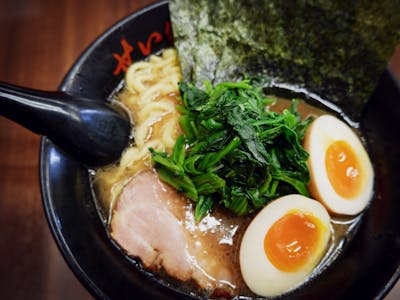 Wagamama
One of the best restaurants in town for Asian (more specifically Japanese) food, is the place to be! Famous for its ramen, Wagamama is the perfect spot to be when you're hungry and need prompt service.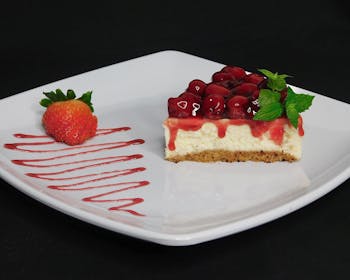 The Cheesecake Factory
A one-stop shop for every meal and cuisine you can imagine, The Cheesecake Factory is certain to raise your spirits every time you visit. Oh also, don't forget to try the cheesecake - it's in the name!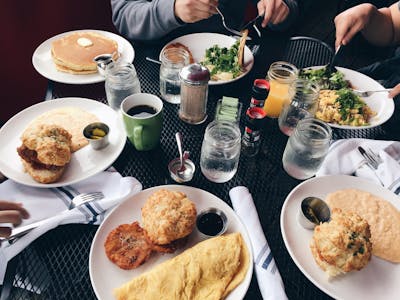 The Restaurant
Located at Address Downtown, The Restaurant overlooks the Burj Khalifa and the beautiful hotel gardens. Called The Restaurant, and designed like an apartment, it solidifes the experience of being a home-away-from-home.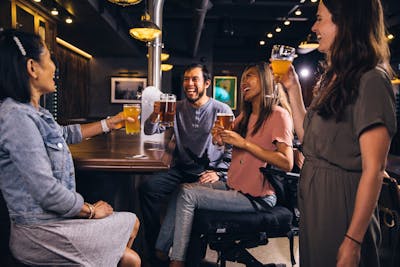 Social House
As the name suggests, Social House is the spot to unwind after long days of shopping and exploring the Dubai mall. A global hub of cuisines, the views, and the design is enough to pull you in and ensure that you don't feel like leaving.

XLine Dubai: Reviews
---
We really enjoyed this experience. I am afraid of heights and was about to back out, but the instructors made you feel at ease and very safe. Once you get to the top floor of the building the views are amazing and it starts to sink in how high you actually are. I felt really nervous until I was strapped into the harness and attached to the zip wire. This felt really safe and secure and the nerves just disappeared. There is no free falling feeling, the ride is quite relaxing, as you feel like you are gliding/flying. Overall we really enjoyed it and would recommend it while you are in Dubai.
It was my very first zip line experience so I was really nervous. When I went on top of the building I almost gave up cos of the height. But the crew was extremely friendly and so professional. Which made my fear go away. I knew I was in safe hands. They had the best equipments and everything was handled very professionally. I felt like a free bird for a moment. It wasn't that fast, and not nearly as scary as I was expecting. And you land straight back at the mall. Once you set-off, it really is the most surreal experience, but hands-down the most memorable part of my trip to Dubai. It really is an amazing experience and I totally recommend it.
Frequently Asked Questions
---
How much does XLine Dubai cost?
How long does the Xline Dubai Zipline take?
Can friends and family watch my XLine ride?
Can I bring my phone or my own camera with me on the ride?
Can I turn up on the day and buy a ticket to XLine Dubai?
Can I transfer my Xline ticket booked in my name to someone else?