After more than a year of being forced to stay home, we are all waiting to travel again. From going on staycations to exploring our own country, we have tried it all. With the COVID-19 restrictions slowly relaxing across the world, we finally feel that it's time to let our wanderlust get the better of us.
If you are tired of the four walls of your home, here's an interesting idea - why not consider going on seacation? Yes, you heard that right. Hop aboard a luxury vessel with World Dream Cruise Singapore and sail off into the sunset as you enjoy delicious food, navigate through a myriad of interesting activities, and indulge in the beauty of the sea!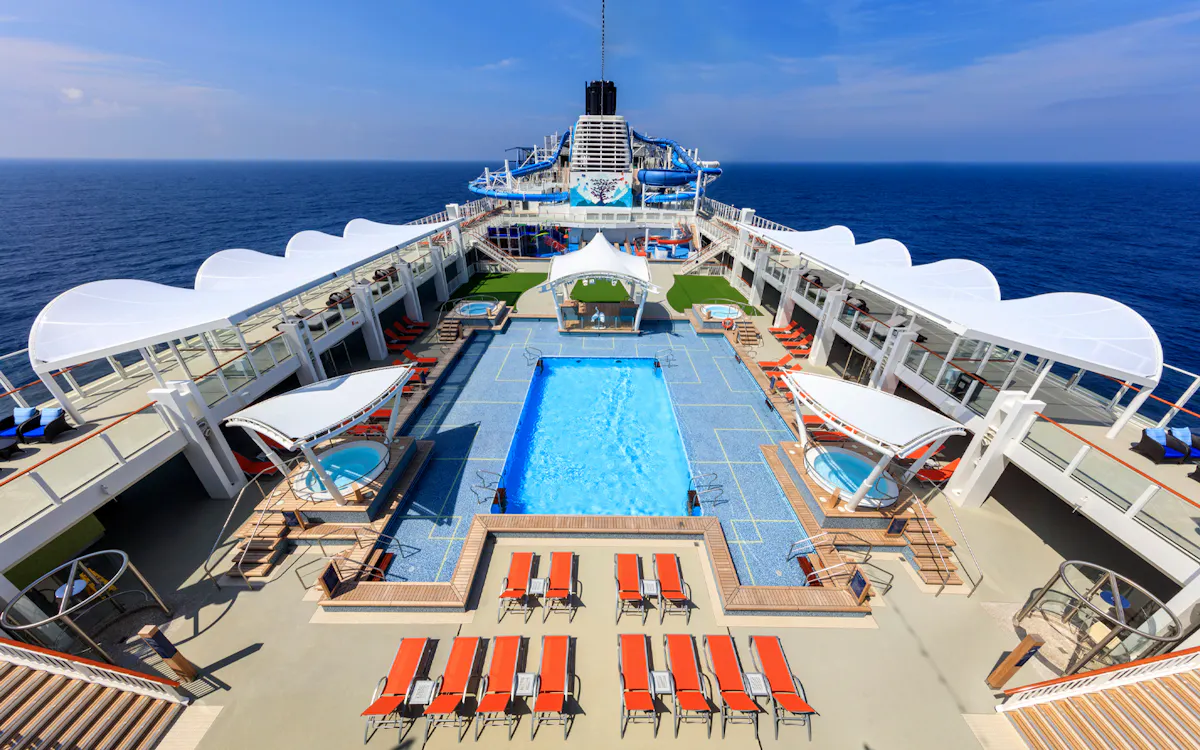 COVID-19 Safety Precautions at World Dream Cruise Singapore
Wondering whether it is safe to board a ship right now? Here are all the safety measures and precautions put in place to ensure that you have a safe and comfortable experience.
Reduced Capacities: The cruise will take place at 50% capacity. This applies to shows and other activities as well.
Temperature Checks: Passengers will have to undergo temperature checking before entering crowded areas such as theatres, and restaurants.
Contact Tracing: All guests will have a key card and MICE Pod that they have to use in order to gain entry to theatres, restaurants, etc, much like the ship's own version of SafeEntry.
Increased Sanitization: Hand sanitisers will be provided at various points inside the vessel.
Social Distancing: All guests will maintain social distancing onboard. There will be markers on the floor to ensure the same.
Why choose World Dream Cruise Singapore?
If you are looking for ways to indulge in a well-deserved break, look no farther! World Dream Cruise Singapore is perfect for a few days of fun and frolic. Here's why you should choose World Dream Cruise Singapore for your next vacation.

Comfortable Rooms: The balcony and suite rooms come with a spacious bed, luxurious sofa, and a private balcony where you can enjoy a cup of tea. Since the cruise is all-inclusive, you need not pay anything extra for food, accommodation, and other basic amenities.

Delicious Food: Choose from over 35 dining options that serve you everything from continental to Asian fare. The Lido, Dream Dining Room Lower, and Dream Dining Room Upper are some of the must-try restaurants.

Interesting Activities: The World Dream Cruise Singapore comes with a hoard of free as well as paid activities. From relaxing in the jacuzzi at the main pool deck to indulging in a game of mini golf, you will not be bored even for a second!

Must-Watch Shows: From acrobatics and dance routines to melodies and laser shows, don't forget to catch some amazing shows at the World Dream Cruise Singapore. Groove to Jai Ho from Slumdog Millionaire and Michael Jackson's Thriller as you sip on cocktails!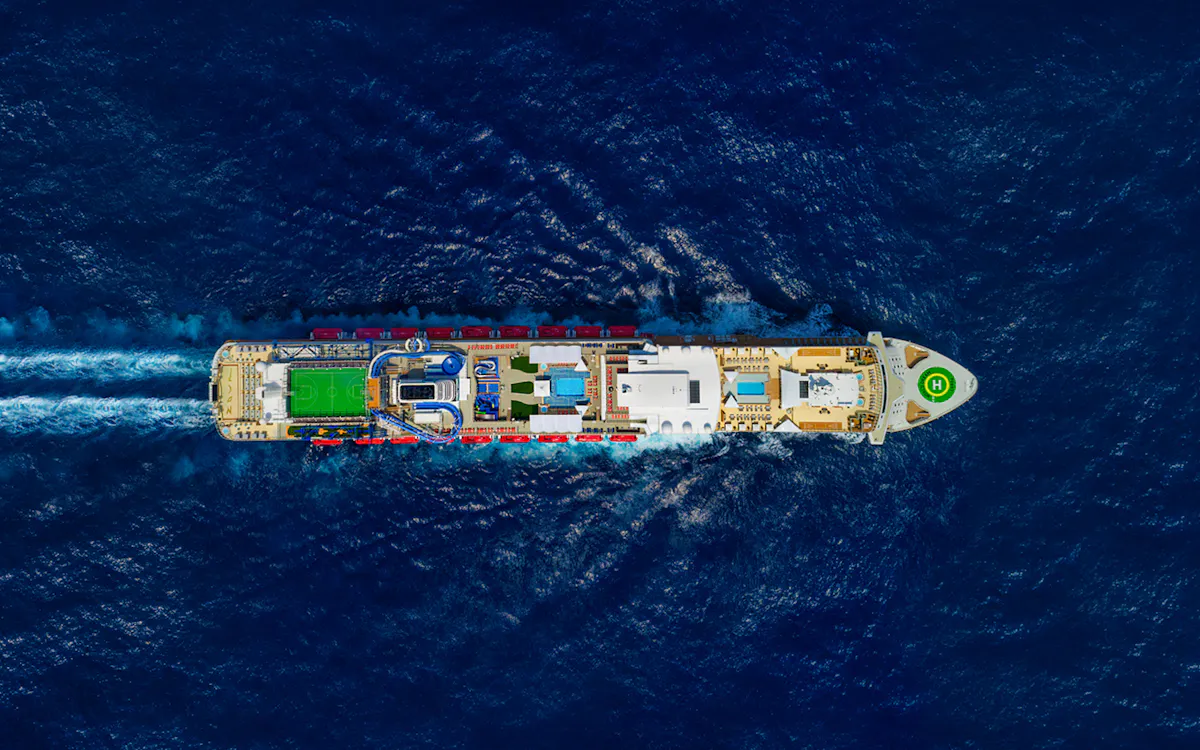 World Dream Cruise Singapore Tickets
Get ready for unlimited fun and relaxation with the World Dream Cruise Singapore. Hop onboard award-winning ships and treat yourself to an unforgettable getaway cruise from Singapore for a few nights. To ensure that passengers have a comfortable and safe experience, all COVID-19 protocols and safety measures will be observed.
Choose from balcony and balcony suites, each equipped to your suitability, and decide between 2 or 3 nights out on the water. Once onboard, there is much to experience. Relax at the Crystal Life Spa, catch a couple of world-class shows, lounge at the Zouk Beach Club, and explore the 35-plus dining options.
Grab your World Dream Cruise Singapore Tickets today and set off on a much-needed seacation!
Your World Dream Cruise Singapore Experience Explained
From the onboarding process to the various activities you can enjoy, here's what you can expect on World Dream Cruise Singapore.
Onboarding
Thanks to the ongoing pandemic, all passengers will have to undergo these few extra steps before getting on the cruise:
All guests should check-in online before 90 days of departure and upload a copy of their passport or NRIC.
All guests should take a COVID-19 Antigen Rapid Test (ART) on the day of departure. Time slots for the same will be included in the ticket.
Guests should proceed to baggage check-in only after receiving their negative reports.
After baggage check-in, guests can collect their key card and MICE Pod.
Accommodation

Guests can choose between a Balcony and Balcony Deluxe Stateroom for their Singapore cruise. Both rooms come with a queen-size bed, TV, sofa, and a private balcony overlooking the sea. The bathroom is quite spacious, with a shower an overhead shower and a dual-tap sink.
Food

The World Dream Cruise Singapore has three free restaurants - The Lido, Dream Dining Room Lower, and Dream Dining Room Upper. Head over to the Lido for an elaborate buffet breakfast. If you are in the mood for some Western fare, pick Dream Dining Room Lower. You can enjoy a variety of authentic Chinese dishes at the Dream Dining Room Upper. Apart from these, there are a number of specialty restaurants that serve dishes from all over the world.
Things to do at World Dream Cruise Singapore
Whether you are a fitness freak, a shopaholic, or a foodie, the World Dream Cruise Singapore is well equipped to take care of your needs. Please note that since most of these activities are functioning at 50% capacity, you may be required to make reservations in advance. Here are some of the free as well as paid activities you can indulge in during the cruise.
Free Activities at World Dream Cruise Singapore
---
Waterslide Park
This miniature water park consists of five incredible slides. Indulge in a bout of afternoon fun at the Waterslide Park and catch glimpses of the sea as you zoom past on one of the slides.

Fitness Classes
This Singapore cruise comes with a number of free dance and fitness lessons. Be it Muay Thai or ballroom dance, you can learn it all here. There are at least two classes daily.

Rope Courses & Zipline
Navigate through the rope course located at the roof top and feel the adrenaline coursing through your veins. Finish off your evening of adventure with some ziplining over the ocean.

Zouk Beach Club
The Zouk Beach Club also doubles as an outside movie theatre, with at least six movie screenings each day. Watch your favourite movie under the stars on this Singapore cruise.
Paid Activities at World Dream Cruise Singapore
---
Esc EXPERIENCE LAB
This virtual reality lab boasts of eight exciting games. From chasing down zombies to Formula One racing, you can experience the world here. The lab also hosts tournaments of popular games such as Street Fighter and Tekken 7.

Arcade
If you are looking for a more traditional gaming experience, head over to the Arcade. You will find a variety of tried-and-tested video games here such as Mario Kart and Donkey Kong.

Crystal Life Spa
Facials, body massages, and saunas - you will find them all here. Spend one evening pampering yourself at the spa and getting a makeover.
World Dream Cruise Singapore Shows
---
Verry Christmas
If you are looking for something fun and thrilling, Verry Christmas delivers 45-minutes of just that. From acrobatic acts that will keep you chewing on those nails to quirky yet groovy dance moves, this is the circus performance you shouldn't miss.

Twice As Nice
If you are into music, we bet you'll love Twice As Nice. The energetic duo of Westley and Shelly are thoroughly entertaining. From songs in English, Hindi, and Japanese, their singing truly knows no boundaries.

Michael Jackson Laser Display
Are you a Michael Jackson Fan? This 8-minute laser show gives you the opportunity to relive some of his greatest hits (like Thriller) and dance moves like never before.
Sign up for our monthly newsletter
Your dose of travel fix - from hacks and deals to travel tips and everything in between, delivered monthly to your inbox
Please enter a valid email
Unsubscribe anytime
Tips & Guidelines to Enjoy a World Dream Cruise Singapore
Pack light and skip the baggage check-in to save time.
Head over to the Zouk Beach Club and catch an uninterrupted view of the sunrise.
Try and avoid the Dream Dining Room Upper during dinner time as it tends to be packed. Instead, opt for lunch there.
Each cabin must have at least one passenger who is 18 years old and above.
Currency used onboard is Singapore Dollar (SGD). Foreign currency exchange service is available at the Reception in Deck 6.
Smoking is only permitted at designated areas and room balconies.
Guests below 18 years of age will not be served alcohol, allowed to enter the Casino or play any monetary-based games of chance.
No irons or any form of heating or cooking equipment is allowed onboard.
Cooked or raw food is not allowed onboard.
Guests with chronic diseases are required to fill in the remarks column at the time of registering.
What Should I Bring to World Dream Cruise Singapore?
Passport/valid photo ID
Boarding documents
Cash/debit card/credit card
Personal medication
Change of Clothes
Swimwear
World Dream Cruise Singapore Reviews
---
This was my first ever cruise holiday and it felt good to do something different from a typical staycation. Everything was clean and in good working order. Staff was mostly multilingual. Occasionally you'd run into someone who didn't know English, but finding another English-speaking person is easy enough
Nothing to complain about! The food was amazing, boarding was a breeze, and there was even free, high-speed internet onboard.
World Dream Cruise Singapore FAQs
---
Temperature checks, increased sanitisation, contact tracing, and social distancing are some of the COVID-19 safety measures put in place at World Dream Cruise Singapore.
Fitness classes, gym, pools, rock climbing, ziplining, dance classes, etc, are some of the facilities and activities included in World Dream Cruise.
Spas, swimming pools, gyms, etc require reservation since they are functioning at reduced capacities. Shows and fitness classes work on a first-come-first-serve basis.
While activities like fitness rock climbing, rope course, workout classes, and dance classes are free and included in your World Dream Cruise, access to the arcade and spa come at an additional cost.
There are three free restaurants that you can dine at - The Loom, Dream Dining Room Lower, and Dream Dining Room Upper.
All payments will be charged to your room and can be paid before you disembark.
Yes. You can enjoy uninterrupted WiFi while aboard World Dream Cruise.